Books
Anthologies: Dragon Fantastic (1992), Snow White, Blood Red (1993), Return to Avalon (1996), Highwaymen: Robbers and Rogues (1997), Twice Upon A Time (1999), Murder by Magic (2004), My Big Fat Supernatural Wedding (2006), Under Cover of Darkness (2007), Better Off Undead (2008), Strange Brew (2009), Full Moon City (2010), Happily Ever After (2011)
Anthologies
Dragon Fantastic (1992) edited by Martin H. Greenberg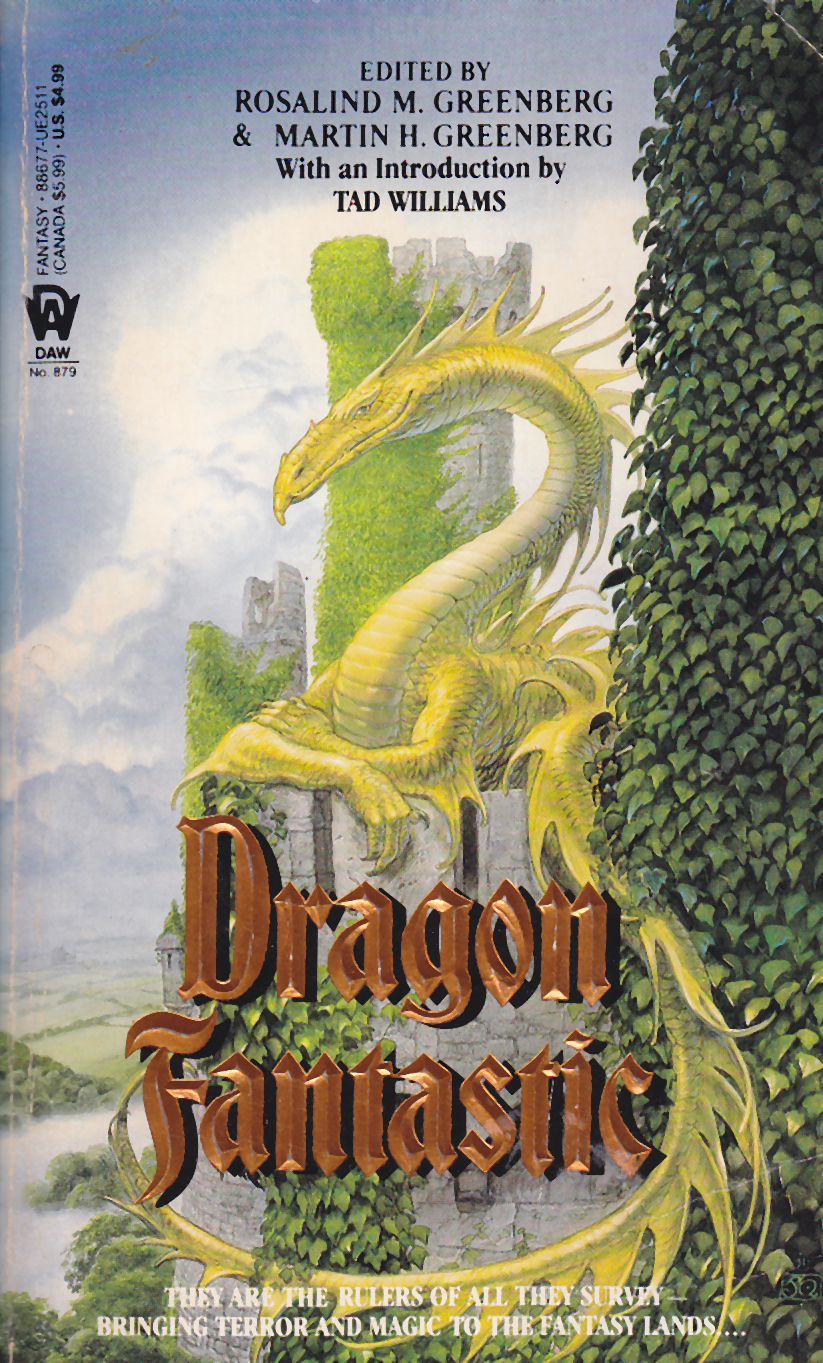 Take Me Out to the Ballgame – Esther M. Friesner
Published by Daw

Snow White, Blood Red (1993) edited by Ellen Datlow & Terri Windling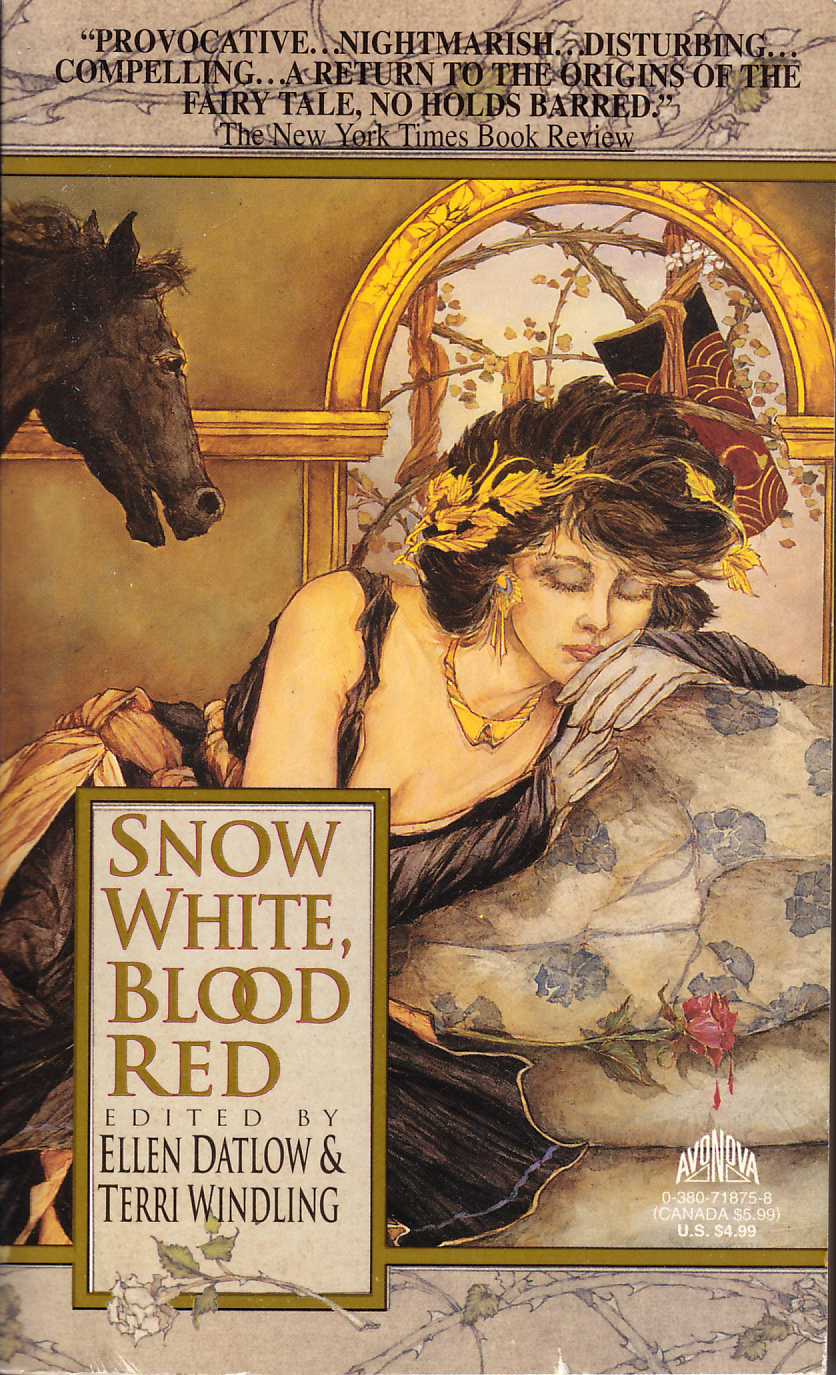 I often have a hard time putting down interesting books. Which means that if I'm reading a book I real like before bed, I end up staying up past my bed time instead of falling asleep. One solution is to read non-fiction before bed. The other solution is to read short story anthologies. Unfortunately, there are not a lot of high quality anthologies out there. At least, not enough to keep up with the rate at which I can read.
So I decided to go back and reread Ellen Datlow and Terri Windling's fantasy anthology Snow White, Blood Red. This book has a whole bunch of things going for it at once: it's edited by Ellen Datlow and Terri Windling; it's got stories by Neil Gaiman and Charles de Lint; and the stories are retellings or reinventions of folk and fairy tales. Mostly fairy tales in this book.
Plus, a gorgeous cover by Thomas Canty.
For those who are unfamiliar with folk tales and fairy tales, many of the original tales--before they got cleaned up and given to kids--were filled with sex, (in addition to the casual violence of people getting eyes poked out or chopping off bits of feet or being shoved into ovens.)
In other words, these are not stories for children.
Puss - Esther M. Friesner
As best I can tell, this anthology is still available, so if you like short stories, this is an anthology you won't want to miss. However, if you like anthologies, this is probably one you already have sitting on your shelves.
Published by Harper Collins
Rating: 7/10
Return to Avalon (1996) edited by Jennifer Roberson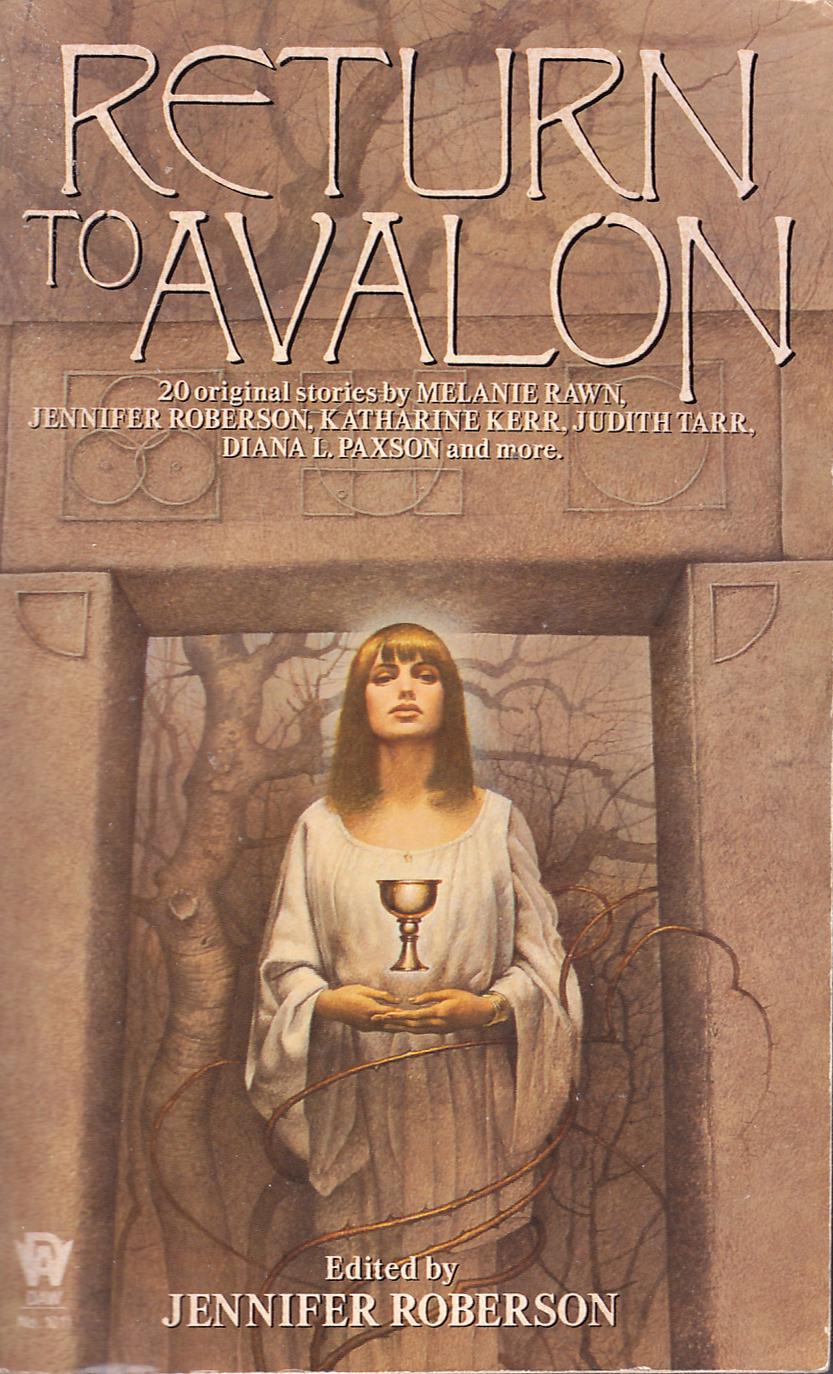 Sparrow - Esther Friesner
Published by DAW

Highwaymen: Robbers and Rogues (1997) edited by Jennifer Roberson
Give a Man a Horse He Can Ride - Esther Friesner

Published by DAW
Twice Upon A Time (1999) edited by Denise Little
Fairy tales seen from another perspective--the wife of the giant from the story of Jack and the Beanstalk. The hunter in the tale of Little Red Riding Hood. The Wolf who appears in multiple tales.
This book is hit and miss. Some of the stories are excellent, others are so-so. The idea of retold fairy tales is an excellent one, unfortunately not all the stories in this collection were able to pull it off as well as it should be done.
(What I found interesting is that although no single story was a retelling of Hansel and Gretel, they still managed to show up in several different tales.)
Case #285B - Esther M. Friesner
Of the rest of the tales, some were good, some less so. I'd pick it up if I saw it used, but I don't think it's worth the $6.99 cover price.
Rating: 5/10
Murder by Magic (2004) edited by Rosemary Edghill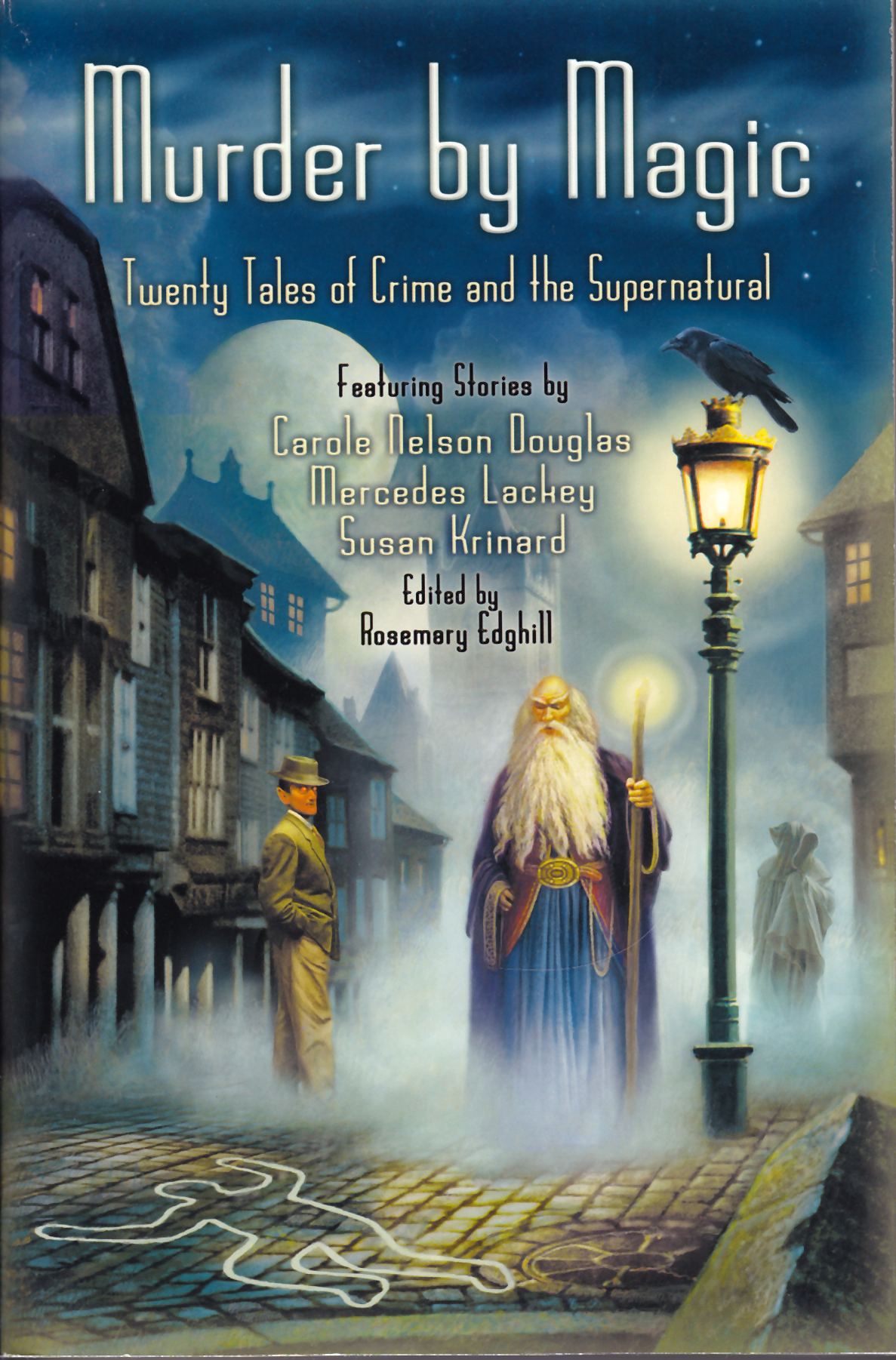 I love fantasy, and I love mysteries, so I figured that this should be a great short story collection. After all, I've read some excellent fantasy mysteries recently, such as those written by Charlaine Harris and Simon R. Green. This collection, however, was a mixed bag. For one thing, it look me about three months to read. I'd zip through a couple of stories, and then get bogged down in a story that took days to read, and then I set it aside for something else that looked more interesting.
The problem with several of the stories seemed to be that the ability to write good fantasy does not mean the ability to write good fantasy, and vice versa.
But there are some excellent stories in this collection.
Au Purr - Esther M. Friesner
I enjoyed Esther M. Friesner's story "Au Purr" which was well done fantasy and a pretty good mystery. I also really liked Lawrence Watt-Evans' story "Dropping Hints." It reminded me of a puzzle that I'd heard, or perhaps a folk tale, of five identical creatures, and how do you tell them apart? M.J. Hamilton's "Double Jeopardy" was also interesting, although I found the fantasy element rather confusing in the beginning.
So, as a mystery collection, I found this anthology mostly disappointing. But I really do recommend looking for Laura Resnick's "Doppelgangster," which was just plain fun.
Rating: 5/10
My Big Fat Supernatural Wedding (2006) edited by P.N. Elrod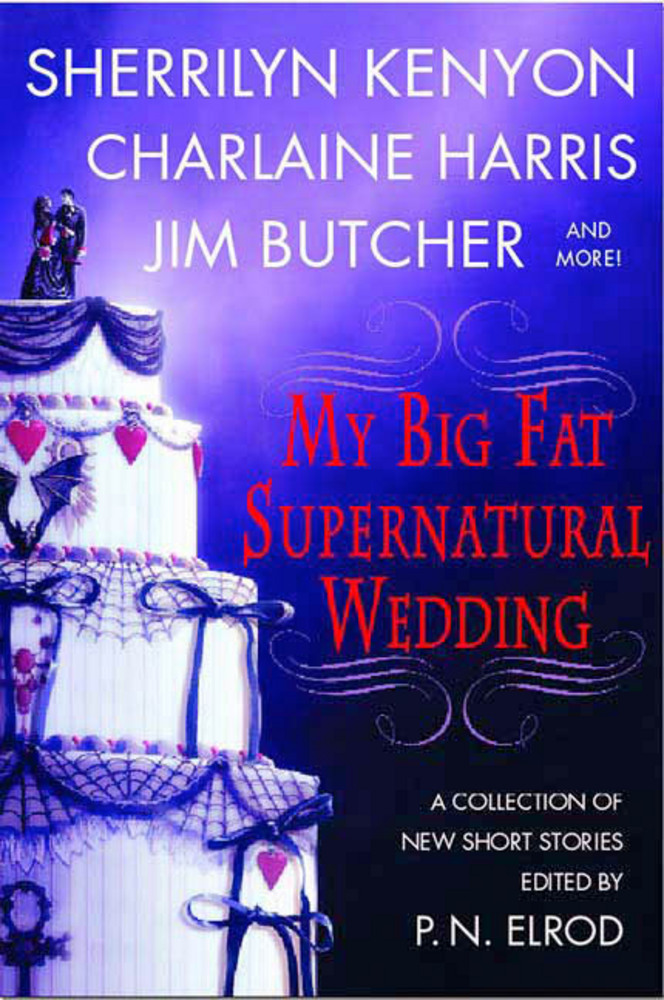 My Big Fat Supernatural Wedding is an anthology of short stories featuring supernatural creatures and weddings. All the stories are good, but some are better than others. In some of the stories the wedding is the main feature, while in other stories the wedding felt a bit tacked on to make the story fit into the anthology.
The Wedding of Wylda Serene - Esther M. Friesner
All the stories have a romantic plot; some have boinking, but not all. (I, of course, prefer the stories without the boinking.) There were some stories that I preferred over others, but all the stories in the collection were strong and well worth reading, while several of the stories were well-written enough to make me glad I bought the collection.
Rating: 7/10

Under Cover of Darkness (2007) edited by Julie E. Czerneda and Jana Paniccia
"Seeking the Master" by Esther M. Friesner

Published by Daw

Better Off Undead (2008) edited by Martin H. Greenberg & Daniel M. Hoyt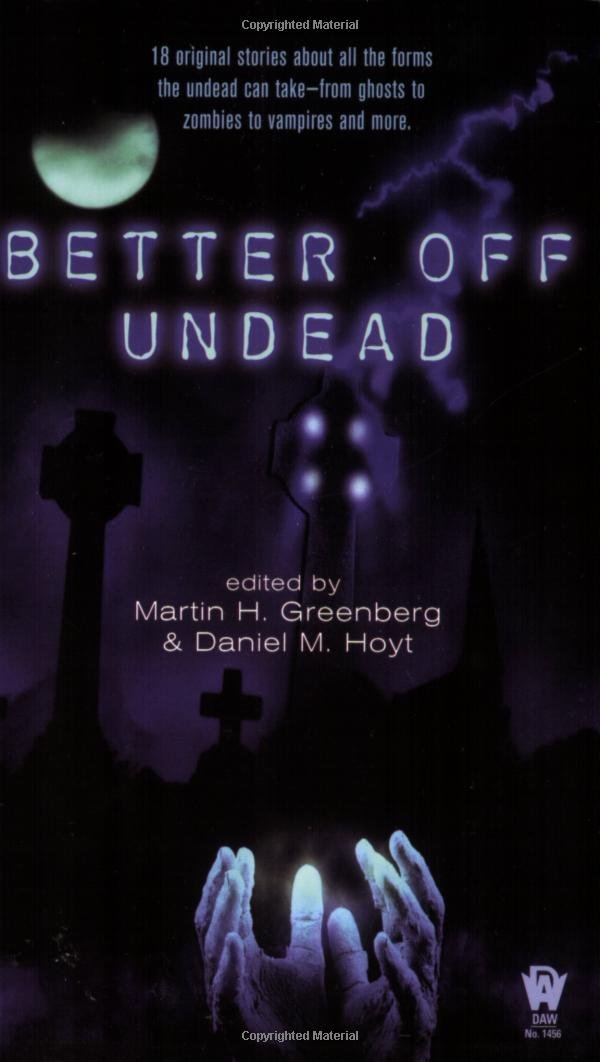 Anthologies edited by Martin H. Greenberg are usually ones I can pick up knowing that I'll like the majority of stories within.
This volume? Not so much. There were a handful of stories I thought were good, but for the most part? Meh.
Mummy Knows Best - Esther M. Friesner
Most of the stories were meh, and some I actually disliked, but if you come across any of the above in another anthology, I highly recommend them.
Published by DAW
Rating: 5/10
Full Moon City (2010) edited by Martin H. Greenberg & Darrell Schweitzer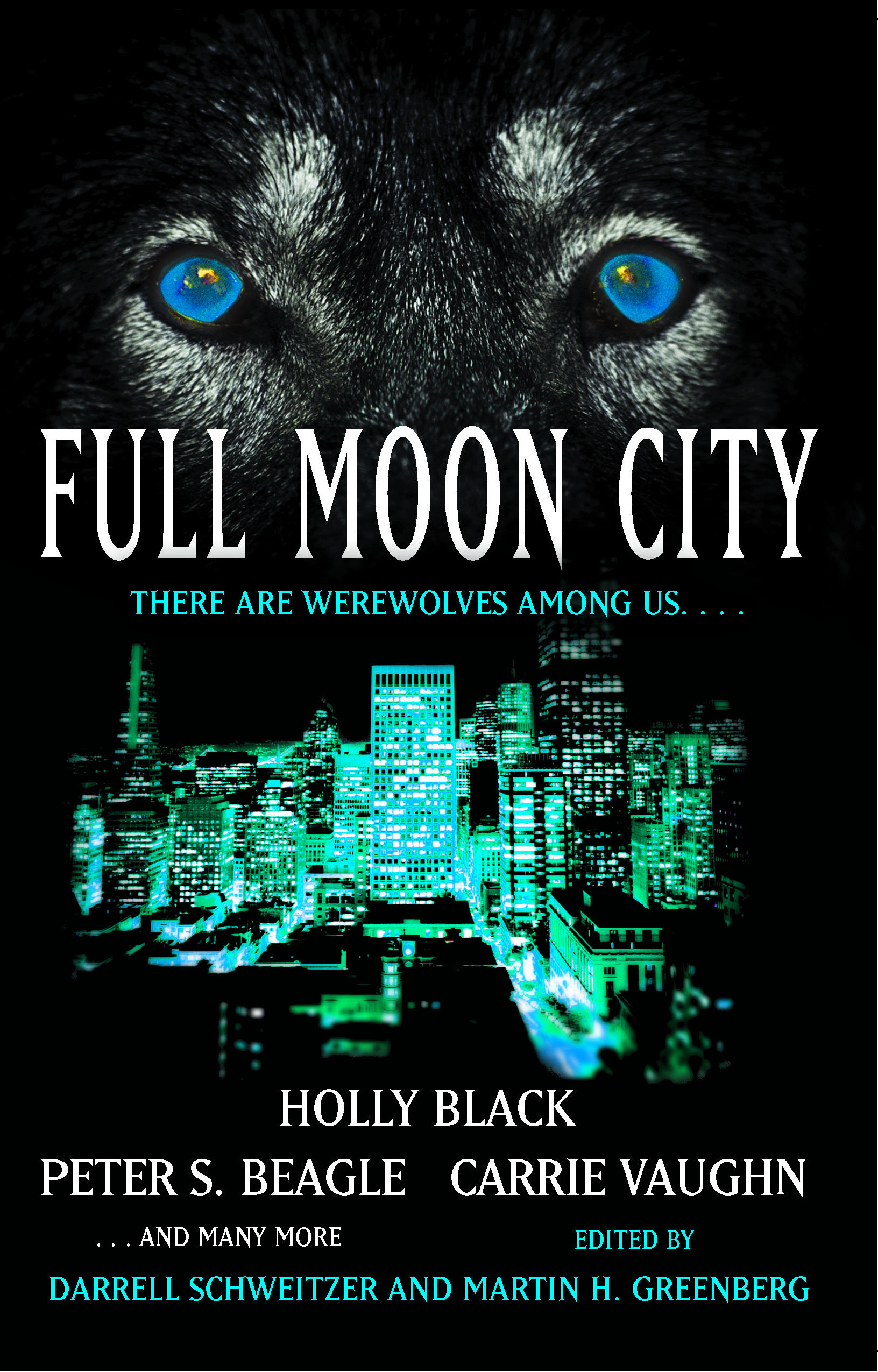 I love anthologies. Though I have to admit that with the way paranormal romance has taken off, the ratio of wheat to chaff has been unfavorable for me. However, Carrie Vaughn and Peter S. Beagle were pretty compelling reasons to get this anthology.
Big Hair – Esther Friesner
The introduction was written by Bill Willingham, whose writing I adore, and whose introduction amused me. Here's the very start of it:
I have to confess I'm no good at writing a proper introduction, because, I'm in the storytelling business, which means I get to lie for a living, and I've become well practiced at it. But introductions are supposed to be true. After so many years, I despair if I have much unvarnished truth in me.
Please note, as previously mentioned, the stories have rape and incest and lots and lots of sex in addition to evil stepmothers and other such killers.
There were also a fair number of very dark and very depressing tales that were very good, but that I didn't enjoy at all.
Published by Night Shade Books
Rating: 8/10