Footwear
Footwear is far and away the most important thing to consider when hiking, and one of the first things people ask when they start hiking is, "what kind of shoes should I get?"
The answer is simple: It depends.
Let's take me: I am clumsy, I have high arches, and I have a lot of metal in my right ankle from where I broke it in 2010. This means that for me, boots are essential. I need the extra protection and support. My day-to-day footwear is boots. I don't want to take the chance of turning my ankle when (not if) I take a misstep. So I'm going to talk about boots, because that's the best footwear for me. Some people prefer lighter or minimalist, which is perfectly fine--but not for me.
Since footwear is so dependant upon personal preferences, you need to go to the store (while wearing your thickest hiking socks!) and clomp around in a pair of boots while you're doing some other shopping. REI is perfect for this. The stores I've been in have fake rocks you can clamber over to see if anything rubs or pinches on rough terrain, and they encourage you to walk around, to see how the boot feels for more than just 30 seconds. We're talking ten minutes or more. Do some other shopping while you're testing out the boots. And take into consideration the type of terrain you are going to hike. WV is all hills, and a lot of those steep, so I need to pay attention to my toes and heels when I clamber on that fake rock.
Because of these issues, I have owned a lot of different kinds of boots, and can tell you what I find find best for me, but that may not be the case for you!
Something else I learned--sometimes, a pair of boots you love initially might not work out. I have a great pair of Ahnu that I adore, however when I'm doing steep terrain for a long period of time, they start to hurt. That sucks, but it's the way things are. I still have them, but I don't wear them if I'm going to be doing a steep trail. (This means they're typically thrown into the car for changing into after a wet/muddy/messy hike. They're also the boots I tend to wear if I'm hiking with kids.) This doesn't make them bad boots, they're just problematic for me on certain terrain.
I can't emphasize that enough. What works for me might not work for you and vice versa. The only way you're going to know is to try on a lot of different kinds of hiking shoes, and determine what you find comfortable.
That said, these are some of the brands of boots I own and wear. (I recommend buying from REI. Because REI is awesome, but I put in some links to Amazon, because if you buy something I get portions of pennies to eventually buy books.)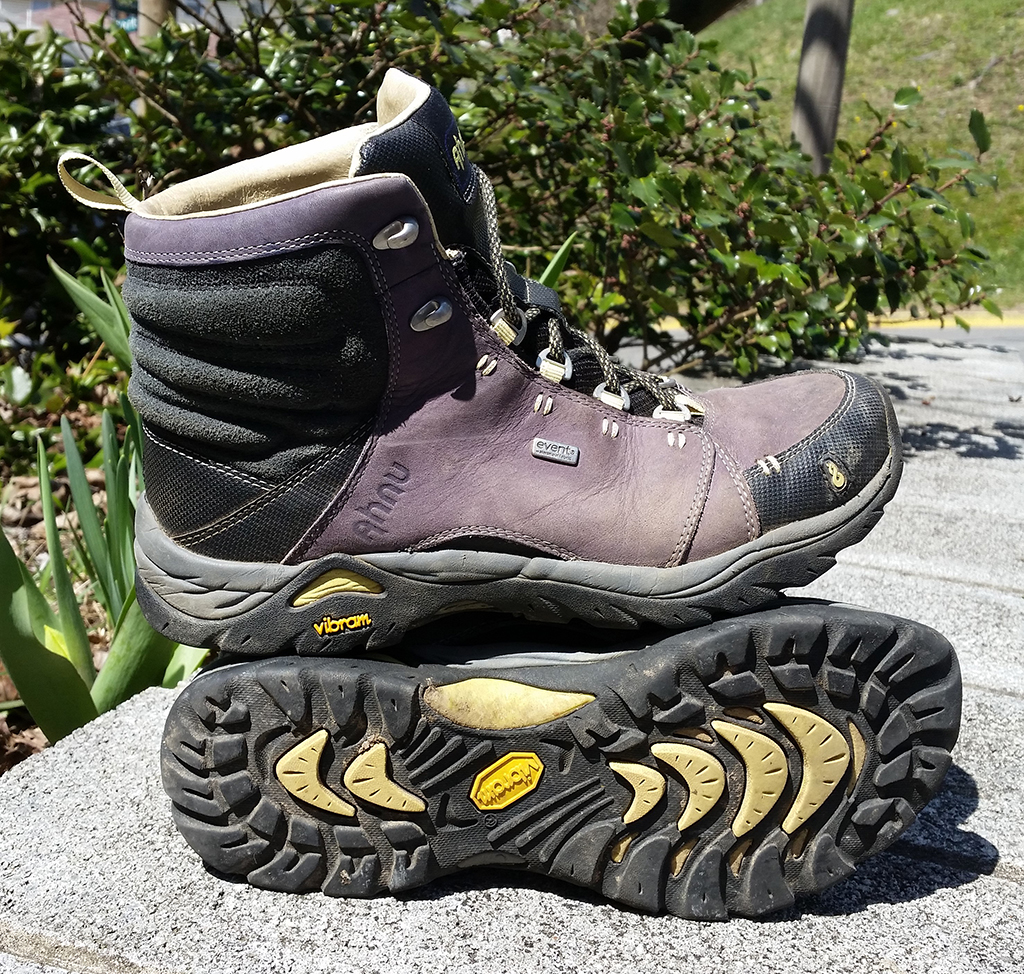 I have a pair of Ahnu Montara and I really like them, even if I can't wear them on extremely steep terrain.
They are extremely light and comfortable, and I've never had issues with my feet getting wet, even though I usually tromp around in streams and creeks. Their height is especially good for steams and creeks.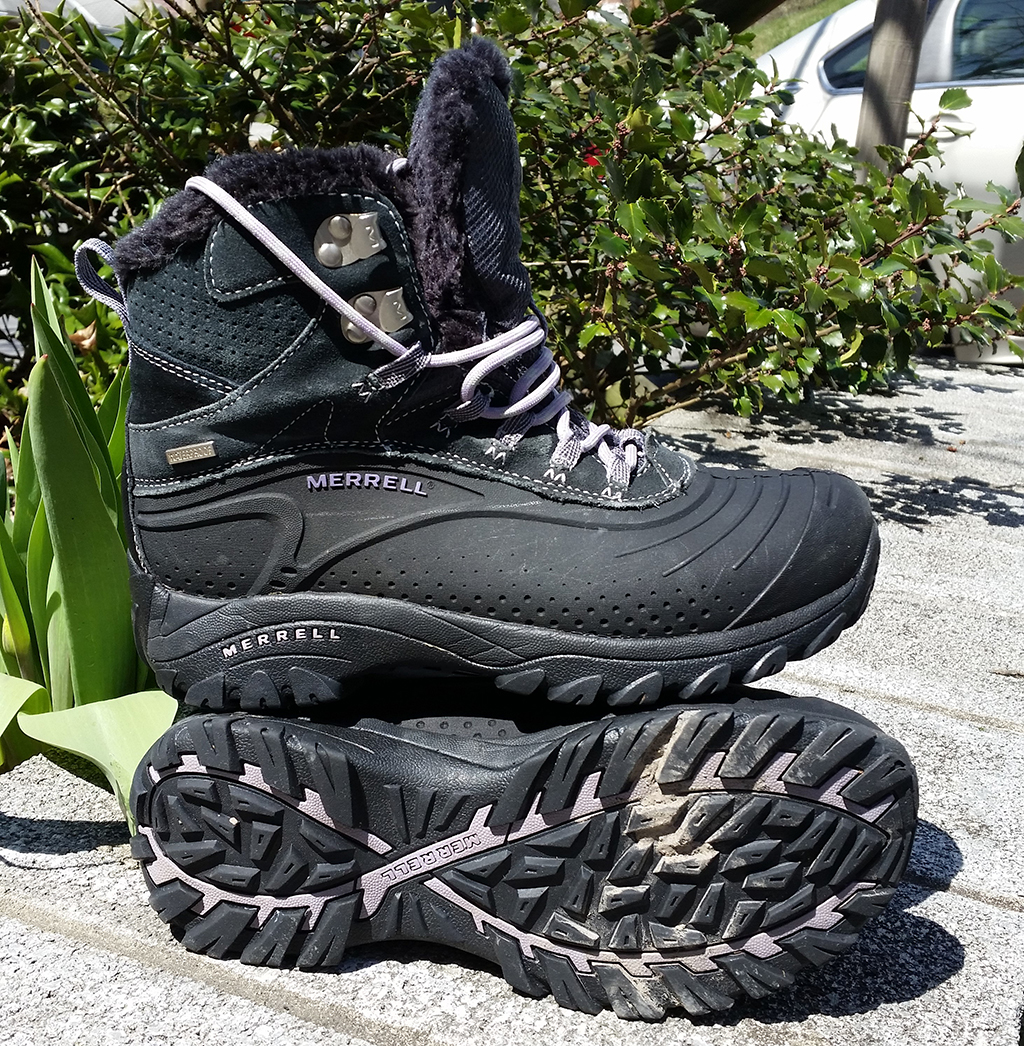 One of my first comfortable pairs of boots were the Moab 2. These are water resistant but not especially water proof, which ended up being a problem for me. They are light and very good for clambering on rocks.
My winter hiking boots are Merrells. They ended up being a good investment because I love hiking in the snow and cold. They're warm and waterproof and the fake fur keeps the snow out.
My current go-ro boots are Salomon. I have two pairs, an older pair that isn't quite as waterproof anymore, and a newer pair. The older pair are currently being worn when I know conditions are going to be extremely muddy. So: pretty much all late winter and spring.
Quest Prime GTX
What do I like best about them? The lace locker that keeps the laces from slipping. (Circled in red below.)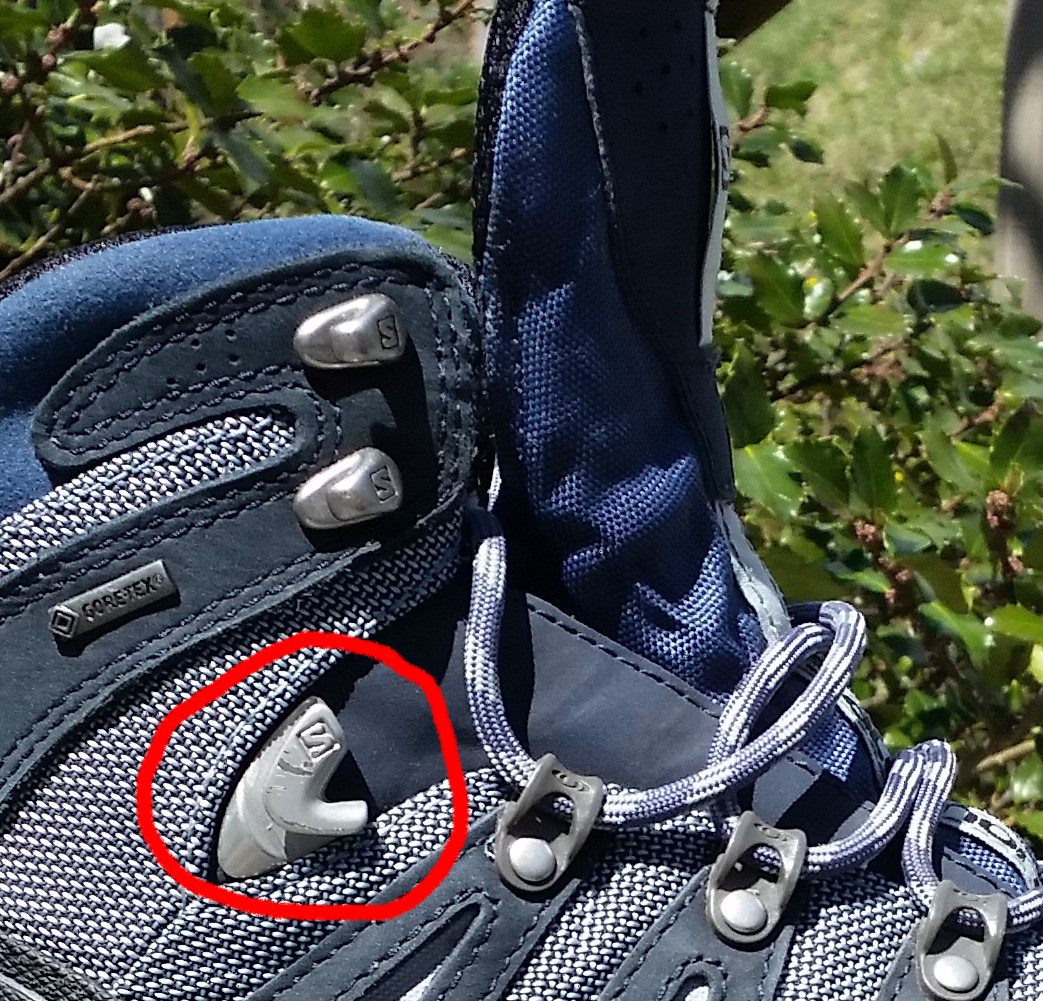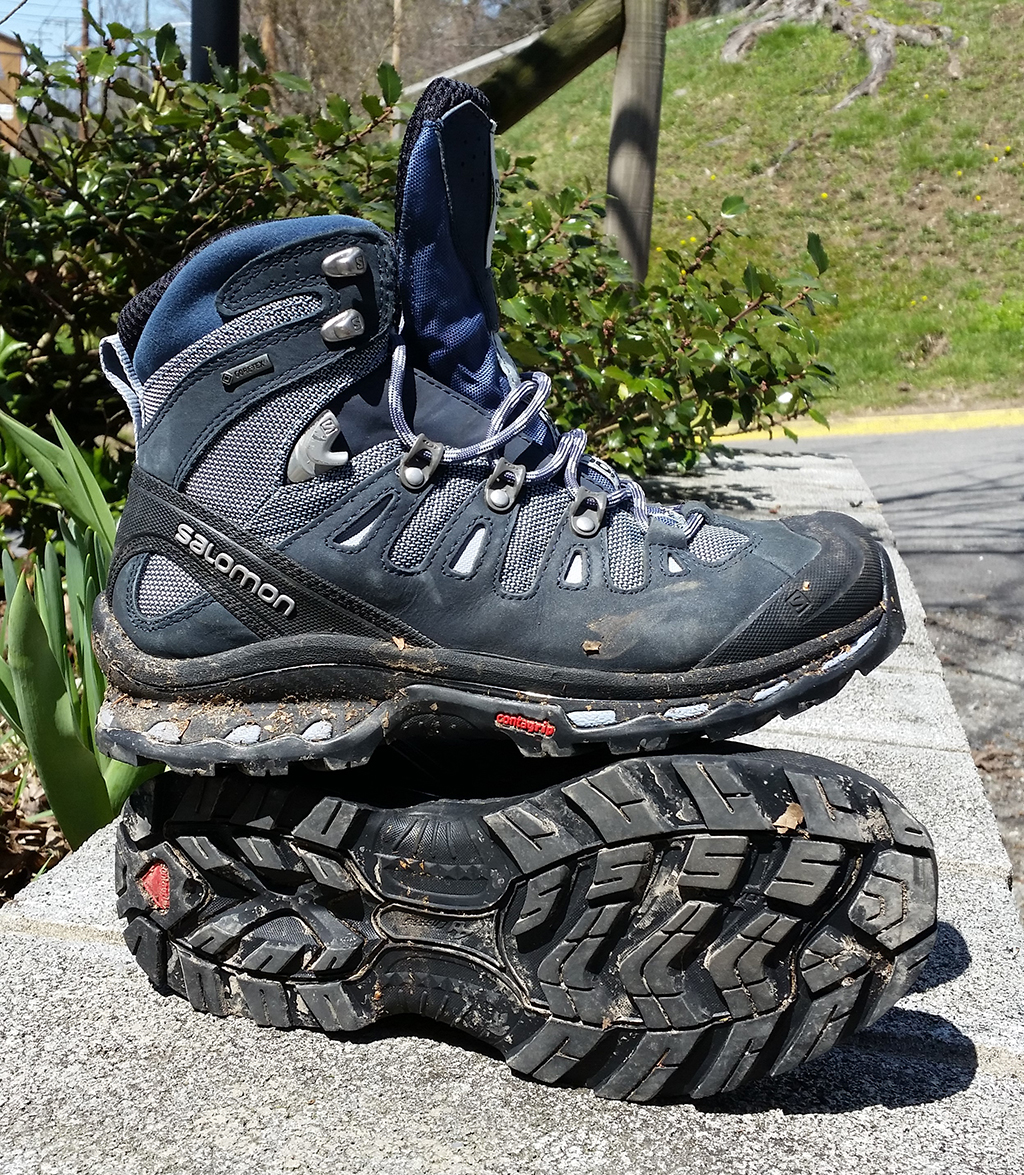 Quest 4D 2 GTX
What's the difference betweent the two? Height.
What do I like least about them? Nubuck. They get filthy quickly, and are difficult to keep clean. That's an issue because it's possible that when mud dries the dirt particles can filter in and reduce the effectiveness of the waterproofing. I don't care about my boots looking nice, but I do care greatly about them being waterproof.
Hiking in Streams
One of my favorite things is to hike through and up streams. And as WV has about a million creeks and streams, there is plenty of water for me to play in. However, I don't care for hiking with wet feet. This led to two separate solutions:
1) Waterproof boots. At this point I only buy waterproof boots, and I do my best to keep them waterproof. Adding gaiters helps even more.
2) Water shoes. Sometimes a stream is going to be higher than the tops of my boots. Or I want to play around in a stream. The issue here is (again) that I am clumsy. Water shoes allow me to keep better traction while in the water AND keep me from freaking out and falling over if I step on something that moves. (Sorry, that's just the way I am: Easily startled with unfortunate consequences.)
I clip the shoes onto my backpack and carry a pack towel. When I'm done I dry my feet, wrap the dripping shoes in the pack towel, and clip them back onto my backpack. Most people aren't that picky, but as I said, the combination of hating wet feet and loving to play in streams necessitated this for me.
Socks
Get good socks. Nice thick wool socks. And if you're hiking in the cold, consider adding a pair of thin liner socks. If you think you're going to be getting your feet wet, carry extra socks.
More about Hiking Gear please!