Books: Mystery | Historical
Sister Fidelma: Absolution By Murder (1994), Shroud for the Archbishop (1995), Suffer Little Children (1995), The Subtle Serpent (1996), The Spider's Web (1997), Valley of the Shadows (1998), The Monk Who Vanished (1999), Act of Mercy (1999), Our Lady of Darkness (2004), Hemlock at Vespers (2000), Smoke in the Wind (2001), The Haunted Abbot (2002), Badger's Moon (2003), The Leper's Bell (2004), Whispers of the Dead (2004), Master of Souls (2005), A Prayer for the Damned (2006), Dancing with Demons (2007), The Council of the Cursed (2008), The Dove of Death (2009), The Chalice of Blood (2010), Behold a Pale Horse (2011), The Seventh Trumpet (2012), Atonement of Blood (2013), The Devil's Seal (2014), The Second Death (2015) Penance of the Damned (2016)
Anthologies
Emerald Magic (2004), An Ensuing Evil and Others (2006), The Mammoth Book of Historical Crime Fiction (2011)
Sister Fidelma is a religieuse and legal advocat in 7th century Ireland. This is an excellent series, and according to the reviews, historically accurate as well. This is another series I have had difficulty finding locally, but it is well worth the search. This is also another series that my grandmother really enjoyed.
Absolution By Murder (1994)
Set in England in 664
I'd read these years and years ago, and had been looking for the eBook versions to go on sale, but no joy, so I broke down and bought the first two ebooks.
Sister Fidelma follows the Celtic Christian tradition, but more importantly to the story, is a legally trained scholar and a dálaigh of the Brehon courts of Ireland. And also important is the fact that Celtic women had pretty much the same rights as Celtic men–quite modern rights compared to the rest of Christendom at that time.
The story is set in the synod of Whitby, which was to determine whether the English churches would follow Rome or Celtic rule.
'Easter?'

'The Saxons have accepted most of our teaching of Christian faith but as for the Paschal feast they insist on naming it after their pagan goddess of fertility, Eostre, whose rituals fall at the time of the Spring equinox.
My favorite part of this series is the backdrop of history, which I can understand might not appeal to all readers, but I love these bits.
Clergy, even bishops, took spouses; even the religious of houses, whether mixed or not, could have wives and husbands, under Brehon law and custom. But the position of an abbot and abbess was in a different category for they were usually bound to celibacy.
Even the end notes were fascinating to me.
By the fifth century Rome had forbidden clerics from the rank of abbot and bishop to sleep with their wives and, shortly after, even to marry at all.
Don't get me wrong, the mystery itself is interesting, as are the characters, even if it is somewhat difficult to keep track of the various Saxon and Celtic names.
I wanted to know everything. I tried to devour knowledge like the bee devours nectar, flitting from one flower to another but never staying long. I am no specialist but have a little knowledge of many things.
I do like this series, and wish the rest of the series would go on sale in eBook format.
Published by Minotaur Books
Rating: 8/10
Shroud for the Archbishop (1995)
Set in Rome in 664
The second Fidelma mystery finds Fidelma and Eadulf in Rome, where Eadulf is secretary to Wighard, Archbishop designate of Canterbury and Fidelma is to present various items to the Bishop of Rome.
Again, Fidelma suffers culture shock as she sees the restricted rights of women in the rest of Christendom.
But she does get to see may holy items.
'And here is the table at which our Saviour ate the last supper …'

Fidelma smiled cynically. 'Then it was more miracle than I had allowed for only two people could sit at this table let alone twelve apostles and the Christ.'
Most of the harm done in this world is due to people who want to feel important and set about trying to impress their importance on others.'
I hold similar views as Fidelma about beauty.
'It is a beautiful building,' she said softly, 'but not as beautiful as a pleasant valley or great mountain or windswept cliff. That is true beauty, the beauty of nature untrammelled by man's temporary constructions.'
I do love the history in this series.
Published by Minotaur Books
Rating: 8/10
Whispers of the Dead (2004)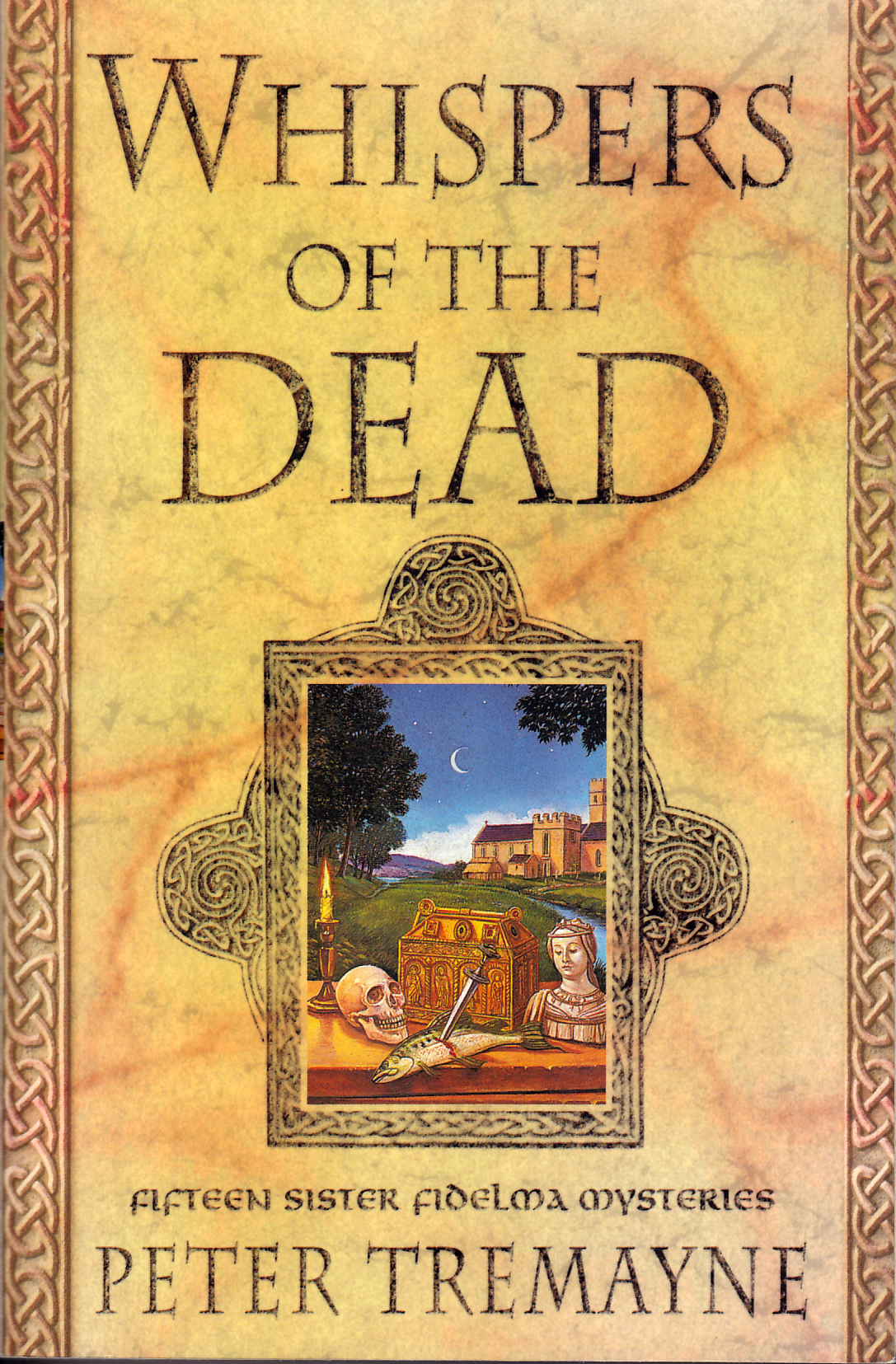 When I first came across the Sister Fidelma mysteries I was almost certain I was going to like them. Sister Fidelma is a nun and a lawyer in 17th century Ireland. Written by an Irish scholar, the stories are full of wonderful historical detail and are history lessons as much as mysteries, which is perfect, since I love history and mystery.
This latest book, Whispers of the Dead, is the second collection of Sister Fidelma short stories Peter Tremayne has written. I appreciate the fact that Peter Tremayne can write both novels and short stories, and do both equally well, although as always, I'm partial to his short stories. The stories in this collection are, for the most part, not set in a specific time frame, although "The Blemish" occurs prior to any of the books, when Fidelma is in law school, and characters in several other stories refer to events that occur in the novels, but I didn't recognize any spoilers for any of the novels.
Would this collection provide a good starting place if you have to read a Sister Fidelma story before? Possibly, although I think that Hemlock at Vespers would be a better the better collection to begin with, since he does explain far less about her past in these stories. If I remember correctly, I did find the repetition of Fidelma's past in every story a bit frustrating in that collection, but as he was writing for people who had most likely not read one of his books before, it made sense.
Thus I appreciated the fact that these stories were written so as to not repeat the same details over and over, about Ireland and Sister Fidelma, and Irish law in the 17th century. But for the unfamiliar, he provides an Introduction, which discusses some of the historical details that were brought up through the series. A bit of a primer for those who have not read a Sister Fidelma mystery before. In which case I strongly suggest: go out and do so right now! These stories are appropriate for any age, and my grandmother loves them just as much as I do.
Right now I'd love to go back and reread all the Sister Fidelma mysteries, except that my mom has borrowed all of them, so I'll have to find something new to read instead.
Published by Minotaur Books
Rating: 7/10
Suffer Little Children (1995) 
Set in England in 665
Sister Fidelma has been summoned by the dying King of Muman, to act as an advocate to see who killed the scholar Dacan, who had been visiting the Abbey of Ros Ailithir. The matter is important, because Fearna is trying to use the death to regain territory.
At first, it seems as if too much time has passed for Fidelma to find the murderer, but events seem to show that it's still an active problem.
Tóla looked serious for the first time during their conversation. 'There were no bruises that I saw. It did not occur to me …' He paused and grimaced in annoyance.

'What?' demanded Fidelma.

'I am incompetent,' sighed Tóla.

'Why so?'

'I should have asked this very question at the time but I did not.
The world of 7th century Ireland is so very unexpected to the modern reader.
I do not believe that man sets out purposely to commit injustice. He always does it because he is blinded by some distorted image of a perceived morality, or of a just cause.'
(N)o one, especially no woman, should put up with verbal abuse from others. The Bretha Nemed makes it an offence in law for a woman to be harassed and especially to be verbally assaulted.
Publisher: Minotaur Books
Emerald Magic (2004) edited by Andrew M. Greeley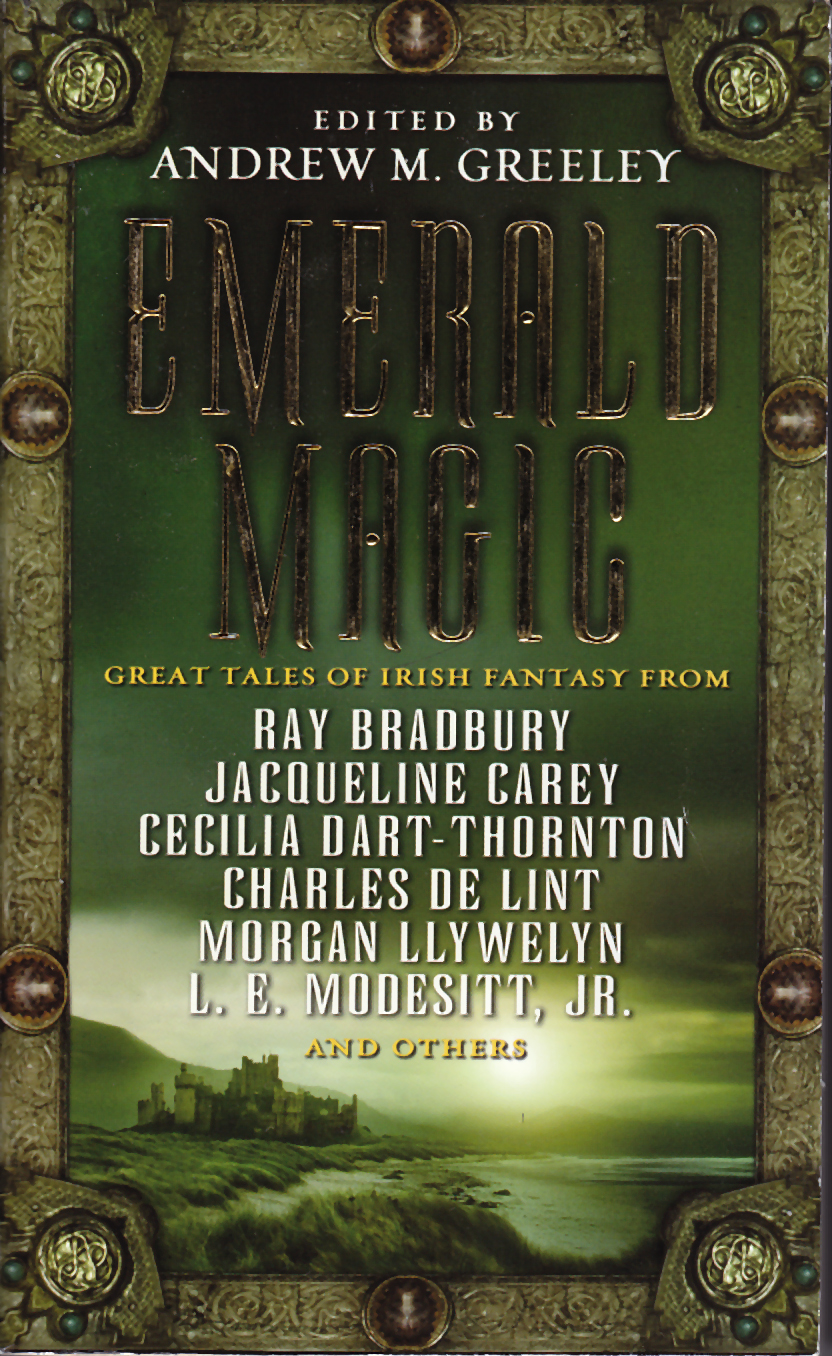 This book first caught my eye because I didn't expect to see Andrew Greeley's name in the fantasy section. Then I looked at the list of authors who wrote in this anthology: Charles de Lint, Diane Duane, Elizabeth Haydon, Morgan Llywelyn, Judith Tarr, Peter Tremayne, Jane Yolen. Even one of those names would have been enough inducement for me to pick up the book--but all those? And more!
Irish mythology, folktales, and fantasy. What more could I want?
Every story I read was excellent, although I did skip L.E. Modesitt Jr's science fiction story (I am rarely in the mood for science fiction.)
Herself by Diane Duane
Speir-Bhan by Tanith Lee
Troubles by Jane Yolen and Adam Stemple
The Hermit and the Sidhe by Judith Tarr
The Merrow by Elizabeth Haydon
The Butter Spirit's Tithe by Charles de Lint
Banshee by Ray Bardbury
Peace in Heaven by Andrew Greeley
The Lady in Grey by Jane Lindskold
A Drop of Something Special in the Blood by Fred Saberhagen
For the Blood Is the Life by Peter Tremayne
Long the Clouds Are Over Me Tonight by Cecilia Dart-Thornton
The Swan Pilot by L.E. Modesitt, Jr
The Isle of Women by Jacqueline Carey
The Cat with No Name by Morgan Llywelyn
I was quite surprised by Peter Tremayne's story For the Blood is the Life. I love his mysteries, and would never have guessed that this story--set in Modern Ireland--was one of his. On a similar vein to Peter Tremayne's story was Fred Saberhagen's A Drop of Something Special in the Blood.
This is an anthology that I will come back and read again, so if you're wondering whether you should make the purchase, my recommendation if definitely YES!
Rating: 8/10
The Mammoth Book of Historical Crime Fiction (2011) edited by Mike Ashley
Archimedes and the Scientific Method by Tom Holt
Something to do with Diana by Steven Saylor
Eyes of the Icon by Mary Reed and Eric Mayer
Night of the Snow Wolf by Peter Tremayne
Jettisoned by Deirdre Counihan
A Fiery Death by Ian Morson
Hide and Seek by Tony Pollard
The Fourth Quadrant by Dorothy Lumley
Brodie and the Regrettable Incident by Anne Perry
Forty Morgan Silver Dollars by Maan Meyers
Trafalgar by Charles Todd
Dead of Winter by Richard A. Lupoff
Night of the Snow Wolf by Peter Tremayne is a Sister Fidelma mystery, and it reminded me how much I enjoyed those stories, so why haven't I read one in years?
It was an enjoyable anthology, reminding me of several authors I need to read, as well as re-read.
Published by Robinson
Rating: 8/10