Books
Favorite Folktales from around the World (1986)
Anthologies: Snow White, Blood Red (1993), Black Thorn, White Rose: A Modern Book of Adult Fairytales (1994), The Year's Best Fantasy and Horror: Seventh Annual Collection (1994), Ruby Slippers, Golden Tears (1995), The Year's Best Fantasy & Horror: Eighth Annual Collection (1995), A Wolf at the Door (2000), The Green Man : Tales from the Mythic Forest (2002), Swan Sister (2003), Emerald Magic (2004), Grails: Quests of the Dawn (2004), The Coyote Road: Trickster Tales (2007), By Blood We Live (2009), Firebirds Soaring (2009), Troll's Eye View: A Book of Villainous Tales (2009), The Beastly Bride: Tales of the Animal People (2010), Happily Ever After (2011), Under My Hat: Tales from the Cauldron (2012), Queen Victoria's Book of Spells: An Anthology of Gaslamp Fantasy (2013), Beyond the Pale: A Fantasy Anthology (2014)
Favorite Folktales from around the World (1986)
I picked this up in Cincinnati, but since I'm only reading a story or two a night before I fall asleep, it's not going very quickly. This is a very good collection, with a lovely collection of tales, some of which I had read before, but some that I have not. Although some are acceptable for children, some because they mention of sex, might not be, so I wouldn't get this book for a very young child, unless you were planning on reading it to them, and skipping the stories they might not understand. It would, I believe, be perfectly acceptable for a pre-teen or teenager who understands the concept of sex however. I mean, they're not sexy stories, they just might not make any sense to young kids.
I really liked the fact that although I have read collections of Russian and Chinese folktales, there were still stories with which I was unfamiliar. And of course it's always a pleasure to read a good story again, so it is not a bad thing when there are tales I already know, it is just that it is always a joy to come across a new tale.
I love the African Tale Talk which this collection contains. It may be one of my favorites, just because it always strikes me as really funny. I also enjoyed this tale, which I've read other versions of before, but this short version is one of my favorites.
The Old Man and His Grandson

There was once a very old man, whose eyes had become dim, his ears dull of hearing, his knees trembled, and when he sat at the table he could hardly hold the spoon, and spilled the broth upon the tablecloth or let it run out of his mouth. His son and his son's wife were disgusted at this, so the old grandfather at last had to sit in the corner behind the stove, and they gave him his food in an earthenware bowl, and not enough of it. And he used to look towards the table with his eyes full of tears. Once, too, his trembling hands could not hold the bowl, and it fell to the ground and broke. The young wife scolded him, but he said nothing and only sighed. Then they bought him a wooden bowl for a few halfpence, out of which he had to eat.

They were once sitting thus when the little grandson of four began to gather together some bits of wood upon the ground. "What are you doing?" asked the father. "I am making a little trough," answered the child, "for Father and Mother to eat out of when I am big."

The man and his wife looked at each other for a while, and presently began to cry. Then they took the grandfather to the table, and henceforth always let him eat with them, and likewise said nothing if he did spill a little of anything.
I sometimes think about this story when I hear people complaining about their elderly parents or grandparents, and wonder what they will be like when they reach that age. If they will remember.
Anthologies
Snow White, Blood Red (1993) edited by Ellen Datlow & Terri Windling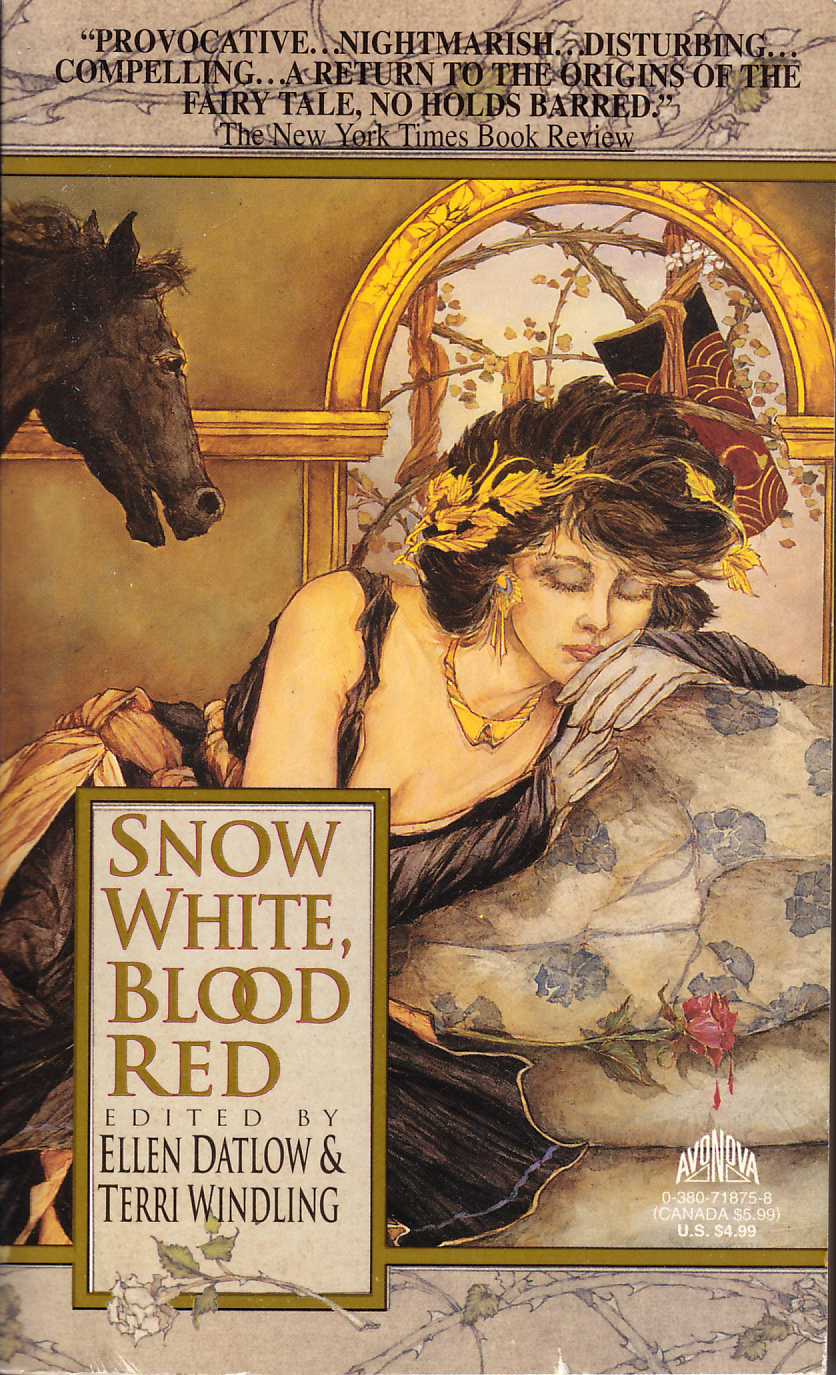 I often have a hard time putting down interesting books. Which means that if I'm reading a book I real like before bed, I end up staying up past my bed time instead of falling asleep. One solution is to read non-fiction before bed. The other solution is to read short story anthologies. Unfortunately, there are not a lot of high quality anthologies out there. At least, not enough to keep up with the rate at which I can read.
So I decided to go back and reread Ellen Datlow and Terri Windling's fantasy anthology Snow White, Blood Red. This book has a whole bunch of things going for it at once: it's edited by Ellen Datlow and Terri Windling; it's got stories by Neil Gaiman and Charles de Lint; and the stories are retellings or reinventions of folk and fairy tales. Mostly fairy tales in this book.
Plus, a gorgeous cover by Thomas Canty.
For those who are unfamiliar with folk tales and fairy tales, many of the original tales--before they got cleaned up and given to kids--were filled with sex, (in addition to the casual violence of people getting eyes poked out or chopping off bits of feet or being shoved into ovens.)
In other words, these are not stories for children.
Like a Red, Red Rose - Susan Wade
The Moon is Drowning While I Sleep - Charles de Lint
The Frog Prince - Gahan Wilson
Stalking Beans -Nancy Kress
Snow-Drop - Tanith Lee
Little Red - Wendy Wheeler
I Shall Do Thee Mischie in the Wood - Kathe Koja
The Root of the Matter - Gregory Frost
The Princess in the Tower - Elizabeth A. Lynn
Persimmon - Harvey Jacobs
Little Poucet - Steve Rasnic Tem
The Changelings - Melanie Tem
The Springfield Swans - Caroline Stevermer and Ryan Edmonds
Troll Bridge - Neil Gaiman
A Sound, Like Angels Singing - Leonard Rysdyk
Puss - Esther M. Friesner
The Glass Casket - Jack Dann
Knives - Jane Yolen
The Snow Queen - Patricia A. McKillip
Breadcrumbs and Stones - Lisa Goldstein
...
Also, the stories I liked less tended towards horror. This book is a collection of fantasy and horror (as are many Ellen Datlow-Terri Windling anthologies) so I expected that there were going to be at least one or two stories that I don't care for. So it didn't really bother me.
As best I can tell, this anthology is still available, so if you like short stories, this is an anthology you won't want to miss. However, if you like anthologies, this is probably one you already have sitting on your shelves.
Published by Harper Collins
Rating: 7/10
Black Thorn, White Rose: A Modern Book of Adult Fairytales (1994) edited by Ellen Datlow & Terri Windling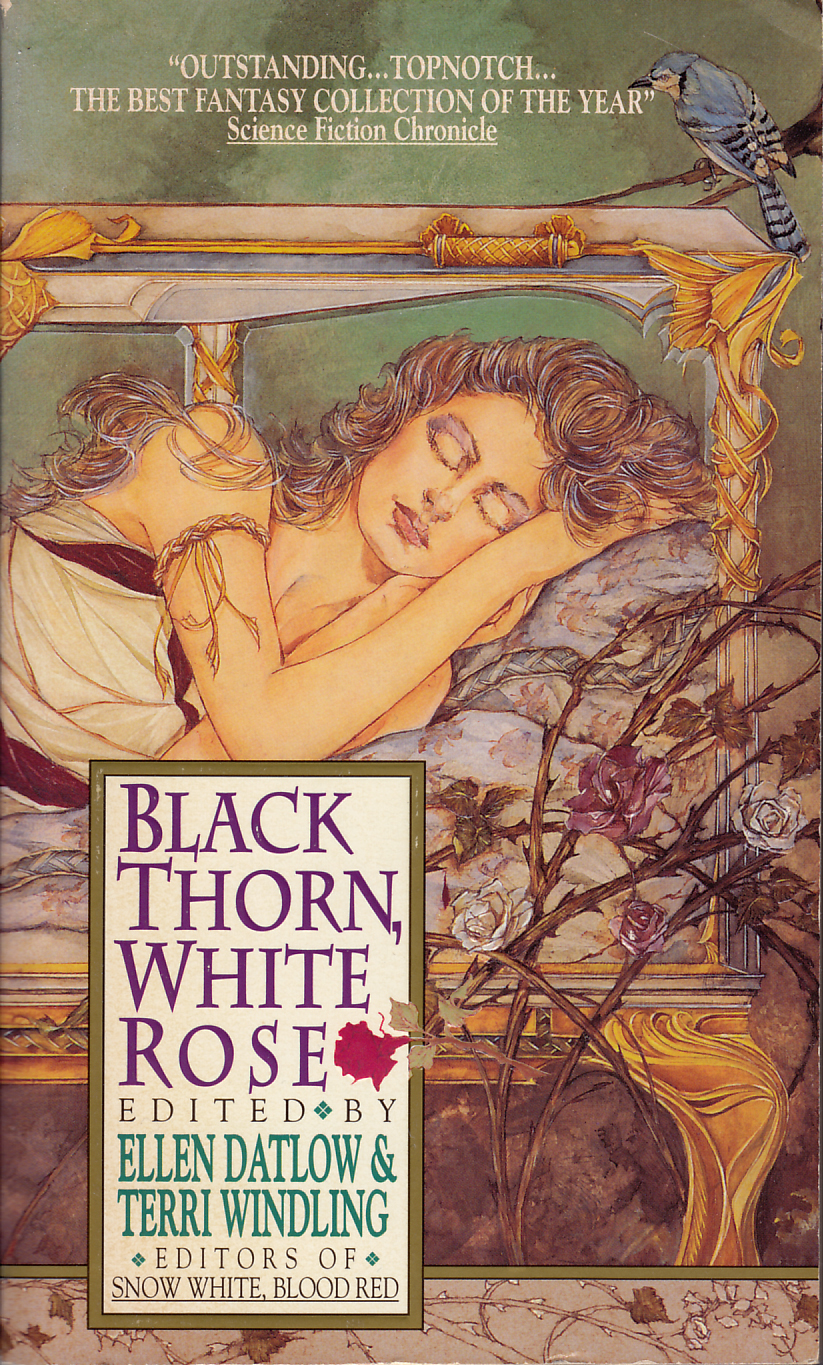 There were several of these collections in the 90s–and I had the first two if I remember correctly.
These are fairy tales retold–some with a change in the point of view, some retold in a modern setting, and some hewing only rather loosely the tales upon which they were based.
Words Like Pale Stones - Nancy Kress
Stronger than Time - Patricia C. Wrede
Somnus's Fair Maid - Ann Elizaneth Downer
The Frong King, or Iron Henry - Daniel Quinn
Near-Beauty - M.E. Beckett
Ogre - Michael Kandel
Can't Catch Me - Michael Cadnum
Journeybread Recipe - Lawrence Schimel
The Brown Bear of Norway - Isabel Cole
The Goose Girl - Tim Wynne-Jones
Tattercoars - Midori Snyder
Granny Rumple - Jane Yolen
The Sawing Boys - Howard Waldorp
Godson - Roger Zelazny
Ashputtle - Peter Straub
Silver and Gold - Ellen Steiber
Sweet Bruising Skin - Storm Constantine
The Black Swan - Susan Wade
I think my favorite story in the collection may be Roger Zelazny's "Godson" which retells a tale that's not particularly common, but one of my favorites. A boy has Death for his Godfather, and his godfather gives him gifts to use–with some stipulations. I very much like the twists that were put upon this story–especially the bicycle.
Another story I particularly liked was Jane Yolen's "Granny Rumple", though I'm not sure that like or enjoy are the proper terms for a story that's a retelling of Rumplestilskin–told from the point-of-view of the widow of the man who helped the foolish girl.
"The Sawing Boys" by Howard Waldrop was another I particularly liked, primarily for the use of Prohibition Era slang. Well, that and the fact it just plain made me laugh.
So here we are walking down this (pardon the expression) road and we are looking for a phone and a mechanically inclined individual, and we are not having such a hot time of it.
Please note that these are adult fairy tales. They are in the most part true to the original tales, but most adults would find those inappropriate for children.
Published by Wildside Press
Rating: 7/10
The Year's Best Fantasy and Horror: Seventh Annual Collection (1994) edited by Ellen Datlow & Terri Windling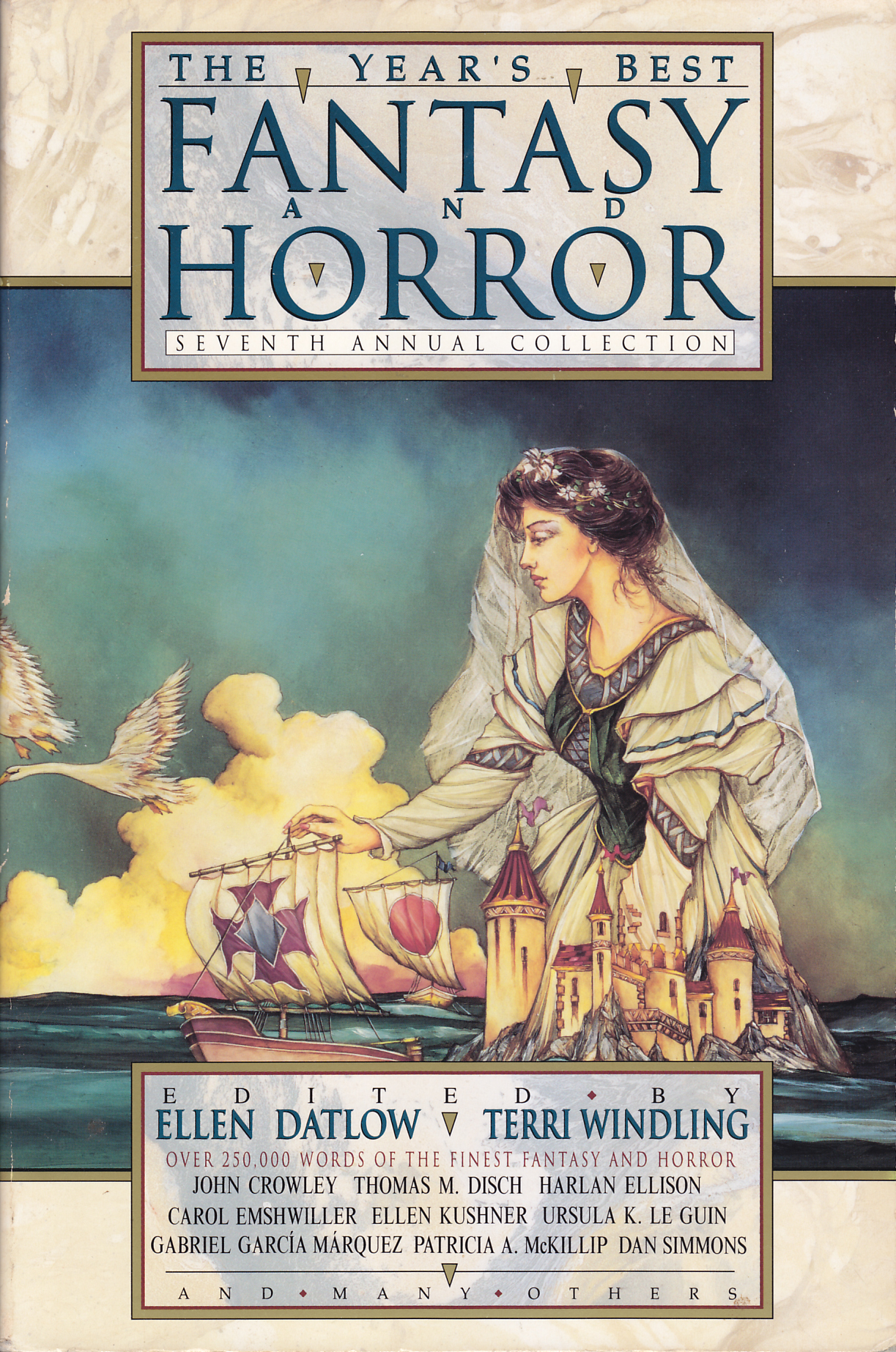 The Poacher by Ursula K. Le Guin
England Underway by Terry Bisson
The Woman in the Painting by Lisa Goldstein
The Daemon Street Ghost-Trap by Terry Dowling
Memo for Freud by Daína Chaviano; trans. by Heather Rosario-Sievert
The Sunday-Go-To-Meeting Jaw by Nancy A. Collins
Breath by Adam Corbin Fusco
Knives by Jane Yolen
Mrs. Jones by Carol Emshwiller
Snow Man by John Coyne
One Night, or Scheherazade's Bare Minimum by Thomas M. Disch
Dead Man's Shoes by Charles de Lint
The Lodger by Fred Chappell
The Erl-King by Elizabeth Hand
The Chrysanthemum Spirit by Osamu Dazai; trans. by Ralph F. McCarthy
Angel by Mary Ellis
The Taking of Mr. Bill by Graham Masterton
The Saint by Gabriel García Márquez; trans. by Edith Grossman
Cottage by Bruce McAllister
Doodles by Steve Rasnic Tem
Dying in Bangkok by Dan Simmons
Prisoners of the Royal Weather by Bruce Boston
The Snow Queen by Patricia A. McKillip
Troll Bridge by Neil Gaiman
The Storyteller by Rafik Schami
Rice and Milk by Rosario Ferr'
Ridi Bobo by Robert Devereaux
Playing with Fire by Ellen Kushner
Later by Michael Marshall Smith
Distances by Sherman Alexie
Crash Cart by Nancy Holder
Some Strange Desire by Ian McDonald
The Dog Park by Dennis Etchison
Wooden Druthers by E. R. Stewart
Inscription by Jane Yolen
In Camera by Robert Westall
The Wealth of Kingdoms (An Inflationary Tale) by Daniel Hood
The Crucian Pit by Nicholas Royle
The Ecology of Reptiles by John Coyne
The Last Crossing by Thomas Tessier
Small Adjustments by Caila Rossi
Precious by Roberta Lannes
Susan by Harlan Ellison
Freud at Thirty Paces by Sara Paretsky
If Angels Ate Apples by Geoffrey A. Landis
Exogamy by John Crowley
The Princess Who Kicked Butt by Will Shetterly
The Apprentice by Miriam Grace Monfredo
Alvyta (A Lithuanian Fairy Tale) by O. V. de L. Milosz; trans. by Edouard Roditi
The Pig Man by Augustine Bruins Funnell
Tattoo by A. R. Morlan
Lady of the Skulls by Patricia A. McKillip
To Scale by Nancy Kress
Roar at the Heart of the World by Danith McPherson
Published by St Martins Press
Ruby Slippers, Golden Tears (1995) edited by Ellen Datlow & Terri Windling
Ruby Slippers - Susan Wade
The Beast - Tanith Lee
Masterpiece - Garry Kilworth
Summer Wind - Nancy Kress
This Century of Sleep, or Briar Rose Beneath the Sea - Farida S. T. Shapiro
The Crossing - Joyce Carol Oates
Roach in Loafers - Roberta Lannes
Naked Little Men - Michael Cadnum
Brother Bear - Lisa Goldstein
The Emperor Who had Never Seen a Dragon - John Brunner
Billy Fearless - Nancy A Collins
The Death of Koshchei the Deathless - Gene Wolfe
The Real Princess - Susan Palwick
The Huntsman's Story - Milbre Burch
After Push Comes to Shove - Milbre Burch
Hansel and Grettel - Gahan Wilson
Match Girl - Anne Bishop
Waking the Prince - Kathe Koja
The Fox Wife - Ellen Steiber
The White Road - Neil Gaiman
The Traveler and the Tale - Jane Yolen
The Printer's Daughter - Delia Sherman
Published by Harper Collins
The Year's Best Fantasy & Horror: Eighth Annual Collection (1995) edited by Ellen Datlow & Terri Windling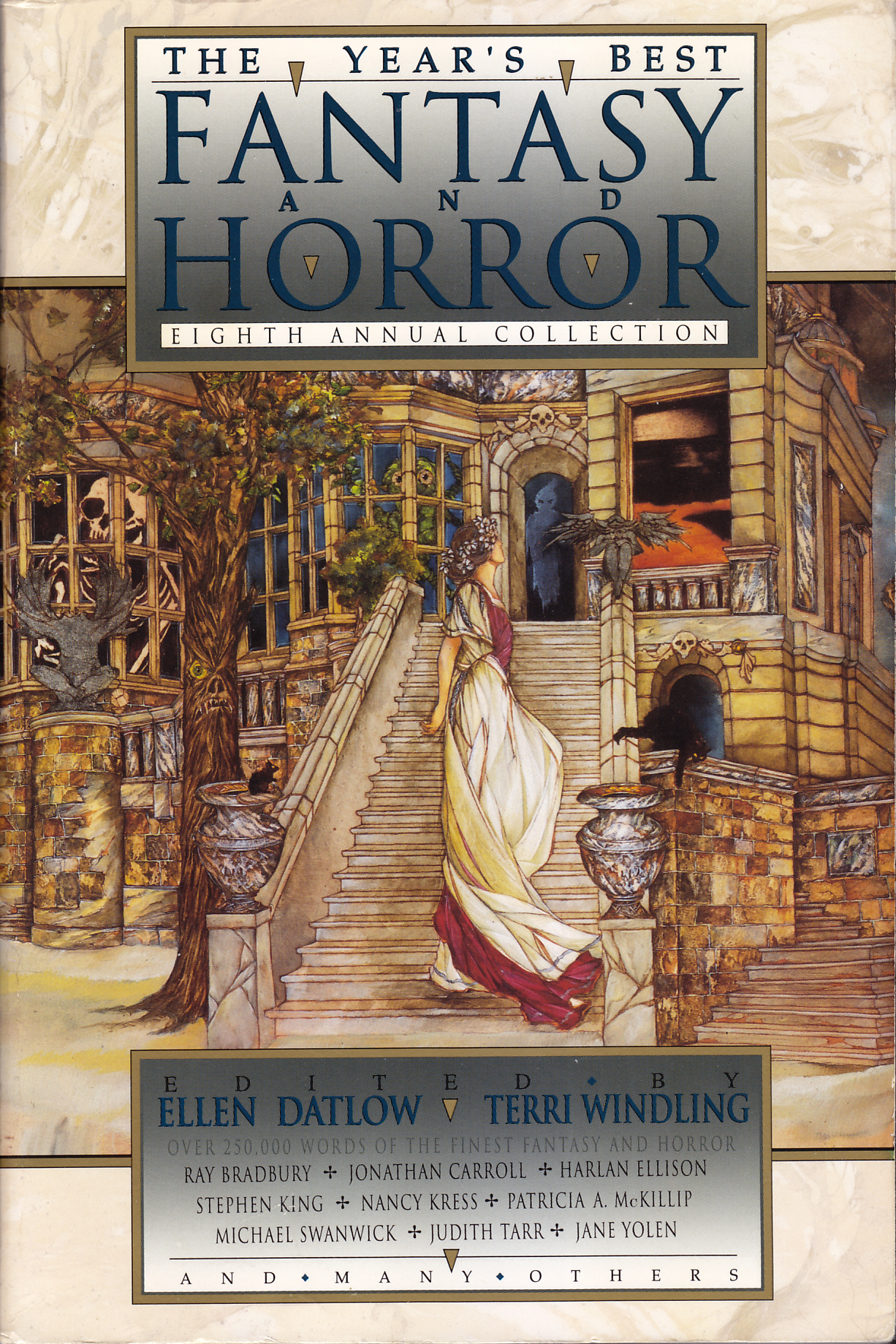 Transmutations by Patricia A. McKillip
Bottom's Dream by Rachel Wetzsteon
La Promesa by Leroy Quintana
Aweary of the Sun by Gregory Feeley
A Wheel in the Desert, the Moon on Some Swings by Jonathan Carroll
Who Will Love the River God? by Emily Newland
Brothers by Joyce Carol Oates
Subsoil by Nicholson Baker
Elvis's Bathroom by Pagan Kennedy
Yet Another Poisoned Apple for the Fairy Princess by A. R. Morlan
The Big Game by Nicholas Royle
Buenaventura and the Fifteen Sisters by Margarita Engle
De Natura Unicorni by Jane Yolen
Blue Motel by Ian McDonald
A Friend Indeed by David Garnett
Sometimes, in the Rain by Charles L. Grant
Rain Falls by Michael Marshall Smith
That Old School Tie by Jack Womack
Animals Behind Bars! by Scott Bradfield
Monuments to the Dead by Kristine Kathryn Rusch
Unterseeboot Doktor by Ray Bradbury
Young Woman in a Garden by Delia Sherman
The Man in the Black Suit by Stephen King
'In the Tradition...' by Michael Swanwick
Words Like Pale Stones by Nancy Kress
Märchen by Jane Yolen
Giants in the Earth by Dale Bailey
A Conflagration Artist by Bradley Denton
Report by Carme Riera
The Village of the Mermaids by John Bradley
—And the Horses Hiss at Midnight by A. R. Morlan
The Entreaty of the Wiideema by Barry Lopez
White Chapel by Douglas Clegg
The Stone Woman by Linda Weasel Head
Coyote Stories by Charles de Lint
The Box by Jack Ketchum
A Fear of Dead Things by Andrew Klavan
He Unwraps Himself by Darrell Schweitzer
Chandira by Brian Mooney
Fever by Harlan Ellison
The Best Things in Life by Lenora Champagne
Mending Souls by Judith Tarr
The Ocean and All Its Devices by William Browning Spencer
Strings by Kelley Eskridge
Superman's Diary by B. Brandon Barker
Isobel Avens Returns to Stepney in the Spring by M. John Harrison
The Sisterhood of Night by Steven Millhauser
Winter Bodies by Noy Holland
The Sloan Men by David Nickle
Is That Them? by Kevin Roice
The Kingdom of Cats and Birds by Geoffrey A. Landis
Angel Combs by Steve Rasnic Tem
Snow, Glass, Apples. by Neil Gaiman
Published by St Martins Press
A Wolf at the Door (2000) edited by Ellen Datlow & Terri Windling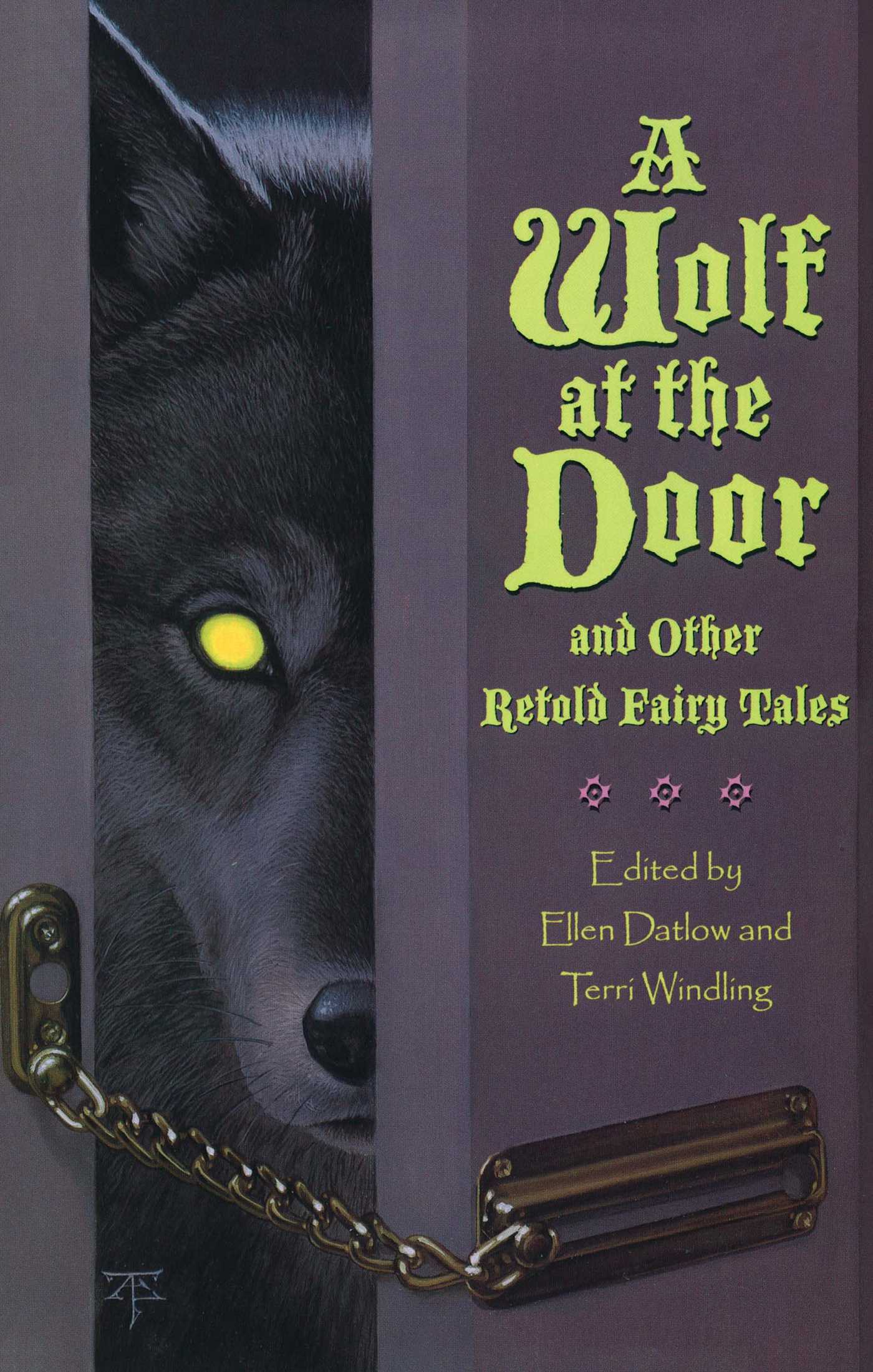 I love folk tales and fairy tales, and I love the idea of stories that have been told and retold, and then finally captured on paper. The problem of course, is finding an author who is good at translating stories from an oral tradition into something that works well written.
There's something wonderful about a well-told short story, and I think that the best short stories in the world are folk and fairy tales.
Ellen Datlow and Terri Windling are very good at finding authors who can take these stories and retell them, and they always put together wonderful anthologies. They brought together thirteen writers for this collection of retold fairy tales.
Conder Elephant - Jane Yolen
The Months of Manhattan - Delia Sherman
Instructions - Neil Gaiman
Mrs Big: "Jack and the Beanstalk" Retold - Michael Cadnum
Falada: The Goose Girls Horse - Nancy Farmer
A Wolf at the Door - Tanith Lee
Ali Baba and the Forty Aliens - Janeen Webb
Swans - Kelly Link
The Kingdom of the Melting Glances - Katherine Vaz
Hansel's Eyes - Garth Nix
Becoming Charise - Kathe Koja
The Seven Stage and Comeback - Gergory Maguire
The Twelve Dancing Princesses - Patricia A. McKillip

Although one or two of the stories I found to be just okay, others were nothing short of excellent. It also seems as if the stories were I liked the best were towards the end of the book. For me the collection started out okay, and then got better and better the more I read.
Not that I think the purpose of these stories is necessarily to scare us, as much as it is to make us pay attention to what is happening around us.
Rating: 7/10
The Green Man : Tales from the Mythic Forest (2002) edited by Ellen Datlow & Terri Windling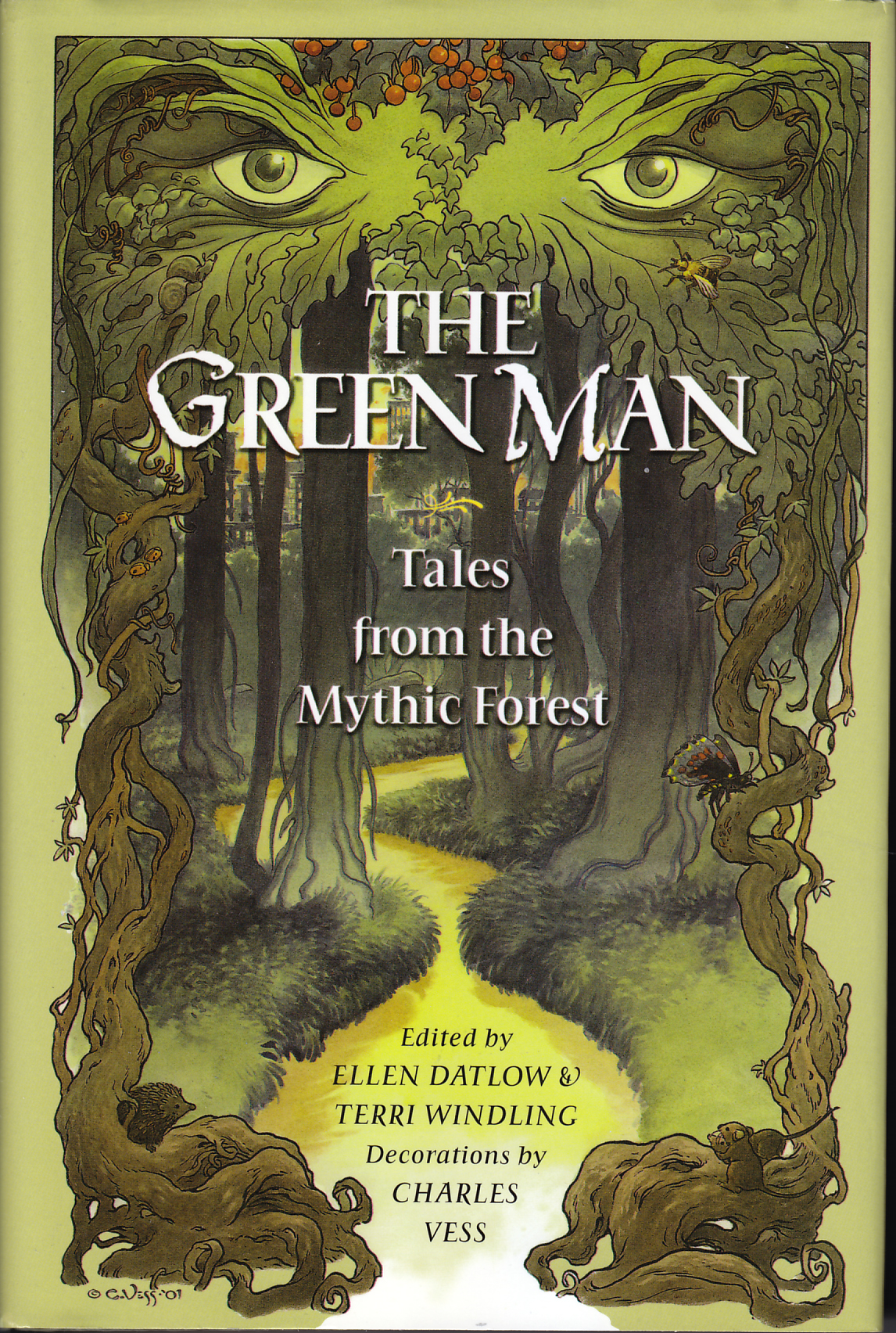 Going Wodwo (poem) - Neil Gaiman
Grand Central Park - Delia Sherman
Daphne - Michael Cadnum
Somewhere in My Mind There is a Painting Box - Charles de Lint
Among the Leaves So Green - Tanith Lee
Song of the Cailleach Bheur (poem) - Jane Yolen
Hunter's Moon - Patricia A. McKillip
Charlie's Away - Midori Snyder
A World Painted by Birds - Katherine Vaz
Grounded - Nina Kiriki Hoffman
Overlooking - Carol Emshwiller
Fie, Fi, Fo, Fum - Gregory Maguire
Joshua Tree - Emma Bull
Ali anugne o chash (the boy who was) - Carolyn Dunn
Remnants - Kathe Koja
The Pagodas of Ciboure - M. Shayne Bell
The Green Man (poem) - Bill Lewis
The Green Word - Jeffrey Ford
Published by Viking
Swan Sister (2003) edited by Ellen Datlow & Terri Windling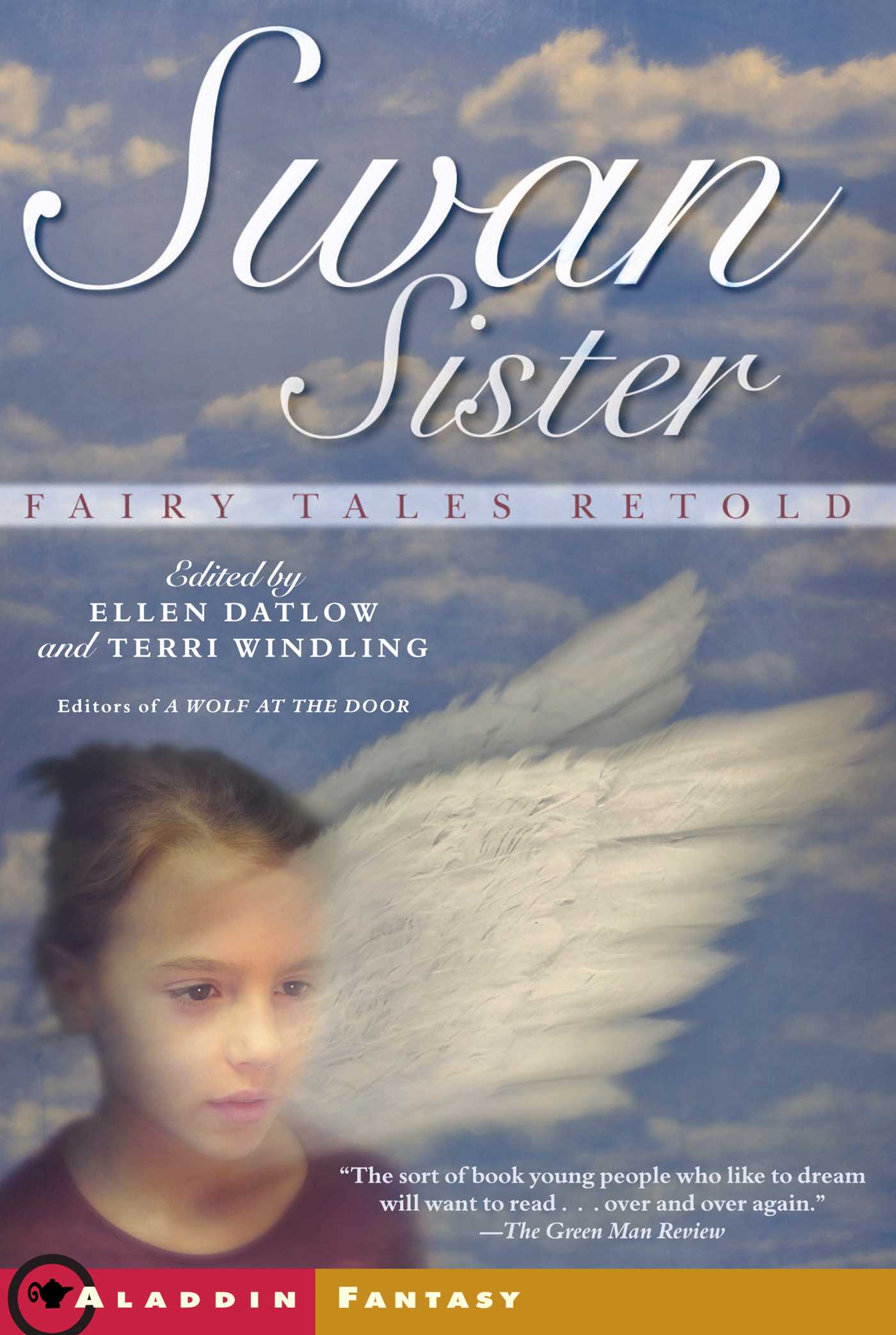 I don't think I've come across a short story collection put together by Ellen Datlow and Terri Windling that I didn't like, and Swan Sister is no exception to the rule.
The stories are fairy tales retold, by a variety of authors--many some of my favorites.
The collection opens with Jane Yolen's story "Greenkid." I cannot at all think of a specific story from which this tale strung, yet it contains multiple elements of folk and fairy tales, especially the idea of never sharing your name with a faerie, for names give such creatures power over you.
All in all, there wasn't a weak story in this collection.
Like A Wolf at the Door, this is a collection for children and young adults. However, the stories are so well written that adults should find them just as appealing. If you like folk and fairy tales, I highly recommend this collection.
Rating: 9/10
Grails: Quests of the Dawn (2004) edited by Richard Gilliam and Martin H. Greenberg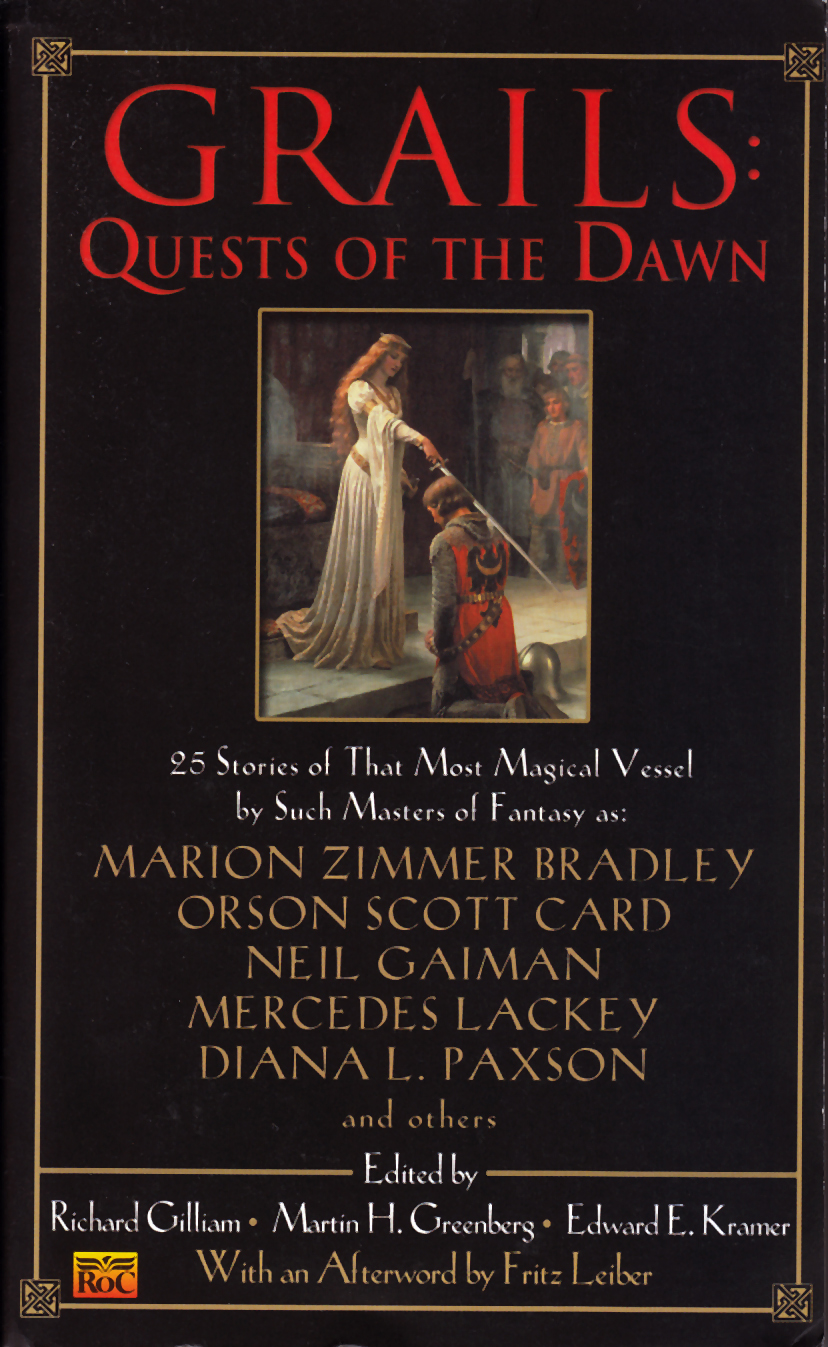 The Question Of The Grail by Jane Yolen
The Cup And The Cauldron by Mercedes Lackey
The Which Overfloweth by Andre Norton
Chalice Of Tears, Or I Didn't Want That Damm Grail Anyway by Marion Zimmer Bradley
The Feast And The Fisher King by Diana L. Paxon
The Gift Of Gilthaliad by Brad Strickland
Curse Of The Romany by Ilona Ouspenskaya
Dagda by James S. Dorr
The Sailor Who Sailed After The Sun by Gene Wolfe
Water by Lee Hoffman
What You See... by Alan Dean Foster
Storyville, Tennessee by Richard Gilliam
Somewhere In Her Dying Heart by Lisa Lepovetsky
Hell-Bent For Leather by Jeremiah E. Phipps
Atlantis by Orson Scott Card
Invisible Bars by Dean Wesley Smith
That Way Lies Camelot by Janny Wurts
Hitchiking Across An Ancient Sea by Kristine Kathryn Rusch
Visions by Lawrence Watt-Evans
The Awful Truth In Arthur's Barrow by Lionel Fenn
Reunion by Brian M. Thomsen
Quest Now by Margo Skinner
Chivalry by Neil Gaiman
Falling To The Edge Of The End Of The World by Bruce D. Arthurs
Greggie's Cup by Rick Wilber
The Grail Legend: An Afterword by Fritz Leiber
Emerald Magic (2004) edited by Andrew M. Greely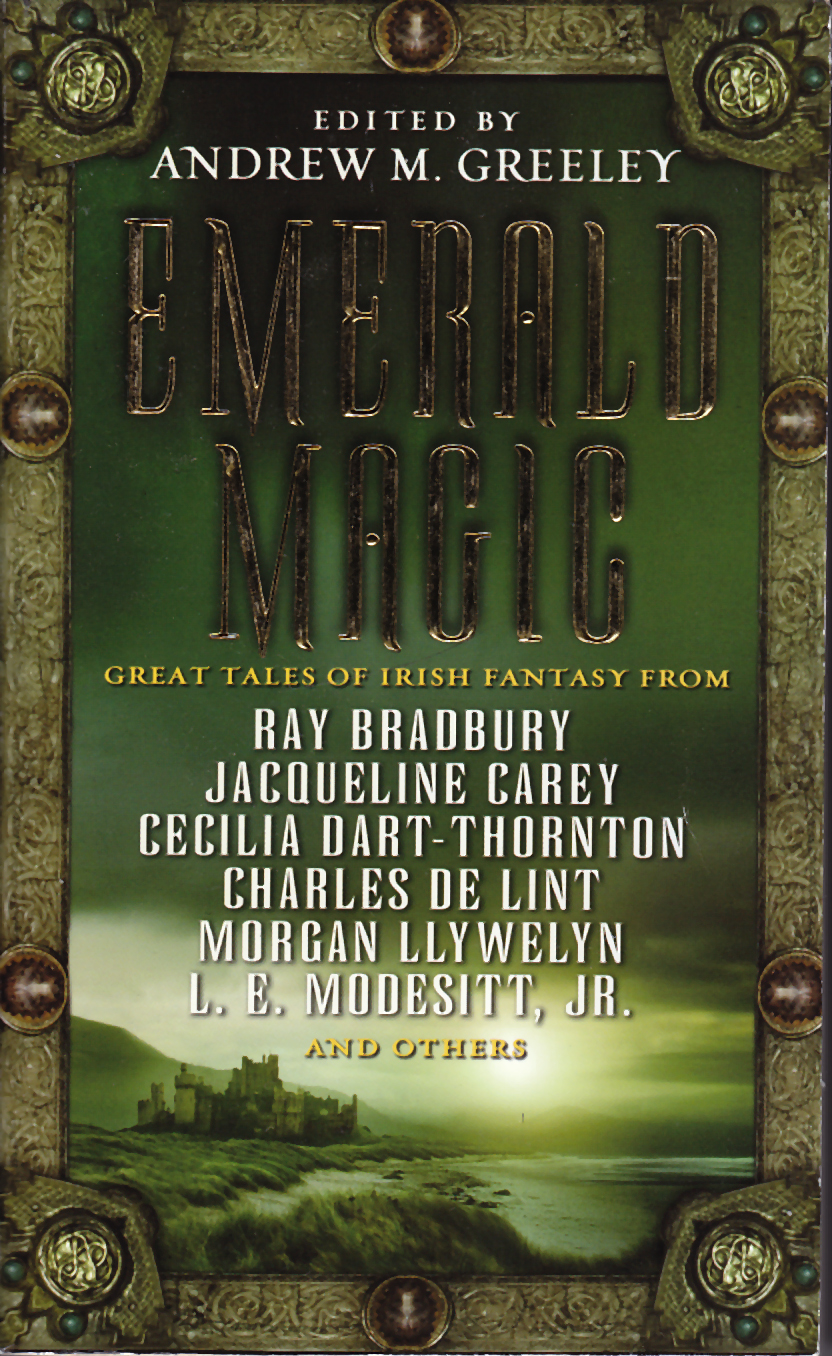 This book first caught my eye because I didn't expect to see Andrew Greeley's name in the fantasy section. Then I looked at the list of authors who wrote in this anthology: Charles de Lint, Diane Duane, Elizabeth Haydon, Morgan Llywelyn, Judith Tarr, Peter Tremayne, Jane Yolen. Even one of those names would have been enough inducement for me to pick up the book--but all those? And more!
Irish mythology, folktales, and fantasy. What more could I want?
Every story I read was excellent, although I did skip L.E. Modesitt Jr's science fiction story (I am rarely in the mood for science fiction.)
Herself - Diane Duane
Speir-Bhan - Tanith Lee
Troubles - Jane Yolen and Adam Stemple
The Hermit and the Sidhe - Judith Tarr
The Merrow - Elizabeth Haydon
The Butter Spirit's Tithe - Charles de Lint
Banshee - Ray Bardbury
Peace in Heaven - Andrew Greeley
The Lady in Grey - Jane Lindskold
A Drop of Something Special in the Blood - Fred Saberhagen
For the Blood Is the Life - Peter Tremayne
Long the Clouds Are Over Me Tonight - Cecilia Dart-Thornton
The Swan Pilot - L.E. Modesitt, Jr
The Isle of Women - Jacqueline Carey
The Cat with No Name - Morgan Llywelyn
...
This is an anthology that I will come back and read again, so if you're wondering whether you should make the purchase, my recommendation if definitely YES!
Rating: 8/10
The Coyote Road: Trickster Tales (2007) edited by Ellen Datlow & Terri Windling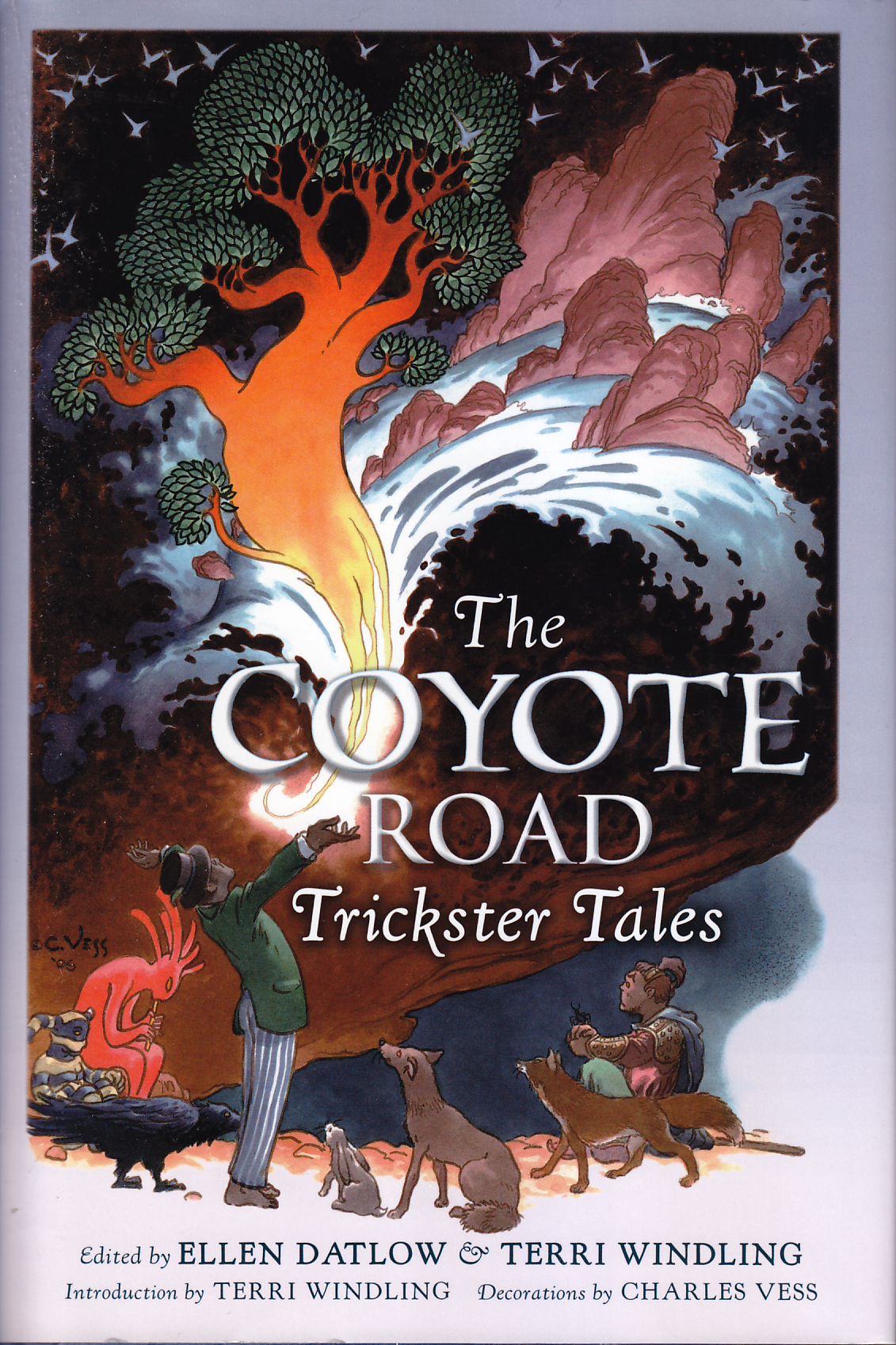 I love short stories. Aside from collections by Charles de Lint, I best love anthologies by Ellen Datlow & Terri Windling best. Their books are like comfort food, and I save them up for when I'm sick or feeling low.
In the same vein as The Green Man and The Faerie Reel, Datlow and Windling have this time collected stories about tricksters, and they've got some of my favorite authors in this collection: Charles de Lint, Nina Kiriki Hoffman, Ellen Kushner. As usual, they manage to collect stories by some of my favorite story tellers.
One Odd Shoe - Pat Murphy
Coyote Woman - Carolyn Dunn
Wagers of Gold Mountain - Steve Berman
The Listeners - Nina Kiriki Hoffman
Realer than You - Christopher Barzak
The Fiddler of Bayou Teche - Delia Sherman
A Tale for the SHort Days - Richard Bowes
Friday Night at St. Cecilia's - Ellen Klages
The Fortune Teller - Patricia A. McKillip
How Raven Made his Bride - Theodora Goss
Crow Roads - Charles de Lint
The Chamber of Music Animals - Katharine Vaz
Uncle Bob's Visits - Caroline Stevermer
Uncle Tompa - Midori Snyder
Cat of the World - Michael Cadnum
Honored Guest - Ellen Kushner
Always the Same Story - Elizabeth E. Wein
The Senorita and the Cactus Thorn - Kim Antieau
Black Rock Blues - Will Shetterly
The Constable of Abal - Holly Black
God Clown - Carol Emshwiller
The Other Labyrinnth - Jedediah Berry
The Dreaming Wind - Jeffery Ford
Kwaku Anansi Walks the World's Web - Jane Yolen
The Evolution of Trickster Stories Amount the Dogs of North Park after the Change - Kij Johnson
...
If like short story collections, or trickster tales, then you will want to read The Coyote Road. It has stories from many of my favorite writers, and as with all their collections, I was delighted to discover new authors for whom I'll be on the lookout.
Published by Viking
Rating: 9/10
Firebirds Soaring (2009) edited by Sharyn November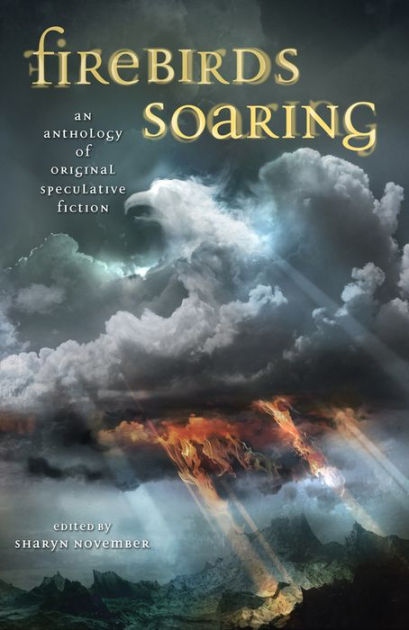 Kingmaker - Nancy Springer
A Ticket to Ride - Nancy Farmer
A Thousand Tails - Christopher Barzak
All Under Heaven - Chris Roberson
Singing On a Star - Ellen Klages
Egg Magic - Louise Marley
Flatland - Kara Dalkey
Dolly the Dog-Soldier - Candas Jane Dorsey
Ferryman - Margo Lanagan
The Ghosts of Strangers - Nina Kiriki Hoffman
Twilight Tales - Jo Walton
The Dignity He's Due - Carol Emshwiller
Power and Magic - Marly Youmans
Courtship - Sherwood Smith
Little Red - Jane Yolen & Adam Stemple
The Myth of Fenix - Laurel Winter
Fear and Loathing in Lalanna - Nick O'Donohoe
Bone-Chewer's Legacy - Clare Bell
Something Worth Doing - Elizabeth E. Wein
Published by Firebird
Troll's Eye View: A Book of Villainous Tales (2009) edited by Ellen Datlow & Terri Windling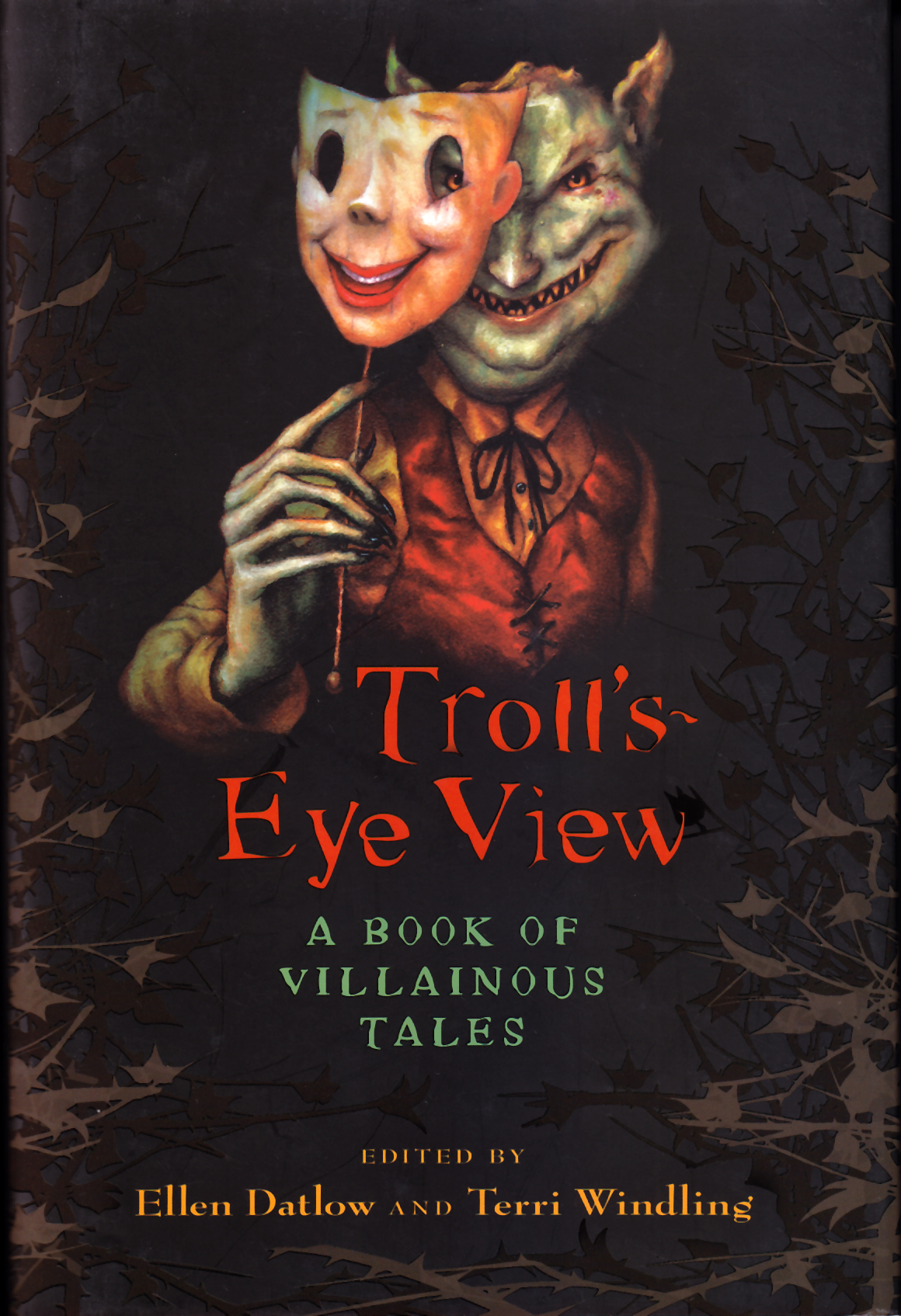 "Wizard's Apprentice" by Delia Sherman
"An Unwelcome Guest" by Garth Nix
"Faery Tales" by Wendy Froud
"Rags and Riches" by Nina Kiriki Hoffman
"Up the Down Beanstalk: A Wife Remembers" by Peter S. Beagle
"The Shoes That Were Danced to Pieces" by Ellen Kushner
"Puss in Boots, the Sequel" by Joseph Stanton
"The Boy Who Cried Wolf" by Holly Black
"Troll" by Jane Yolen
"Castle Othello" by Nancy Farmer
"'Skin" by Michael Cadnum
"A Delicate Architecture" by Catherynne M. Valente
"Molly" by Midori Snyder
"Observing the Formalities" by Neil Gaiman
"The Cinderella Game" by Kelly Link
Published by Viking Books for Young Readers
By Blood We Live (2009) edited by John Joseph Adams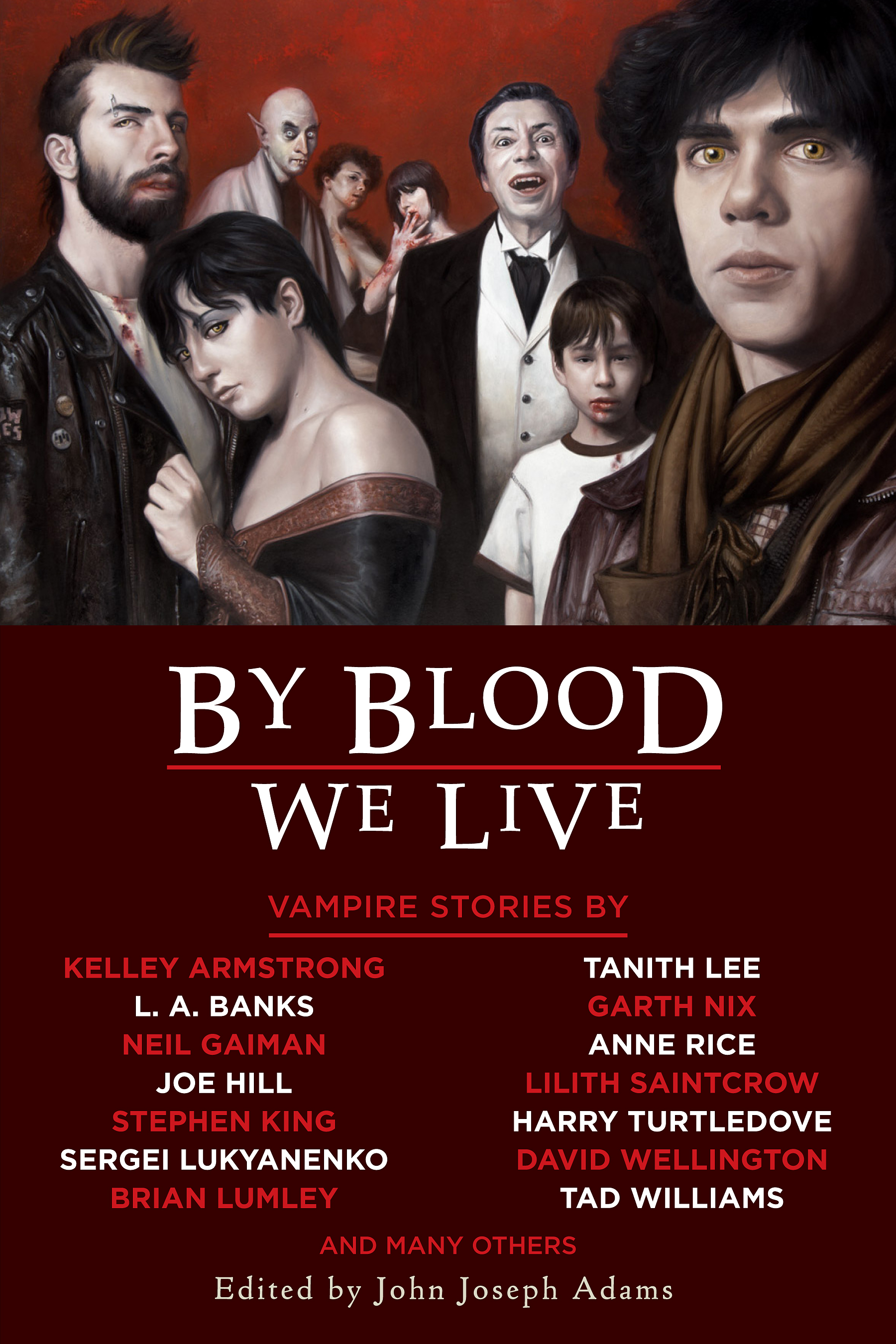 Snow, Glass, Apples - Neil Gaiman
The Master of Rampling Gate - Anne Rice
Under St. Peter's - Harry Turtledove
Child of an Ancient City - Tad Williams
Lifeblood - Michael A. Burstein
Endless Night - Barbara Roden
Infestation - Garth Nix
Life is the Teacher - Carrie Vaughn
The Vechi Barbat - Nancy Kilpatrick
The Beautiful, The Damned - Kristine Kathryn Rusch
Pinecones - David Wellington
Do Not Hasten to Bid Me Adieu - Norman Partridge
Foxtrot at High Noon - Sergei Lukyanenko
This is Now - Michael Marshall Smith
Blood Gothic - Nancy Holder
Mama Gone - Jane Yolen
Abraham's Boys - Joe Hill
Nunc Dimittis - Tanith Lee
Hunger - Gabriela Lee
Ode to Edvard Munch - Caitlín R. Kiernan
Finders Keepers - L.A. Banks
After the Stone Age - Brian Stableford
Much at Stake - Kevin J. Anderson
House of the Rising Sun - Elizabeth Bear
A Standup Dame - Lilith Saintcrow
Twilight - Kelley Armstrong
In Darkness, Angels - Eric Van Lustbader
Sunrise on Running Water - Barbara Hambly
Hit - Bruce McAllister
Undead Again - Ken MacLeod
Peking Man - Robert J. Sawyer
Necros - Brian Lumley
Exsanguinations - Catherynne M. Valente
Lucy in Her Splendor - Charles Coleman Finlay
The Wide, Carnivorous Sky - John Langan
One for the Road - Stephen King
The Beastly Bride: Tales of the Animal People (2010) edited by Ellen Datlow & Terri Windling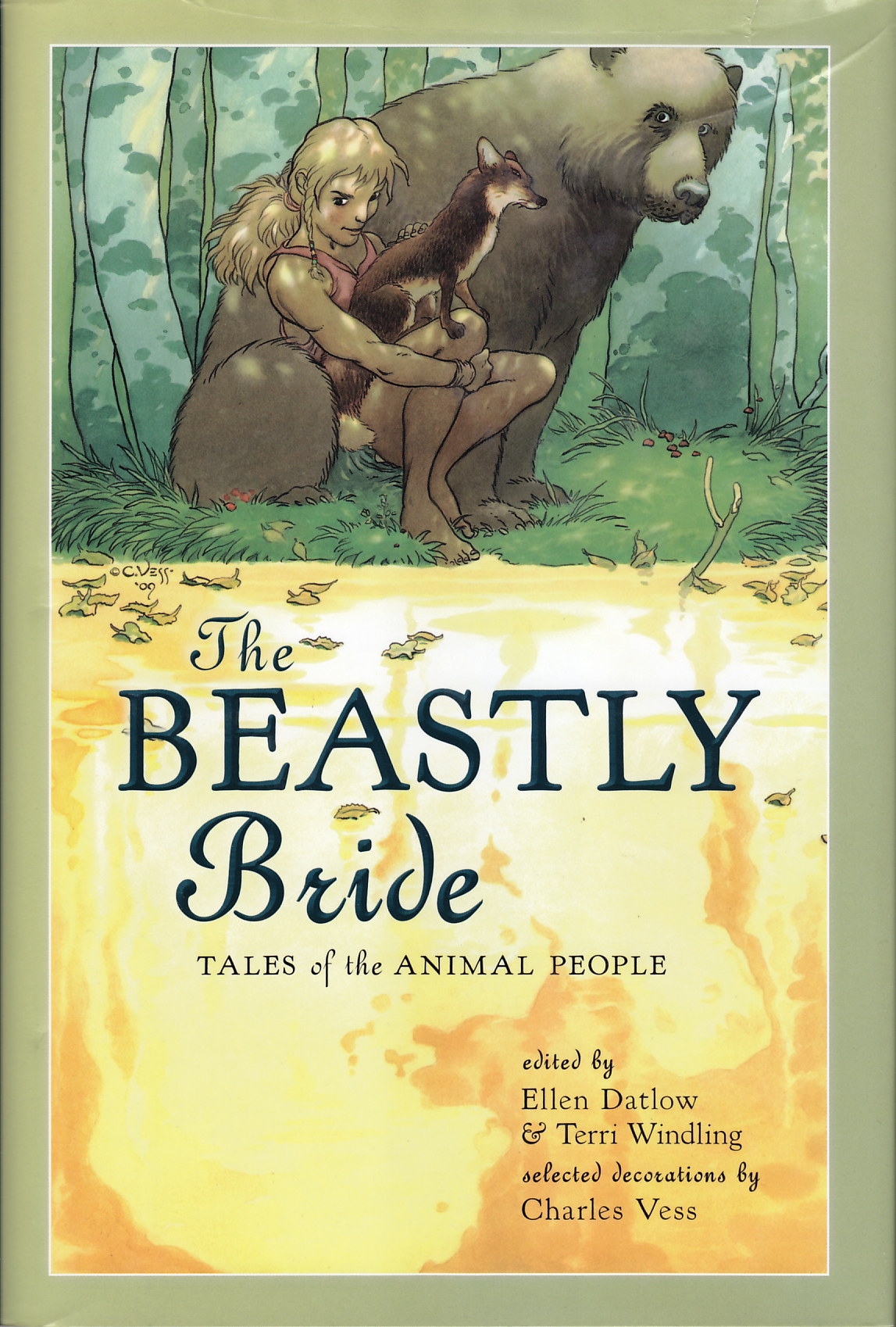 "Island Lake" by E. Catherine Tobler
"The Puma's Daughter" by Tanith Lee
"Map of Seventeen" by Christopher Barzak
"The Selkie Speaks" by Delia Sherman
"Bear's Bride" by Johanna Sinisalo
"The Abominable Child's Tale" by Carol Emshwiller
"The Hikikomori" by Hiromi Goto
"The Comeuppance of Creegus Maxin" by Gregory Frost
"Ganesha" by Jeffrey Ford
"The Elephant's Bride" by Jane Yolen
"The Children of Cadmus" by Ellen Kushner
"The White Doe Mourns Her Childhood" by Jeanine Hall Gailey
"The White Doe's Love Song" by Jeanine Hall Gailey
"The White Doe Decides" by Jeanine Hall Gailey
"Coyote and Valorosa" by Terra L. Gearheart
"One Thin Dime" by Stewart Moore
"The Monkey Bride" by Midori Snyder
"Pishaach" by Shweta Narayan
"The Salamander Fire" by Marly Youmans
"The Margay's Children" by Richard Bowes
"Thumbleriggery and Fledglings" by Steve Berman
"The Flock" by Lucius Shepard
"The Children of the Shark God" by Peter Beagle
"Rosina" by Nan Fry
Viking Books for Young Readers
Happily Ever After (2011) edited by John Klima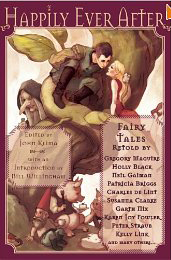 Not sure how I missed this when I first came out, but this anthology is full of things I love: authors whose books I love, stories based on folk and fairy tales–lovely!
The only thing I didn't like, is I wish the anthology hadn't ended on such a dark and depressing story.
Mind you, the dark and depressing stories were good–very good–but these tales ran very true to the original stories, with a not insignificant amount of rape and incest and general horribleness. Just like the original tales.
But there's also a good amount of humor as well, and I just wished the collection had ended with one of the funnier stories.
...
I particularly liked Jane Yolen's "Snow in Summer." Summer (or Snow) is self-aware and does her own rescuing, which I always like.
Please note, as previously mentioned, the stories have rape and incest and lots and lots of sex in addition to evil stepmothers and other such killers.
There were also a fair number of very dark and very depressing tales that were very good, but that I didn't enjoy at all.
Published by Night Shade Books
Rating:8/10
Under My Hat: Tales from the Cauldron (2012) edited by Jonathan Strahan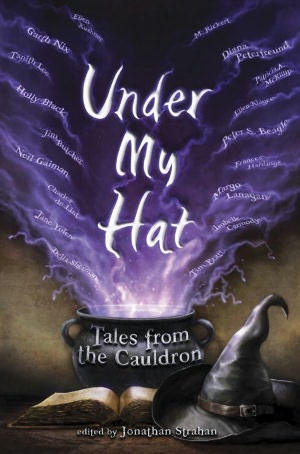 This is a lovely YA anthology, with some amazing stories by some of my favorite authors. I didn't love all the stories, but none of them were bad. The theme is young witches coming of age, but the stories are far greater than that.
...
Elle Kushner is another who seems incapable of writing a story I don't love. "The Threefold World" is the story of Elias Lönnrot becoming a great Finnish scholar. It is very similar in some ways to Jane Yolen's story, "Anderson's Witch" in that both take historical figures and imagine how they came to study and write about the other realms. Both stories are very very good.
...
Published by Random House
Rating: 9/10
Queen Victoria's Book of Spells: An Anthology of Gaslamp Fantasy (2013) edited by Ellen Datlow and Terri Windling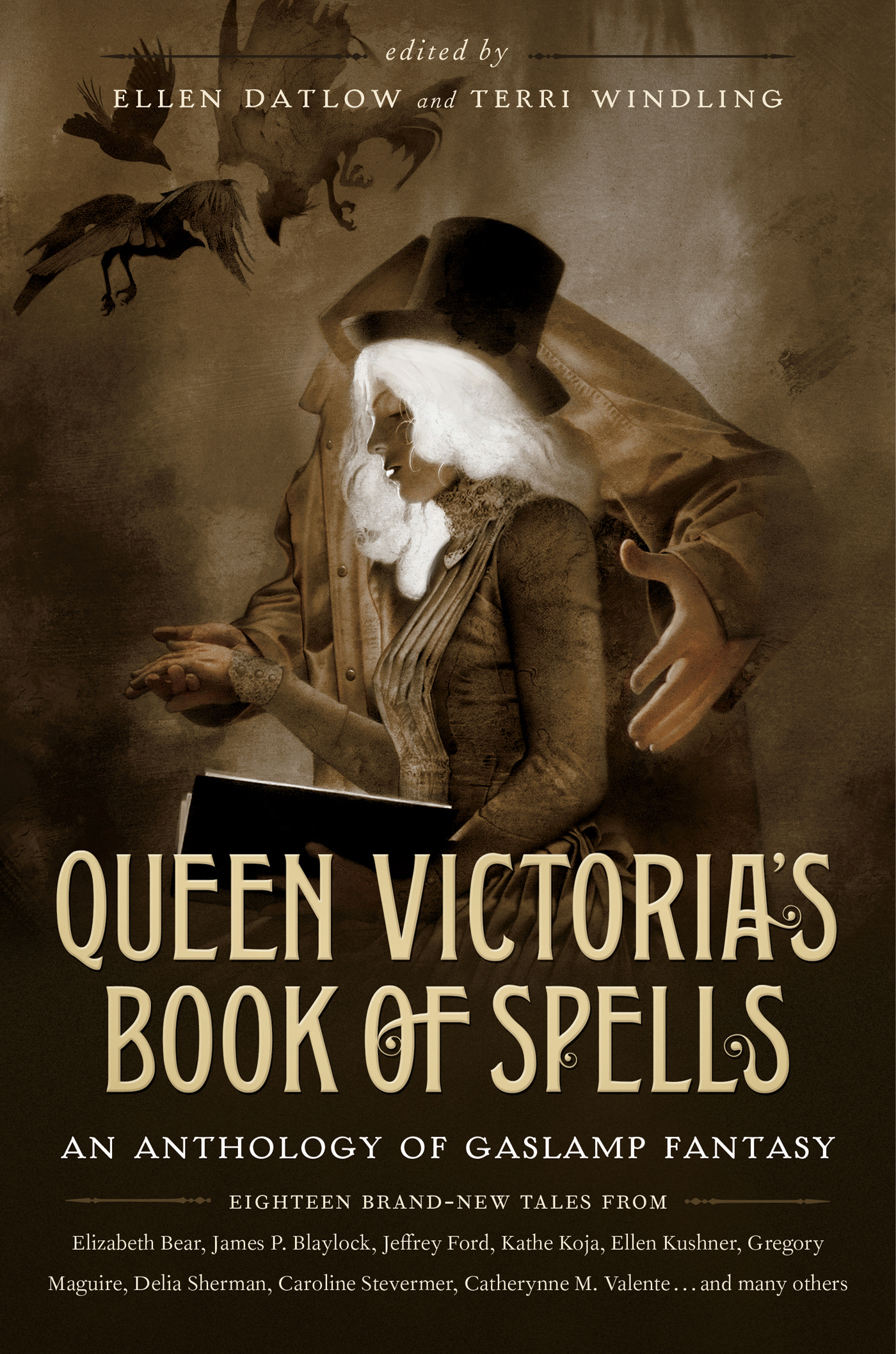 Queen Victoria's Book of Spells by Delia Sherman
The Fairy Enterprise by Jeffrey Ford
From the Catalogue of the Pavilion of the Uncanny and Marvellous, Scheduled for Premiere at the Great Exhibition (Before the Fire) by Genevieve Valentine
The Memory Book by Maureen McHugh
La Reine d'Enfer by Kathe Koja
For the Briar Rose by Elizabeth Wein
The Governess by Elizabeth Bear
Smithfield by James P. Blaylock
The Unwanted Women of Surrey by Kaaron Warren
Charged by Leanna Renee Hieber
Mr. Splitfoot by Dale Bailey
Phosphorus by Veronica Schanoes
We Without Us Were Shadows by Catherynne M. Valente
The Vital Importance of the Superficial by Ellen Kushner and Caroline Stevermer
The Jewel in the Toad Queen's Crown by Jane Yolen
A Few Twigs He Left Behind by Gregory Maguire
Their Monstrous Minds by Tanith Lee
Estella Saves the Village by Theodora Goss
I love anthologies and I love historical fiction. So this should have been an automatic win for me.
Instead it was a two-plus year slog that I finally forced myself to finish.
...
The Jewel in the Toad Queen's Crown by Jane Yolen.

"She wanted to be God," the queen mused.

"Why would anyone want to be God? It's a terrible occupation."
Published by Tor
Beyond the Pale: A Fantasy Anthology (2014) edited by Henry Herz
I probably started reading this right after it came out, and got hung up on a single story. Two years later I decided to skip through the stories that didn't interest me and finish the anthology.
"Hooves and the Hovel of Abdel Jameela" by Saladin Ahmed
"The Children of the Shark God" by Peter S. Beagle
"Misery" by Heather Brewer
"Shadow Children" by Heather Brewer
"Even Hand" by Jim Butcher
"Red Run" by Kami Garcia
"Pale Rider" by Nancy Holder
"Frost Child" by Gillian Philip
"South" by Gillian Philip
"A Knot of Toads" by Jane Yolen
"The Adventures of Lightning Merriemouse-Jones" by Nancy & Belle Holder
The noun "pale" refers to a stake (as in impaling vampires) or pointed piece of wood (as in a paling fence). "Pale" came to refer to an area enclosed by a paling fence. Later, it acquired the figurative meaning of an enclosed and therefore safe domain. Conversely, "beyond the pale" means foreign, strange, or threatening.
...
"A Knot of Toads" by Jane Yolen I quite liked. A young woman returns home for her father's death–although it ends up being his funeral. There is something strange about his death, but no one will say anything straight out, perhaps because she's been gone for so long she is no longer one of them, or perhaps because they don't want to call bad things by speaking of them.
Even at five and six and seven I'd been an unbeliever. Not having a mother had made me so. How could I worship a God whom both Mrs. Marr and my father assured me had so wanted mother, He'd called her away. A selfish God, that, who had listened to his own desires and not mine. Such a God was not for me. Not then. Not now.
...
Published by Birch Tree Publishing
Rating: 7/10