Jayne: (of his new hat) How's it sit? Pretty cunning, don'tchya think?
Kaylee: "I think it's the sweetest hat ever."
Book: "Makes a statement."
Jayne: "Yeah, yeah!"
Wash: "A man walks down the street in that hat, people know he's not afraid of anything."
Jayne: "Damn straight."
--The Message
Jayne: "Ten percent of nuthin' is...let me do the math here...nuthin' into nuthin'...carry the nuthin'..."
--Serenity
Mal: "Jayne, your mouth is talking. You might wanna look to that."
--Serenity
Jayne: "Testing, testing. Captain, can you hear me?"
Mal: "I'm standing right here."
Jayne: "You're coming through good and loud."
Mal: " 'Cause I'm standing right here."
--Serenity
Wash: "Ah, curse your sudden but inevitable betrayal!"
--Serenity
Zoë: I know something ain't right.
Wash: Sweetie, we're crooks. If everything were right, we'd be in jail.
--Serenity
Zoe: "Sir, I think you have a problem with your brain being missing."
--The Train Job
Jayne: "Time for some thrilling heroics!"
--The Train Job
Mal: "If I didn't know better, I'd think we were dangerous!"
--Bushwacked
Kaylee: "Looks like they've jerry-rigged it with a pressure catch. It's the only thing that'd work with all these spare parts. We could probably bypass that easy, we get to the DC line."
Mal: "You tell me right now, little Kaylee, you really think you can do this?"
Kaylee: "Sure. Yeah. I think so. 'Sides, if I mess up, not like you'll be able to yell at me."
--Bushwacked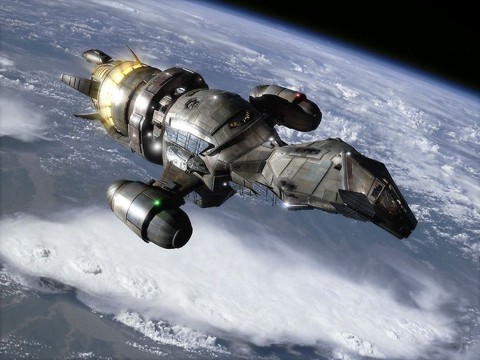 Zoe: "Planet's coming up a mite fast."
Wash: "That's just 'cause... I'm goin' down too quick! Likely crash and kill us all."
Mal: "Well, that happens, let me know."
Wash: "Ok."
--Shindig
Inara: "I like watching the game. Like a lot of situations, the key seems to be giving Jayne a heavy stick and standing back."
--Shindig
Wash: "I'll read a nice poem at the funeral, something with imagery."
Zoe: "You could lock the door and keep the power-hungry maniac at bay!"
--Shindig
Zoe: "If I'm gonna wear a dress, I'd want something with some 'slink'."
Wash: "You want a slinky dress? I can buy you a slinky dress! Captain, can I have money for a slinky dress?"
Jayne: "I'll chip in!"
Zoe: "I can hurt you."
--Shindig
River: "The human body can be drained of blood in 8.6 seconds, given adequate vacuuming systems."
Mal: "See, morbid and creep-ifying I got no problem with, long as she does it quiet-like."
--Safe
Mal: "Well, look at this! Appears we got here just in the nick of time. Whaddya suppose that makes us?"
Zoe: "Big damn heroes, sir."
Mal: "Ain't we just!"
--Safe
Jayne: "Hi-ya, get along!"
Mal: "You know, they walk just as easy if you lead 'em."
Jayne: "I like smackin' 'em!"
--Safe
Zoe: "Your disreputable men are here."
Mal: "Better go take their money."
--Safe
Zoe: "The Captain'll come up with a plan."
Kaylee: "That's good. Right?"
Zoe: "Possibly you're not recalling some of his previous plans."
--Safe
Jayne: "This place gives me an uncomfortableness."
--Safe
Mal: There's over 70 earths in this verse, and the meek have inherited not a one.
--Our Mrs Reynolds
Jayne: "You gotta wife? All I got was that dumb-ass stick sounds like it's rainin', how come you got a wife?"
--Our Mrs Reynolds
Zoe: Captain, everyone should have a chance to congratulate you on your day of bliss.
Mal: There's... there's no bliss. I don't know this girl.
Jayne: Then can I know her?
--Our Mrs Reynolds
Mal: "You got the right, same as anyone, to live and try to kill people!
--Our Mrs Reynolds
Saffron: "I've been too forward."
Wash: "Noooo! Well, yes, but I actually like that in a woman."
--Our Mrs Reynolds
Jayne: "This is my very favorite gun."
--Our Mrs Reynolds
Mal: "Well, my days of not takin' you seriously are certainly coming to a middle."
--Our Mrs Reynolds
Wash: "OK! Everybody not talking about sex, in here, everybody else, elsewhere!"
--Our Mrs Reynolds
Simon: No, River, mei-mei. of course I love you too, but we can't be married. (to Book, mortified) She's... really crazy.
River kicks him in the shin.
Simon: OW! I don't mean crazy - that's just not something brothers and sisters do. I mean on some planets, but only pretty bad ones.
Zoe: Remember that sex we were planning to have, ever again?
--Our Mrs Reynolds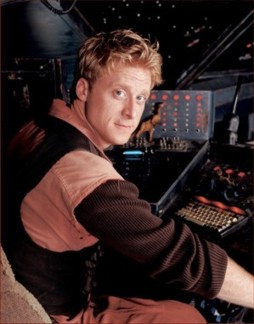 Wash: Quaint!
--Our Mrs Reynolds
Wash: "We gotta go to the crappy town where I'm a hero!"
--Jaynestown
Jayne: "You guys had a riot? On account of me? My very own riot?"
--Jaynestown
Jayne: "You gonna talk me to death, buddy? Is that the plan?"
--Jaynestown
Book: "It's not about making sense. It's about believing in something."
--Jaynestown
Book: "You don't fix faith, River, it fixes you."
--Jaynestown
Mal: "And, despite our best efforts, ah, they... they kicked."
--Arial
Simon: "What about cortical electrodes?"
Jayne: "Oh! ... We forgot 'em."
--Arial
Zoe: "You paid money for this, sir? On purpose?"
--Out of Gas
Mal: "Ship like this, be with you 'til the day you die."
Zoe: "Because it's a death trap."
--Out of Gas
Jayne: "Not as deceivin' as a low-down, dirty, ... deceiver."
--Out of Gas
Salesman: "I'll tell you what, you buy this ship, treat her proper, she'll be with you for the rest of your life."
--Out of Gas
Jayne: I'll be in my bunk.
--War Stories
Jayne: Smellin' a lot of "if" comin' off this plan.
--War Stories
Zoe: Jayne. This is something the Captain has to do for himself.
Mal: No! No, it's not!
Zoe: Oh.
--War Stories
Mal: Ah, the pitter patter of tiny feet in huge combat boots.
--War Stories
River: Also, I can kill you with my brain.
--Trash
Mal: This is my first mate, Zoe. I'll introduce you to the rest in a bit. They're good folk.
Jayne: Can I start getting sexed already?
Mal: Well, that one's kind of horrific.
--Heart of Gold
Inara: Every well-bred, petty crook knows that the small, concealable weapons always go to the far left of the place setting.
--Heart of Gold
Jayne: Well...I don't like the idea of someone hearin' what I'm thinkin'.
Inara: No one likes the idea of hearing what you're thinking.
--Objects in Space