Tuesday, July 28, 2015
Half-Resurrection Blues (2015) Daniel José Older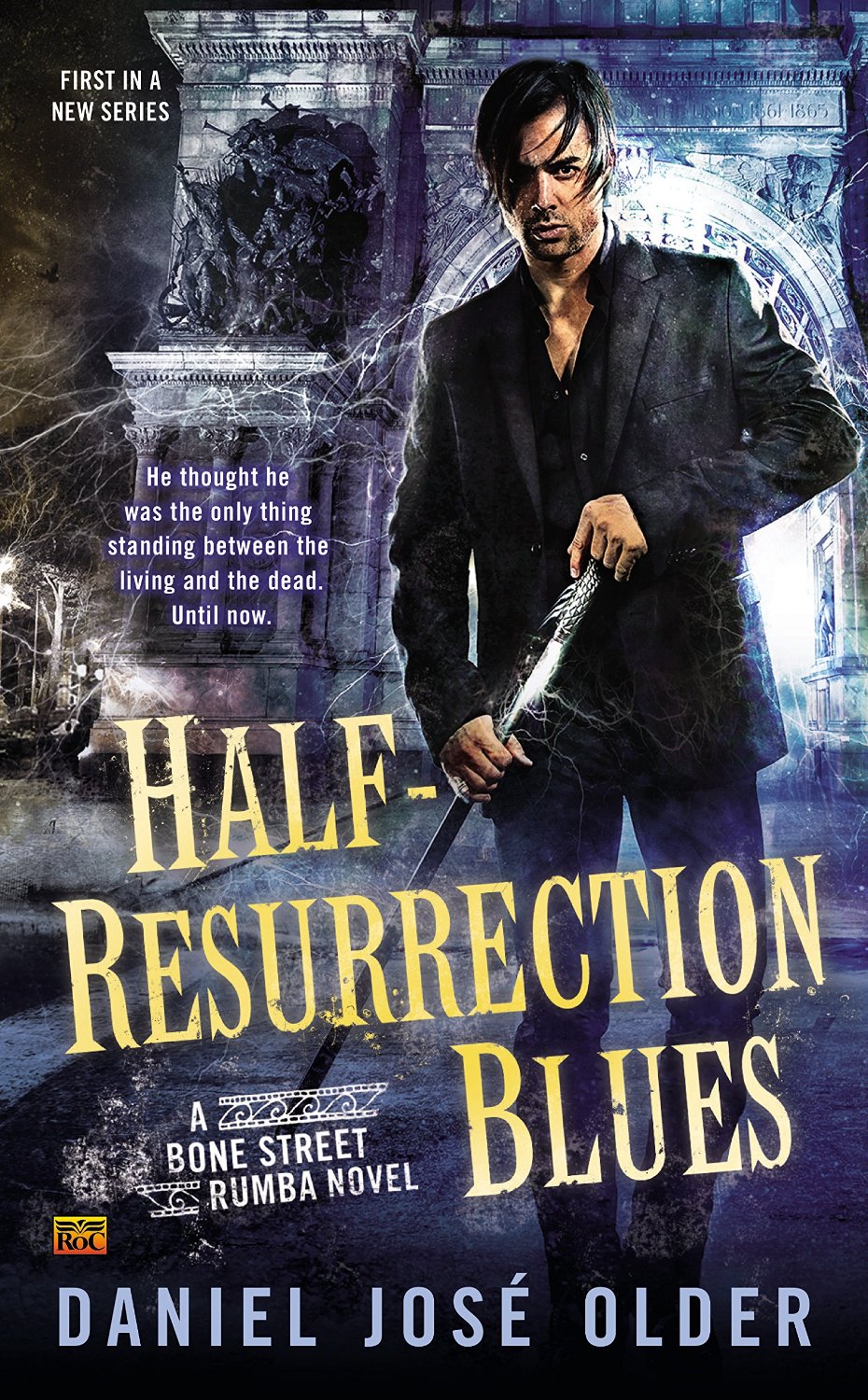 It is well-known by anyone who has more than a passing acquaintance with me that I do not like zombies.
I f'ing HATE zombies.
So I was quite hesitant about this book, because the main character is half-dead / half-alive, which, to me, sounds like a zombie.
Carlos Delacruz isn't a zombie. He is an inbetweener, someone who died and was brought back, and has unusual skills because of that status, but suffers injuries and can be killed, so there's not necessarily a benefit to his status.
He also believes he is the only one of his kind.
I found the one other being like me in the universe and he is a total jackass.
I really like Carlos' voice. He's a smart-ass.
(A)nother little guy is definitely Indian/ Pakistani or maybe Puerto Rican. Or half-black. Whatever he is, he gets randomly searched every time he's within twenty feet of an airport.
Totally a smart ass.
But the story is more than that, and has some gorgeous descriptions.
"An ngk." It's almost guttural, the way he says it. Like he's trying to speak through a mouth gag and then closing it off with a soft click.
OK. Perhaps beautiful isn't the correct term.
But the descriptions are vivid and delightful.
The heater's clanging incessantly like some angry troll got trapped in there on the way to his cave.
Words are such pitiful stupid things sometimes. Like when I speak them.
Plus, smart-ass.
Does it still vex the shit out of me when someone calls me a cracker? Of course, especially if I haven't gotten my mochaccino yet."
"I'm sure the mochaccino does wonders for you not looking white."
And then dropped when you are not expecting them are marvelous passages of atmosphere.
The eight-year-old giggles every time her abuelo picks up a card. Her laughter rises to a joyous cackle and she crows, "Uno!" The old man fusses with his mustache, furrows his brow, and then picks a card. And then another. "Chingada madre," he mutters as the laughter continues unabated across the table. "Mierda." Finally, he puts down one with a sigh and the girl gets real serious, scrunches up her face, and draws a card, then slams it down, yells, "Uno!" again, and resumes laughing.
I thoroughly enjoyed this story, and highly recommend it, as long as you don't mind language and irreverence.
Rating: 8.5/10
Published by ROC