Paternal Family Pictures
Albert, Ben, Frank
Ruth, Leo, Olga
According to my grandmother, this picture was taken during WWII
immediately following the death of Grandmother Klishis.
Uncle Ben was called home when her health took a turn for the worse,
she seemed better, he returned, only to be immediately recalled for her funeral.
(Olga is pronounced awe-guh)
Uncle Ben
The back of the photograph says:
Taken in Gulfport Mississippi
July - 18 - 1942
To Brother Algrid
& family
Grandmom says that Algrid was my grandfather's given name,
but it was changed (by the school?) to Albert.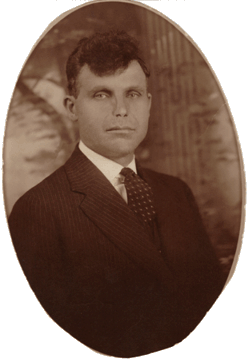 Ambrose Laukaitis
This picture is in pretty bad shape, with a hole in the center, so if it looks a little strange, it's because I had to create a portion.
My grandmother's father. He came to the US from Lithuania as a teenager. My grandmother said that despite immigrating at such a late age, he worked very hard on his english, and spoke extremely well.
| | |
| --- | --- |
| | |
| Grandmom and Aunt Doris (Field of daisies behind big house) | Grandmom and her friends Grandmom is the tallest. (Big House) |
| | |
| --- | --- |
| | |
| Grandmom 1928 | Grandmom (center) with Aunt Doris and others (Big House) |
St Clement's (?) Band
In the picture on the left, Grandmom is in the back row, 4th from the right.
In the picture on the right, grandmom is second from the left.
Grandmom and Popbo
May 19, 1940, right before their marriage (Downtown Baltimore)
Grandmom and Popbo wedding photo
The maid-of-honor is Aunt Sophie, the best man is Popbo's friend, Albert.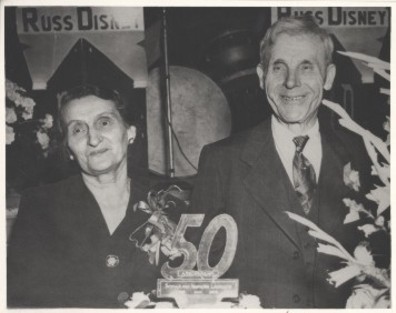 Sophia and Ambrose Laukaitis
50th Anniversary celebration. (Lithuanian Hall, Baltimore)
| | |
| --- | --- |
| | |
| Popbo | Great-Grandmother Klishis with Aunt Olga and cousin Cathy |
| | |
| --- | --- |
| | |
| Great-Grandfather (Ambrose Laukaitis) and Dad (Big House 1943?) | Cousin Billy I really like this picture, although no one else seems to understand why. |
| | |
| --- | --- |
| | |
| Grandmom and Pete | Grandmom and Aunt Sophie |
| | |
| --- | --- |
| | |
| | The big house on Oak Grove |
| | |
| --- | --- |
| | |
| Playing in Grandmother's washtubs | Feeding the chickens |
| | |
| --- | --- |
| | |
| Dad and cousin Billy | Cousin Billy |
| | |
| --- | --- |
| | |
| Me, Popbo and Grandmom at Cooper's Rock State Forest 1974. | My parents, both sets of grandparents, and my mother's sisters 1970 |