Free Fall (1988), Tuesday (1991), Sector 7 (1999), Flotsam (2006), Art & Max (2010)
Sector 7 (1999)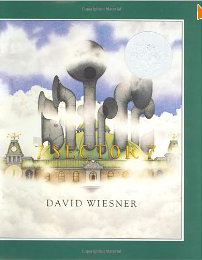 This is an absolutely beautiful book, that I picked up twice to give to our nephew (the second time I brought it home to put in the closet with all the other Christmas gifts, only to realize there was already a copy there.) This is a picture book, and the only words appear as part of the drawings.
The story is of a little boy on a school trip to the Empire State Building. The fog is thick on the observation deck, and his scarf, hat, and gloves seemingly disappear, stolen by a cloud. The cloud takes the boy on a trip to Sector 7, where clouds receive their orders. My favorite section is the station. It is a two page spread with arrival and departure times listed, just like an airport, and tunnels and gates, and lots of clouds and people wandering around looking busy, and the small cloud and his friends sneaking the little boy through the station. There is, of course, trouble, as they decide that traditional shapes are too boring and instead draw blueprints for fantastic creatures.
The drawings are quite beautiful, and the story is whimsical, but then I like whimsy.