B.P.R.D.
Hollow Earth and Other Stories (2003), The Soul of Venice & Other Stories (2004), Plague of Frogs (2005), The Dead (2005), The Black Flame (2006), The Universal Machine (2007), Garden of Souls (2008)
Hollow Earth and Other Stories (2003) Mike Mignola, Christopher Golden, Tim Sniegoski, Ryan Sook, Curtis Arnold, Brian McDonald, Derek Thompson, Matt Smith
I've been enjoying the Hellboy comics, so I thought I'd branch out and check out the B.P.R.D. series. Hollow Earth & Other Stories takes place after the events in Conqueror Worm. Hellboy has left the B.P.R.D. and Abe and the others are unsure of their place and if they want to remain in the B.P.R.D. without Hellboy (and in consideration of the events that led to Hellboy's resignation.)
IN this collection of stories, we discover where Elizabeth Sherman went, and now that she is in danger and Hellboy is not around, Abe must take out Roger and the Kraus, the newest member of the team, to attempt to save her. We also catch a glimpse into Abe's past, and learn how Roger became a member of the team.
As with the Hellboy volumes that are short story collections, I enjoyed the shorter format for B.P.R.D. stories. Unlike the Hellboy stories, Mike Mignola shared writing and drawing with others, I have to say I preferred the stories where Mike Mignola shared writing credits, but all the stories were good.
Because this is a comic format, you should be able to pick up these stories without knowledge of the previous Hellboy tales. But I always think that having read the backstory makes the following stories richer.
Rating: 7/10
The Soul of Venice & Other Stories (2004) Mike Mignola, Miles GUnther, Michael Avon Oeming, Brian Augustyn, Guy Davis, Geoff Jones, Scott Kolins, Joe Harris, Adam Pollina & Cameron Stewart
In The Soul of Venice & Other Stories, Mike Mignola invited several other artists and writers to help him write five new tales of the B.P.R.D.
As with Hellboy, I really like the B.P.R.D. in shorter stories. Sometime about the Hellboy world seems to fit very well with the shorter content. Although I have to admit that as a fan of short stories, I may be a bit prejudiced.
Hellboy is still AWOL, and the other members of the Bureau aren't quite sure how to continue without him, although they do their jobs.
"The Soul of Venice" finds the group in Venice, where the waters of that water bound town are said to be exploding, so they're sent in to see if they can find and solve the problem.
In "Dark Waters" they go up to Massachusetts where the bodies of three young women who were killed as witches are discovered–and look as if they'd died only hours before.
"Night Train" takes Roger and Liz out to discover why a ghost train keeps appearing–a train that was destroyed by a Nazi in an attempt to keep the US from getting the bomb.
"There's Something Under the Bed" sees children disappearing from their rooms at night, after complaining about monsters under the bed or in the closet.
The last story was a zombie story. I hate zombies.
All of the stories were good, and several were compelling, though for different reasons. Both "The Soul of Venice" and "Night Train" give us a look at Roger, his feelings, and his relationship with Liz. The more I read of the BRPD stories, the more I'm coming to like Roger. Abe is fascinating, but there's just something deeply and profoundly good about Roger that I simply like. Not that any of them seem to have much control over their own destinies.
Because this is a selection of short stories, you could easily pick this volume up without any other knowledge of the Hellboy universe or these characters. Back stories are explained as necessary, although of course not in the depth of the original tales, but more than enough for help you understand what is happening. They are somewhat dark, but I really enjoy them, and recommend the BPRD to anyone interested in the Hellboy universe or who is just looking for something different.
Rating: 8/10
Plague of Frogs (2005) Mike Mignola and Guy Davis
I have to admit I was a tad bit disappointed when I saw Vol 3 was a single story and not a collection of short stories. It's not that I dislike the longer format, it's simply that I think the short stories are better.
Plague of Frogs however, surprised me. Written by Mike Mignola and drawn by Guy Davis, Plague of Frogs tells multiple tales within a single story. A giant spore escapes a secret laboratory, and the BPRD are called into clean up the mess. Meanwhile, Abe has been having disturbing dreams that are starting to affect his work–dreams that will lead him to the discovery of his own origin.
It is the stories within a story that strengthened the volume I believe. Well, that and the fact that there was a lot of material to cover here, so every panel seemed pertinent and important.
Although past stories were mentioned (lots of stories) they don't seem to relate that much to the current story, so I believe you could start reading at this volume. However, chances are you're reading BPRD because you were a fan of Hellboy, in which case there is a sense of satisfaction in finally learning Abe's origins.
Rating: 7/10
The Dead (2005) Mike Mignola. John Arcudi, Guy Davis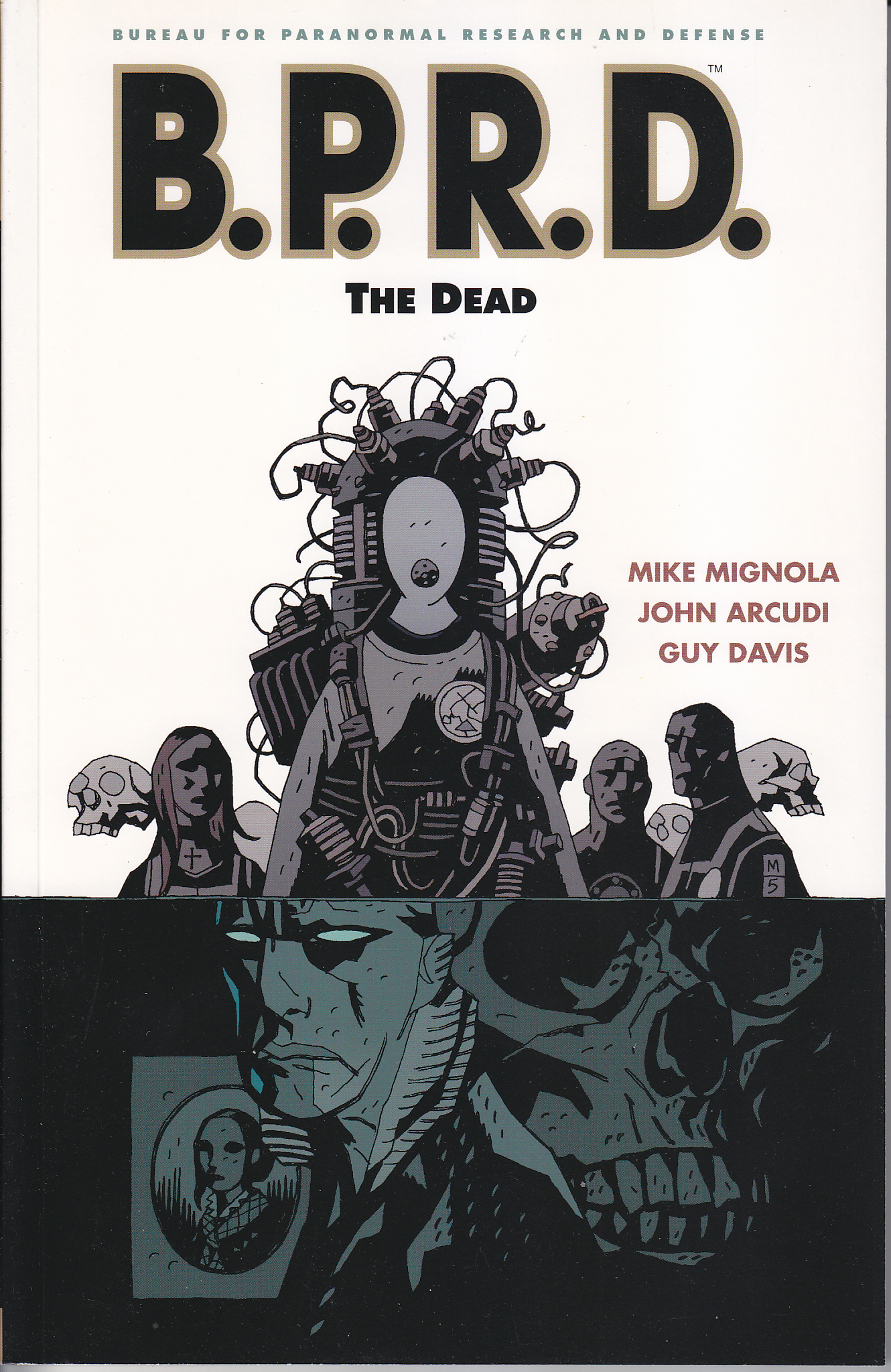 Set in the aftermath of Plague of Frogs, the BPRD has to figure out how to stop the frog monsters, while Abe has become obsessed with his past, and the man he may have been in another life. On top of that the group received a new member, Captain Daimio. Daimio is, to put it mildly, abrasive to some members of the group. But with Hellboy and now Abe AWOL, the need a new member.
I'm not particularly sure how I feel about The Dead, other than I really want to pick up the next volume and start reading.
I don't like Daimio, but then I don't think I'm supposed to. I feel bad for Abe, but wish he'd get back to the BPRD before more bad things happen, and I don't quite understand when Roger got to be quite so slow. He didn't seem that slow in earlier volumes. Though I suppose I don't remember him talking quite as much in other volumes, so perhaps that's it.
Also, that didn't look anything like a dinosaur. They really should have known better.
This would not be a good place to jump into the series. We've got the whole plague of frogs things still unresolved, as well as what we learned of Abe's back story last volume. So don't start here.
Rating: 7/10
The Black Flame (2006) Mike Mignola, John Arcudi, Guy Davis
In the 5th BRPD volume, the frogs released in Plague of Frogs are now appearing everywhere, and wreaking destruction as they go.
In the meantime, Roger, who was extra simple last volume, has decided to imprint on Captain Daimio. Needless to say, Liz is not pleased by these turn of events, and neither was I. I don't much care for a cigar smoking, gun wielding Roger.
While Liz is receiving messages from her dreams, Abe is still trying to pull himself together after his discovery of his origins. And Roger has become super warrior.
I… don't know how I feel about this volume. I'll need to think about it.
Don't start here. You'll be confused.
Rating: 7/10
The Universal Machine (2007) Mike Mignola, John Arcudi, Guy Davis
Roger is dead. Abe is still lost in his thoughts of his past. And Johann is trying to bring Roger back from the dead.
While Kate Corrigan heads off to France in search of a book that may help bring Roger back to life, the rest of the BPRD remain at headquarters, and end up telling stories.
One story is of Captain Daimio's death; although we learn how he died, we still don't know precisely why he returned to life. Abe, Liz, and Johann also told stories–ghost stories in a way.
And all of the stories are wrapped up in Roger's death.
What I found interesting was that was unhappy as I was at Roger's death, and as upset a Liz appeared, and never really felt much in the way of grief from the story.
This isn't necessarily a bad thing that the story didn't make me feel grief I felt in the way Sandman or Rising Stars did, because it's not really that kind of story.
And having read a Hellboy comic followed immediately by a BORD comic, I have to say that I do prefer the Hellboy comics. There's something about Hellboy's attitude I enjoy. Not that BPRD is bad, it's just not the same.
Rating: 6.5/10