Cinderella
From Fabletown with Love (2010)
From Fabletown with Love (2010) Chris Roberson, Shawn McManus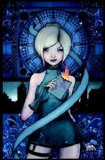 Well. That was disappointing.
Anyone who has read Fables knows that Cinderella has been acting as spy and assassin for Fabletown for years. Not that anyone in Fabletown aside from the sheriffs know this fact, but that's good, because otherwise she'd be a lousy spy and assassin.
There were so many awesome places they could have taken this character, yet, as I read the story, I felt little but continual disappointment. Cinderella felt off from her character in the main fables story line, and the secondary characters were unusually shallow and uninteresting, and although the tale was interesting, it was nowhere near as well done as the main Fables stories, and so felt weak in comparison.
I also disliked the art, the way Cinderella was drawn bothered me on some level, Aladdin just felt off, and the main characters such as Beast, were nigh near unrecognizable.
Rating: 4/10