Lady Mechanika
Mystery of the Mechanical Corpse (2015), Tablet of Destinies (2016), The Lost Boys of West Abbey (2017), La Dama de la Muerte (2017), Clockwork Assassin (2018), La Belle Dame Sans Merci (2019), Sangre (2020), The Monster of the Ministry of Hell (2022)
Volume 1: Mystery of the Mechanical Corpse (2015) Joe Benitez, Peter Steigerwald
Lady Mechanika has spent a great deal of time trying to discover where she came from–who replaced her arms and legs with mechanical appendages–and why?
Every time she things she's found a clue as to her past, the person (or creature) with whom she may have a link turns up dead, but when a mechanical corpse appears in town, she hopes the body may give her come clues as to her history.
This is dark and violent and has lots of unreasonable clothes, but I still very much enjoyed it.
Publisher: Benitez Productions
Rating: 7.5
Volume 2: Tablet of Destinies (2016)  Joe Benitez, Marcia Chen, Martin Montiel
I am very much enjoying these books.
Lady Mechanika has mechanical appendages, but has no memories of how she got them, or of her life before that time. So she lives as best she can, often accompanying adventurers (because her limbs and eyes give her advantages over others).
When Lady Mechanicka returns from an adventure to find Winifred (Fred) waiting for her, because she's worried about her grandfather, and believes that two German men attempted to grab her.
Meanwhile, we see Professor Thomsen and his student Mr Strassmen in Africa, following ancient translated instructions looking for an ancient city.
Lady Mechanicka's adventures with Fred take her to Africa where they are attacked, kidnapped, and make friends.
This is a fun story, and I have the next volume on the way!
Publisher: Benitez Productions
Rating: 8/10
Volume 3: The Lost Boys of West Abbey (2017) Marcia Chen, Joe Benitez, Peter Steigerwald, Marcia Chen
When she learns of the murders of young orphan boys in a strange warehouse found mechanical toys, Lady Mechanika decides to investigate, in case this is related to her own (forgotten past).
This volume was extremely dark (with the murder of young boys) and Machanika's own flashes of memory of her own past.
We don't actually see her flashback of having her limbs removed, but it's quite clear from the scenes you do get, that someone has done just that.
Which is horrifying. So be aware of that.
But the story is mostly solving the mystery of who is killing these boys–and why.
And in the search Lady Machanika and Mr Lewis meet a police inspector also interested in the crime–and who is unhappy his superiors went to ignore the murders, since they are only of orphans.
I also want to mention this bit, which delighted me.
Bonk, indeed!
Publisher: Benitez Productions
Rating: 7.5/10
La Dama de la Muerte (2017) Joe Benitez, M. M. Chen, Peter Steigerwald, Beth Sotelo, Beth Sotelo
Set in Mexico in 1869
This is set outside of the regular series, and was published the same year as the third volume, The Lost Boys of West Abbey. I actually don't know what year (in steampunk time) the main series is set, aside from the late 1800s.
Lady Mechanika has traveled to Mexico, simply wandering and at a loss as to what to do with herself. I blind man tells her to go to Santa Catrina, where she might find healing. What she discovers is a village celebrating la Día de los Muertos.
As Día de los Muertos is one of my favorite holidays, how could I not help but be immediately drawn into the story.
However, please be aware that this story is about grief and death and mourning and vengeance.
And please be aware that children are harmed in this story.
So, very dark, but good.
Publisher: Benitez Productions
Rating: 8/10
Volume 4: Clockwork Assassin (2018) Joe Benitez, Peter Steigerwald, Mike Garcia
The longer this series goes on the better I like it.
Although I think some of the outfits she wears are ridiculous, I have accepted the, because she does use the more ridiculous outfits to fight and generally kick ass.
A man Mr Lewis used to work with is brutally killed.
Then at the funeral another man is murdered.
And here were learn why Mr Lewis often drinks himself into oblivion, and in an instant, instead of being irritated by him, I find him sympathetic.
Lady Mechanika and Detective Inspector Singh look into these deaths–only someone claims the murders were done by Mechanicka herself.
I also really like Singh, who is just as complex as Mechanicka and Lewis.
I am definitely enjoying this story, and can't wait until the next volume arrives.
Publisher: Benitez Productions
Rating: 8/10
Vol. 5: La Belle Dame Sans Merci (2019) Joe Benitez, M. M. Chen, Martin Montiel
This… did not end particularly well.
It wasn't a cliff-hanger, but it also wasn't clean.
Also, the next volume doesn't exist right now, which doesn't help.
So Mr. Archibald Lewis, Lady Mechanicka's friend and Fred's uncle, is a mess.
But he's learned something, that an arm, possibly one like Lady Mechanicka's–has been discovered. In trying to learn more, Lady Mechanicka gets herself into trouble.
She does get some assistance from the Inspector, but he follows the law, and she does not always.
And then there is Fred, who is all but abandoned, and has to depend on her Uncle Lewis, who is a mess. And when he gets into more of a mess, Fred and Mechanicka have to save him–perhaps from himself.
I was very much reminded, both in the story and the art, of the ST:DS9 episode, The Muse. Which makes me wonder what mythology and fairy tales that story was based upon.
I do love the art, but I did find the ending less than satisfactory.
Publisher: Benitez Productions
Rating: 7/10
Lady Mechanika Volume 6: Sangre (2020) by Joe Benitez, M.M. Chen, Brian Ching, Martin Montiel
Lady Mechanika has taken a case in Spain.
And she goes alone, because Mister Lewis is still not speaking to her, refusing to forgive her the actions she took in the previous book.
The story opens 500 years previously, in the Americas, and this prologue is continued and interspersed with the current story.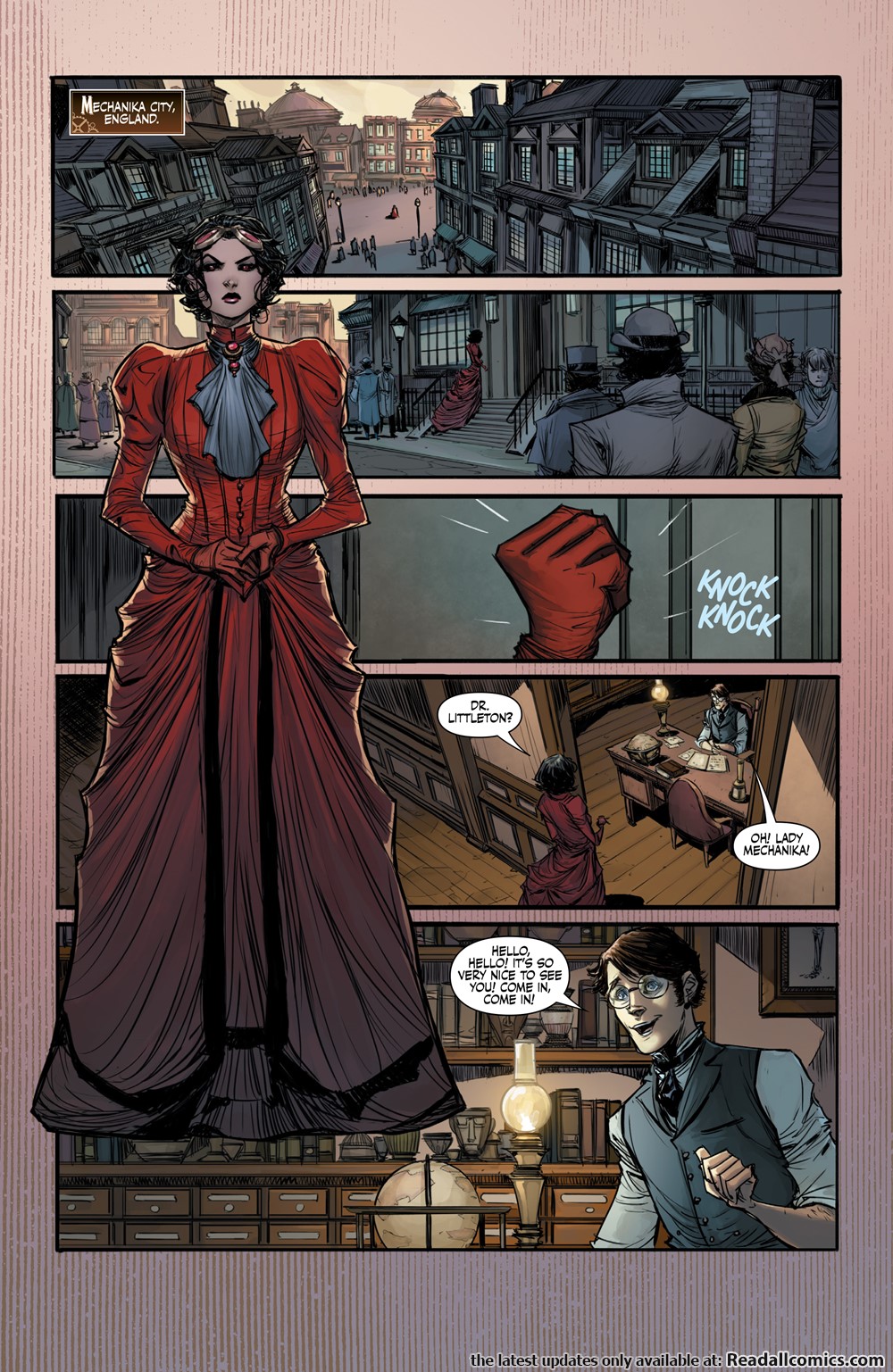 This is, as were the previous volumes, a steampunk fantasy. Lady Mechanika goes to Spain theoretically to protect a young man whose family fears he has been possessed by demons, but while there she discovers new monsters, but also a women who may have a way for Lady Mechanika to recover some of her memories.
Maybe.
But it's also a story of acceptance and forgiveness and revenge and love.
Publisher: Benitez Productions
Rating: 8/10
Lady Mechanika Volume 7: The Monster of the Ministry of Hell (2022) Joe Benitez, Beth Sotelo, Michael Heisler
That… was dark and depressing.
The story opens with Lady Mechanika's memories.
They are not happy ones.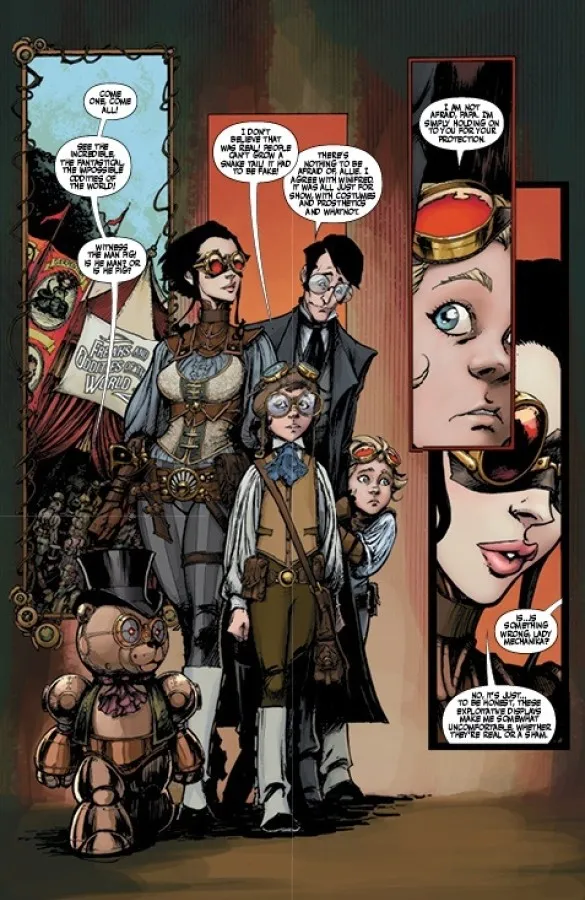 Although after the opening, we shift to a fun faire with Lady Mechanika, Dr. Littleton, Allie, and Fred, it's still dark, as Allie immediately falls prey to her unknown ailment, and Dr. Littleton blames his past and his work for Allie's illness.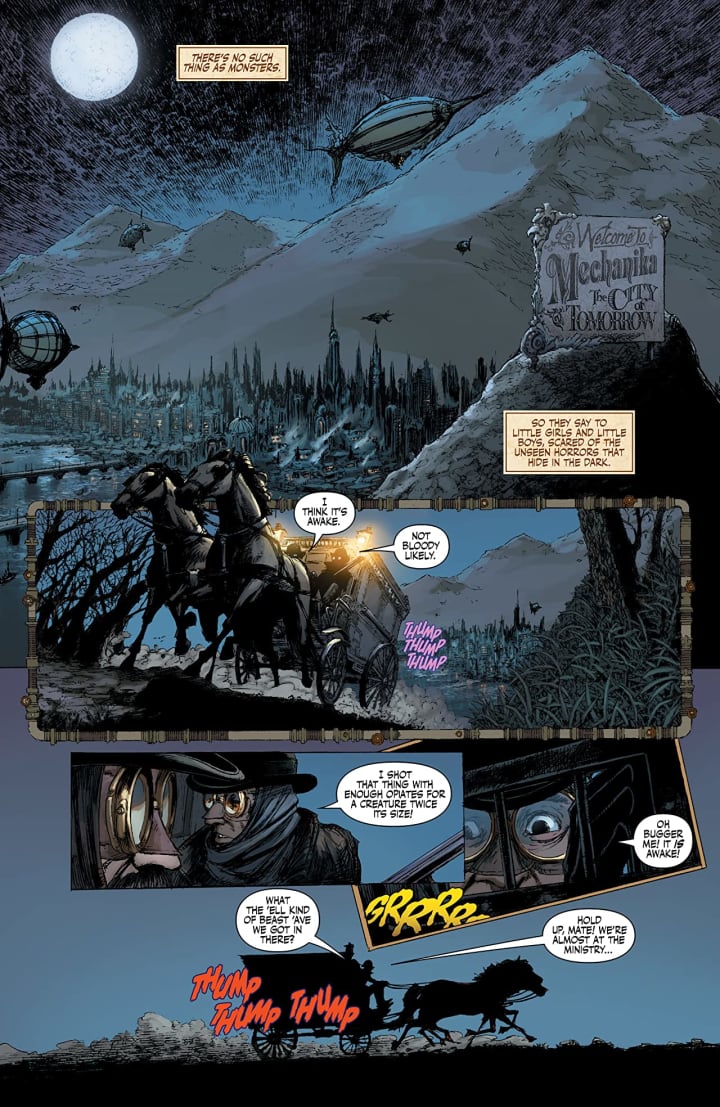 But that is almost nothing compared to seeing Lady Mechanika's origin story, as she shares her earliest memories with Dr. Littleton.
Because that monster on the cover? That is Lady Mechanika during her time at the Ministry of Health.
As I said, it's dark, and you know little good is going to come from anything, as Lady Mechanika eventually is removed from solitary confinement and placed into the girls dormitories–which is filled with other young monsters.
We get tons of foreshadowing, so I wasn't necessarily surprised by all of the bad things–but there were plenty enough that were shocking (and upsetting).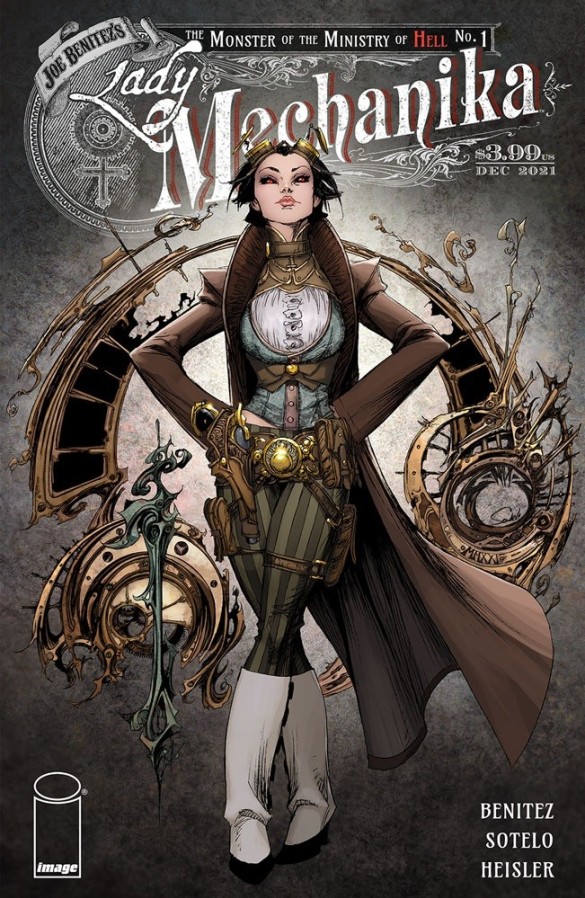 And it ends on a cliffhangerish note, which we know I never love.
Especially since these are (understandably) slow in coming out.
Because now I have to wait another extremely long time to learn more.
Publisher: Image Comics