Arnaldur Indridason
Books: Mystery
Inspector Erlendur: Jar City (2000/2004), Silence of the Grave (2002/2005), Voices (2003/2006), The Draining Lake (2004/2007), Arctic Chill (2005/2009), Hypothermia (2007/2009), Outrage (2008/2011), Black Skies (2009/2012), Strange Shores (2010/2012)
Inspector Erlendur
Jar City (2000/2004) translated by Bernard Scudder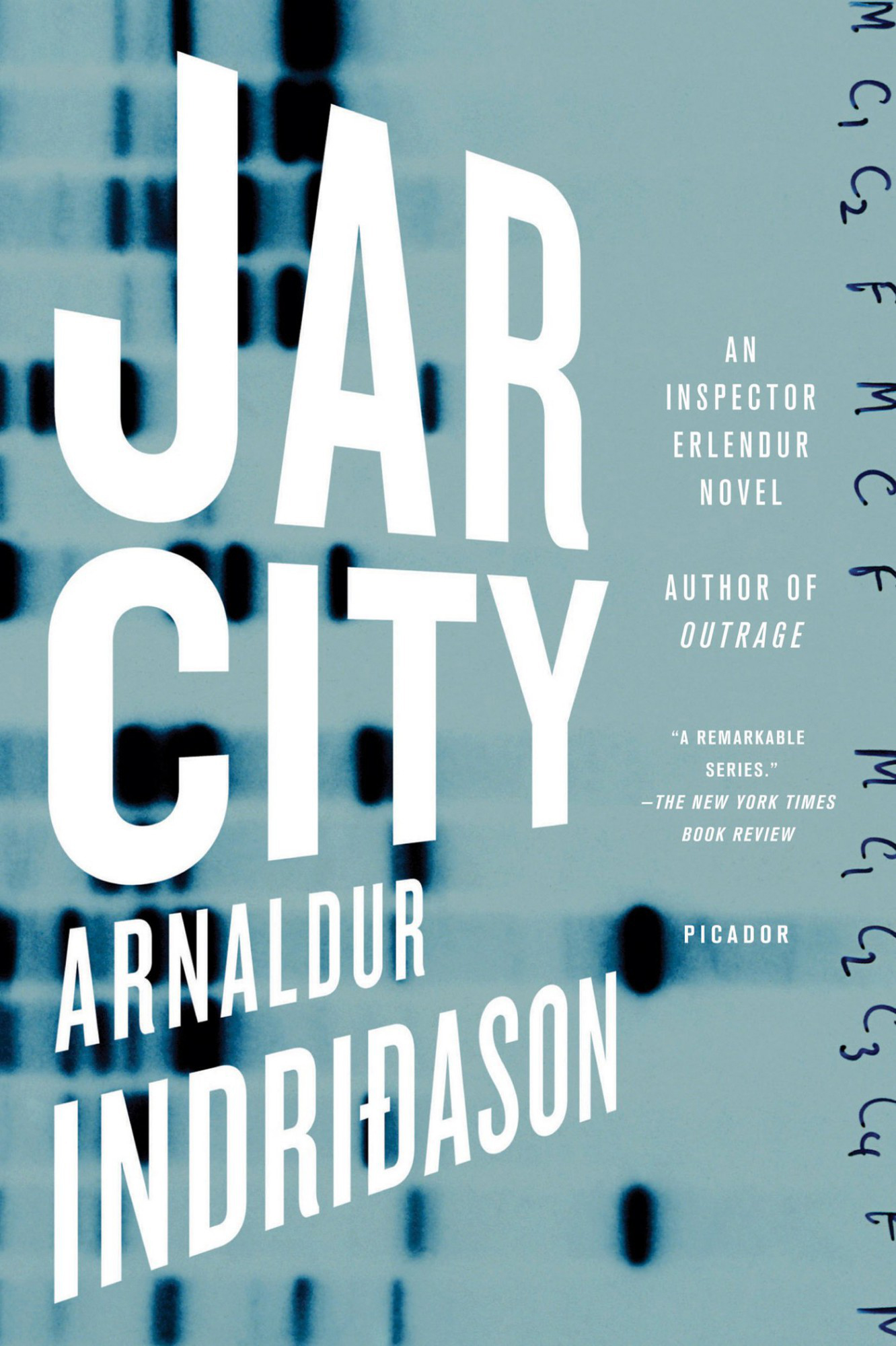 Inspector Erlendur works for the Reykjavík police, and he and his colleagues are called to an apartment where and old man was murdered.
The elder son, 9 years old, was not as cautious as his father and quick as a flash he was in the neighbour's sitting room. A moment later the child came back and said there was a dead man in the flat, and he really didn't seem too perturbed by it.
A cryptic message left on the body confuses far more than it clarifies, so they start looking into the man's past for clues.
"Do you know what comes into my mind when I think about that suicide? It's not the blood in the bath. Not my sister lying in the red water. Not the cuts. It's Kolbrún in the shop, buying the razor blades. Handing over the money for the razor blades. Counting out the coins."
Erlendur is a very difficult man, although one who is good at his job. He is hard to like, being brusque and rude, and he has a terrible relationship with his children, the older of whom is a drug addict, and the younger (who is out of rehab) barely speaks to him.
The body of an old man is discovered in his apartment. It looks like a crime of passion, but a cryptic note makes the crime seem like much more. And a look at the old man's past turn up plenty of reasons someone might want to kill him. Except the obvious suspects have been dead for years.
I love mysteries, and I've come to love mysteries set in other other countries, so I picked up this book. A trade paperback copy. Several years ago. And never picked it up to read, solely because it's a trade paperback.
So when Amazon came out with its KindleMatchBook, I picked up an Kindle version of the book. This I read almost immediately.
First, make sure you read the introduction about Icelandic names–everyone goes by their first names (or first and middle names), even formally and professionally. I admit that my unfamiliarity with Icelandic names did make keeping track of characters a bit difficult; I totally took advantage of the Kindle x-ray tool, to remind me of who's who in the story.
I really liked the mystery, though I can't tell you precisely what bits I especially liked without giving away part of it.
As is typical for police thrillers, Erlendur is a bit of an asshole.
"Are you worried about your paternity?" Erlendur asked…

"Everyone always said I never resembled my father or mother or anyone else in my family."

"I've always had that feeling too," Erlendur said.

"What do you mean?"

"That you were a bastard."
But an amusing one, at times.
Quite enjoyable and I do want to read more of this series.
Published by Minotaur Books
Rating: 7/10
Reread: Jan 2017 | Rating: 8/10
Audio Version (2000/2004/2011) translated by Bernard Scudder narrated by George Guidall
This ended up being the next book to listen to in the car.
Michael doesn't love mysteries as much as I do, but he does enjoy them, so I decided to try this one, since I do love this story.
First, this is a fabulous mystery. Michael didn't appreciate it quite as much as I did, but he did enjoy it.
As to the narration, Michael had trouble keeping the characters separate, since in Iceland they primarily use only first names, and in this story, a lot of the characters have names that started with E or A, and the names were spoken with an Icelandic accent (as they should be) which made the names even harder to parse.
I'd read the book before (more than once, actually) so I didn't have the same issue with names as Michael did, but I do remember having a hard time keeping the characters straight while reading the first book.
So that's something to keep in mind if you want to listen to (or even read) this story.
Publisher: Recorded Books
Silence of the Grave (2003/2006) translated by Bernard Scudder
This is the second book I've read by Arnaldur Indridason, and the second in his Inspector Erlendur series.
This mystery is also quite different from other mysteries I typically read, but also quite good.
There are two parts to the story–the tale set in the past of a battered woman and her life with her abuser and children, and the tale set in the current, where human bones are discovered in a construction zone.
First thing of note, I found the discovery of the bones (at least the discovery by the adults) to be both hilarious and rather disconcerting. It's so very vivid and startling, but also something that one that does not seem at all far fetched.
Second thing of note, was the life of the abused woman–it was absolutely horrifying, and a reminder of how much things have changed. When police would show up at a house, find a woman bruised, bloody, and battered, and tell her she must have provoked her husband. And attempts to escape are foiled and fail. That portion of the story was heart breaking. Especially her realization that she cannot leave. She can only endure.
I was also quite amused by the archaeologist brought in to uncover the bones.
She listened to him rambling away until she lost her patience. "How long has he been in there?" she asked.

"Difficult to say," the geologist said in his deep voice, assuming an academic pose. "It needn't be long."

"How long is that, geologically speaking?" Elínborg asked. "A thousand years? Ten?"
And of course, I continue to be fascinated by Erlendur. Probably because I can appreciate his darkness.
Spring and summer were not Erlendur's seasons. Too bright. Too frivolous. He wanted heavy, dark winters.
Heavy, dark winters. I too appreciate them.
Again, I'm glad that Amazon offered these books on sale, else I might not have come across them, and that would be a shame.
Published by Picador
Rating: 8/10
Reread: Jan 2017 | Rating: 9/10
Voices (2003/2006) translated by Bernard Scudder
There has been a murder in one of the fancy hotels. A particularly nasty murder, with a man in a Santa suit, in a compromising position, stabbed to death. Inspector Erlendur and the rest of the police have been called in, but nothing is at it seems, from the man himself–a doorman who lived in a small room in the basement–to any possible suspects. 
'Is he up or down?' Erlendur asked.

'Up or down?' the fat manager puffed. 'Do you mean whether he's gone to heaven?'

'Yes,' Erlendur said. 'That's exactly what we need to know…'

'Shall we take the lift upstairs?' Sigurdur Óli asked.

'No,' the manager said, casting an irritated look at Erlendur.
Erlendur is still an ass, but yet I can't ever bring myself to dislike him, especially as we learn as the serious progresses about his past.
First, Erlendur seems more and more curmudgeonly with each book, but that doesn't make the story any less enjoyable or him less likable.
He didn't listen to modern music. For a long time after hearing people at work talking about hip-hop he thought it was a variation of hopscotch.
That is just marvelous.
Second, I like that there are other cases going on, despite the rush to discover who murdered the doorman.
Third, Erlendur becomes more and more sympathetic as we learn more about his past–the event that all but destroyed his childhood. I can't imagine such an event and a loss at that age. And although we'd learned about the event in a previous book, this time we learn more of the reactions of the rest of his family, and more of how it changed and shaped Erlendur.
It's quite interesting.
Also, I learned what Gullfoss and Geysir are (a waterfall and a geyser in Iceland) so that's just a BONUS.
One last thing–pay attention to how the murder victim is referred to as the story progresses. It's fascinating how he changes from Santa to the doorman to a man with a past and a history.
Published by Minotaur Books 
Rating: 7/10
Reread: Feb 2017 | Rating: 8/10
The Draining Lake (2004/2007) translated by Bernard Scudder
Lake Kleifarvatn is draining, and no one is quite sure why, but what they do know is that as it drains, things are being uncovered. In this case, one of the scientists discovers the body of a man who obviously had been killed and his body thrown in the lake to hide it, but the draining lake exposed the crime, and now Erlendur Sveinsson and his fellow detectives are investigating a crime committed decades ago.
'So he was sunk?' he said.

'He hardly did it himself,' Sigurdur Óli blurted out. 'He wouldn't really go out onto the lake, tie himself to a radio transmitter, pick it up, fall over on his head and still take care to end up in the lake so he'd be sure to disappear. That would be the most ridiculous suicide in history.'
This book has two points of view—the views of the police investigators and of the murderer as he writes about, and reflects upon the past, and what led to the crime.
This is, of course, a police mystery.
Forensics technicians wearing white overalls were hurrying across the sand in his direction. They were carrying a tent and bags full of mysteries.
But it's also much more.
Erlendur continues to watch his daughter, Eva Lind, spiral downward. It seemed as if she couldn't sink any lower, yet, she manages to do so.
That part is terribly depressing. It also serves to alienate you (or me, at least) from Erlendur, because I absolutely cannot comprehend his relationship with his children. Not at all.
And then he comes back with a perfect comment, and I want to forgive him again.
Nifty book that girl's written,' he added. 'I was just looking at it. Good photos.'

'I think the girl's in her forties,' Erlendur said. 'And yes, it's a really good book.'
But most fascinating about this story is the look at Iceland during the Cold War–especially watching the young Socialists realize what is being done in the name of Socialism. Fascinating and horrifying at the same time.
As well as the part that Iceland played, which is something I had never considered before.
He said he had succumbed to temptation when he was offered money to inform American diplomats about any unusual developments at his embassy or those of the other Iron Curtain countries. He never had anything to say. Nothing ever happened in Iceland.
OK, so that part just made me laugh.
Regardless, I really enjoyed this story, both the glimpses into the past, and the mystery being uncovered in the current timeline.
Published by Picador
Rating: 8.5/10
Reread: Feb 2017 | Rating: 9/10
Arctic Chill (2005/2009) translated by Bernard Scudder and Victoria Cribb
This is, I believe, the fifth book in the detective Erlendur series, and I continue to like Erlendur and enjoy spending time with him despite myself. Erlendur is a broken and often not very nice man, and there are many reasons to not like him, yet I find myself enjoying this book.
Possibly because there is a very dry humor under everything.
His home was furnished with handsome, trendy furniture, a magnificent kitchen and expensive flooring. Graphic prints decorated the walls. All that was lacking was the faintest sign that anyone actually lived there.
An Asian boy is found dead in the courtyard of his apartment complex, and everyone is both horrified by his death, and wondering whether the attitude of Icelanders towards immigrants is behind the murder.
One of the things I particularly liked about this story is how we see Erlendur juggling several cases, as well as his problematic relationship with his children and watching is his mentor, Marion Brem, die.
What I find most fascinating about this story is my reactions to Erlunder, especially his interactions with his children. I get so mad at him for how he reacts of Eva Lind, yet at the same time I feel terribly sorry for the young boy trapped in Erlunder, still searching for his brother.
I also found the reaction of Icelanders to immigrants fascinating, and in many ways similar to what I see here in the US.
'We want foreigners to come here and do shitty jobs at power stations, fish factories and as cleaners, then pack up and leave again when we don't need them any more,' Elínborg said. '" Thanks for the help, don't hurry back!" God forbid that we might get stuck with these people. But if they do insist on coming here, they can stay away from us.
This may be a difficult series for some people to like, but I find myself wanting to learn more and more about Erlunder, no matter how much of an ass he is.
Published by Minotaur Books
Rating: 8.5/10
Reread: Feb 2017 | Rating: 7.5/10
Hypothermia (2007/009) translated by Victoria Cribb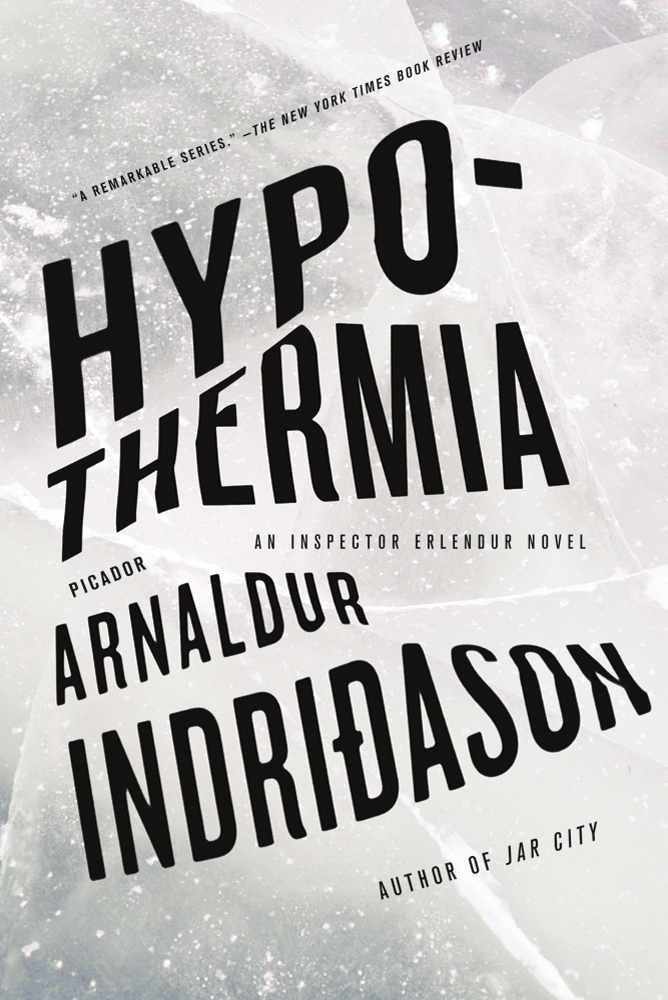 Inspector Erlendur is given a suicide to clear—a woman who had been devastated by the death of her mother, and had a life–long obsession with death and any possible afterlife is found hanging in her summer home. Although there is no note, it is a fairly clear case of suicide—something all to common in Iceland (although many suicides just walk into the ocean).
Erlendur also receives a visit from the father of a young man who had gone missing many years ago, at the start of Erlendur's career. His wife has died, and the man himself is dying, so he's checking in (as he has done over the decades) to see if there are any new leads.
The man's impending death pushes Erlendur to look again into this case, and also into two other missing cases that occurred at the same time.
Erlendur has had some changes in his personal life, with both of his children coming for visits now, and his daughter again trying to get clean. Unfortunately, her ideas of what might help her are problematic to Erlendur.
But in many ways, Erlendur remains the same.
It was getting dark, a reminder that winter would soon be here after the short, wet summer. Erlendu felt no dread at the thought. He had never dreaded winter as so many did, not like those who counted the hours until the days would start to lengthen gain. He had never regarded winter as his enemy. Time seemed to slow down in the cold and darkness, enfolding him in peaceful gloom.
We also learn more about Erlendur and the tragedy that shaped his life.
Published by Minotaur Books
Rating: 7/10
Reread: Feb 2017 | Rating: 7/10
Outrage (2008/2011) translated by Anna Yates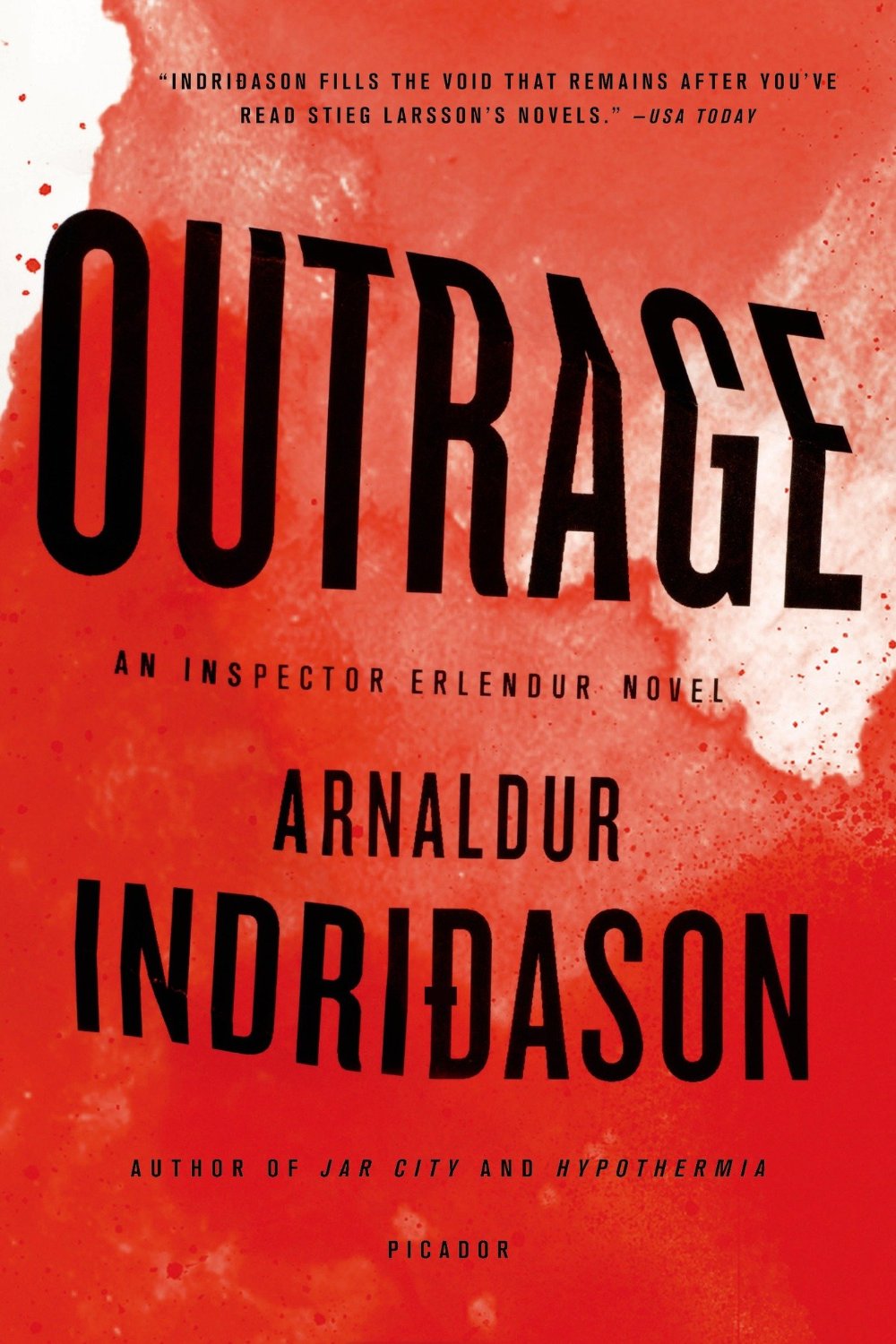 This is not Inspector Erlendur. Erlendur has taken a leave of absence, and no one knows where he is. Instead, the detective is Elínborg, a female detective who works with Erlendur.
Because of crime–the murder of a rapist–Elínborg was a much better main character, since one would not trust Erlendur to deal with compassion and understanding. Those are just not part of his skill set.
That said, I'm not sure that Arnaldur Indridason is particularly good at writing a female lead. Mind you, he did a good job with the story and with Elínborg's personal life and problems, but the story didn't feel like it was written from a female perspective. This isn't a bad thing per se, and I doubt whether many people would notice the difference, there were just a couple of phrases or ways things were referred to that felt distinctly male.
This isn't to say that I didn't enjoy the story, just that it didn't truly feel as if it was written from a female point of view. (Example: I don't know many women my age or younger who refer to 20 year-old females as girls. It's a small thing, but it felt off.)
But I very much enjoyed seeing things from Elínborg's point-of-view and learning more about her life. Several books ago, she had published a cook book, and I really liked seeing what cooking meant to her, and how it was an important part of her life.
And she developed an interest in cookery: she always asked for cookbooks for Christmas and birthday presents, subscribed to recipe clubs, and read cookery columns in the papers. Yet she did not necessarily want to be a chef; she just wanted to prepare food that was not inedible.
I quite liked that passage, as well as the passages that described how she used cooking as an escape from her problems at work and at home. It very much resonated with me.
All-in-all, it was an interesting change of pace, and very well done.
Published by Minotaur Books
Rating: 8.5/10
Reread: Feb 2017 | Rating: 8/10
Black Skies (2009/2012) translated by Victoria Cribb
This story is set parallel to the previous, Outrage and the detective is Sigurdur Óli.
I decided to buckle down and finally read this.
There are several different threads to this story, which made it easier for me to read once the story got going.
First, is Andrés's story. He first appeared in Arctic Chill, an alcoholic whose ramblings led Erlendur to believe there was a pedophile in the apartment complex where the boy had been murdered.
'He's a bit of a tramp, isn't he? An alcoholic?' said Sigurdur Óli.

'So what if he is?' the woman replied, affronted. 'He's never bothered me. He'd do anything for you, he's never noisy, never makes demands on other people. What does it matter if he has the odd drink?'
We see Andrés remembers bits and pieces of his past, and his abuse by the man living with his mother. This is hard to read, not because of the details–we don't actually get details of the abuse–but because you see the wreck that Andrés has become, and you see how it happened. Even Sigurdur Óli, who is the least sympathetic creature ever, eventually comes to feel sorry for Andres. Which is perhaps a sign of his emotional growth.
He had been touched by the boy in the film clip. It was a new experience, as he rarely felt any sympathy for the luckless individuals he came across in the line of duty.
Perhaps.
The second story arc is complicated–Sigurdur Óli's friend comes to him with his brother-in-law, asking if Sigurdur Óli could lean on a young woman who was attempting to blackmail the brother-in-law and his wife. When Sigurdur Óli goes to visit the woman, he interrupts the brutal beating of the woman, and chases off the attacker.
But more importantly, does not take himself off the case.
Sigurdur Óli believed himself to be perfectly capable of working on the investigation despite his highly irregular personal involvement in the affair.
Sigurdur Óli could see nothing improper in continuing to work on the investigation despite his friend's connection to the case. He had full confidence in his own judgement, and anyway Iceland was a small country; links to friends, acquaintances or family were inevitable.
I did mention that I really dislike Sigurdur Óli.
The third arc is about Icelandic banking, and I found it fascinating.
No, really! I remember listening to a Planet Money podcast on the Icelandic bank failure, so this is a look at the lead-up to that failure, from the inside.
They're no wizards. They've simply discovered that there's a vast supply of cheap credit in the world, short-term borrowing, just there for the taking. They have complex ownership arrangements and scoop up all the credit they can lay their hands on before lending it back to themselves, their companies and each other in order to buy companies, banks and airlines, paying enormous sums for them.'

'Is there no regulation?'

'The valuation of assets is governed entirely by them. Look how they're permitted to record goodwill, which is just some kind of expectation of future revenue. They decide how it's calculated themselves. It's a completely fictional number that can be blown up to tens of billions without having any basis in reality, but it helps them ramp up their market price still further. There's next to no regulation of this sort of trick.'

Hardly a single credit repayment can be made without the whole system coming crashing down.
And of course that last line is precisely what DID happen. But, you know, we don't need to regulate banks and businesses. They'll always act ethically.
Except the opposite of that.
The point is that these other parts made a story where Sigurdur Óli was the detective interesting.
Published by Minotaur Books
Rating: 8/10
Strange Shores (2010/2012) translated by Victoria Cribb
Hear that wooshing sound? That was the foreshadowing of the previous two books AND events in this book going right over my head.
I finished the book, blinking in surprise at the ending, and then I thought for a moment and wondered why I was surprised–this was no surprise at all except that I was willfully refusing to see it.
Erlendur had returned to his childhood home of the East Fjords to wander the mountains, hoping–although he refuses to admit it–to find the remains of his brother who had been lost in a storm as a child.
He sleeps in his childhood home, which has remained empty since he and his parents moved to Reykjavik.
Little by little nature was conspiring to merge the property into its surroundings, gradually obliterating all traces of human habitation.
As he wanders the moors, he is reminded again of a woman lost during the storm. The strange thing was that of the 60 British soldiers hiking in the opposite direction, all were found (either alive or their bodies recovered) yet Matthildur was never found, and none of the lost soldiers had stumbled across her.
So Erlendur begins to look into her disappearance, speaking to her last remaining sister and the few still alive who knew her or her husband.
We also see why Erlendur has remained fixated upon his brother's loss.
He feels it is somehow his fault that Beggi ever came with them on this journey, and can't shake off the thought that if he hadn't interfered, Beggi would have stayed at home.
But of course it's obvious from Erlendur's recollections that both his parents felt the same. The guilt left none untouched.
This is the end of Erlendur's story arc, and a fitting ending it is. I'm very glad I came across this series.
Published by Minotaur Books
Rating: 9/10