Books
Lady Darby: The Anatomist's Wife (2012), Mortal Arts (2013), A Grave Matter (2014), A Study in Death (2015), A Pressing Engagement (2016), As Death Draws Near (2016)
Lady Darby
The Anatomist's Wife (2012)
Set in Scotland in August 1830
Lady Darby has spent the last year and a half hiding in Scotland with her sister and brother-in-law, after the death of her husband and the scandal that arose following that.
I quite like the relationship between Lady Darby and her sister. It's a very true feeling sibling relationship.
I awoke the next morning to find Alana hovering over me, a frown pleating her brow. "Oh, thank goodness," she exclaimed. "You're awake."

I hadn't been, but I suspected my sister had been standing there for quite some time and very well knew that.
The other main character is Gage, who is the son of a famous inquiry agent, and when a murder occurs, Gage steps up to look into the matter. Unfortunately for Lady Darby, the scandal that has followed her to remote Scotland becomes an issue, and because of her past, she is asked to assist in part of the inquiry.
I realized we could have waited until dawn to examine Lady Godwin's body. She would stay fresh enough in the chapel cellar. But I had decided it would be better to have the task over and done with. Procrastinating was not going to make it any easier, and I knew I would never get any sleep that night regardless.
There is much to like about this story.
It was a terrible thing to know you wielded the power to harm someone just with the knowledge of what rested on your tongue.
Although it was slow in places, the mystery was good as was the unfolding of Lady Darby's past.
Rating: 6.5/10
Published by Berkley
Mortal Arts (2013)
Set in Scotland in October 1830
The sequel to The Anatomist's Wife finds Lady Darby returning to Edinburgh with her sister, brother-in-law, and their family when they receive an urgent summons from Phillip's Aunt to join them at Dalmay house where her daughter has just become engaged to Michael Dalmay–a childhood friend of Alana and Kiera.
This is a story about PTSD–except that it wasn't considered such in the 1830s. Instead, men who were unable to deal with society after their return from war were hidden away–sometimes even in lunatic asylums.
Our nation was eager to welcome home conquering heroes, not broken men.
This is disturbing to Kiera not only because of her friendship with the former solider, but also because she had been threatened with such a situation.
(T)he realization of what I had narrowly escaped in not being confined to an asylum as my accusers had wished made me grow cold— but I still couldn't help wondering if I would be forever grappling with memories I couldn't forget.
I am really enjoying this series–the history is fascinating and the characters aren't really outside of time as sometimes happens in historicals, and there are plenty of reminders of just how different life was two centuries ago–mostly to your detriment if you were a woman.
Plus, there are some lovely phrases and other bits.
She thrived on conflict. The bigger the reaction she got out of you, the more it pleased her. And the more likely she was to continue goading you. The swiftest way to beat her at her own game was to refuse to engage, be it with anger or discomfiture.
That's something I need a reminder of myself right now.
Rating: 8/10
Published by Berkley
A Grave Matter (2014)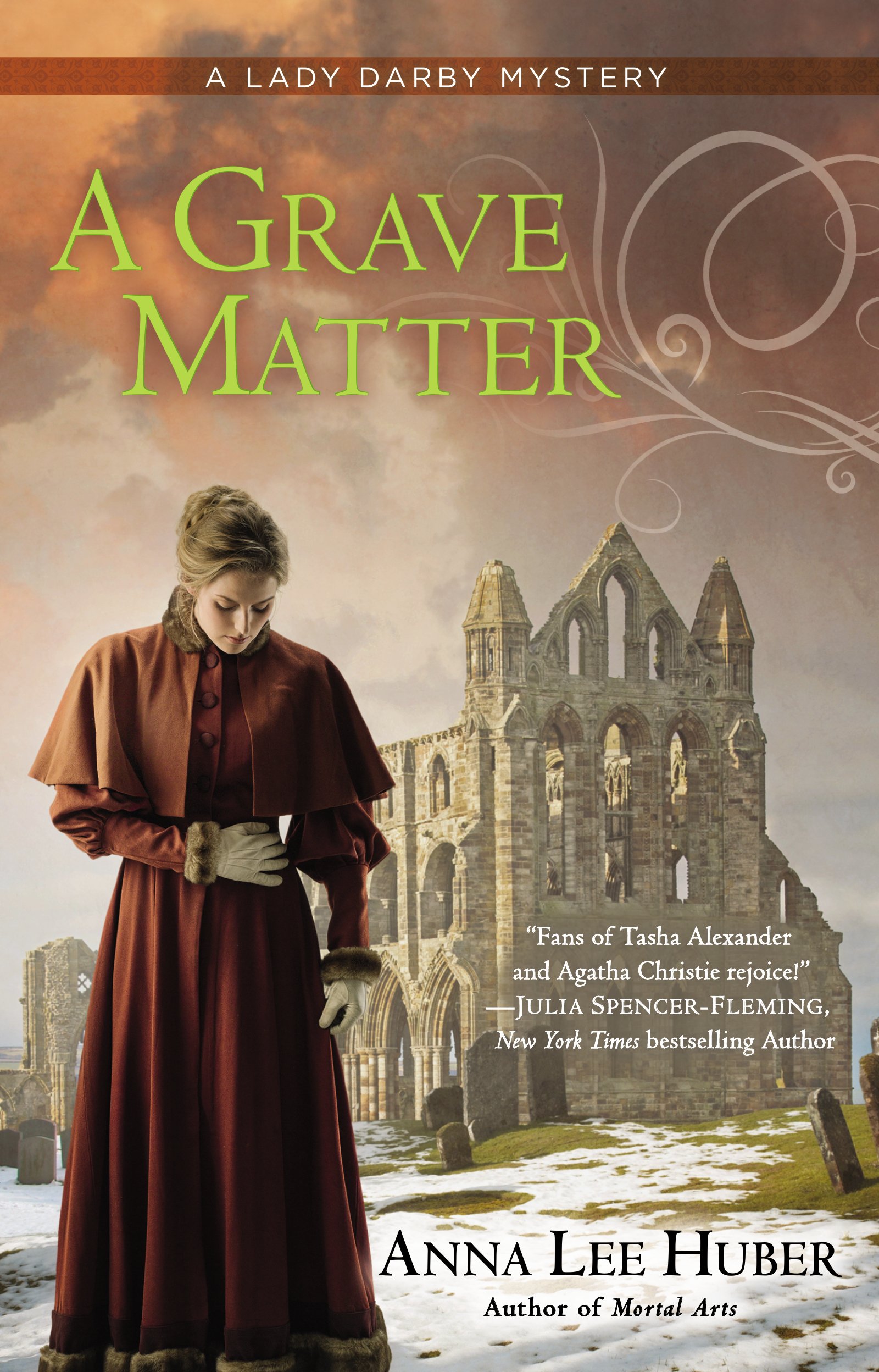 Set in Scotland in 1831
Hogmanay (New Year's Eve) finds Lady Darby staying with her brother, in their childhood home, still grieving her friend's death. But the Hogmanay Ball is interrupted (at the worst possible moment (of course)) with news of the murder of caretaker at neighboring Dryburgh Abbey, and Lady Darby is again drawn into a mystery, but this time she is surprised to discover it is not against her will.
I very much like how Lady Darby is slowly coming to terms with her abilities as an inquiry agent (despite the societal stigma added to her already scandalous past) and all that entails.
As always, the past is a fascinating place to visit (but definitely not a place I'd want to live).
I had not fallen asleep until just before dawn, and when my new maid, Bree, had woken me for church, I had been tempted to remain abed. But then I realized that if I missed Sunday service, the next week would be filled with visits from well-meaning villagers, worried about my health or curious what had kept me from church. After all, we were the highest-ranking family in Elwick, so our comings and goings seemed to naturally concern those around us, whether I wished it to be so or not.
The mystery is very good (and quite fascinating–why would someone steal bones?)
We see the relationship between Gage and Lady Darby continue to grow, and I thought a good job was done with her reluctance to wed and his impatience with her reluctance.
I also very much like Lady Darby's relationship with her siblings, and how she and her brother slowly come to terms with her past and then hurt caused her.
"Everyone's got their hurts. No matter who they are. It's easy teh forget that when we're no' willin' teh look too deep."
I very much like this series.
Rating: 8/10
Published by Berkley
A Study in Death (2015)
When Lady Drummond dies in front of Lady Darby, Kiera immediately believes the death not due to be apoplexy, but to poison. Unfortunately, Lord Drummond all but throws Lady Darby out, and so she cannot–even with the help of Gage–openly investigate the death.
Additionally, Lady Darby and Gage are finally engaged, however, it appears that Lord Gage is opposed to the match.
Normally, I hate it when obstacle after obstacle is thrown up between a couple, but in this case, the obstacles were not surprises but set in places much earlier (Gage's conflict with his father appears in the second book, but we are not given the reason for it until now) which made the obstacles understandable and even expected.
Again, Lady Darby's relationship with her siblings is very well done and appreciated. Pregnancy was a very dangerous even, with death in childbirth being quite common, and these books have done a very good job of showing that, with Alana's confinement and the very real possibility of her death.
I simply can't concentrate."

"That's understandable."

"Yes, but not helpful." She tipped her head back and groaned. "I've only been confined to this bed for a day and a half and I'm already restless. And yet I'm terrified of moving about, lest the bleeding start again." Her face was drawn with fear and unhappiness.
I also appreciate how clear these books are about the place women had in the world at that time.
Lord Drummond was little danger to me. For him to strike a woman outside of his protection would have been beyond the pale of gentlemanly conduct. My fiancé or brother or even brother-in-law would have been quite within their rights to demand satisfaction for such a slight to their female relative. However, Lady Drummond had no such defense. Being Lord Drummond's wife, he could do as he wished to her, as Sir Anthony had done to me. Yes, society generally frowned upon physically harming one's wife, but they also expected that husbands should give their wives moderate correction, so spouses who went too far in their discipline were rarely prosecuted. Perhaps my standing up to Lord Drummond had been a personal triumph, but it had also potentially exposed Lady Drummond to harsher treatment.
The past IS a lovely place to visit, but I would most certainly NOT want to live there.
I really like this series, and wait impatiently for the next book.
Rating: 8/10
Published by Berkley
A Pressing Engagement (2016)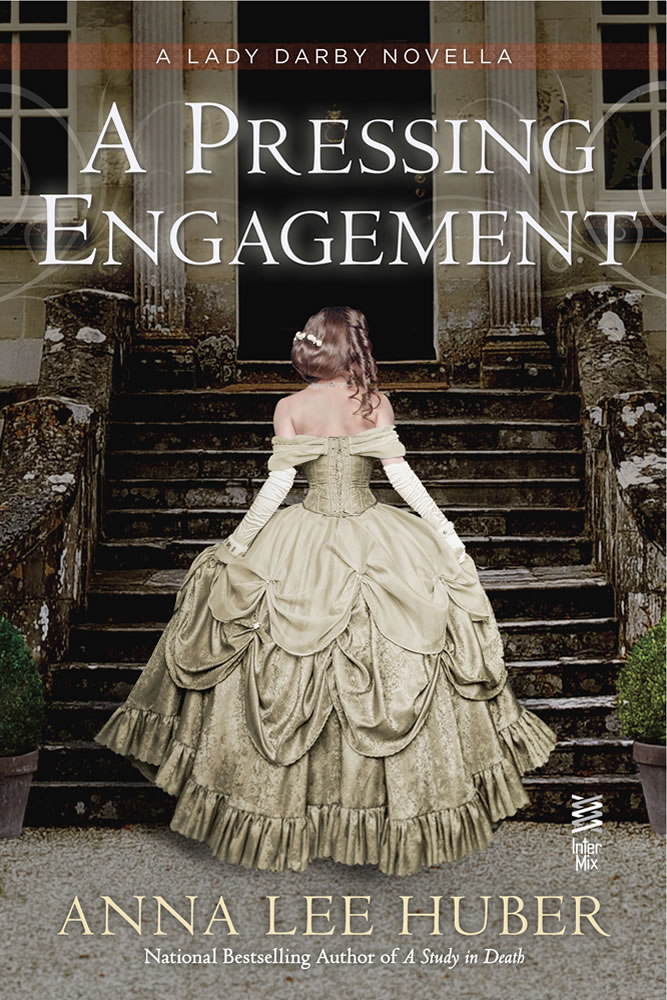 Set in Edinburgh, Scotland in April 1831
This short story is Lady Darby's wedding to Sebastian Gage. Except it isn't really a short story, as much as it would truly be an excerpt from either the end of the previous book or the start of the upcoming book.
If you've read the Lady Darby series, you'll want to read this. But if you've not read any of the Lady Darby series, this is not a good place to start.
Rating: 6/10
Published by InterMix
As Death Draws Near (2016)
Set in England and Ireland in 1831
Lady Kiera Darby and Sebastian Gage are honeymooning in Keswick when he receives orders from his father to go to Ireland to investigate the death of a nun, who happened to have been the niece of Wellington.
They decided to go, not especially because Gage was ordered to do so, but because in the end, a woman was dead, and they were best positioned to discover who murdered her.
Now that she has willingly engaged in another murder inquiry, Lady Darby (she keeps her courtesy title because she married down) she wonders about whether what she does is right.
"I said it is part of who I am, but is that true? Is it who I am? I didn't want to learn all of these things about anatomy. My first husband forced it on me. And yet, I cannot deny how helpful it has been at times with our inquiries. But I still feel guilty for using what I know."

"Perhaps it was forced on you, but it has certainly been used for good. 'But as for you,'" she began to quote from the Bible. "' Ye thought evil against me; but God meant it unto good, to bring it to pass, as it is this day, to save much people alive.'"
…
"The Lord calls us to simply trust and seek. He will show us the way. But when that way is shown, we are not allowed to say, 'Enough! Let me settle.' We must go even where we think it is impossible, do those things that we think we are incapable of. For the Lord will make it possible; He will make us capable."

Her eyes gleamed softly. "You may be called to a home and husband, but that does not mean He doesn't also have more for you to do. The Lord does not say, 'Go this far, only this far, and no further.' He does not only call men to do His good work.
I liked that not just for the kindness the Mother Superior gives her, but for the thought that Lady Darby put into it, because she would have doubted what she was doing, and found it difficult to reconcile with her upbringing.
"In the end, we are only responsible for ourselves, no matter how much we might wish otherwise."
Also, the mystery was very good, going places that I didn't expect, but that were also completely consistent within the story and the time.
I really enjoyed this, and look forward to the next book.
Rating: 8.5/10
Published by Berkley