Books
Kat Holloway: A Soupçon of Poison (2015)
Captain Lacey: A Regimental Murder (2004/2001), The Glass House (2004/2011), The Sudbury School Murders (2005/2011), A Body in Berkeley Square (2005/2011)
Kat Holloway
A Soupçon of Poison (2015)
Set in London in 1880
Kat Holloway is a cook for Sir Lionel Leigh-Bradbury, and although the position isn't ideal in pay, he agreed to her request for an unusual number of days out, so she stays, even when he begins to make unusual and ridiculous demands.
But she is a very good cook.
Late one night, after the other staff had gone to bed, I sat in the kitchen at the wide wooden table, sharpening my knives.  

A cook's knives are her greatest asset, and if they go dull, they are no use at all and should be replaced. As decent knives are hideously expensive, I kept mine in good repair.
When she needs help, Daniel McAdam, a man of all work goes out of her way to assist, gaining her gratitude, but she knows little about him, and he does nothing to allay her suspicions.
I knew Daniel wasn't married because I'd asked him that, point blank. When a man flirts with a woman, she ought to know where things stand.

Daniel had dark hair and dark eyes and a tall, attractive body. He spoke with a fairly neutral accent— he hadn't been brought up on the streets, I could tell. He could read and write and was quite clever, though he never admitted to any schooling.

I concluded that he must be the son of a middle-class gentleman, possibly illegitimate, but he never spoke of his family.
I've been trying to read the first Captain Lacey mystery for about two years now. I just can't get into it. So I decided to try a novella, for a different taste of her writing.
I really liked this story, and very much want to read more about Kat Halloway. She firmly knows her place, and doesn't seek to rise above it.
I jumped to my feet, annoyed. The kitchen was my demesne. The master might own the house, but a good employer understood that not interfering in the kitchen made for a tranquil domestic situation. Sir Lionel had his rooms above stairs where I did not trespass, and he had no reason to trespass on me.
She wants to do her job, the best she can, but she's also smart and no-nonsense–delightful to spend time with.
Unfortunately, there are currently not any Kat Halloway books out, so I have to wait. Perhaps I'll try a different Captain Lacey book, because there are several series I love, where if I'd started with book one, I probably wouldn't have picked up another book, and that would have been a terrible loss.
And I'll keep my eye out for more Kat Halloway stories.
Rating: 8.5/10
Published by JA / AG Publishing
Captain Lacey
A Regimental Murder (2004/2001)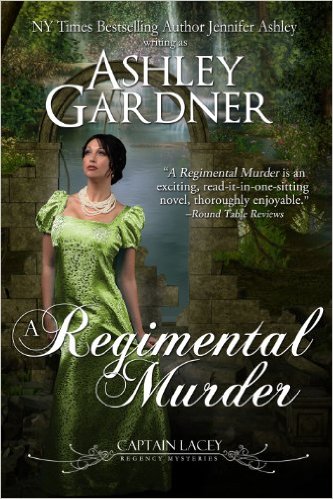 Set in London in 1816
Captain Gabriel Lacey is a half-pay captain from the calvalry, no longer fit for service after his right knee and leg were terribly injured in Spain, during the war.
"India, and the Dutch campaign," I replied. "Then the Peninsula. Not Waterloo, I am afraid." They'd be disappointed. Waterloo made one a hero, even if one had remained behind in camp guarding the water sacks. The Derwents did not seem to mind this, however.
One summer night as he wanders the streets, unable to sleep, he comes across an upper-class woman near the as-yet-unfinished London Bridge, and saves her from a man with a knife. He soon discovers that she is in disgrace, for his husband was saved from trial for murdering another soldier in Spain (Portugal?) by his death–a death that his widow reveals was a murder.
"My husband was a moral man, Captain. Moral in the real sense of the word, not in the manner in which some preach morality while beating their servants black and blue with the other hand. He no more would have shot Captain Spencer than the Thames would flow backward. He abhorred violence and violent acts."
I tried several times to read the first Captain Lacey mystery, and just could not get into it. After reading a novella about a different character, I decided to skip to the second book, and see how I felt about that. (After all, there are many series I'd never have read if I'd started with the first book.)
These are decent historical mysteries. Captain Lacey is a very interesting character, although I still have not decided whether I actually like him or not. Because of the war he suffers from melancholia and has a very bad temper (modern diagnosis: PTSD) which is what makes him so interesting, because he is quite frequently not very likable.
There are also lots of historical tidbits that add versimilitude to the story, like the following:
His note was short, only four lines on an entire sheet of heavy white paper.

Did I envy a man who could afford to throw away an expensive piece of paper on a short note, or think him a fool? In any case, I carefully tore the clean end of the sheet from the written area and tucked it into my drawer to save for my own letters.
With such amazing technology available today, it's hard to remember that in the past even paper was dear, with scraps being saved for later use.
And of course, the treatment of women.
(B)y law, sons were not related to their mothers, and had no legal obligation to care for them.
It's an interesting series, and I'm glad I skipped to the second book, to give it a chance.
Rating: 7/10
Published by JA / AG Publishing
The Glass House (2004/2011)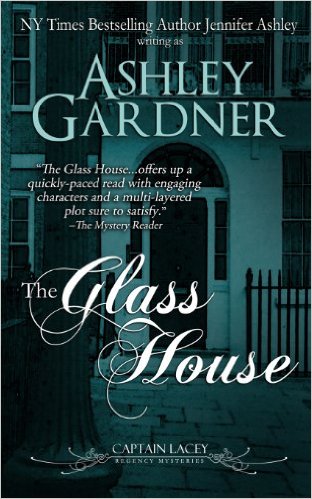 London, January 1817
The third Captain Lacey mystery finds him again embroiled in mystery, when a young blonde is found in the river, and the Bow Street runner called to the scene wants Lacey to see if she is his upstairs neighbor.
Again, I cannot decide if I like Captain Lacey or not. He is brusque and picks fights where he needn't, but he is also in almost constant pain, and suffers melancholia from the war. So it's hard not to excuse him for his temper, since he mostly manages to control it.
I had seen more than one corpse of a suicide in the Army; once, of a man in my own company. Most of us in the Army had been very stoic about the fact that every time we rode into battle, we would likely not return. We agreed that death fighting the pesky French was more honorable than death by the infections that regularly swept through the camps. We even joked about it.

But there were those for whom the horrors of war had come as a shock. Some men could not face shooting and killing others and were terrified by the thought of death by bayonet or musket ball. In the quiet hours of dawn, these gentlemen would creep away by themselves and end their lives quickly with a bullet in the head, as I described.

No one stopped them. A man had to find honor where he could. We buried them, sent their effects back to their families, and marched on.
I (of course) liked the elements reminding us what life was really like in the past.
"I've been wondering why she married Chapman at all," I said. "Lord Barbury gave her money and gifts and loved her desperately. She seemed equally besotted with him. Surely she was happy, even without marriage."

Marianne gave me a dark look. "You are a man, Lacey. You cannot begin to understand. A gentleman who is not your husband can be wild about you one day, weary of you the next. And, once he is weary . . ." She opened her hand, as though dropping something to the carpet. "If the lady has saved no money, if he takes back everything he has given her, she is destitute, her character ruined. Marriage is much safer by far for a woman, even if it is not the happiest state."
Quite fascinating was the description of "magical gas" or what we'd refer to as laughing gas. When Lacey first experiences it, I thought he might be likely to return to it, after it eased the pain of his knee, but luckily, he's made of sterner stuff, and recognized that the come down wasn't worth the relief.
I was also glad to see that the Derwent's were back. They're quite lovely, and it's nice to remember that such people do exist. I also liked that Grenville is complicated.
It's an interesting series, and at $2.99 a book, I'll keep reading.
Rating: 7/10
Published by JA / AG Publishing
The Sudbury School Murders (2005/2011)
Set in England in March 1817
The 4th Captain Lacey mystery finds Gabriel Lacey working as a secretary for Everard Rutledge at the Sudsbury School–a school for the sounds of the wealthy–but not titled.
Lacey is somewhat distressed to discover he was hired because of his ability to unravel mysteries, because the school had a rather vicious practical joker. Unfortunately, things become serious when the groom is found murdered–a groom that Lacey recognized from London.
I like Lacey better in this story than I did in the previous two. He's still occasionally an asshole, but far less of one.
And there are some lovely passages.
Hungerford had once been used by Charles I as a base from which he fought battles with Cromwell's army. One could picnic now at the battle sites, as I imagined that one day Spanish ladies and gentlemen would picnic at the sites of Talavera and Abuerra and other gruesome chapters in the war against Bonaparte.
The mystery wasn't especially compelling, but the characters were, and I liked finally learning Marianne Simmons' secret.
Rating: 7/10
Published by JA / AG Publishing
A Body in Berkeley Square (2005/2011)
Set in London in April 1817
The 5th Captain Lacey mystery finds Gabriel Lacey investigating the murder of a young man with whom his former colonel was seen arguing at a ball.
Because Lacey has been at odds with Brandon ever since Brandon attempted to have Lacey murdered, and because Lacey is good friends with Brandon's wife, this makes for a delicate situation.
Or had he simply been moral because he'd never been tempted? It is easy to reject sin when one has no interest in it.
I rather liked the mystery in this one, and that the characters around Lacey only slowly reveal their secrets.
Rating: 7/10
Published by JA / AG Publishing