Books
Thomas Lynley: A Great Deliverance (1988), Payment in Blood (1989), Well-Schooled in Murder (1990), A Suitable Vengeance (1991), For the Sake of Elena (1992), Missing Joseph (1993), Playing for the Ashes (1994), In the Presence of the Enemy  (1996), Deception on His Mind  (1997), In Pursuit of the Proper Sinner  (1999), A Traitor to Memory (2001), A Place of Hiding  (2003), With No One as Witness  (2005), What Came Before He Shot Her (2006), Careless in Red  (2008), This Body of Death  (2010), Believing The Lie  (2012), Just One Evil Act (2013), A Banquet of Consequences (2015)
Thomas Lynley
A Great Deliverance (1988)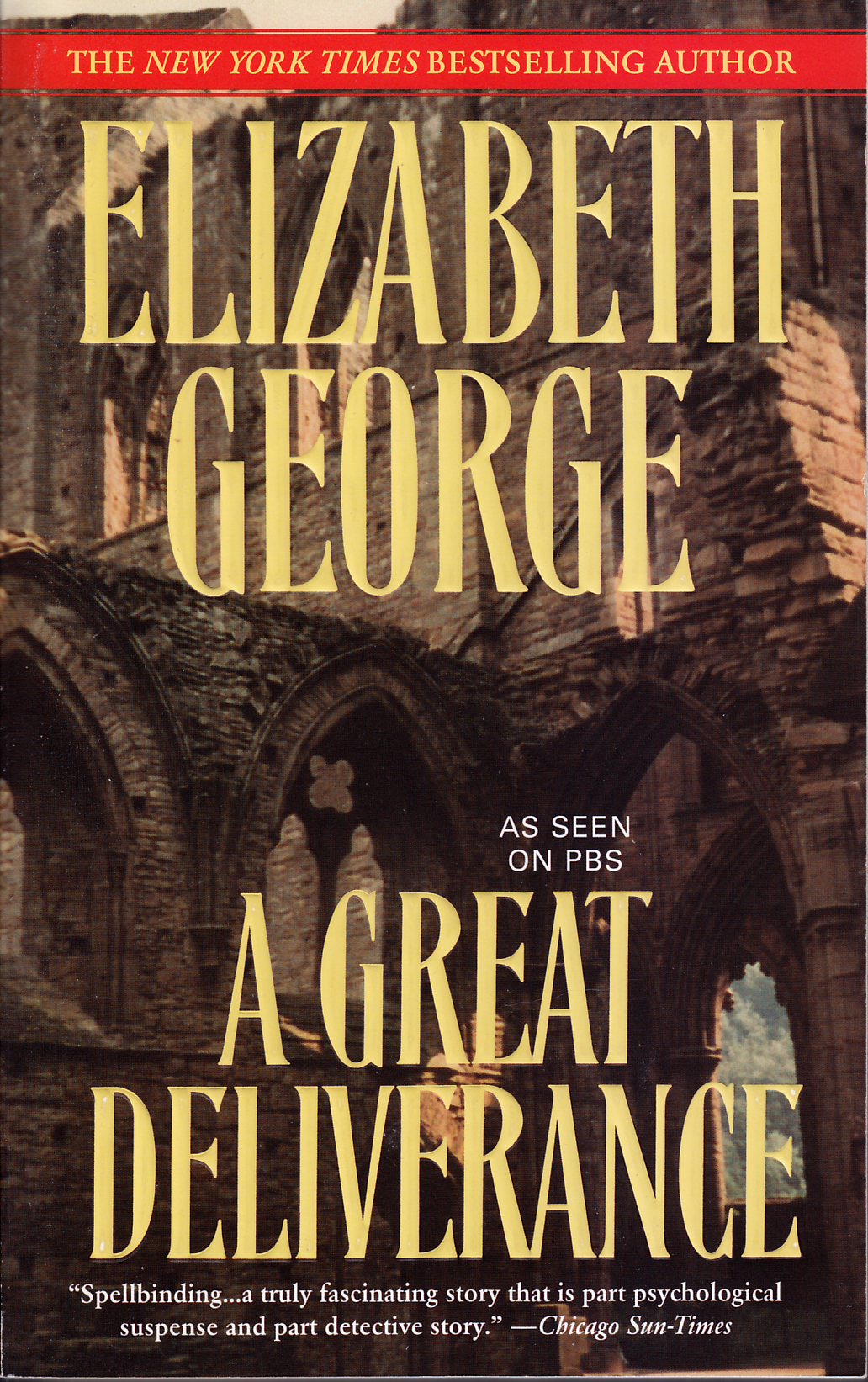 I've been out of sorts recently, and keep picking up books, reading a few pages, and then putting them back down, because they're not what I'm in the mood for. Luckily (or perhaps unluckily) for me, Amazon provides endless recommendations, based upon other books you've read and enjoyed.
Thus, I stumbled upon Elizabeth George.
How had I missed reading her before? I have absolutely no idea. I'd heard the name, but somehow I'd managed never to come across her books. But this series fit right into the sweet spot of what I wanted–an established detective series that was highly rated, and had a good backlist, all of which tend to mean they're more likely to be a good series (I know this is not a truth, those things do make it more likely).
A somewhat ugly case is passed onto Superintendent Webberly's, and between the serial killer he's already dealing with, the political problems of the case at hand, and interpersonal issues with some of his staff members, it's likely that nothing is going to turn out well for his department.
And this is how Barbara Havers and Thomas Lindley end up going to Keldale to investigate a terrible murder.
We are several chapters into the book before we even meet Havers and Lindley. First we see the priest bringing the facts of the case to Scotland Yard, then the Superintendent, trying to figure out what to do with the case. Considering that Havers has a history of being unable to work with other members of the CID, and her vocal dislike of Lindley, things don't look particularly good for this case to be solved quickly and easily.
And that doesn't even go into the political considerations between the different police jurisdictions.
Meanwhile, a teen girl is accused of the grisly murder of her father, and since the discovery of the body, she has said nothing other than, "I did it. I'm not sorry."
There is a lot going on in this book. We have the politics between the different departments, we have the tension between Havers and Lindley, we have Lindley's personal life, Haver's personal life, and Lindley's best friend St. James is on his honeymoon, and the history between the two men is yet another mystery.
Surprisingly, for me, the multiple threads worked very well. Part of it was because I knew why the man had been murdered, so that took a lot of the surprise out of the story. Would the resolution of that mystery been a surprise two decades ago when the book was written? Perhaps.
Regardless, it didn't affect my enjoyment of the book, as there were so many other mysteries going on.
Now I'm looking forward to the next books in the series.
Rating: 7/10
Payment in Blood (1989)
Synopsis:
Once again, Thomas Lynley is called from vacation to deal with a murder. And once again Barbara Havers is to be his partner.
As the subject of their investigation the upper class to which Lynley belongs, he feels that Havers may cause more problems that she might help him solve, however they are assigned the case, and off to the Scottish Highlands they go.
Joy Sinclair has composed a new play to celebrate the restoration of the Agincourt Theater, as well as the revival of Joanna Ellacourt. However, Joy's revisions to the play lead to a terrible argument, and since this is a mystery, to murder.
The nasty surprise for Lyndley is that his long time friend Lady Helen is also with the group–as a guest of Rhys Davies-Jones.
Rating: 7/10
Well-Schooled in Murder (1990)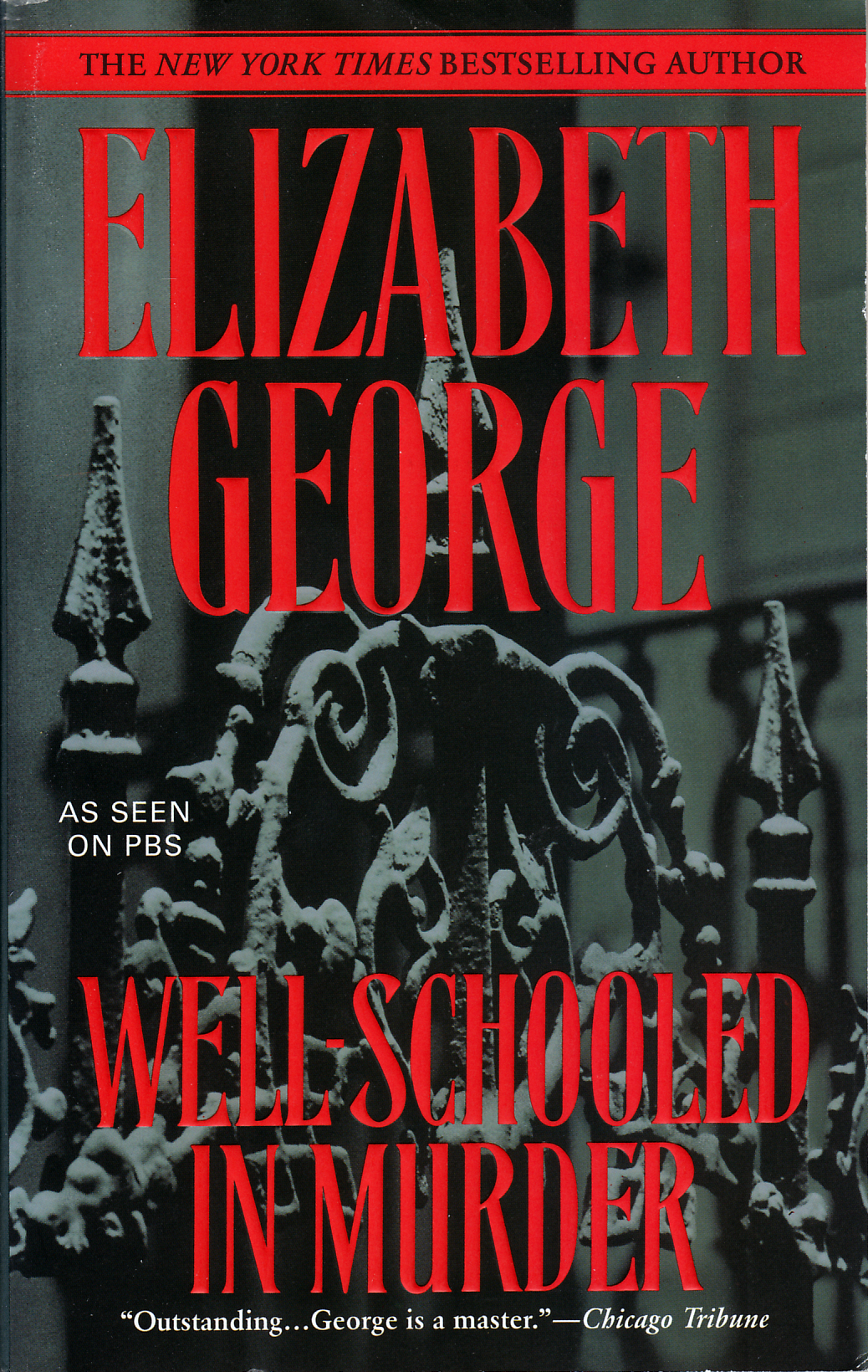 Synopsis:
Thomas Lynley is called upon by an old schoolmate from Eton, when a boy at his school–a boy for whom he was ultimately responsible–is discovered to have been missing for the entire weekend. As Lynley is currently taking every case that comes across his desk (and a number of cases that come across the desks of others) he agrees to look into the matter, and see if he can discover anything.
What he quickly discovers is the body of a boy has been discovered–by the wife of his best friend, Deborah St. James. (This was the one part of the story I took issue with. It was just a bit too convenient for Deborah to have discovered the body, even if it did help with the portion of the story dealing with her personal upheaval.)
The problem is there seem to be entirely too many suspects for kidnapping and murder of the boy, and as more facts appear, the case only becomes more murky.
Rating: 7/10
A Suitable Vengeance (1991)
Synopsis:
Going backwards in time, we see the engagement of Lynley and Deborah, which we well know isn't going to last, and we meet other members of Lynley's family, including his mother and his brother, and spend time in the town where he grew up.
Unfortunately, Lynley's engagement weekend at home is marred with a murder, and everyone soon wonders if someone at the party was involved in the brutal death and disfigurement.
What made the story particularly interesting, is you knew that Lynley and Deborah were going to break off their engagement, but it's hard to see how they could do so while remaining friends as they are in later books. We also see Lynley's troubled relationship not just with his mother, but also with his brother.
Rating: 8/10
For the Sake of Elena (1992)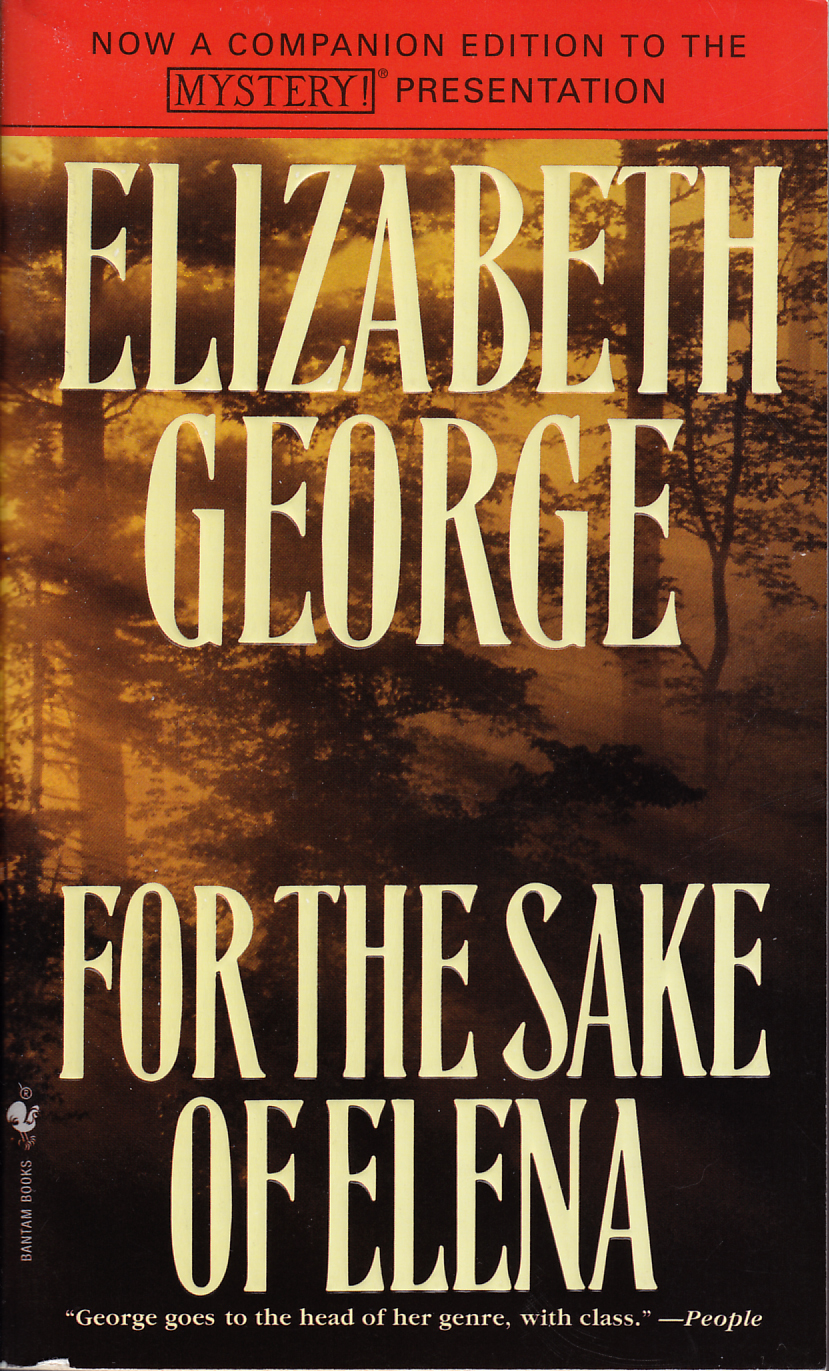 Synopsis:
Lynley is still keeping busy as things are still uneven between him and Helen, while Havers continues to struggle with finding care for her mother. When Lynley volunteers to take a case in Cambridge, both of their personal situations come to a head.
Elena Weaver is found dead just off the path where she took her morning run. The case quickly becomes complicated when previous difficulties between the college and the town police arise in the midst of the case. To make things worse, Elena is the daughter of a prominent professor at St. Stephen's–a professor with a very bitter ex-wife and a very beautiful new wife.
I think one of my favorite bits in the series so far comes at almost the very end of the book.
"Why?"

"Because he still has to look at himself in the mirror every morning. And how can he do that if he ever starts digging through his life for the truth?"
That, I think, goes to the very heart of how and why people delude themselves.
Rating: 8/10
Missing Joseph (1993)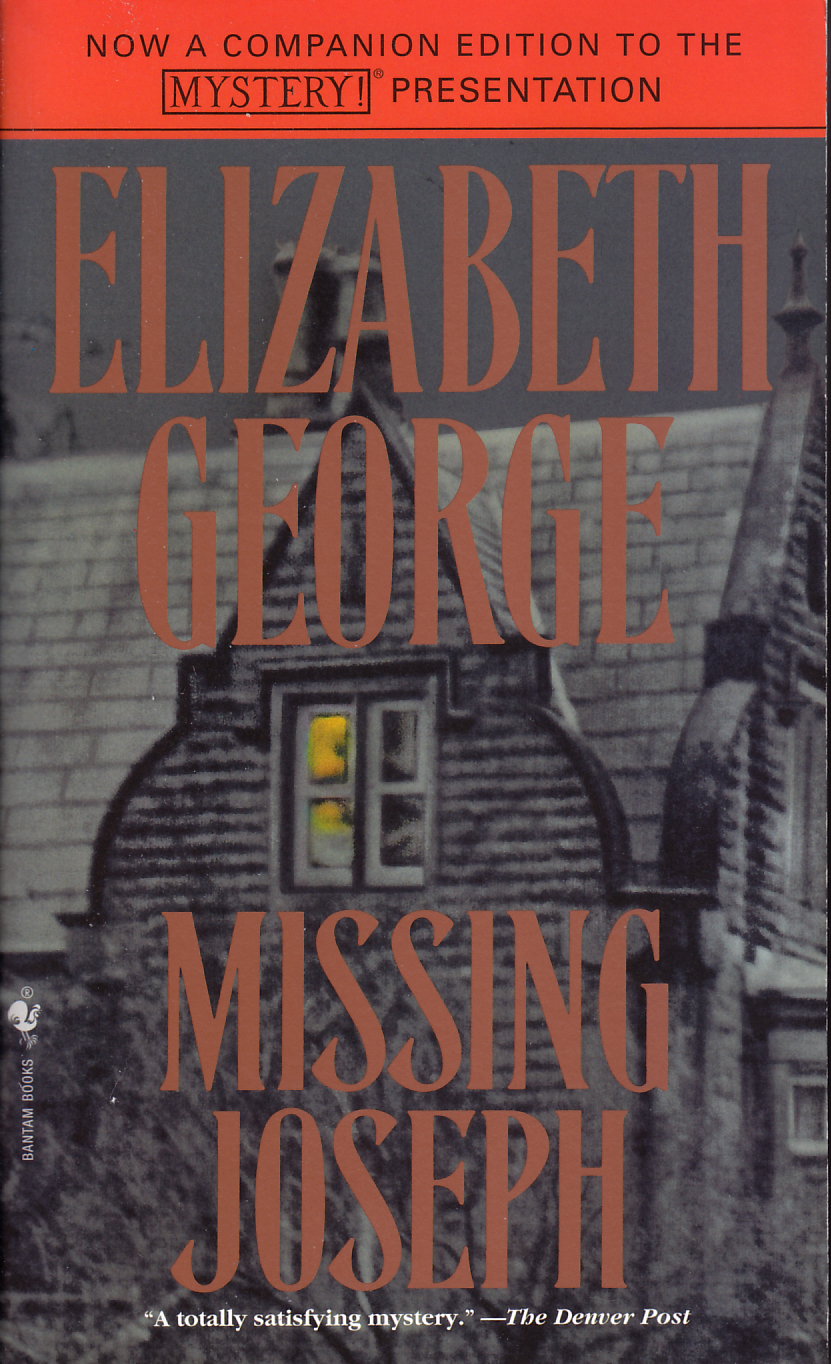 Synopsis:
Deborah St. James is still struggling over her inability to have a child. When she ducks into a museum to escape a storm, she meets a vicar with whom she feels she feel she could talk, however, when she and Simon arrive at Lancashire for an out-of-season vacation, they discover the vicar has been killed, and it looks like the local police have botched the job. When the situation looks to be beyond what Simon can handle, he calls Lynley.
Both Lynley & Havers are on well-earned vacations–Lynley is suppose to go off with Helen, and Havers is to work on the house so she can sell it and finally move into her own place. Unfortunately, neither plan is works as either had hoped, so Lynley goes off to Lancashire to see what he can help Simon discover.
Rating: 8/10
Playing for the Ashes (1994)
Synopsis:
Kenny Flemming is a brilliant cricket player who seemed to have come out of nowhere, and came to cricket not through the school system by through a factory league. Just before players are to be chosen for the Test matches, Kenny Flemming is found dead, in a house not his own, and the country is in an uproar to discover why he died, and who killed him.
Unfortunately, there is no easy solution, and the killer left little evidence behind, and the possible list of suspects is confused, and becomes only more confusing the more they discover.
Interspersed with the mystery is the life story of Olivia, and her view of the murder–a story that slowly becomes relevant as more of Kenny's past is unraveled.
And of course we also have the lives of Lynley and Havers–Lynley's relationship with Helen and Havers slowly developing her own life.
Rating: 9/10