Stieg Larsson
Books: Mystery | Thriller
The Girl with the Dragon Tattoo (2008), The Girl Who Played with Fire (2009), The Girl Who Kicked the Hornet's Nest (2010)
The Girl with the Dragon Tattoo (2008) translated by Reg Keeland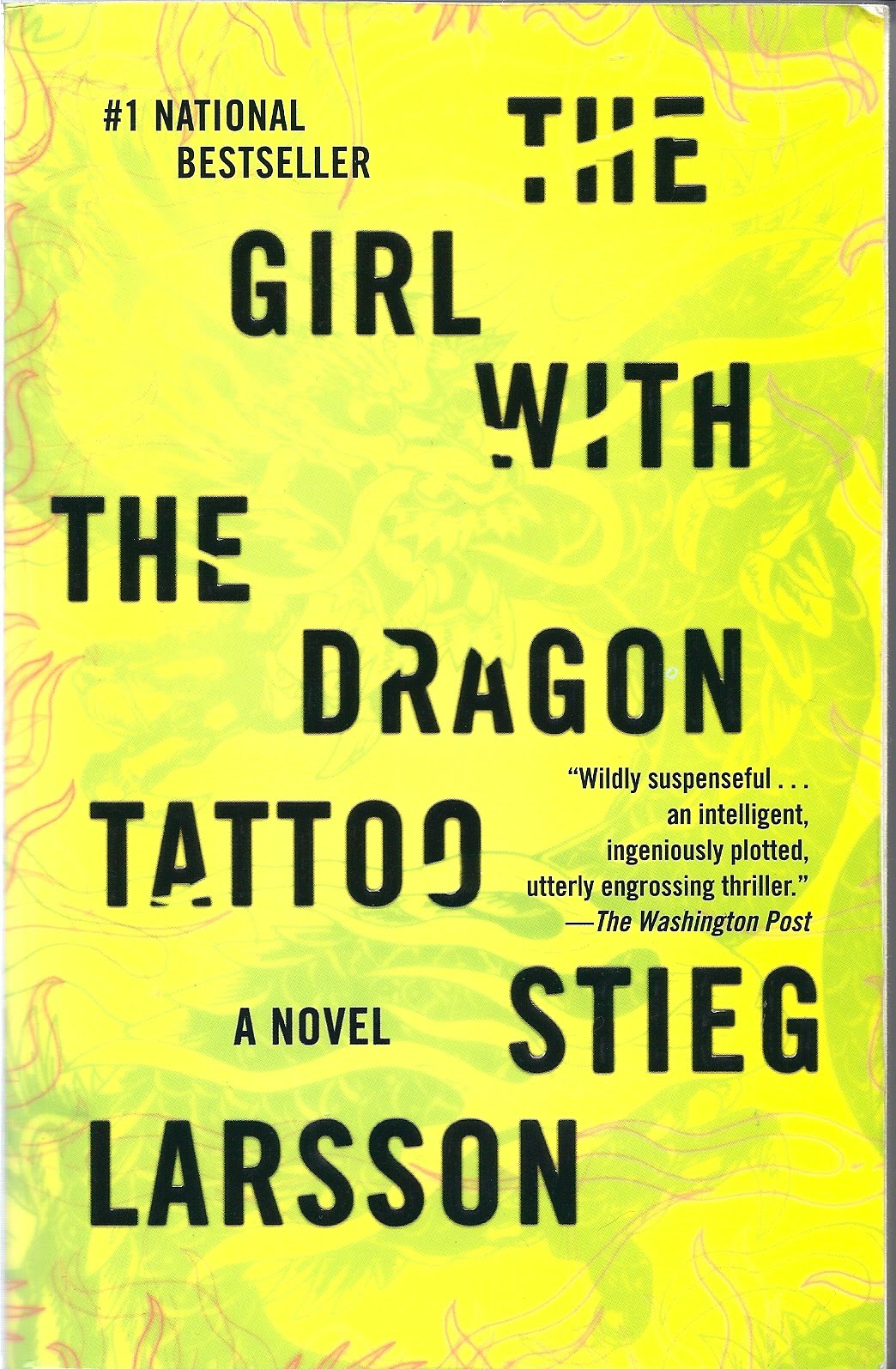 Yes, yes, yes. I know I'm late to the game. But I had a large backlog of books to read through first.
I started reading this soon after I broke my ankle. Since it was very difficult for me to carry things while I was on crutches, this sat on the dining room table and was my book to read while eating lunch. Then, since it was in the kitchen, I ended up plowing through lots of other books while only reading a few pages at a time of this one.
Of course, once I picked up the book and really started reading, I was quickly drawn into the story.
Mikael Blomkvist has just lost a libel court case, and in addition of having to pay a heavy fine, he is also sentenced to three months in prison. He also believes he needs to resign from the magazine he helped found, because he fears his continued presence may well drive the magazine under. It is in the midst of this confusion that Blomkvist receives an offer to help an old man discover what happened to his niece, under the guise of writing the man's biography.
But there is an additional character in the drama, Lisbeth Salander, who works for a private security firm and has her own ugly history.
A couple notes for the handful of people who have not ready this story–some really awful things happen to Lisbeth. She comes through it, but it's very disturbing to read. Some of the reviews that disliked the book, did so on the grounds that it was too violent. Unfortunately, this simply reflects reality–the world can be a harsh and unpleasant place if you are a woman, and terrible things sometimes happen to women, for a variety of reasons. In my opinion, it seems ridiculous to read a crime novel and then complain that it contains, you know, crime and violence.
All in all, I enjoyed it and am looking forward to reading the next book in the series.
Published by Vintage
Rating: 8/10
Reread: July 8, 2015
I read this the summer I broke my ankle. Because of that, much of my memory of it was fuzzy, both because I read a lot that summer and because I was taking a lot of pain killers.
So I figured I was due for a re-reading. I read the next two books in the series in the last months of Grandmom's life, so for different reasons, my memory of those books is hazy.
I did remember that the books were very good, and that memory held up over time.
Interestingly, the scene that I wasn't looking forward to re-reading (the rape of Salander) was far shorter than I remembered it being, which–while still horrible–was actually less horrible than I had remembered.
Despite the horribleness that happens to Salander, there are amusing bits throughout the book.
Salander was dressed for the day in a black T-shirt with a picture on it of E.T. with fangs, and the words I AM ALSO AN ALIEN. She had on a black skirt that was frayed at the hem, a worn-out black, mid-length leather jacket, rivet belt, heavy Doc Marten boots, and horizontally striped, green-and-red knee socks. She had put on make-up in a colour scheme that indicated she might be colourblind.
(E)very photographer and pictures department is convinced that the pictures contain a historical documentation of incalculable value, so they never throw anything away.
The first email was from < demokrat88@ yahoo.com >: I HOPE YOU SUCK COCK IN THE SLAMMER YOU FUCKING COMMIE PIG. He filed it in the "INTELLIGENT CRITICISM" folder.
Apropos of nothing, I started tracking the mystery authors that Blomkvist, on the off chance there was someone I hadn't read before. (I may have missed an earlier author.)
Wahlström (Manhattan series)
Mickey Spillane
Enid Bloyton
Sivar Ahlrud – The Metro Mystery
Val McDermid – The Mermaids Singing
Åke Edwardson
So… I've got some authors to look up.
The Girl Who Played with Fire (2009)
This post is pretty much just to track that I read this book. There isn't a damned thing I can say that hasn't already been said.
The Girl Who Kicked the Hornet's Nest (2010)
This is another post just to track that I read the book.
Fabulous series.