Books: Mystery
Inspector Rebus: Knots and Crosses (1987), Hide and Seek (1990), Tooth and Nail (1992), Strip Jack (1992), A Good Hanging (1992), The Black Book (1993), Mortal Causes (1994), Let it Bleed (1996), Black and Blue (1997), The Hanging Garden (1998), Dead Souls (1999), Set in Darkness (2000), The Falls (2000), Resurrection Men (2002), A Question of Blood (2003), Fleshmarket Alley (2004), The Naming of the Dead (2006), Exit Music (2007), The Beat Goes On: The Complete Rebus Stories (2015)
Malcolm Fox: The Complaints (2009), The Impossible Dead (2011)
The Rise: A Short Story (2023)
Comics: Dark Entries (2009)
Knots and Crosses (1987)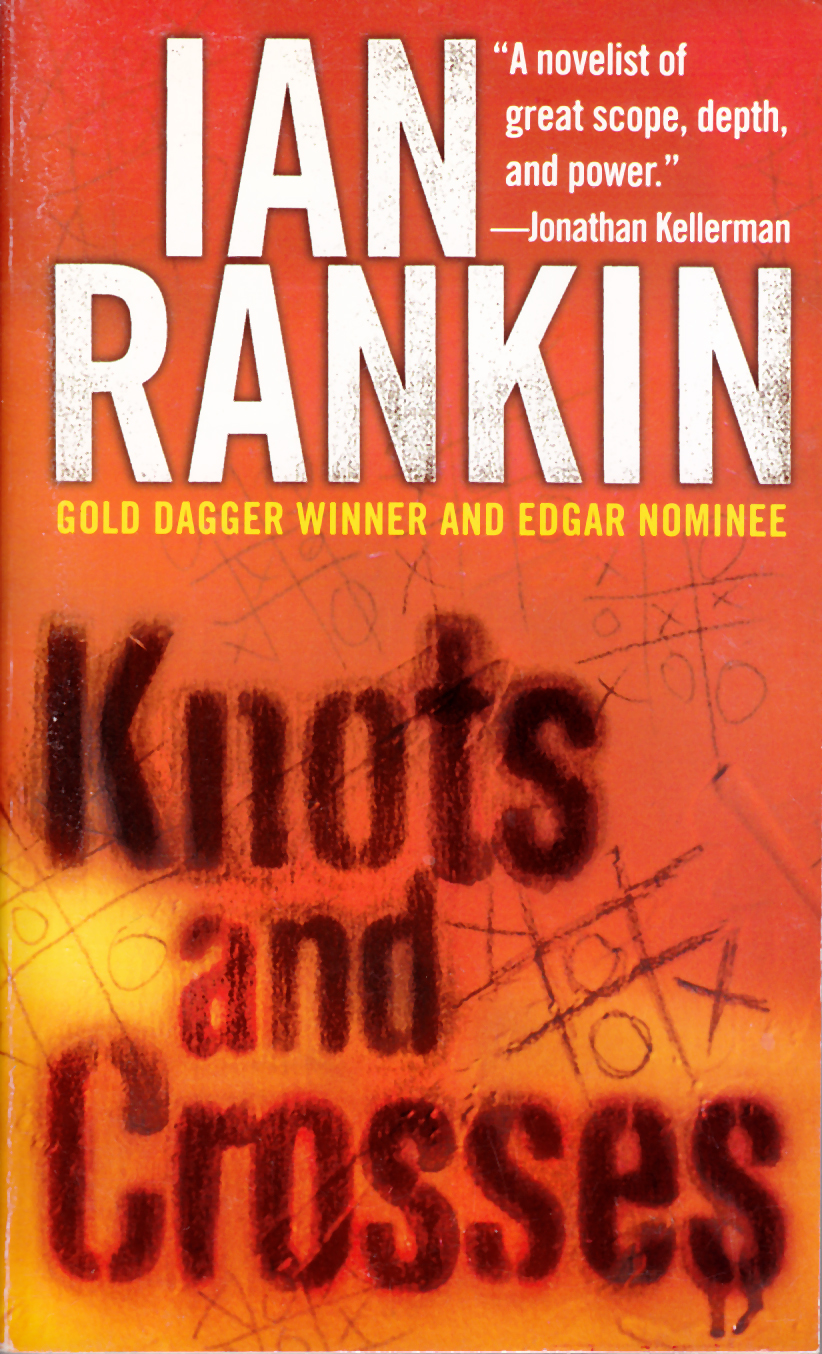 Knots and Crosses is the first John Rebus mystery. John Rebus is a Detective in the Edinburgh police force, who is not doing a very good job of getting over his divorce, or his time spent in the special forces. When someone starts kidnapping and murdering young girls, the entire police department drops everything to search for the serial killer. At the same time, John Rebus receives a series of cryptic notes, that may or may not be unrelated to the case.
John Rebus is a complex character, whose past is as much a mystery to him as it is to us. We watch his life fall apart around him, while he tries to pick up the pieces from both his fallen marriage and his past in the special forces.
A couple things I want to point out. This book was written in 1984, so everyone smokes–everywhere. Considering how the rest of the book did not have a particular feel of the past, this was occasionally disconcerting–not a fault of the book, just simply a note of how times have changed. The only other thing that didn't age well was the fact that Rebus did not have joint custody of his daughter, but instead spent only a few hours with her a week. Again, this is simply a sign of how times have changed.
They mystery was good, although knowing the book was part of an on-going series, the idea that Rebus might be the killer was dead in the water–but that didn't ruin the story, it just removed one small dimension of the story.
The only thing that particularly bothered me–the murder of young girls, initially put me off the story entirely, but I was eventually able to get past, as it simply became a fact of the story and not the focus of the tale.
Although it was a quick read, I definitely want to check out more of Ian Rankin's John Rebus series–not just for the quality of the mystery, but also because I want to see how Rebus eventually recovers from his past.
Rating: 7/10
Hide and Seek (1990)
After reading his anthology A Good Hanging, I decided to pick up another of Ian Rankin's Inspector Rebus books. I had 'em in the house, just never got around to reading any further in the series, because the first two books I read were quite dark, and I wasn't in the mood for dark.
But, I enjoyed the short story collection, and so decided to pick up Hide and Seek and see what I thought.
Detective Inspector John Rebus is still a bastard, and even more so when he's cranky. So of course he ends up with a case that isn't going well, and Superintendent Watson has decided Rebus is the perfect person to head up the drugs task force, simply because his brother is serving time for drugs crimes.
A body–looking initially like a simple heroin overdose–is found in an abandoned house. Unfortunately, the circumstance surrounding the death–and the way the body was laid out–seem to show that something else was going on, and this was more than a case of a junkie ODing.
It is at times difficult to like Rebus. He can be a completely self-centered jerk. But he also seems to care about the crimes he is involved in getting solved, although that may be more out of stubbornness and curiosity than a sense of justice.
The mystery here is intriguing, and ends up going much further than a simple heroin OD. Not 100% certain about the coincidences, but it was interesting and engrossing.
Tooth and Nail (1992)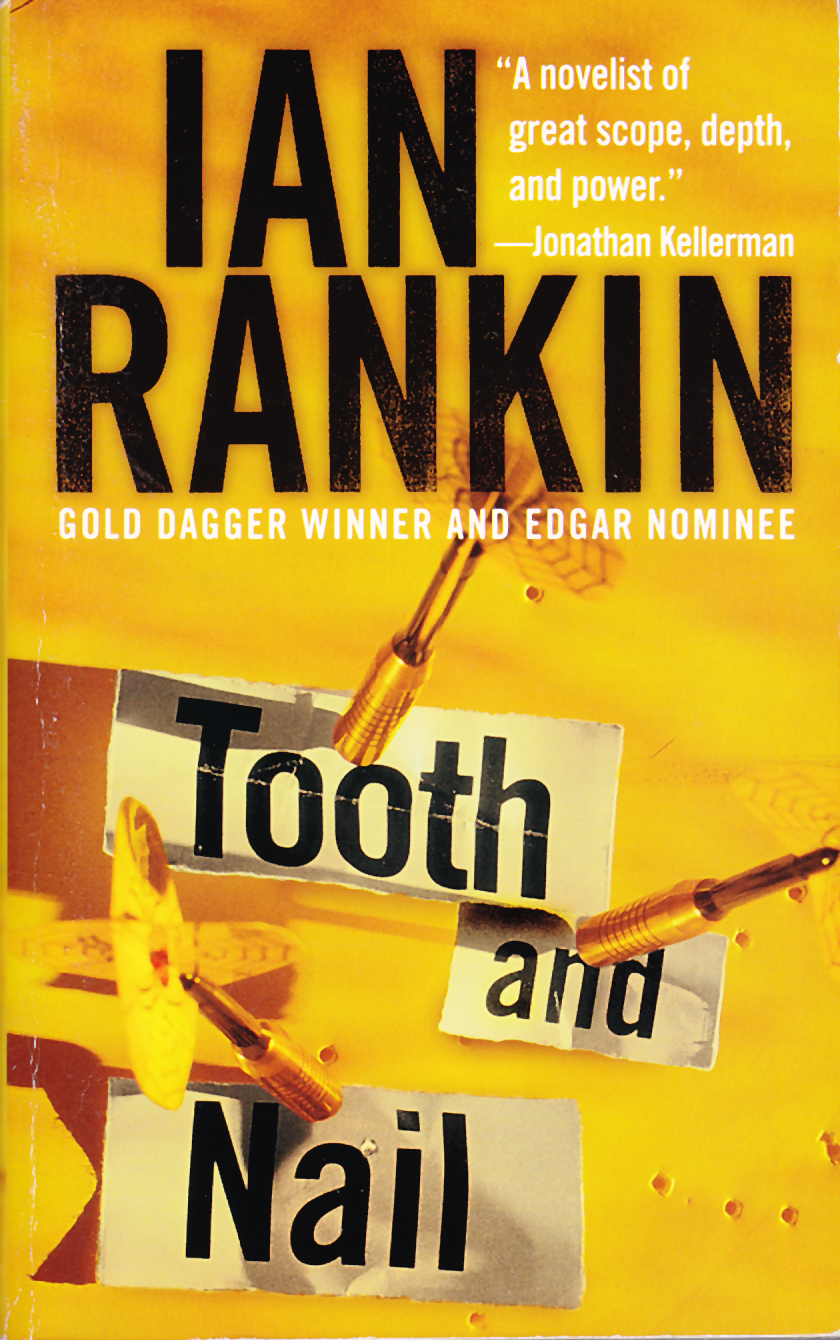 In some ways, 1992 doesn't seem that long ago to me. But reading this book, it seems a lifetime ago. Tooth and Nail was written in 1992, it many of the little things in the book made it feel old to me: the lack of cell phones, the smoking, little things like that.
Somehow, reading a story that feels dated, and realizing that I was 22 when the book was written is… disconcerting.
Despite the details feeling dated, I thoroughly enjoyed the story and gulped it down in a couple of hours.
Several years have passed since the incidents in Knots and Crosses. Rebus is slightly older, slightly more bitter, and still lonely. Yet he seems to have survived after the events of Knots and Crosses. And now he's been called down to London to help as an "expert" in finding a murderer who has been killing women in a particularly brutal way.
Ian Rankin's mysteries are not necessarily easy to read. The details can be quite graphic, but they also give you a feel for the scene and the area, though some may feel the details are overmuch.
One other thing to note, this is a British novel, and as such, the language is properly British, and there were a couple times I really had no idea what a word or phrase meant. I didn't bother me though, just made me realize that my English is more parochial that I often care to admit.
Rating: 7/10
Strip Jack (1992)
When a raid on a brothel operating secretly in Edinburgh nets a local MP, Inspector Rebus thinks things feel a little off–Gregor Jack isn't the kind of MP you'd expect to find at a brothel, and his reaction during the raid isn't precisely what Rebus would have expected.
From there, things get only more complicated, when it is discovered that no one has seen or heard from the MP's wife in days. Meanwhile, the usual casework–including a body found in the river–continues on.
I still haven't decided if I actually like Rebus or not. He can be more than a bit of a bastard at times, but he also doesn't like to let go of a mystery–especially one involving crime.
Published by St Martin's Minotaur
Rating: 7/10
A Good Hanging (1992)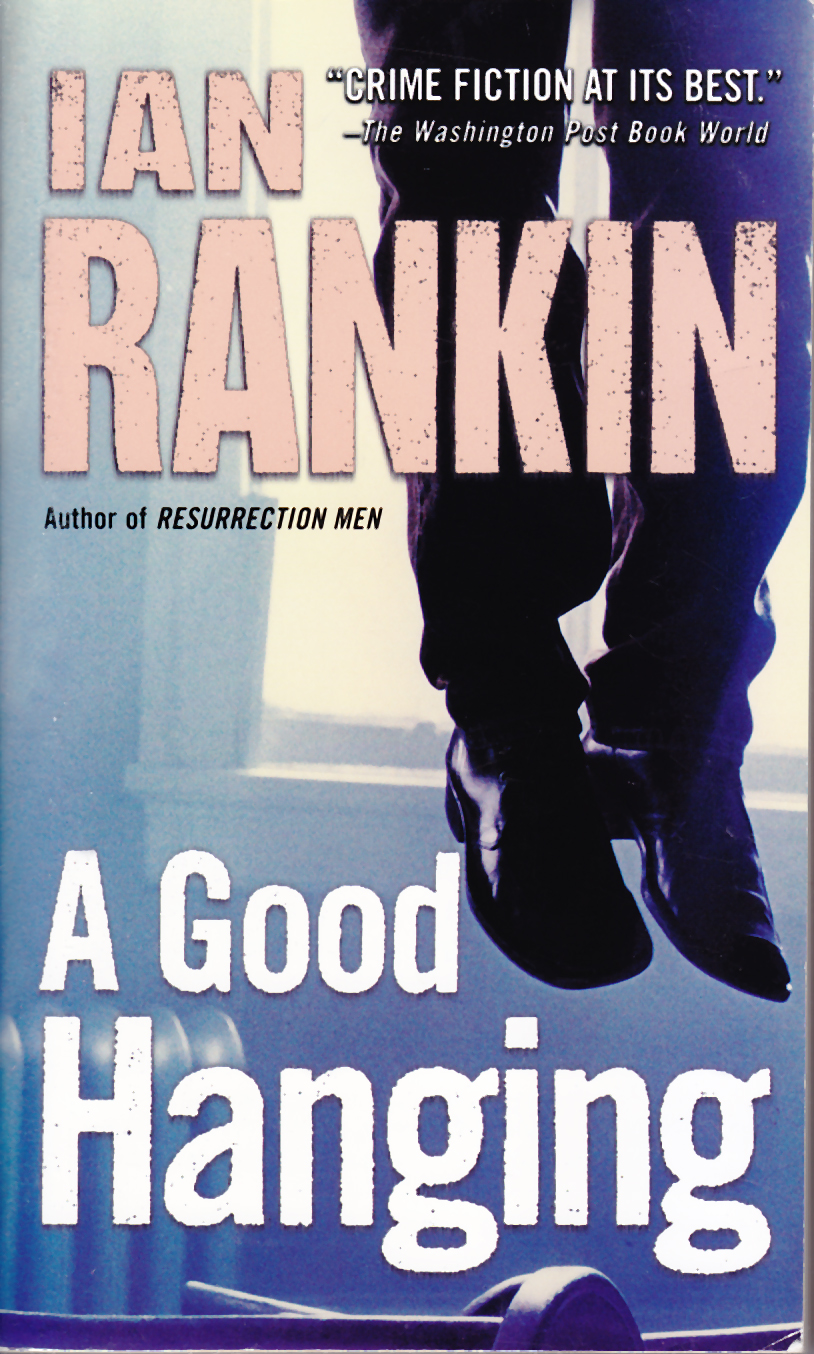 A Good Hanging is a collection of Inspector Rebus short stories.
I read Knots and Crosses a couple years ago, and although I enjoyed it, found it very dark, so I've been hesitant to continue in the series because I haven't been in the mood for that much darkness. So when I came across A Good Hanging I realized this was the perfect way to read some more about Inspector Rebus (who I quite liked) but in smaller parcels, the darkness isn't quite so overwhelming.
Plus, I interspersed other books while reading this, which helped as well.
Ian Rankin writes very well in a shorter format–some authors are good at it, some aren't. He is very good at it. Actually, I hope to come across another collection, but then I do love short stories.
And of course, since I enjoyed this collection so much I've added a Rebus mystery (full length) to my to-be-read pile. We'll see when I get to it.
If you have not read an Inspector Rebus mystery, this is a perfect place to start. You can get a feel for Rebus and for the city where he works, through a variety of different stories.
Rating: 8/10
The Black Book (1993)
The fifth Inspector John Rebus book starts with Rebus being kicked out by Patience, he has been placed on a task force he doesn't think will succeed, his brother Michael reappears in his life, and Brian Holmes being attacked and found unconscious. Trying to discover what could have lead to the attack on Holmes, Rebus discovers his Black Book, which leads him look into a long dead case that Brian may or may not have been looking into.
Rebus remains independent, and for his trouble he's disdained by much of his department, especially those in charge who would like him to be a pain in the ass somewhere else. He doesn't want to be part of the joint task force, which he thinks is a waste of time, and spending time on a cold case isn't helping any.
And of course there's Edinburgh, who is a character in her own right in this series.
It's been about half a year since I last read a Rebus book, but was able to fall right into the characters and the story. So even if you had not read any previous books in the story, you should be able to start here without difficulty.
Rating: 7/10
Mortal Causes (1994)
This is the sixth Inspector John Rebus book. It's the Edinburgh Festival, and everyone is working extra shifts. Unfortunately for Rebus, on his Saturday night shift someone discovers the body of a man who was tortured and executed and it looks like it might be a sectarian/gangland murder, something that had previously avoided Scotland.
This once again pulls Rebus into an interdepartmental investigation, and although neither his current department or the department to which he has been loaned is happy about things, he discovers it does make it easier to go his own way and investigate as he wants.
Another strong entry into the series, and although a bit more gruesome than the previous book, not unrealistic and very convoluted.
Rating: 7/10 
Let it Bleed (1996)
The book starts with a car chase–a chase Rebus wants no part of–that leads to the death by suicide of the two teenagers they were chasing. This is followed by the death of an ex-con who just got out of prison. Neither suicide makes any sense to Rebus, and the powers that be are pushing him to stop his investigation.
It was fascinating the things Rebus dug up–and how the secrets he finds will do neither him nor anyone else any good if he uncovers them. Essentially, Rebus is a good example of no good deed going unpunished. yet it's also depressing to see him go up against the status quo and attempt to right wrongs–even though Rebus himself steps over the line time and again.
In the stories Rebus always manages–just barely–to remain likable. But he does care about righting wrongs, and he doesn't care who (including himself) gets hurt in the process.
Published by St. Martin's Paperbacks
Rating: 8/10
Black and Blue (1997)
Inspector Rebus is paying for his actions in the last book. He's been sent to one of the worst precincts in the area, supposedly to help them with their move and because another DI is out on medical leave, but Rebus knows why he's there–even if no one else knows.
There's a killer loose in Scotland. One who is modeling his actions after a serial killer who was active in the late 60s, by killing women in a similar manner. Although Rebus wasn't on that case, his mentor at that time was and had it in for the man who eventually locked up for the killings. Unfortunately, not everyone believes the real killer was caught, so when he commits suicide, the case is reopened and someone decides to investigate Rebus' knowledge of the case–mostly since reporters are camping outside his apartment wanting a comment from him.
Despite the fact Rebus doesn't deserve his current posting, he doesn't complain about it, attempt to justify it, or even tell anyone what happened. He just does his work. It's interesting, because I certainly couldn't do that. I'd be bitching up a storm. But then Rebus I probably couldn't have done what Rebus did to get himself into the situation in the first place.
He does, however, drink. A lot. More than in any other book. Enough to the point that those who care about him (and there are some people who care about him) keep noting how much he's drinking and smoking. Rebus has drunk quite a lot throughout the series, but now, alcohol is his almost constant companion, and it's obvious the situation cannot continue.
And the situation with Brian Holmes is coming to a head. Nell wants him off the force and is continuing to pressure him, leaving Holmes miserable.
All in all, a LOT happens in this book. Although you could, in theory, read this book without having read any of the previous books (after all, the story arc is completed within the book, and the mystery is fascinating in and of itself) many of the things that happen in the personal lives of the characters have more meaning when you know their past. So although this is a very good mystery, I really recommend you not start here, because knowing where everyone has been makes the story all the better.
Published by St. Martin's Minotaur
Rating: 8.5/10
The Hanging Garden (1998)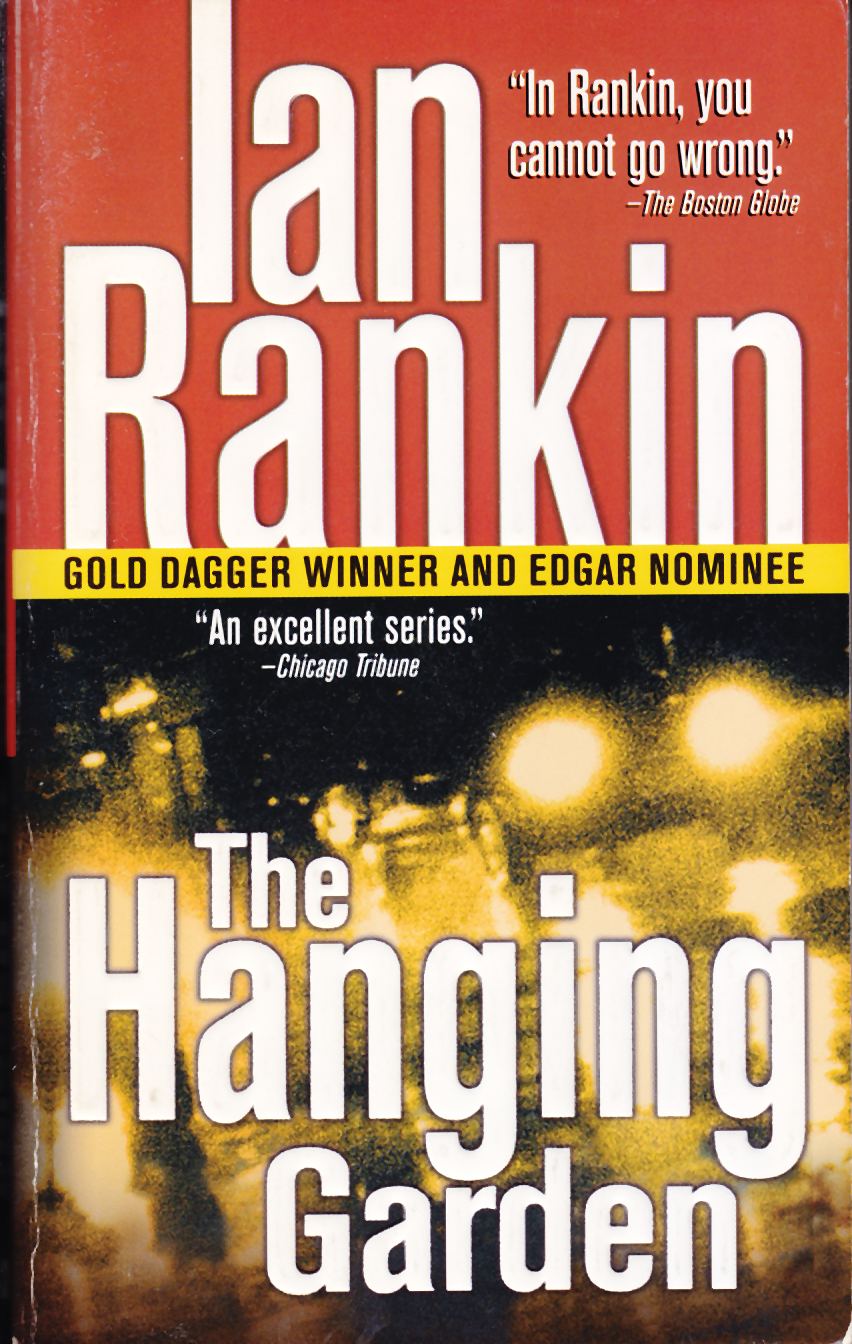 The story starts in the middle, moves back to the beginning, and then moves forward again. So we discover quite quickly that Rebus is in the middle of an investigation of a possible WWII war crime, a war is breaking out between the organized crime groups, and Rebus' daughter is the victim of a hit-and-run accident.
He has also–as is his penchant–gotten personally involved with his cases. And on top of everything, Rebus is also struggling to remain sober, which, with the investigation(s) at hand, remains a difficult task.
I really like Rebus. I know I've said that before, but I really like him.
Would I like him in person? Probably not. His abrasive and oblivious to those who love him, and yet, he has his priorities. He believes in justice, and although he is incapable of showing it in any way that makes sense to others, he loves his daughter.
Do I like this Rebus story? Another resounding yes. Rebus gets obsessed with this cases, but that is part of what makes him so good at his job. He is also walking a very fine line with regard to his associations with the various organized crime figures in Edinburgh, especially Ger Cafferty, who he put behind bars, yet who is still running his crime family from behind bars.
It's very interesting, Rebus' relationship with Cafferty. Cafferty is behind bars because Rebus put him there, and yet the continue to have some manner of a working relationship, and Rebus turns a blind eye to things like Cafferty having a cell phone, and even brings Cafferty liquor as a bribe of sorts–perhaps as a way of keeping himself out of deeper and more dangerous debt.
If you have not read an Inspector Rebus book, you could certainly start here without any previous knowledge of his history. And yet, knowing what Rebus went through to get where he is, his sobriety is far more important knowing that past.
Rating: 8/10
Dead Souls (1999)
Inspector Rebus is not having an easy time of it. Pedophiles on trial and perhaps released back into the community. A serial killer shipped back to Edinburgh after he is released from prison in the United States, a missing person's case to which he is inadvertently drawn, a continued rocky relationship Patience, and deal with his daughter's injury and recovery. So of course he has turned back to the drink.
One of the things I loved about this story is that there was so much going on, you were never quite sure what tied into what. I also appreciate that Rebus makes huge mistakes, but that eventually he recognizes (at least some of) those mistakes and perhaps, maybe, attempts to atone for those errors as best he can. Which means not in a particularly good way, but, this is Rebus.
The serial killer, Cary Oakes, was particularly disturbing, especially the recognition that he was going to go free, and he was going to kill again, and there was nothing anyone could do about it–in fact, Rebus' usual method of getting in someone's face and making a lot of noise backfires here (as, one most admit, it often does).
Yet, you can't help but like Rebus, despite all this. And you have to appreciate his ability to latch onto a problem and stick with it to the end.
Published by Saint Martin's Minotaur
Rating: 8/10
Set in Darkness (2000)
Detective Chief Superintendent Watson has just months left until retirement, and wants to keep Rebus out of trouble until that time passes, so Rebus is put on the committee looking at the new Parliament building/old hospital. But as nothing goes smoothly with Rebus around, a skeleton is discovered boarded up in a chimney, and the clothes show the skeleton hadn't been only hidden for a couple decades, rather than centuries.
Soon, another murder occurs, and Rebus is once again in a delicate position where he stubbornness will do him no good at all–at least politically.
We also get to spent a bit more time with Siobhan in this story, while watching Rebus continue to drink–his fall off the wagon after the death of his friend and mentor seems to be permanent at this point. And that may be one of the harder parts of these stories–Rebus's drinking does him no good at all, yet he can't–or won't–stop. And those who know him know better than to say anything to him.
I like Rebus. He'd be maddening to know in person, but he is a very good detective, even if he's lousy at playing the games that go along with being in the police force.
As with all Inspector Rebus books, the story is self-contained, and you could start the series here. You probably won't get the seriousness of his drinking, and his past with his family, but it's still a good story. And the end–quite a surprise.
Published by St. Martin's Minotaur
Rating: 8/10
The Falls (2000)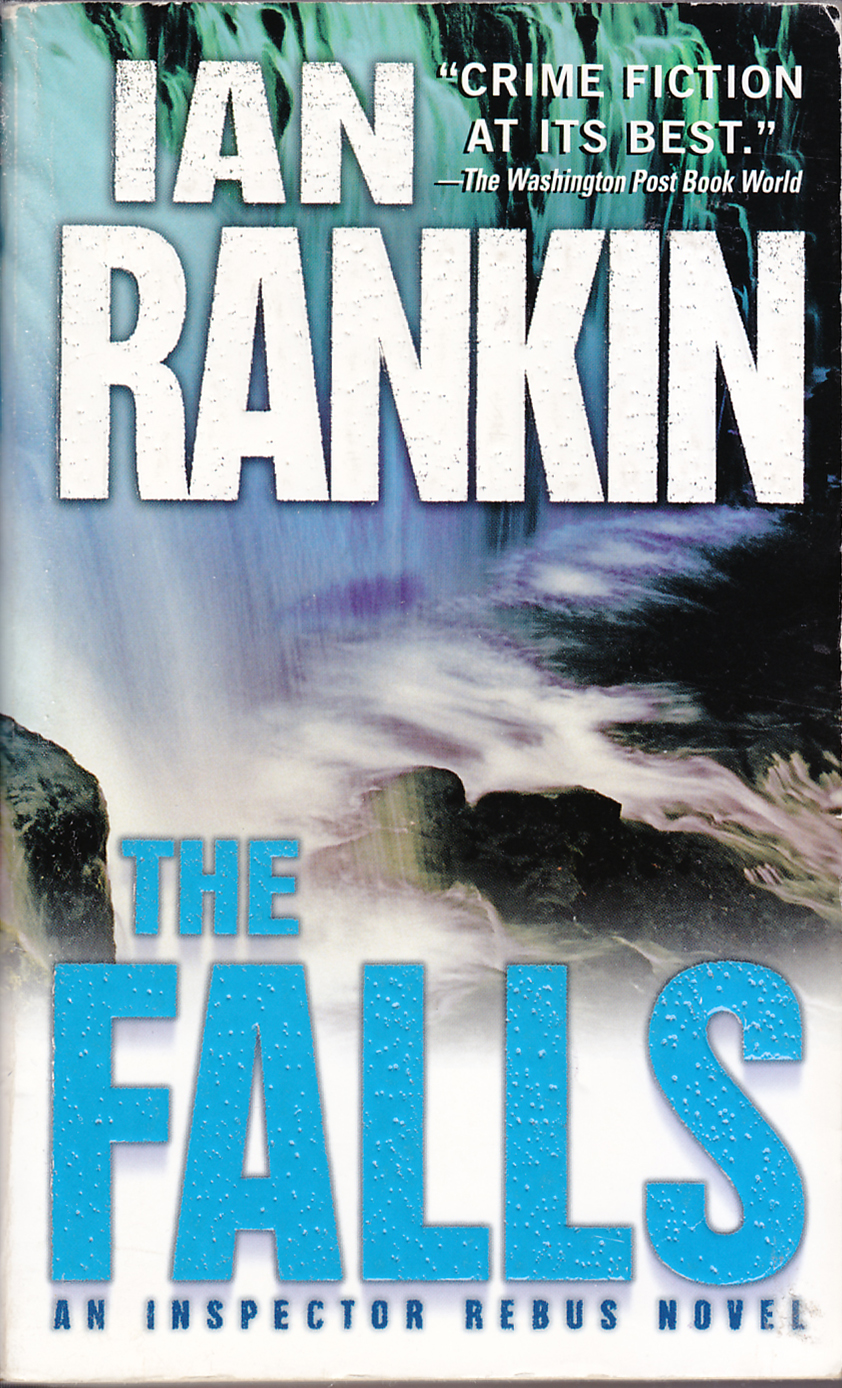 The daughter of a wealthy banker disappears, and all the police are placed on high alert to help in the search. Her boyfriend–with whom she had a fight the afternoon before disappearing–expects he's the prime suspect, but a search of her email turns up a mysterious webmaster with whom she was playing an online game.
Days later, Rebus is called to go out to a remote site by the girl's family home, where a coffin and doll are discovered. Soon, a history of such dolls and coffins id discovered–a history going back to the 1800s.
Add to that, Farmer Watson is finally retiring, and his replacement as DCS is someone else with whom Rebus has a past.
It's almost hard to watch Rebus in this story. He's drinking a lot–too much as always–and every drink feels like it's leading him further on a downward spiral to his eventual destruction. (Needless to say, he is getting himself into more and more trouble while drinking.) It's even harder to watch when he meets a woman with whom he might have a chance at a relationship, except that her late husband was an alcoholic, so it's hard to see how that relationship is going to work out.
There is also a lot of tension in the station as the new DCS settles in–and the replacement for their previous position is filled.
Siobhan is actually a fairly major player in this book, which I quite enjoyed. She's hoping for a promotion soon, and has to figure out how to be a good cop while retaining who she is. Unfortunately for her superiors, what she seems to be turning into is another John Rebus, working on her own and not necessarily playing well with others.
Rating: 8/10
Resurrection Men (2002)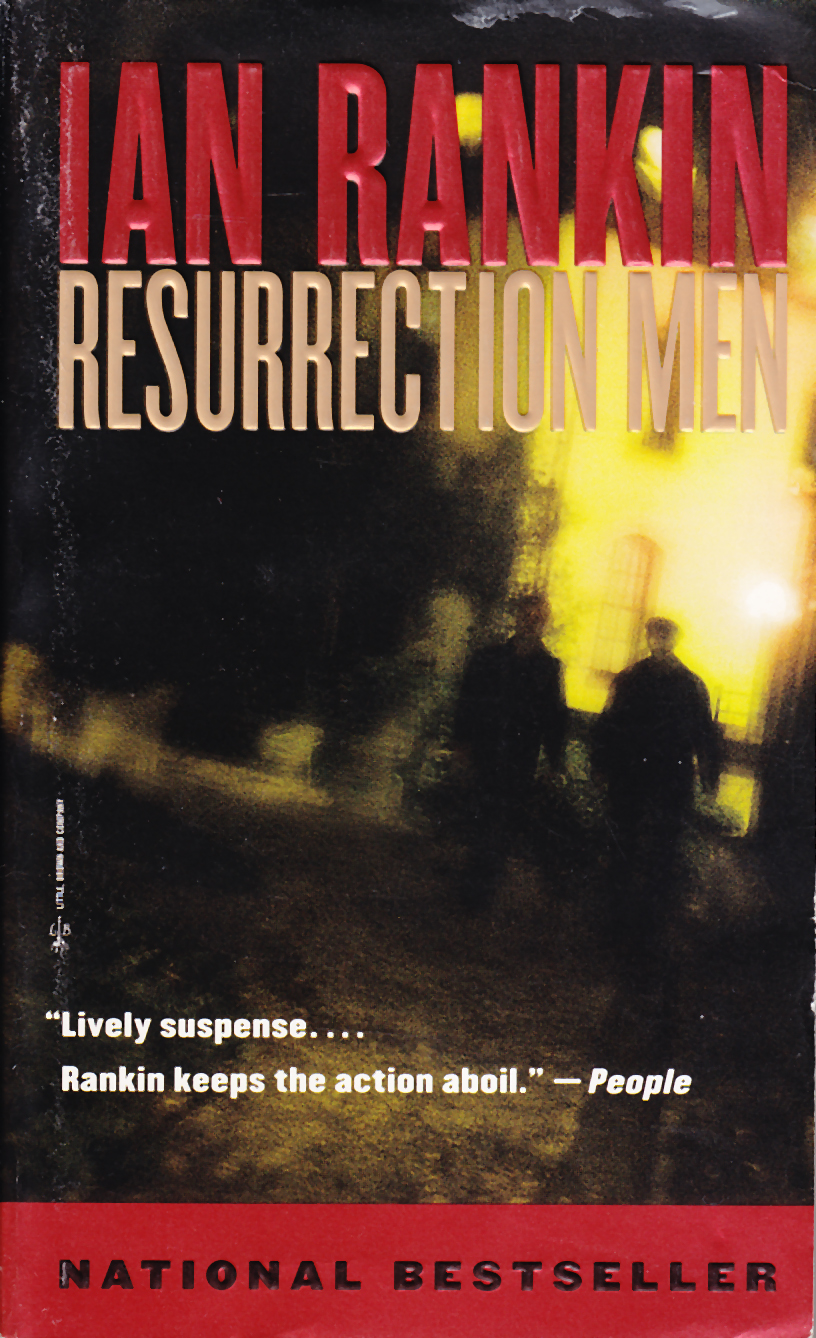 Rebus has done it this time. He's finally put himself in limbo of sorts–a last chance "retraining" course for cops who can't keep themselves out of trouble. This "last chance" group is referred to as the "Resurrection Men"–a group who are being given once last chance to revive their careers. These are men who are mostly good cops–but they're lousy at obeying orders and sometimes go beyond the boundaries of what is allowed when seeking justice.
For as often as Rebus gets himself into trouble, it's almost surprising that he hasn't ended up here before. And you have to wonder whether he'll be able to get himself out of trouble this time.
Rating: 8/10
A Question of Blood (2003)
Once again, Rebus is in trouble. A thug who was bothering Siobhan has turned up dead, and Rebus has made himself a prime suspect. Because Rebus is partially out of commission with badly scalded hands, Siobhan ends up driving him around when he's called in as an expert of sorts when an ex-military man kills two high school students and then himself, and they try to discover why the man did it.
Wow. Lots and lots happened here.
Because he's advising on the case because of his military past, Siobhan keeps pushing Rebus to tell her about his past in the military and why he never talks about it. It also pushes Rebus to consider whether he–like the shooter–could be capable of such unexpected violence.
Never mind the fact that the man who was threatening Siobhan ends up burned alive–while Rebus ends up in the hospital at the same time with scalded hands.
And then there are events at the end of the story. Damn.
Although you could read this book without having read the rest of the series, you'll be missing the background which makes so many of the events here so important and even surprising.
Published by Back Bay Books
Rating: 8/10
Fleshmarket Alley (2004)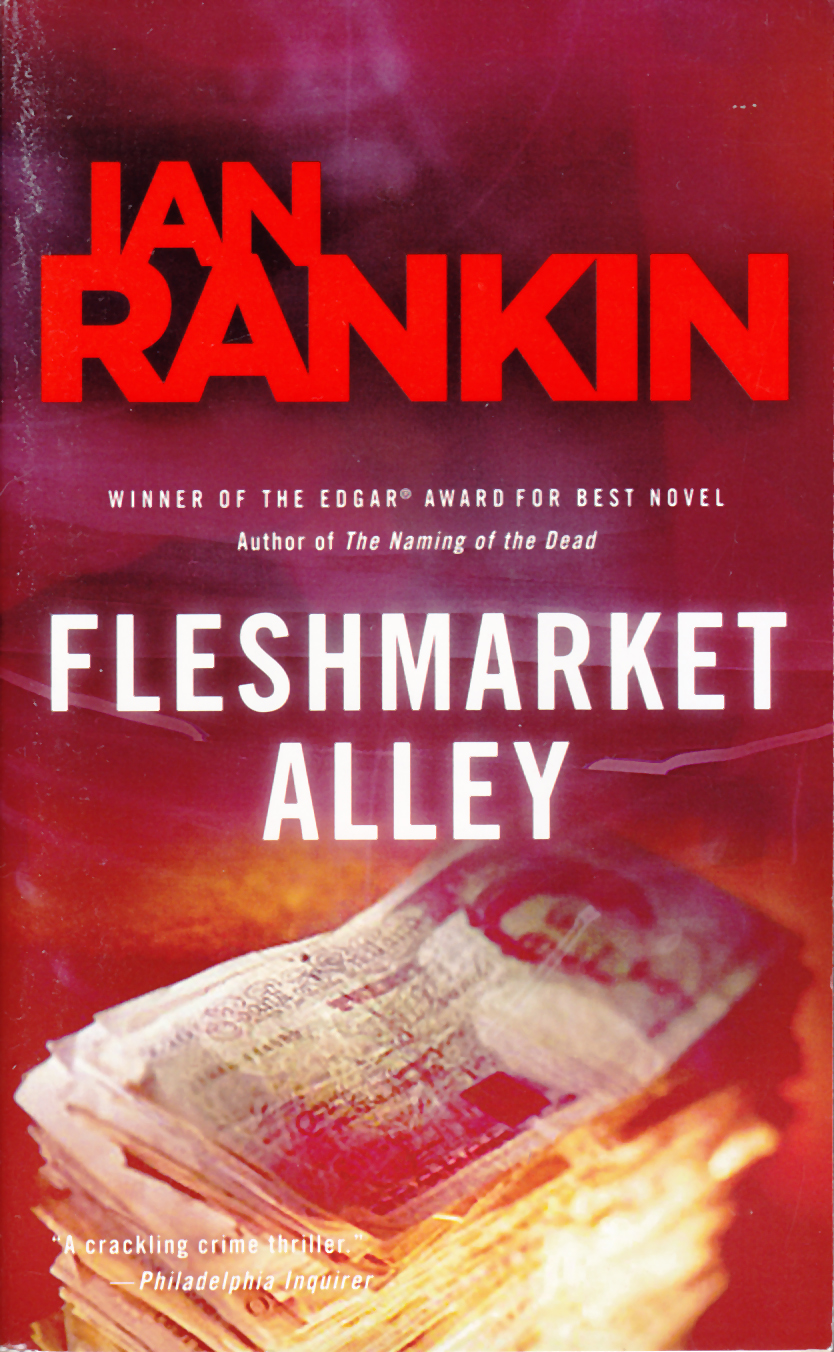 As he slowly approaches retirement, Rebus finds himself pushed more and more to the sidelines. When St Leonard's closes, Rebus and Siobhan are sent to Gayfield Square, where they didn't particularly need another Detective Inspector. Siobahn is slightly better off, but her long association with Rebus can't do her very much good at this point.
So Rebus ends up called out onto the cases no one else particularly wants, and loaned out to other stations as needed.
One such case is the discovery of skeletons in the floor of a local bar. The floor had been cemented up only a year earlier, so it's not likely these are ancient remains.
A second case of sorts drops into Siobhan's lap, as parents she dealt with in a rape (and later suicide) case ask for help in finding their younger daughter.
Rebus isn't self destructing in this book (thank goodness) but he's also at loose ends. He can't particularly live without his job, but they're not giving him much of a job to do.
Rating: 7/10 
The Naming of the Dead (2006)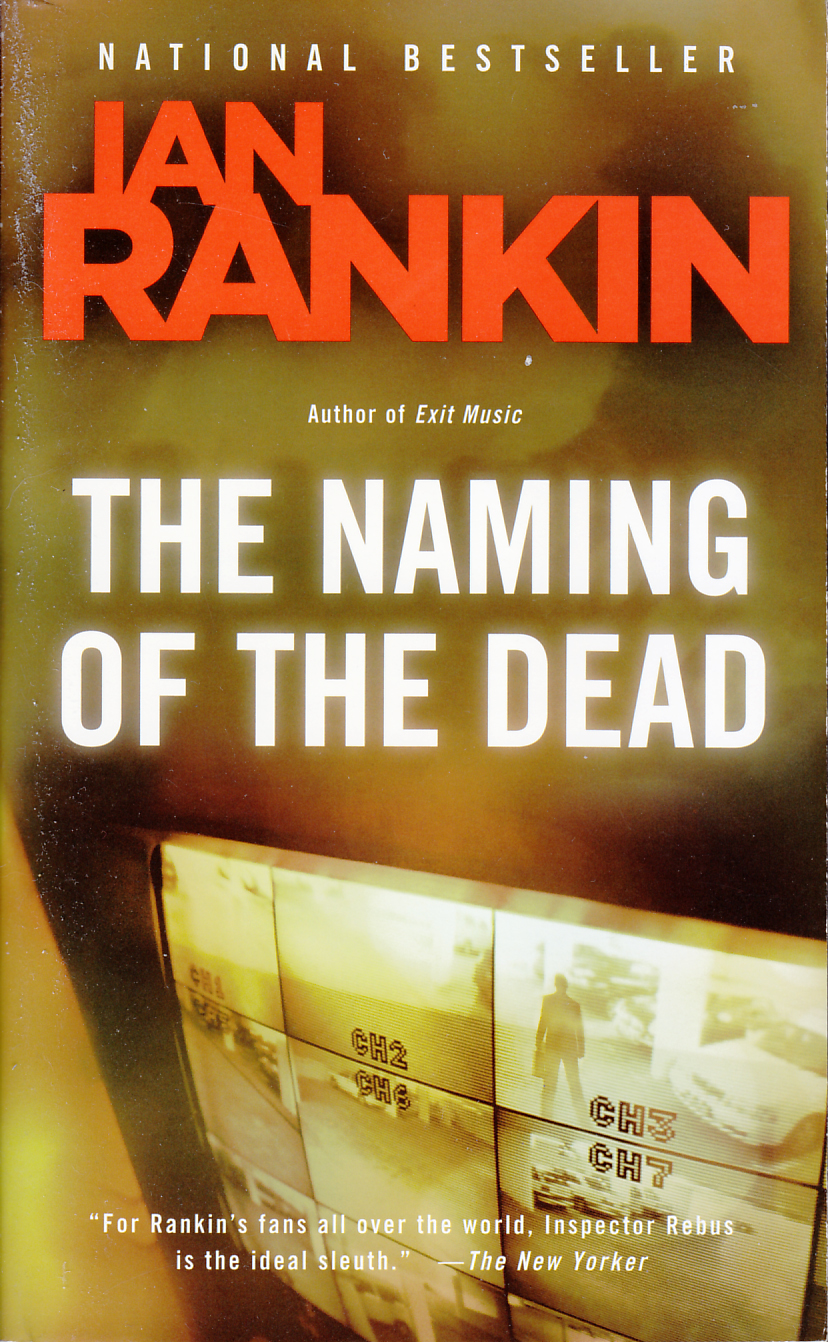 This is the penultimate Rebus novel. I have Exit Music left, and then I'm done.
The G8 has come to Edinburgh, and almost every cop in Britain has descended upon the city, to help provide security for the heads of state that are coming.
Except, of course, for Rebus, who is still on the sidelines, being told, "we understand if you want to coast until retirement." But outside of work there is nothing for Rebus. He is only himself when he is working, trying to solve a murder case.
Siobhan is preparing for the arrival of her parents, who have decided to join some of the marches.
Everything looks like it's going to be put on hold, until evidence relating to a recent murder case comes up. The murder of a rapist who served his time. A felon who had become one of Cafferty's henchmen. Because the rapist was a thoroughly bad man, no one has put much effort into the case. But Rebus–as always–is unable to let anything go. The question quickly becomes, is he going to take Siobhan down with him.
Lots of surprises in this book, and lots of details about the protests and marches and events in Edinburgh surrounding the G8.
And now, I have just one more book left to read.
I don't know if I want to read it or not. There's something about having at least one last book out there to read that is so much nicer than the feeling of reading the very last book in a series.
Rating: 8/10
Exit Music (2007)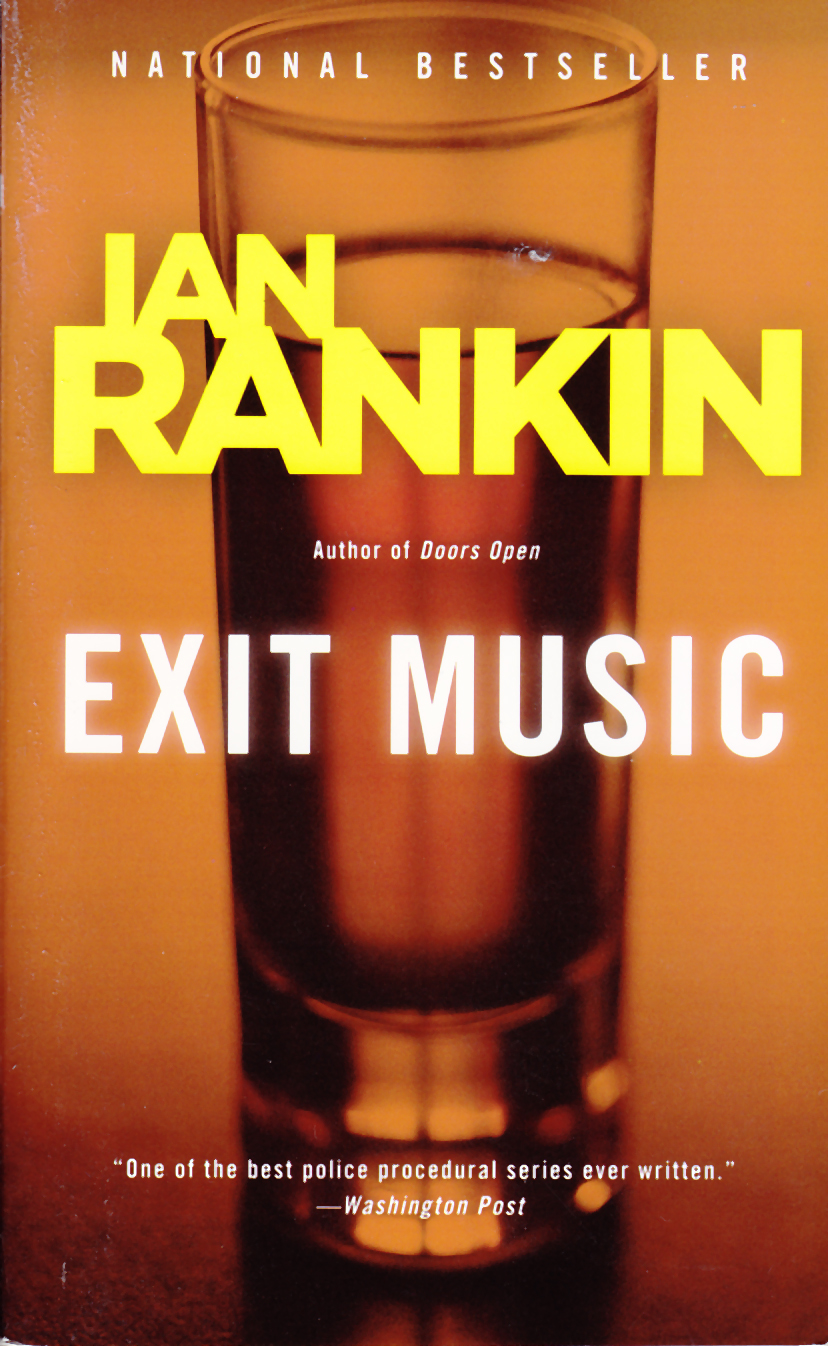 I'd put off reading Exit Music, the last Rebus book, for several months. Because it is the last Rebus book, and I wasn't ready for it yet.
Rebus, of course, ends his story the way he began it: stubborn, contrary, and in trouble.
A Russian poet is found dead, and it looks like Rebus' last case might have political implications, so no one higher up really wants Rebus leading the case, what with his propensity for trouble. But he only has three days–how much trouble could he cause in three days?
Plenty, of course.
I was quite pleased with the way the series ended. We don't know what Rebus is going to do but throughout he has remained unchanged–whether it was good for him or not.
I'm going to miss Rebus.
Rating: 8/10
The Beat Goes On: The Complete Rebus Stories (2015)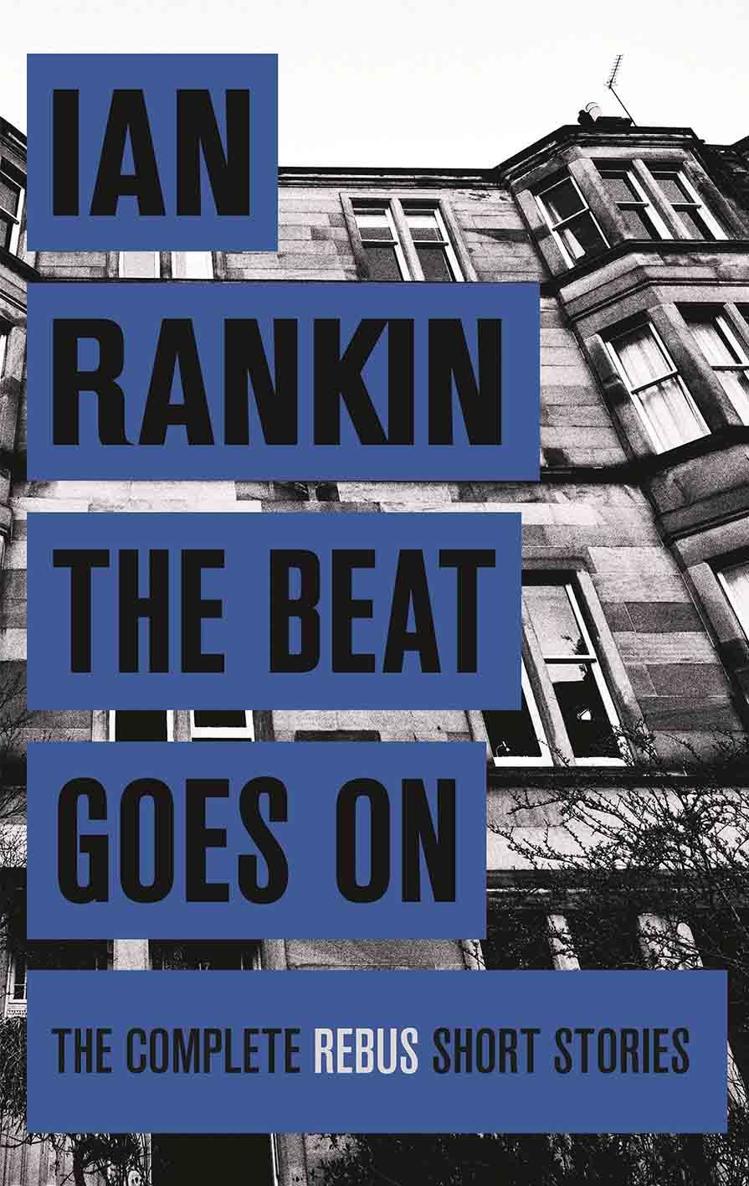 'Dead and Buried' (2013)
'Playback,' 'The Dean Curse,' 'Being Frank,' 'Concrete Evidence,' 'Seeing Things,' 'A Good Hanging,' 'Tit for Tat,' 'Not Provan,' 'Sunday,' 'Auld Lang Syne,' 'The Gentleman's Club,' 'Monstrous Trumpet' from A Good Hanging (And Other Short Stories, Featuring Inspector Rebus) (2002)
'My Shopping Day' (1997) Herbert in Motion and Other Stories in Great Britain
'Facing the Music' (1992) Beggar's Banquet
'Trip Trap' (1992) 1st Culprit by Chatto & Windus
'Talk Show' (1991) Winter's Crimes 23
'Castle Dangerous' (1993) Ellery Queen Mystery Magazine, October 1993
'In the Frame' (1992) Winter's Crimes 24
'Window of Opportunity' (1995) Ellery Queen Mystery Magazine, December 1995
'No Sanity Clause' (2000) Daily Telegraph, December 2000
'Death Is Not the End' (1998)
'Tell Me Who to Kill' (2003) Mysterious Pleasures
'Saint Nicked' (2002) Radio Times
'Atonement' (2005)
'Not Just Another Saturday' (2005)
'Penalty Claus' (2010) Mail on Sunday
'The Passenger' (2014)
'A Three-Pint Problem' (2014)
'The Very Last Drop' (2010) (written to help the work of Royal Blind)
'Cinders' (2014) Mail on Sunday
I read all the Rebus stories that were out several years ago and loved them. Then a year or so ago I tried to go back and read the first novel and got hung-up. Then I remembered the same thing happened the first time I tried to read the first novel, so when I came across the complete collection of short stories I snapped it up and soon started reading.
If you'd like to see if the Rebus books are for you, this is an excellent introduction.
'Dead and Buried'
A criminal–one of the last hung–is being dug up so the grounds of the old prison can be used for something else. Rebus' mentor attends the exhumation, and Rebus is along, but has questions his mentor won't answer.
'(B)eing a cop isn't just about getting to the truth– it's knowing what to do with it when you arrive. Making judgement calls, some of them at a moment's notice.'
'Playback'
A young woman is found killed after her boyfriend calls emergency services claiming to have killed her. This story is very much a product of its time, and not something could happen now. Doesn't mean it isn't good though.
Rebus nodded and turned to MacManus, whose face had a sickly grey tinge to it. 'Your first time?' Rebus asked. The constable nodded slowly. 'Never mind,' Rebus continued. 'You never get used to it anyway. Come on.'
'The Dean Curse'
The car of a retired military man is blown up pulling away from the curb, but the owner isn't behind the wheel.
'Fair enough,' he said quietly. 'I'll keep out of your hair, Mr Matthews, but that doesn't necessarily mean I'm leaving the barber's.'
(H)ow did you make safe a man like that? The Army had designed a weapon and that weapon had become misadjusted, its sights all wrong. You could dismantle a weapon. You could dismantle a man, too, come to that. But each and every piece was still as lethal as the whole.
'Being Frank'
I quite liked this story. Frank is a Tramp–a man who wanders. He is somewhat paranoid, but not dangerous. When he overhears a strange conversation, he has to decide who to tell.
(A) person– a person in authority– would read that name from the piece of paper they were holding and then look up at Frank, not quite in disbelief, but certainly wondering how he'd come so low.

He couldn't tell them that he was climbing higher all the time. That he preferred to live out of doors. That his face was weather-beaten, not dirty. That a plastic bag was a convenient place to keep his possessions.
'Concrete Evidence'
I actually remembered bits of this story, from before. A skeleton is discovered when a building is being remodeled.
'In a recession,' he explained, lighting an overlong cigar, 'you trim your workforce pronto. … Then, when the recession's over for another few years, you dust yourself off and go touting for business again, re-hiring the men you laid off.
'Seeing Things'
A man in white–or perhaps a ghost–is seen beside a tree near a church. When wet blood is discovered on the tree, debate breaks out as to whether it is a crime or a miracle.
A faith should be just that, Rebus reasoned. And if you held belief, what need had you of miracles?
'Sorry you didn't get your miracle,' he said.

Father Byrne's smile broadened. 'Miracles happen every day, Inspector. I don't need to have them invented for me.'
'A Good Hanging'
A young actor is found hanging from a set piece–a scaffold, conveniently enough. The play has been tanking, but this suicide isn't all it seems.
(T)hey probably couldn't charge Peter Collins even if they'd wanted to, since there was no reason for their being in his room. We were looking for someone else's suicide note probably wouldn't impress a latter-day jury.
'Tit for Tat'
Arson injures a young man, but he seems harmless enough, so why would someone want to scare–or kill him?
Like all hobbyists, Hendry was keen to have others share his enthusiasm. Like all anti-hobbyists, Rebus would yawn with more irony than was necessary.
'Not Provan'
A young criminal is on trial, and it looks like he's finally going to be put off the streets for awhile, until it starts to look as if the timing is off for the crime of which he's been accused.
There were birds on the window sill, chirping, wanting some crumbled up crusts of bread, but he had no bread worth the name left in the flat; just fresh rolls, too soft to be thrown out. Ach, he'd never eat six rolls though, would he? One or two would go stale and then he'd give them to the birds. So why not give them some in advance, while the rolls are soft and sweet?
'Sunday'
It's a normal Sunday; Rebus wakes up with a hangover and goes about his business.
'Auld Lang Syne'
New Years's Eve brings the police out for a joint operation in the hopes of stopping a major drug deal.
That was from Exodus. A dangerous book, the Bible. It could be made to say anything, its meaning in the mind of the beholder.
In fifteen minutes or so, they would cease to be revellers and would be transformed into troublemakers.
'The Gentleman's Club'
A teen is found dead, but something bothers Rebus about her suicide. This story is disturbing and distressing.
It was the sort of school fathers sent their daughters to so that they might learn the arts of femininity and ruthlessness.
'Monstrous Trumpet'
'The last bag is mine,' she said haughtily, her vowels pure Morningside. Perhaps she'd been Jean Brodie's elocution mistress; but no, she wasn't even quite Maggie Smith's age, though to Rebus there were similarities enough between the two women.

Cluzeau seemed quietly cowed by this grand example of Scottish womanhood. He stood at a distance, giving her vowels the necessary room in which to perform.
'My Shopping Day'
This story is from the criminal's point of view. Not especially a favorite, although I liked that he tried something different.
'Facing the Music'
I really like this one. Brian Holmes has always complained that Rebus keeps him in the dark, so we're seeing this crime and its results from someone else's point of view.
Rebus's car was a must for undercover work, the only problem coming if the villains decided to make a run for it. Then, even the most elderly and infirm could outpace it.
'Trip Trap'
This is a sadder story. It's good, but it's also sad.
(T)he headache was reasserting itself. That'll teach you, Rebus, it was saying. That'll teach you for taking a sip of whisky. That'll teach you for making cheap jokes to yourself. Take all the aspirin you like. They'll dissolve your stomach lining before they dissolve me.
'Talk Show'
A night-time radio talk show host has received threatening calls, so the host calls in the police, in case the caller is as threatening as he sounds.
'So, Inspector, what do you think?' He sipped the lukewarm liquid.

'I think,' he said, 'you've got an anonymous phone-caller.'

She raised her cup, as though to toast him. 'God bless CID,' she said. 'What would we do without you?'
'Castle Dangerous'
This is another sad story. A man is found dead, unexpectedly, and it's not quite clear why.
Less than an hour later, Rebus was addressing a packed, seated crowd of forty American tourists in a room off the large dining-room. He had barely given them his rank when a hand shot into the air.

'Er… yes?'

The elderly woman stood up. 'Sir, are you from Scotland Yard?'

Rebus shook his head. 'Scotland Yard's in London.' She was still standing.

'Now why is that?' she asked.

Rebus had no answer to this, but someone else suggested that it was because that part of London was called Scotland Yard. Yes, but why was it called Scotland Yard in the first place? The woman had sat down now, but all around her was discussion and conjecture.
'In the Frame'
A man receives blackmail notes, but to the best of his knowledge has never done anything worthy of blackmail.
Nor does he have a wife to whom incriminating photographs could be shown as the letter threatens. I enjoyed this one a good deal.
Rebus liked having Siobhan in on these interviews. She made people nervous. Hard men, brutal men, they would swear and fume for a moment before remembering that a young woman was present. A lot of the time, she discomfited them, and that gave Rebus an extra edge.
'Window of Opportunity'
I wonder if this story was based in any way upon Christopher Daniel Gay, who is a fascinating man.
'No Sanity Clause'
This is another Christmas story (there are several) and not a particular favorite, although I did feel a little sorry for the criminal.
He never borrowed books, because he was afraid they'd have him on some blacklist: convicted housebreaker and petty thief, not to be trusted with loan material.
'Death Is Not the End'
This is a slightly longer story; a young man has disappeared, his parents were school chums of Rebus' so they ask him to see if he can find out anything for them. But there is another thread at the casino, and a croupier who has been an informer for Rebus.
(A)t last Rebus had the right tape and had watched it at home half a dozen times before deciding he could use someone who knew what he was doing… and a video machine that would freeze-frame without the screen looking like a technical problem.
He had half a dozen tickets lying around, any one of which could be his fortune. He quite liked the notion that he might have won a million and not know it; preferred it, in fact, to the idea of actually having the million in his bank account. What would he do with a million pounds? Same as he'd do with fifty thou– self-destruct.

Only faster.
'Tell Me Who to Kill'
This was a somewhat distressing story.
(A)fter twenty rings he gave up. No one was about to answer. He decided to send a text instead, but couldn't think what words to use.  Hello, are you a hired killer?  Who do you think I want you to kill?  Please hand yourself in to your nearest police station…
'Saint Nicked'
Another short Christmas story.
'Atonement'
A man who had been a mentor of sorts to Rebus notices that there seem to have been a large number of deaths in his retirement/nursing home.
I liked this one, since we get to see Rebus not only being unusually kind, but also how things sometimes fall together.
'Not Just Another Saturday'
A short-short. Rebus heads into town in the midst of the protest. It's a teeny peek into Rebus' mind.
'I marched in the sixties.'

'But not now?' Rebus just shrugged. It was different then, he wanted to say. But he wasn't sure that was true. He was different then; no doubt about that.
'Penalty Claus'
Another Christmas story (obviously), with intertwined cases: a man who escaped from jail, a sneak thief, and a couple of shoplifters.
'What if he's off to see his dad?'

'He's not. I think that's what's got his mum narked.'
'The Passenger'
This was another very interesting story. It's not especially clear who the criminal is at the end, but I don't have sympathy for the person who *I* think did wrong.
'Doesn't take that long to throttle someone.'

'Well,' Clarke replied, as though she'd given it some thought, 'first you've got to get good and angry.
'A Three-Pint Problem'
A man goes missing and it's assumed he's run off, although it's not quite clear why.
'The Very Last Drop'
The beer was free to employees back then, and no limits to how much you had.
That is TOTALLY true! My dad worked at a Baltimore brewery summers when he was younger, and although by then there were limits, there weren't THAT many limits.
I quite liked this story, and wish it had been the closing story rather than the following.
'Cinders'
Buttons was notoriously lazy, and had almost come to blows with both director and producer while attempting to cut back on his lines so he wouldn't have to remember them.
If you would like an introduction to Rebus, this is a very good places to start. You get an idea of his character, his humor, and the mysteries.
Published by Little, Brown and Company
Rating: 9/10
Reread: May 2018 | Rating: 8.5/10
Reread: January 2022 | Rating: 9/10
The Complaints (2009)
Malcolm Fox works in The Complaints, Complaints and Conduct – Professional Standards Unit, the British version of Internal Affairs. They investigate crooked cops, and are usually despised by other cops.
"I hate to say it," she laughed, "but you do look like a cop. I think it's the posture, or the way your eyes flit around all the time."
Fox is finishing up an investigation of Glen Heaton, a crooked cop well-liked by other cops, because he gets things done, and he's asked to assist in the investigation of a rising young cop–on accusations of possibly being a pedophile.
Fox's sister is involved with an abuser, and their father is in a retirement home–on Fox's dime (nursing homes are apparently the same everywhere in the developed world–the more money you shell out yourself, the better your care).
As with the Rebus novels, you get the unglamorous look at a cop's life.
Max Dearborn winked and, with a certain amount of effort, got back to his feet. He insisted on leaving first. Fox watched him go and speculated as to a future of high blood pressure and diabetes, maybe even the odd coronary.
Breck was studying his watch. "Just relax," Fox told him.

"Are you on medication?" Breck asked. "Don't tell me you're not fretting."
Unlike Rebus, Fox is straight-edge–a cop that investigates other cops, who is a teetotaler, and who walks the line.
If you are looking for another Rebus book–do not look here. But if you're interested in cops that investigate other cops, the internal workings of the police, and some organized crime, then you should pick up The Complaints.
Published by Reagan Arthur / Back Bay Books
Rating: 7.5/10
The Impossible Dead (2011)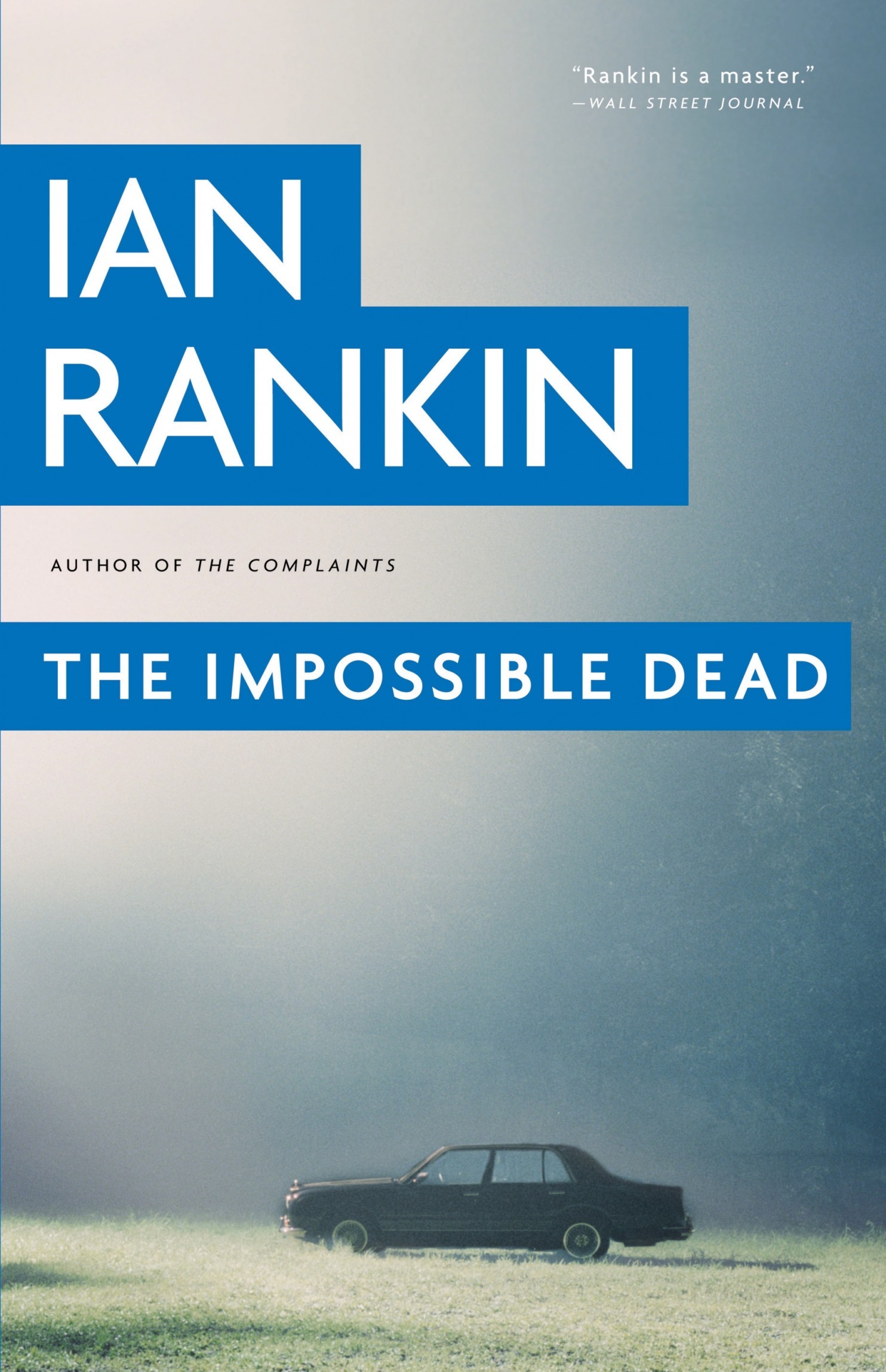 The second Malcolm Fox book finds the Complaints in Kirckaldy investigating officers who worked an officer was just convicted and who during that officers trial couldn't seem to remember any details regarding the incidents that led to the conviction.
Paul Carter was the reason they'd come to Fife. Carter held the rank of detective constable and had been a cop for fifteen years. He was thirty-eight years old and came from a family of cops— both his father and an uncle had served in Fife Constabulary. The uncle, Alan Carter, had actually made the original complaint against his nephew. It involved a drug addict, sexual favors, and turning a blind eye. Two other women then came forward to say that Paul Carter had arrested them for drunken behavior, but offered to drop any charges if they would be "accommodating."
I'm still not quite certain how I feel about Malcolm Fox.
He thought back to his time on the force prior to the Complaints. He had been diligent and scrupulous, never a shirker. He had put in the hours, been commended for his error-free paperwork and ability to lead a team: no egos and no heroes. He hadn't been unhappy. He had learned much and kept out of trouble. If a problem arose, he either dealt with it or ensured it was moved elsewhere.

Ideally suited to Complaints and Conduct, his reviews eventually started concluding. But was that altogether a good thing, or was it CID's way of telling him he didn't fit in there?

Too scrupulous.

Too willing to sidestep problems.
Though those aren't the reason I remain unsure of Fox, they do describe his personality. Even if he is occasionally clever.
Fox kept his face a blank. "What made you think to ask the attendant if he'd seen anything suspicious?"

Jamieson gave a twitch of the mouth. "Maybe a hunch. Hunches have got me where I am today."

"You're a regular Quasimodo," Fox agreed.
Perhaps it's because I'm never quite certain whether he should be doing some of the things he does. He's supposed to be above reproach, being in the Complaints, but I'm never quite sure if he is, in fact, above reproach.
But I do like having a cop who has to follow all the rules, and his consideration of some of the rules they do have to follow and where that is leading them.
And I do enjoy Ian Rankin's writing.
(S)o (he) ended up in first gear, doing five miles an hour. The climb continued. According to the satnav, he was nowhere, had passed his destination.
I hadn't realized there were places in Scotland where GPS was just as lost as in WV.
Shout out to Planet Money for causing me to know Adam Smith!
Naysmith seemed to be the one with the local knowledge.

"Linoleum," he'd said. "Used to be what Kirkcaldy was famous for. And Adam Smith."

"Who did he play for?" Kaye had asked.

"He was an economist."
I was stupidly happy to have known that.
Published by Reagan Arthur Books
Rating: 7/10
The Rise: A Short Story (2023)
I keep moving a reread of the Inspector Rebus series up my TBR pile, but never quite actually start rereading.
Possibly because the first book is one of my least favorites, and partially because the stories tend to be somewhat dark.
This story was not dark.
There is a murder (of course) and Gish is called in when the DC who should have shown up called in sick. The off we go.
This reminded me why I've reread his Rebus short story collection several times: Because he is excellent at writing short fiction.
'You really should clock off,' Milton advised.

'Soon as you get up to go, I'm right there with you.'

'What about your mum?'

'Friends and neighbours looking in.'
That is a fair amount of information there in four short sentences. Both officers work too much, the senior tries to guilt her into going home, and so we see she is caring for a parent.
I really liked Gish and wonder if there are other stories with her, because I want to read them.
Publisher: Amazon Original Stories
Rating: 8/10