Books: Mystery
Inspector Salvo Montalbano: The Shape of Water (1994/2002), The Terra Cotta Dog (1996/2002), The Snack Thief (1996/2003), Voice of the Violin (1997/2003), Excursion to Tindari (2000/2005), The Smell of the Night (2001/2005), The Fourth Secret (2002/2014), Rounding the Mark (2003/2003), The Patience of the Spider (2004/2004), The Paper Moon (2005/2005), August Heat (2006/2009), The Wings of the Sphinx (2006/2009), The Track of Sand (2007/2010); The Potter's Field (2008/2011), The Age of Doubt (2008/2012), The Dance of the Seagull (2009/2013), Treasure Hunt (2010/2013), Angelica's Smile (2010/2014), Game of Mirrors (2011/2015), A Beam of Light (2012/2015), A Voice in the Night (2012/2016), Montalbano's First Case and Other Stories (2008 except where noted / 2016), A Nest of Vipers (2013/2017), The Pyramid of Mud (2014/2018), Death at Sea: Montalbano's Early Cases (2014/2018), The Overnight Kidnapper (2015/2019), The Other End of the Line (2016/2019), The Safety Net (2017/2020), The Sicilian Method (2017/2020), The Cook of the Halcyon (2019/2021), Riccardino (2020/2021)
Inspector Salvo Montalbano
The Shape of Water (1994/2002) translated by Stephen Sartarelli
After stumbling upon The Fencing Master several years ago, I overcame my reluctance to read books that had been translated into English. I'd somehow gotten it into my head that translated books were literature and my experiences with literature have not always been the best.
Never mind the fact that I love Virgil and Ovid. They were different you see. They were storytelling and folklore and mythology and fascinating. Not literature. Well, I quickly changed my mind, and have since then been pleased to discover that things get translated into English because they're good. And if I stick to the genres I like best (fantasy and mystery) I should be pleased with the results.
I started this book awhile ago, but didn't quite get into it. However, having read much of Donna Leon's Commissario Guido Brunetti series I found The Shape of Water easier to read. First, the pacing of the book seemed more comfortable, and I was no longer surprised by the fact that everything stopped for meals. I was also not surprised by some of the things that American readers might find outlandish, such as falsifying evidence, or the lack of trust of the police. That's not to say Donna Leon and Andrea Camilleri are comparable. They aren't. There are two very different books by two very different authors, one of whom is a native Italian.
This is the first Inspector Montalbano story, and was supposed to be the only Montalbano story, however, the character got away from the author, and we now have many books to enjoy.
Camilleri is extremely earthy. His language and demeanor are what you might expect from a small town cop–which he is. Or to put it another way, I don't think I'll be placing this book on my grandmother's To Read pile.
"Inspector Montalbano? This is Mr. Luparello."

"What the hell! Didn't you die?" Montalbano was about to say, but he stopped himself in the nick of time.
But despite these differences, the flow of life and of the stories is somehow similar, despite the dissimilarities of the cities in which the detectives reside. After all, The Shape of Water is set in Sicily.
"That is up to you to discover, if you so desire. Or else you can stop at the shape they've given the water."
Inspector Montalbano is called out to the scene of a death–no one is sure if it is murder or not, but enough about the scene raises his suspicions that he refuses to close the case until he is sure. What I like best about Montalbano is his concern. His childhood friend may be the biggest pimp in town, but when he speaks to the window he does not want to discuss with her the circumstances of her husband's death, for fear of causing her additional pain.
Of course what I'm curious about now is the authenticity of the vulgarity. Specifically, Do the words chose in this translation have the same punch as the words chosen in Italian? The word "fuck" appears quite frequently here. Does the word in the original Italian carry the same connotation as the "fuck" does? The same baggage? I've had similar questions when reading other translated books, and if other books in this series are translated by the same person, I'll be curious to see whether this remains consistent through his translations.
There was something, however, in the sergeant's tone of voice that he found suspicious; he had known him for too many years. "Anything wrong?"

"It's Gallo. He's gone to the emergency room, hurt his arm. Nothing serious."

"How'd it happen?"

"With the squad car."

"Did he crash it speeding?"

"Yes."

"Are you going to spit it out or do you need a midwife to pull the words out of your mouth?"
Published by Penguin Books
Rating: 7/10
Reread: May 2015 | Rating: 7/10
Audio Version (1994/2006) narrated by Grover Gardner
Rating: 8/10
The Terra Cotta Dog (1996/2002) translated by Stephen Sartaelli
The second Montalbano book was, according the Camilleri, was supposed to be the last.
I felt less than fully satisfied with how the figure of Montalbano had come out. I felt as if I had painted an incomplete portrait of him, favoring his role as a detective while neglecting certain aspects of his character. In short, he seemed only half resolved. And it bothered me a lot to leave him unfinished. I always try to bring everything I start to completion.

And so, out of sort of concern for craft, I decided to write a second novel on this police inspector and thereby conclude my brief career as a mystery writer.
In the second Inspector Salvo Montalbano book, Montalbano is called by his friend Gege–the head of local prostitution–to meet, because Gege has something he has been asked to discuss with Montalbano.
From here, Montalbano is drawn into organized crime, whether he wants to or not, and also discovers a fifty year old crime that becomes something of an obsession, especially after the current case takes a turn for the worse.
First of all, if you haven't read a Montalbano mystery before, Montalbano is an asshole. To put it bluntly. He's an earthy man in a profession that can be extremely dangerous, and because he's good at his job, he's arrogant on top of everything else. But he is good at his job, and the mysteries he uncovers are fascinating.
But what I love best about this series is the humor.
The only way to reason with Bonfiglio was to put oneself squarely on his level. The inspector knew this from experience.

"Is there one TV personality you find particularly obnoxious?" he asked him.

"There are a hundred thousand, but Mike Bongiorno is the worst. Whenever I see him my stomach gets all queasy and I feel like smashing in the screen."

"Good. And if after watching this particular MC, you get into your car, drive into a wall, and kill yourself, what am I supposed to do?"

"Arrest Mike Bongiorno," the other said firmly.
Tell me you don't know someone EXACTLY like that.
And there is also Dr. Pasquano.
Jacomuzz and Dr. Pasquano came from Montelusa to see him.

"All the papers have been talking about you," said Jacomuzzi. He seemed moved by a little envious.

"I was truly sorry I didn't get to do your autopsy," said Pasquano. "I'd really like to know how you're put together inside."
Believe me, Montalbano totally deserves that.
This is the second Inspector Montalbano story, and although everyone has changed over the course of the series, with the exception of attitudes towards Catarella, personalities are recognizable from the most recently published (into English) book.
Montalbano remembered that Agatino Catarella would now be on duty at the station, and that therefore the phone conversation he was about to engage in promised to at the very least to be problematic, if not the source of unfortunate and even dangerous misunderstandings. This Catarella was frankly hopeless. Slow to think and act, he had been hired by the police because he was a distant relative of the formerly all-powerful Chamber Deputy Cusumano

With Catarella, things would get most muddled whenever he got it into his head–which happened often–to speak in what he called Talian.
I'm very glad that Catarella gets reformed. Well, not really reformed, but rather that Montalbano eventually develops an affection for him.
And it's fascinating how policing works in Italy.
They had an unwritten understanding with the National Police. Whoever arrived first at the scene of a crime would shout "Bingo!" and take the case. This prevented meddling, polemics, elbowing, and long faces.

But Fazio was gloomy. "They got here first."

"So what? What do you care? We're not paid by the corpse, on a job-by-job basis."
Published by Penguin
Rating: 7/10
Reread: January 2014 | Rating: 8/10
Reread: May 2015 | Rating: 8.5/10
Audio Edition (1996/2002/2007) narrated by Grover Gardner
Rating: 8/10
The Snack Thief (1996/2003) translated by Stephen Sartarelli
Obviously, Camilleri didn't stop after the second book, so we have the third in the series, which finds Montalbano investigating the stabbing death of an elderly man, while elsewhere, a fisherman is shot to death in a typically international incident with Tunisia.
The third book in Andrea Camilleri's Inspector Montalbano series finds Montalbano investigating a man found murdered in an elevator, while Augello investigates a shooting on a fishing boat that left a Tunisian dead–shot ostensibly by a Tunisian police boat claiming the fishing boat was no longer in International waters.
Montalbano remains irascible and an asshole, yet he also remains very good at his job (and also remains unwilling to be promoted and taken from his beloved Vigata.) What is interesting is how Montalbano–despite being a complete SOB most of the time–remains an excellent investigator and able to ferret out secrets.
Additionally to a complex (is anything in Italy ever simple) mystery, we begin to learn far more about Montalbano and his his past and why (maybe) he is the way he is. Though I still seriously wonder what the heck Livia sees in him.
And of course there is the food.
He stopped in front of the restaurant where he'd gone the last time he was in Mazara. He gobbled up a saute of clams in breadcrumbs, a heaping dish of spaghetti with white clam sauce, a roast turbot with oregano and caramelized lemon, and he topped it all off with a bitter chocolate timbale in orange sauce. When it was all over he stood up, went into the kitchen, and shook the chef's hand without saying a word, deeply moved.
Have I mentioned that I've been cooking Italian recently? No? This is why. Montalbano loves food, and all the dishes sound so god, it makes me wish once again I lived near the sea, and have the money to find small restaurants that made perfect food.
This is the third Inspector Montalbano book. In the same morning, there is a shooting death aboard a fishing boat and a man found dead in the elevator in his apartment. (This is Sicily, after all.)
Catarella plays a larger part in this book, though only as comic relief, really.
"C'mon, Chief, don't take it out on me just because it's windy outside. For my part, early this morning, before contacting Inspector Augello, I had somebody call you."

"You mean Catarella? If you have Catarella calling me about something important then you must really be a shit head, since you know damn well that nobody can ever understand a fucking thing the guy says."
And we also see the first instance of Catarella's problem with doors.
The door flew open with such force that the inspector jumped out of his chair. Catarella appeared, looking very agitated.

"Sorry 'bout that, Chief. Door slipped outta my hand."

"If you ever come in like that again, I'll shoot you."
Yeah, I think that happens in every book from here on out.
There were also bits I loved, because they were so unfamiliar to my American ears.
Montalbano and Valente seemed not even to have heard him, looking as if their minds were elsewhere. But in fact they were paying very close attention, like cats that, keeping their eyes closed as if asleep, are actually counting the stars.
What a strange and wonderful saying.
And we discover more Montalbano quirks.
(W)henever he had to write a fax, he composed it as if it were a telegram.
And that everyone knows it.
"Has he gone crazy?"

Fazio, in all sincerity, would have liked to answer that in his opinion the inspector had been crazy since birth, but he said nothing and merely stared out the window.
"You are totally insane," said the colonel, sincerely terrified.

"You've just noticed?"
My primary problem was the title. I mean really, The Snack Thief? Quaint–and strange. Luckily, this resolves itself and after it was clarified I kinda liked, but it still felt very strange for a title–not something I'd be likely to pick up if I hadn't read the previous books in the series.
But of course I have read the previous books in the series, and thoroughly enjoyed The Snack Thief. Although the book refers to events in previous book, you should be able to read it without difficulty–especially since there is a glossary in the back explaining the terms and words used in the story.
Published by Penguin
Rating: 8/10
Reread: January 2014 | Rating: 8.5/10
Reread: May 2015 | Rating: 8/10
Audio Version (1996/2003/2007) narrated by Grover Gardner
Rating: 8.5/10
Voice of the Violin (1997/2003) translated by Stephen Sartarelli
The more I read of Andrea Camilleri's Inspector Montalbano series, the more I like it. Initially I wasn't sure about Salvo–he's often a jerk–why do people like him? Well, he can be a jerk, but the more I read, the more he comes across as a curmudgeon than a jerk.
I am wondering if this is an issue with translation or whether Italian readers would recognize him as a type whereas I, the lowly American reader, might not see this. I'm guessing the later. However, the more I read the more it comes clear that he's far more than a curmudgeon–he's very ethical in his own way. And he's very likable in his own brusque way.
This story is a turning point for Catarella.
"(I)n a few days, some absolutely up-to-date computer will be arriving… He wanted each of us to give him the name of an officer we thought had a special knack for computer science. Which I did."

"Are you insane? Nobody here knows a goddamn thing about the stuff. Whose name did you give up?"

"Catarella," said an utterly serious Mimi Augello.
I shan't tell you how it works out. You'll have to read for yourself.
Of course, Catarella remains, in many ways, unchanged.
(T)he door to the inspector's office flew open, slamming into the wall, and Catarella came barreling into the room.

"The next time you come in here like that, I'm gonna shoot you. And you know I mean it."
On his way to a funeral, Montalbano's driver manages to hit a car parked along the side of the road. This leads him into a murder case that is twisted and convoluted and then suddenly, subject to the politics of the police department.
Meanwhile, Mimi's sister wants to talk to Salvo about Francois, which leads to problems (as usual) with Livia. Now I have to admit, I don't see why Livia and Montabano remain together, especially when they are so physically separated. But then again perhaps that's why they can remain together.
I enjoyed the mystery, though I was once again surprised by the casual manner in which police corruption and dealings with the Mafia are discussed, and the way at which Montalano seems unsurprised by either police corruption or dealings with the Mafia.
And then there's the food. Even simple things make me hungry.
"Want a little wheat bread? I took it out of the oven less than an hour ago. Shall I prepare you some?"

Without waiting for an answer, she cut two slices from a loaf, dressed them in olive oil, salt, and black pepper, adding a slice of pecorino cheese…
Oh, one last bit–you can tell when this story was written, not as much by the reference to computers at the start of the story, but by these passage.
"Assuming a boarding pass exists, it means nothing, even if the protagonist's name is on it. Anyone can use it since they don't ask for ID."
That world is so strange and foreign today.
Published by Penguin
Rating: 8/10
Reread: January 2014 | Rating: 8/10
Audio Version (1997/2003/2008) narrated by Grover Gardner
Rating: 8/10
Excursion to Tindari (2000/2005) translated by Stephen Sartarelli
A young man is found dead just outside his front door in what seems to be a mafia killing. This event would have passed almost unnoticed, except that a distraught man calls to report that his parents–who live in the same building as the murdered man–have disappeared.
The coincidence of the two events makes Inspector Montalbano suspicious, and as he looks into the disappearance of the elderly couple, their actions in taking an excursion to Tindari seem stranger and stranger.
The more Inspector Montalbano books I read, the more I like them, and Excursion to Tindari is no exception. Although Montalbano can be harsh and obnoxious, it becomes more and more clear that despite his tendencies, he cares deeply about his men and about how he does his job.
Despite the advances of the last story, Catarella remains, somehow, unchanged in so many ways.
"Thank you for agreeing to see me. You're inspector Montalbano, aren't you? … I feel mortified for having raised my voice, but I couldn't understand what that policeman was saying to me. Is he a foreigner?"

Montalbano preferred not to answer.
And, of course, Fazio also remains unchanged.
He studied the sketch Fazio had made… the inspector became aware that Fazio must have resisted the temptation to draw much larger rectangles with the vital statistics of each occupant inside: first and last name, father's name, mother's maiden name, etc.
I do love how Fazio manages to push Montalbano's buttons so well.
His relationship with Liva is still a strange thing to me, but the more I read, the more than relationship seems to be the type of relationship Montalbano would have–after all, he would be a very difficult man to live with, so that is perhaps why his long distance relationship works so well.
If you have not yet read an Inspector Montalbano mystery, I recommend them. The first book is a little difficult to get into, but the rewards as the series continues are well worth getting to know Montalbano in the first book, where he is not so likable.
Published by Penguin
Rating: 8/10
Reread: January 2014 | Rating: 7/10 
The Smell of the Night (2001/2005) translated by Stephen Sartarelli
Ah, Chief! Chief!
This is the book where Catarella truly takes on the personality he has for the rest of the series. It always amuses me how so much of what he says ends up sounding like gibberish. And it's all good and well as an American to chuckle over than, but since most Americans only speak one language, even Cat is up on us, speaking both Sicilian and 'Talian, even if he doesn't speak the later particularly well.
The c'mishner called poissonally in poisson and axed for you. I tole 'im you's momintarily absint an' as soon as you got back I'd a tell you he wants a talk t'you. But then he axed, the c'mishner did, to talk to the rankling officer."
Amusingly, and perhaps strangely, the one thing from these books that pops up in my mind at odd times is Cat's poissonally in poisson. I can hear it quite clearly in my mind.
As Montalbano continues to have trouble with the commissioner, trouble with Liva, continues to be an asshole to everyone he works with. In other words, nothing has changed with him.
In The Smell of the Night Emanuele Gargano has run off with billions of lire, and everyone in Vigata wants their money back and Gargano strung up–not necessarily in that order. Although the crime occurred in Vigata, the case has gone to the fraud investigator, and Montalbano and his department are left to tie up loose ends. Unfortunately, not only does the case get more complicated, the commissioner is after Montalbano, and nothing good is likely to come of that.
Despite the fact he's an unrepentant asshole, Montalbano remains likable, primarily because he is deeply concerned with justice. And his anger is not only for his subordinates when they make mistakes, but for himself as well. This case shows that most clearly; Montalbano has nothing to gain by solving this case, yet solve it he wants to, not just because people have lost their savings in a Ponzi scheme (and who now doesn't know what a Ponzi scheme is), but because he needs to know what happened.
However, although this book was good, it wasn't great. I liked the twists and the turns and the unexpected discoveries. However, I saw the fight coming with Liva, and for some reason this story just didn't have the urgency of other stories in the series. Like I said, it was good, but it wasn't great. And the translator is still playing around with Catarella's accent. It isn't a problem per se, but it does take me out of the story when I keep noticing that his accent/dialect/speech patterns are different with every book.
As with the other books in the series, you should be able to read The Smell of the Night without having read any other books about Inspector Montalbano.
Plus, one last line that amused me:
"Final shot. Music. We see a long, straight road–"

"Are there any in Sicily?"
I never realized how much in common Sicily and West Virginia have in common.
Published by Penguin
Rating: 7/10
Reread: January 2014 | Rating: 7/10
The Fourth Secret (2002/2014) translated by Gianluca Rizzo and Dominic Siracusa [Novella]
These are not the usual translators for this series, and they were nowhere near as good as his usual translators. First, there were multiple errors (in this short novella), and second, Catarella's voice is very different here than in the books, which made it confusing. Montalbano is find, but Catarella has a very distinctive voice, and plays a large part in this book, so the change in voice was very noticeable.
"Catarè, why don't you have a doctor look at your leg?"

"Because he left."

"Go to another then."

"No, sir, I trust only him. He's a cousin of mine on my dad's side, and he's a very good veterinarian."

Montalbano paused for a second. "You prefer a veterinarian?"

"Why, sir, what's the difference? We're all animals."
It's definitely something Catarella would say, but it doesn't feel quite like how he normally says it. Plus, that's not Montalbano's normal diminutive for him, which was also slightly confusing.
Another important thing to note is that this story was written in 2002 and only recently translated. Between Montalbano's fixation with aging in the more recent books, and the technology bits that were out of place for a newly published book, it threw initially until I recognized this was an older story.
Aside from that, it was an enjoyable short story/novella. I always enough spending time with Montalbano.
Rating: 7/10
Rounding the Mark (2003/2006) translated by Stephen Sartarelli
It finally happened. The corruption of the Italian government and system has finally gotten to Montalbano, and he has decided he no longer wants to work in such a system. But his morning swim changes everything, when he (literally) runs into a corpse.
The first thing he saw was himself, stark naked, wild-eyed, mouth agape, hands cupped over his pudenda, looking like a chaste Susannah getting on in years, and a whole lot harrier. A caption under the image said:

"Inspector Montalbano (in the photo) saving a dead man."
This is the book where we start to see Montalbano really thinking about his age and getting older. The Comissioner, who thinks he's involved with the Mafioso doesn't help, but it's the corruption from the top down that has really gotten to him here.
There are two deaths, and despite what Montalbano things, no one wants to rule either death a homicide. Montalbano and several others, however, see things differently, and so Montalbano once more takes on these cases–these unofficial cases–to see justice done.
But what made me like this book so much is what Montalbano things and feels, and how he justifies his own actions in the light of the police actions in Genoa.
SPOILERS (rot13)
Sbe zr, gur pehk vf guvf qvnybt.
"Gur dhrfgvba vf guvf," fnvq Nhtryyb, "jura ner lbh tbvat gb fgbc npgvat yvxr na nffubyr?"

"Va jung frafr?"

"Va rirel frafr sbe Puevffnxr! Jub qb lbh guvax lbh ner, gur avtug niratre? Gur ybar jbys? Lbh'er n shpxvat cbyvpr vafcrpgbe! Unir lbh sbetbggra? Lbh ercebnpu gur cbyvpr sbe abg borlvat gur ehyrf, naq lbh'er gur svefg gb oernx gurz! Lbh tb bhg va n qnatrebhf zvffvba, naq lbh oevat nybat abg bar bs hf, ohg n Fjrqvfu ynql! Vg'f vafnar! Lbh fubhyq unir vasbezrq lbhe fhcrevbef bs nyy gurfr guvatf, be ng yrnfg svyyrq hf va, vafgrnq bs tbvat bhg naq cynlvat gur obhagl uhagre!"

"Fb gung'f jung ohttvat lbh?"

"Jul, vfa'g gung rabhtu?"

"Ab vg'f abg Zvzv. V'ir qbar jbefr."

Zvzv'f wnj qebccrq va ubeebe.
Naq gurer vg vf. Zbagnyonab noubef vawhfgvpr, ohg nyfb oryvrirf gung ur pna fyvqr bhgfvqr gur ehyrf va frnepu bs gung whfgvpr.
Vg frrzf gb zr gung jung Zbagnyonab ernyyl ungrf vfa'g vawhfgvpr, ohg ynpx bs ubabe. Zbagnyonab xabjf gung jura ur fgrcf bhgfvqr gur ehyrf, ur qbrf fb gb npg jvgu ubabe (jryy, gurer jnf gur vapvqrag jvgu gur ubhfr va gur ynfg obbx…), juvpu vf jul ur vf erfcrpgrq abg whfg ol uvf zra, ohg nyfb ol gur pevzvanyf, nf jr fnj va rneyvre obbxf.
Whfgvpr naq ubabe frrz yvxr gurl fubhyq or gur fnzr guvat, ohg gurl nera'g, ernyyl.
SPOILERS
So as in other books, Montalbano remains a complex character, and that is what makes him so fascinating.
we still have Catarella, as well as Fazio, "Either you put that piece of paper back in your pocket, or I'm going to start kicking you." But we finally see why everyone puts up with Catarella:
"(Y)ou've never understood just who Catarella is," said the inspector.

"I guess not. Who is he?"

"Catarella's a little kid, a child inside a grown man's body. And so he reasons like someone barely seven years old."

"So?"

"What I mean is that Catarella has the kinds of fantasies, brainstorms, and bright ideas a little kid does. And being a little kid, he says what he's thinking, he doesn't hold back. And often he's right on the mark. Because reality, when seen through our eyes, is one thing, but when seen through a child's eyes, it's something else."
One thing I especially like about Montalbano is that despite the fact he can be a complete asshole, he has a complete soft-spot for kids. Unfortunately, in this case, that doesn't work to his advantage.
You could read this book without having read previous books in the series, however, I think the impact of the story is greater if you know Montalbano's past. That knowledge makes the story stronger.
Published by Penguin
Rating: 9/10
Reread: January 2014 | Rating: 7/10
The Patience of the Spider (2004/2007) translated by Stephen Sartarelli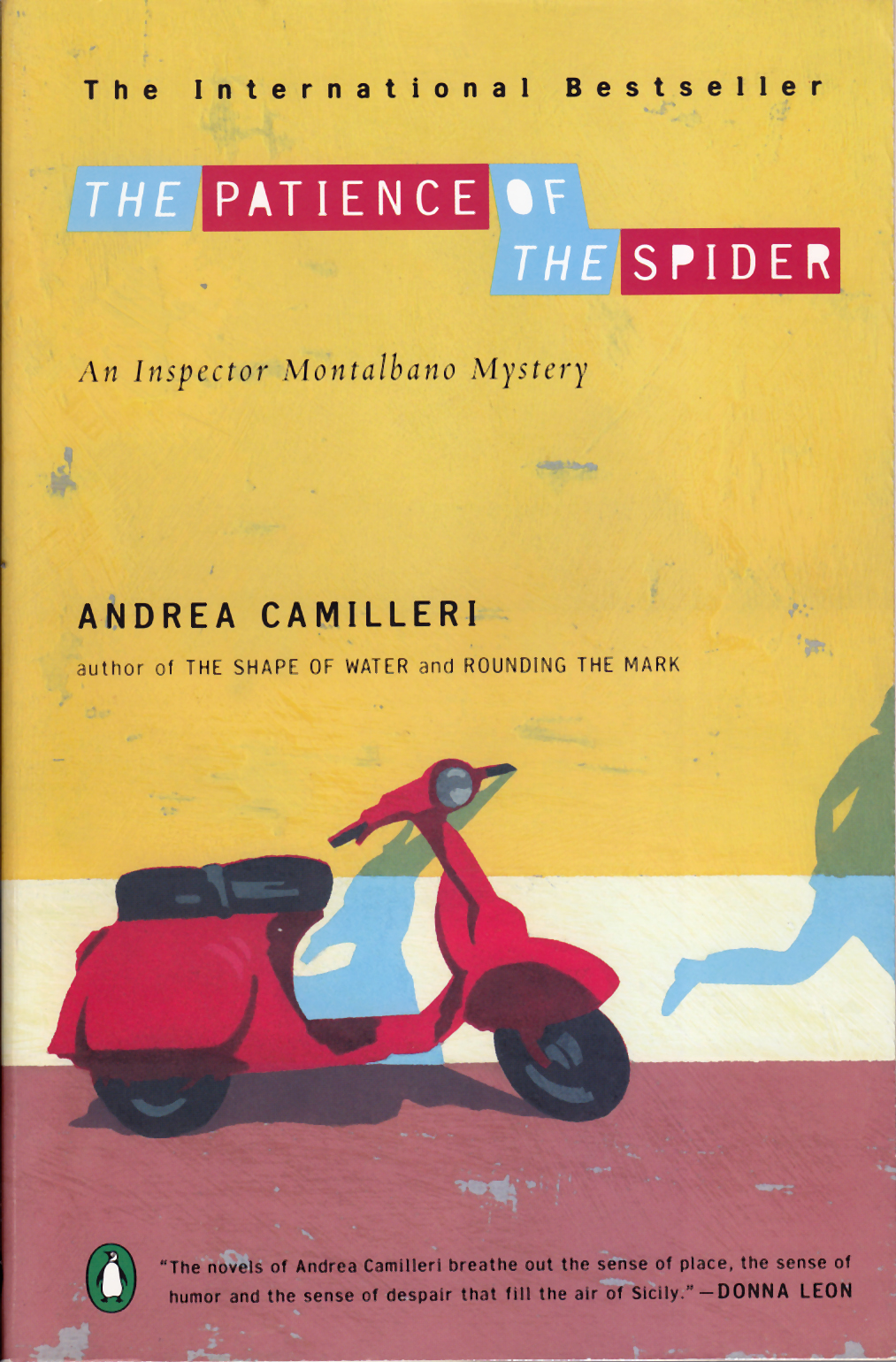 This book picks up right after the events of Rounding the Mark. Monalbano has been on leave, recovering from being shot in the shoulder. Livia has come down to stay with him during his recover, so they get to argue in person, instead of over the phone. (I really really don't get their relationship. They fight and drive each other crazy, and although Livia did come as soon as Montalbano was shot, she seems to cause as much trouble as she helps.)
We also get flashbacks to Montalbano's time in the hospital, some of which amused me.
They've found me out! he thinks to himself. They realize that my heart functions on alternating current, higgledy-piggledy, and that I've had at least three heart attacks!
As often happens, things begin with a phone call from Catarella.
"Chief, whadd I do, wake you up?"

"Cat, it's six in the morning. On the dot."

"Actually my watch gots six oh tree."

"That means it's a little fast."

You sure 'bout that, Chief?"

"Absolutely."

"Okay, so I'll put it tree minutes slow. Tanks, Chief."

"You're welcome."
Unusually, I figured out what was going on pretty quickly. Not sure why it was so obvious this time, but knowing that early "whodunnit" contributed to my not quite knowing how to feel about this book. It was interesting, as all the Montalbano stories are, but I didn't find it nearly as compelling as Rounding the Mark, which I thought was excellent, where Montalbano had to come to terms with his actions and morality and how that fit into the police force and larger world.
Although Bonetti-Alderighi was forced to recognize Montalbano's actions in resolving the events at the end of Rounding the Mark, but that hasn't changed his attitude–or Montalbano's towards him.
"Montalbano? You must activate yourself immediately," Commissioner Bonetti-Alderighi said in an imperious tone.

How was he supposed to do that? By pushing a button?
There's also something very interesting that Americans might not notice, but I learned about when reading another Italian mystery involving a kidnapping.
"In short, are you telling us that any freeze of his assets would be useless at this point, since Peruzzo's already got the ransom money on him?"

"Exactly."
That brief passage (and a similarly brief mention earlier in the story) glosses over something somewhat horrifying.
In Italy, if someone is kidnapped, the government immediately freezes all the assets of the family, so they are unable to pay the ransom.
The reason is to discourage kidnappers, since they won't be able to get their money. The reality is that families then simply refuse to tell the police about the kidnapping, while they try to scrape together the money.
All-in-all, it's horrible, any way you look at it.
Also, Montalbano is on a diet, so much of the writing about food seems to be Montalbano's longing for it. And he's definitely feeling his age. Not that there's anything wrong with that, but his introspection didn't seem to be going anywhere as it did in the previous book.
This story had several bits that I quite enjoyed, such as:
What was it Adelina often said? L'omu e' sceccu di consiguenza. Or: Man is a jackass of consequence.
Sadly true.
So The Patience of the Spider isn't a bad book, but it is not one of my favorites. Although you should be able to read this book without having read the previous books, I would not suggest this as a place to start reading.
Published by Penguin
Rating: 6.5/7
Reread: January 2014 | Rating: 8.5/10
The Paper Moon (2005/2008) translated by Stephen Sartarelli
I am sad.
I have now read all the Inspector Montalbano books that have been published and translated into English. August Heat comes out later this year, but after that? No more Inspector Montalbano for me–at least until the next book is translated.
Montalbano is starting to feel his age and it's getting to him. He's begun waking up in the morning, afraid that if he thinks about his death it will suddenly come true.
I find this quite interesting, since he's had two (?) life threatening injuries in this series, but a quiet death has become his fear and obsession.
He is, of course, eventually distracted from this by a case.
The story opens with a woman–concerned that she has not heard from her brother–coming to report him missing. It hasn't been long enough to declare him officially missing, but she convinces Montalbano to come with her, to see what signs are at his apartment.
"Aahh, Chief, Chief!"

"What is it Cat?"

"There's some lady waiting for you."

"For me?"

"She din't say it was f'you poissonally in poisson, she just said she wants to talk to somebody from the police"

"So why couldn't she talk to you?"

"Chief, she said she wanted a talk to somebody superior to me."
Poor Catarella.
Besides the sister, there is another woman in the story–a young woman who was the man's mistress. The sister hates the mistress with a frightening intensity, which really doesn't help her case very much, but a mourning woman is giving some slack.
As with all these books, food plays a major part in the story.
(H)e ate so much that as he was eating he felt embarrassed, ashamed, but couldn't help himself.
That single sentence sums up Montalbano's relationship with food. And I suppose that of the vices a Sicilian cop could have, gluttony is the least of them.
Especially since he remains fed up with the corruption.
"(I)n our neck of the woods, and not only our neck of the woods, politics in the art of burying one's adversary in shit."

"What's politics got to do with me?"

"A lot, even if you don't realize it. In a case like this, so you know what your role is?"

"No. What's my role."

"You supply the shit."
Again I remain glad that I have nothing to do with Italian politics or the Italian bureaucracy.
I'm not sure how I feel about the mystery in The Paper Moon. The parallel cases made the solution feel obvious to me, however, Montalbano would usually have multiple cases going on, most of which were not related, so perhaps the link was meant to be obvious.
Regardless, the true mystery came not from the link between the two cases but what had actually happened to Angelo Pardo–and how the women in his life relate to the case.
Now, of course, I'm left bereft of any new Montalbano cases, and must find something else to read.
Published by Penguin
Rating: 7/10
Reread: January 2014 | Rating: 8.5/10
August Heat (2005/2009) translated by Stephen Satarelli
It's August, and it's hot, and Inspector Montalbano is unhappy not only because of the heat, but because Liva made Salvo find a house for her friends to rent during their vacation.
Unfortunately, the house turns out to be far more trouble than Inspector Montalbno expected
Montalbano continues to try and deal with the problems that he is associating with age–and he is right to do so. And this is a book where Liva is a problem rather than a help (sometimes they are in love, sometimes things are falling apart. In this book, things are worse than normal.)
Again, Montalbano is conflicted over his ethics and morality. He is willing to cross the line in the name of doing good, but if he can cross the line, then what makes it wrong for others to do so. And what makes Montalbano, when he crosses the line, different from others who do so.
And again Montalbano is really starting to feel his age. Unlike some other series, Montalbano is aging over the course of the series, and is having to deal with those changes and how they are affecting his ability to do his job.
He can still be a right bastard, but he's mellowed out a lot over the course of the series, and even characters like Cat have become more understandable and likable as opposed to simply frustrating and annoying.
This is not my favorite Montalbano story. This is the book where the relationship between Montalbano and Livia starts to fall apart. (It continues to fall apart for the rest of the series so far.)
We also see Montalbano behaving in ways he'd avoided in the past–he's weak in unexpected ways here, and we see a similar weakness occur in later books. I suppose it's simply a personal disappointment. in that in some ways I expect better of him.
Livia and her friend Laura (and Laura's family) come to vacation in Vitaga, and although it is a relatively last minute decision, Livia expects Montalbano to find her friend a house on the beach.
I really think Livia's expectation was unreasonable, but Montalbano manages.
(The real estate agent) spat out a figure that was like a billy-club to the head. But Montalbano didn't feel a thing. After all, Laura was plenty rich and could pay her part to alleviate the poverty of Southern Italy.

"I like it," he repeated.

"Naturally, there will be some additionally expenses–"

"Naturally, there won't be any additional expenses," said Montalbano, who didn't want to be taken for a fool.
That's not the first time Livia is unreasonable, and in this story, it certainly won't be the last.
There are, however, some marvelous bits. Such as this scene:
At that moment he looked exactly like Cary Grant in Arsenic and Old Lace. He quickly slammed the trunk shut and sat down on top of it. When the beam from Livia's flashlight shone on his face, he automatically smiled.
I love that nod to Arsenic and Old Lace, which is truly a marvelous movie.
And there are plenty of lines dropped, reminding me just how different Sicily is from the US.
"I found out the owner lived in Germany. It's possible he forgot about our wonderful ancient customs and thought that people respected the law here the way they do in Cologne."
Yet, so many things remain the same.
Garbage, the inspector though, had become the unmistakable sign that man had passed through any given place. In fact, they said Mount Everest had become a trash heap and that even outer space is a dump.

Ten thousand years from now, the sole proof that man once lived on this earth will be the discovery of enormous car cemeteries, the only surviving monuments of a former, ahem, civilization.
We have, of course, Fazio and Catarella, and also Mimi, though he's never been a favorite of mine, and I've neglected him so far in my reviews, except as a foil for Montalbano.
If you have not read a previous book in the series, you should be able to start here with no difficulty.
Published by Penguin
Rating: 7/10
Reread: January 2014 | Rating: 6.5/10
The Wings of the Sphinx (2006/2009) translated by Stephen Sartarelli
Inspector Salvo Montalbano and his girlfriend Livia are again on the outs. And his day begins with a call from Catarella, about a dead body. And if you've read an inspector Montalbano book, you know that no phone call from Cat can lead anywhere good.
this book contains some of my favorite bits of dialog. Montalbano is more pissy than usual, and it makes a fun read.
"What's the corpse like?"

"Dead," said Augello.

"Mimi, a quip like that is worse than a shot in the back. Fire off another, and I'll shoot you in self-defense."
But, there's a lovely bit about Catarella, as well.
"Ah, Chief Chief! I hadda go all day yisterday witout seein' yiz!"

"Did you miss me? You're gonna see so much of me the next few days, you'll probably get sick of me."

"I never get sick o' you, Chief!"

A proper declaration of love. Uttered by anyone else, it would have been, at the very least, embarrassing.
Montalbano is–if anything–getting even crankier as he ages, but his sardonic humor is in rare form.
In the station's parking lot he pulled up alongside a Ferrari. Who could it belong to? Surely a cretin, whatever the actual name on the registration. … Naturally, the fortyish man who came into his office had a different name from the one cited and written down by Catarella: Francesco Di Noto. Decked out in Armani, top-of-the-line loafers worn without socks, Rolex, shirt open to a golden crucifix suffocating in a forest of unkempt, rampant black hair.

He was surely the idiot tooling around in the Ferrari. But the inspector wanted confirmation.

"My compliments on your beautiful car."

"Thanks. It's a 360 Modena. I've also got a Porsche Carrera.

Double cretin with fireworks.
And then there was this exchange:
"Is that all you can tell me doctor?"

"No."

"Look, Doctor. I haven't got time to waste, either."

"I found two things."

"Are you planning to tell me in monthly installments?"
That sounds an awful lot like someone I know.
So in addition to the dialog, anything else about the book I liked? Yes.
As usual, there were long sensual descriptions of meals. Which made me hungry, regardless of the actual state of my stomach.
And of course the mystery, which was (again as usual) both fascinating and depressing. Fascinating, because I really enjoy the complex mysteries Andrea Camilleri creates, and depressing, because the amount of corruption that is taken as business as usual never fails to astound me.
The one thing I did find unusual is he actually references Prime Minister Silvio Berlusconi (not by name per se, but in ways that would be recognized by Italians are are pointed out in the translators notes at the end of the book). Although most of the books mention the political corruption endemic to Italy, this book struck me as a bit more blunt about it than past books. But that could just be me.
I really enjoy this series and highly recommend. My only caveat is that this books are set in Italy, and as mentioned, the corruption that is taken as a given may come as a bit of a shock to American readers, as will the somewhat direct and earthy language used by Montalbano. But once you get used to that, this really is an excellent series, and one I thoroughly enjoy.
Published by Penguin
Rating: 8/10
Reread: January 2014 | Rating: 8.5/10
The Track of Sand (2007/2010) translated by Stephen Sartarelli
Despite the fact he is quite frequently a right bastard, I am terribly fond of Montalbano.
Salvo awakes from a bad dream, and so wanders out to the beach behind is house to clear his head only to discover a dead horse–a horse that had been badly beaten and had fled its captors in terror only to die (of its wounds? of exhaustion) below Montalbano's house. Seeing the way the horse was treated enrages Montalbano, and so he calls in some of his men in the hopes they can discover who would do such a horrible thing.
The mystery is, of course, good, but the best parts of these stories are the passages about food (never ever read one of these books while you are hungry) and the dialog.
"Just between us, Mimi, I had half a mind to hang myself, but now you're here…"

"Ah, well, if that's your intention–which, incidentally, I approve of, unconditionally–then I'll leave at once and you can continue."
Though my favorite bits tend to be with Catarella, who remains completely outrageous.
"Ah Chief, Chief! Iss Catarella!"

The inspector felt like screwing around.

"I'm sorry, what was that?" he said, altering his voice.

"Iss Catarella, Chief!"

"This is Fire Station Number 2373. If you want to speak with the fire chief, you'll have to call the fire department, during regular hours, of course."

"O matre santa! I mussa gotta wrong number. Beckin' y' pardon, sir."

He called right back."Hallo! Izz 'iss Fire Station 3723?"

"No, Cat. It's Montalbano. Wait just a second, I'll look up the first stations number for you."
I do like that not only does he name check three Swedish authors, we also get something completely different:
After eating and eating, at a certain point he realized a wafer-thin mint would have been enough to make him explode, like that character in Monty Python's The Meaning of Life, a film he had found very funny.
When I first started reading this series, I though they were cruel to Cat, but I eventually came to recognize that they all care for him like a wayward little brother, but like a little brother, sometimes you have to give him a hard time so you don't kill him.
Published by Penguin
Rating: 8/10
Reread: January 2014 | Rating: 7/10
The Potter's Field (2008/2011) translated by Stephen Sartarelli
I fear that the end of the Inspector Montalbano may be in sight. Of course, since it's at least three years from publication to translation, even when the series ends, I'll have another book coming.
Unless this was the last book.
I hope this isn't the last book.
OK, it looks like at the very least there are two other Montalbano books. Whew!
There's a marvelous Catarella scene at the start of the book. Note: It's pouring rain.
"Take my raincoat."

"Nah, Chief, I can't."

"Why not?"

"Cuz a raincoat's civilln 'n' I'm in uniform."

"But who's gonna see you here?"

"Chief, a uniform's always a uniform."
I love that exchange, because it says so much about Catarella, and why, despite everything else, Montalbano puts up with (perhaps even loves! (but in a deeply manly and fatherly way)) him.
So, Montalbano is starting to see retirement in his future. But for now, he's got a case. A body–chopped into many parts and decomposing–is found in a field–hillside actually-that is a source for clay.
Almost from the start, there are problems, first and foremost of which is Mimi, Montalbano's protege of sorts. Mimi has been unbearable, and is now insisting that he be given the case of the body found in the clay field. But his behavior and actions are so strange Montalbano is unsure what to make of things.
Unfortunately, he soon discovers that whatever it is, at can't bode well for Montalbano.
As with all Montalbano books, there is eating. Although, it seems like there was less in this book than in previous books. He still spends time in restaurants and eating and appreciating his meals, but those meals are in some cases just mentioned in passing–a show of Montalbano's state of mind if there could be any other.
I'm not sure what it says about this story, that some of my favorite parts were the appearances by Catarella.
As they were looking at each other, the door flew open with a crash that might have been a bomb. Montalbano and Fazio cursed in unison, while Catarella remained in the doorway, looking pensive.

"Well, aren't you going to come in?"

"Chief, I's thinkin' that maybe I oughta try knockin wit' my feet, since my 'and always slips."

"No, instead you ought to try this" when you're in front of the door, instead of knocking, take out your gun and shoot once into the air. I'm sure it will make less noise." … "You'd better be careful, Chief. The next time he comes in, the guy's gonna shoot just like you said," said Fazio, worried. "And it may start a revolution."
Could you read this book if you have not read a prior book in the series? Yes…. but, I wouldn't recommend it. First, this isn't the strongest book in the series, and second, his relationship with Liva–always a problem for me in this series–is quite abbreviated, and it will probably be even more confusing to someone who hasn't read the series before.
Published by Penguin Books
Rating: 7/10
Reread: February 2014 | Rating: 9/10
The Age of Doubt (2008/2012) translated by Stephen Sartarelli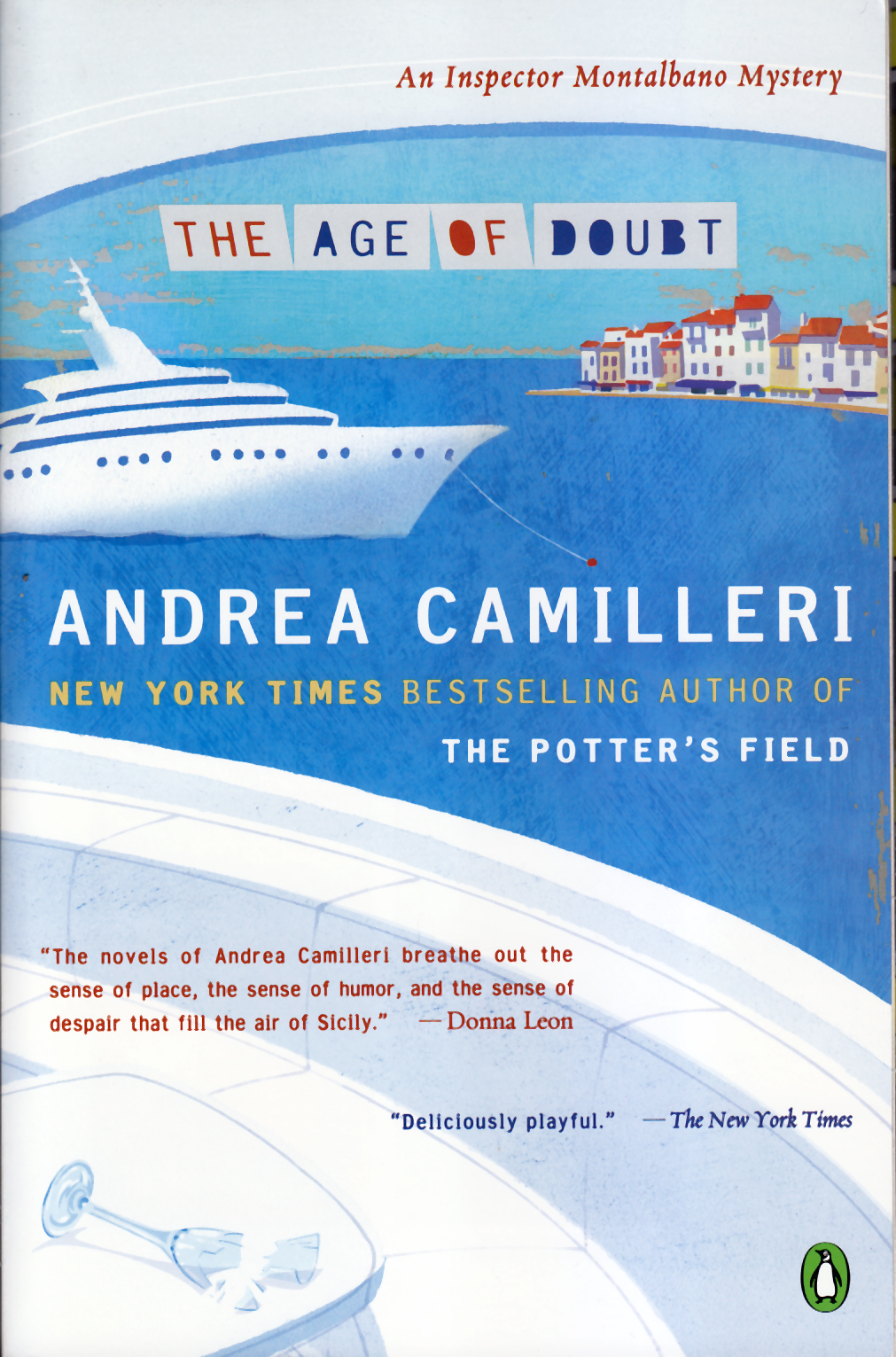 I think one of the things I like about this series is that Andrea Camilleri hasn't felt the need to rehabilitate Montalbano–he's still a bastard, and still talks without thinking, but he's also still good at his job, despite the fact he has to be close to retirement at this point.
A terrible storm has caused all kinds of problems, including washing out part of Inspector Montalbano's road, and leading to the discovery of a body on a dinghy floating its way out to sea. The discovery of the body alone isn't the problem–a greater problem is that a bedraggled, flooded-out woman Montalbano takes pity on seems to know more about the ship that found the body than seems reasonable, which leads Montalbano to wonder what is really going on.
The other important thread of the story is Montalbano's obsession with getting older. He is starting to slow down, and, like Ian Rankin's John Rebus, has made plenty of enemies of his superiors.
First, I really don't understand why Montalbano and Livia remain together.
Second, I HATE what happens between Montalbano and Lattes.
And there's other stuff, but… yeah. I just found it frustrating.
There were light bits, however, including one bit that made me thankful for the translator notes at the back of the book.
"'Scuse me, Chief, but izzit possible fer summon a have a lass name of 'Garruso'?"

"Nah, I don't think so."

"But there's a liutinnint atta Harbor's Office onna phone who says 'ass 'is name, Garruso. Mebbe 'e's from up north?"

"Why do you say that?"

"Cuz 'ss possible the Northers don' know iss a bad word down 'here, Chief."
Ah Cat!
I also liked the idea of an Institute of Lethal Medicine (which of course Cat came up with).
I can't say this is one of my favorite stories, but Montalbano remains fascinating.
Published by Penguin
Rating: 7/10
Reread: February 2014 | Rating: 5/10
The Dance of the Seagull (2009/2013) translated by Stephen Sartarelli
I really love the Inspector Montalbano series.
Salvo Montalbano is getting old.
He doesn't like it, but he does recognize the fact that he's not as fit as he used to be, that he doesn't sleep as well as he used to, and he worries that maybe he's become less of a detective than he was.
He also hasn't gotten any better at his relationship with Liva, which has been a sore point for me throughout this series, but for the first time I actually have a sense of why they remain together, despite everything.
But although his getting old is part of the story, it's not the mystery. The mystery is much more disturbing: Fazio has disappeared.
The story opens with Montalbano seeing a seagull dive to the ground, do a strange dance, and then die on the beach. He can't get the image out of his mind, and it (as happens with him) sparked a fight with Livia, who flew into Vitaga so they could take a brief vacation.
But when Montalbano goes into work to clear the paperwork off his desk so he can leave with a clear conscience, he discovers that Fazio is missing.
Montalbano said nothing. Without Fazio around, he felt as if one of his arms had been cut off.
Montalbano may give Fazio a horrible time over his records complex, but that doesn't mean he doesn't respect (perhaps even love) the man, so he drops absolutely everything and starts searching.
And once again, it's nearly impossible not to be fond of Catarella, despite everything.
The moment he saw the inspector, Catarella very nearly threw himself at his feet.

"Jeezis, Chief, I ain't seen yiz f'such a long time! I rilly rilly missed yiz!
And, of course, there's not a murder investigation without Dr. Pasquano.
"Even one cigarette a day is a vice, according to the Americans."

You can all go fuck yourselves, you and the Americans."

"Keep your voice down, or President Bush will have you bombed at once."
That still cracks me up.
Actually, Inspector Montalbano's relationship with Catarella is one of the things I especially liked, as Catarella's "poissonally in poisson" seems to be spreading. When I first started reading the series, I thought that Montalbano was mean for the sake of being mean to Catarella, but the more books I read, the more I came to understand that 1) Montalbano is an asshole to everyone and 2) he actually cares about Catarella, despite the fact that Catarella must be insanely annoying to deal with.
And despite being a huge asshole, it becomes clearer than ever in this story that Montalbano loves the men he works with (forgive me, inspector, that word you would never use).
SPOILER (rot 13)
V jnf gbhpurq ol Zbagnyonab'f ernpgvba gb gur gubhtug gung Snmvb jnf qrnq, naq gb gur rkgerzrf ur jrag gb xrrc Snmvb fnsr nsgre ur unq orra sbhaq.
END SPOILER
It just serves to remind me that no matter how much of an asshole he is, so very much of that is cover for how important those around him–and justice–are to him in a way that made sense to me–an American reader–in a way that wasn't clear in previous books. (I see this as a failing on my part as a reader, in my unfamiliarity with Italian culture.)
There's also a surprising rant about anti-homosexuality. Surprising because Montalbano is a Sicilian male, and the author is an even older Sicilian male, and I suppose I expected the topic to be ignored rather than addressed.
"(J)ust the other day Beba pointed out to me that if we were all like them, we would betray our purpose on earth, which is to procreate."

"Who ever told you that's our purpose in life? The Lord God himself, poissonally in poisson? Tell me the truth: Before you got married, when you were fucking everything that moved, didn't you do everything within your power to not procreate?"
And of course, Montalbano reminds me that I'm glad not to live in Italy, no matter how bad the political situation here is.
"An undersecretary eating at the same table with a mafioso…?"

"Oh, right! What a scandal! How shameful! No matter what they do, our elected representatives don't give a fuck anymore about public opinion! They take drugs, frequent whores, rob, steal, cheat, sell themselves, commit perjury, make deals with the mafia, and what happens to them?

The newspapers talk about it for, oh, three days maybe? Then everybody forgets about it."
Yeah, here in the US? We've got it good.
I was also amused by the meta comments, about an apparent TV series in Italy, and Montalbano complaining that the actor who portrays him is bald.
I continue to love this series, and am saddened by the thought that with Montalbano continuing to age, there can't be many more years left in this series.
If you have not read a previous book in this series, you should be fine picking this up, though you'd be missing out on much of the continued character development. But as I said, this book does a good job of showing the complexity of Montalbano's relationships with those around him.
Published by Penguin
Rating: 8.5/10
Reread: February 2014 | Rating: 8/10
Treasure Hunt (2010/2013) translated by Stephen Sartarelli
Things are boring in Vigata for Inspector Montalbano and the police, until an elder brother and sister allow their religious mania to push them over the edge. But even that event doesn't hold Montalbano's interest for long, which is probably why he allows a "treasure hunt" to pique his interest.
I'll note that I pretty quickly realized what was happening, and why, but it was solely because I knew I was reading a murder mystery, and so things couldn't possibly be as they appeared. So I enjoyed watching Montalbano reach the same conclusions.
Of course, I always enjoy spending time with Montalbano and the men under his command. I've even, like Montalbano, fond of Catarella.
"Jess like Brussi Vilisi, y'know, the 'Murican actor who's always in shoot-ats an' boinin' bildinz and' sinkin' ships…"
For the uninitiated, that would be Bruce Willis. Because Catarella can never ever get a name right.
And of course, Fazio, who drives Montalbano insane with his need to tell Montalbano the entire back story of anyone he needs to research.
(Fazio) stuck a hand in his pocket, pulle dout a small half-sheet of paper, and prepared to read it.

"If you're about to tell me the drivers' name, whose son he is, and when he was born, I will make you eat that piece of paper."
Although Montalbano is becoming more and more aware of his age, it doesn't seem to be mellowing him any. Which always takes me a bit to get used to, since the cultural differences are always a bit of a shock.
"And how are we going to identify the other people waiting at the stop?"

"I think we're better off forgetting about them. If they witnessed a violent sort of scene and still haven't come forward to report it, they're never going to."
To an American reader, that's a strange and terrible mindset.
If you haven't read an Inspector Montalbano story, you could certainly start here and enjoy the mystery, but I'll admit that the bits and pieces and interactions between Montalbano and his men are far more amusing if you you know their history.
Published by Penguin
Rating: 8/10
Angelica's Smile (2010/2014) translated by Stephen Sartarelli
"Ah Chief, Chief! Ahh Chief!"
Catarella's cry pretty much describes how I feel about this book.
Ah Chief, how you've fallen.
A strange series of burglaries has hit Vitaga. Burgulars break into a vacation home, gas the couple sleeping there, then, stealing the keys, return to the city and steal valuables from the house, as well as any cars (to which they now have keys). And to make things even odder, all the victims have been part of a circle of friends.
There is, of course, an attractive young woman whom Montalbano immediately falls head-over-heels for, and that was the first problem I had with the story. In more recent books, Montalbano has seemed unable to resist beautiful young women, and to be honest, it's gotten trite: There's a gorgeous woman, Montalbano falls for her, the woman–inexplicably, to me–falls for Montalbano, and Montalbano forgets all about Livia.
And of course, Catarella gets names terribly wrong, Fazio recites the complete biography of everyone he comes across, and the Commissioner yells at Montalbano, and Montalbano lies to him to get out of whatever trouble he's in.
The book struck me–like none had previously–as formulaic. You know Montalbano was going to fall for the young woman, just as you knew the young woman would end up being involved in the crime somehow. There was no spark, and nothing to set this story apart.
It all just felt terribly depressing.
Published by Penguin Books
Rating: 5/10
Game of Mirrors (2011/2015) translated by Stephen Sartarelli
I really enjoy these books. Inspector Montalbano is continuing to age, and continues to worry that he's losing it (what "it" is, varies from book to book), which I am okay with, because it adds another dimension to his character.
He still lives for food.
Every arancino was as big as a large orange. For a normal person, two arancini would have constituted an already dangerous amount for dinner. Montalbano wolfed down four and a half.
There are always marvelous meals described. In fact, reading these books always makes me hungry.
He still fights regularly with Livia. (And I still don't understand why they remain together.)
And Catarella is still Catarella.
"Ahh Chief Chief! Ahh Chief!"

This was the special litany that Catarella intoned whenever there'd been a call from Mr. C'mishner.

"Did the commissioner call?"

"Yessir, 'e did, not ten minutes ago. 'E wannit a talk t'yiz or Isspector Augello, an' seein' as how ya wasn't onna premisses yet, I put the call true to Isspector Augello, 'oo was hisself onna premisses, afore 'e left immidiotly after talkin' to him, him bein' him, meanin' the same one, hizzoner the c'mishner."
For the first couple books I didn't get Catarella at all. But as the series has progressed, he's become one of my favorite characters.
He adores Montalbano, and is so open and sweet that being mad at him would be like being mad at a puppy. Catarella he does have his special skill set, which he gets to use once again in this book.
Like other books set in Italy, I remain amazed by how casually the Mafia and Mafia bombings and such are mentioned. They're facts of life and nothing to get excited about, which continues to boggle my mind.
One thing I especially like about this version of the book is that the passages of note (Stephen Sartarelli has always had comments about specific translations or foods or sayings) are underlined, and clicking on them brings up that little bit.
That's really quite lovely, since normally I don't read the notes until the end of the book. This time I got to read things like this:
(S)artù di riso alla calabrisa: A variant on a Neapolitan dish, sartù di riso alla calabrese belongs to the southern Italian tradition of pasta al forno, except that it uses rice instead. Like those baked pasta dishes, it features a great variety of ingredients, including pork, beef, peas, meatballs, eggs, sorpressata, tomato sauce, provolone cheese, pecorino cheese, bread crumbs, onions, and so on. When it is finished, it is removed from the casserole and looks rather like a large cake of rice. In Calabria it is often served as the main course on Fat Tuesday, at the start of Lent.
in situ, which was marvelous.
And now I'm hungry again.
As this series continues, the mystery becomes almost secondary to the food and just watching what Montalbano will do.
Published by Penguin
Rating: 7.5/10
A Beam of Light (2012/2015) translated by Stephen Sartarelli
The problem with the "surprise" in this book is that it refers to events that happened early in the series, and since that character hadn't been referred to in years, having him brought up again (when he hadn't been for ages) made it pretty obvious that this character was going to appear in this story in some manner.
As usual for a Montalbano story, the banter and amusing dialog are there:
Montalbano didn't waste a single minute and immediately rang Dr. Pasquano, turning on the speakerphone. "Excuse me for disturbing you, Doctor, but—"

"The disturbance you create is of such magnitude and depth that there can be no excusing it."

"My, how well you can speak when you put your mind to it!"
But Montalbano's latest "love" interest had a confusing plotline that didn't make a lot of sense. And Montalbano's philandering isn't on of my favorite themes–I suppose that as both the character and the author get older, they need to prove their virility, but… I just always find it disappointing. Mostly because I just wish Motalbano would end things with Livia.
Apparently, the English translation of this book was published on Camilleri's 91st birthday, so I suppose there are not many Montalbano books left to come, which even if I found this story somewhat disappointing, still makes me sad.
Published by Penguin
Rating: 7/10
A Voice in the Night (2012/2016) translated by Stephen Sartarelli
Inspector Montalbano is turning 58 and not in the least happy about it.
From that moment on, he was going to stop taking public transportation, for fear that some young person might give him his seat upon seeing him.

Then it occurred to him that he could keep taking public transportation without any worry, since the custom of giving up one's seat to the elderly had fallen out of use.
A grocery is robbed, and then found hanging in his office. Considering the fact that the grocery was a known front for a local crime family, the man's death didn't come as much of a surprise as it was assumed he had arranged the theft himself and then regretted turning on the Cuffaros.
We get Montalbano at his most irritable (at least the fights with Livia didn't stem as much from nothing as in previous books (but I still don't understand why they're together)).
"I had it made for a normal tape recorder, since you would never be able to figure out how to use the digital kind."

"As far as that goes, I don't know how to use the normal kind either."
We get Fazio.
"So what should be done, in your opinion?"

"Uselessness should be abolished."

"Come on, Chief, that's not possible."

"Why not?"

"Because uselessness is an integral part of man."
And of course Catarella.
"Cat, what's this, in your opinion?"

Catarella didn't hesitate for a second. "Chief, 'at'd be a didgytel recorder."

"Meaning?"

"Meanin' iss a mottified impy tree."

"And what's a modified impy tree?"

"Iss a mottified impy tree, Chief."
And random bits of Montalbello being himself.
"An accountant!" he howled, leaping to his feet with eyes bulging.

Fazio just looked at him, a furrow appearing in the middle of his brow.

Mimì made light of the situation.

"Calm down, Salvo! What's wrong with you? Accountants aren't some sort of endangered species.
I really do love this series, though I know the number of books left are limited, since Andrea Camilleri is now in his 90s. But I'll enjoy what is left, and for once be glad of the delay between publication and translation.
Published by Penguin
Rating: 8/10
Montalbano's First Case and Other Stories (2008 except where noted / 2016) translated by Stephen Sartarelli
"Montalbano's First Case" is just that–his first case in Vigàta. He comes to visit, and witnesses a crime and agrees (insists!) upon being a witness. It seems a small thing, but is his introduction to the city and the many characters with whom he will deal in the following years.
There was one man, a little older than Montalbano, whom the inspector immediately took a liking to, Sergeant Fazio.
But never fear…
"(T)he father, Gerlando Monaco, son of Giacomo Gerlando and Elvira La Stella, was born in Vigàta on—"

"Excuse me, Fazio," Montalbano interrupted him, "but why are you telling me these things?"

"What things?" Fazio asked, looking perplexed.

"The father, the mother, and all the rest . . . What the hell do I care about them? I asked you to see if Rosanna's father had a criminal record and to find out what people said about him around town. Nothing more."

"He's got a clean record," Fazio replied stiffly, putting the piece of paper back in his pocket.
And the food.
He couldn't very well go the whole day without eating just because the problem of Rosanna was gnawing at him. At the Trattoria San Calogero, he scarfed down some fifteen different seafood antipasti for starters, but they were so light and delicate that they seemed to enter his mouth without notice. How could he resist, especially considering he hadn't eaten anything at midday?
"Fifty Pairs of Hobnailed Boots" is story set earlier in Montalbano's career, and I quite enjoyed it.
This story is far more about the peasant than about Montalbano, although it is also a lesson to Montalbano about the people and the area to which he is assigned.
"And then there's the matter of the hobnailed boots. Like the ones you're wearing right now."

Gaetano looked at his boots as if he were seeing them for the first time. "I've been wearing these for the past five years," he said. "They're solid shoes, good shoes. They say the ones the army gave our soldiers in Russia during the last war had soles made of cardboard. Well, these have leather soles, no doubt about it. In the years my father had remaining after he took them from the warehouse, he wore out only one pair. He was wearing them when he died in the field, turning the soil. And when I dressed him for the funeral, I gave him a new pair. That left me with forty-eight."
"Neck and Neck" brings in Dr. Pasquano.
"Did you know that three of them were from the same gang, and only one from the enemy gang?"

"No, I didn't. And I should add that I absolutely do not give a shit. Political leanings, religious beliefs, professional affiliations are not yet considered things to look for during an autopsy."
The story is about the two area Mafia families, and the crimes and murderers that were common at the time.
Dress Rehearsal is a very interesting story, and although short, one of my favorites in this collection.
Amore perhaps shows why Montalbano has such a jaded view of love. Even parental love.
A month after Saverio Moscato's return, Michela's mother came in to see Inspector Salvo Montalbano of Vigàta Police. But it wasn't maternal concerns that had brought her there.

"My daughter Michela missed the monthly payment she usually gives me."
"The Artist's Touch" (1998) is possibly the best mystery of the collection. A wheelchair bound artist is found dead in his home, in what looks like an elaborate suicide attempt, and although it's not Montalbano's case, he knew the artist and so takes an interest in the strange case.
"Montalbano's Rice Fritters" is as much about Adelina and her family as about Montalbano's love of food. It was not a favorite.
"The Pact" is a short story where the cause of the murder is deep in the past. It's an interesting look at the foolishness of vendettas and the way family hatreds went forward into the future.
"Mortally Wounded" is another story I didn't like. I disliked how the female character was portrayed, and that tainted the whole story for me.
"Catarella Solves a Case" (1999)
Ah, Catarella.
"Hullo, Chief? Izzatchoo poissonally in poisson?"

"Yeah, Cat."

"What wuz ya doin', Chief, sleepin'?"

"Until a moment ago, yes, I was sleeping."

"An' now y'ain't sleepin' no mores?"

"No, I'm not sleeping anymore, Cat."

"Ah, good."

"Why is that good, Cat?"

"Cuzzit means I dint wake yiz up, Chief."

Either shoot him in the face at the first opportunity, or pretend it's nothing.
But Cat really does solve the case.
"Being Here . . ." is a very sad story, and another of my favorites.
All things considered, this is where I spent the best years of my life— the best, yes, only because I wasn't yet acquainted with grief. Which is saying a lot.
"Seven Mondays" is another story I didn't particularly like, because although the criminal part didn't seem unreasonable, Montalbano's actions towards the end of the story seemed–highly unlikely.
Which is too bad, because I liked the mentions of Isaac Luria.
"Judicial Review" I swear I read this story before. This is another of my favorite stories. I shan't say anything else, since the story really needs to be read without any preconceptions.
"Pessoa Maintains" is another depressing story, although good one.
It made Montalbano angry whenever television reporters used the word execute to mean murder. And he also got upset with his men when they did the same. But this time he let it slide. If Fazio had let it slip out, it was because he'd been shaken by that single shot to the base of the skull, coldly fired point-blank.
I like that Montalbano is so imperative about the distinction between execution and murder.
"Montalbano Says No" I actually wonder whether this story unfolded this way as it was, or whether he got the idea about the end and built it up from there. I kinda hope it was the former.
"A Kidnapping" was an interesting story, and I'm still not sure how I feel about the premise. I'm a big fan of redemption, but I'm not sure whether there was truly redemption here.
But, there was Catarella.
"Catarella, I want you to do me a special, important favor."

"Chief, when y'ax me poissonally in poisson to do yiz a favor poissonally in poisson, yer doin' me a favor jess by axin'."

The baroque courtesies of Catarella.
"Montalbano Afraid" (2002) is another I didn't especially like, but that's mostly because I don't like Montalbano and Livia's relationship.
The whole way there, for all those hours, Livia refused to let Montalbano drive. She wouldn't listen to reason.

"Come on, let me drive. Why do you want to tire yourself out?"

"You said I wanted to drag you off to the mountains. Well, now let yourself be dragged and shut up."
"Better the Darkness" is a story about the past, jealousy, and the lengths to which hatreds can drive people.
There were of course translator notes at the end of the book, but sadly they aren't linked so you can jump to them while reading the story. But they're still lovely.
"Ibis redibis non morieris in bello": This was traditionally said to be the phrase uttered by the oracle to the soldier about to go off to war in ancient Rome. The sentence's syntax is so conceived as to create a perfect ambiguity between opposite meanings. Depending on where one inserts commas— or pauses, since Latin had no commas— the statement changes meaning. If you read it "Ibis, redibis, non morieris in bello," it means "You'll go, you'll come back, you'll not die in war"; if you read it as "Ibis, redibis non, morieris in bello," it means "You'll go, you'll not come back, you'll die in war."
I quite enjoyed this collection. I am not certain that these stories would be as enjoyable to someone who hasn't read the books, but as someone who has, I very much enjoyed seeing these glimpses of Montalbano through time.
Published by Penguin Books
Rating: 8/10
A Nest of Vipers (2013/2017) translated by Stephen Sartarelli (written in 2008)
Cosimo Barletta has been found shot in his beach house, but the murder is strange–stranger than a normal murder–and the dead man was so horrible there seem to be too many suspects to count.
"(H)ow did you explain to your father where you got the money?"

"I said I'd won a scholarship. After losing his job my dad wasn't really all there and so he didn't ask many questions. And my mother's just a poor woman who . . . Then, luckily, my father found a new job. But Barletta wanted to continue."

"How could he make you?"

"He blackmailed me."

"How?"

"He'd secretly taken photos with his cell phone as I . . . And he showed them to me and threatened to send them to my parents and boyfriend if I didn't . . . He said I had to be at his beck and call until he no longer wanted me. Over the past month I managed not to run into him. But I couldn't sleep at night, for fear he would make good on his threat."

She looked up at the inspector and said by way of conclusion:

"I would spit on his corpse if I could."
Which makes things difficult for Montalbano.
(I)t wasn't as if he was itching to dive headlong into the investigation.

Because it was one thing to send the killer of a good man to jail, and it was something else entirely to put away someone who had killed a stinking scoundrel.
Of course, we get the usual characters, which lightens things a good deal.
"Ahh, Chief, Chief! Isspecter Augello's wit' Fazio in espectancy o' yiz."

"And I'm in arrivancy."
We also see Livia visiting here, and for once, their relationship makes sense to me.
"If I tell you, will you get angry?"

"You let him seduce you among the cardboard boxes?"

"You are such a jerk! I'm not telling you anything else!"

"If you tell me I'll give you this crispy little calamari ring."

Livia laughed and continued.
That last element there is missing from so many other interactions between Salvo and Livia, to the point I never understood why they remain a couple. That helps a little.
Plus, Catarella.
"' E called juss now! An' 'e tol' me ta tell yiz 'at as soon as ya do like wha' the Madonna does . . ."

The inspector balked. "Is that what he said?"

"Nah, nat azackly, Chief, bu' sints I fuhgot wha' 'izzoner the c'mishner said azackly, I tought 'at mebbe if I mintioned the Madonna ya might figger out wha' 'izzoner the c'mishner said. Know what I mean?"

"No."
Not only does that amuse me, but the whole passage makes Catarella seem less stupid than normal.
Was this an outstanding mystery? Not really. I saw who the murderers were pretty quickly, but spending time with Montalbano is always relaxing and enjoyable, so it really doesn't matter how strong the mystery was, as long as the story was enjoyable.
Published by Penguin
Rating: 7/10
The Pyramid of Mud (2014/2018) translated by Stephen Sartarelli
Book 22 of the Inspector Montalbano series.
At the end of a Beam of Light, Montalbano receives a shock that causes him pain and apparently put Livia into a great depression. Because of the strange publishing of the Montalbano books, this was two novels ago. So I had almost forgotten why Livia was in such a dark place. Apparently I need to find the *Italian* publication order, which I already knew was not the same as the American publication order.
It has been raining seemingly forever, and everything is mud.
The previous evening the inspector had heard a scientist on television say that all of Italy was in danger of suffering a gigantic geological disaster, because it had never had a government willing to undertake any serious maintenance of the land. In short, it was as if a homeowner had never taken the trouble to repair a leaky roof or some damaged foundations, and then was surprised and complained when his house collapsed one day on top of him.

Maybe this is exactly what we deserve, Montalbano thought bitterly.
This story has what one expects from a Montalbano mystery: murder, confused telephone conversations, complicated conversations with Catarella. But it also has something new: Montalbano's concerns and worries for Livia.
She seemed to have lost all interest, forgot things, neglected her appearance, was no longer present even to herself.

Now, just hearing how different her voice sounded, Montalbano felt his heart give a tug. The world around him turned gray and a wave of melancholy swept over him.
I very much appreciated this, because in past books I have been unable to understand their relationship. It seemed as if all they did is fight–and Montalbano was not always faithful to her. I didn't understand why they were together.
Although this doesn't excuse his philandering, it does show a side to their relationship we hadn't seen before, and for once you can see why they have remained together, despite everything.
The highlight of this book, for me, was Catarella. He is always amusing, but I love how his character has evolved over the course of the series. Especially the patience Montalbano takes with Catarella that he never takes with anyone else.
"So I made a mistake?"

"You made a mistake."

Catarella turned first as red as a turkey cock and then as pale as a corpse. "Ohhh, no! A'ss terrible, terrible, jess terrible! Unfergivable! I took the chief the wrong ways!"

Forlorn and on the verge of tears, he buried his face in his hands. The inspector, to keep things from getting any worse, patted him amicably on the back.

"Come on, Cat, don't take it so hard. A minute more, a minute less, doesn't make any difference. Chin up. And now take the cell phone and have Fazio explain to you which way we should go."
Then there is this bit, which I loved.
Walking past Catarella's closet, he noticed the receptionist was busy trying to solve a crossword puzzle. His brow was furrowed and he was chewing the end of his pencil.

"Need any help?"

"Yeah, Chief. I can't tink of a woid."

"What's the definition?"

"'Together with the carabinieri, they pursue killers and thieves and maintain law and order.'"

"How many letters?"

"Six."

"Police."

"Are ya sure? I tought o' that, but then I arased it."

"Why?"

"When have us police ever woiked t'getter with the carabinieri?"
I've read enough books set in Italy to recognize the humor in that–and to appreciate Catarella's thought process as well.
I'll be honest, I found the mystery here somewhat confusing at times, possibly since part of the mystery turned on Italian construction companies, and their names. The names were explained in footnotes in the back, but since there aren't links to the footnotes within the story, I had trouble parsing all the companies and names and why things were they way they were.
Not that the footnotes are not entertaining.
(I)n common Italian parlance, bunga bunga has come to refer to the dubious nature of the former prime minister's tastes in personal entertainment.
Yet, I still enjoyed the story, mostly because I enjoy reading about Montalbano and Fazio and Catarella.
If you have not read a Montalbano story, this is not the place to start. But the series is enjoyable, and I do recommend it.
Publisher: Penguin Books
Rating: 7/10
Death at Sea: Montalbano's Early Cases (2014/2018) translated by Stephen Sartarelli
These stories are set during the 80s, when Montalbano would have been in his 30s.
Room Number 2
Double Investigation
Death at Sea
The Stolen Message
The Transaction
Standard Procedure
The Apricot
The Honest Thief
There are eight stories, and look back at a time when Montalbano was becoming the man he is in the later stories.
"But how is it this man always finds a plausible excuse?"

He answered his own question.

"Either he's someone who never strays an inch from the straight and narrow path, or else he's a great big son of a bitch, even though he doesn't seem like one."
Someone able to make leaps of intuition, and not quite the asshole he is in the later books.
We need to find out more about Cosentino."

"Already taken care of," said Fazio.

Every time Fazio said "already taken care of," which he did often, it meant he was one step ahead of him, something that made the inspector feel tremendously annoyed. But he controlled himself.
But we can see him getting there.
We also see the corruption that helped to make him the man he is in the later books.
…And, once again in accordance with standard procedure, that night, two burglars entered Prosecutor Gaetano Mistretta's office and, knowing exactly what they were looking for, made off with that file and nothing else.

Knowing, however, what was going to happen in accordance with standard procedure, Inspector Salvo Montalbano had also followed standard procedure. That is, before turning Guarnotta's letter and the three cassettes over to the DA, he'd had Catarella make him a copy of the letter as well as copies of the three tapes.

And he hid them well, in hopes of better days to come.
I enjoyed all the stories, but my favorite was the last, The Honest Thief, which shows precisely how Montalbano navigated the complex world of Sicilian crime and policing.
Publisher: Penguin Books
Rating: 8.5/10
The Overnight Kidnapper (2015/2019) translated by Stephen Sartarelli
The 23rd Inspector Montalbano book.
The joy of these stories isn't the mysteries, although they are never bad, but the time spent with Montalbano and all those around him.
Like Catarella.
"Fazio in?"

"Nah, Chief, 'e's atta scene o' the kidnappin' insomuch as the guy's o' the Flyin' Squat wannit 'im onna scene an' axed 'im to come cuz 'e knew more stuff 'n 'em, 'em meanin' the Flyin' Squat. But Isspecter Augello's 'ere onna premisses."
And Mimi.
"In your recent past as a whoremonger . . ."

"I never went to prostitutes," Augello objected.

"In your past life as a womanizer, then…
And Pasquano.
(I)n the doorway he nearly ran straight into Pasquano, who was just coming in.

The doctor bowed and stepped aside. "Please, please, don't let me prevent you from leaving. You have no idea how lovely the sight of your back is."
But especially Fazio, who (despite his records fascination) remains the solid and dependable character and in many ways the moral center of the stories.
It was hard to tell what she had looked like before. The face was so swollen that it seemed as if the killer had wanted to erase her very features. The same for her breasts and chest, which had been reduced to a formless mass of flesh.

Good thing the rest of the body was still inside the bag, because that would have been a hard sight to bear.

Fazio took several steps away, turned his back to the others, and vomited.
That passage especially struck me, for Fazio has been a cop for 20-some years, but is still hurt by the things he can see on the job.
The mystery is somewhat convoluted and ridiculous, but it hardly matters, since all I really wanted was to spend time living in Montalbano's world.
Publisher: Penguin Books
Rating: 7/10
The Other End of the Line (2016/2019) translated by Stephen Sartarelli
The 24th Inspector Montalbano book finds the Vigata police helping to deal with the influx of immigrants landing on their shores, and it's a problem for everyone.
"Why did you summon Catarella for port duty last night?"

"I had to replace someone who called in sick."

"Try not to do it again."

"Why?"

"The rest of us are used to that sort of thing. We've been forced to grow thicker skin. But Catarella's like a little kid, and he can't really fathom what's happening. And maybe he's right."
The first part of the book is spent seeing them struggle with the immigrant crisis. Camilleri pulls no punches about how he feels about this.
What was drowning in the sea was not only all those poor victims, but the better part of mankind.
The murder doesn't happen until a third of the way through the book, and it's rather surprising when it does happen. But to be honest, at this point I'm not reading the Montalbano stories for the mysteries, but for the characters and the setting and the food.
Which is good because the forensics here are not so great. Montalbano wanders all around the scene of the murder, sitting on chairs and doing other Montalbano like things. But we'll just assume that this story was set further in the past, when he could get away with things like that.
There's an utterly delightful scene where Montalbano uses a GPS for the first time, which I found hilarious.
He took the GPS and set it up on the dashboard.

"Go straight until you reach the roundabout," said the gizmo. He had to admit it, the woman's voice was pleasant. And that wasn't all. She was also extremely precise in her instructions, to the point that more than once Montalbano found himself saying:

"Thank you, Esther."
As I noted before, I'm not really reading these books for the mysteries at this point, but so that I can enjoy Montalbano and Fazio and Cat, who I will miss terribly after the last Montalbano book is translated and published.
Publisher: Penguin Books
Rating: 8/10
The Safety Net (2017/2020) translated by Stephen Sartarelli
As always, the story opens with a dream.
Head still numb with sleep, the inspector opened his eyes and immediately realized he was in bed. There was no Livia. She was at home, in Boccadasse. He'd dreamt the whole thing, including Livia's dream.
Andrea Camilleri died last summer, and although I knew there weren't that many books left, it's somehow different knowing that all the Montalbano books we will ever have, have now been written.
I admit that the previous book was just fair. It wasn't a bad book, but it was nowhere near as good as many earlier Montalbano books. This book, however, although playing a little bit on our memories of a younger Salvo, had what the previous book was missing.
First, for much of the book there is no official mystery to be resolved. Only a puzzle brought to Montalbano of home recordings, always made at the same time, on the same date, of a seemingly blank wall.
I'll admit, I guessed that part of the mystery relatively quickly, but it didn't diminish my enjoyment of the story, since it really would have been inconceivable to those wondering about it.
Never fear, there was plenty of food in this story.
The mere mention of the Baltic Sea got Montalbano's brain whirring. Were there mullet in the Baltic Sea? Were there purpiteddri, baby octopi like the kind Enzo fed him, in the Baltic Sea? And, if so, what did they taste like? Surely they must have a different flavor, since he'd already noticed, for example, that the fish from the Adriatic Sea tasted slightly different from the fish in the Tyrrhenian. So one could only imagine the difference of flavor in a fish from so far north as Kalmar.
I love that when his mind wanders, it wanders to food.
And of course we get Catarella.
"I'll notifize Isspecter Augello 'at ya just arrived onna premisses," Catarella said as Montalbano walked in.

"Does he want to talk to me?"

"Yessir."

"No need to trouble yourself. I'll notarize him myself."
And Fazio as well, but Catarella is just… Catarella.
There have always been observations on the world and life, but they became more poignant as the series has wound to a close.
But how many different kinds of protection there were in this world! There was a widespread desire to feel safe from everything: from what is known, what is unknown, from what might be but is not necessarily certain to be, from those who arrive from the sea, from those who worship a different God, or from those who worship the same God but pray in a different way. And so it was always best to play it safe. And the forms of protection proliferated.
I know there is at least one other book–the one he had written to be published after his death. But I'm not certian how many (if any) there are between this book and that.
Publisher: Penguin Books
Rating: 8/10
The Sicilian Method (2017/2020) translated by Stephen Sartarelli
There are only a few Montalbano books left.
This one was quite disappointing, considering how few books there are left.
We did have the typical banter between Montalbano and his men.
As soon as he reached the landing, Augello and Fazio popped out of the apartment across from Catalanotti's.

"Any news?" he asked them.

"Wha'd I tell you?" replied Augello. "It's like a typical residential building in Stockholm."

"There's another possibility," said the inspector. "That everybody knows everything, but nobody wants to tell us."

"Well, that would change things, and in that case we would be dealing with a typical residential building in Sicily," said Fazio by way of conclusion.
Commentary on Italy and the world in general.
As if by instinct, the man crossed his arms over his face in a gesture of self-protection.

"Ahhh! You gonna keep beating up on me, eh?" he cried desperately. "I'm out of a job and you wanna bust my chops, too?! Who's gonna feed my three kids?"

Montalbano turned on his heels, went into his office, and locked himself inside. He was disgusted with himself, and with his chosen profession. Disgusted with the carabinieri, with law enforcement, with the government. Disgusted with the world, with the very order of the universe.
And lots of lovely food.
Adelina had prepared a timballo di maccheroni in crosta. It was exactly like the one described in Lampedusa's The Leopard: a timballo fit for a prince!
But the mystery was rather confusing and extra bizarre, and Montalbano is back again to being a womanizer. I've never liked Montalbano's relationship with Livia. It felt like all the ever really do was argue and right. But where things went here? Just felt wrong.
So: a let down.
Publisher : Penguin Books
Rating: 6/10
The Cook of the Halcyon (2019/2021) translated by Stephen Sartarelli
A factory clothing leads to protests, and the owner doesn't seem to be suffering any losses, what with all the fancy cars and fancy women in his life.
And then the Commissioner seems to be gunning to get Montalbano out of the force.
This book–especially since it's one of the last–was a disappointment. The author's note says the main plot had been created for a movie that fell through, so he reused the plot for Montalbano.
Unfortunately, it really didn't work for me.
That's not to say it was all bad. There were plenty of little bits that I always love seeing.
"Chief, I'm just so upset. I can't stand looking at the poor bastard."

"Then go outside. What are you doing in here, anyway?"

"No, sir, I'm gonna stay here."

"Why?"

"Since his mates aren't allowed to come in, I don't want to leave him all alone."
There was also a scene that showed the relationship between Salvo and Livia in a better light than we normally get.
They tossed and turned in bed for about an hour, then, little by little, fell asleep. And their two bodies— which knew each other well and had no reason whatsoever to quarrel, and indeed liked each other and over time had grown increasingly fond of each other— slowly came closer and closer until, at the first light of dawn, they were stuck together.
He closed his eyes. He had made a decision.

He would arrange things so that this story would never be his. He would disown it, erase it forever from his memory.
That's kinda how I feel about this story.
Publisher: Penguin Books
Rating: 6/10
Riccardino (2020/2021) translated by Stephen Sartarelli
Andrea Camilleri died in 2019. He had written this book and sent it to his editor, to be published after his death.
This is the final novel with Inspector Montalbano as its protagonist. I first started writing it in July 2004 and finished it in August 2005. I will not write any more in the series. I regret this, but at eighty years of age, one cannot avoid the fact that many, too many things must come to an end. … Then, in November 2016, after turning ninety-one and feeling surprised at still being alive and still wanting to keep writing, I thought it might be a good idea to "adjust" the story of Riccardino. I've lost my eyesight and therefore had no choice but to ask my friend Valentina to read it to me aloud. As I was listening I became surprised at my own words. I no longer remembered the story, which I found good and unfortunately still relevant. And in fact I changed nothing in the plot. But I did find it necessary to bring the language up to date.
This book is unlike any other Montalbano story.
For one, Camilleri inserts himself into the story.
Montalbano suddenly felt extremely agitated. Some years back he'd had the brilliant idea to tell a local writer the story of a case he'd conducted, and the guy had immediately spun it into a novel. Since hardly anyone reads anymore in Italy, nothing came of it. And so, being unable to say no to that tremendous pain-in-the-ass of a man, he'd gone ahead and told him about a second case, and then a third and a fourth, which the author then wrote up in his way, using an invented language and working from his imagination.
He doesn't just break the third wall in this story, he demolishes it and then dances on the rubble.
Of course, we get all our favorite characters and Montalbano tropes.
The door crashed hard against the wall, a bit of plaster fell to the floor, the inspector leapt to his feet, and Catarella begged his pardon, saying his hand had slipped. The usual ritual, in other words.
Fazio, feeling denied the pleasure of reciting all of Milioto's personal particulars from the get-go, leapt up from his chair as if bitten by a tarantula.
It is a romp, and the bits where Montalbano and Camilleri talk are delightful.
You put up a good fight, Inspector. But let's end it right here. I can't show off too much erudition, since I'm considered a genre writer.
I need to think a bit more about the ending, and how I feel about it, but overall I found it quite satisfying. I'm sad there will be no more books, but happy we were left with this story to close the series.
Publisher: Penguin Books
Rating: 8/10