Books: Mystery | Historical
Miss Marple: The Murder at the Vicarage (1930), The Body in the Library (1942), The Moving Finger (1943), Thirteen Problems (1932), A Murder Is Announced (1950), They Do It With Mirrors (1952), A Pocket Full of Rye (1953), 4.50 from Paddington (1957), The Mirror Crack'd from Side to Side (1962), A Caribbean Mystery (1964), At Bertram's Hotel (1966), Nemesis (1971), Sleeping Murder (1976), Miss Marple: The Complete Short Stories (2013)
Superintendent Battle: The Secret of Chimneys (1925), The Seven Dials Mystery (1929), Murder is Easy (1939), Towards Zero (1944)
Tommy & Tuppence: The Secret Adversary (1922), Partners in Crime (1929), N or M? (1941), By the Pricking of My Thumbs (1968)
Parker Pyne Investigates: A Short Story Collection (1934)
Following Sir Arthur Conan Doyle's Sherlock Holmes mysteries, Agatha Christie was the first "grown-up" mystery I read as a kid.
Miss Marple
The Murder at the Vicarage (1930)
It's been years since I've read an Agatha Christie, but she's always been on of my favorites, and so I decided it was the perfect thing to read while I'm sick and feeling somewhat miserable.
This is the first Miss Marple mystery, and is told from the point of view of the Vicar.
Colonel Protheroe is rather a horrible man, doing his best to make everyone around him miserable, including his wife and daughter, so when his body is discovered in the study at the Vicarage, suspects abound.
The copyright is 1930, so the setting is between the Great War and the buildup to WWII. But I think what makes her so good is that it really could have been set at any time in the early to mid 20th century.
Of course, there are a few giveaways–the telephone operators and the existence of handguns leftover from the war being something you wouldn't find in modern England. But to me, those things simply add to the charm of the story.
And it is charming. One of the things I'd forgotten is how subtly humorous these stories can be. Take this description of Miss Marple:
Miss Marple is a white-haird old lady with a gentle, appealing manner–Miss Wetherby is a mixture of vinegar and gush. Of the two Miss Marple is much the more dangerous.
and the definitive description of Miss Marple:
There is no detective in England equal to a spinster lady of uncertain age with plenty of time on her hands.
But I'm also fond of the Vicar's frustration with the sheer volume of busy-bodies in Mary Meade:
'It is a mystery to me,' I said, 'how anyone ever gets any nourishment in this place. They must eat their meals standing up by the window so as to be sure of not missing anything.
All of this makes me wonder why it's been so long since I've reread these stories.
Published by William Morrow
Rating: 8/10
Reread: May 2020 | Rating: 7.5/10
Reread: October 2022 | Rating: 7.5/10
The Body in the Library (1942)
Colonel and Mrs. Bantry are quite shocked to discover a body in their library–a very young blonde body. The Colonel calls the police, but Mrs. Bantry knows better, and calls Miss Marple.
Again, like Murder at the Vicarage, I noticed that much of the story seemed timeless.
…(T)he old man found it much pleasanter to have a young, cheerful girl telling him how clever and amusing he was than to have his sister continually pointing out his faults to him.
'No, I woudln't. I wouldn't tell a soul.'

'People who use that phrase are always the last to live up to it.'
And I've always remembered this bit about marriage.
'…(It) has been said, you know (and, I think, quite truly), that you can only really get under anybody's skin if you are married to them. When there is no — no legal bond, people are much more careful, they have to keep assuring themselves how happy and halcyon everything is.
I'm not sure if, in this age of divorce, this is quite as true as it used to be, but it's always stuck with me.
Unlike the first Miss Marple story, this isn't told in the first person, but we do know that Miss Marple is going to solve the mystery.
Published by William Morrow
Rating: 8/10
Reread: May 2020 | Rating: 8/10
Reread: October 2022 | Rating: 8/10
The Moving Finger (1943)
Jerry Burton and his sister Joanna have rented a house in Lymstock, on doctor's orders, in the hopes that time in the country will make Jerry's recover from his serious injury easier.
Sadly, the quite stay in the country is spoiled by a series of poison pen letters sent to Jerry and everyone in the village.
…(S)omebody wanted to hurt. To take it with a laugh was perhaps the best way–but deep down, it wasn't funny…
On the other hand, his interest in the letters keeps him from thinking about his injury and slow recovery.
It's interesting that although the copyright is 1943, there's no particular mention of WWII. I suppose that people wanted to forget the war while it was going on.
And again, I'll note that the despite being written 70 years ago, so much of the dialog is timeless.
'Don't you think you're being rather morbid?' I asked.

'Yes,' said Megan. 'That's what people always say when you're saying the truth.'
'God doesn't really need to punish us, Miss Barton. We're so very busy punishing ourselves.'
I'm thoroughly enjoying Rereading these books, and may well read them all before this damned cold is through with me.
Published by HarperCollins
Rating: 8/10
Reread: May 2020 | Rating: 7.5/10
Reread: October 2022 | Rating: 8.5/10
Thirteen Problems (1932)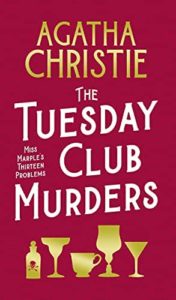 The Tuesday Night Club (1927)
The Idol House of Astarte (1928)
Ingots of Gold (1928)
The Blood-Stained Pavement (1928)
Motive versus Opportunity (1928)
The Thumb Mark of St. Peter (1928)
The Blue Geranium (1929)
A Christmas Tragedy (1930)
The Companion (1930)
The Herb of Death (1930)
The Four Suspects (1930)
The Affair at the Bungalow (1930)
Death by Drowning (1931)
'(S)o many people seem to me not to be either bad or good, but simply, you know, very silly.'
"'Well—' he laughed uncomfortably. 'You don't believe in that sort of thing, do you? You, a parson.'

'I am not sure that as a parson I ought not to believe in it.'"
"Now, as I expect you know, there is nothing more cruel than talk, and there is nothing more difficult to combat. When people say things behind your back there is nothing you can refute or deny, and the rumours go on growing and growing, and no one can stop them.
"Do you think, Dolly," said Colonel Bantry plaintively, "that I might be allowed to go on with my story?"

"Arthur," said Mrs. Bantry resignedly, "wants to get back to his ghosts."
Rating: 8.5/10
A Murder Is Announced (1950) 
Next up on my Miss Marple reading binge was A Murder is Announced.
The residents of Chipping Cleghorn are startled when their weekly paper has a strange personal announcement: 'A murder is announced and will take place on Friday October 29th, at Little Paddocks at 6:30 p.m.' And thus, the mystery begins.
This one I vaguely remembered, so it was fun seeing the clues dropped here and there. But of course I also loved the bits and pieces of life in an English village after WWII. I knew there were (in the US as well) all kinds of shortages during the war, but I hadn't thought about those shortages continuing after the war.
"I suppose there was once heaps of coke and coal for everybody?" said Julia with the interest of one hearing about an unknown country.

"Yes, and cheap, too."

"And anyone could go and buy as much as they wanted, without filling in anything, and there wasn't any shortage? There was lots of it there?"

"All kinds and qualities–and not all stones and slates like what we get nowadays."

"It must have been a wonderful world," said Julia, with awe in her voice.
I think that passage there makes it quite clear what things were like. Almost as strange to consider from this point in history as the abundance was to those in the 40s and 50s.
Of course, this seems just as alien:
… They were people whose fathers and mothers and grandfathers and grandmothers, or whose aunts and uncles, had lived there before them. If somebody new came to live there, they brought letters of introduction, or they'd been in the same regiment or served in the same ship as someone there already. If anybody new–really a stranger–came, well, they stuck out–everybody wondered about them and didn't rest until they found out.
Not the nosiness, but the small, close neighborhoods. How things change.
And I loved this description of Miss Marple's handwriting:
"Writes just like my old grandmother," he complained. "Spikey. Like a spider in the ink bottle, and all underlined.
Of course, with my grandmother, it was The Palmer Method, but still, it seems like there's something about little old lady handwriting.
Published by William Morrow
Rating: 8.5/10
Reread: May 2020 | Rating: 7.5/10
Reread: November 2022 | Rating: 8.5/10
They Do It With Mirrors (1952)
When asked by an old school friend, Miss Marple visits Stoneygates to check that everything is fine with her friend Carrie Louise.
"Me?" exclaimed Miss Marple. "Why me?"

"Because you've got a nose for that sort of thing. You always had. You've always been a sweet innocent looking creature, Jane, and all the time underneath nothing has ever surprised you, you always believe the worst."
So off she goes, to visit a friend she hadn't seen in decades.
(W)hen one lives in the same country there is no need to arrange meetings with old friends. One assumes that, sooner or later, one will see them without contrivance. Only, if you move in different spheres, that does not happen.
What is different about this story from earlier ones is that Miss Marple is dealing with her contemporaries rather than nieces and nephews and godchildren.
"They all fuss about me so," she said. "They rub it in that I'm an old woman."

"And you don't feel like one."

"No, I don't, Jane. In spite of all my aches and pains— and I've got plenty. Inside I go on feeling just a chit like Gina. Perhaps everyone does. The glass shows them how old they are and they just don't believe it. It seems only a few months ago that we were at Florence.
This isn't one of my favorites–never has been. It's not that there's anything particularly wrong, it's just not as good as some of the other stories.
Publisher: William Morrow Paperbacks
Rating: 7/10
Reread: May 2020 | Rating: 7.5/10
Reread: November 2022 | Rating: 7/10
A Pocket Full of Rye (1953)
Rex Fortescue dies in his office, immediately after drinking his morning tea. Besides the strange poison used to kill me, police are confused by the fact he coat is full of cereal–rye.
Miss Marple doesn't make her appearance until almost halfway through the story, but Inspector Neele is good enough on his own that waiting for her is a pleasant anticipation.
As always, there are the little bits that amuse me so much about Agatha Christie stories. Bits that sound like real people, and hardly seem dated at all.
"I gather you don't think it was a natural death," he said dryly.

"Not a dog's chance of it," said Dr. Bernsdorff robustly. "I'm speaking unofficially, of course," he added with belated caution.
Aside from "not a dog's chance of it" that passage wouldn't feel out of date in a modern mystery.
And there's this bit that's a foretelling of later stories:
Inspector Neele gave a sudden, rather unexpected smile. He was thinking to himself that Miss Marple was very unlike the popular idea of an avenging fury And yet, he thought that was perhaps exactly what she was.
Nemesis. :)
A lovely reread, as always.
Published by William Morrow Paperbacks
Rating: 7/10
Reread: May 2020 | Rating: 8/10
Reread: November 2022 | Rating 8/10
4.50 from Paddington (1957)
Mrs. Elspeth McGillicuddy is taking the train from London to visit her friend Miss Marple, when she looks into the windows of a passing train and sees a woman being throttled–she alerts the conductor, the station master, and the local police, but–strangely–no body is discovered. Her curiosity piqued, Miss Marple decides to see if she can find the body, but needs someone young and able to do the actual searching. Thus, Lucy Eyelesbarrow ends up at Rutherford Hall, while Miss Marple is ensconced with Faithful Florence.
"…(W)e can go into that after you've found the body."

"You seem to assume quite confidently that I shall find it," said Lucy. "I don't feel nearly so optimistic."

"I'm sure you will succeed, my dear Lucy. You are such an efficient person."
And efficient she is.
I really enjoy every part of this story, but I think my favorite characters are the two boys, Alexander and James.
The two boys arrived on the following morning. They both had well-brushed hair, suspiciously angelic faces, and perfect manners.
It's the suspiciously angelic faces bit I adore.
"We've been hunting for days. In the bushes–"

"And inside hollow trees–"

"And we went all through the ash bins–"

"There were some jolly interesting things there, as a matter of fact–"
and this…
"…I rather wish we weren't leaving here. Another body might turn up."

"I sincerely hope not."

"Well, it often does in books. I mean somebody whose seen something or heard something gets done in, too. It might be you," he added, unrolling a second chocolate bar.

"Thank you!"

"I don't want it to be you," Alexander assured her. "I like you very much, and so does Stodders. We think you're out of this world as a cook. Absolutely lovely grub. You're very sensible too."
I think that if you keep in mind when this book was written, it sounds very much like two boys who are excited about the discovery of a body, while being completely oblivious to the fact it meant someone had to die.
But of course, there were other bits too.
"He didn't like those questions — didn't like them at all. Put out, he was."

"If you have not committed a murder, it naturally annoys you if it seems someone thinks that you have," said Inspector Craddock mildly.
One of the things I love about Agatha Christie's Miss Marple stories is the reminder that the justice system my say innocent until proven guilty, but in the court of public opinion, the opposite is usually true.
Published by Signet
Rating: 9/10
Reread: June 2020 | Rating: 9.5/10
Reread: November 2022 | Rating 9/10
The Mirror Crack'd from Side to Side (1962) 
This is probably the Miss Marple mystery that has embedded itself most firmly in my mind. There are so very many thing from here that randomly pop up.
Out flew the web and floated wide;  The mirror crack'd from side to side;  'The curse is come upon me!' cried  The Lady of Shalott.
Miss Marple is forbidden to garden, and the woman who has come to stay with her, Miss Knight, is very kind, but also overbearing. Dr Haydock prescribes a mystery to make her feel better, and lo and behold, a famous movie star (Marina Gregg) and her husband (Jason Rudd) move to St. Mary Mead in Gossington Hall, once the home of Mrs Bantry (and the location of The Body in the Library)
And of course there is a murder, because this is, after all, a murder mystery.
But of course there are also lots of bits and pieces I love.
"Such a lot of husbands they all have," said Miss Marple. "It must really be quite tiring."

"It wouldn't suit me" said Mrs Bantry. "After you've fallen in love with a man and married him and got used to his ways and settled down comfortably–to go and throw it all up and start again! It seems to me madness!"
and this:
He gave it his highest praise: "Ah, there'll be a lot of wickedness here, I don't doubt. Naked men and women drinking and smoking what they call in the papers them reefers. There'll br all that I expect. Ah, yes," said Mr. Sampson with enormous pleasure, "there'll be a lot of wickedness."
Tell me you haven't heard that before.
"…Just a little, you know–" she tapped her forehead–"wanders sometimes. Ad her memory's bad. Can't recognixe her relations always and tells them to go away."

"That might be shrewedness really," said Miss Marple, "rather than loss of memory."
Don't see how that has changed at all…
And one of my favorites:
And that's where the element of puzzle has come into the matter, owing to the fact that people cannot remember to use their pronouns properly.
Sadly, that hasn't changed either.
Was this as good as I remember? It's hard to say, because I was enjoying my memory of it so much.
Published by William Morrow Paperbacks
Rating: 7/10
Reread: June 2020 | Rating: 8.5/10
Reread: November 2022 | Rating: 9/10
A Caribbean Mystery (1964)
This has always been my favorite Miss Marple mystery, probably because I got to watch part of it on TV, with Jameson Parker as Tim Kendal, which is important, because I was a HUGE Simon & Simon fan. (And I just now realized that Brock Peters played Dr. Graham!)
Ah, what fond memories…
OK. I'm back. I almost got sucked into IMDB, but managed my saving roll.
A Caribbean Mystery finds Miss Marple in the Caribbean, where her nephew Raymond has sent her to help her recover from pneumonia. The story opens with her only half listening to Major Palgrave ("An elderly man who needed a listener so that he could, in memory, relive days in which he had been happy") when he starts to tell her a story of a murderer–a man who most likely go away with murdering at least two wives–and thus the stage is set for the upcoming murders.
Except, of course, that the first death is that of Major Palgrave.
But what I love most about these stories is their sense of timelessness. So much of what she wrote could be set in current time, and one would hardly notice a difference.
I've always remembered this bit, and tried to use it as a guide.
"Nothing special you want, is there?" he asked. "Because you've only got to tell me–and I could get it specially cooked for you. Hotel food, and semi-tropical at that, isn't quite what you're used to at home, I expect?"

Miss Marple smiled and said that that was one of the pleasures of coming abroad…She picked up her spoon and began to eat her passion fruit sundae with cheerful appreciation.
Why go somewhere new, only to eat what you always eat?
And I love this bit as well:
He greeted Miss Marple pleasantly and asked her what the trouble was. Fortunately at Miss Marple's age, there was always some ailment that could be discussed with slight exaggerations on the patient's part.  …  Miss Marple had been brought up to have a proper regard for the truth and was indeed by nature a very truthful person. but on certain occasions, when she considered it her duty to do so, she could tell lives with a really astonishing verisimilitude.
And Miss Marple's thoughts on murderers:
"As far as I can make out," said Miss Marple, "and from what I have heard and read, a man who does a wicked thing like this and gets away with it the first time, is, alas, encouraged. He thinks it's easy, he thinks he's clever. And so he repeats it.
Alas, I'm slowly reaching the end of the Miss Marple stories, and I'll be sorry when I've finished them all. It's not that I don't appreciate the rest of Agatha Christie's writing, it's just that I'm so very fond of Miss Marple.
Published by William Morrow Paperbacks
Rating: 8.5/10
Reread: June 2020 | Rating: 8.5/10
Reread: December 2022 | Rating: 9/10 
At Bertram's Hotel (1966)
Several years ago when I had the flu I started to Reread the Miss Marple mysteries (which I hadn't done in a couple decades). I read through all my favorites, then stopped once I felt better. Since I've been reading books set in the time of her later mysteries, I decided to go back and pick up where I left off.
This isn't one of my favorite Miss Marple mysteries, possibly because there is less Miss Marple than usual.
Miss Marple is sent to London for a week's vacation at Bertram's Hotel by her nephew and niece.
"It's a question of atmosphere… Strangers coming to this country (Americans, in particular, because they are the ones who have the money) have their own rather queer ideas of what England is like. I'm not talking, you understand, of the rich business tycoons who are always crossing the Atlantic. They usually go to the Savoy or the Dorchester. They want modern décor, American food, all the things that will make them feel at home. But there are a lot of people who come abroad at rare intervals and who expect this country to be— well, I won't go back as far as Dickens, but they've read Cranford and Henry James, and they don't want to find this country just the same as their own! So they go back home afterwards and say: 'There's a wonderful place in London; Bertram's Hotel, it's called. It's just like stepping back a hundred years. It just is old England! And the people who stay there! People you'd never come across anywhere else. Wonderful old Duchesses. They serve all the old English dishes, there's a marvellous old-fashioned beefsteak pudding! You've never tasted anything like it; and great sirloins of beef and saddles of mutton, and an old-fashioned English tea and a wonderful English breakfast. And of course all the usual things as well. And it's wonderfully comfortable. And warm. Great log fires.'"
There are strange goings-on at the hotel, and Miss Marple notes the strangeness but can't quite put her finger on it.
I do love Miss Marple, even if this isn't one of my favorite books.
It does have some lovely bits.
I learned (what I suppose I really knew already) that one can never go back, that one should not ever try to go back— that the essence of life is going forward.
Publisher: William Morrow Paperbacks
Rating: 7/10
Reread: February 2021 | Rating: 6/10
Miss Marple: The Complete Short Stories (1985) Agatha Christie (Miss Marple)
These stories were published between 1927 and 1957.
"(S)o many people seem to me not to be either bad or good, but simply, you know, very silly."
The Thirteen Problems (previously published as The Tuesday Club Murders) (1932)
The Tuesday Night Club (1927)
The Idol House of Astarte (1928)
Ingots of Gold (1928)
The Blood-Stained Pavement (1928)
Motive versus Opportunity (1928)
The Thumb Mark of St. Peter (1928)
The Blue Geranium (1929)
A Christmas Tragedy (1930)
The Companion (1930)
The Herb of Death (1930)
The Four Suspects (1930)
The Affair at the Bungalow (1930)
Death by Drowning (1931)

The Regatta Mystery and Other Stories (1939)

"Miss Marple Tells a Story"
"The Dream" (1937)
"In a Glass Darkly" (1934)

Three Blind Mice and Other Stories (1950)

Strange Jest (1944)
The Tape-Measure Murder (1942)
The Case of the Perfect Maid (1942)
The Case of the Caretaker (1942)

Double Sin and Other Stories (1961)

Sanctuary (1954)
Greenshaw's Folly (1957)
 Miss Marple has always felt timeless to me, which is why it is a surprise to discover that many of the short stories were published between the two world wars and several during the second world war. Perhaps that is what made them so popular at a time when people were dealing with war and upheaval–they were outside of that.
What my nephew calls 'superfluous women' have a lot of time on their hands, and their chief interest is usually people. And so, you see, they get to be what one might call experts.
And there's something so banal and almost calming about being scolded by an elderly relative.
"What is your opinion?"

"You wouldn't like my opinion, dear. Young people never do, I notice. It is better to say nothing."

"Nonsense, Aunt Jane; out with it."

"Well, dear Raymond," said Miss Marple, laying down her knitting and looking across at her nephew. "I do think you should be more careful how you choose your friends.
The last stories published are probably the weakest, and some have theorized that the books and stories he wrote at the end of her life show early signs of Agatha Christie's dementia. But the early stories are marvelous.
"Now, as I expect you know, there is nothing more cruel than talk, and there is nothing more difficult to combat."
There is just something so calming and reassuring about Miss Marple, and she's the perfect reading for right now.
Publisher: William Morrow Paperbacks
Rating: 10/10
Reread: May 2020 | Rating: 9/10
Reread: November 2022 | Rating 8/10
Superintendent Battle
The Secret of Chimneys (1925)
Honestly, I have absolutely no memory of this book.
I read only a handful of the Poirot books, and I remember some of the Tommy & Tuppence books, but this? And Superintendent Battle? The only thing that was familiar was the title (and I actually thought it was a Tommy & Tuppence story).
Anthony Cade is some kind of scoundrel.
"Why does he call you Joe, then?"

"Oh, just because it isn't my name."

"And why Gentleman Joe?"

"The same kind of reason."
He ends up taking a handwritten memoir and a packet of letters to England for a friend, who is off the check a claim to a gold mine and doesn't have the time to do so himself, despite there being a thousand dollars for whoever hands in the memoir.
Only, it seems people are willing to cheat and kill for the memoir, and the letters don't seem to be precisely what they seem at first glance.
Oddly, I found parts of the story rather prescient:
It is most important that the oil concessions should be granted to a British company. You must see that?"
"I get you," said Anthony. "Michael was backed by England, Nicholas by America. In both countries a group of financiers are anxious to obtain the oil concessions.
This is thirty-some years before the Iranian coup, yet you can see the lengths the governments are willing to go for control over those oil fields.
But let's get something important out of the way: holy cats there is a ton of casual racism on this story. I've recently reread all the early Miss Marple mysteries so this was unexpected. So beware of that.
Second, I was surprised by some of the turns of phrase.
"I get you," said Mr. Fish.
"I get you," said Anthony. "Michael was backed by England, Nicholas by America. In both countries a group of financiers are anxious to obtain the oil concessions.
I did not think that phrase hearkened back to before WWII.
Secondly, this was a bit of a surprise.
Mr. Eversleigh recovered his dignity. "You don't understand at all, Virginia," he said severely. "Men—"

"Are polygamous! I know they are. Sometimes I have a shrewd suspicion that I am polyandrous."
And lastly, from a modern standpoint, this was amusing.
And whatever you may imagine from reading detective stories, doctors aren't such magicians that they can tell you exactly how many hours a man has been dead.
As far as the mystery, I have a suspicion I must have read this at some point, since I was pretty certain in my mind about some details. But parts of the story felt a bit all over the place at times. But that's possibly because Anthony Cade never quite felt reliable.
So interesting, but certainly not a comfort read like the Miss Marple stories.
Publisher: Open Road Media
Rating: 6/10 
The Seven Dials Mystery (1929)
As threatened at the end of The Chimneys Lord Caterham has let Chimneys to those who would like to stay there. While Sir Oswald and Lady Coote were there, one of their visitors, Gerald Wade, died unexpectedly, at the same time the other young visitors were playing a prank.
Although ruled as an accidental death, several people don't believe he took and overdose of a sleeping draught, so when another young man dies, Bundle, Bill Eversleigh and others look into the crime.
I must have read this previously, because random details seemed familiar, but I remembered very little about it.
It was random details that struck me as familiar.
Instead she smiled kindly, leaned her ample chest well forward over the table, and gazed firmly into Gerald Wade's hand where he sat on her right.
This was another book I had difficulty placing in time.
"How old were you when the war was on?" he asked unexpectedly.

"Nine— no, eight."

"And Gerry, I suppose, was about twenty. Most lads of twenty fought in the war. Gerry didn't."

"No," said Loraine, after thinking a minute or two. "No, Gerry wasn't a soldier. I don't know why."

"I can tell you why," said Jimmy. "Or at least I can make a very shrewd guess. He was out of England from 1915 to 1918. I've taken the trouble to find that out. And nobody seems to know exactly where he was. I think he was in Germany."
This was the final year of the Roaring 20s, but there wasn't much sign of the desperate fun that seemed to signify the start of the era, following the end of the Great War.
Yet there are bits that feel rather Victorian.
An unfortunate love affair, in Lady Caterham's opinion, was so often highly beneficial to young girls. It made them take life seriously.
I'm not quite sure how I feel about this story. As I said, I have vague remembrances, so I'm not sure how that colored how I felt about it. Mostly I found the resolution a little annoying.
Publisher: William Morrow
Rating: 7/10
Murder is Easy (1939)
Luke Fitzwilliam has retired and is headed back to England from the Mayang Straits, wondering what he's doing to do with himself.
An odd exchange about murder with an old woman on a train had been easily dismissed.
what was I saying? Oh, yes, somebody said that there was a look— a special look that he gave anyone— and then very shortly afterwards that person would be taken ill.
Until he reads she was killed almost immediately after getting off the train car they shared.
Curiosity sends Luke to Wychwood, where he poses as the cousin of a local woman to see if there might be any truth that the spate of deaths were, in fact, murders.
This book was published in 1939, which gives us bits like this.
She wore no hat, and there was no net on her hair.
Although this isn't a Miss Marple story, there are always the little bits I adore.
"Ah," said Mrs. Pierce. "I'm never one to gossip." This was unexpected but promising.

Luke pricked up his ears and waited.
Though my favorites are the ones that could easily be heard today.
"It's always cheering," said Luke, "to hear someone speak well of the marriage state. Especially in these days of easy divorce."

"Pah!" said the major. "Young people make me sick. No stamina— no endurance. They can't stand anything. No fortitude!"
I do think nowadays there is so much waste— and nobody saves or thinks of the future.
PLUS we get the forerunner of the McMansion.
"Yes, they tried to put it over on me here! Carry out the original spirit of the building. No, I said, I'm going to live in the place, and I want something to show for my money! When one architect wouldn't do what I wanted I sacked him and got another."
This is another I don't particularly remember reading, even though I must have at some point.
Publisher: William Morrow
Rating: 7/10
Towards Zero (1944)
This one I remembered bits and pieces of.
"It may be just by being somewhere— not doing anything— just by being at a certain place at a certain time— oh, I can't say what I mean, but you might just— just walk along a street some day and just by doing that accomplish something terribly important— perhaps even without knowing what it was."
She was like a child who, by a tightly clenched hand over a treasure— calls attention to what it wants to hide.
"I always hoped that when my time came, it would come quickly— that I should meet Death face to face— not feel him creeping along behind me, always at my shoulder— gradually forcing me to sink to one indignity after another of illness. Increased helplessness— increasing dependence on other people!"
On the lift in front of them hung a notice:

LIFT OUT OF ORDER
A lot of injudicious things were said at times like these, as he well knew. The unfortunate part was that they were usually remembered most inconveniently afterwards.
But other parts of the story obviously didn't stick at all.
And considering that John MacEnroe was in his prime when I was growing up, I found this hilarious.
"Nevile, blast him, is always the complete good sportsman. I've never seen him lose his temper over losing a match."

"Of course not," said Kay. "People don't."

"Oh yes, they do! We've all seen them. Tennis stars who give way to nerves— and who damn' well snatch every advantage."
Publisher: William Morrow
Rating: 7/10
Tommy & Tuppence 
The Secret Adversary (1922)
The Great War is over, but things aren't easy for those who served.
I went out to France again, as you know. Then they sent me to Mesopotamia, and I got wounded for the second time, and went into hospital out there. Then I got stuck in Egypt till the Armistice happened, kicked my heels there some time longer, and, as I told you, finally got demobbed. And, for ten long, weary months I've been job hunting! There aren't any jobs! And, if there were, they wouldn't give 'em to me.
Tuppence's hostel was situated in what was charitably called Southern Belgravia. For reasons of economy she did not take a bus.
Searching for something to do–and some way to make money, Tommy and Tuppence decide to form The Young Adventurers, Ltd.! and immediately stumble upon a case.
It isn't what they expect, but they do get adventure.
I probably read this, but don't remember much of it.
I especially noted things relating to the Great War I'd recently read.
I had been studying French, and my teacher said they were wanting help in a hospital in Paris.
I suggest that you should represent yourself to be what you are, a former V.A.D., who has chosen domestic service as a profession.
This was her second book and I think she was still working out the kinks in her story telling, but it was an adventure.
Rating: 5.5/10
Partners in Crime (1929)
A set of intertwined Tommy & Tuppence short stories.
A Fairy in the Flat
A Pot of Tea
The Affair of the Pink Pearl
The Adventure of the Sinister Stranger
Finessing the King
The Case of the Missing Lady
Blindman's Buff
The Man in the Mist
The Crackler
The Sunningdale Mystery
The House of Lurking Death
The Unbreakable Alibi
The Clergyman's Daughter
The Red House
The Ambassador's Boots
The Man Who Was No. 16
Tommy & Tuppence have been contacted by Mr Carter to take over a somewhat shady private investigation office, in the hopes Carter can eventually catch the Russian spy who had been using the agency through it's previous owner.
Although the Tommy and Tuppence stories are fun, they tend towards sillier than some of her other stories.
"The position amounts to this," he said. "Either the pearl is still in the house, or it is not still in the house."

"Quite so," said the Colonel with more respect than was, perhaps, quite justified by the nature of the remark.
"Do you know what I've been thinking, Tommy?"

"It's impossible to say," replied her husband. "You think of so many things, and you think of them all at once."
Each story name-checks in some way the various fictional detectives (or authors) of the time.
"What fun, a real live fairy in our flat. Shall we write to Conan Doyle about it?"
That took me aback because I forgot that Doyle died in 1930, and so was alive for a decade while Christie was writing.
"You'll find a difficulty in being a Thorndyke. You've no medical experience, and less legal, and I never heard that science was your strong point."

"Perhaps not," said Tommy. "But at any rate I've bought a very good camera, and I shall photograph footprints and enlarge the negatives and all that sort of thing. Now, mon ami, use your little grey cells— what does this convey to you?"
These are the detectives / series I caught.
Dr. John Evelyn Thorndyke series by R. Austin Freeman  
The Man with the Clubfoot by Valentine Williams 
McCarty & Riordan series by Isabel Ostrander  
The Problemist: The Complete Adventures of Thornley Colton, Blind Detective by Clinton H. Stagg 
Father Brown series by G. K. Chesterton 
Edgar Wallace  Teahouse Detective Series by Emmuska Orczy 
Inspector Hanaud Series by A.E.W. Mason 
Inspector French Series by Freeman Wills Crofts 
Roger Sheringham Cases Series by Anthony Berkeley 
Reggie Fortune Series by H.C. Bailey
Publisher: William Morrow
Rating: 7/10
N or M? (1941)
It's 1940 and both Tommy & Tuppence feel useless.
"Well, come on, out with it. Nothing doing?"

"Nothing doing. They don't want me in any capacity. I tell you, Tuppence, it's pretty thick when a man of forty-six is made to feel like a doddering grandfather. Army, Navy, Air Force, Foreign Office, one and all say the same thing— I'm too old. I may be required later."
I had to exert will to keep myself from looking up when various ages were called up for services in the second world war.
"And now I'm a poor, pushing, tiresome, middle-aged woman who won't sit at home quietly and knit as she ought to do."

Tommy said gloomily: "This war is hell."

"It's bad enough having a war," said Tuppence, "but not being allowed to do anything in it just puts the lid on."
I really enjoyed this glimpse of England towards the start of WW II.
"We're saying," said Miss Minton, "that it will all be over by the autumn."

"Nonsense," said Mr. Cayley. "This war is going to last at least six years."
You take my word for it, this refugee business is dangerous. If I had my way I'd intern the lot of them. Safety first."
Mrs. Sprot had just said in her thin fluting voice:

"Where I do think the Germans made such a mistake in the last war was to shoot Nurse Cavell. It turned everybody against them."  …  "Before she died. Don't you know what she said?"

He repeated the words:

"Patriotism is not enough . . . I must have no hatred in my heart."
He aims at creating a new Britain— a Britain strong in its own power— ruled over, not by Germans, but by Englishmen. And the best type of Englishmen— Englishmen with brains and breeding and courage. A brave new world, as Shakespeare puts it."
Publisher: William Morrow Paperbacks
Rating: 8/10 
By the Pricking of My Thumbs (1968)
We first met Tommy & Tuppence at the end of the Great War.
Mr. Beresford had once had red hair. There were traces of the red still, but most of it had gone that sandy-cum-grey colour that red-headed people so often arrive at in middle life. Mrs. Beresford had once had black hair, a vigorous curling mop of it. Now the black was adulterated with streaks of grey laid on, apparently at random. It made a rather pleasant effect. Mrs. Beresford had once thought of dyeing her hair, but in the end she had decided that she liked herself better as nature had made her.
They have had further adventures, but now Tommy is looking at retirement, and Tuppence is, well, somewhat bored when Tommy is away.
However, Mr. and Mrs. Beresford had not yet arrived at the time of life when they thought of themselves as old.
A visit to Tommy's elderly aunt leads to a conversation with another elderly lady, and Tuppence considering a new adventure.
"Yes. I wondered—" she leant forward and lowered her voice. "— Excuse me, was it your poor child?"

Tuppence slightly taken aback, hesitated.
I remembered absolutely nothing about this story except for that line, "was it your poor child?" except for this:
By the pricking of my thumbs— Something evil this way comes.
And I'm not even sure I remember that line from this story.
"I was brought up in a country vicarage, after all. They date things by events, they don't date them by years. They don't say 'that happened in 1930' or 'that happened in 1925' or things like that. They say 'that happened the year after the old mill burned down' or 'that happened after the lightning struck the big oak and killed Farmer James' or 'that was the year we had the polio epidemic.'
"I daresay people have liked murderers," said Tuppence very reasonably. "It's like swindlers and confidence tricksmen who always look so honest and seem so honest. I daresay murderers all seem very nice and particularly softhearted.
Publisher: William Morrow
Rating: 7/10
Parker Pyne Investigates: A Short Story Collection (1934) 
"The Case of the Middle-Aged Wife" was first published as "The Woman Concerned" in Woman's Pictorial, 8 October 1932.
"The Case of the Discontented Soldier" was first published in the USA as "The Soldier Who Wanted Danger" in Cosmopolitan, August 1932, then as "Adventure—By Request" in Woman's Pictorial, 15 October 1932.
"The Case of the Distressed Lady" was first published in the USA as "The Pretty Girl Who Wanted a Ring" in Cosmopolitan, August 1932, then as "Faked!" in Woman's Pictorial, 22 October 1932.
"The Case of the Discontented Husband" was first published in the USA as "The Husband Who Wanted to Keep His Wife" in Cosmopolitan, August 1932, and then as "His Lady's Affair" in Woman's Pictorial, 29 October 1932.
"The Case of the City Clerk" was first published in the USA as "The Clerk Who Wanted Excitement" in Cosmopolitan, August 1932, and then as "The £10 Adventure" in Strand Magazine, November 1932.
"The Case of the Rich Woman" was the first Parker Pyne story, published in the USA as "The Rich Woman Who Wanted Only to Be Happy" in Cosmopolitan, August 1932.
"Have You Got Everything You Want?" was first published in the USA in Cosmopolitan, April 1933, and then as "On the Orient Express" in Nash's Pall Mall, June 1933.
"The Gate of Baghdad" was first published as "At the Gate of Baghdad" in Nash's Pall Mall, June 1933.
"The House at Shiraz" was first published in the USA in Cosmopolitan, April 1933, and then as "In the House at Shiraz" in Nash's Pall Mall, June 1933.
"The Pearl of Price" was first published as "The Pearl" in Nash's Pall Mall, July 1933.
"Death on the Nile" was first published in the USA in Cosmopolitan, April 1933, and then in Nash's Pall Mall, July 1933.
"The Oracle at Delphi" was first published in the USA in Cosmopolitan, April 1933, and then in Nash's Pall Mall, July 1933.
"Problem at Pollensa Bay" was first published in Strand Magazine, November 1935, and then in the USA as "Siren Business" in Liberty, 5 September 1936.
"The Regatta Mystery" was first published as "Poirot and the Regatta Mystery" in the USA in the Chicago Tribune, 3 May 1936, and then in Strand Magazine, June 1936. It first appeared in its current form in the American book The Regatta Mystery and Other Stories, published by Dodd, Mead, June 1939.
I read several of the latter stories in different anthologies, but the oldest stories were unfamiliar to me.
And I am not sad about that.
I've listed the original publication dates of the stories, to remind me that these were written 90 years ago, and things were different. But there were something things that were rough reading.
"The Case of the Discontented Soldier"
"I can assure you. Major Wilbraham, that ninety-six percent of retired empire builders— as I call them— are unhappy.
Empire builders.
"The Case of the Discontented Husband"
"There is a bare possibility that your wife may be so overwhelmingly in love with this other man that nothing you could say or do will affect her, but I consider that unlikely. She has probably been driven into this affair through boredom— boredom with the atmosphere of uncritical devotion and absolute fidelity with which you have most unwisely surrounded her.
What? I mean… WHAT?
"Have You Got Everything You Want?"
"Your wife, Mr. Jeffries, is a charming, innocent, high-minded girl, and the only way she is going to get any kick out of her life with you is to believe that she has reformed a rake."

Edward Jeffries was staring at him, openmouthed.

"I mean what I say," said Mr. Parker Pyne. "At the present moment your wife is in love with you, but I see signs that she may not remain so if you continue to present to her a picture of such goodness and rectitude that it is almost synonymous with dullness."
What? The ACTUAL. Fuck?
"I never want to look at any other woman but Elsie," said Mr. Jeffries simply.

"Splendid, my boy," said Mr. Parker Pyne. "But I shouldn't let her know that if I were you. No woman likes to feel she's taken on too soft a job."
Are you SERIOUS?
"The Pearl of Price"
Miss Carol Blundell— pretty, spoiled, and extremely sure of herself as the only woman among half a dozen men.
How is this one of the less offensive sentences?
I shan't be reading this again.
Publisher: William Morrow Paperbacks
Rating: 4/10