Books: Mystery
Marshal Guarnaccia: Death of an Englishman (1981), Death of a Dutchman (1982)
Death of an Englishman (1981)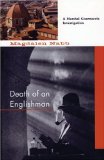 A call comes into the station and is answered by Carabiniere Bacci. Instead of awakening Marshal Guarnaccia who is gravely ill with the flu, Bacci instead goes to the scene and discovers a dead Englishman and a case that gets more complicated as it goes on.
First of all, although the mystery is about Marshal Guarnaccia, we actually send more time with the officers who take the case while he is ill: two Italians and two Englishmen from Scotland Yard.
Not that this was a problem. Both pairs of characters were interesting, I just found it odd we spent so little time with the main character–a character for whom the solution to the murder all but came in one of the fever dreams brought on by the flu.
This book made a nice juxtaposition to the one I read previously, Dead Lagoon. Although they may have been difficult, none of the characters were complete jerks, and I enjoyed getting to know them better through the course of the story. Additionally, none of the Italian police officers were complete womanizers.
We still see evidence of the regional prejudices that appear in the different books I've read about Italy, but those prejudices are not stereotypes.
As far as the mystery, I completely did not see the solution coming, but once the answers were revealed, everything made sense, which I quite liked.
Rating: 7/10
Death of a Dutchman (1982)
Marshal Guarnaccia decides to to stop and check on Signora Giusti while doing his rounds with the hotels. Signora Giusti is an old woman who constantly calls to make complaints. Her complaints are always groundless, but they check on her anyway, because they recognize that she is a lonely old woman, and more than anything just wants someone to listen to her.
This time, however, there were grounds to her complaint, which the Marshal discovers too late.
I just spent forty-five minutes trying to explain why I just couldn't get into this book, and then my post was eaten.
There was nothing wrong with this book, I just didn't enjoy it. Won't give up on this series entirely, but not in a hurry to read more.
Rating: 6/10