Books
Owen Archer Mysteries: The Apothecary Rose (1993), The Lady Chapel (1994), The Nun's Tale (1995), The Bone Jar (2016), The King's Bishop (1996), The Riddle of St. Leonard's (1997), A Gift of Sanctuary (1998), A Spy for the Redeemer (2002), The Cross-Legged Knight (2003), The Guilt of Innocents (2006), A Vigil of Spies (2008), A Conspiracy of Wolves (2019)
Kate Clifford: The Service of the Dead (2016), A Murdered Peace (2018)
Owen Archer
The Apothecary Rose (1993)
Set in England 1363
I picked up random books from this series years ago, and then got frustrated because I couldn't find more books in the series, and so forgot about it.
Then I saw the series pop up on an eBook sale on Amazon, and grabbed the first several, thinking that I remembered that I had enjoyed them (as had Grandmom).
Then I went on to read a bunch of other stuff, because that's just how things work with me.
Owen Archer had been the Captain of Archers and the Duke of Lancaster's man until he loses an eye and becomes the Duke's spy. After the Duke's death, he thinks to remake himself again, but John Thoresby, Lord Chancellor of England and Archbishop of York offers Owen a position as his spy, and sends him to York where two suspicious deaths–one the ward of the Archbishop.
And thus Owen Archer meets Lucie Wilton, apprentice Apothecary and wife of Master Apothecary Nicholas Wilton.
And several other characters, such as Brother Wulfstan:
Wulfstan feared Saurian would simply say God's will be done. Of course God's will be done. Wulfstan did not have to drag Saurian out in the middle of the night to be told that. But God's will was not always clear to man.
And also Magda Digby, both of whom recur through the series, and both of whom I like very much.
I also love the little glimpses of life half a century ago.
Bess sat up. "Trouble at Widow Cartwright's? I warned her not to board that man. He's a slimy creature. No good will come of him."

"Certainly that possibility is past. He's dead. Drowned. They dragged him out of the river tonight."

Bess crossed herself. "Why didn't you tell me that straightway? You let me say an unkindness about the dead." She shivered and crossed herself again. "You might have saved me that."
And of course the wars.
"I thought it was the news from Calais. Robert wrote that King Philip had at last brought a great army to save the people of Calais, then ordered the army's retreat a few days later, without battle. Behind the city walls a great wail rose up. A year besieged, and now they knew themselves abandoned. Joyous for us, not so for Amelie. They were still her people."

"I served with men who were at Calais," Owen said. "It was a terrible time. When they opened the gates, there were no dogs, no animals but a few goats and cows for milking. All the rest had been slaughtered to fill the empty bellies. So many had died. It was a barren, silent city."
I'm only partially sorry I put off starting this series, because I'm quite enjoying it right now.
Published by Diversion Books
Rating: 7/10
Re-Read: December 2019
Rating: 8/10
The Lady Chapel (1994)
Set England in 1365.
The second Owen Archer mystery finds Owen and Lucie married–her now the Apothecary and him her apprentice.
When a mercer (a trader in textiles) is murdered and his had left in the room of his business partner, Archbishop Thoresby sends Owen to search out why the man was killed, and who could have murdered him.
Lucie remains home in York, searching for the boy who may have witnessed the murder, and learning to deal with Owen's desire for adventure. And of course do her own investigations into the murder.
Lucie was quiet for a time, enjoying her friend's cooking. "I hated asking. All those years in the convent, being told over and over that gossip was a sin. I cannot do it with an easy conscience."

Bess sniffed. "I cannot see why gossip is considered a sin. How else is a body to know what's going on?"
What I find fascinating (and what reminds me most that this is a different time) is how Owen struggles with his desire to keep Lucie safe. From a modern point-of-view, it seems ridiculous that Owen would rail against her for going out alone (or barely guarded) or allowing a stranger to help her along the road, but the times were very different, and it is the independence he allows her that is so strange for that time.
Of course there are also the glimpses of life in that time.
King Edward, obsessed with his ongoing war with France, knew that his longbowmen were his most important assets. He had gone so far as to outlaw all sports but archery. And then he had made it compulsory for all able-bodied men to practice at the butts on Sundays and holy days.
Jasper crouched under a tree near a one-armed man and a woman with two babies tucked under her tattered cloak. He'd heard about twins, God's special blessing. But the woman did not look as if she felt blessed. Her eyes were sunken and expressionless, her jaw slack, revealing blackened and missing teeth. Her face was fleshless. Skull-like. She was starving. Why had God given this woman two babes when she was starving already?
One of the other things I particularly appreciate is just how common death is the men, women, and children of that time. Jasper loses his mother not to murder, but to a miscarriage. When one reads of street children in historical stories, the chances are the death of their mother in childbirth or during pregnancy is likely how they ended up on the streets.
I may enjoy these mysteries, but they remind me how glad I am not to live in the past.
Published by Diversion Books
Rating: 8/10
Re-Read: December 2019
Rating: 8.5/10
The Nun's Tale (1995)
Set in England in 1366.
This is the first Owen Archer book I read, many years ago, and I have forgotten how very unlikable the nun of the title was.
(T)here is yet something else— something that frightens her. She was given the last rites in Beverley. She fears that in God's eyes she is dead.
Anne Calverley on her lucid days? Was she aware of her changeable nature? Was Joanna? Had Joanna seen her mother's moods and wondered whether she would be the same? And if she had, had she feared it?
Those may be some of the only sympathetic views of Dame Joanna you'll see.
However, Lucie is pregnant, and Owen is attempting to come to terms with both her pregnancy and the impending babe (and the fact that he keeps being called away by Thoresby.
"Of course I want our baby. What are you talking about?"

"You should be resting."

"Sweet Mary and all the saints, there would be precious few people on this earth if mothers must rest while carrying their babies. Who has the leisure to rest for nine months?"
"Lucie examined her, Tom. Got her hands in all that blood. What will that do to the child, Lucie looking at all that blood? And the horror of it all?"
The Church of those years is a very different place from any of the modern churches, but people–well, in many ways people are the same.
"We would not preach so much of faith if we expected the faithful never to doubt"
Despite the horror of events and the general unlikability of the nun, this is another good story and mystery.
Published by Diversion Books
Rating: 7.5/10
Re-Read
:
January 2020

Rating: 7.5/10
The Bone Jar (2016)
Set in York, possibly in 1366.
It's not stated when this story is set, but with Lucie being pregnant, and Owen worried about how the child will react to him, I'm guessing it's set around the time of The Nun's Tale.
Magda has to leave, and asks Owen to watch her home at night while she is gone. She believes someone is trying to steal the contents of her bone jar–which she is holding for Bone Man who will take the bones away and properly bury them.
"You have the bones buried? Is that common practice?"

Magda shrugged. "It's Magda's way."

"Why not make some profit on them?"

The sharp eyes bored through him. "Thinkst thou art clever? Pah. Magda pities the poor wretches who pray to dried skin and bones, expecting miracle cures. She won't be part of such traffic."
This is an extremely short story that reads more like an outtake from a book than a full-fledged story. In other words, probably not a good story for someone who is not already familiar with the series.
Publisher : Diversion Books
Rating: 6/10
The King's Bishop (1996)
Set in England in 1367
Sir William of Wyndesore's page is found in the icy moat of Windsor Castle, and although the death doesn't look natural, the page is hurriedly buried, even though many blame Ned Townley, Lancaster's spy, who fought with him the night before.
Owen is sent on a mission as the king attempts to influence Pope Urban to get him to name William of Wykeham bishop. Thorsby opposes this because Wykeham aims to replace him as Chancellor, all of which makes a confusing muddle of the deaths.
of late Thoresby wondered whether as Archbishop he should look first to spiritual matters. Was that not what Pope Urban actually wished to bring about? Not a petty victory over Edward, but a reformed Church guided by saintly men dedicated to the cure of souls. That is what His Holiness sought.
But of course we also spend time with Lucie Wilton and Jasper and everyone else in York.
Gwen Thorpe believed that to complain of pain was to criticise God's judgement. Even when she had almost died in childbirth last year she had suffered the pain with a white-lipped, white-knuckled silence that had so angered Magda Digby, the midwife had threatened to leave the birth chamber, for how was she to help if she did not know the condition of her patient.
There are many tiny things that endear these books to me.
Owen shook his head. "We shall not speak of such things while Gwenllian is suckling."

Men had the oddest sense of order, Lucie thought.
"My—" Alice's smile was unconvincing. "Is that meant as an insult?"

"An insult to have a husband?"

"Not to have one, and yet be a mother."

"My dear Mistress Perrers, were I to throw insults at every woman who bore a bastard and every man who sired one, I should find that a consuming occupation."
Although the mystery is ridiculous to try and lay out in a paragraph, because there were many characters with different agendas, it was still a good mystery, because that kind of complexity is found in life.
Rating: 8/10
Published by Diversion Books
Re-Read: January 2020
Rating: 7.5/10
The Riddle of St. Leonard's (1997)
Set in England in 1369
The plague has again come to England, although not as severe as the previous two outbreaks, it still strikes fear into everyone, as they attempt to find ways to protect themselves.
Aromatic fires burned everywhere to ward off the pestilence, creating a fog in some of the passageways.
'With each visitation of the pestilence folk have become more inventive with their precautions. A wealthy merchant asked yesterday for enough crushed diamonds to strew round his bed and cut Death's feet to shreds.'
As they led the donkey cart through the streets to St Mary's, folk fled before them. Bess felt as if she were Moses parting the Red Sea. And it came to her that this plague with which God punished them for their sins made greater sinners of them all.
Meanwhile, there have been a rash of deaths of corrodians at St Leonard's, and Richard de Ravenser leaves the side of the dying queen to attempt to resolve the issue. Archbishop John Thoresby offers his spy Owen Arch to assist, although Owen believes his place is in the apothecary, helping his wife during the outbreak.
There are some amusing bits, despite the dread and gloom of the plague.
'I've come for more mallow, is what. Lot fell off shelf and dog ate it.'

As Lucie turned to fetch the mallow jar, Owen saw her bite back a smile. He leaned over the counter.

'How is the dog?'

'Empty!' Mistress Miller said with a loud guffaw,
There is, for those who have been reading along, a death of a beloved character in this book. Actually, it's surprising there are not more deaths, although this was noted.
Records of this outbreak are sketchy, but most agree that it took mostly the elderly or infirm and children, which suggests to our modern way of thinking that people were building up an immunity.
The old woman pulled a pouch from her voluminous robes, took out a small bottle. 'A tonic for old bones, Infirmarian. Thou must keep up thy strength for the work ahead of thee.'

Wulfstan hesitated. Her remedies were said to be comforting; but did she say pagan charms over them?

'It contains naught harmful to thy Christian soul,' Magda said.

Wulfstan pressed his hands together and bowed towards her. 'Forgive me.' He reached for the offering. 'God bless you, Mistress Digby.' Surely God would forgive him.
I loved all the historical bits, and I also loved the mystery.
Published by Diversion Books
Rating: 8/10
Re-Read: February 2020
Rating: 8/10
A Gift of Sanctuary (1998)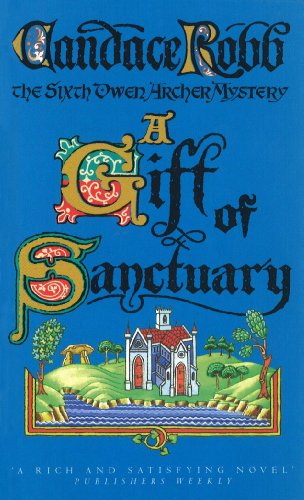 Set in Wales in 1371.
Owen Archer finds himself accompanying his father-in-law on a pilgrimage to Wales.
'Age brings many blessings,' Michaelo said.

'And much humiliation,' Sir Robert retorted.
Owen and Geoffery Chaucer are on a secret mission to determine whether a Welsh upstart (Owain Lawgoch, or Owain ap Thomas ap Rhodri ap Gruffudd, sometimes called Owain of the Red Hand) supported by France is a true threat, under the cover of observing Welsh preparations for an invasion from France.
But when John de Reine–the bastard son of Lascelles–turns up murdered (or of wounds received in a fight) Owen and Chaucer wonder if it is related to their mission, since de Reine was supposed to be one of their sources.
One of the major themes of this story–besides the murder–is Owen's discovery of how much he missed his homeland, and dislikes how many of the English treat the Welsh.
Houghton spoke in Welsh.

Owen was surprised— though Houghton had been born nearby, in Caerforiog in the parish of Whitchurch, he was of old English stock. He was the first Englishman Owen had encountered to extend the courtesy of speaking the native tongue to a Welshman.
(H)e saw no break between the grey sky and the grey sea, which this morning appeared to lie placidly in the great arch of Cardigan Bay. A dangerous imagining, a placid sea. Dangerous to one who believed it.
'You people speak of the folk in your tales as if they were real,' Brother Michaelo said with a smirk. 'But they are full of too many marvels to be real.'

Brother Dyfrig bowed his head, shook it as if considering something sad. 'What we now call marvels were once ordinary occurrences,' he said softly, as if to himself. 'How our glory has faded.'
This book made me wish for a cast of characters as well as the glossary. There were a lot of names, many of which were similar. But I do love the historical names and places–although I admit reading this on the kindle makes that much easier.
Published by Diversion Books
Rating: 7.5/10
Re-Read: February 2020
Rating: 7.5/10
A Spy for the Redeemer (2002)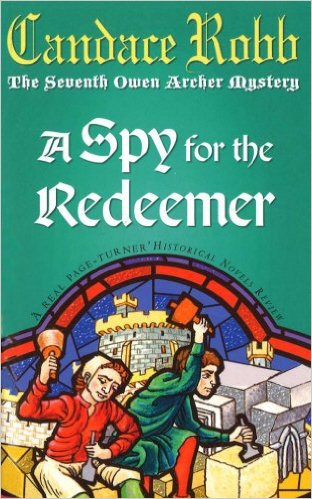 Set in Wales and York in 1371.
Owen has not yet left Wales. He is finishing his mission for the Duke of Lancaster and making sure his father-in-laws tomb is finished, but he is also wondering what would change if he chose to stay and fight for Welsh independence.
'I sometimes wonder who was the daft one to set it here.'

'I thought the story was God told St David to set it here,' said Owen.

'Aye, well, so they say. The good Lord was thinking of the masons, I suppose. We shall never want for work.'
Back in York, Lucie is dealing with Jasper who has become a teenager, and wondering when Owen will return. That Brother Michaelo returns with news of her father's death but without Owen makes things even more difficult, as rumors begin to circulate.
Why had they said nothing of this? Dear God, what of Jasper? How would he receive such a rumour? Is this why His Grace the Archbishop invited her to dine? To question her about Owen's loyalty?

Magda sat, took one of Lucie's cold hands in her warm, strong grasp. 'Look at Magda.'

Reluctantly, Lucie raised her eyes. '

Magda did not wish to tell thee. So it must be with all thy friends. Some may believe thou knowest what folk say and choose to ignore it. Which is what thou must now do.'
I was very glad to have Lucie back. I missed her point of view and her thoughts and the things women went through that were very different from what men went through in that time.
Additionally, Lucie has to deal with her Aunt's failing health–something that is truly little different today than it was then.
'Do not leave,' Phillippa said as Lucie began to walk away. 'I am relieved to have spoken of it. But I do not remember— oh Lucie, it is the cruellest curse, to be witless one day, lucid the next. It is as if I have been sleepwalking and everyone has witnessed my foolishness. All look at me with such pity— and fear that they, too, might come to this end if they live so long as I have. It is horrible. Horrible.' Her jaw was set in anger and frustration.
And some other things remain the same as well.
Tildy took a deep breath and turned her gaze upwards, to the dome of stars that stretched to the horizon. It was a test of her courage, to look up at the night sky. She had been born and raised in York, had seldom been outside the walls of the city until the past summer, when she had stayed here on the manor with Gwenllian and Hugh. When she first walked out into the night the vast sky had frightened her. It was too large, too mysterious, a monster with a hundred hundred eyes.
I liked this story, and as I said, I was glad to have Lucie back.
Published by Diversion Books
Rating: 8/10
Re-Read: March 2020
Rating: 7.5/10
The Cross-Legged Knight (2003)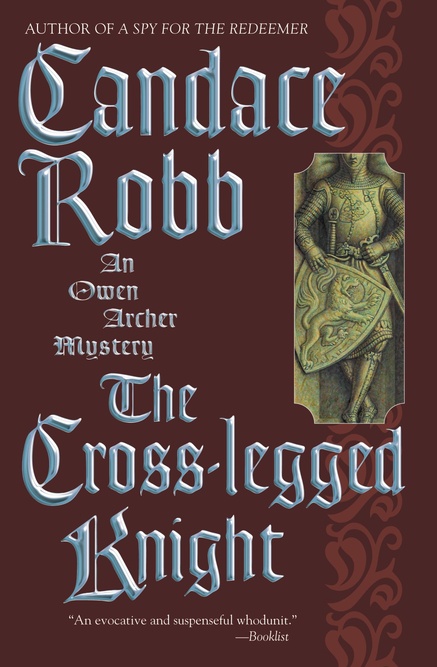 Set in England in 1371.
Lucie has been recovering from a fall that caused her to lose the baby she was carrying, and as she recovers she struggles not only with a darkness that has fallen upon her, as well as Owen's protectiveness, which makes her feel worse.
Lucie did not wish to be reminded of all she had to be thankful for. It made her troubled state harder to forgive in herself, which pulled her down yet further.
In the mean time, Archbishop Thoresby is dealing with Bishop Wykeham, who was forced to resign as Chancellor, as well as the death of his friend Sir Ranulf, who against the advice of those around him, returned to France as a spy, was captured and died.
Thoresby had grieved to hear of that last indignity. Ever since he had witnessed the removal of a heart from a corpse, seen how the flesh was torn open, the ribs cracked, he had agreed with Pope Boniface that severing or removing any part of the body was a desecration. It seemed impossible after such mutilation that the body would arise whole on the day of resurrection.
When a fire breaks out in the Bishop's residence (which he was renting) a body is discovered, and a servant is found terribly burned, it makes the situation between Sir Ranulf's family and the Bishop even more complicated.
The treatment of the servant calls in Magda, and gives us a look at healing techniques (more than we normally see from Lucie's work as an apothecary).
Owen had just caught sight of what was in the covered dish that had smelled of rotten meat— Magda was about to apply maggots to the worst of the burns, to clean away the dead flesh.
Fascinating that so many of these techniques are coming back as medical techniques again.
I'm still enjoying this series, and remain fascinated with the historical perspectives, and continue to enjoy the mysteries.
Published by Diversion Books
Rating: 8/10
Re-Read: March 2020
Rating: 7.5/10
The Guilt of Innocents (2006)
Set in England in 1372
A river pilot falls into a the Ouse during a skirmish with students (male) from the Minster School. When pulled from the river he is found to have cuts that start bleeding just as head of a competing and rival school comes into his presence.
'It is natural that you would resent Nicholas for threatening your income.'

John gave an elaborate shrug. 'The status and funding of St Peter's School are Chancellor Thomas Farnilaw's responsibilities. I am merely the schoolmaster. I've no cause to resent Master Nicholas. I am glad that Abbot Campian is giving him sanctuary.'

Owen believed John did resent Nicholas, but that his feelings embarrassed him, being of a mercenary nature.
And the boy who was at the heart of the skirmish has disappeared.
This was a very interesting mystery, in which things changed unexpectedly as your perspective changed.
In his mind he felt as if he'd been looking at her upside down all his life, and suddenly he'd been righted and saw that she was the very opposite of all he'd believed her to be. He tried to retrieve his old love, but her smell, her cruelty, her lies kept crowding his head.
I also very much enjoyed the growth of the relationship between Jasper and Owen.
In the space between the hall and kitchen doors, beneath the stars, he paused. 'He's my son, there's no question of that,' he said. 'When I thought he was dead—' His breath caught. 'If Sir Baldwin hadn't been there I would have thrust deep into (the man)'s heart and watched him bleed to death.'
As always, there was many little bits about life and religion that were fascinating (to me at least).
He'd feared even imagining 'the something worse' because if evil thoughts were sins then thoughts had power, just as charms did.
Folk enjoyed nothing so much as someone else's trouble except perhaps talking of things they knew nothing about.
I very much enjoyed this series, and this book was especially good. (I didn't much care for the books set in Wales, where Lucy didn't make much of an appearance.)
Published by Diversion Books
Rating: 8.5/10
Re-Read: April 2020
Rating: 8/10
A Vigil of Spies (2008)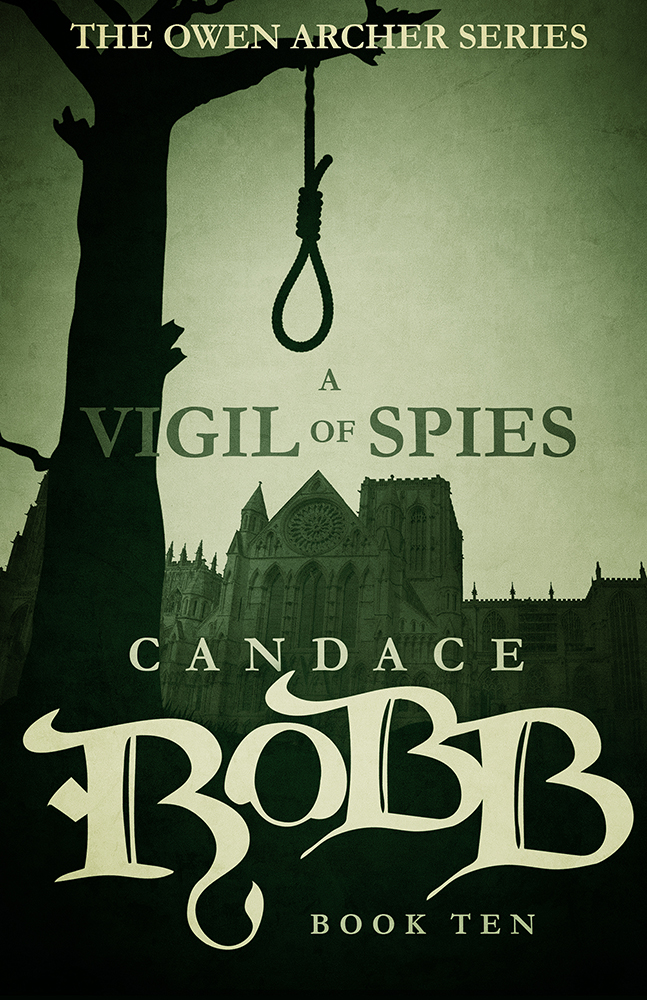 Set in England in 1373
Archbishop Thoresby of York is dying. He has lived far longer than most people in his time and place, and now he finishing all the little things left undone in the time he has left.
Perhaps he was a foolish old man, but he believed in the unconditional and universal compassion of the Blessed Virgin Mary, and he cherished the belief that there were living, breathing women of her ilk.
But interrupting his peace is the Princess Joan, who is traveling to ask for Thoresby's advice. And with her comes intrigue and murder.
Some nice thoughts that might not have belonged to the actual Thoresby, but are lovely never-the-less.
Thoresby closed his eyes and extended his prayer for all those who took their lives, or were in danger of doing so. He had never felt such compassion for those lost souls as he did now. He wondered if there was something he might have done in his lifetime to comfort them, to teach them that God loved and forgave them.
'My uncle took him as his secretary for reasons other than fondness,' said Ravenser, 'but over time I believe he's come to have a deep affection for him. It appears he symbolises for my uncle the power of penance, renunciation of sins, redemption.
This is, as best I can tell, the final Owen Archer mystery, and it is a good and comfortable conclusion, ending the story as Thoresby ends his life.
I was sorry there was so little Lucie in this story, but we did see her, and it would have been inappropriate for her to have been at the archbishop's castle when the princess visited.
I'm sorry to see these characters go, but felt that the conclusion was well done, leaving us wanting more, but with a satisfying ending.
Published by Diversion Books
Rating: 8/10
Re-Read: November 2020
Rating: 8/10
A Conspiracy of Wolves (2019)
Set in York in 1374
It's been a year since Archbishop Thoresby died. Owen has spent the intervening time on the estate he was gifted because of Thoresby, but now both Prince Edward and York want him to decide what he is going to do. York wants him to be Captain of the bailiffs, Edwards wants him for his spy–and Prince Edward does not take no for an answer.
Chaucer has come into town, to press Edward's case, but Owen has been pressed to investigate a murder–one that rumor has as committed by wolves. But wolves don't slit throat with knives.
Also, Michael has been working as a scribe, while searching for a place now that Thoresby is gone.
Jehannes hoped to find other clerics who might need some of the monk's time. But Michaelo's reputation preceded him, and so far clerics proved reluctant.
Because Magda is out of York attending a birth, Allisoun is left to help those who come for healing, and she is pulled into the mystery–and forced to test her loyalty to the healing arts versus that to Owen and Lucie.
As much as I enjoyed spending time with the characters, the mystery in this story felt disjointed–I got the broad outline of why the murders happened, but the when–just felt unrealistic. Who waits decades to take revenge–especially a revenge as complicated and far reaching as these murders were.
But I did enjoy spending time with the characters.
Publisher : Severn House Publishers
Rating: 7/10
Kate Clifford
The Service of the Dead (2016)
Set in York, England in 1399
Kate Clifford is a widow struggling to recoup the financial losses of her husband while trying to maintain her independence and avoid a marriage pushed upon her by family.
And also to stay out of politics.
The truth was, if the king decided the Nevilles were a threat to his reign, Kate might be ruined with them. Though she had never taken the name, she had married a Neville.
Having grown up on the borders, Kate is a strong woman, raised to protect those in her care, even if those supposed to care for her had either failed in their duty or were dead in the attempt. So she protects herself and hers.
(T)he small battle-axe— a third the size of a soldier's, but efficient and deadly— that her father had given her on her twelfth birthday. She kept it sharpened and ready, in the fine leather pouch that was small enough to slip into the compartment in the right side of her skirt. She would prefer a larger weapon, but even this was difficult enough to hide.
When a man is found murdered in her guesthouse, her first worry is to make sure the death was not linked to her, thus ruining one of her more lucrative businesses, the income from shipping being troubled because of the current political situation.
I liked the mystery and the history, and most of the characters, but I didn't find the story as strong as her Owen Archer series. Part of it might have been Kate's conflicted worries and loyalties, part of it because although she was acting within the restraints of her time, it sometimes felt as if she were being weak rather than circumspect.
In other words, I'm kinda glad I borrowed it instead of paying full price, but I'd still like to read the second book.
Too bad it's not in our library.
Publisher: Pegasus Books
Rating: 7/10
A Murdered Peace (2018) 
Set in England in 1400
The Epiphany Uprising has seemingly secured King Henry the Usurper, and Lady Margery has appealed to Kate for safety after her husband was murdered by a mob. Berend, Kate's cook, has also disappeared and Kate doesn't know whether either of her friends were involved in the conspiracy.
There is a lot happening in this story. Kate's ward Petra has disturbing dreams that may be foreseeing, and none of them are good; Berend is gone and has left Kate feeling abandoned; Clement, who has been keeping her accounts since her husband died and left her in debt, is growing more frail, and less able to manage; and Kate has discovered she has conflicted feelings for ELric, wanting to trust him, but unwilling to share secrets that are not hers.
I read this mostly before bed, which means that I frequently had to go back and re-read because I'd lost the thread of the story while falling asleep, which wasn't the best for a story when I'd forgotten many of the characters from the first book.
Here's something I hadn't considered about homes of the time.
In her old house, the steps up to the solar were inside the hall, an added security; here, the stairs to the second story chambers were outside the house. In warm weather they might keep the door near the foot of the steps open, so that anyone in the hall might see someone approaching, but in winter that was not feasible. So they'd installed a noisy gate at the bottom, not locked, but hung on its hinge so that it gave a loud, harsh squeak when swung open— unless one knew how to lift it and swing it out.
Not only was there no indoor plumbing, but you often had to go outside to get to rooms on the second floor (like bedrooms). Makes sense to save space inside, but seems like it would make a house harder to heat, with so many doors opening to the outside.
This is another interesting bit.
Edmund Cottesbrok, one of the sheriffs, strode through the door, preceded by his clerk holding aloft his mace of office as he announced his master's presence. Elric had forgotten the ceremony with which the sheriffs proceeded through the city.
I suppose it's not that different from a law officer wearing a uniform to designate their office, but it's something I'd never considered.
I did like this story, but it was difficult having forgotten most of the bits of the previous book. There is apparently another book, which I feel like I should read while this story is fresh in my mind, but I don't want to spend the price of a new release, so I think I'll wait. (This book never went on sale, which is what took me so long to read it, since it wasn't available at the library.)
Publisher: Pegasus Books
Rating: 7/10