Books: Romance | Historical | Mystery
The Spymaster's Lady (2008), My Lord and Spymaster (2008), The Forbidden Rose (2010), The Black Hawk (2011)
The Spymaster's Lady (2008)
Set in France & England in 1802.
You're getting the alternate cover here, because I really don't care for the cover that came with my version. In fact, I hesitated to read the book because the (other) cover made the book seem like something that wasn't particularly for me.
I was wrong.
This book was for me.
Annique is a French spy–and one of the best. She started spying as a child and was raised by the masters–one of whom included her mother. Unfortunately, she has landed in the hands of Leblanc, another French spy who wants what he thinks she has.
Grey is an English spy who, along with his companion Adrian, has also fallen into the hands of Leblanc. He plans on taking Annique with him when he escapes–assuming they can escape.
"I can tell you're awake." His voice came, closer than she'd expected. "You might as well get up and stop pretending."

"I am hoping you are a ghastly dream and will go away if I stay asleep long enough."
There is so very much that is good about this book. So many surprises that were marvelously done.
And secondary characters–I loved Adrian more than I liked Grey, and I ended up liking Grey more than I thought I would.
"When did I become your little brother? I thought we were twins."

"We are, but you are seventeen minutes younger. Because of this, I have always bullied you unmercifully.
Of course there is boinking, but not until much later in the book.
But what the book really had was marvelous intrigue and politics. Annique and Grey and Adrian are all spies and all very good at what they do–which is bluff and lie and give nothing away.
Published by Berkley
Rating: 10/10
My Lord and Spymaster (2008)
Set in London in 1811.
There is so very much to like about this book.
Jess Whitby was a thief, but is now the daughter of one of the richest traders and is a genius at accounting.
"I am England's expert on skullduggery in accounting."
And she is desperately searching for the traitor Cinq–the man who has been sharing British secrets with the French.
Capt. Sebastian Kennett is responsible for the arrest of Jess' father–as Cinq, whose traitorous deeds lead to the sinking of many ships and the deaths of many he called friends.
I really like Jess.
There her dress was, a heap of slit-up rags on the carpet. "My dress got wet, so you cut it off. You must be a right terror in a thunderstorm." A prudent woman in her situation wouldn't embark upon sarcasm.
ALSO, if you read the first in the series, The Spymaster's Lady, we get more Adrian.
Adrian joined him at the window. "I'll see you in Garnet Street at midnight, outside the (N) warehouse. What does one wear to ransack a warehouse? Black, I think, and the charcoal waistcoat. Tasteful, yet understated."
"The evidence says he's Cinq."

"Forget the evidence. I spread my own entrails over the rocks and took auspices. My guts are never wrong."
My ghod I love that character.
But truly, Jess is the heart of the story, and the best part.
"You have copies of their bank accounts. How the damn hell did you get hold of that?"

"Bribery, mostly. It's a business expense, and we budget for it."
This story is just truly and utterly marvelous.
Published by Berkley
Rating: 9/10
The Forbidden Rose (2010)
Set in Paris in 1794.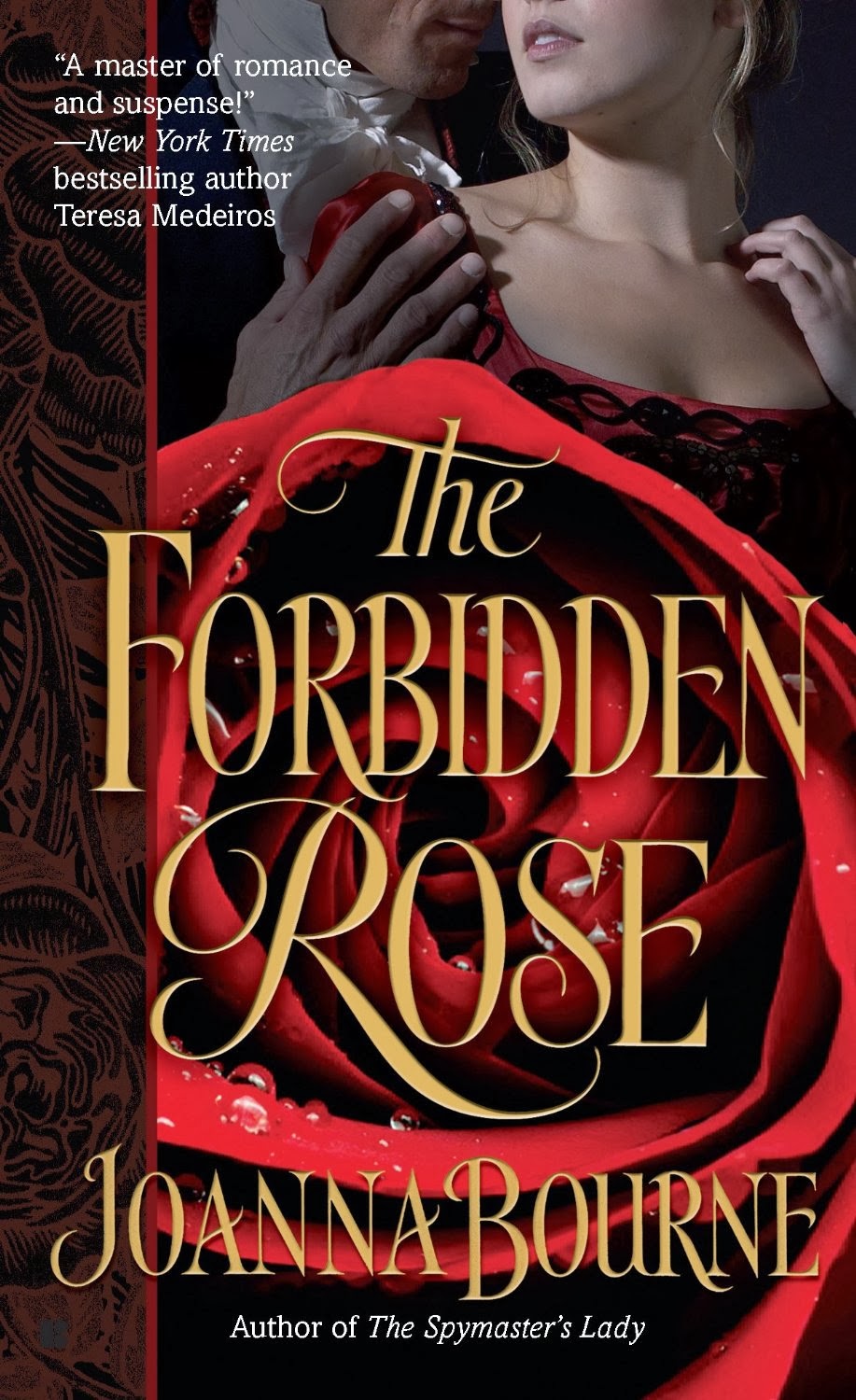 Marguerite de Fleurignac is on the run. The Jacobeans have burned her home and tried to kill her. But she has far greater worries than the loss of her home–if her secrets are learned, many lives could be threatened.
William Doyle–going by the name Guillaume LeBreton–is searching for the Marquis de Fleurignac, the French nobelman who created a list of British men who were assassinated. He was sent because he's the best.
And pragmatic.
"It's easier to come back and kill somebody than to come back and unkill him. And if I think up some new questions later on, he's not going to be talkative if he's dead."
Adrian, also called Hawker, is traveling with Doyle, supposedly learning the trade of spying. But his alliances aren't quite clear yet.
"I will give you my expert opinion. You can loot a place or you can burn it to the ground. It's a mistake trying to do both at once."
Which makes this as much Adrian's book as Doyle and Maggie's. Which is fascinating, because Adrian is by far my favorite character in the previous book.
Knowing things was like picking up diamonds and rubies off the street. Made him feel rich.
But there are also lots of little tidbits strewn through the book.
She had learned stillness at Versailles, in the hardest school on earth. One does not fidget in the presence of a king. Hungry, thirsty, exhausted, with pins sticking into one's bodice, with feet that ached, hour after hour, one does not wriggle.
I'm pretty sure that's something most people don't think about, when they dream of being a courtier in Court.
But Maggie/Marguerite is a delight.
"I am not a virgin," she said. There was enough light to see him smile.

"That's a coincidence. Neither am I."

"What you are is a great treasure-house of sarcasm."
She endured (him) putting the back of his hand on her forehead. "You don't have a fever," he said.

"Thank you. Perhaps you will spare me an accounting of the diseases I do not have. Leprosy. Gout. The pox. I find it does not cheer me up at all."
I believe she comes by that recognition of sarcasm quite honestly.
Published by Berkley
Rating: 8.5/10
The Black Hawk (2011)
Set in London in 1818, with flashes back to Paris 1802 and other times and places.
This is the fourth book in the series, the story of Adrian Hawkhurst (aka Hawker) and Justine DuMotier, who we met in previous books, Adrian as an adult, Justine as a child (and already a French spy).
I had a hard time getting into this story, because I adored Adrian from his first appearance in the first book, but had a very hard time with the character of Justine. I didn't dislike her, and I felt bad for all the horrible things that had happened to her, but I had a hard time finding her compelling.
Even if she was intelligent and witty.
One does not take the small joys of life for granted when they may not be granted tomorrow.
Almost no rational thinking occurs when one is naked.
Also, I HATED this cover. First, I don't know who that man is, but it's not the man in the book, and second, that is the stupidest pose ever. Unbuttoned & tucked in shirts are stupid. The cape makes it utterly ridiculous, especially as he's in a pose as if he's striding forward.
I eventually became interested in her, and understood what Adrian felt for her, but mostly I just wanted to spend my time with Adrian.
BLETCH.
All of this isn't to say the story isn't worth reading, because it is, but I didn't enjoy it as much as I did the earlier stories. I just wanted more for and from Adrian.
Published by Berkley
Rating: 7/10