Books
Masques (1993/2010), Raven's Shadow (2004), Raven's Strike (2005)
Mercy Thompson:Moon Called (2006), Blood Bound (2007), Iron Kissed (2008), Bone Crossed (2009), Silver Bourne (2010), River Marked (2011), Frost Burned (2013)
Alpha and Omega: On the Prowl (2007), Cry Wolf (2008), Hunting Ground (2009), Fair Game (2012)
Anthologies: Wolfsbane and Mistletoe (2008), Strange Brew (2009), The Best Paranormal Crime Stories Ever Told (2010), Naked City (2011), Down These Strange Streets (2011), Home Improvement: Undead Edition (2011), Happily Ever After (2011)
Masques (1993/2010)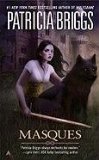 This is a revised version of Patricia Brigg's first published book, and unlike some of her more recent works, is not urban/supernatural fantasy but straight up fantasy. Luckily for me, it's not high fantasy that takes 30k pages to resolve the story, but a fun story told in 300 pages.
Aralorn is a mercenary who is also (secretly) a green mage. Those hidden skills have helped her out of numerous scrapes, and also helps her to rescue a wolf–a strange wolf who eventually speaks to her, and seems to have skills beyond what one would expect from a creature with four paws. Her green magic eventually leads her to becoming a spy, and it is as a spy that she eventually runs into serious problems.
I actually quite enjoyed this story. Much of it isn't subtle, but it is interesting and it's quite fun. The nice thing about fantasy is you not just that you can have magic, but that you can swords and women with equal (or mostly equal) rights in the same world. As much as I love historical fiction, it's hard to have a strong and interesting female lead character who is not also completely out of character for her time. Whereas if you make your own world, you don't have to worry about such historical accuracies.
Please note that as I said at the start, this is not a new work, but instead a revision of an earlier work, so there are some problems with the writing and the story telling, but despite those issues, it's still a fun and enjoyable read, and one I recommend.
Rating: 7/10
Published by Ace
Raven's Shadow (2004)
Yes, I am gouging myself on new books. I'd been very good, about not bought myself any books for several months, so I figure I'm entitled to a small binge--especially when I can find books on sale.
Seraph, a Traveler, a mage, and the last of her clan, is saved by Tier, a solider heading home for peace and calm, years after he snuck out as a boy to join the army. The first two chapters tell of their meeting and how Tier saved Seraph. The remainder of the book tells of what Seraph does after Tier disappears.
Although Raven's Shadow is book one of a duology, it can be read as a stand alone novel--the author resolves the issues and problems satisfactorily by the end of the book. I have a great deal of admiration for authors who can do that (and also authors who can tell a story in under a thousand pages).
I was very pleased with Raven's Shadow. The story was fun, the characters were interesting, and the writing was good. There were several things that I particularly liked about the story: the Travelers, who were somewhat akin to gypsies, are an oppressed class, yet Patricia Briggs makes sure that they aren't all noble, and that some react to their persecution the way that many people react--with anger and hostility. It makes them far more human than than they would have been otherwise, considering the story.
I also like the fact that for most of the story Seraph and Tier older--middle aged by the standards of the time. Not callow youths learning their skills and powers, nor aged masters with wisdom and skill, but (somewhat) regular people, comfortable with their skills and with themselves.
There were some flaws with the book. I thought that things came together a little too easy in some parts. I wasn't sure what the limitations on a Raven's power were, mostly she seemed to be able to do whatever she needed, but again, as she was older, she should have known the limitations of her powers, and not attempted more than she was capable of doing. The same thing for Tier, although that is also explained to some small degree.
So there was at least some explanation
But all in all, the story was engaging and well-paced, with interesting characters. It was a fun read, and although I was able to put the book down and do other things, that isn't necessarily a bad thing. If you're looking for a good fantasy, with strong characters, then I definitely recommend Raven's Shadow.
Rating: 8/10
Raven's Strike (2005)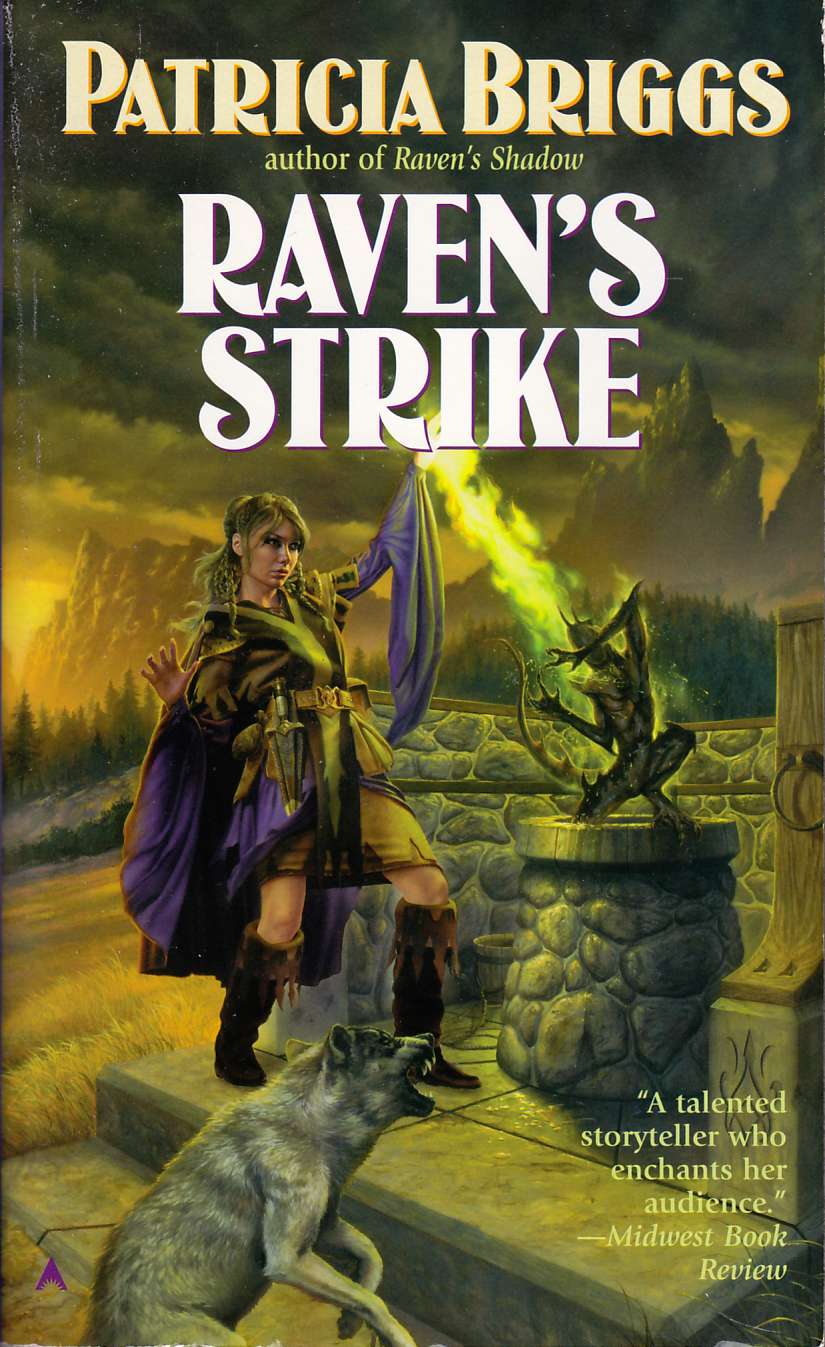 The sequel to Raven's Shadow, Raven's Strike picks up where Raven's Shadow left off. Tier and Seraph, and their children Lier and Jes are headed back from Taela. They are still traveling with the clan of Rongier the Librarian, and Hennea, who was separated from her clan when she was kidnapped by Volis .
Like the first book, Raven's Strike has an interesting story and characters. And my favorite: strong female characters. However, that doesn't mean the men are weak. In fact I again think Tier is the most interesting character in the story, although the focus is less upon him in this book than in the previous book. However, the complexity that Jes develops in this story makes up for it.
There were again a couple things in the story that bothered me--one of which made me look up from the book and say, "That's ridiculous!" I'm sorry, but the Emperor just doesn't show up at a peasant's house and stay for a few days, sleeping in the barn. And my desbelief was exacerbated by the fact that the emperor appeared without any warning, which stressed how unlikely the situation was. Even more frustrating, in the following chapters she did a good job of explaining why the emperor had to leave, and why he wanted to search out Tier. Perhaps if this part of the story had been presented first, I would not have found the Emperor's arrival so jarring, and might have been able to overlook how unrealistic the situation was. But was things were written, I ended up pulled abruptly from the story, which is a bad thing.
Also, towards the end of the story (and I'm going to try to be vague here) I did not understand the resolution of Tier's problem. I kept waiting for an explanation, and none ever came, which was rather frustrating. The way the problem was solved was entirely too much "then a miracle happens" to sit well with me.
However, despite these weaknesses, Raven's Strike was still a good and enjoyable book, and its many strengths were enough to overcome its flaws. I really liked the explanation of the mermori. I found them fascinating. I also liked learning more about Phoran's Memory.
Though, as much as I liked the cover of Raven's Shadow, I hate to cover of Raven's Strike. Seraph no longer looks like a mature woman, but isntead looks like a badly dressed teen. (And the dress she's wearing? Ugh. And it is repeatedly mentioned how Seraph keeps wearing herTraveler's pants, instead of going back to a dress like a proper Rederni woman. And what is the dog like creature supposed to be? Because it certainly isn't Jes. (Nor is it any species of canine known to man.)
I'm glad this was the second book in the series, because covers like this are enough to keep me from purchasing books by new authors. (I don't need look like even more of a geek than I already am, when I pull out books to read while I'm waiting for the PRT.)
If you enjoyed Raven's Shadow, then you'll definitely want to read Raven's Strike. If you have not read Raven's Shadow, the story is written so that you should be able to read the story without missing anything. But to me, Raven's Shadow is the stronger of the two books, so you'll really want to read that first.
Rating: 7/10
Mercy Thompson
Moon Called (2006)
I have to say, Moon Called was a lot of fun to read. I had no expectations of the book at all (I bought it because I liked other books by Patricia Briggs), so everywhere the story went was a surprise. And a pleasant surprise at that. Also, this book was as much a mystery as it was a fantasy, and a pretty well-done mystery at that.
Mercy Thompson is a mechanic and a shifter. Being a shifter is similar to being a werewolf, in that she can change into an animal form--her other form is a coyote--but in other ways it's completely different. Her changes are not affected or regulated by the moon, and her shifting is easy and painless. Mercy also lives next door to the alpha werewolf for her area, so she is surprised when a young werewolf shows up at her garage looking for work, because as far as she knows, he's not part of the local pack.
The writing was very good: the pacing was excellent (this was another couldn't- put- it- down- to- go- to- sleep book), the dialog was sharp and amusing, and I really liked the story. Several times it went places I hadn't expected, which I especially liked. Plus, actions taken earlier in the book left me wondering whether any character was safe from being killed off. Which I also really like, because as much as I hate having characters I like killed off, I also find it ridiculous when everyone comes through a horribly dangerous situation completely unscathed. (Though I have to admit this is far more noticeable in movies than in books.)
I could have done without the cover though--at least the half-shirt / perfect breasts portion of the cover. I mean come ON. The woman is a mechanic. She doesn't need grease embedded in her entire torso, including her ridiculous breasts and I'm pretty sure any woman smart enough to be a mechanic would also be smart enough to wear a bra to work. Not to mention the fact that wearing your hair loose combined with moving engine parts just can NOT be a good idea. So boo-hiss for the cover.
Luckily, the book more than overcame the foolish cover.
This book also had my all-time favorite characteristics--the story arc was completed within the book. Although there are plenty of openings for another book in this series, my hope is that when(!) Patricia Briggs writes more books with Mercy Thompson, she'll continue to write in this vein: completing the story arc in a single book, and no cliffhanger endings. Plus, as an added bonus, very strong female lead character.
And I really hope she writes more books about Mercy Thompson. The writing and dialog were excellent, but most of all it was just a fun book to read, and I want more like it. If you're looking for a fun book to read, I highly recommend Moon Called.
Rating: 8/10
Blood Bound (2007)
Blood Bound is the sequel to Moon Called, and continues the story of Mercy Thompson, a mechanic and a walker. A walker is similar to--but not the same as--a werewolf. What she has is an inborn power to change form at will, and that shifting isn't tied to the moon. She also owes a favor to one of the local vampires--a favor he has come to collect.
There are several things about this book that I particularly like. I like the hierarchy of both the local werewolf pack and the vampire seethe, and they way they react to Mercy and each other. It makes sense that for the vampires to have survived for as long as they have, they would need to have some sort of hierarchy of control.
I'm also fascinated by how Patricia Briggs (and several other authors who write supernatural fantasy) have chosen to have at least some of their supernatural creatures come out of the closet (so to speak) to the general public about their very exisence
Another thing I particularly like is how Mercy works to make ends meet. Yes, her money problems do get solved, but that's part of the fantasy, isn't it?
However, I was a little bothered by the start of an "everyone wants Mercy" thing that was going on underneath the story. It looks like this was for the most part headed off at the pass, with Mercy needing to make a decision between just two guys, which I can accept. But I really don't care much for it when all the males find the heroine irresistible. Yes, that too is a fantasy. It's just not my favorite brand of fantasy is all. But as I said, Mercy seems to have limited her number of eligible suitors, which good.
Additionally, she had to make hard choices--and she got hurt making the choices she made (got hurt, and stayed injured for an appropriate amount of time even). I prefer it when the characters have to make hard choices, and when there are consequences for those choices.
I still dislike the cover though. Not the tatoos and the grease--that's good. I just hate the fact she has to have her coveralls undone to her belt. Why? Why would she do that? There is no good reason for her--or anyone--to dress like that. And I really don't think that she'd be wearing a frilly bra on the off chance she was foolish enough to undo her coveralls like that. I mean really--she's an otherwise sensible woman, so it just seems out of place. And I realize that the author has no control over the covers, but it really bugs me. I mean, when the book came, my grandmother asked what book I'd gotten (on the off chance it was a mystery). I held up the book, and said, "It's a fantasy book, I don't think you'll want to read it." She looked at the cover and said, "You're right."
If you read Moon Called, then you will want to pick up Blood Bound. If you haven't read Moon Called, you should be able to pick up Blood Bound without any difficulty, but you'll probably enjoy it more if you read the books in order. Otherwise, it was a strong, fast-paced story that I had trouble putting down last night so I could go to bed.
Rating: 7/10
Iron Kissed (2008)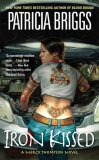 I really like Patricia Brigg's Mercy Thompson series, so I've had Iron Kissed on pre-order since I found out it was available. I had to finish the book I was currently reading before I started this, but yesterday afternoon I picked it up and didn't want to put it back down. Which is why I didn't start reading today until I had a chunk of time in which I wouldn't be interrupted. Because I did not want to put this story down once it got started.
As much as I really like the Mercy Thompson series, this may be my favorite book yet. First off, the last portion of the book had me running to my room to finish reading because it made me all sniffly and teary. So yeah, I've got extra hormones in my system right now, but still, the story was so well written, and I've come to care about what happens to Mercy so much that I was…concerned.
To clear her debt to Uncle Mike, Zee asks Mercy to come out to the Reservation to use her nose to investigate some crime scenes. As a result, Mercy ends up in terrible trouble trying to get her friends out of trouble–all the while realizing that she has to make a decision between Adam and Samuel, because not making that decision is creating even more trouble not just for herself but for Adam's pack as well.
First things first, I loved the cover of this book. Despite the excess of skin Mercy is showing, the cover does an excellent job of depicting Mercy as she is described in the book. Her face as drawn matches how she was described in he book, as is her hair, and her attitude. Of course I think it's a little silly to display that much skin while working on a car, but I suppose they have to do something to make the cover sexy.
Second, the story is very well done. Everything hangs together and makes sense, the pacing is excellent, and I didn't want to put the book down until everything was concluded. Parts of the story were very hard to read, as some very bad things happen to Mercy, but these things not only help to resolve some of her issues, but they reinforce what Mercy is and how she fits into the local hierarchy. She's small, weaker than everyone with whom she resorts, and had to resort to wits and cunning over strength–in essence, she is coyote (only without so much of the trickster traits.)
I also liked that although she had to rely upon others when brute strength was necessary, she was able to take care of herself for the most part–yes she gets herself into situations from which she cannot extricate herself, but it is not stupidity (in most cases) that gets her into those situations, and they are not situations from which anyone could survive alone. So it is right for her to lean on others–it doesn't make her a damsel in distress.
I particularly like how Mercy deals with the trauma in the last several chapters, and I think that Patricia Briggs did a good job dealing with the issue at hand, making the situation and Mercy's reaction to it quite realistic. Even if it did make me all hormonally weepy.
If you have ready any of the previous Mercy Thompson books, the you do not want to miss Iron Kissed. If you have not read a Mercy Thompson book before, and you enjoy supernatural fantasy, then run out and get Moon Called and Blood Bound because reading them first will make Iron Kissed all the better. Yes, you could read this without having read the other two, but you'll enjoy it more if you know the history.
Rating: 9/10
Bone Crossed (2009)
Mercy is still struggling after the events of Iron Kissed, the previous book. Excluding the stitches, she is better physically, however, mentally and emotionally, she has a long way to go. Into this whirls a friend from college, Amber, who wants Mercy to come investigate the ghost who is haunting her house. Since the vampire queen, Marsilla, has issued a death threat against Mercy, getting her out of town seems like a good idea to everyone involved, including Stefan, her friend the vampire who is in trouble himself.
First and foremost, much of this book is Mercy's dealing with the emotional wreckage of the events from the previous book. And that is one of the greatest strengths of the book. There is no magic fix for Mercy; yes, she is now in a relationship with Adam, but that relationship does not solve her emotional crisis–as much as she wants it too. I can't express how pleased I am to see a character actually dealing with trauma in a realistic way. Yes, it's hard to see Mercy struggling and in pain. But it is this that makes the story and her character so real.
The other thing I like is that although Mercy and Adam have troubles, and although Mercy is (especially during her panic attacks) slightly irrational, they deal with their troubles like grown-ups. In other words, their relationship is a strength, not a weakness, and although it is part of the book, it isn't the heart of the story.
As far as the story goes, it was (as expected from this series) very good. Mercy is continuing to learn to lean on others, and although it's a slow process, she is getting better at it.
One last thing–I love the covers of these books. Yeah, I think she's showing a silly amount of flesh for being at work. However, the cover figure is curvaceous and REAL looking–not a ridiculous stick figure. Huzzah to Ace for these covers!
If you have not read the Mercy Thompson series, I highly recommend you start at the beginning and read your way to here.
One last night–I stayed up until 2AM to finish the book–that's something I try very hard to avoid, so you know the story had really drawn me in when I lose sleep for it.
Rating: 8.5/10
Published by Ace.
Silver Bourne (2010)
Every time I get a new Patricia Briggs book, I hesitate before reading it, afraid that this is the time she'll let me down. That her previous books can't be nearly as good as I remember them, and maybe this time I'll be disappointed.
I never am, but that doesn't stop me from being afraid, probably because so many story lines have disappointed me in the past.
Mercy is still working things out with Adam and his pack, while they are trying to work out accepting her, a coyote as part of their pack. And if things were not hard enough, Samuel suddenly goes off the deep end (almost literally) and his problems are thrown into Mercy's problems with Pack politics.
Then to add insult to injury, Tad asks Mercy to check on a friend–a book seller from whom she borrowed a book–and it seems as if Phin is in serious trouble and no one but Mercy seems to know about it.
Have I mentioned before how much I really really like Mercy? Because I do. She's not all powerful. She recognizes her own limitations. She cares deeply about people and will ignore her own safety to help others. What more could I want in a heroine?
SPOILER (rot13)
Nobhg gur bayl guvax V jnfa'g 100% ba obneq jvgu sbe guvf fgbel jnf gur erfbyhgvba bs Fnzhry'f ceboyrz. Abg gung V gubhtug vg jnf n onq erfbyhgvba, whfg gung V svaq vg… hafrggyvat… gung Oena'f fbaf ner nyy svaqvat gjbb yheir jura gurl'ir orra ybaref sbe fb ybat. Vg whfg srry n yvggyr gbb cng.
END SPOILER
Although it is not horrible, this is not my favorite Mercy cover. I just canNOT see Mercy wearing that outfit. I know they're not sexy, but can we go back to the coveralls? Please?
But aside from those two quibbles, this was another good Mercy Thompson book, and I wait impatiently for the next to come out in paperback.
Rating: 8/10
Published by Ace
River Marked (2011)
Things are going well for Mercy–except for the fact that her mother is driving her absolutely crazy with details for her upcoming wedding, which drives Mercy to beg Adam to elope, before things get even more out of hand. But can the Alpha of the Columbia River basin really get away with eloping?
OK, yeah, so there's all this wedding/marriage stuff, but what is really fabulous about this book is the finally Mercy gets to learn something about her past. She discovers she isn't the only walker around (and even that those she meets disdain the term skinwalker, as a different type of creature all together).
I love that we're finally delving into the Native American mythos, and that (to me at least), it felt like she got it right. I really enjoyed the look at how Mercy became what and who she was.
I also have to admit that I appreciate her complicated relationship with her mother.
If you have not read the Mercy series, you should be able to read this book without much difficulty, but it will be much more rewarding to start at the first book and move your way forward to here.
Regarding the cover: I don't dislike the covers in this series–in fact, I tend to like that they mostly seem to get Mercy right, unfortunately, I can't stand the outfit she's wearing and after the cover of Faith Hunter's Raven Cursed, this just falls way short. Mind you, it's still better than lots of other stuff out there, but this is not portraying Mercy as a strong independent woman. So: please try harder Ace.
Rating: 8.5/10
Published by Ace
Frost Burned (2013)
This series switch to hard back first printings several volumes ago, which I hated, because I hate hard back books. Luckily for me, I have a kindle, so I can buy new releases without having to wait a year (or more!) for the book to come out in paperback. HUZZAH!
Mercy and Jesse, (Adam's daughter and now Mercy's step-daughter) are out doing Black Friday shopping because Jesse's mom broke plans with her.
Which is how neither of them is present when the entire pack is picked up by supposed government agents. The pack is in trouble–Adam is in trouble–and Mercy is on her own, and barely just recovered from the serious injuries she suffered in the last book.
First, what I like best about this series is that although Mercy is now married to Adam, she still relies on her wits and her cunning to get out of trouble. And she does what she believes right, even when it pisses Adam (who wants only to protect her and keep her safe) the hell off.
I also appreciate (like isn't the right term here) that although the weres have miraculous healing, Mercy doesn't, and she isn't healed after the commercial break when we wits are unable to keep her from fighting (or from wrecking her car and suffering the after-effects of that.)
I also like that Mercy and I also have a similar outlook on life.
I knew I was going to ave to do something about them later, no matter how angry I was now. It wasn't a matter of what they deserved–it was a matter of who I was and who I wasn't. At some point, everyone had to draw a line in the sand over which they would not cross.
It's sometimes hard to be Kantian in the modern world.
Of course, it's not all philosophy and Mercy getting beat up. There IS humor, although less of it than previous books I think.
I knew it was swearing because, even if lyrical–if to me mostly unfathomable–Spanish, swearing still sounds like swearing.
I will note, however, that this book alludes not just to events in the previous book, but also in the last Alpha and Omega book. You'll probably be fine if you haven't read that book, but events there are having repercussions on the world in which Mercy lives.
All in all, this is another good entry into the series, and I hate that I have to wait a year for the next book.
Rating: 8/10
Published by Ace
Alpha and Omega
Cry Wolf (2008)
I really like Patricia Briggs writing, so when I saw she had a new book coming, I ordered it without knowing anything about it.
CryWolf is set in the same world as her Mercy series, and many of the characters carry over, although Mercy does not make an appearance. Which is a good thing, since I think the series needed to be able to stand alone. We also learned about the Marrock's pack from an outsiders point of view, rather than Mercy's, which made it very different. Samuel made a brief appearance, but not a large appearance, which I liked, because he has been a major character in the Mercy series.
As with the Mercy books, the characters are distinct and well developed, although much of that may come from most of the characters having made an appearance in the Mercy books. One thing I liked was that we learned more about the characters who have made brief appearances in the Mercy series. The Marrock was a major character, and we learned quite a bit about his past, which I found fascinating.
And of course we spend lots of time with Charles and Anna.
However, I had one major problem with the book. I spent the entire book feeling like I had missed the first part of the story. I kept checking to see if there was a book before this. Nope. Was this something that happened in one of the Mercy books? I don't think so. So why does it feel like I'm missing something?
Because there was a short story that came before this.
That's not so good. The first book in a series should be able to stand on its own, without making you feel like you've missed something. Was it anything glaring? No. Just a general feeling as I read the book that I was completely missing something.
But what was even more annoying is I own the collection the story is in, but hadn't gotten around to reading it yet.
So like her other books, it was a very good story with very good characters, but lost points for the nagging feeling that I was missing something. If you like Patricia Brigg's Mercy series, then you'll want to pick up Cry Wolf. Just be aware that if you haven't read the short story, you may feel like you're missing something.
Rating: 7/10
Hunting Ground (2009)
Anne was still getting used to the idea of being married to Charles when they go to Seattle his father–the Marrok. The American werewolves are planning on coming out, and the European wolves have been invited to ask questions of the Marrok about how they would be affected by this.
Unfortunately, Anna and an auditorium of alpha males are not a good mix, and Anna's problems are going to cause problems for Charles before all is said and done.
This is the second Anna and Charles story, and although I admit that I like Mercy Thompson just a little better, I am enjoying where these characters are going. Interestingly enough, I realized after a few chapters that two of the sub characters appeared in a short story Patricia Briggs had written for one of the collections I have. As I liked those characters, this added an extra element to the story.
As far as the story arc, it was interesting, and it followed up on a theme that has been running through the Mercy Thompson books (although you definitely do not need that background for the story.)
If you like supernatural fantasy with werewolves and vampires and fey, then I highly recommend checking out Patricia Briggs writing. Although you could read Hunting Ground without having read the Cry Wolf, doing so you'll miss out on a great deal of character development and background.
Rating: 7/10
Fair Game (2012)
My. I was not expecting where that went.
Now that the werewolves have been outed, the Marrock has been far more strict about enforcing the rules. And Charles, as his enforcer, has been very busy. He has also become haunted by those he is forced to kill, and those ghosts are cutting him off from his wife, Anna. So when a request from the FBI comes in for a werewolf consultant, Bran (the Marrock, and Charle's father) sends Anna and Charles, in the hopes a break from enforcement will help Charles.
In general, I've strongly preferred the Mercy Thompson series set in this world to the Alpha & Omega part of the series. Not that I disliked this series, I just really like Mercy and her stories tend to my mysteries while this series is more romance.
So, I was expecting a pleasant read, but not much more, yesterday when I picked up this book.
I ended up away past my bed time, because I couldn't put it down.
This is, first and foremost, a mystery. Yes, Anna and Charles have problems to resolve, but the main arc of the story was finding and catching the serial killer. The mystery is quite good, and one of the reason I couldn't put the book down.
The second thing, is that the events in the conclusion of this book are going to have an affect on Mercy Thompson, as she is married to the alpha of the Washington tri-cities.
Third, I like how far Anna has come. When we first met her, she was abused and cowed and frightened of everything. In this book, when she gets into trouble, she sets out to rescue herself. That's a huge thing, and it makes me happy to see how she has come into herself and no longer fears everything.
I would NOT recommend this as an entry point to the series–this references events in the last Mercy Thompson book, and, as I noted, Anna's growth and change over the course of the series are one of the (many) strengths of the story, so if you haven't been following along, that change might not be as powerful.
But aside from that, this is a fabulous story, and I can't wait to read the next Mercy Thompson book–as this series has switch to an initial hard cover publication, I'm extra glad I have a kindle, and can read it there.
Rating: 8.5/10
Published by Ace

Fair Game
Goodreads rating: 4.31 (10452 ratings)
Anthologies
On the Prowl (2007)
Patricia Briggs, Eileen Wilks, Karen Chance, Sunny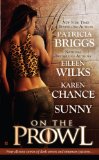 Wow. Talk about a mixed bag. I read and thoroughly enjoyed the first two stories. I started the last two and thought, "meh." But then realized that to review the book I had to finish all four stories.
I should have trusted my first instincts and just reviewed the first two stories leaving the last two unread.
The anthology opens with Patricia Brigg's story Alpha and Omega. This is the prequel to her book Cry Wolf, which I read earlier (not realizing this story was in fact a prequel to it). If you've read her Mercy Thompson series, then you're already familiar with Charles. But if you haven't read the Mercy series (which really, you should) it won't matter, because the main character is Anna, a young werewolf who has been terribly abused by her pack. A call to the Marrok brings Charles to town, to look into the problems with her Chicago area pack.
This story is the reason I picked up the anthology in the first place. I really like Patricia Brigg's storytelling and characters. Why did it take me so long to read this anthology? Who can understand why my brain works the way it does, but this story was worth the cost of the anthology.
Anna has been physically beaten down, yet despite everything, her spirit has not yet be broken. But not for a lack for trying.
What I found particularly fascinating was what we discovered to be the eventual reason for the situation in Chicago. Some things cannot be forgiven, but sometimes they can be understood. She did a very good job of that with this story.
Although this story is a prequel to Cry Wolf, everything is resolved, and you do not need any prior knowledge of any other characters to enjoy the tale. Very good and very enjoyable.
...
So I recommend On the Prowl with reservations. The first two stories are very good. The fourth was little else but boinking, and the third story was a simply mess. With magical boinking. I'd say get it for the first two stories, and then pretend that the last two stories are part of some other anthology entirely and completely unrelated to the first two stories.
Rating: 6/10
Strange Brew (2009) edited by P.N. Elrod
I love short story collections. They're a way to discover new authors, visit with favorite characters, and to be honest I just enjoy short stories. Now if you like short stories, you eventually learn that a lot of collections are not worth buying, but there are certain authors that will cause me to buy an anthology on sight. This collection has several of those authors: Patricia Briggs, Jim Butcher, and Charlaine Harris.
...
Patricia Brigg's story "Seeing Eye" was one of my favorites. It's set in the same world as her Mercy THompson series, but other than a mention of the Marrock, none of the characters from that series appear. Which is a good thing, since as I noticed with some of the other stories, if you're not familiar with the characters in the series, short stories can fail miserably at times. This one does not. Moira is a witch–a good witch–who has made sacrifices for her power. She is very unhappy when her doorbell rings in the middle of the night, with a werewolf demanding she help him recover her brother. This story does feel like it may want to be larger, with these characters continuing.
What I thought was interesting was several of the stories reached back into mythology for parts of their stories, which I really enjoyed (although I didn't need all the explanation that was given). If you think you might be interested in reading supernatural fantasy, this anthology would be a good place to sample some stories.
Rating: 8/10
The Best Paranormal Crime Stories Ever Told (2010) edited by Martin H. Greenberg
I wouldn't say the best necessarily, but it's not a bad selection of stories. And the fact that I got to read it for free probably helped.
...
Patricia Briggs' story, "Star of David" is set in the same world as her Mercy Thompson series, but as with Simon R Green's story, does not feature the main characters from that series, and again, works as a very good introduction to her world. Stella helps place kids in foster homes, and when it's reported that one boy she's placed has attacked his foster parents, she thinks something is wrong, and turns to someone she said she wouldn't call, to help he resolve the problem.
...
There were a couple other stories in the collection, but I didn't love or hate them, so all in all, this was a pretty strong collection.
Rating: 8/10
Published by Skyhorse Publishing
Naked City (2011) edited by Ellen Datlow
This collection of urban fantasy stories has several of my favorite authors, so it was a no-brainer to get. The bad thing is that I've been reading this collection for several months, so I now have no idea what the stories at the start of the anthology were about, which is dangerous, because it means I may end up accidentally rereading several of them.
...
Patricia Briggs story "Fairy Gifts" is a vampire story, but it's not one of those vampire stories. It's of a boy who was forced to become a vampire, and more.
...
Although there were several stories I didn't care for, I believe that was more a matter of personal taste than quality. And the stories I did like, I liked very much.
Rating: 8/10
Published by St. Martin's Griffin
Down These Strange Streets (2011) edited by Gardner Dozois and George R. R. Martin
If you look at the list of authors above, you'll immediately see why I read this series. There are some of my favorite authors here–many of whom write short stories I tend to love. And surprisingly, I loved most of these stories, especially a few by authors I haven't particularly read before.
...
"In Red, with Pearls" by Patricia Briggs is set in the world of Mercy Thompson and features two characters from that series, Kyle and Warren, that I very much like, so I'm glad to see them get their own story. Kyle is a human lawyer. Warren is his werewolf partner who has just started working as a PI for Kyle's firm. When a zombie shows up looking for Kyle, they have to call in Elizaveta to both clean up the mess and help them figure out what the hell is happening. Here's hoping for more stories about Kyle and Warren,
...
All in all, I found this to be a fabulous anthology, and I highly recommend almost all the stories I read–even the ones I didn't love were, for the most part, interesting.
Rating: 9/10
Published by Penguin
Happily Ever After (2011) edited by John Klima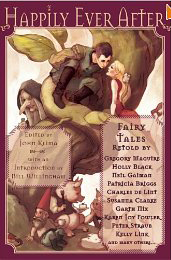 Not sure how I missed this when I first came out, but this anthology is full of things I love: authors whose books I love, stories based on folk and fairy tales–lovely!
The only thing I didn't like, is I wish the anthology hadn't ended on such a dark and depressing story.
Mind you, the dark and depressing stories were good–very good–but these tales ran very true to the original stories, with a not insignificant amount of rape and incest and general horribleness. Just like the original tales.
But there's also a good amount of humor as well, and I just wished the collection had ended with one of the funnier stories.
...
I usually love Patricia Briggs' stories, and "The Price" was no exception. It took me a bit to figure out which story it was borrowing from, but once I figured it out, it was quite lovely.
...
Please note, as previously mentioned, the stories have rape and incest and lots and lots of sex in addition to evil stepmothers and other such killers.
There were also a fair number of very dark and very depressing tales that were very good, but that I didn't enjoy at all.
Rating:8/10
Published by Night Shade Books
Home Improvement: Undead Edition (2011) edited by Charlaine Harris and Toni L.P. Kelner
As with most anthologies, there are stories here I really liked, and some that I found to be just okay. What was unusual was that there were some stories that I actually strongly disliked.
"Gray" by Patricia Briggs isn't a Mercy Thompson story, but is set her her world. A vampire returns to Chicago, to the home where she once lived. I quite liked this story. It stands on its own outside of the Mercy books, and is interesting in its own right. Vampires tend to be minor characters in the Mercy series, but I quite like her vampire mythology, and have very much enjoyed the short stories she's written that have been about vampires. This is one of my favorites.
...
All in all, an okay collection, but I'm not sure why it's been so expensive for so long, and if I could have gotten the Patricia Briggs story solo (I really do enjoy her short stories), I'm not sure I'd necessarily haven bothered with it.
Rating: 6/10
Published by Ace