Books: Romance | LGBT
Team Phison (2017), Team Phison Forever (2019)
Lucky Charm (2019)
Team Phison (2017)
Phil Hutton is 55 struggling with the dating scene. Luckily, he he has his favorite game to keep him sane.
When he goes on a mission with a newbie, he thinks there's not going to be anything more, but the more they interact, the more Phil likes him.
Except that Tyson is half his age, and there's no way a young guy is going to want Phil, especially for a long distance relationship.
I snap a few pics and take far too many seconds deciding on which one looks best. My nieces do this for hours whenever I see them, and I don't know how they haven't pulled their hair out from the stress.
This is a age-disparity long distance relationship story, with both men working in food service–Phil running his own restaurant in Massachusetts, Tyson working as a server in Georgia.
I liked a lot about this story. For one, the age difference was played realistically, with Phil worrying about age spots and his considerations about Viagra.
Second, Phil may be in a good financial space with his restaurant, but Tyson isn't. A Thing isn't made out of it, it's just written realistically, with both of them working long hours, and Tyson having to often work evenings and weekends.
It was cute, and to be honest, the weakest part was The Big Misunderstanding. The reactions just felt off for both of the characters as we'd seen them so far. Yes, Phil was worried about being too old and no longer interested in partying, but his reaction felt over the top.
But it was cute and fluffy and low angst.
Rating: 7/10
Reread: May 2023 | Rating: 7/10

Team Phison Forever (2019)
Tyson Falls loves Phil and wants to propose.
But the discovery that he has a half-sister–and a sister who is apparently loved by the father who disowned Tyson–makes him doubt the concept of family and his own suitability for having one.
"Things are good the way they are with me and Phil. There's no need to complicate the relationship by declaring us a family. I have no family."

Manny sets his half-eaten wing down. "Do you not think of us as family? Aren't we bros?"

Lordy. Does Manny not get how toxic families are? "I've always said you're like a brother to me, not that you are." The words shoot out of me faster than any stock car NASCAR could hope to build. "I think that distinction is good. It's what keeps us together."

Manny stares at me. "What the fuck?"
That passage stuck out to me because he explains his feelings, and then doesn't understand at all why Manny is incredibly offended.
It's a story that's full of hard discoveries, but it's also sweet, because despite his depression, Tyson is a loving and lovable character.
I also think I wasn't quite in the right mood for this, so I might have rated it higher if I'd read it at another time.
Rating: 7.5/10
Lucky Charm (2019)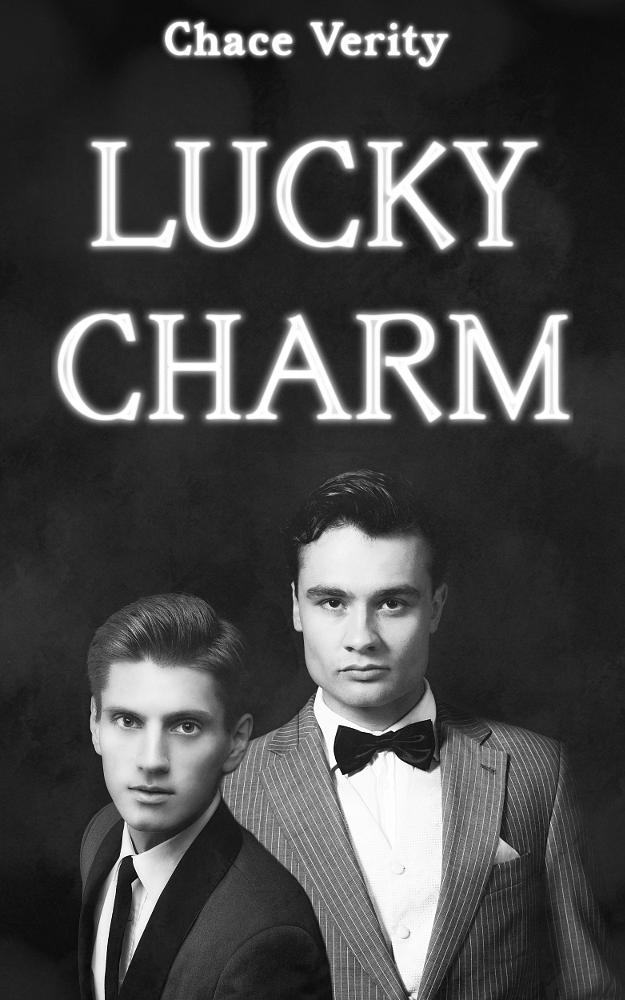 Set in Hollywood in 1928.
Gilbert's director and lover takes him out to dinner–and dumps him.
"I need an actor who can go to the future with me. You can talk, but it doesn't sound right."
I got tossed because there's no longer any place in Hollywood for a deaf actor. And if I'm not famous, I'm not worthy of being loved.
I think I had once read about deaf actors (and those unusually high and odd voices) losing their jobs once sound was added to movies. But I never learned anything more.
Now, damnit, I'm curious.
To get back at his ex for firing him AND dumping him, Gil decides to steal his lucky charm. And the unexpected appearances of his childhood best friend is perfect timing.
As far as Georgia and Thomas know, Quill is my childhood friend visiting California for a few weeks. He's definitely not a crook. We're definitely not plotting anything.
Rating: 6/10