Books
Betsy the Vampire Queen: Undead and Unwed (2004)
Undead and Unwed (2004)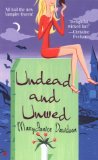 Betsy thought things couldn't get much worse when she got fired from her job. She soon discovered that was wrong, when she woke up in a coffin (after being smashed by a truck) dressed in pink and wearing her step-mother's castoff shoes.
So, first and foremost Undead and Unwed is cute and amusing. And also not my kind of book.
That doesn't mean it wasn't good. The story was interesting, the pacing was good, the world building was very well done. The problem was that I do not care the slightest about shoes or fashion. And the main character, Betsy, was obsessed with with.
She was also obsessed with Eric, a hot, cute, and sexy vampire, who she gleefully disdained, which meant they were destined for each other.
Ugh.
Definitely not my thing.
But I kept reading because it was a cute story and I really wanted to know what was going to happen to Besty. Because she isn't a bad character, just someone to whom I am completely unable to relate.
So cute and fun, but not my thing and I definitely won't be seeking out more of this series, although if you like Romance than this may well be Your Thing.
It just isn't mind.
Rating: 7/10
(For keeping me reading even when I had no interest in the main charcter.)