Books: Romance | Historical
Rules of Scoundrels: A Rogue by Any Other Name (2012), One Good Earl Deserves a Lover (2013), No Good Duke Goes Unpunished (2013), Never Judge a Lady by Her Cover (2014)
Scandal & Scoundrel: The Rogue Not Taken (2015), A Scot in the Dark (2016)
Bareknuckle Bastards: Wicked and the Wallflower (2018), Brazen and the Beast (2019), Daring and the Duke (2020)
Love by Numbers: Nine Rules to Break When Romancing a Rake (2010), Ten Ways to Be Adored When Landing a Lord (2010), Eleven Scandals to Start to Win a Duke's Heart (2011)
A Rogue by Any Other Name (2012) 
Set in England in 1831.
Borne is a rake and a rogue. Ruined by the loss of his estates, taken at the gaming tables by the man who had been his guardian, the father of the boy who had been his best friend. Now, part owner of one of the most exclusive gaming hells in London, Borne lives only to regain his estates and to take revenge upon the man who tried to hard to destroy him.
Lady Penelope Marbury has been on the shelf for years, and her mother despairs of her becoming a spinster. She wants Penelope married, and she wants a good marriage. One that will help her two youngest daughters make good matches. Especially since Penelope's broken engagement years earlier put two of her other sisters in less than admirable matches.
It's an amusing story. I did like the letters that started each chapter, that detailed Penelope's life as she grew older, and what she felt as she wrote letters she would never sent. The letters helped understand a bit better the reactions Penelope had to Borne. Because I wasn't buying it initially.
I enjoyed the banter–I always love good banter.
"Events of the evening are much more adventurous. Much more illicit."

"What do you know about illicitness?"

"Not much. But I feel confident that I shall be a quick study."
There were also a couple of passages that caused me to pause for a second.
Penelope realized that she did not think she'd ever heard the honest laughter of a woman to whom she was not related.
As someone who enjoys laughing–and tries to laugh as much as possible–the idea of living in a society where you couldn't let your hair down and laugh is almost as bad as the rest of the restrictions women had placed upon them.
An interesting book, with quite a lot of boinking. Just so you know.
Set in 1831.
Published by Avon
Rating: 7/10
Reread: August 2017 | Rating: 6/10
Reread: January 2019
One Good Earl Deserves a Lover (2013)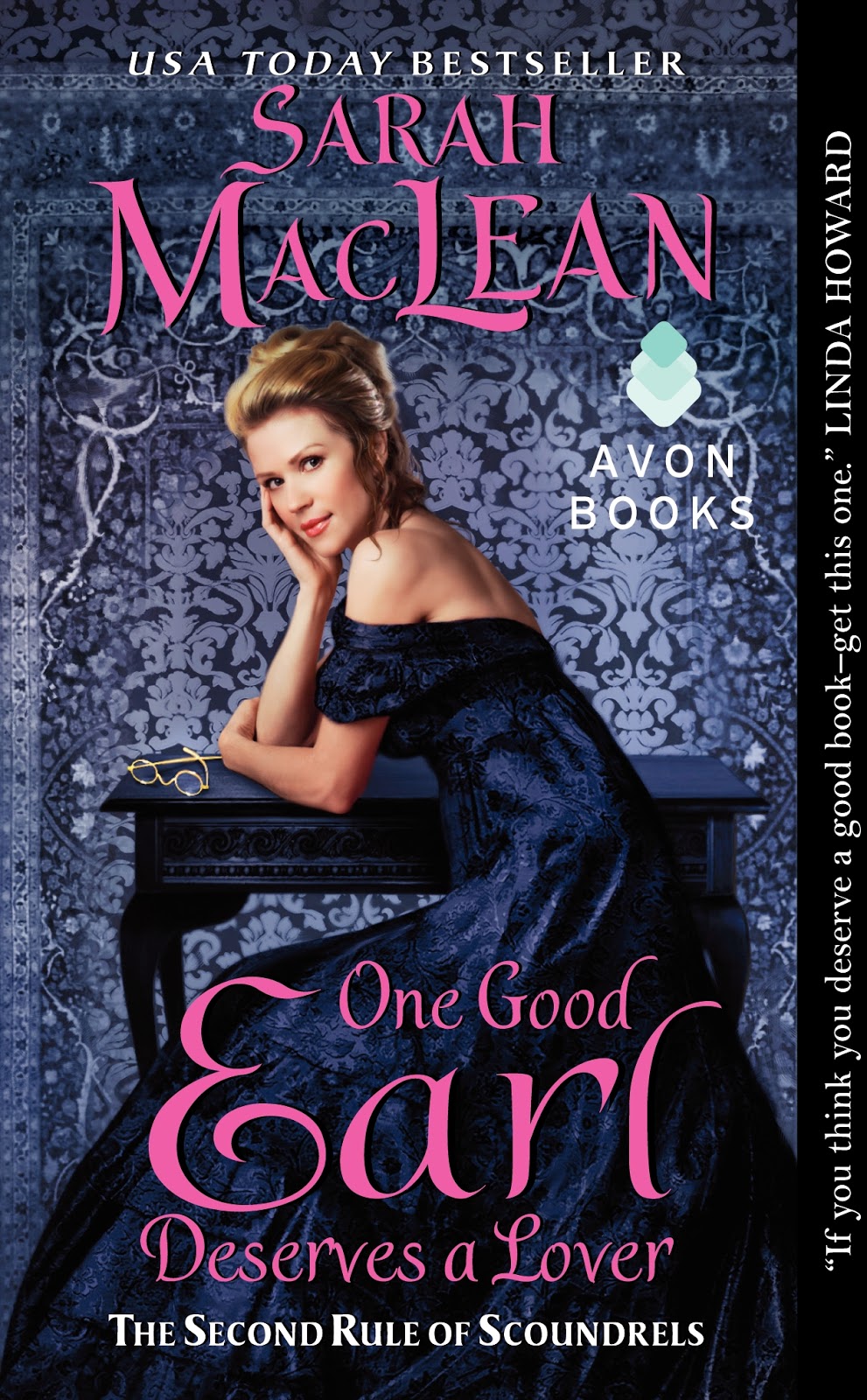 Set in England in 1831.
This one I really liked.
Lady Philippa Marbury is engaged to Lord Castleton, who is very kind, but according to all the ton, very stupid. Pippa's sister and brother-in-law have both encouraged her to break the engagement, but Pippa made a promise, and she intends to keep it. After all, Castleton isn't a bad man, he's just going to bore Pippa out of her mind.
Because Pippa is smart and–she fully admits–odd. She doesn't always get social niceties, and she loves books and science.
You see immediately why I like Pippa.
Cross is another member of the Fallen Angel gambling hell (Borne was married off in the previous book), with a reputation as a ladies' man. He was also brought on board by Chance, because of his ability to count cards (and also to keep the books). He was a second son, and living up to all that implied (lots of money and little responsibility) when tragedy struck, all of which set him on is current path.
I really liked Pippa.
"Men are uncomplicated, generally," Sally said, all too sage. "They're beasts when they want to be."

"Brute ones!"

"Ah, so you understand."

Pippa tilted her head to one side. "I've read about them."

Sally nodded. "Erotic texts?"

"The Book of Common Prayer. But perhaps you have an erotic text you could recommend?"
"I am not entirely certain that I support the profession."

"No?" Thank God. He would not put it past Pippa to simply pronounce a newfound desire to explore all aspects of the world's oldest profession.

"No." She shook her head. "I am concerned that the ladies are ill-treated."
I really love Castleton.
You're brilliant and have a passion for animals and strange flowers, and you were always more interested in the crops that rotated on my estate than in the trappings of my town house. I'd never met a woman like you. But, even as I knew you were smarter than I, even as I knew that you knew that you were smarter than I . . . you never showed it. You've never given me any reason to believe you thought me simple. You always went out of your way to remind me of the things we had in common.
I'm glad he isn't abandoned at the end of the book, although I think his finding love was a little bit too … neat. He deserved his HEA–but I wish it hadn't been quite so tidy.
It's another fun story. Despite all the boinking.
Published by Avon
Rating: 8/10
Reread: August 2017 | Rating: 8.5/10
Reread: January 2019 | Rating: 8.5/10
No Good Duke Goes Unpunished (2013)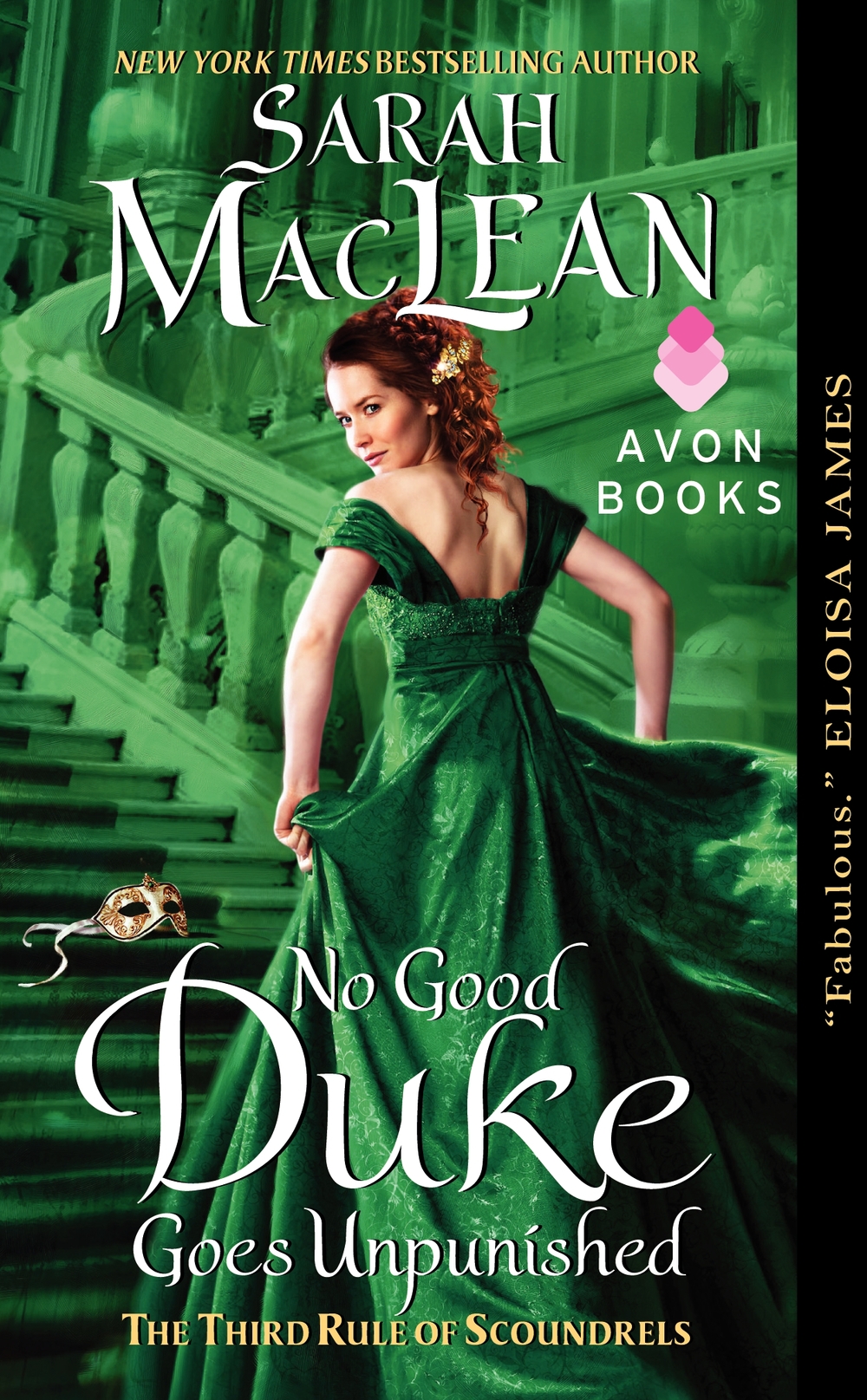 Set in England in 1831
This is the third Rule of Scoundrels book, and tells the story of how Temple ended up fighting in the basement of the Fallen Angel, despite being a Duke.
Can't say this was my favorite. The characters were fin, but nothing amazing, and although we eventually saw why Temple should forgive her, I still have a very hard time seeing why he truly would. It's not that she didn't seem repentant, and it's not like she didn't have a good reason for running away, I can't say that she made particularly good decisions.
And after the geek girl in the previous book, Mara was a letdown.
Not that she didn't have her moments.
She closed her eyes and willed him to lose the power of speech. Immediately and irreversibly. "Obviously, I didn't mean—"

"Well. Thank you."

In the entire history of time, had willing ever worked?

She straightened. Soldiered on. "I would not take it as a compliment. The Greek gods were a strange bunch. Always turning into animals and abducting virgins."

Dear God. Could she not keep her mouth shut?
But mostly, I felt meh about the whole thing.
Published by Avon
Rating: 6/10
Reread: August 2017 | Rating: 8/10
Reread: January 2019 | Rating: 7/10
Never Judge a Lady by Her Cover (2014)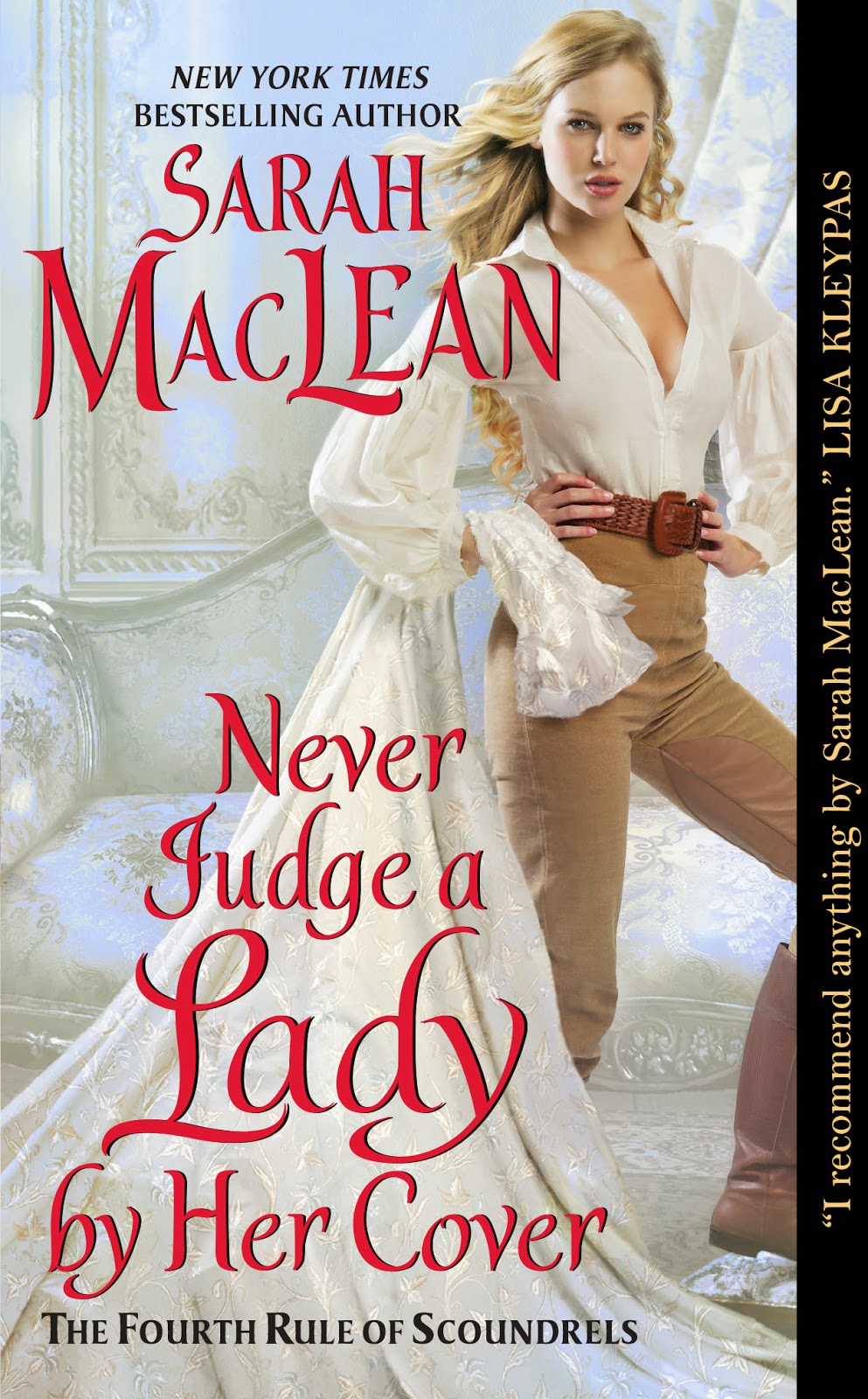 Set in England in 1824
Fathers' sins never seemed to stick. It was the mother who bore the heavy weight of ruin in these situations. The mother who passed it on to the child, as though there were not two involved in the act.
The final book in the Rules of Scoundrels finally sees us learning the identity of Chase, the owner of the Fallen Angel and the most notorious in the group. Everyone wants to know Chase's identity, but few have seen him.
Or rather, as the end of the last book revealed, her.
This was fun, but at times I felt let down my Chase, and I questioned some of her decisions.
First, the most obvious solution to her problems would be to go to the continent. Or India. Or any of the other places where no one would know who she was and where she could remake herself. It's not like there was social media or anything that would make her easily recognizable (never mind the fact that few have seen her for years).
She's got plenty of money. She could easily travel and start over somewhere else.
Second, she trusted her identity as Chase to her partners and their wives. And a number of her employees. Why on earth she couldn't tell Duncan West as well? She trusted him with one of her secret identities, why not the other?
Not that the story wasn't fun at many points, and I quite liked Caroline.
What did we discuss relating to Society events?"

"This is not exactly an event," Caroline argued.

"It's close enough. What did we say?"

Caroline's brow furrowed. "Not to bring up skull drinking?"
And I quite liked the idea of the club helping women (from all walks of life) escape if need be. I don't think it would have been quite as presented, and I don't think the wealthy and titled would have often accepted, but it was still nice, and a good reminder of who is truly to blame in abusive relationships (which existed since time immemorial through today).
So, fun, but not sure the series would be worth a Reread.
Published by Avon
Rating: 7/10
Reread: August 2017
Reread: January 2019 | Rating: 7.5/10
The Rogue Not Taken (2015)
Set in England in 1833.
Sophie Talbot is tired of being the youngest Soiled S, never truly accepted.
The Talbot family was the scandal of the aristocracy. Sophie's father was a newly minted earl, having received his title a decade earlier from the then King. Though her father had never confirmed the gossip, it was generally accepted that Jack Talbot's fortune— made in coal— had purchased his title. Some said it was won in a round of faro; some said it was payment for the earl assuming a particularly embarrassing debt belonging to the King.
However, her eldest sister trapped a Duke, and since then the sisters have been invited everywhere. But Sophie hates it.
The Marquess of Eversley is a notorious rake, and has a history of ruining the engagements of beautiful young ladies. When he finds the youngest Talbot sister trying to flee a party, he assumes that she is out to snare a Duke herself, and wants nothing to do with her.
One of the things I liked about Sophie was seeing how her father loved her.
Her father wasn't a reader— he'd never learned how, despite having an uncanny head for numbers— so the crate of books he brought home with him was always eclectic: texts on animal husbandry, economic dissertations, travelogues, hunting manuals, four separate versions of the Book of Common Prayer. Once, he'd come home with an obscure collection of etchings from India that her governess had promptly snatched away and never returned.
I love the idea of his randomly picking out books for his daughter to try and please her.
As far as the characters, I liked the secondary characters–the doctor and Bess and the children from the mail coach–better than King. Yes, he had grounds for behaving and believing as he did, but he was mostly a jerk throughout the entire thing.
But, it was a cute romp and a distraction.
Published by Avon
Rating: 6.5/10
A Scot in the Dark (2016)
Set in London in 1834.
Alec Stuart has become the Duke of Warnick, even though he wants nothing to do with the Dukedom–or England.
Seventeen dukes, if he were honest, Bernard supposed— all dead. All within the span of a fortnight.

It was a turn of events— seventeen turns of events— unheard of in British history. But Bernard was nothing if not dedicated, even more so when it fell to him to play protector to such an old and venerable title, to its vast lands (made vaster by the rapid, successive death of seventeen men, several of whom died without issue), and large fortunes (made larger by the same).
So he ignores the dukedom as best he can, until he receives a missive that part of what he inherited was a ward–and that ward has gotten herself into a terrible scandal.
Lillian Hargrove is the ward of the Duke of Warnick, even though he doesn't seem to know of her existence. So she is quite shocked when the Duke appears on her (actually his) doorstep to save her from her scandal, she isn't interested in being redeemed, she just wants to escape London and the mess she has gotten herself into.
Her father had died and left her in the care of the duke, and all had been well for several years, until the duke had died. And sixteen more, as well. And then this man— this legendary Scot who had eschewed all things English and never even turned up in Parliament to receive his letters of patent— had been in charge.

And Lily had been forgotten.

No dowry. No season. No friends.
I thought it was a fascinating premise–that a young woman could be forgotten in such a manner, and unable to do anything about it, because women were property.
It was, of course, a good deal of ridiculous, but that's okay, because it's the kind of ridiculous that I expect from Sarah MacLean–and generally enjoy.
I mean, the dog house and all the ridiculousness therein was utterly delightful.
That said, this was not my favorite Sarah MacLean book. I didn't care for Alec's willful misunderstanding of Lily's feelings for him, and acceptance of his past. I get that he's pretty screwed up about his past, but I don't see his fleeing (read: abandoning) her as okay. Especially since part of his past burden was being abandoned by his mother.
That's not to say that I didn't enjoy the book, because I did. There were lots of bits I quite liked.
"We all have misfortune. If we cannot laugh at it, what is there?"
I just got annoyed with the inability for the two to work out their issues until the VERY LAST SECOND. Made me glad I borrowed the book rather than buying it.
Publisher: Avon
Rating: 6/10
Wicked and the Wallflower (2018) 
Set in London in 1837.
Felicity Faircloth is on the shelf. She's been abandoned by those she thought were her friends, and despite a minor scandal, her family is pushing her towards marriage. Devil spent the first ten years of his life in an orphanage, then from the age of 12 onward, on his own on the streets of London trying to protect his brother and sister. Now that they've made their mark and their money, all is going well–until their third brother comes to town, looking for a bride.
Even though all three swore as children: no heirs.
So Devil plans his revenge–and decides to use Felicity to enact it.
As with all Sarah MacLean books, my favorite part was the dialog.
"How do you get your hair shaved so close to the scalp?"

He hesitated before he answered. "A woman I trust."

Her brows rose at the unexpected answer. "Does she know you are here?"

"She does not."

"Well, as she takes a blade to your head regularly, you'd best be going before you upset her."
"And if you cannot do it? Do I collect a favor from you?"

He was silent, and then, "Are you certain you wish a favor from the Devil?"

"It seems that would be a far more useful favor than one from someone who is perfectly good all the time," she pointed out.
There's also a passage towards the end of the book that cracks me up, where Felicity walks in on her brother.
Ah siblings.
The book did have a couple weaknesses for me. One was of course the amount of boinking. The second was that it was never quite clear to me HOW Felicity learned to pick locks. They why was made clear. But the ability to pick supposedly unpickable locks seems like something that you'd have a hard time picking up entirely on your own.
I did love that Felicity didn't need rescued. I also loved both Grace and Nik, and I really want to know more about Nik, because a tall blonde woman who dresses as a man is pretty fascinating. Although I'm pretty sure it was much less uncommon in the dangerous parts of the city than elsewhere.
So, it's a fun story, even if I could have done with more lock picking and less boinking.
Publisher: Avon
Rating: 7/10
Brazen and the Beast (2019)
Set in London in 1937
Lady Henrietta Sedley is turning 29 and is done with waiting for things to come to her. She is going to go out and seize what she wants–including the business she should be the one to inherit, instead of her wastrel younger brother. Finding a bound man in her carriage is not the start she wanted–especially since her brother is probably behind the mess she finds.
"This is really just awful timing."

Nora cut her a look. "Is there a good time to find a man bound and unconscious in one's carriage?"

Hattie imagined there wasn't, but, "He could have selected a different evening. This is a terrible birthday gift."
Beast is one of the Bareknuckle Bastards–one of the illegitimate half-brothers who were taken as children to fight for the seat of the dukedom. But someone has stolen from him, and he will take his revenge.
Let's get something out in the open first off: I downed this book in a single sitting. I finished it hours past my bedtime.
Emotionally, this book was incredibly satisfying.
"Am I to think it noble that you ascribe to some nonsensical view of women as doe-eyed chattel who cannot make their own decisions about their bedmates?"
"He didn't send me anywhere. I am the heroine of my own play, sir."
No, seriously. I wanted Hattie to destroy EVERYTHING>
"Who's made you feel this way?"

The question came like a threat, and it was one. Whit wanted a name. And she gave one, as though he were a child and she were explaining something as simple as sunrise. "Everyone."
And I completely and utterly adored Hattie's best friend, Nora. One can only hope she gets her own novella, for she is AMAZING.
Hattie cut her friend a look. "I thought you were the brave one."

"Nonsense. I'm the reckless one. That's a different thing entirely."
Beast is a broken man, which is my catnip. He and two of his siblings have built lives for themselves–built more than lives for themselves. But it has only made him strong–it hasn't made him whole.
A personal irritation–t
here is a LOT of boinking in this story, and personal history and stories were shared during those intimacies. Which is, you know, how things happen, but it meant there was minimal skimming of the boinking bits, because then I'd miss something relevant to the story. But that is, I'm certain, not going to be an issue for most people.
But the emotional satisfaction of Hattie claiming her life for herself–it was everything I could have wanted.
Oh, one last note.
This cover on my book is the one at the top of the post. Which matches all the other Sarah MacLean covers in this series, as well as her Rules of Scoundrels series.
It's fine. I don't have a problem with it. But the alternate cover I found online–here at the right–is AMAZING. That's how I imagine Hattie to look, and it's gorgeous and beautiful and I am in love with it. I get why it couldn't be used on American release, since it doesn't match the rest of the series–or her books–but it is utterly lovely, and I wanted to share it.
Publisher: Avon
Rating: 8/10
Daring and the Duke (2020)
Set in London in 1837 & 1838
I liked so much about this book, but the boinking parts were so not my thing the whole story ended up failing for me.
Let me clarify before you start angry typing at me.
Hate sex is something I utterly and absolutely do not and cannot grok. I am on the ace spectrum, and the idea of having sex with someone you despise is simply something I cannot wrap my head around. I can at least intellectually wrap my brain around the idea of casual sex, although I tend to DNF those stories, because they whole thing just doesn't work for me at all.
But this is the third and final story in the series, and I really wanted to know just what had happened in the past that led to the events in the previous two books, so I kept reading.
And kept getting boinking scenes–and those scenes contained important dialog, so I couldn't skip them.
I know that this trope works for lots of people, and I get that this is MY thing, not an issue the author needs to fix. But it was disappointing because I had wanted to know what had happened in the past, and I really did like Dahlia / Grace, and wanted the best for her, and loved how she took what she wanted and did what she was right.
But her anger at Ewan was so great (and so deserved) I just couldn't wrap my head around the sex–in fact was horrified by the idea of it. And because the boinking was such an integral part of the story and their relationship, the whole book felt like work rather than the joy her stories usually are.
So essentially this is a heads-up for other aces who might have the same squicks and repulsions I do.
Publisher: Avon
Nine Rules to Break When Romancing a Rake (2010)
Set in London in 1823
Lady Calpurnia Hartwell (Callie to her family) is a spinster. It's been 10 years since her coming out, and so she has come to accept that she is never going to get married (and she is quite lucky that her family didn't force a marriage upon her). However, the engagement of her younger sister has made her realize how much life she has missed, sitting on the shelf maintaining her reputation.
I'm in for an adventure, don't you think? Do you imagine there will be a ruddy-cheeked barkeep with a missing tooth or two? Or a tired, winsome barmaid, working to keep her children fed and clothed? Or a group of young workmen eager for a pint of ale to chase away their tiring day?"

Anne spoke dryly. "The only thing I imagine there will be in that tavern is an overly romantic lady doomed to be disappointed by reality."
Gabriel St. John, marquess of Ralston is rake. He has no interest in marriage and even less interest in love. But when he and his twin brother discover they have a younger sister, he knows he'll have to reform (or at least act reformed) for her to be accepted into society.
I was surprised by how much I enjoyed this story. Callie is delightful, deciding that she is tired of being a wall-flower and creating a list of things she wants to do. I initially wasn't quite sure why she'd been in love with Ralston for so long, but the more we learned about him, the more complex and interesting he. Because he may well be a rake, but he generally respects women, which is a concept that was not contradictory at that time.
And she's marvelous.
"You aren't really here to see the art, are you?"

Callie's confusion showed. "Certainly. I very much enjoy the fine arts. You do not?"

"I like a pretty painting as much as the next chap," Oxford said. "But no one really comes to the private viewing to see the art, Lady Calpurnia. It's about proving you are able to secure a ticket."

Callie dipped her head to keep the baron from seeing her roll her eyes.
There was a good deal of boinking and pre-boinking activity in this book, but the relationship between Callie and her family, and Callie and Ralston's family were complex and interesting. And although Callie and Ralston has misunderstandings and miscommunications (some of which I saw coming from quite a while away) they generally talk to each other and resolve those misunderstandings. (People having misunderstandings and NOT talking to each other is something that irks me in books.)
So, despite all the boinking, I quite enjoyed it.
Published by HarperCollins
Rating: 7.5/10
Ten Ways to Be Adored When Landing a Lord (2010)
Set in England and Yorkshire in June 1823.
This book follows Nine Rules to Break When Romancing a Rake, and sees the other twin, Nicholas St. John, become a highly sought-after prize on the marriage mart. So when he's asked to search for a friend's missing sister, he gladly leaves London.
Lady Isabel Townsend is impoverished, holding the family lands together by her wits and hard work, while her father squanders everything that isn't entailed. Unfortunately for her, because her brother is a minor and she only a female, her father's death doesn't make things any easier for her.
Especially since she is hiding a whole lot of secrets.
There is much to enjoy about this book. For instance, Isabel's brother:
A young boy with a face covered in what looked suspiciously like strawberry jam. Nick was not entirely certain how to proceed under such circumstances, but, before he could say anything at all, the child took matters into his own hands.

The door slammed shut as quickly as it had opened.

"THERE'S A MAN AT THE DOOR!"
And Nicholas' friend Rock (who I very much liked, and am sorry he got such short shrift in this story).
"What would one need with a houseful of women? "

Rock set his book aside, leaning back against his chair and looking up at the ceiling. "There isn't a single reasonable answer to that question."
There were things that bothered me about this story–not big things, just niggling little irritations that didn't throw me out of the story, but nagged at me nevertheless, but the fact that Nick is so kind and generous allowed me to easily sweep them aside.
(S)he redirected her attention to her brother.

Only to discover that he was wearing an equally unlikely dinner ensemble: short pants, a dirty linen shirt, and an elaborately tied— if hopelessly wrinkled— cravat.
It's a cute story, and I liked the characters and how they held so strongly to what they believed. It wasn't the strongest story, but it was a pleasant escape.
Please note: this is a boinking book.
Published by HarperCollins
Rating: 7/10
Eleven Scandals to Start to Win a Duke's Heart (2011)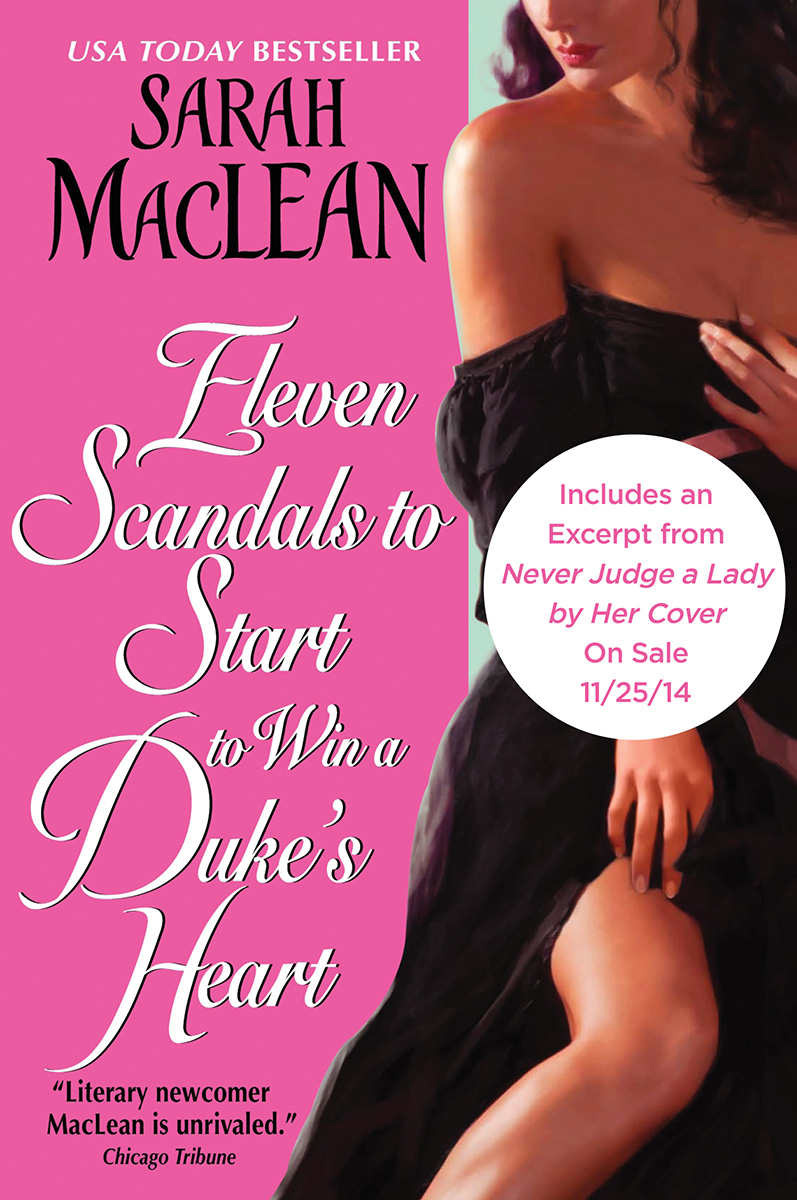 Juliana Fiori is the daughter of scandal–her mother abandoned her first husband and twin sons and ran off to Italy to marry a merchant, and then abandoned that husband as well. After her father's death, she discovers she has two brothers who will both help her and present her to society. Unfortunately, society is uninterested in a young woman of dubious birth.
Juliana was suddenly, embarrassingly aware of the fact that she was in a man's home. Unescorted. With the exception of a dog. Who had already been revealed to be a poor judge of character.
Simon Pearson, the Duke of Leighton, wants nothing to do with scandal, partially because of how he was raised, and partially because of events in the previous book. His is friends with the younger Ralston, St John, but can't stand the older brother Gabriel, who as a notorious rake until marriage (see, the first book) settled him down, and with his own impending scandal, wants absolutely nothing to do with Juliana.
Unfortunately, trouble seems to follow Juliana, and leads her to the Duke of Leighton.
"Handled him how?"

She paused, cradling her bruised wrist in her hand in a way that made him wonder if she might have sprained it. "I hit him."

"Where?" Ralston blurted.

"In the gardens."

The marquess looked to the ceiling, and Simon took pity on him. "I believe your brother was asking where on his person did you strike your attacker?"
I really like Juliana. I loved her inability to get idiom and her turns of phrase.
"He called me a pie!" she announced, defensively. There was a pause. "Wait. That's not right."
Simon, on the other hand, was very hard to like. I understand that he was raised by a horrible mother, and has tried very hard to live up to his reputation as a Duke, but… he he is just not very nice.
(H)e took her elbow and turned her toward her brother's home. "Walk."

"Why?"

"Because we cannot remain standing here. It is not done."

She shook her head. "Leave it to the English to outlaw standing."
I want Juliana to be happy, and I of course want Simon to stop being a jerk, but I have a difficult time believing he'd truly overcome how he was raised, and would make Juliana happy in the long run.
So, it was an interesting story, I just didn't like the hero, and am not certain they really had a HEA.
Published by HarperCollins
Rating: 6.5/10