Books: Romance | Historical
To Charm a Naughty Countess (2014), Secrets of a Scandalous Heiress (2015)
To Charm a Naughty Countess (2014)
Set in England in 1816
I wanted to love this story. Instead, I just liked it, despite often feeling irritated at times.
Michael Layward, the Duke of Wyverne has learned that his estate is out of money, and no one is willing to extend him credit any longer.
Caroline Graves, the Countess of Statton, enjoys being a widow, and sees no reason to get remarried, even if everyone seems to expect it of her.
Michael is a very interesting character, and the reason I kept reading the story. He'd probably on the autism spectrum if this book were modern, because he seems unable to parse emotions.
But some bits reminded me of how I try to deal with anxiety:
When the body became too oppressive on the mind, the mind silenced it. He often did sums in his head; compiled a list of native plants; considered improvements, cottage by tenant's cottage. He kept his mind busy and so silenced his body.
But mostly it was amusing to see him try and deal with romance and marriage and other such things.
"Will you help me remove my gown?"

"Of course." He cast an eye down the garment's heavy red length. It was fastened up the back, but did it pull over the head or slide down? "Only you must tell me how to operate it."

She laughed. "One operates a lady's garments in this way." And she instructed him in solving the puzzle of buttons and laces, plucking pins from her heavy weight of hair, sliding an expensive gown from a woman's form without damaging its fabric.

And then she stood before him… actually, still quite clothed.
Caroline, on the other hand, I had a harder time understanding. She was nice enough, but I wasn't always sure why she did what she did, and that made it difficult for me to sympathize with her.
It wasn't a bad story, and I did enough the Duke, but it felt like it was missing something, although I'm not sure what.
Published by Sourcebooks Casablanca
Rating: 6/10
Secrets of a Scandalous Heiress: A captivating and hilarious Regency Romance (2015)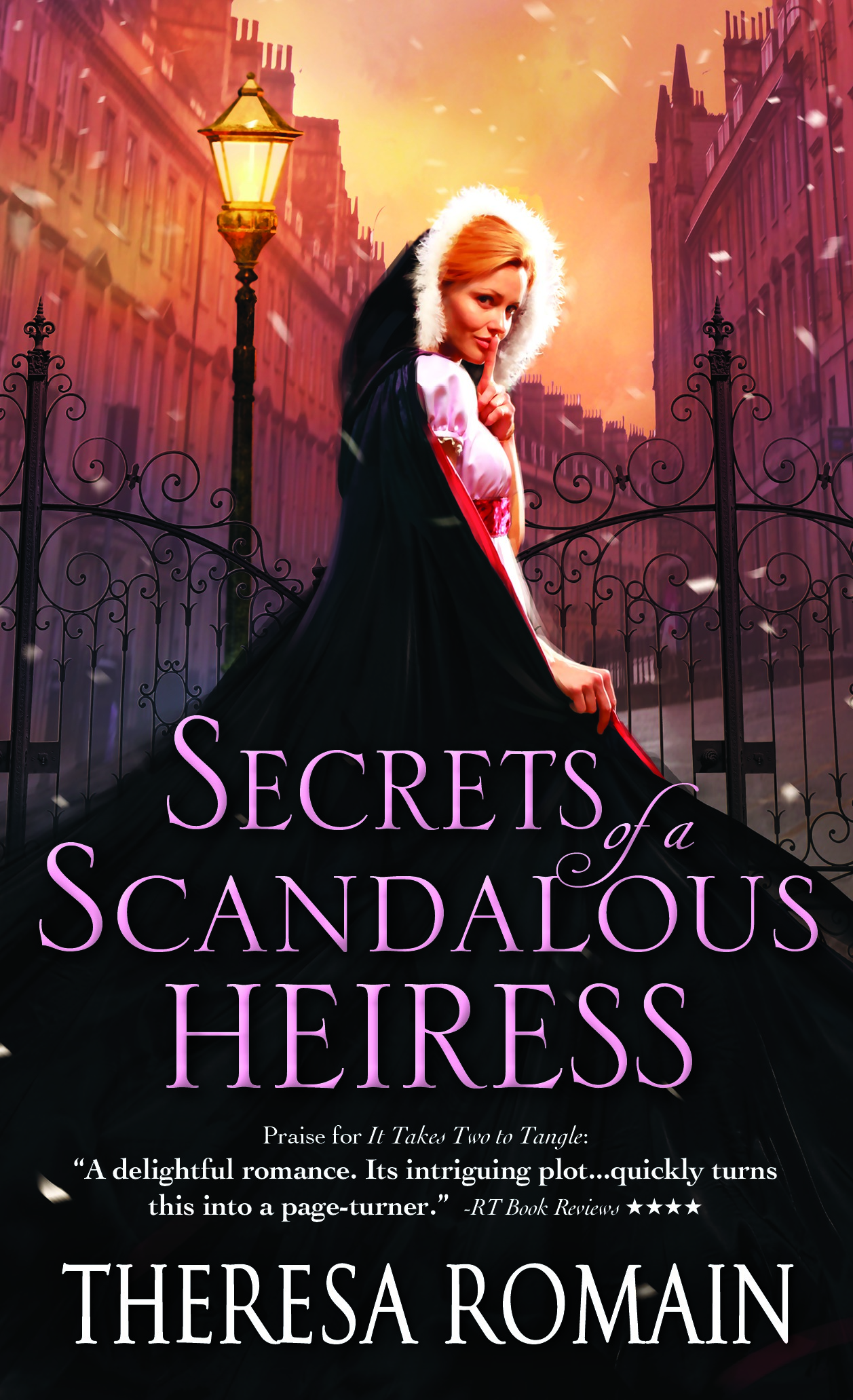 Set in Bath, England in 1817
I'm not sure about captivating and hilarious, but it was enjoyable.
Augusta Meredith is the heiress to Meredith Beauty, and as she is from the Trades, she can never truly be part of the Ton.
Joss Everett is a penniless grandson of a baron–and a woman from India, and so is also on the outside looking in.
When Joss discovers Augusta in Bath pretending to be the widow Mrs Flowers, they make a deal wherein Joss will keep Augusta's secrets if she helps him sell land for his cousin and discover who is blackmailing his cousin.
I enjoyed the mystery of discovering the blackmailer, and watching the two slowly reveal their pasts.
I quite liked Emily, the Countess with whom Augusta is staying.
"Though at the moment I am feeling a bit ill. I might have to leave you alone with him when he calls. As an invalid, I need my rest, you know."

"So much coughing. A new symptom? I was not aware you were suffering from a lung ailment."

Over the rim of her teacup, Emily shot Augusta a mischievous look. "It's whatever type of ailment I need it to be. If my health is going to render my life more difficult, it might as well render it more entertaining too."
One thing I particularly liked about this story was that the two main female characters had both suffered from grief, and Augusta suffered from what would probably be classified today as depression.
Five days passed like this: days of quiet ease broken by sudden tides of loneliness that dragged at Augusta at unexpected times. She had come to think of these fits of melancholy as an object: a boulder balanced at the top of a steep hill. If she let it tumble, it would roll over and crush her. After she lost her parents and Colin Hawford within the span of a week, her shoulders had been bowed and the boulder had fallen. Wrenching it back into place had taken agonizing months, and its equilibrium had felt precarious ever since. She knew now how easily knocked away were the chocks of love, of everyday life, of expectations.

And so when the boulder tipped, she smiled more brightly, added more flowers to her hair, laughed at every little joke. Day by day, the number of callers for Mrs. Flowers increased. Everyone liked to be with her, sunny and cheerful as she was.

Well. Not everyone, but enough people. At least… it ought to feel like enough.
That was a very well done description of dealing with grief and depression without using the word depression.
One never knew when a happy moment would flutter by on vivid wings, hoping to be captured.
It was a nice light story, with characters who had their own pasts and problems, but who didn't judge each other for those pasts (possibly because they were both so wrapped up in their own hurts).
If you find it on sale, you should snatch it up.
Published by Sourcebooks Casablanca
Rating: 7/10