Books: Romance | Historical
Lucien's Fall (2011)
Lucien's Fall (2011)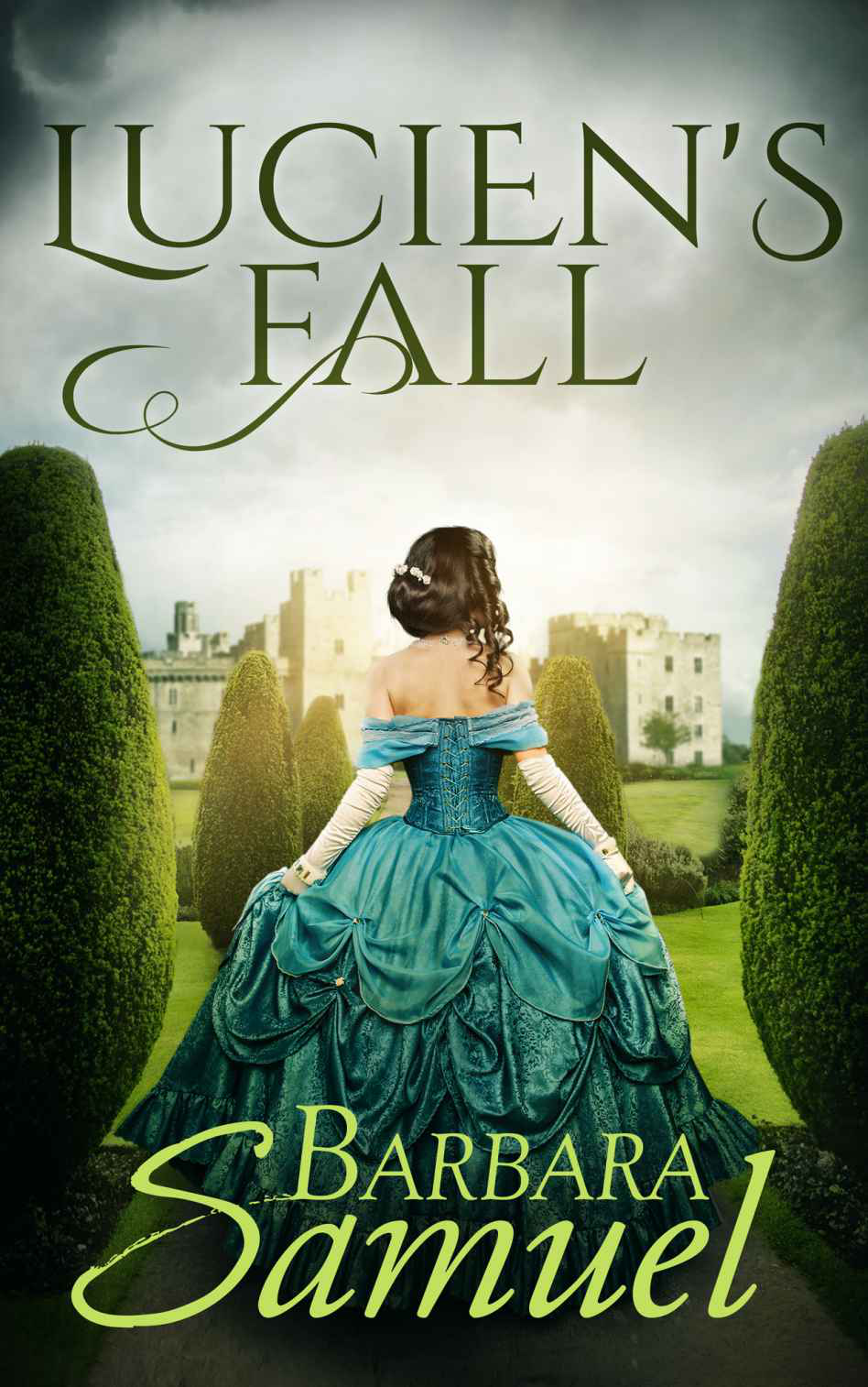 Madeline needs a wealthy husband to save her family estates–more specifically, she wants to save her beloved gardens. She traveled the continent and viewed many gardens, which gave her even more ideas so to what she wants to do with the gardens and grounds, but she can only do so much herself, so she needs a husband with wealth.
Lucien is an infamous rake. He accompanies his best friend, Jonathan, out to Whitethorn.
Jonathan in love— fancy that. And with the most notoriously unfaithful woman in all of England.
Lucien enjoys being a rake, and is wasting his life to spite his father. He is also tormented by his music.
Crystal bottle in hand, he hummed the music aloud, over and over, swinging the bottle as if he were conducting. And as he hummed, he saw the notes as a river of colors. They rose and swirled, like an elaborate braid, each strand woven around the others, none muddied or muted. Unless he wished it.

The claret shone in his glass, ruby colored, like the sound of viola.
Lucien is a synesthete, a term that was unknown at the time, but that doesn't really explain his tormented relationship with music.
Nor does it justify his acting like a complete asshole.
Yes, I did have issues with this story. And yet, I couldn't stop reading it.
I didn't like Lucien, and even after learning his somewhat difficult past, I still didn't much like him. Instead, I quite preferred the poor marquess, the fortune that Madeline is being set up with.
"Oh, do call me Charles," he said with a pained smile. "My lord makes me think of my gouty father."

Who would no doubt have a gouty son, she thought unkindly, eyeing his plump fingers. Then, ashamed of herself, she nodded. "Charles."
He's a kind man, who doesn't deserve to be the jilted suitor (because of course you know that's what he's going to be, with a description like that).
Because Lucien has decided to seduce Madeline.
"Join me, Lord Esher," she said without turning.

"How did you know it was I without looking around?"

Madeline looked up at him. "I think there must be a book of rake's etiquette," she said lightly. "First rule is one must always follow one's prey into a moon-swept night."
Yet, as I said, I couldn't stop reading. Partially because I wanted to know what happened to Juliette, and partially because I was secretly hoping something good would happen to Charles.
So it was a fascinating story, but I really didn't want Madeline to end up with Lucien, which made me less than thrilled with the HEA, even if the rake was reformed.
Published by Barbara Samuel
Rating: 6/10