Books: Romance | Historical | Mystery 
These Old Shades (1926),The Masqueraders(1928),The Black Moth(1929),Devil's Cub (1932),The Convenient Marriage (1934),Faro's Daughter (1941),Friday's Child (1944),The Reluctant Widow (1946),The Grand Sophy (1950),Cotillion (1953),The Toll-Gate, (1954) Venetia (1958),The Unknown Ajax (1959),Frederica (1965),Lady of Quality (1972)
These Old Shades (1926)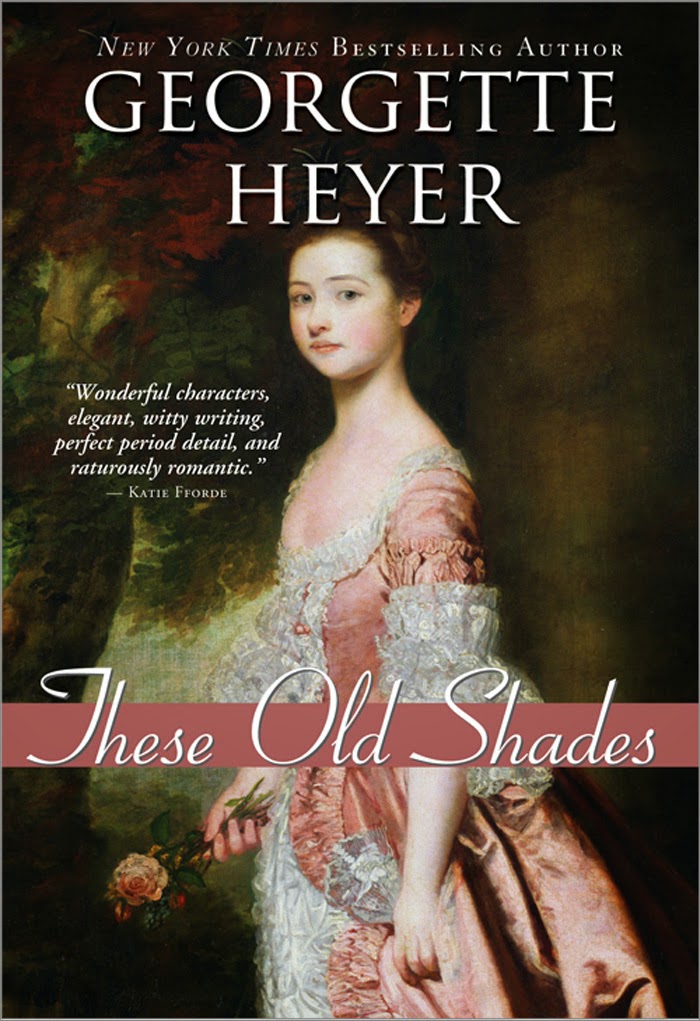 Justin Alastair, the Duke of Avon, is walking through Paris one night when a youth dashes out of an alley and runs into him. After first checking for his purse, the Duke starts to berate the boy when a large burly man who claims to be the older brother of the pale and slender youth comes out of the alley and takes the youth to task. Justin–who is called Satanas by friends and enemies alike–decides he is going to buy the young Leon from his brother.
This was marvelous. Justin is a cad and a rake and a cold-hearted SOB. Leon seems very unlike the child of farmers and then the brother of a Parisian tavern owner, and with his fiery red hair, seems entirely too temperamental to be the page Justin as decided he will be.
All of the characters were distinctive, the plot took many twists and turns, and although I knew it was a romance, I was not certain for quite a while precisely who the romantic leads were going to turn out to be.
But what I think I liked most were the changes in Justin over the course of the story, and the fact that although it seems that Leon blindly worships his savior, in many ways Justin begins to live up to being the man Leon see him to be.
Lovely, almost immediately engrossing, and highly recommended.
Rating: 9/10
Reread: April 2013
Reread: March 2015
Reread: July 2019 | Rating: 9/10
Reread: February 2021 | Rating: 9/10
The Masqueraders (1928)
A couple weeks ago I decided I wanted something completely different to read. After coming upon a review ofThe Masqueraders by Georgette Heyer, "I thought this might be a fun read," and ordered it.
I will admit, the language took some getting used to. The book is set in London in the mid 1700s, and written in 1928, so it did wander a bit in comparison to what I usually read, and there were lots of flowery descriptions, but once I settled into the book and got comfortable with its pace and wording, it was a very fun read.
Prudence and Robin were involved in the Jacobite rebellion, and so Robin cannot show his face in England, so the two contrive of a plot to return to London–Robin as Miss Kate Merriot, and Prudence as Kate's brother Peter. They are to wait in London for their father–a extraordinary trickster who often kept Prudence in trousers instead of skirts as a child, for her safety in their ventures.
First, Prudence is marvelous. Her attitude! Her skill! her wits! Then there is the man she falls for, Sir Anthony Fanshawe. Robin, on the other hand, falls for a woman of far less substance, the heiress Letitia Grayson, who is far more a woman of her times than Prudence (and thus–to me–rather annoying) and whom Peter and Kate manage to save in the opening chapters of the story.
Yes, it is a romance, with true love and all that, but there is also fencing! fighting! and adventures galore! Would I recommend it to a teenage boy? No way. Would I recommend it to someone else looking for an enjoyable read set in historical London? Most certainly!
Rating: 9/10
Reread: September 2015
Set in England in the mid 1740s
Kate and Peter Merriot are returning to England, the country of their birth, to meet with their father. But they have a secret: they are fleeing after the failure of the latest Jacobite revolution, and are in disguise, to remain safe, and have changed places, Robin becoming Kate and Prudence becoming Peter.
This is a fun book, but I had forgotten how irritating and obnoxious their father is. Luckily, there isn't that much of him, and he truly would have to have been the character depicted to pull off the stunts he did.
But mostly, these books are fun and fascinating.
Mr Belfort went hurrying off to confer with Mr Devereux, whom he found writing execrable verse to a lady of uncertain morals.
There was also an interesting bit that quite clearly displays what modern science has recently determined–that eye witnesses are unreliable.
Prudence began to ask questions, and received a multitude of answers. One man swore to two enormous ruffians; another described one small villain, and one huge one and the third man had no very clear idea of anything save that Miss Grayson's pearls had been torn from her neck by a fellow who held a pistol to her head. There was some argument over this: not one of the braves could agree with another's version.
Interesting for a book set in the 18th century and published in 1928.
As always, there are lots of fascinating words:  withal  perruquier  lansquenet  time-thrust  spinney
Fun and entertaining, as always.
Published by Sourcebooks Landmark
Rating: 9/10
The Black Moth (1929)
This is the first of Georgette Heyer's historical romances, and in it are all the elements of the later stories of hers I have read: love, romance, kidnapping, spouses misunderstanding one another, highway robbery–everything needed for a romantic adventure.
Interestingly, although it is a romance, one of the main female characters does not even appear until well into the book. The other female lead is a spoiled brat who seems entirely unlikable on the surface, and her brothers are most certainly odious. It seemed odd to me that a book classified as a romance focused very little on the romance. Which was of course fine with me, because I quite enjoyed the bits about the brothers and their problems.
Of course there is the clothing and makeup–I am so very glad to live in the modern age. Thick make-up and patches? Ugh. Hoop skirts? Please NO!
I think, however, what I found most interesting was what happened to (and with) Tracy in the end.
Is this as strong as her later books, such asThese Old Shades? No. But the groundwork is there, and I can see how these bits and pieces of this first book were later developed into many of the books I have already read (and he more I hope to read as well.)
Also, a very impressive book considering she wrote it as a teenager. The dialog is strong, and although the story does tend to wander all over and one of the heroines does do the annoying thing where she stands there while the men fight over her instead of trying to rescue herself, it is still good, and a lot of fun.
Rating: 7/10
Devil's Cub (1932)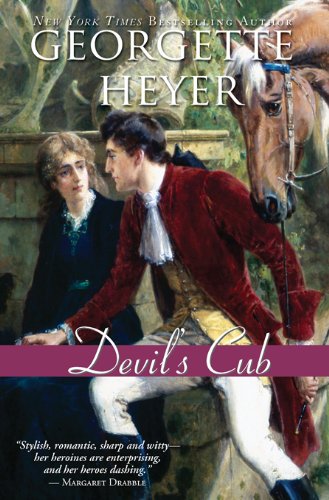 It took me a ridiculously long time to realize that this is (sort of) a sequel to These Old Shades. Dominic Alistair, Marquis of Vidal, is the son of Justin Alastair, the Duke of Avon, and he is, if possible, more of a rake than his father. And her certainly gets into more trouble than his father, possibly because he inherited his mother's temper.
When Dominic manages to shoot a man in a duel–in a gaming hell and not even particularly following the rules of dueling–his father sends him to France.
Mary Challoner, granddaughter of Sir Giles Challoner, was sent away to school to be raised like a lady at her father's family's expense, but when it came to her sister, her sister took entirely took much after her mother, and they received nothing from their father's family. Yet despite their differences, Mary seeks to look after her family, and to keep her sister Sophia on the straight and narrow–no matter how much of a challenge that is.
I very much liked Mary. She was strong and resourceful and not given to hysterics, yet was friends with those who might be given to such. I don't like Dominic quite as much as I liked his father Justin, but it was still a fun and rollicking story, and it was took lots of twists and turns to get where it finally ended up.
Published by Sourcebooks Casablanca
Rating: 8/10
The Convenient Marriage (1934)
The Earl of Rule has decided to finally get married. As he's not particular about who he marries, he decides to request the hand of Elizabeth Winwood. Unfortunately, Elizabeth is in love with someone else, so her younger sister Horatia decides that Elizabeth should not have to make the sacrifice for the family (the brother has thrown the family into debt, and the father is no better) so Horry decides that if the Earl of Rule doesn't particularly care who he marries, than it should best be her, since Lizzy is in love.
I went back and forth between liking and then disliking and then again liking the characters in this story. Because of her pluck at the start of the story, I tended to forget precisely how young and immature Horry actually was, which meant I got annoyed with her when she did really stupid things. But then I'd remember, and go back to liking her. Especially because the thing that might have concerned her most–her stutter–seemed to bother her not at all.
And of course, there are lots of entertaining–although wildly improbably–parts of the story, including duels, kidnapping, highway men and other ridiculousness.
So it's fun, but much more far-fetched than the other books I've read by Georgette Heyer. I'm rather glad I didn't read this first, because although I enjoyed it, I didn't find it nearly as good as some of her other stories.
Published by Sourcebooks Casablanca
Rating: 7/10
Faro's Daughter (1941)
Max Ravenscar is one of the most wealthy men in London, but seems to care little for high society and fashion. Yet, as trustee of his nephew's fortune, a call from his sister to keep Adrian from marrying the niece of a woman who runs–of all things!–a gaming house, send Ravenscar to the home of Lady Bellingham where he meets the beautiful and spirited Miss Grantham for himself, and see just why his nephew has fall for her, but thinks that removing Adrian from her clutches will be a simple thing.
Unfortunately for Ravenscar, Deborah doesn't want Adrian in her clutches, and so a dangerous game full of insult and misunderstanding is begun.
Although there are some things I do like about Deb, occasionally I do think she is quite silly. That did not, however, stop me from enjoying the story.
Published by Sourcebooks Casablanca
Rating: 7/10
Friday's Child (1944)
Lord Sherington needs to get married to take control over his inheritance–especially since he suspects one of his uncles of not acting in his best interests. Sherry, however, is turned down by The Incomparable, Isabelle.
'But my dear girl – ! No, really, now, Bella! Most devoted slave! Word of a gentleman, I am! Good God, haven't I been dangling at your shoe-strings ever since I first knew you?'

'No,' said Miss Milborne.

The Viscount blinked at her.

'When you first knew me,' said Miss Milborne, not rancorously, but as one stating a plain truth, 'you said all girls were plaguey nuisances, and you called me Foxy, because you said I had foxy-coloured hair.'
So Sherry decides that Miss Hero Wantage will work just as well.
Dash it, Hero, I don't want to talk like a coxcomb, and I dare say I may want for principle, and have libertine propensities, and spend all my time in gaming-hells, besides being the sort of ugly customer no woman of sensibility could stomach, but you can't pretend that you wouldn't be far more comfortable with me than at the curst school you keep on prosing about!'
It's an interesting story, watching Sherry discover that having control over his finances means having to grow up, and that having a wife is more than just someone waiting at home for him.
'Lady Sherry,' said Mr Ringwood obstinately, 'would like the balls at the Castle Inn. Like to be presented to the Regent, too. Believe he's still down there.'

'Yes, and a pretty time I should have of it, looking after her!' retorted Sherry scornfully. 'You know very well she's no more fitted to keep the line amongst the set of fellows she'd meet there than a half-fledged chicken!'

'Very true,' said Mr Ringwood, nodding wisely. 'Better go to Leicestershire. Tell you what: give it out you've gone on your honeymoon.'

'That's a devilish good notion, Gil!' approved the Viscount. 'You'd better come along with us!'
But I think Gil ended up being my favorite character.
Mr Ringwood agreed that this was certainly enough to shake any man's nerve; but said after a short pause: 'You know what I think, Sherry?'

'Yes: that she don't mean any harm,' replied Sherry. 'You've said it before – in fact, you're always saying it! – and I know it without your telling me.'

'I wasn't going to say that,' said Mr Ringwood. 'Going to say, she don't make the same mistake twice. Noticed it.'
This isn't my favorite Heyer, but it was a lot of fun.
Publisher: Sourcebooks Casablanca
Rating: 8/10
The Reluctant Widow (1946)
Set in England in 1813
Elinor has set out to take a position as a governess–her father's ruin and death left her to make her own way in the world–at this point hiring out as a governess.
Unfortunately, Lord Carlyon believes her to have answered her advertisement, which is not for a governess.
'I made no secret of my age, sir. I am perhaps older than you imagine. I am six-and-twenty.'

'You look younger,' he commented.

'I hope it need not signify, sir. I assure you, I am not without experience.'

'You can hardly have had experience of what now lies before you,' he retorted.

A dreadful suspicion crossed Miss Rochdale's mind. 'Good heavens, he is not – he surely cannot be – deranged, sir?' she exclaimed.

'No, he is quite sane,' he answered. 'It is brandy, not madness, to which the greater part of his propensity for evil is attributable.'

'Brandy?' she gasped. He raised his brows.

'Yes, I thought you had not been told the whole,' he said. 'I am sorry. I intended – and indeed ordered – otherwise.'
Instead he wants her to marry his odious cousin.
'But I do not want to be a widow!' declared Elinor.

'I am afraid it is now too late in the day to alter that,' said Carlyon.

'Besides, if you had known my cousin better you would have wanted to be a widow,' Nicky assured her.
Nicky is possibly the most delightful part of this fun story. He's Carlyon's younger brother, sent down from school, and staying with Elinor in the decrepit house she is to inherit.
As the pockets of both gamesters were, in Nicky's phrase, wholly to let, they played for fabulous but imaginary stakes, with the result that when the tea-tray was brought in, Elinor found herself several thousand pounds to the good.
Because this is not just a romance, it's also a mystery: who are the strangers attempting to break into the house? What are they searching for? Who does have the papers stolen from the Army?
It's a fun romp, and I very much enjoyed it, especially the twists and turns of the mystery.
Publisher: Sourcebooks Casablanca
Rating: 8/10
Reread: March 2021 | Rating: 8/10
The Grand Sophy (1950)
Horace Stanton-Lacy needs to get his daughter married. He also needs to go to South America on a diplomatic mission, thus he Sophy to stay with her aunt in London, where he hopes she can be introduced to society and find a good match.
The Ombersley house, however, is in something of an upheaval, and the eldest son, Charles Rivenhall has used his inheritance to pull his father and the rest of the family out of debt, but his control over the house–and the likely control over his fiancee, a well-bred women who seems not to have a sense of humor–has upset the house. Even more distressing is the fact the eldest daughter, Cecily, has fallen in love with a poet and wants to break the match her family has set up for her. The arrival of Sophy and her menagerie pushes everything into a complete upheaval.
Fun! Fun! Fun!
Published by Sourcebooks Casablanca
Rating: 9/10
Cotillion (1953)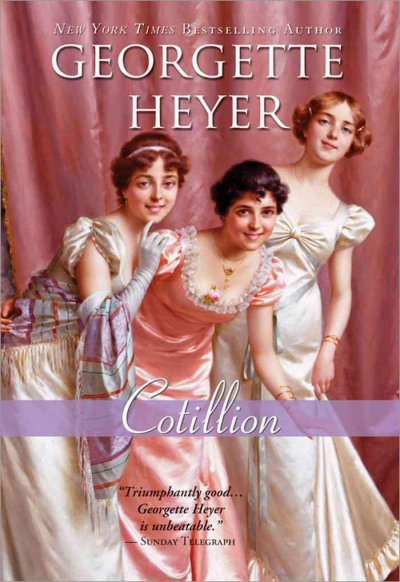 Kitty Charing has been adopted by the very rich and very unpleasant Matthew Penicuik who has decided that she will inherit his entire fortune–if she marries one of his great-nephews. Odds are on Jack, who is Uncle Matthew's favorite (and Kitty's too) but Kitty doesn't like being told what to do, and for all intents and purposes, being put up for auction, and so she convinces Freddy (who didn't show up as commanded to ask for Kitty's hand) to help her come up with a way to get out of her situation.
Published by Sourcebooks Casablanca
Rating: 7/10
Reread: May 2018
Another Reread, because there's nothing quite like foolish young people to distract from the real, modern world.
Kitty Charing was adopted by the very rich and very unpleasant Matthew Penicuik. When he makes his will, he states that she will inherit his entire fortune–if she marries one of his great-nephews. The great-nephews are an assorted lot to say the least: George, who's married (who wasn't supposed to be there!); Huge, the upright rector and George's brother; Dolphington, the sweet by incredibly stupid Duke who is there only because his Mama ordered him to make an offer for Kitty; Jack, the flirt who is also Uncle Matthew's favorite; the absolute dandy, who is wealthy in his own right (one has to be, to be a dandy).
Kitty is sweet and innocent, and in her desire to spend at least a month in London, drags her cousin into her schemes and gets herself into all kinds of scrapes.
Part of the fun of this story is (for me) hating the beloved Jack. The more time one spends with him, the more horrible he becomes, although much of that is because one is looking at him through modern eyes.
The other part was the light amusement throughout the story.
'Ask Jack?' she repeated, in a very alarming voice. 'I wouldn't ask Jack–I wouldn't ask Jack even to frank a letter for me!'

'Wouldn't be any use if you did,' said Freddy, always practical. 'He ain't a Member of Parliament.'
Ah Freddy…
Lord Ledgerwood…regarded his son almost with awe. 'These unsuspected depths, Frederick–! I have wronged you!'

'Oh, I don't know that, sir!' Freddy said modestly. 'I ain't clever, like Charlie, but I ain't such a sapskull as you think.'

'I have always known you could not be, my dear boy.'
That makes me giggle very time I read it. As does this:
It might have been supposed that Freddy, whose intellect was not of the first order, would have found it impossible to grasp the gist of an extremely tangled and discursive story, but once more the possession of three volatile and excitable sisters stood him in good stead.
So, another lovely escape.
Sourcebooks Casablanca
Rating: 8/10
The Toll-Gate (1954)
Set in England in 1817.
Captain John Staple is bit bored, back from the war, and his mother and sister are pushing him to get married and settle down.
(E)veryone seemed to feel that it was time John settled down to a life of civilian respectability. He felt it himself, and tried to be content, but every now and then a fit of restlessness would seize him.
So when he comes upon a strange situation while riding to visit his friend, he decides to stay at the toll-gate until he discovers what is going on.
The mystery was interesting, the romance was cute, but my favorite part of this book as the language.
I daresay I'd get a double finnup for it, too,' he added, sighing over his own prodigality. 'It's worth more, but when it comes to tipping over the dibs there ain't a lock as isn't a hog-grubber. Now, look 'ee here, Mr Nib-Cove –'
I'm bound to say it sounds to me like a Banbury story, but you ain't no halfling, nor you don't look like one o' them young bloods kicking up a lark, and I don't misdoubt you. I don't twig what any boman prig should be doing in a backward place like this.
So help me bob, I don't know why I don't haul my wind before that dimber mort of mine's turned me into a regular nose!'
'That's the dandy!' said Chirk encouragingly. 'In a brace o' snaps you'll be in prime twig, covey!'
It's a fun story.
Publisher: Sourcebooks Casablanca
Rating: 8/10
Venetia (1958) 
Set in England in 1818 (guessed from death of the queen)
The first meeting of the two is problematic–Damerel grabs Venetia and kisses her. He does stop when he resists, and it's not like such things were uncommon, but… it's distressing to modern sensibilities.
Aside from that, I quite liked it. Venetia is independent (for the time) and knows what she wants.
But it was not she who was foolish, as she immediately pointed out to him. He might say what he liked (a generous permission of which he showed no disposition to avail himself) but she knew very well what was likely to come of throwing an inexperienced girl into the arms of a notorious libertine. There was no need for Sir John to tell her that Damerel would make no improper advances to a lady in Venetia's situation: very likely he would not – though there could be no guessing what a man with such a reputation might do – but, pray, had he considered how extremely likely it was that he would induce the poor innocent to fall in love with him, and then go off, leaving her with a broken heart?
She also is protective of her brother (who has a damaged hip) and that he maintains his independence and that people not treat his limp as something that makes him completely different from others–something that would make him unacceptable to proper society. That concern not just for his physical well-being, but for the way he is treated by people made me instantly fall in love with her.
When she learned that he had been reading Aubrey a lecture her eyes snapped with wrath, for reading lectures to Aubrey was a privilege she reserved exclusively to herself.
And Aubrey is definitely a teenage boy.
'By Jupiter, I believe you're right!' exclaimed Aubrey, critically surveying his sister. 'I suppose she is a remarkably handsome girl! People seem to think her so, at all events.'

'And even you allow her to be tolerable! There can be no doubt!'

'Thank you! I am very much obliged to you both!' said Venetia, laughing.
Regardless of their first meeting, I enjoyed the book.
Publisher: Sourcebooks Casablanca
Rating: 8/10
The Unknown Ajax (1959)
Set in England in 1817
Lord Darracott's eldest son has died, and now he (and the family) must accept the Major Hugo Darracott, son of Lord Darracott's next oldest son, who none of met because Hugo's father was in disgrace.
I collect that the weaver's son is the offspring of the uncle we are never permitted to mention?
Anthea Darracott, her mother, and her brother Richmond live on her grandfather's sufferance, depending upon him for everything. He may spoil Richmond, but he also keeps the young man tightly under his thumb.
'Does it ever occur to you, Mama, that my grandfather is a lunatic?'

'Frequently!' Mrs Darracott assured her. 'That is – oh, dear, what am I saying? Of course not! Perhaps he is a trifle eccentric!'

'Eccentric! He's a mediæval bedlamite!' said Anthea, not mincing matters. 'Upon my word, this is beyond everything!'
And the other grandchildren are no more delighted by Hugo's arrival than their grandfather, and want perhaps to consolidate their positions.
'If I thought that, my love, I should feel constrained to marry you myself.'

'Is that a declaration?' she demanded.

'Certainly not! I don't think it.'

'I wish it had been!' she said longingly. 'How unhandsome of you! When you know how few pleasures come in my way, you might have granted me the indulgence of refusing you!'

He laughed, but said, a certain gleam in his eyes: 'I wonder if you would?'

She met his look without a trace of embarrassment, a good deal of amusement in her face. 'Dear Vincent, with enthusiasm! You must never marry. Don't, I do earnestly beg of you, allow yourself to be taken in by any lure thrown out to you! You cannot hope to find a lady who will like you better than you like yourself.'
Publisher: Sourcebooks Casablanca
Rating: 6/10
Frederica (1965)
Lord Alverstroke is a selfish rake who hates–more than anything–to be bored. When his sister as well as their cousin ask him to throw a ball to launch their daughters, Alverstroke refuses unequivocally.
Frederica has come to London determined to find a good marriage for her beautiful younger sister, while keeping her younger brothers out of trouble. Frederica herself is past her first blush of youth and sees herself as quite marriageable, and so has no qualms acting as chaperone and doing as best she can to get her sister introduced to the ton.
Published by Sourcebooks Casablanca
Rating: 8/10
Lady of Quality (1972)
Miss Annis Wychwood believes she is too old for marriage, and not wanting to spend the rest of her life being little more than an aunt to her brother's children, she insists on setting up house for herself. Of course, no unmarried woman can live alone, so her cousin is invited to live with her, much to Miss Wychwood's (silent and polite) annoyance.
Then, into her life stumbles Miss Lucilla Carleton, who is escaping her aunt who is attempting to force her into a marriage everyone believed her late father would have wanted. Annis takes Lucilla in, and in doing so, brings Lord Carlton–notorious rake–into her life.
Published by Sourcebooks Casablanca
Rating: 7/10
Reread: May 2013
Annis Wychwood is twenty-nine and an old maid. Her beauty led to previous offers for her hand, but she turned them down, none from a man for whom she was willing to give up her independence.
Of course, she is still young enough she must keep someone with her, to keep her countenance, and unfortunately for Annis, that someone is Miss Farrow.
Miss Farlow realized that dear Annis had the headache, which was the only possible explanation for her want of enthusiasm over her nephew and niece.
Miss Farlow, still convulsively sobbing, had relied that she hoped she knew better than to talk too much to persons in dear Annis's tender condition. So too did Lady Wychwood, but she doubted it.
Luckily, they come up Lucilla Carleton, who is having problems with her guardians, and so Miss Wychwood allows her to visit for awhile. But a teenager is more than she expected–especially when one of that young lady's guardian is the rude Oliver Carlton.
'(D)on't be so rag mannered!' she retorted.

'But I wasn't!' he protested. 'I didn't see Lucillais pudding-faced! I said shewas, and even complimented her on her improved looks!'
But Lucilla and her friend Ninian Elmore that are a bit more work than she expected.
Lucilla, having maintained what she believed to be a dignified silence, but which bore a strong resemblance to a fit of childish sulks, until she found no one was paying the least attention to her, took herself off to bed before the tea-tray was brought in.
Anyone who knows me will, should recognize why I found the following passage hilarious.
'And no wonder! Racketting all over at her age!'

'At my age?' exclaimed Anis, with a comical look of dismay. 'Jurby, you wretch, I'm not in my dotage!'
I love the term 'wretch.'
Another nice escape from modern reality.
Published by Sourcebooks Casablanca
Rating: 8/10