Books: Fantasy | LGBT
The Tarot Sequence: The Last Sun (2018), The Hanged Man (2019), The Hourglass Throne (2022)
Magnus Academy: The Eidolon (2023)
The Great Atlantean Battle Royalchemy (2022)
The Tarot Sequence
The Last Sun (2018)
Rune is the last member of his house, excluding his Companion, Brand, the man who has been his bodyguard and confidant and friend since he was a child. He is also a mercenary, using as much power and technology as they can afford, to do jobs for others in New Atlantis.
The best part of the story is the friendship between Rune and Brand.
"They're screenshots of a GIS overlay," he said.

"What's GIS?" I said.

"Rune, when I plugged the memory card into my phone, it looked like your head was going to explode. I'm not fucking explaining what GIS is."
There is a lot of snark, but there is also a lot of genuine affection and love that the two aren't afraid of. And as much as Rune doesn't want to, he not only takes in Matthias, he eventually develops a protective affection for him.
The world building here was good and sucked me in, the characters were fun and even more importantly, well done. There were stupid characters that actually seemed like actual stupid people (as opposed to either caricatures of stupid people or just ridiculous). And the plot just tore along, drawing me right in and not wanting to let go.
There are difficult parts to this story, however, and definite trigger warnings. Rune's family was slaughtered and in that raid he was tortured, and at times Rune remembers what happened to him. But the book doesn't dwell on it.
There are some things that aren't particularly well-explained, and it's not clear if this was oversight or if it's something we're supposed to learn later. We'll see, because I am definitely reading the second book.
Publisher: Pyr
Rating: 8.5/10
Reread: July 2021 | Rating: 8.5/10
The Hanged Man (2019)
The world changed decades ago.
The Atlantean World War was brief. The cost was high. Magically radioactive wastes in the Pacific Northwest and half of Poland; the near-extinction of dragonkind; a viral plague that decimated the Atlantean homeland. A hundred thousand headstones, trillions in damage.
In this world, Rune Saint John and his Companion, Brandon Saint John, are in a slightly better place than they were several months, ago, but they are still struggling, and now they have to keep Max safe. Max who was promised to the Hanged Man, and who doesn't want to be more of a burden to Rune and Brand.
My favorite part of the books is the banter. I love banter. And Rune and Brand do so much bantering.
Brand strode ahead of his party and glared at my injuries. "You fucking led me to believe you could handle a half dozen men." "

I lulled them into a false sense of security with my bleeding."
If you did not read this first book (which you should) be aware that Rune had been tortured (and almost killed) as a teenager, and although he is physically better, he still struggles with the memories of what was done to him.
"I'm fine. I just needed a second to get my head on straight."

"Is it?"

"Yes. Pity party over. I don't have a monopoly on bad memories. Sometimes I forget that."

"It's not a contest. You're allowed to say it's too much. You're allowed to say if this is too much."
I all but read this in one sitting yesterday, getting off the sofa to eat some chips and salsa–but not much else until I was finished reading.
I liked all the parts of this book (except the formatting, but that's something else entirely) but what I loved most is the friendship and found family between the characters.
Not only do the male characters in the story hug each other, but they actually break down and tell each other they love each other. And I don't mean Addam and Rune, I mean Brand and Rune, and Addam and Quinn, and it was just so lovely.
I want more, please.
Publisher: Pyr
Rating: 8.5/10
Reread: July 2021 | Rating: 8.5/10
The Hourglass Throne (2022)
I really thought I had pre-ordered this.
I hadn't, and because I was failing to deal with all the things, I didn't notice it was out until the end of August.
That said, I read it almost immediately, and devoured it in a day.
Rune Saint John has recovered his position and his throne. But he still doesn't know why he was tortured and almost killed while his father and almost all his retainers were murdered.
He has discovered some things, but rebuilding his court has taken precedence. But when he is asked to look into who has attacked the Rejuvenation Center, he, Brand, and Addam Saint Nicholas are pulled into the mystery.
One of my favorite things remains the banter.
"You keep asking me if this is what it's going to be like," I said. "I have literally shared every moment of my existence with you. When did you see me sneak away and have different life experiences?"
I love banter.
And I love what a doofus Rune can be.
"I bought a ring for Addam," I blurted.

Brand's eyes flicked up to me. "Wait. You told him about the ring? You asked him?"

"What the hell," I said, genuinely aggrieved. "How did you know about it?"

"You paid for it with our joint credit card, you asshat."
This is the third book in the first trilogy of what is supposed to be a nine book series. Luckily, there have not been any cliffhangers (we know how I feel about cliffhangers) but you probably do not want to start here.
Please note that Rune has to spend time thinking about the rape and torture he suffered when the Sun Throne fell, so if that isn't something you can handle, this series might not be for you.
I really do love this series, and was just delighted to discover there are more short stories I'd missed in the past several months, which I snatched up and will read REALLY SOON NOW.
Publisher: Pyr
Rating: 8.5/10 
Magnus Academy 
The Eidolon (2023)
This story occurs in parallel to The Hourglass Throne, the third book in The Tarot Sequence.
We discover what happened to Max, Quinn, and Anna when they were kidnapped by Lady Time.
I truly have no idea if you could read this story without having read the Tarot sequence. As a story it stands on its own, but I am not sure if lack of knowledge about the world would be a problem or not.
Of course, I think you should read the entire Tarot Sequence, because it's marvelous, so once you read that series you'll already know the world building.
Quinn is an exceedingly difficult character as he is a seer, and past and possible future all exist in his memory, which is exceedingly complicated. I was pleased that I had a far better understanding of Quinn and his gifts as his portion of the story progressed.
Max is far less complicated to portray, but no less important to the story and the series. And I just enjoyed seeing the world from Anna's point of view.
All three teens have been through a great deal, but you can see their friendship beginning to solidify into a bond that will support them.
This is an excellent story, and makes me grumpy I will have to wait so long for the next installment of this series.
Rating: 8.5/10
Short Stories & Novellas
Tarot Sequence Novellas & Stories (2020)
I was informed that there were Tarot Sequence short stories and novellas online.
After finishing The Hanged Man I immediately sought them out. Most of them can be found in the twitter thread I linked to above. There may be other stories, but this are the five I found.
The Sunken Mall
Scenes from Quarantine
"The Playground" (7 pages)
"The Sanctum" (7 pages)
"The Ghost" (10 pages)
"The Principality Ciaran" (13 pages)
"The Tree" (7 pages)
"The Dinner" (20 pages)
"The Equinox" (13 pages)
That is timeline order–since I didn't find the stories in order, I ended up reading them out of order. Which was perfectly fine.
The Sunken Mall and Scenes from Quarantine were novella length, though only The Sunken Mall was a true novella. The other four are short stories–holiday stories–set around solstice.
These are stories for those who have already read the Tarot Sequence books–I don't think any of these would necessarily be a good introduction to the world–but they are a lot of fun.
Rating: 8/10
The Great Atlantean Battle Royalchemy (2022)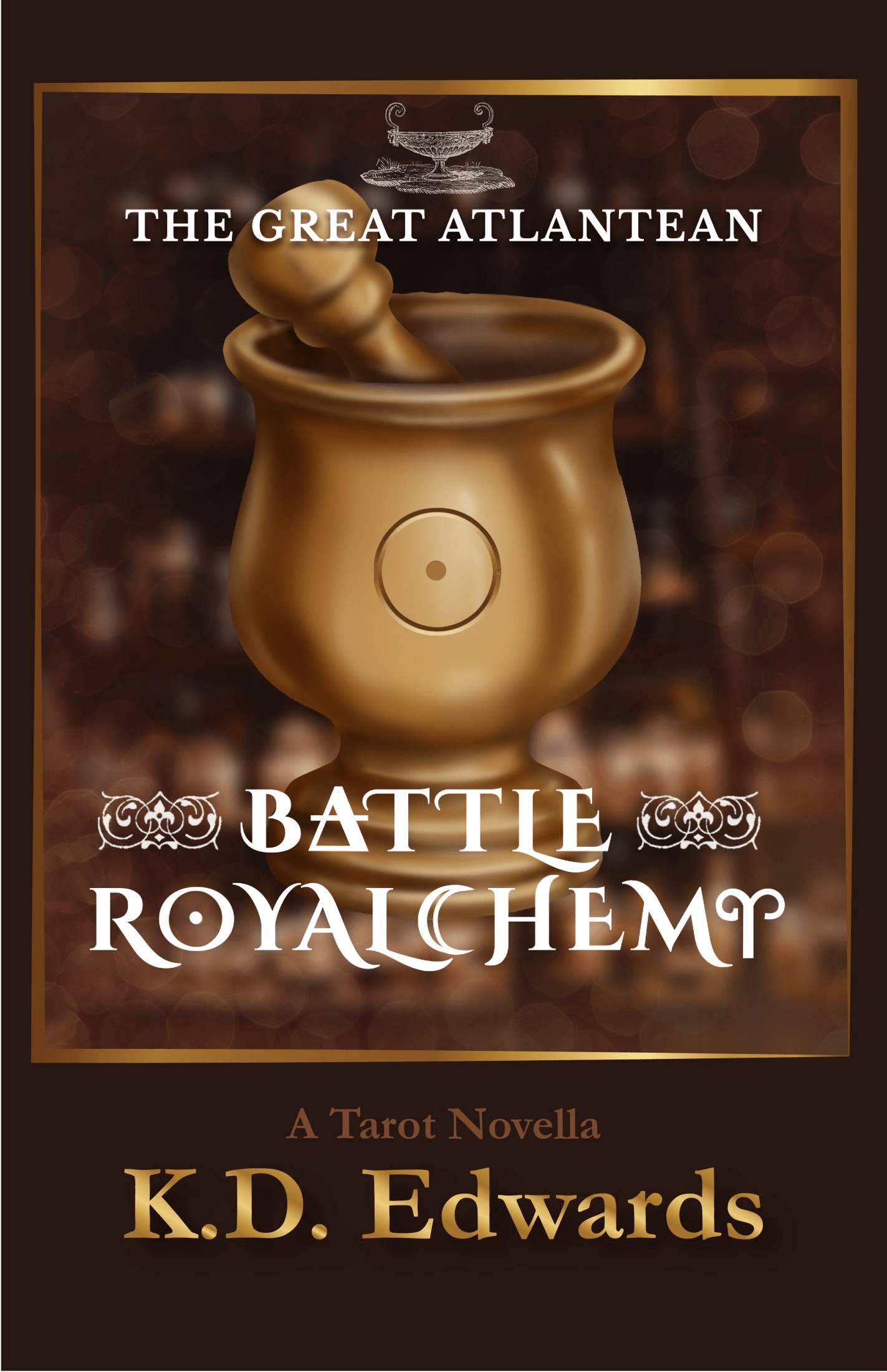 This takes place between The Hanged Man and The Hourglass Throne. Rune has to judge an alchemy contest that is possibly going to harm the peace of Atlantis.
As always, the dialog was wonderful.
Did Layne tell Corinne that they left the estate?" I asked bluntly.

"I am suddenly uncertain," Ciaran admitted. "Have you specifically told Layne to inform Corinne of their whereabouts?"

"Layne is sixteen years old. Is that specific enough?"

I'd never—not once that I could remember—seen Ciaran falter. But a dumbstruck look on his face was quickly swallowed by genuine laughter. "Rune Sun, if you think you don't need to set ground rules with teenagers just because they technically understand the English language, then the next few years are going to be even more amusing than I expected."
This probably isn't something you'll enjoy as much if you aren't already immersed in the world of the Tarot Sequence, but I found it delightful.
Rating: 7.5/10