Books
Anthologies: The Year's Best Fantasy and Horror: Seventh Annual Collection (1994), Outsiders: 22 All-New Stories From the Edge (2005), Children of Magic (2006), Blood Lite (2008), By Blood We Live (2009), An Apple for the Creature (2012), Beyond the Pale: A Fantasy Anthology (2014)
Anthologies
The Year's Best Fantasy and Horror: Seventh Annual Collection (1994) edited by Ellen Datlow & Terri Windling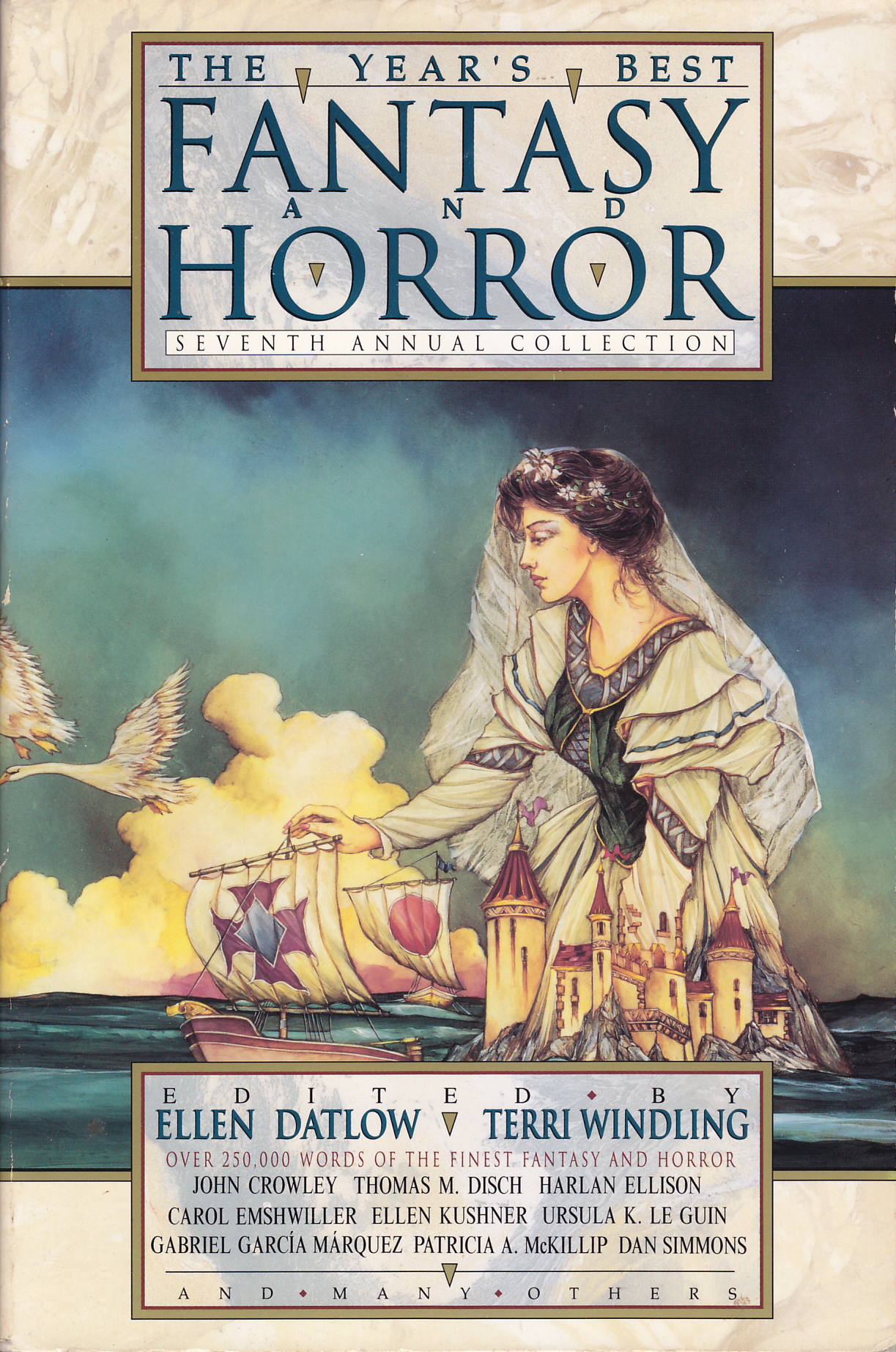 The Poacher by Ursula K. Le Guin
England Underway by Terry Bisson
The Woman in the Painting by Lisa Goldstein
The Daemon Street Ghost-Trap by Terry Dowling
Memo for Freud by Daína Chaviano; trans. by Heather Rosario-Sievert
The Sunday-Go-To-Meeting Jaw by Nancy A. Collins
Breath by Adam Corbin Fusco
Knives by Jane Yolen
Mrs. Jones by Carol Emshwiller
Snow Man by John Coyne
One Night, or Scheherazade's Bare Minimum by Thomas M. Disch
Dead Man's Shoes by Charles de Lint
The Lodger by Fred Chappell
The Erl-King by Elizabeth Hand
The Chrysanthemum Spirit by Osamu Dazai; trans. by Ralph F. McCarthy
Angel by Mary Ellis
The Taking of Mr. Bill by Graham Masterton
The Saint by Gabriel García Márquez; trans. by Edith Grossman
Cottage by Bruce McAllister
Doodles by Steve Rasnic Tem
Dying in Bangkok by Dan Simmons
Prisoners of the Royal Weather by Bruce Boston
The Snow Queen by Patricia A. McKillip
Troll Bridge by Neil Gaiman
The Storyteller by Rafik Schami
Rice and Milk by Rosario Ferr'
Ridi Bobo by Robert Devereaux
Playing with Fire by Ellen Kushner
Later by Michael Marshall Smith
Distances by Sherman Alexie
Crash Cart by Nancy Holder
Some Strange Desire by Ian McDonald
The Dog Park by Dennis Etchison
Wooden Druthers by E. R. Stewart
Inscription by Jane Yolen
In Camera by Robert Westall
The Wealth of Kingdoms (An Inflationary Tale) by Daniel Hood
The Crucian Pit by Nicholas Royle
The Ecology of Reptiles by John Coyne
The Last Crossing by Thomas Tessier
Small Adjustments by Caila Rossi
Precious by Roberta Lannes
Susan by Harlan Ellison
Freud at Thirty Paces by Sara Paretsky
If Angels Ate Apples by Geoffrey A. Landis
Exogamy by John Crowley
The Princess Who Kicked Butt by Will Shetterly
The Apprentice by Miriam Grace Monfredo
Alvyta (A Lithuanian Fairy Tale) by O. V. de L. Milosz; trans. by Edouard Roditi
The Pig Man by Augustine Bruins Funnell
Tattoo by A. R. Morlan
Lady of the Skulls by Patricia A. McKillip
To Scale by Nancy Kress
Roar at the Heart of the World by Danith McPherson
Published by St Martins Press
Outsiders: 22 All-New Stories From the Edge (2005) edited by Nancy Holder & Nancy Kilpatrick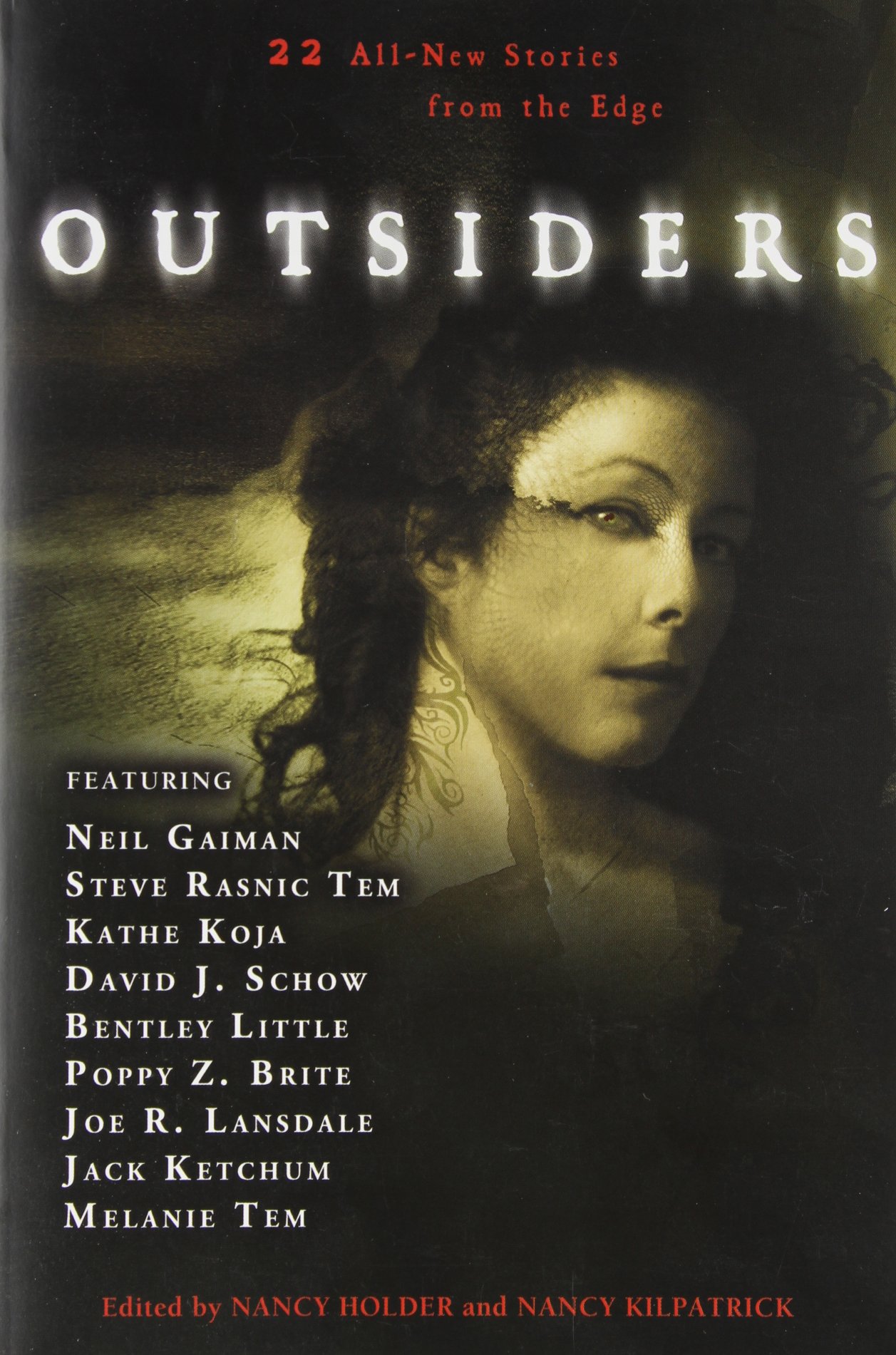 The Empty Chambers - Neil Gaiman
The Company You Keep - Steve Rasnic Tem
Under the Needle - Léa Silhol
Scarabesque: The Girl Who Broke Dracula - Tanith Lee
Expanding Your Capabilities Using Frame/Shift(tm) Mode - David J. Schow
Cat and the Cold Prince - Freda Warrington
Faces in Revolving Souls - Caitlín R. Kiernan
Lighten Up - Jack Ketchum
Pit Boy - Elizabeth Massie
The Country of the Blind - Melanie Tem
Ruby Tuesday - Kathe Koja
Running Beneath the Skin - Brett Alexander Savory
Grim Peeper - Katherine Ramsland
Craving - Yvonne Navarro
Violent Angel - Thomas S. Roche
...And the Damage Done - Michael Marano
Pop Star in the Ugly Bar - Bentley Little
Miss Singularity - John Shirley
The Working Slob's Prayer - Poppy Z. Brite
If I Should Wake Before I Die - Brian Hodge
Honing Sebastian - Elizabeth Engstrom
The Shadows, Kith and Kin - Joe R. Lansdale
Children of Magic (2006) edited by Martin H. Greenberg & Kerrie Hughes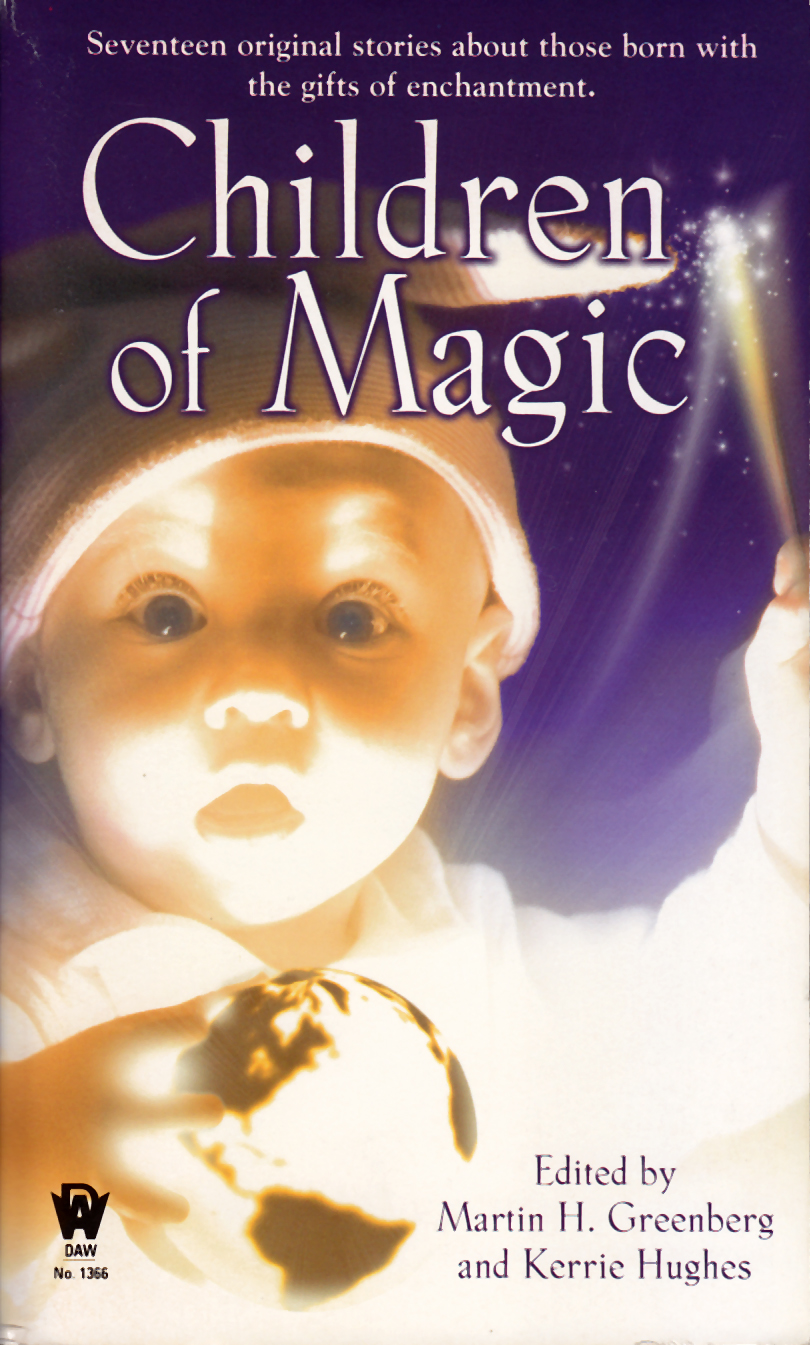 As I have mentioned on many previous occasions, I am a huge fan of short stories. Occasionally I have been disappointed, but for the most part the anthologies I have read have good, especially the one edited by Martin H. Greenberg.
The theme of Children of Magic is (as you would guess from the title) children with magic and the ability to change the world around them. The major problem with this review, however, is that I only read a one or two stories at a time, and then left the book on the headboard for a few weeks while I was reading something else (anthologies are good for that). So it actually took me several months to read Children of Magic as it dropped to the bottom of the pile in favor of whatever I was currently reading during the day (or sometimes something more boring, to put me to sleep.)
Mr. Death Goes to Washington - Alan Dead Foster
Nethan's Magic - Jody Lynn Nye
Touching Faith - Alexander B Potter
The Horses of the High Hills - Brenda Cooper
An End to all Things - Karina Sumner-Smith
After School Specials - Tanya Huff
Titan - Sarah A. Hoyt
Shades of Truth - Jana Paniccia
The Winter of Our Discontent - Nancy Holder
The Rustle of Wings - Ruth Stuart
Basic Magic - Jean Rabe
Fever Waking - Jane Lindskold
Starchild Wondersmith - Louise Marley
Far from the Tree - Melissa Lee Shaw
The Weight of Wishes - Nina Kiriki Hoffman
The Trade - Fiona Patton
Shahira - Michelle West
Blood Lite (2008) edited by Kevin J. Anderson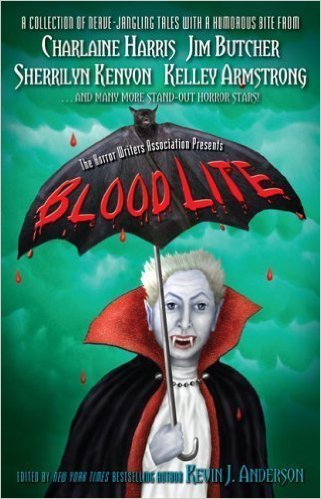 This anthology came out in hardback last year, but considering the theme, I was more than content to wait until it came out in paperback. Which it recently did.
As with most anthologies, there are good stories and bad stories, but there weren't too many stories that I hated, though there also weren't too many stories that I adored. So I'd say it all came out in the wash.
The Ungrateful Dead - Kelley Armstrong
Mr. Bear - Joe R. Lansdale
Hell in a Handbasket - Lucien Soulban
The Eldritch Pastiche from Beyond the Shadow of Horror - Christopher Welch
Elvis Presley and the Bloodsucker Blues - Matt Venne
No Problem - Don D'Ammassa
Old School - Mark Onspaugh
The Sound of Blunder - J.A. Konrath and F. Paul Wilson
An Evening with Al Gore - Charlaine Harris
Dear Prudence - Steven Savile
A GOod Psycho Is Hard to Find - Will Ludwigsen
High Kicks and Misdemeanors - Janet Berliner
PR Problems - Eric James Stone
Where Angels Fear to Tread - Sherrilyn Kenyon
A Very Special Girl - Mike Resnick
Love Seat Solitare - D.L. Snell
I Know Who You Ate Last Summer - Nancy Holder
Bitches of the Night - Nancy Kilpatrick
The Bell...FROM HELL - Jeff Strand
Dead Hand - Sharyn McCrumb
Day Off - Jim Butcher

Jim Butcher's story, "Day Off" was one of the best in the anthology. The start of the story was fabulous, but I'll leave it at that for those who have not yet read the story. As far as the rest of the story, Harry has the day off, but just like his life, things end up spiraling out of control quite quickly. I was reminded of something I read, and I can't for the life of me remember where, so I'm paraphrasing "when you take each action individually, it's completely reasonable," and that's where Harry is. Any single individual thing would be fine, but (as with life) everything always seems to happen at once, which is what makes things so difficult.
I also quite liked Charlaine Harris' story, "An Evening with Al Gore." Her non-Sookie stories are hit and miss with me, but this one was definitely a hit. It's a look at what happens when a wealthy couple and their friends watch "An Inconvenient Truth" and decide to do something about it.
The story "The Eldritch Pastiche from Beyond the Shadow of Horror" by Christopher Welch was quite amusing, and also made me think of my friend Eric, who is a fan of Lovecraft and horror. I'm sure there were plenty of jokes that went over my head since I really do not like horror, but I was amused all the same.
Kelley Armstrong's story, "The Ungrateful Dead," was the first story in the book, and although I didn't think it was as good as Jim Butcher or Charlaine Harris' stories, I did enjoy it, and thought again about picking up another series by Armstrong.
I also like Mike Resnick's story, "A Very Special Girl." It was different in tone from the other stories in the book, and although it felt like these characters belonged in a longer story than this, it was both fun and interesting.
There were some stories that I didn't like at all, I thought "Mr. Bear" was particularly awful, and I didn't like "A Good Psycho Is Hard to Find" either. But over all, the stories were pretty good, and the series was worth reading. I would have been annoyed if I'd bought this in hardback, but it's not a bad buy as a paperback.
Rating: 6/10
By Blood We Live (2009) edited by John Joseph Adams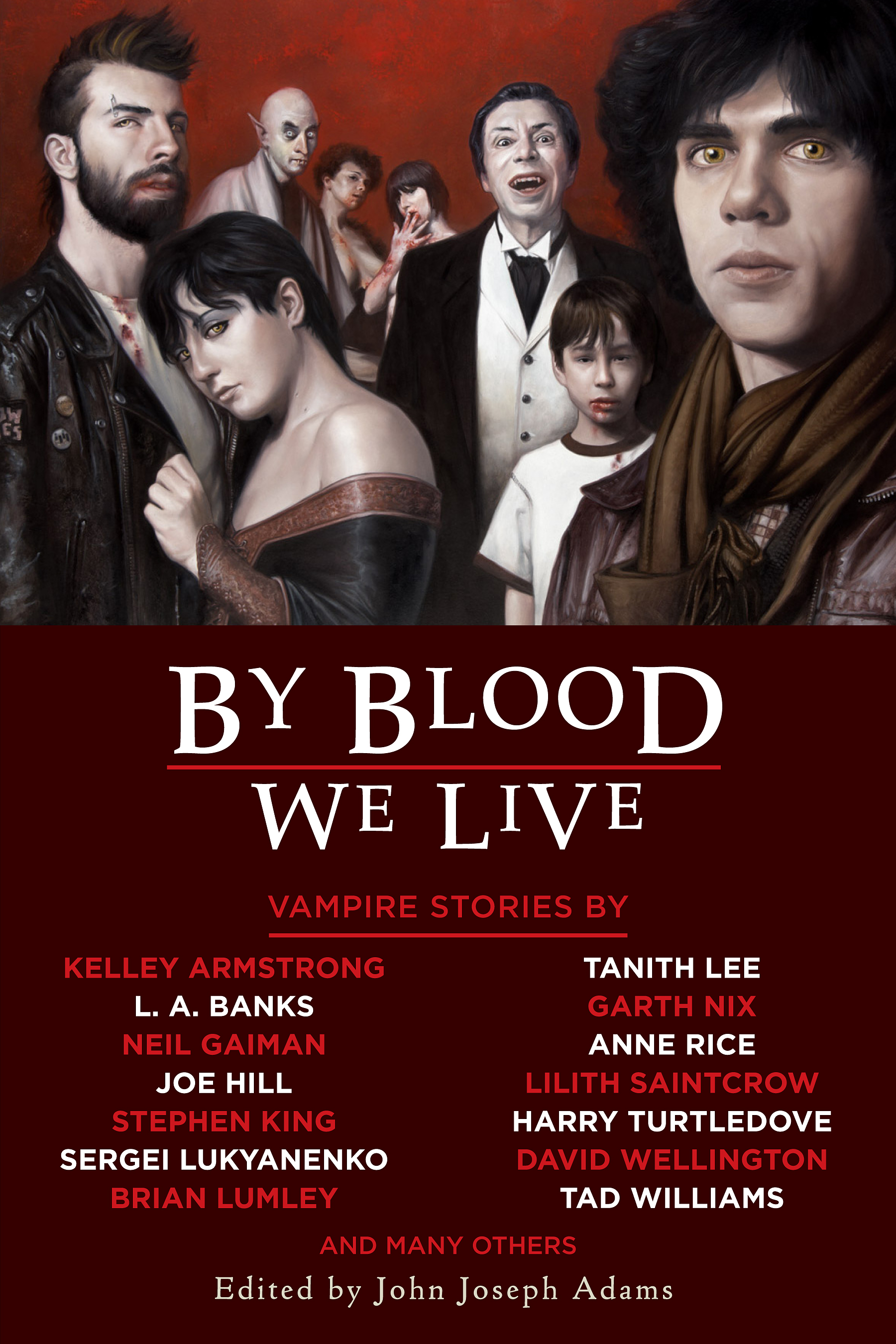 Snow, Glass, Apples - Neil Gaiman
The Master of Rampling Gate - Anne Rice
Under St. Peter's - Harry Turtledove
Child of an Ancient City - Tad Williams
Lifeblood - Michael A. Burstein
Endless Night - Barbara Roden
Infestation - Garth Nix
Life is the Teacher - Carrie Vaughn
The Vechi Barbat - Nancy Kilpatrick
The Beautiful, The Damned - Kristine Kathryn Rusch
Pinecones - David Wellington
Do Not Hasten to Bid Me Adieu - Norman Partridge
Foxtrot at High Noon - Sergei Lukyanenko
This is Now - Michael Marshall Smith
Blood Gothic - Nancy Holder
Mama Gone - Jane Yolen
Abraham's Boys - Joe Hill
Nunc Dimittis - Tanith Lee
Hunger - Gabriela Lee
Ode to Edvard Munch - Caitlín R. Kiernan
Finders Keepers - L.A. Banks
After the Stone Age - Brian Stableford
Much at Stake - Kevin J. Anderson
House of the Rising Sun - Elizabeth Bear
A Standup Dame - Lilith Saintcrow
Twilight - Kelley Armstrong
In Darkness, Angels - Eric Van Lustbader
Sunrise on Running Water - Barbara Hambly
Hit - Bruce McAllister
Undead Again - Ken MacLeod
Peking Man - Robert J. Sawyer
Necros - Brian Lumley
Exsanguinations - Catherynne M. Valente
Lucy in Her Splendor - Charles Coleman Finlay
The Wide, Carnivorous Sky - John Langan
One for the Road - Stephen King
An Apple for the Creature (2012) edited by Charlaine Harris and Toni L.P. Kelner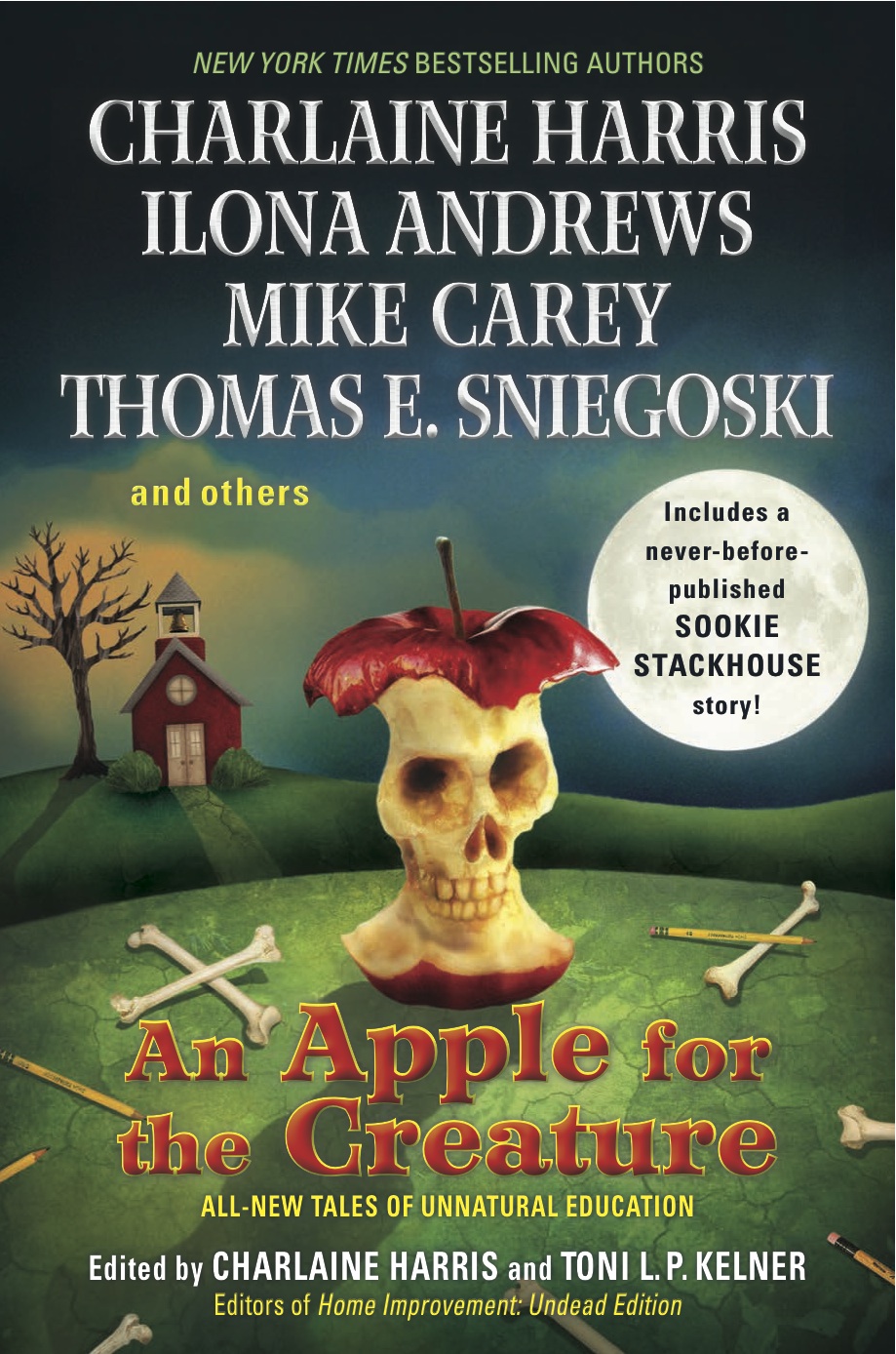 First, I hate this title. It grates on my nerves like nails down a chalkboard.
Luckily, the title is not reflective of most of the stories inside.
...
Nancy Holder's story "VSI" focused on a special training class where agents are shown evidence of the existence of vampires and trained to analyze crime scenes in which vampires may have been involved. I liked this one as well.
...
All in all, it was a decent selection of short stories that made up for terrible title.
Rating: 7/10
Published by Ace
Beyond the Pale: A Fantasy Anthology (2014) edited by Henry Herz
I probably started reading this right after it came out, and got hung up on a single story. Two years later I decided to skip through the stories that didn't interest me and finish the anthology.
"Hooves and the Hovel of Abdel Jameela" by Saladin Ahmed
"The Children of the Shark God" by Peter S. Beagle
"Misery" by Heather Brewer
"Shadow Children" by Heather Brewer
"Even Hand" by Jim Butcher
"Red Run" by Kami Garcia
"Pale Rider" by Nancy Holder
"Frost Child" by Gillian Philip
"South" by Gillian Philip
"A Knot of Toads" by Jane Yolen
"The Adventures of Lightning Merriemouse-Jones" by Nancy & Belle Holder
The noun "pale" refers to a stake (as in impaling vampires) or pointed piece of wood (as in a paling fence). "Pale" came to refer to an area enclosed by a paling fence. Later, it acquired the figurative meaning of an enclosed and therefore safe domain. Conversely, "beyond the pale" means foreign, strange, or threatening.
...
"Pale Rider" by Nancy Holder I ended up skimming, since it was mostly a dystopia, and I don't enjoy dystopias.
...
"The Adventures of Lightning Merriemouse-Jones" by Nancy & Belle Holder is a silly and fun story, a good way to end the anthology.
Dracula, but with mice.
Rating: 7/10
Published by Birch Tree Publishing