Books
Anthologies: Snow White, Blood Red (1993), Swan Sister (2003), The Faery Reel: Tales from the Twilight Realm (2004), Full Moon City (2010), The Beastly Bride: Tales of the Animal People (2010), Happily Ever After (2011)
Anthologies
Snow White, Blood Red (1993) edited by Ellen Datlow & Terri Windling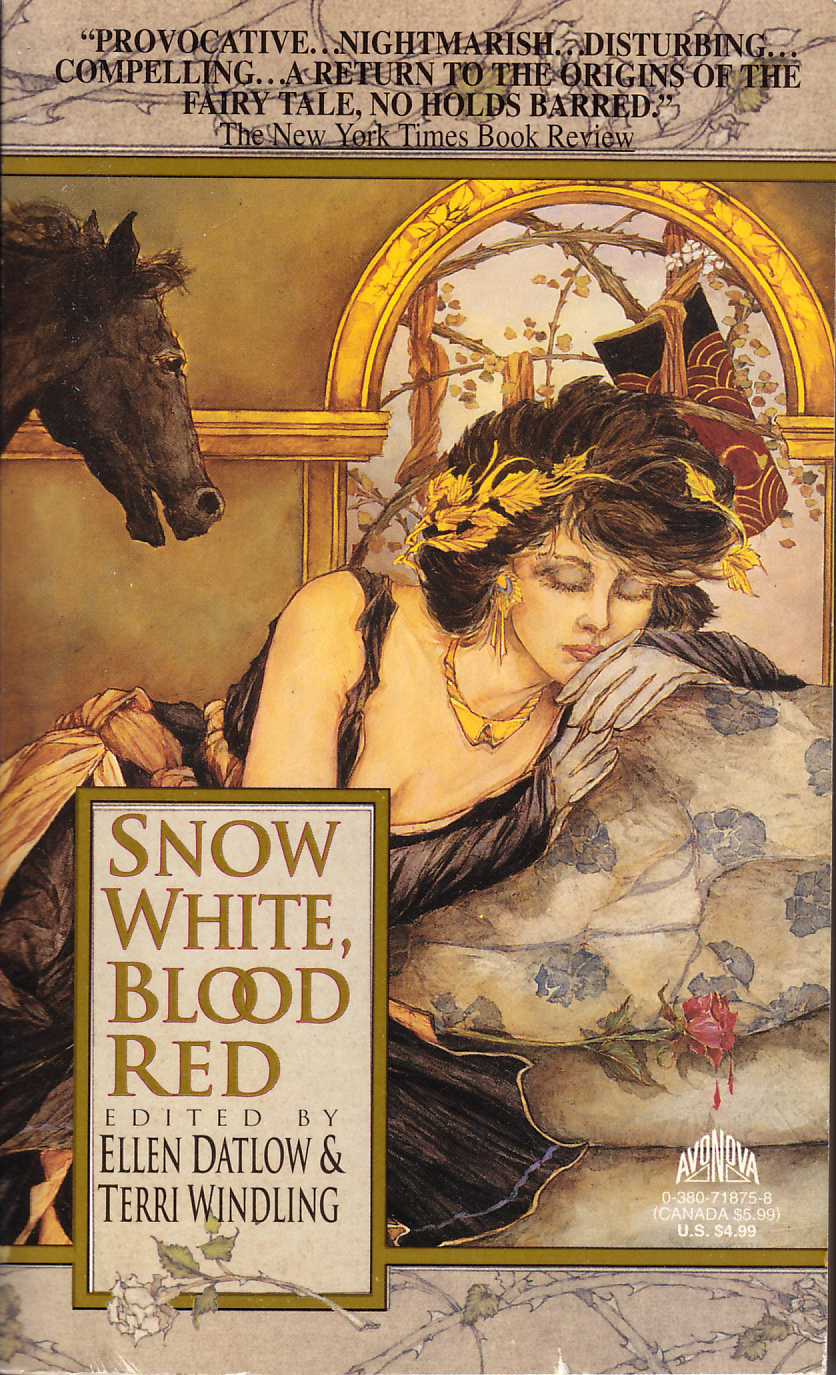 I often have a hard time putting down interesting books. Which means that if I'm reading a book I real like before bed, I end up staying up past my bed time instead of falling asleep. One solution is to read non-fiction before bed. The other solution is to read short story anthologies. Unfortunately, there are not a lot of high quality anthologies out there. At least, not enough to keep up with the rate at which I can read.
So I decided to go back and reread Ellen Datlow and Terri Windling's fantasy anthology Snow White, Blood Red. This book has a whole bunch of things going for it at once: it's edited by Ellen Datlow and Terri Windling; it's got stories by Neil Gaiman and Charles de Lint; and the stories are retellings or reinventions of folk and fairy tales. Mostly fairy tales in this book.
Plus, a gorgeous cover by Thomas Canty.
For those who are unfamiliar with folk tales and fairy tales, many of the original tales--before they got cleaned up and given to kids--were filled with sex, (in addition to the casual violence of people getting eyes poked out or chopping off bits of feet or being shoved into ovens.)
In other words, these are not stories for children.
Like a Red, Red Rose - Susan Wade
The Moon is Drowning While I Sleep - Charles de Lint
The Frog Prince - Gahan Wilson
Stalking Beans -Nancy Kress
Snow-Drop - Tanith Lee
Little Red - Wendy Wheeler
I Shall Do Thee Mischie in the Wood - Kathe Koja
The Root of the Matter - Gregory Frost
The Princess in the Tower - Elizabeth A. Lynn
Persimmon - Harvey Jacobs
Little Poucet - Steve Rasnic Tem
The Changelings - Melanie Tem
The Springfield Swans - Caroline Stevermer and Ryan Edmonds
Troll Bridge - Neil Gaiman
A Sound, Like Angels Singing - Leonard Rysdyk
Puss - Esther M. Friesner
The Glass Casket - Jack Dann
Knives - Jane Yolen
The Snow Queen - Patricia A. McKillip
Breadcrumbs and Stones - Lisa Goldstein
...
As best I can tell, this anthology is still available, so if you like short stories, this is an anthology you won't want to miss. However, if you like anthologies, this is probably one you already have sitting on your shelves.
Rating: 7/10
Published by Harper Collins
Swan Sister (2003) edited by Ellen Datlow & Terri Windling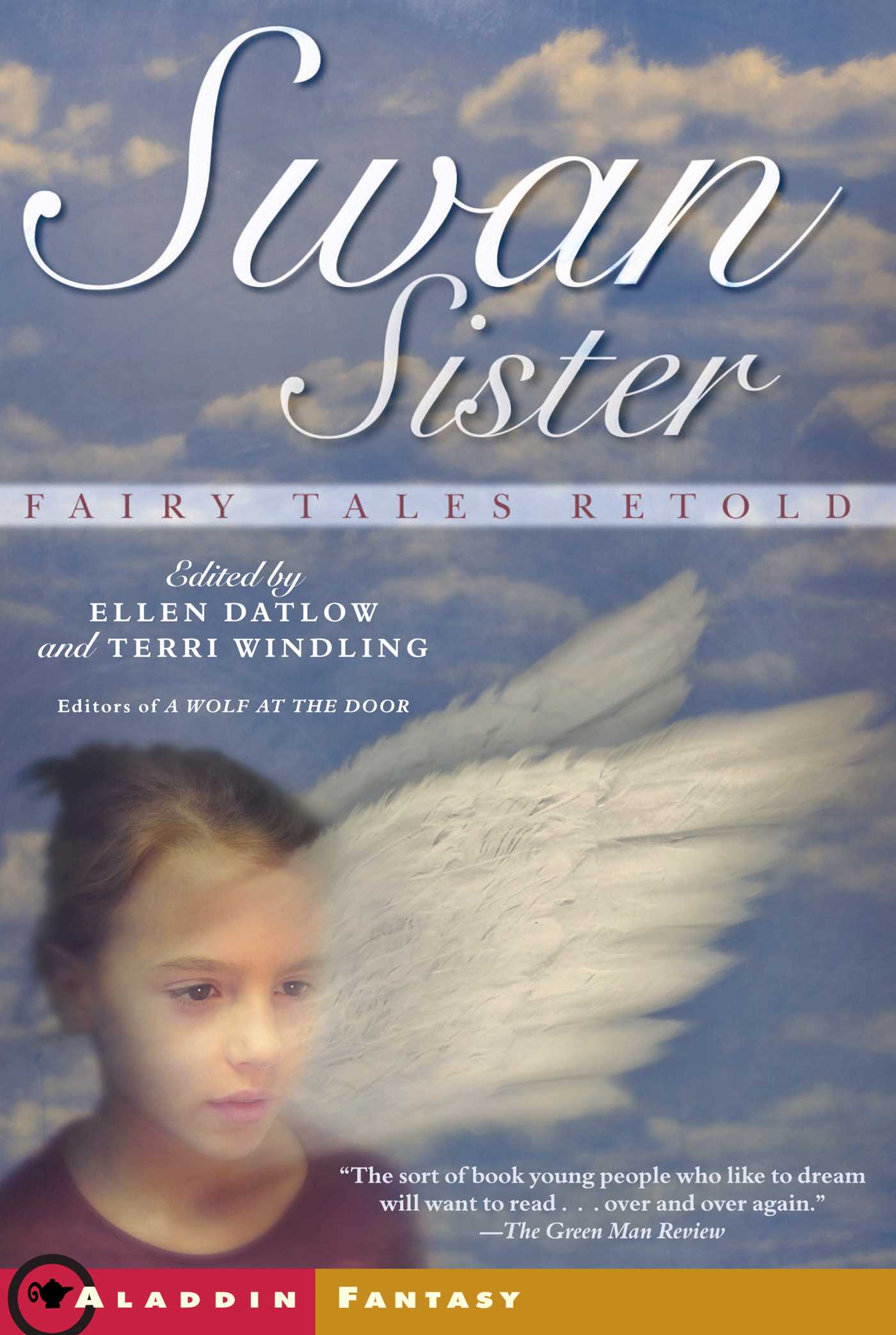 I don't think I've come across a short story collection put together by Ellen Datlow and Terri Windling that I didn't like, and Swan Sister is no exception to the rule.
The stories are fairy tales retold, by a variety of authors--many some of my favorites.
Greenkid - Jane Yolen
Golden Fur - Midori Snyder
Chambers of the Hear - Nina Kiriki Hoffman
Little Red and the Big Bad - Will Shetterly
The Fish's Story - Pat York
The Children of Tilford Fortune - Christopher Rowe
The Girl in the Attic - Lois Metzger
The Harm that Sang - Gregory Frost
A Life in Minature - Bruce Coville
Lupe - Kathe Koja
Awake - Tanith Lee
Inventing Aladdin - Neil Gaiman
My Swan SIster - Katherine Vaz
...
Like A Wolf at the Door, this is a collection for children and young adults. However, the stories are so well written that adults should find them just as appealing. If you like folk and fairy tales, I highly recommend this collection.
Rating: 9/10
The Faery Reel: Tales from the Twilight Realm (2004) edited by Ellen Datlow & Terri Windling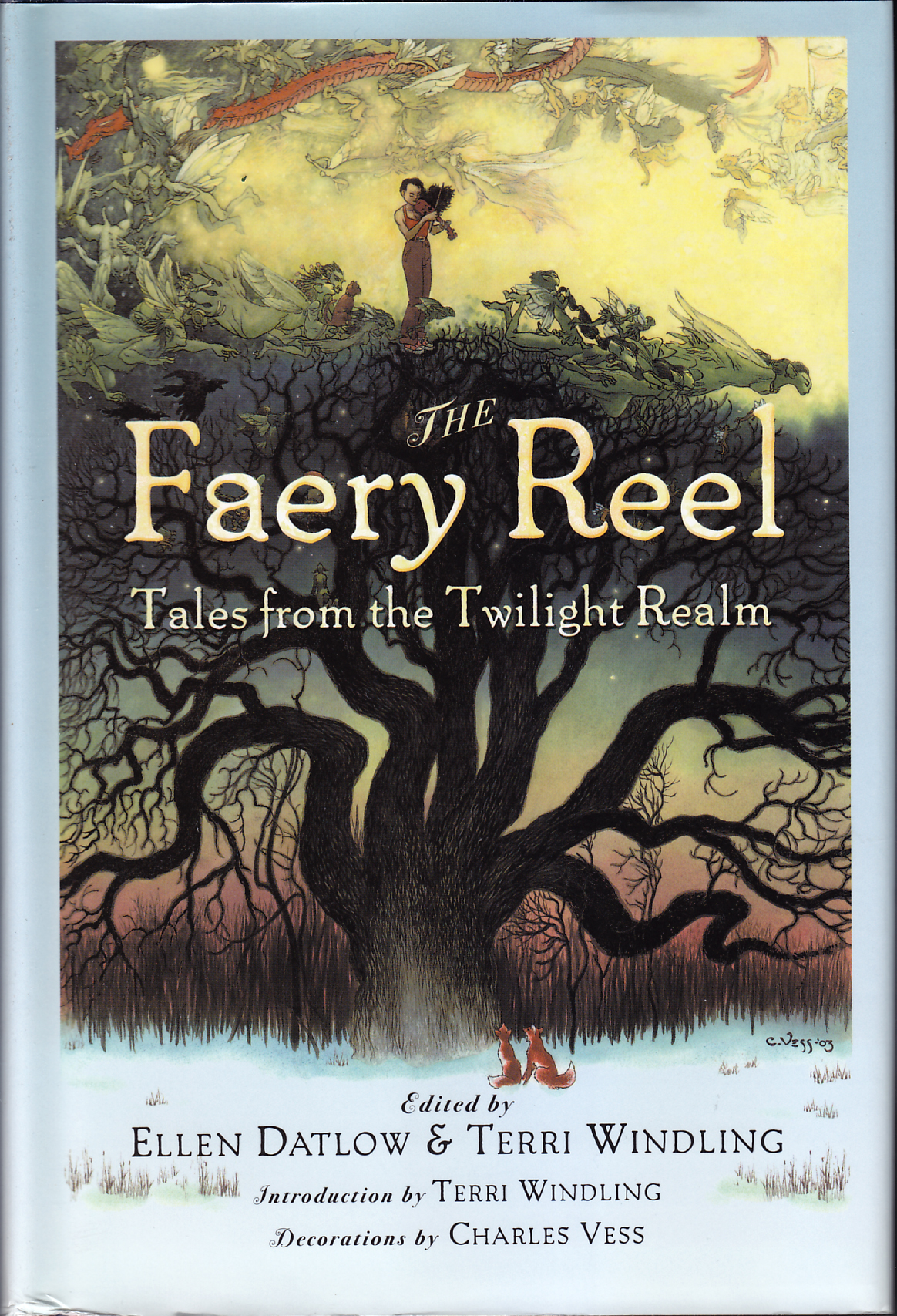 Any time I see a fantasy anthology edited by Ellen Datlow and Terri Windling, I'll often as not pick it up, because I know that it's going to be good. Usually very good. This volume however, has the added bonus of poems by both Charles de Lint and Neil Gaiman.
Needless to say I snatched it up--even thought it was in hardback--when I came across it.
These faery tales are based not upon the fairies of Disney but upon the faery of folktales. As they say in the introduction:
In this book about our good neighbors, we've asked a number of our favorite writers to travel into the Twilight Realm (an ancient name for the land of Faerie) and to bring back stories of faeries and the hapless mortals who cross their path. "No butterfly-winged sprites," we pleaded. "Read the old folktales, journey farther afield, find some of the less explored paths through the Realm.
It would be hard for me not to love this book.
...
And I wasn't let down. Tengu Mountain by Gregory Frost was perfect. It reminded me of any number of Japanese folktales without actually being any one of them.
...
All in all an excellent anthology. But I hardly expected anything less.
Rating: 8/10
The Secret History Of Vampires (2007)
"Under St. Peter's" by Harry Turtledove
"Two Hunters in Manhattan" by Mike Resnick
"Smoke and Mirrors" by P. D. Cacek
"Garbo Quits" by Ron Goulart
"Blood of Dreams" by Sarah A. Hoyt
"A Princess of Spain" by Carrie Vaughn
"Harpy" by Chelsea Quinn Yarbro
"Honored Be Her Name" by John Gregory Betancourt and Darrell Schweitzer
"Ill-Met in Ilium" by Gregory Frost
"The Temptation of Saint Anthony" by Brian Stableford
"Bohemian Rhapsody" by Ian Watson
"Green Wallpaper" by Tanith Lee
"Sepulchres of the Undead" by Keith Taylor
Published by DAW
The Beastly Bride: Tales of the Animal People (2010) edited by Ellen Datlow & Terri Windling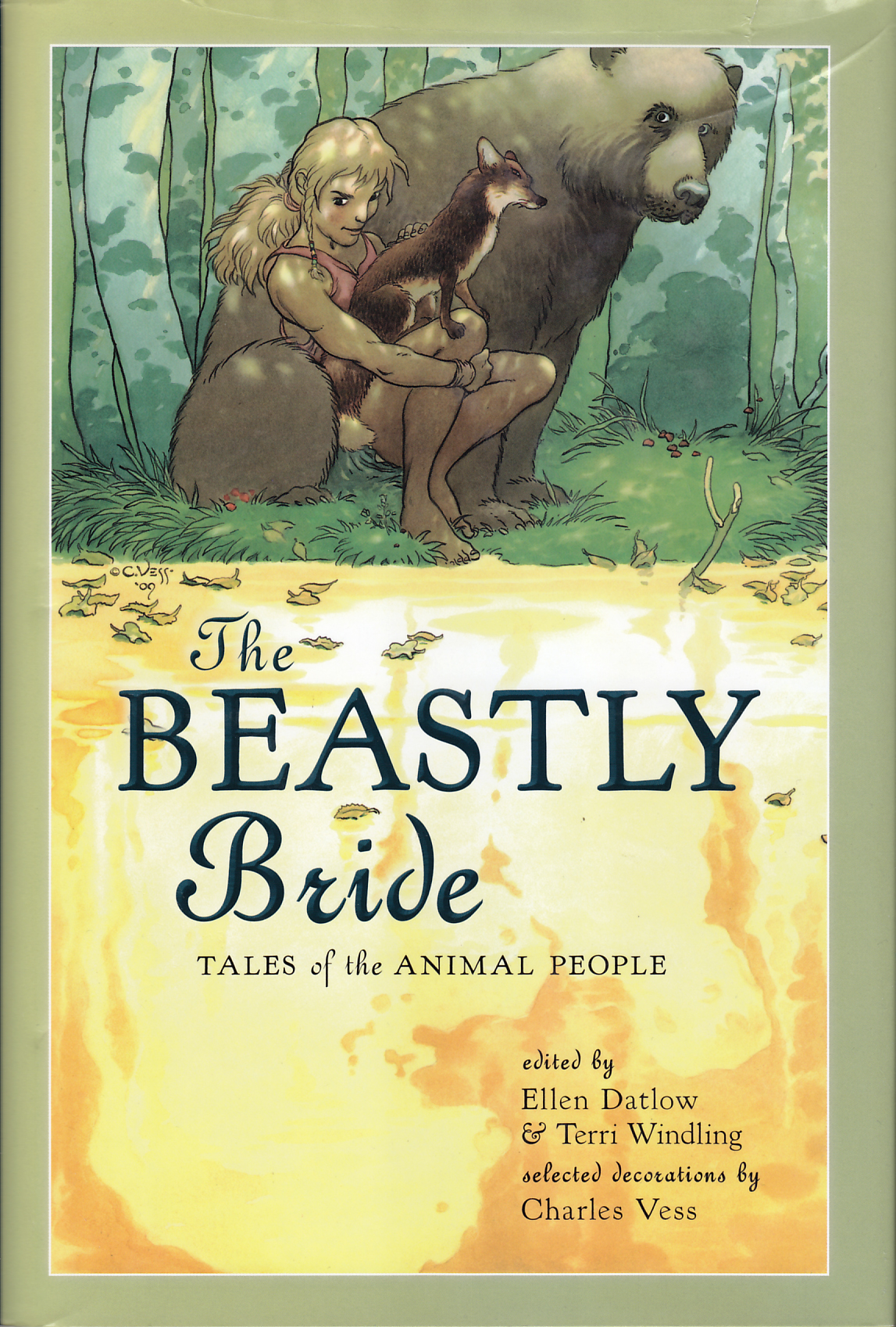 "Island Lake" by E. Catherine Tobler
"The Puma's Daughter" by Tanith Lee
"Map of Seventeen" by Christopher Barzak
"The Selkie Speaks" by Delia Sherman
"Bear's Bride" by Johanna Sinisalo
"The Abominable Child's Tale" by Carol Emshwiller
"The Hikikomori" by Hiromi Goto
"The Comeuppance of Creegus Maxin" by Gregory Frost
"Ganesha" by Jeffrey Ford
"The Elephant's Bride" by Jane Yolen
"The Children of Cadmus" by Ellen Kushner
"The White Doe Mourns Her Childhood" by Jeanine Hall Gailey
"The White Doe's Love Song" by Jeanine Hall Gailey
"The White Doe Decides" by Jeanine Hall Gailey
"Coyote and Valorosa" by Terra L. Gearheart
"One Thin Dime" by Stewart Moore
"The Monkey Bride" by Midori Snyder
"Pishaach" by Shweta Narayan
"The Salamander Fire" by Marly Youmans
"The Margay's Children" by Richard Bowes
"Thumbleriggery and Fledglings" by Steve Berman
"The Flock" by Lucius Shepard
"The Children of the Shark God" by Peter Beagle
"Rosina" by Nan Fry
Viking Books for Young Readers
Full Moon City (2010) edited by Martin H. Greenberg & Darrell Schweitzer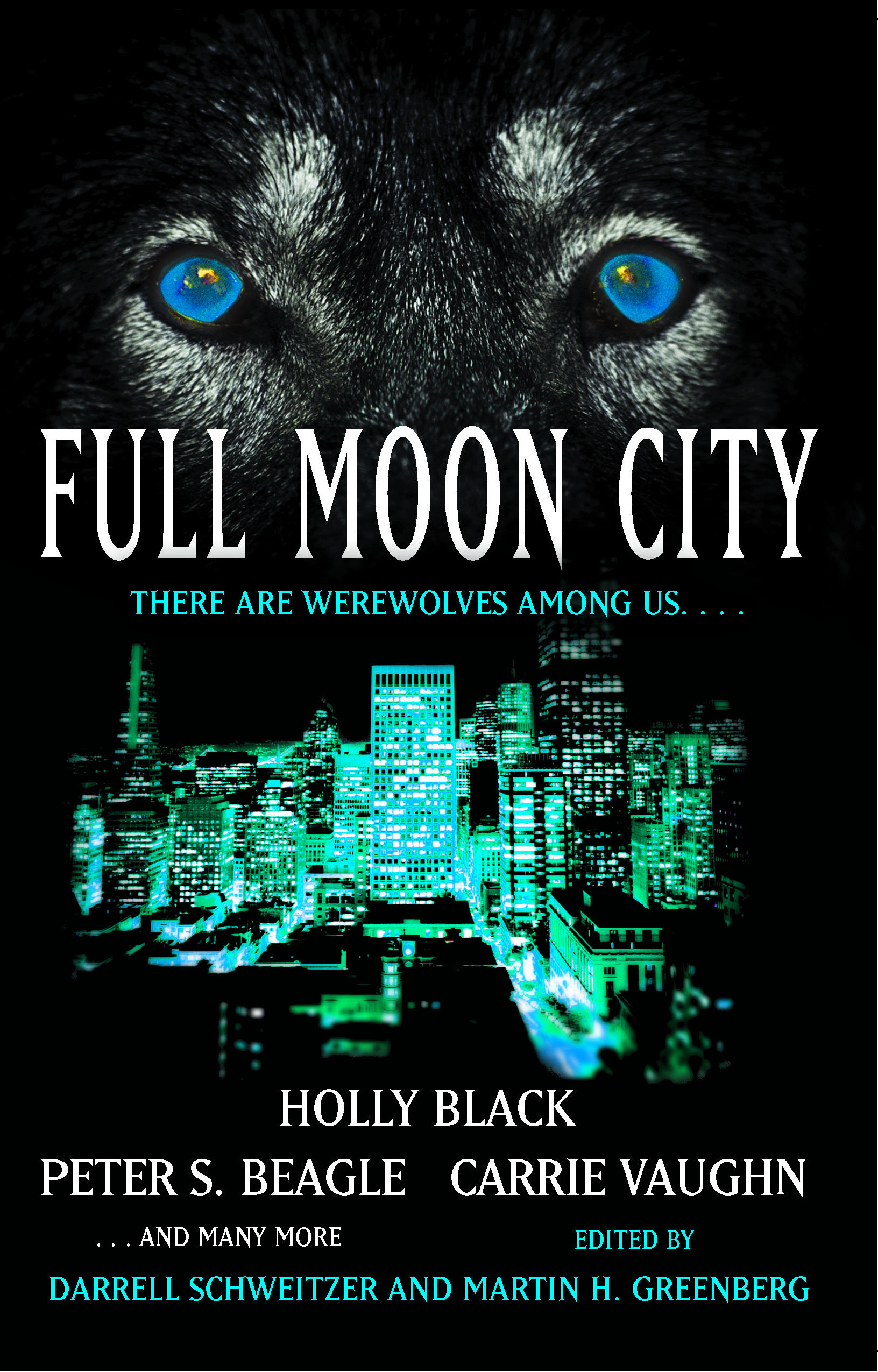 I love anthologies. Though I have to admit that with the way paranormal romance has taken off, the ratio of wheat to chaff has been unfavorable for me. However, Carrie Vaughn and Peter S. Beagle were pretty compelling reasons to get this anthology.
The Truth about Werewolves - Lisa Tuttle
Innocent - Gene Wolfe
Kitty Learns the Ropes - Carrie Vaughn
No Children, No Pets - Escher M. Freisner
Sea Warg - Tanith Lee
Country Mothers' Sons - Holly Phillips
A Most Unusual Greyhound - Mike Resnick
The Bitch - P.D. Cacek
The Aarne-Thompson Classification Revue - Holly Black
Weredog of Bucharest - Ian Watson
I Was a Middle-Age Werewolf - Ron Goulart
Kvetchula's Daughter - Darrell Schweitzer
And Bob's Your Uncle - Chelsa Quinn Yarbro
The Bank Job - Gregory Frost
La Lune T'Attend - Peter S. Beagle
...
I've read several short stories by Chelsa Quinn Yarbro, but not read any of her books, primarily because they're typically classified as horror. But the story "And Bob's Your Uncle" may have been dark, but I didn't find it scary or horrifying (except perhaps in the way Jake was treated by his mother), and I did find it good, as was Gregory Frost's "The Bank Job" (even if you're never quite sure what kind of creature he is.)
...
Although there were several stories I didn't particularly like, but all in all, the stories that were good were very good, and well worth the price of the anthology.
Rating: 8/10
Happily Ever After (2011) edited by John Klima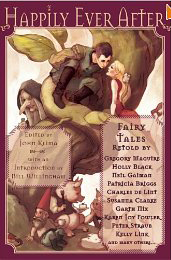 Not sure how I missed this when I first came out, but this anthology is full of things I love: authors whose books I love, stories based on folk and fairy tales–lovely!
The only thing I didn't like, is I wish the anthology hadn't ended on such a dark and depressing story.
Mind you, the dark and depressing stories were good–very good–but these tales ran very true to the original stories, with a not insignificant amount of rape and incest and general horribleness. Just like the original tales.
But there's also a good amount of humor as well, and I just wished the collection had ended with one of the funnier stories.
The Seven Stage a Comeback – Gregory Maguire
And In Their Glad Rags – Genevieve Valentine
The Sawing Boys – Howard Waldrop
Bear It Away – Michael Cadnum
Mr. Simonelli or the Fairy Widower – Susanna Clarke
The Black Fairy's Curse – Karen Joy Fowler
My Life As A Bird – Charles de Lint
The Night Market – Holly Black
The Rose in Twelve Petals – Theodora Goss
The Red Path – Jim C. Hines
Blood and Water – Alethea Kontis
Hansel's Eyes – Garth Nix
He Died That Day, In Thirty Years – Wil McCarthy
Snow In Summer – Jane Yolen
The Rose Garden – Michelle West
The Little Magic Shop – Bruce Sterling
Black Feather – K. Tempest Bradford
Fifi's Tail – Alan Rodgers
The Faery Handbag – Kelly Link
Ashputtle – Peter Straub
The Emperor's New (And Improved) Clothes – Leslie What
Pinocchio's Diary – Robert J. Howe
Little Red – Wendy Wheeler
The Troll Bridge – Neil Gaiman
The Price – Patricia Briggs
Ailoura – Paul Di Filippo
The Farmer's Cat – Jeff VanderMeer
The Root of The Matter – Gregory Frost
Like a Red, Red Rose – Susan Wade
Chasing America – Josh Rountree
Stalking Beans – Nancy Kress
Big Hair – Esther Friesner
The Return of the Dark Children – Robert Coover
The introduction was written by Bill Willingham, whose writing I adore, and whose introduction amused me. Here's the very start of it:
I have to confess I'm no good at writing a proper introduction, because, I'm in the storytelling business, which means I get to lie for a living, and I've become well practiced at it. But introductions are supposed to be true. After so many years, I despair if I have much unvarnished truth in me.
...
Please note, as previously mentioned, the stories have rape and incest and lots and lots of sex in addition to evil stepmothers and other such killers.
There were also a fair number of very dark and very depressing tales that were very good, but that I didn't enjoy at all.
Rating:8/10
Published by Night Shade Books