Books
Anthologies: Year's Best Fantasy and Horror: Sixteenth Edition (2003), The Year's Best Fantasy and Horror: Seventeenth Annual Collection (2004), The Coyote Road: Trickster Tales (2007), Happily Ever After (2011), The Mad Scientist's Guide to World Domination: Original Short Fiction for the Modern Evil Genius (2013), Queen Victoria's Book of Spells: An Anthology of Gaslamp Fantasy (2013)
Anthologies
Year's Best Fantasy and Horror: Sixteenth Edition (2003) edited by Ellen Datlow & Terri Windling
Kelly Link - Lull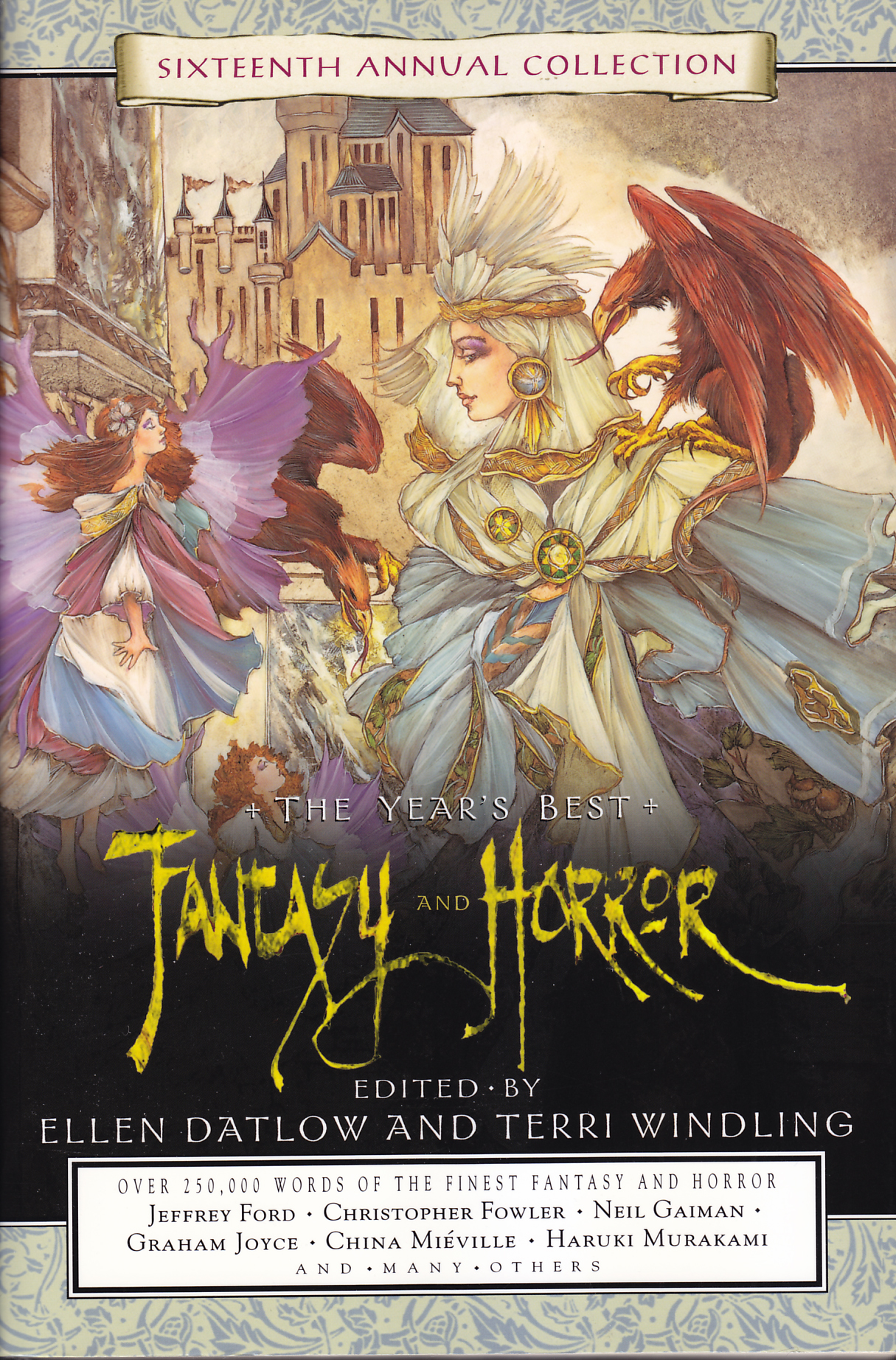 Kim Newman - Egyptian Avenue
Corey Marks - A Letter of Explanation
China Miéville - Details
Eric Schaller - The Assistant to Dr. Jacob
M. Shayne Bell - The Pagodas of Ciboure
Graham Joyce - The Coventry Boy
Helga M. Novak - The Wild Hunt
Jeffrey Ford - The Green Word
Terry Dowling - Stitch
Michael Libling - Puce Boy
Zoran Zivkovic - The Violin-Maker
Bentley Little - Maya's Mother
Carlton Mellick, III - Porno in August
Brian Hodge - Nesting Instincts
Conrad Williams - The Machine
Thomas M. Disch - Hansel, A Retrospective, or, The Danger of Childhood Obesity
Melissa Hardy - Aquerò
Joel Lane - The Receivers
Nicholas Royle - Standard Gauge
Jeffrey Ford - Creation
Tracina Jackson-Adams - Seven Pairs of Iron Shoes
Karen Joy Fowler - What I Didn't See
Jackie Bartley - Reading Myth to Kindergartners
Peter Dickinson - Mermaid Song
Neil Gaiman - Pages from a Journal Found in a Shoebox Left in a Greyhound Bus Somewhere Between Tulsa, Oklahoma, and Louisville, Kentucky
Ramsey Campbell - No End of Fun
Adam Roberts - Swiftly
Christopher Fowler - The Green Man
Brian Hodge - Some Other Me
Robert Phillips - The Snow Queen
Jay Russell - Hides
Luis Alberto Urrea - Mr. Mendoza's Paintbrush
Margaret Lloyd - Five Poems
Stephen Gallagher - Little Dead Girl Singing
Robin McKinley - The Pool in the Desert
Haruki Murakami - Thailand
Theodora Goss - The Rose in Twelve Petals
Kathe Koja - Road Trip
Lucy Taylor - Unspeakable
Elizabeth Hand - Inside Out: On Henry Darger
Kevin Brockmeier - The Green Children
Sharon McCartney - After the Chuck Jones Tribute on Teletoon
Neil Gaiman - Feeders and Eaters
Susan Power - Roofwalker
Don Tumasonis - The Prospect Cards
Nicholas Royle - Hide and Seek
Nan Fry - The Wolf's Story
Elizabeth Hand - The Least Trumps
Published by St. Martin's Griffin
The Year's Best Fantasy and Horror: Seventeenth Annual Collection (2004) edited by Ellen Datlow & Terri Windling
Kij Johnson  - At the Mouth of the River of Bees
Sara Maitland  - Why I Became a Plumber
M. Rickert  - Bread and Bombs
George Saunders  - The Red Bow
Vandana Singh  - The Wife
Lucius Shepard  - Only Partly Here
Steve Rasnic Tem  - Bone
Laird Barron  - Old Virginia
Neil Gaiman  - A Study in Emerald
Nathan Ballingrud  - You Go Where It Takes You
Dean Francis Alfar  - L'Aquilone du Estrellas (The Kite of Stars)
Stephen King  - Harvey's Dream
Ursula K. Le Guin  - Woeful Tales from Mahigul
Karen Joy Fowler  - King Rat
Kelly Link  - The Hortlak
Brian Hodge  - With Acknowledgments to Sun Tzu
Richard Butner  - Ash City Stomp
Michael Swanwick  - King Dragon
Patrick O'Leary  - Invisible Geese: A Theory
Patrick O'Leary  - The Perfect City
Peter Crowther  - Bedfordshire
Adam Corbin Fusco  - N007-JK1
Marc Laidlaw  - Cell Call
Philip Raines and Harvey Wells  - The Fishie
Dale Bailey  - Hunger: A Confession
Scott Emerson Bull  - Mr. Sly Stops for a Cup of Joe
Megan Whalen Turner  - The Baby in the Night Deposit Box
Paul LaFarge  - Lamentation over the Destruction of Ur
Mike O'Driscoll  - The Silence of the Falling Stars
Jon Woodward  - At the Mythical Beast
Paolo Bacigalupi  - The Fluted Girl
Kevin Brockmeier  - The Brief History of the Dead
Nina Kiriki Hoffman  - Flotsam
Dan Chaon  - The Bees
Glen Hirshberg  - Dancing Men
Theodora Goss  - Lily, with Clouds
Karen Traviss  - The Man Who Did Nothing
Shelley Jackson  - Husband
Michael Marshall Smith  - Open Doors
Benjamin Rosenbaum  - The Valley of the Giants
Thomas Ligotti  - Purity
Maureen F. McHugh  - Ancestor Money
Terry Bisson  - Almost Home
Daphne Gottlieb  - Final Girl II: The Frame
Published by St. Martin's Griffin
The Coyote Road: Trickster Tales (2007) edited by Ellen Datlow & Terri Windling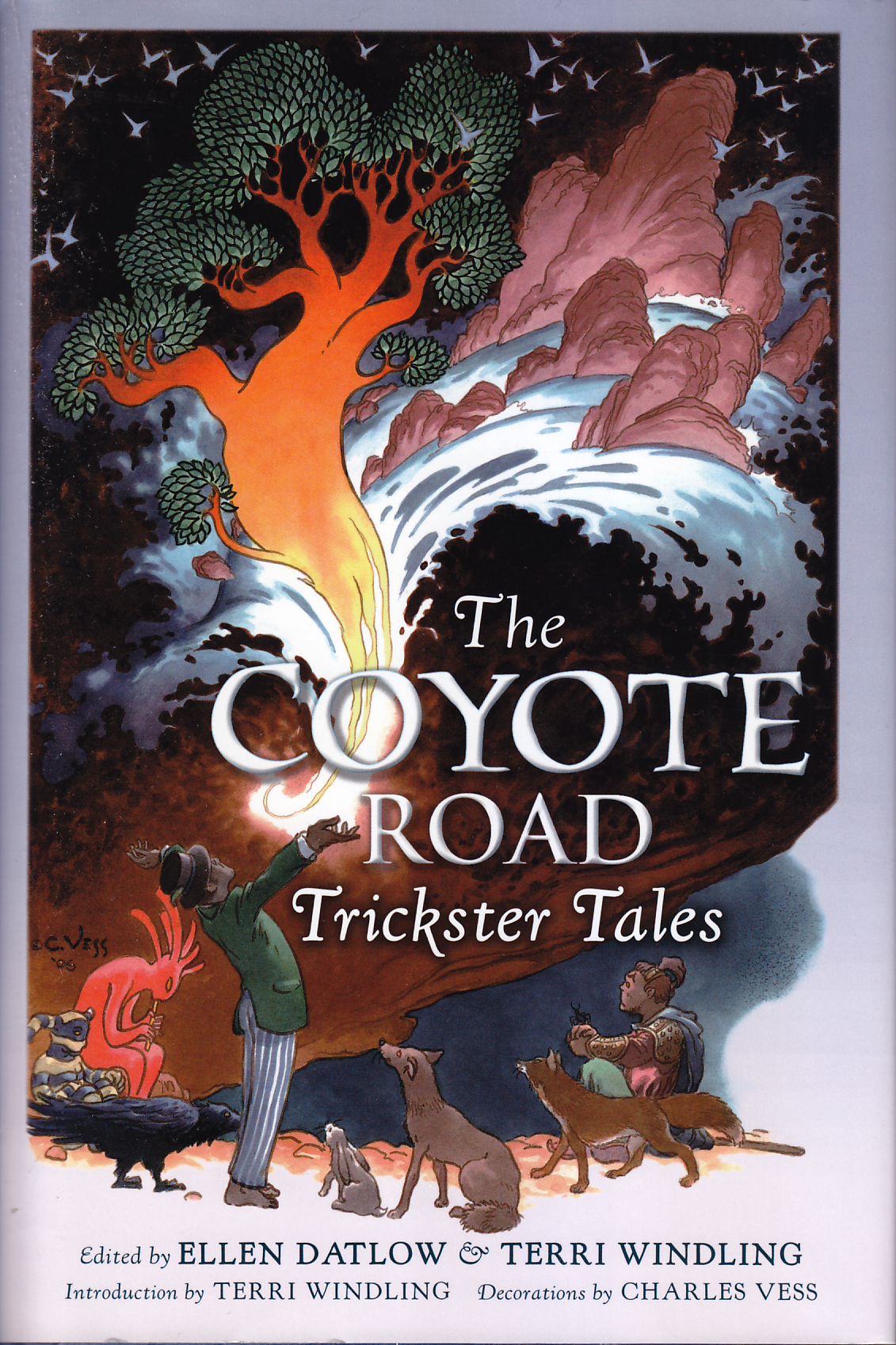 I love short stories. Aside from collections by Charles de Lint, I best love anthologies by Ellen Datlow & Terri Windling best. Their books are like comfort food, and I save them up for when I'm sick or feeling low.
In the same vein as The Green Man and The Faerie Reel, Datlow and Windling have this time collected stories about tricksters, and they've got some of my favorite authors in this collection: Charles de Lint, Nina Kiriki Hoffman, Ellen Kushner. As usual, they manage to collect stories by some of my favorite story tellers.
One Odd Shoe - Pat Murphy
Coyote Woman - Carolyn Dunn
Wagers of Gold Mountain - Steve Berman
The Listeners - Nina Kiriki Hoffman
Realer than You - Christopher Barzak
The Fiddler of Bayou Teche - Delia Sherman
A Tale for the SHort Days - Richard Bowes
Friday Night at St. Cecilia's - Ellen Klages
The Fortune Teller - Patricia A. McKillip
How Raven Made his Bride - Theodora Goss
Crow Roads - Charles de Lint
The Chamber of Music Animals - Katharine Vaz
Uncle Bob's Visits - Caroline Stevermer
Uncle Tompa - Midori Snyder
Cat of the World - Michael Cadnum
Honored Guest - Ellen Kushner
Always the Same Story - Elizabeth E. Wein
The Senorita and the Cactus Thorn - Kim Antieau
Black Rock Blues - Will Shetterly
The Constable of Abal - Holly Black
God Clown - Carol Emshwiller
The Other Labyrinnth - Jedediah Berry
The Dreaming Wind - Jeffery Ford
Kwaku Anansi Walks the World's Web - Jane Yolen
The Evolution of Trickster Stories Amount the Dogs of North Park after the Change - Kij Johnson
...
If like short story collections, or trickster tales, then you will want to read The Coyote Road. It has stories from many of my favorite writers, and as with all their collections, I was delighted to discover new authors for whom I'll be on the lookout.
Rating: 9/10
Published by Viking
Happily Ever After (2011) edited by John Klima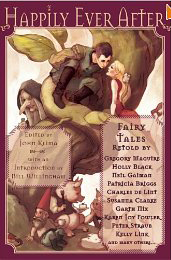 Not sure how I missed this when I first came out, but this anthology is full of things I love: authors whose books I love, stories based on folk and fairy tales–lovely!
The only thing I didn't like, is I wish the anthology hadn't ended on such a dark and depressing story.
Mind you, the dark and depressing stories were good–very good–but these tales ran very true to the original stories, with a not insignificant amount of rape and incest and general horribleness. Just like the original tales.
But there's also a good amount of humor as well, and I just wished the collection had ended with one of the funnier stories.
The Seven Stage a Comeback – Gregory Maguire
And In Their Glad Rags – Genevieve Valentine
The Sawing Boys – Howard Waldrop
Bear It Away – Michael Cadnum
Mr. Simonelli or the Fairy Widower – Susanna Clarke
The Black Fairy's Curse – Karen Joy Fowler
My Life As A Bird – Charles de Lint
The Night Market – Holly Black
The Rose in Twelve Petals – Theodora Goss
The Red Path – Jim C. Hines
Blood and Water – Alethea Kontis
Hansel's Eyes – Garth Nix
He Died That Day, In Thirty Years – Wil McCarthy
Snow In Summer – Jane Yolen
The Rose Garden – Michelle West
The Little Magic Shop – Bruce Sterling
Black Feather – K. Tempest Bradford
Fifi's Tail – Alan Rodgers
The Faery Handbag – Kelly Link
Ashputtle – Peter Straub
The Emperor's New (And Improved) Clothes – Leslie What
Pinocchio's Diary – Robert J. Howe
Little Red – Wendy Wheeler
The Troll Bridge – Neil Gaiman
The Price – Patricia Briggs
Ailoura – Paul Di Filippo
The Farmer's Cat – Jeff VanderMeer
The Root of The Matter – Gregory Frost
Like a Red, Red Rose – Susan Wade
Chasing America – Josh Rountree
Stalking Beans – Nancy Kress
Big Hair – Esther Friesner
The Return of the Dark Children – Robert Coover
...
Please note, as previously mentioned, the stories have rape and incest and lots and lots of sex in addition to evil stepmothers and other such killers.
There were also a fair number of very dark and very depressing tales that were very good, but that I didn't enjoy at all.
Rating:8/10
Published by Night Shade Books
The Mad Scientist's Guide to World Domination: Original Short Fiction for the Modern Evil Genius (2013) edited by John Joseph Adams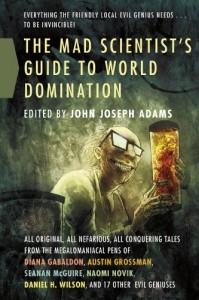 This is the third anthology I've read by John Joseph Adams, and I must say that he has a good rack record for creating anthologies with stories I really like. He also has a good mix of stories, some of which I am guaranteed not to like, but that's okay, because it's good to read stuff I don't normally read, and if I really don't like a story, I can always skip on to the next (even though I rarely do that).
The stories I liked best in this anthology were the straight-up cackling Evil Overlord sort (you know that list, right?), because they were funny. The ones I liked least tended to be the more serious ones, because, well, evil in its true form exists in the world, and it's generally funny at all.
...
Theodora Goss's story "The Mad Scientist's Daughter" is the tale of the daughters of famous madmen: Dr Frankenstein, Dr Moreau, Dr Jekyll, etc. They live together because, as the author notes, "Science does not pay well; mad science pays even worse."
...
Aside from the anthology ending on several depressing notes, this was all-in-all a varied and very good collection of stories, with something for everyone. After all, the stories I disliked were not bad, they were just not my type of story.
Rating: 8/10
Published by Tor Books
Queen Victoria's Book of Spells: An Anthology of Gaslamp Fantasy (2013) edited by Ellen Datlow and Terri Windling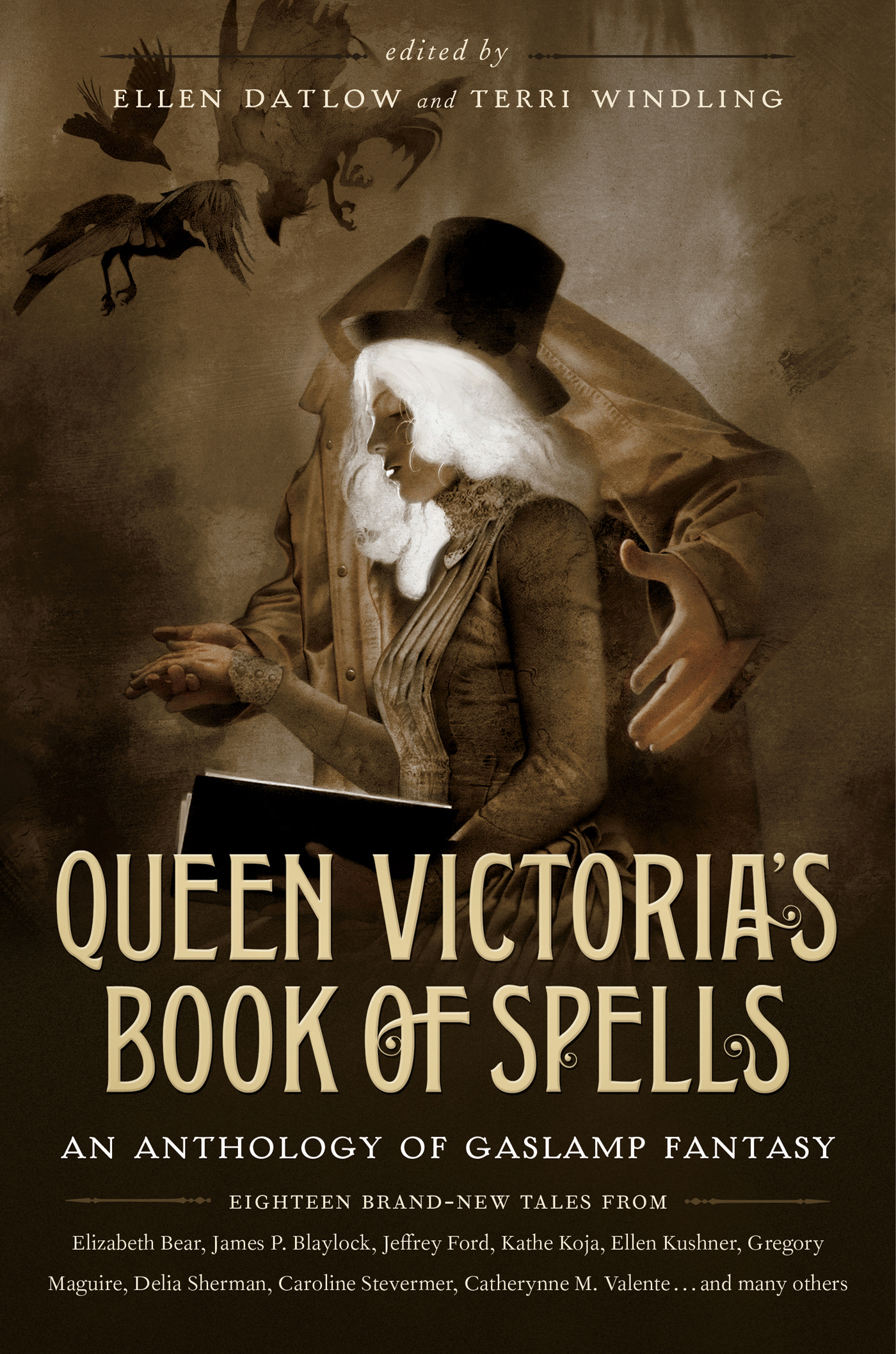 Queen Victoria's Book of Spells by Delia Sherman
The Fairy Enterprise by Jeffrey Ford
From the Catalogue of the Pavilion of the Uncanny and Marvellous, Scheduled for Premiere at the Great Exhibition (Before the Fire) by Genevieve Valentine
The Memory Book by Maureen McHugh
La Reine d'Enfer by Kathe Koja
For the Briar Rose by Elizabeth Wein
The Governess by Elizabeth Bear
Smithfield by James P. Blaylock
The Unwanted Women of Surrey by Kaaron Warren
Charged by Leanna Renee Hieber
Mr. Splitfoot by Dale Bailey
Phosphorus by Veronica Schanoes
We Without Us Were Shadows by Catherynne M. Valente
The Vital Importance of the Superficial by Ellen Kushner and Caroline Stevermer
The Jewel in the Toad Queen's Crown by Jane Yolen
A Few Twigs He Left Behind by Gregory Maguire
Their Monstrous Minds by Tanith Lee
Estella Saves the Village by Theodora Goss
I love anthologies and I love historical fiction. So this should have been an automatic win for me.
Instead it was a two-plus year slog that I finally forced myself to finish.
...
Estella Saves the Village by Theodora Goss. Imagine the characters from your favorite Vistorian novels all gathered together in one town.
Published by Tor