Books
Anthologies: Dragon Fantastic (1992), Snow White, Blood Red (1993), Return to Avalon (1996), Highwaymen: Robbers and Rogues (1997), Twice Upon A Time (1999), Murder by Magic (2004), My Big Fat Supernatural Wedding (2006), Under Cover of Darkness (2007), Better Off Undead (2008), Strange Brew (2009), Full Moon City (2010), Happily Ever After (2011)
Anthologies
Dragon Fantastic (1992) edited by Martin H. Greenberg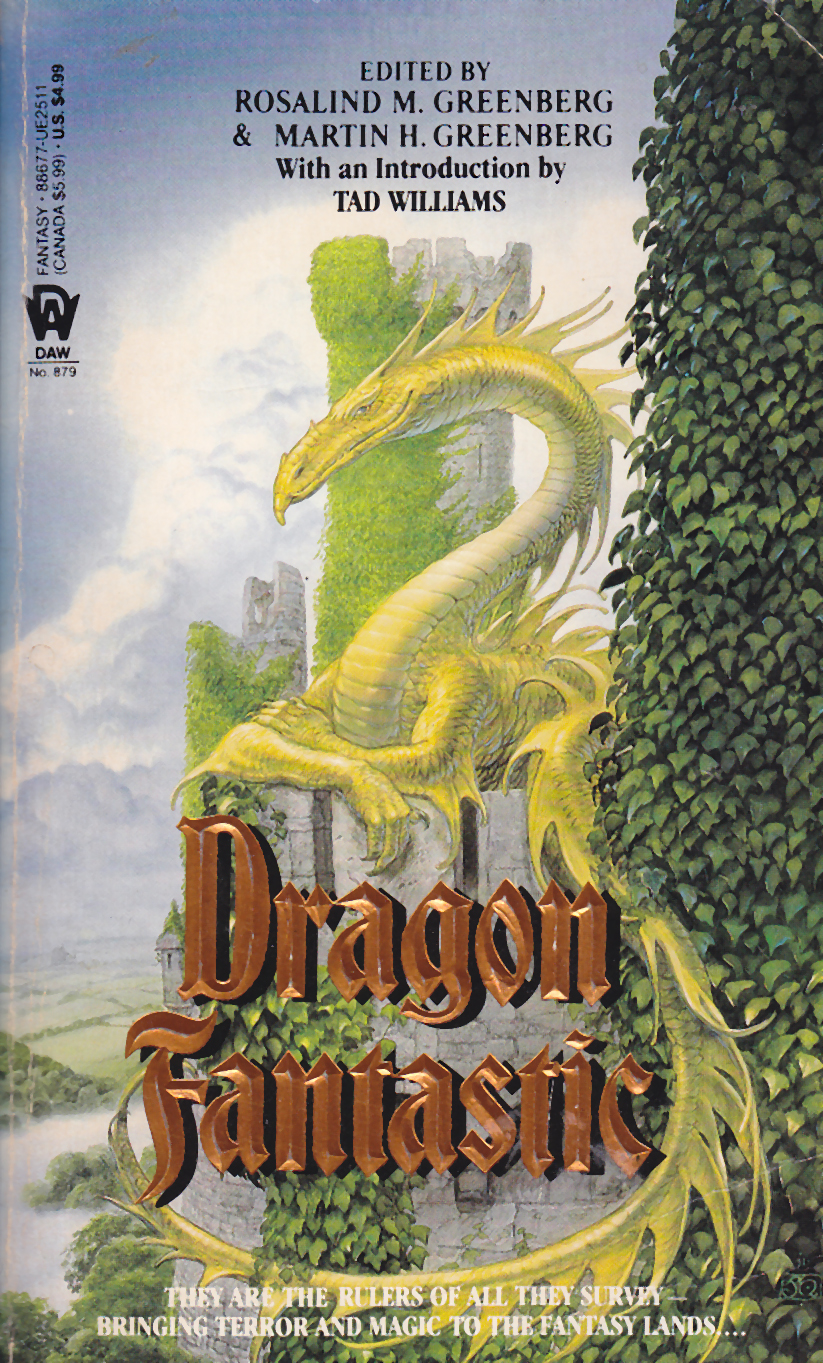 Lethal Perspective – Alan Dean Foster
The Champion of Dragons – Mickey Zucker Reichert
Phobiac – Lawrence Schimel
Home Security – Karen Haber
The Stolen Dragon – Kimberly Gunderson
Cold Stone Barrow – Elizabeth Forrest
Fluff the Tragic Dragon – Laura Resnick
The Hidden Dragon – Barbara Delaplace
Take Me Out to the Ballgame – Esther M. Friesner
The Dragon's Skin – Ruth Berman
Shing Li-Ung – Tanya Huff
Concerto Accademico – Barry N. Malzberg
Dragon's Destiny – Josepha Sherman
Between Tomatoes and Snapdragons – Jane Lindskold
The Trials and Tribulations of Myron Blumberg, Dragon - Mike Resnick
Straw Into Gold, Part II – Mark A. Kreighbaum & Dennis L. McKiernan
Published by Daw
Snow White, Blood Red (1993) edited by Ellen Datlow & Terri Windling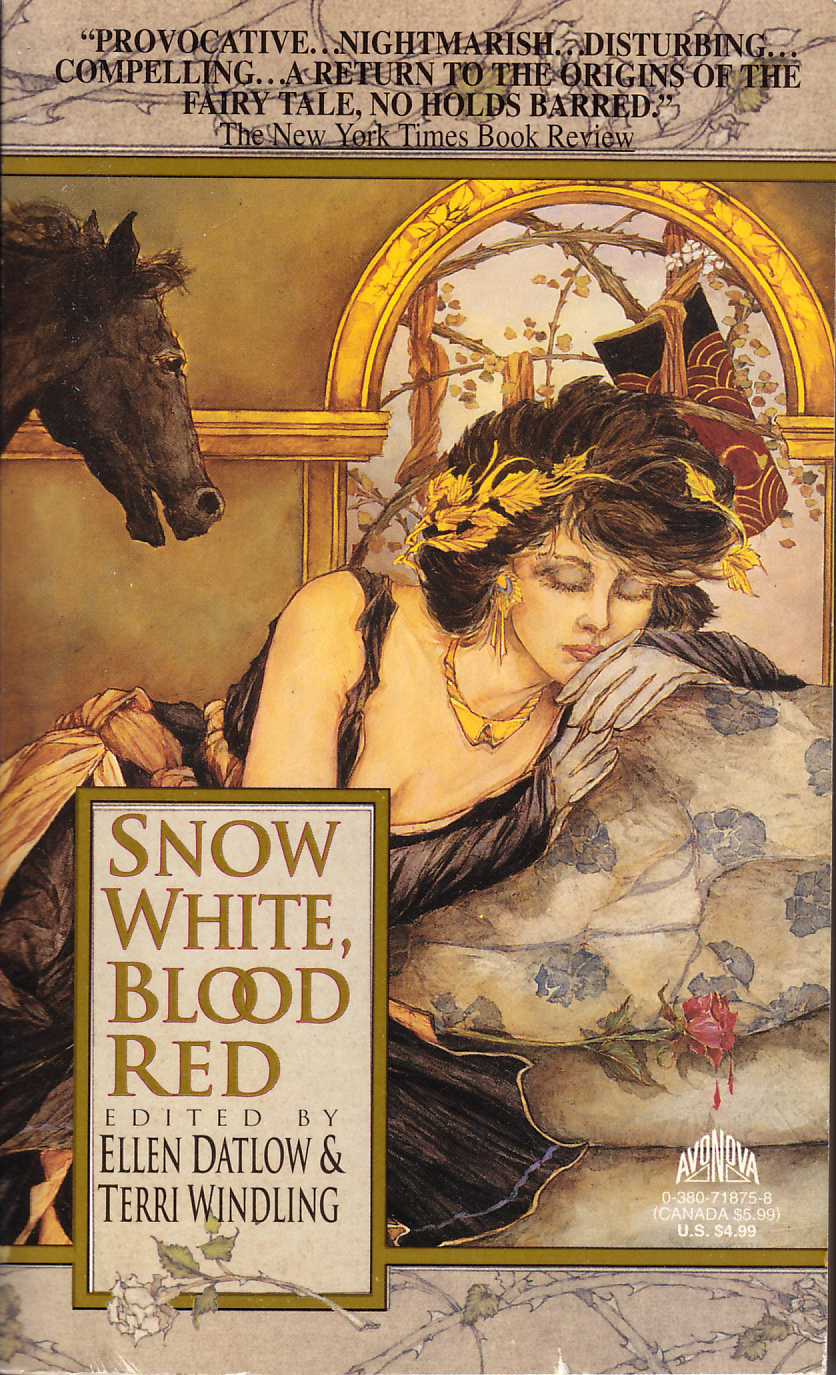 I often have a hard time putting down interesting books. Which means that if I'm reading a book I real like before bed, I end up staying up past my bed time instead of falling asleep. One solution is to read non-fiction before bed. The other solution is to read short story anthologies. Unfortunately, there are not a lot of high quality anthologies out there. At least, not enough to keep up with the rate at which I can read.
So I decided to go back and reread Ellen Datlow and Terri Windling's fantasy anthology Snow White, Blood Red. This book has a whole bunch of things going for it at once: it's edited by Ellen Datlow and Terri Windling; it's got stories by Neil Gaiman and Charles de Lint; and the stories are retellings or reinventions of folk and fairy tales. Mostly fairy tales in this book.
Plus, a gorgeous cover by Thomas Canty.
For those who are unfamiliar with folk tales and fairy tales, many of the original tales--before they got cleaned up and given to kids--were filled with sex, (in addition to the casual violence of people getting eyes poked out or chopping off bits of feet or being shoved into ovens.)
In other words, these are not stories for children.
Like a Red, Red Rose - Susan Wade
The Moon is Drowning While I Sleep - Charles de Lint
The Frog Prince - Gahan Wilson
Stalking Beans -Nancy Kress
Snow-Drop - Tanith Lee
Little Red - Wendy Wheeler
I Shall Do Thee Mischie in the Wood - Kathe Koja
The Root of the Matter - Gregory Frost
The Princess in the Tower - Elizabeth A. Lynn
Persimmon - Harvey Jacobs
Little Poucet - Steve Rasnic Tem
The Changelings - Melanie Tem
The Springfield Swans - Caroline Stevermer and Ryan Edmonds
Troll Bridge - Neil Gaiman
A Sound, Like Angels Singing - Leonard Rysdyk
Puss - Esther M. Friesner
The Glass Casket - Jack Dann
Knives - Jane Yolen
The Snow Queen - Patricia A. McKillip
Breadcrumbs and Stones - Lisa Goldstein
...
As best I can tell, this anthology is still available, so if you like short stories, this is an anthology you won't want to miss. However, if you like anthologies, this is probably one you already have sitting on your shelves.
Rating: 7/10
Published by Harper Collins
Return to Avalon (1996) edited by Jennifer Roberson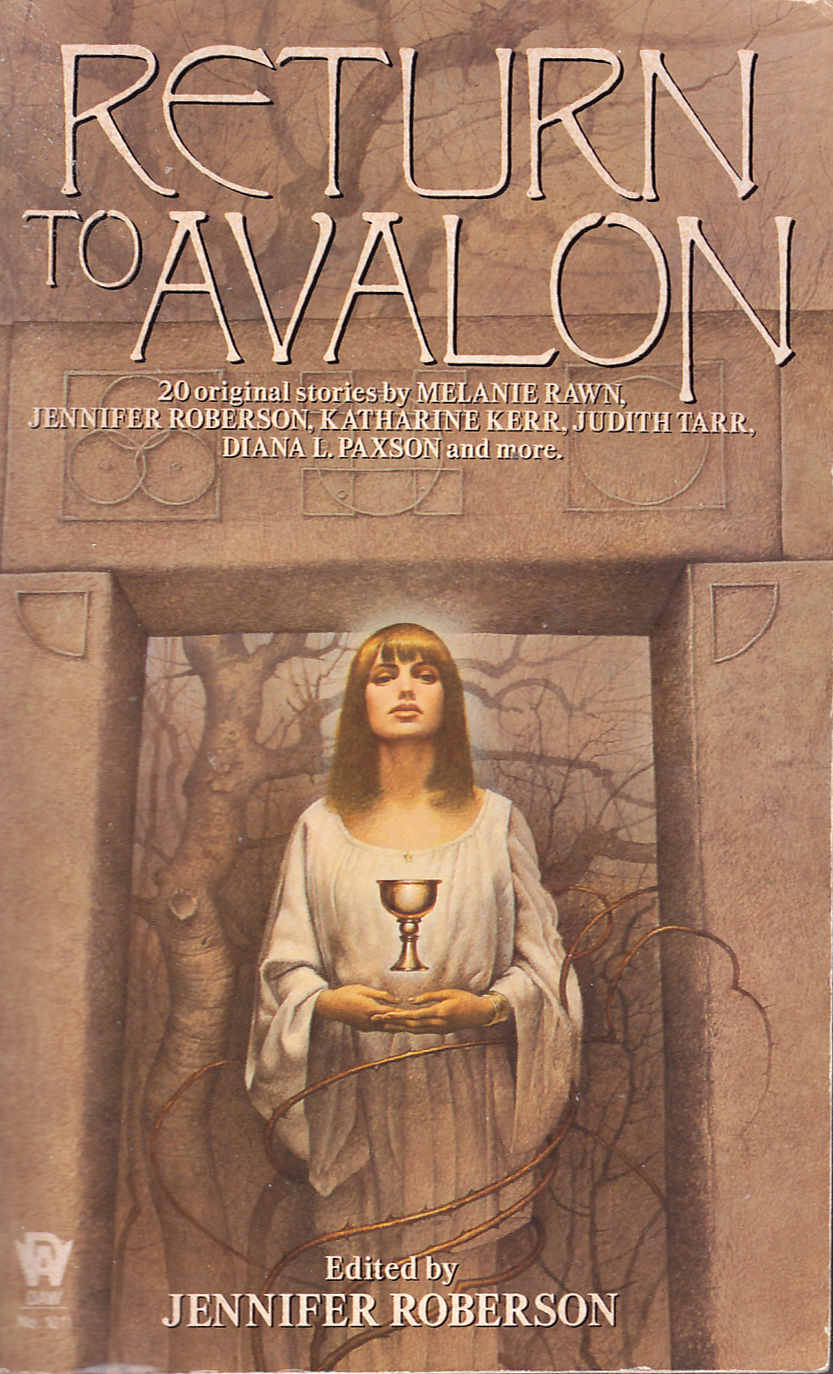 To Light Such A Candle - eluki bes shahar
The Grail of Heart's Desire - Judith Tarr
Lady of Avalon - Diana L. Paxson
With God to Guard Her - Kate Elliot
Sing To Me Of Love and Shadows - Deborah Wheeler
The Wellspring - Katherine Kerr
Knives - Dave Smeds
A Refuge of Firedrakes - Susan Shwartz
The Hag - Lawrence Schimel
Salve, Regina - Melanie Rawn
Trees of Avalon - Elisabeth Waters
Sparrow - Esther Friesner
The Spell Between Worlds - Karen Haber
The Stone Mother's Curse - Dave Wolverton
Iontioren's Tale - Paul Edwin Zimmer
Winter Tales - Adrienne Martine-Barnes
Dark Lady - Jane M. Linskold
The Lily Maid of Astoloat - Laura Resnick
Guinevere's Truth - Jennifer Roberson
Published by DAW
Highwaymen: Robbers and Rogues (1997) edited by Jennifer Roberson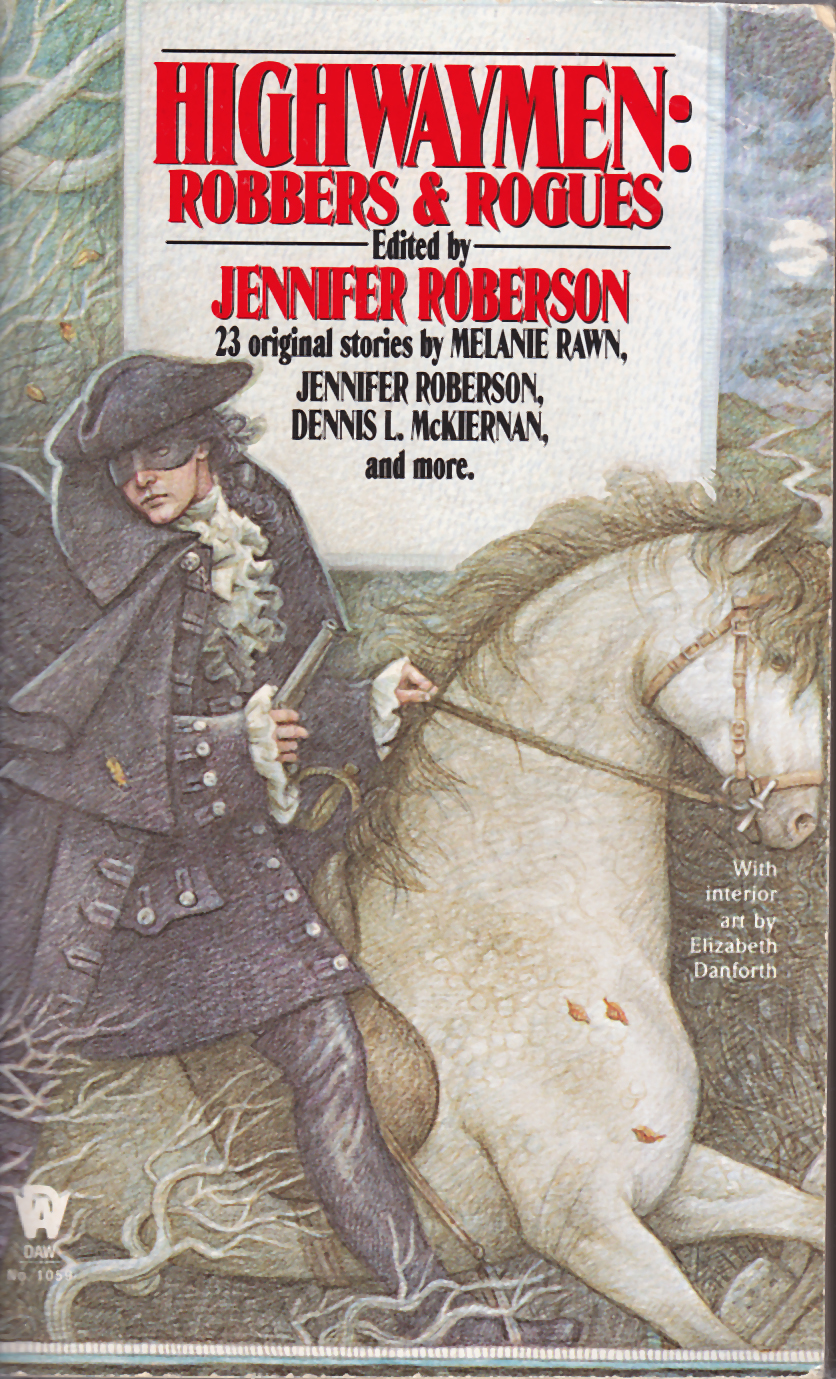 Give a Man a Horse He Can Ride - Esther Friesner
Kid Binary and the Two-Big Gang - Michael A. Stackpole
The Moonlight Flit - Rosemary Edghill
The Bandido of Pozoseco - Kate Daniel
We Met Upon The Road - Jane Emerson
Where Angels Fear to Tread - Laura Anne Gilman
Diana's Foresters - Susan Shwartz
Fool's Gold - Doranna Durgin
Highwayscape with Gods - Lawrence Schimel
The Bishop's Coffer - Janny Wurts
The Abbot of Croxton - Melanie Rawn

Published by DAW
Twice Upon A Time (1999) edited by Denise Little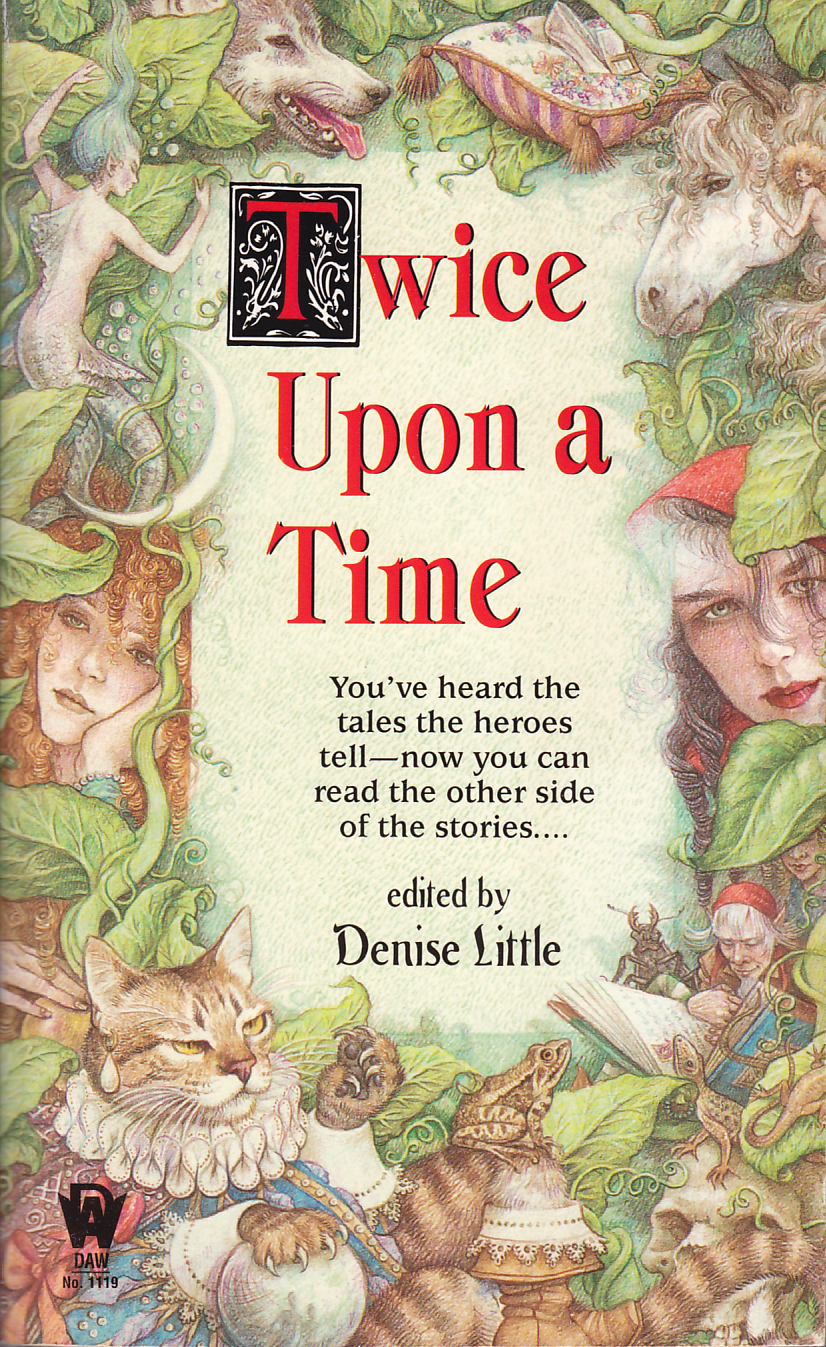 Fairy tales seen from another perspective--the wife of the giant from the story of Jack and the Beanstalk. The hunter in the tale of Little Red Riding Hood. The Wolf who appears in multiple tales.
This book is hit and miss. Some of the stories are excellent, others are so-so. The idea of retold fairy tales is an excellent one, unfortunately not all the stories in this collection were able to pull it off as well as it should be done.
(What I found interesting is that although no single story was a retelling of Hansel and Gretel, they still managed to show up in several different tales.)
Spinning a Yarn - Jody Lynn Nye
How I Came To Marry a Herpetologist - Nina Kiriki Hoffman
Puck in Boots, the True Story - Connie Hirsch
Case #285B - Esther M. Friesner
Beanstalk Incident - Jane Lindskold
Gilly the Goose Girl - Nancy Springer
Fifi's Tale - Alan Rodgers
Thy Golden Stair - Richard Parks
True Love (Or the Many Brides of Prince Charming) - Todd Fahnestock And Giles Custer
Savior - John Helfers
Wolf at the Door - Lupita Shepard
Castle and Jack - Tim Waggoner
Baron Boscov's Bastard - Jacey Bedford
Emperor's New (And Improved) Clothes - Leslie What
One Fairy Tale, Hard-Boiled - P. Andrew Miller
Feeding Frenzy or the Further Adventures of The Frog Prince - Josepha Sherman
A Leg Up or the Constant Tin Soldier (Gonzo Version) - Gary A. Braunbeck
Mrs. Myrtle Montegrande vs. the Vegetable Stalker/Slayer - Elizabeth Ann Scarborough
Of the rest of the tales, some were good, some less so. I'd pick it up if I saw it used, but I don't think it's worth the $6.99 cover price.
Rating: 5/10
Murder by Magic (2004) edited by Rosemary Edghill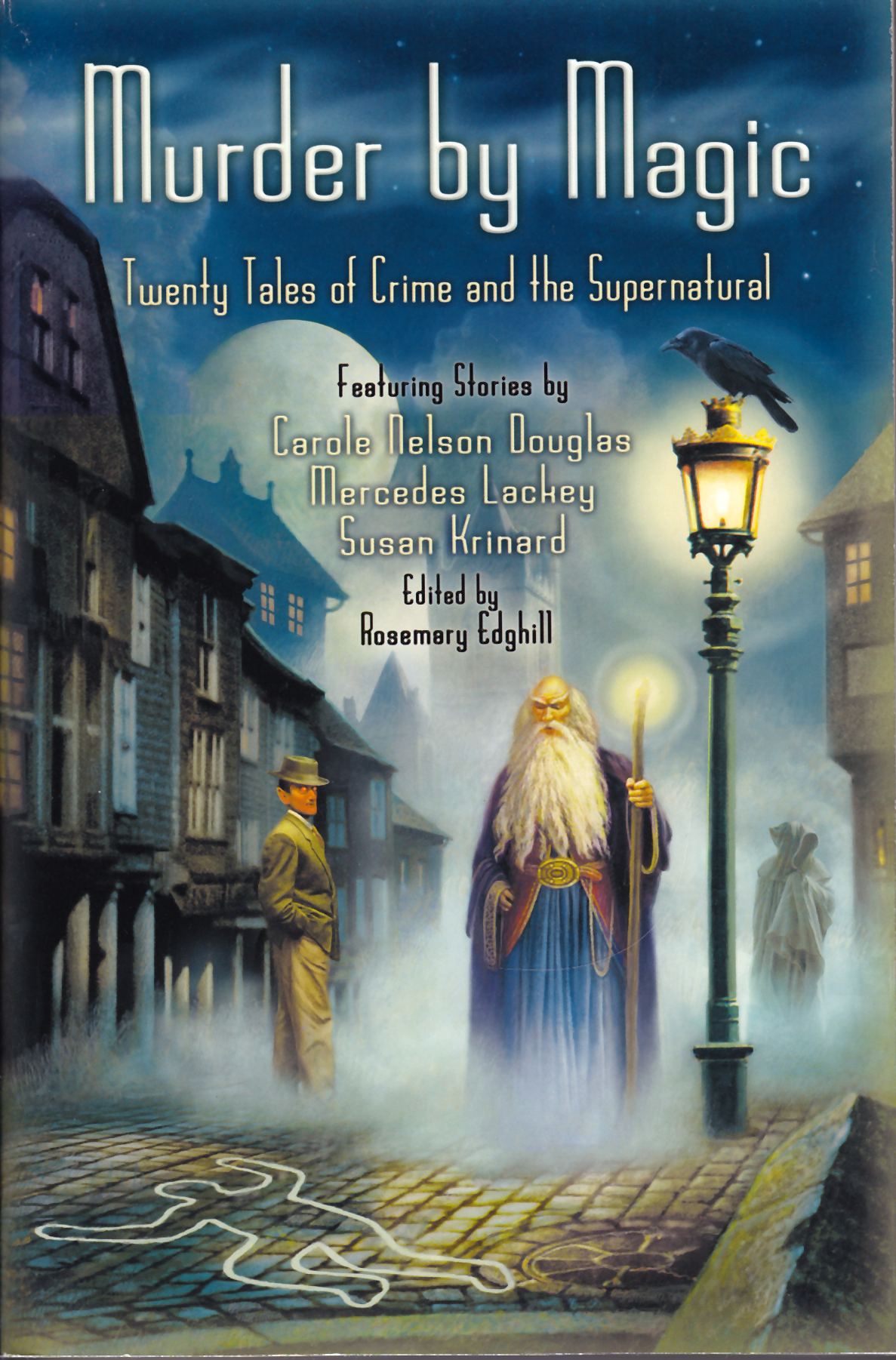 I love fantasy, and I love mysteries, so I figured that this should be a great short story collection. After all, I've read some excellent fantasy mysteries recently, such as those written by Charlaine Harris and Simon R. Green. This collection, however, was a mixed bag. For one thing, it look me about three months to read. I'd zip through a couple of stories, and then get bogged down in a story that took days to read, and then I set it aside for something else that looked more interesting.
The problem with several of the stories seemed to be that the ability to write good fantasy does not mean the ability to write good fantasy, and vice versa.
But there are some excellent stories in this collection.
Piece of Mind - Jennifer Roberson
Special Surprise Guest Appearance by... - Carole Nelson Douglas
Doppelgangster - Laura Resnick
Mixed Marraiges Can Be Murder - Will Graham
The Case of the Headless Corpse - Josepha Sherman
A Death in Working - Debra Doyle
Cold Case - Diane Duane
Snake in the Grass - Susan R. Matthews
Double Jeopardy - M.J. Hamilton
Witch Sight - Roberta Gellis
Overrush - Laura Anne Gilman
Captured in Silver - Teresa Edgerton
A Night at the Opera - Sharon Lee and Steve Miller
A Tremble in the Air - James D. Macdonald
Murder Entailed - Susan Krinard
Dropping Hints - Lawrence Watt-Evans
Au Purr - Esther M. Friesner
Getting the Chair - Keith R.A. DeCandido
The Necromancer's Apprentice - Lillian Stewart Carl
Grey Eminence - Mercedes Lackey
...
I enjoyed Esther M. Friesner's story "Au Purr" which was well done fantasy and a pretty good mystery. I also really liked Lawrence Watt-Evans' story "Dropping Hints." It reminded me of a puzzle that I'd heard, or perhaps a folk tale, of five identical creatures, and how do you tell them apart? M.J. Hamilton's "Double Jeopardy" was also interesting, although I found the fantasy element rather confusing in the beginning.
...
So, as a mystery collection, I found this anthology mostly disappointing. But I really do recommend looking for Laura Resnick's "Doppelgangster," which was just plain fun.
Rating: 5/10
My Big Fat Supernatural Wedding (2006) edited by P.N. Elrod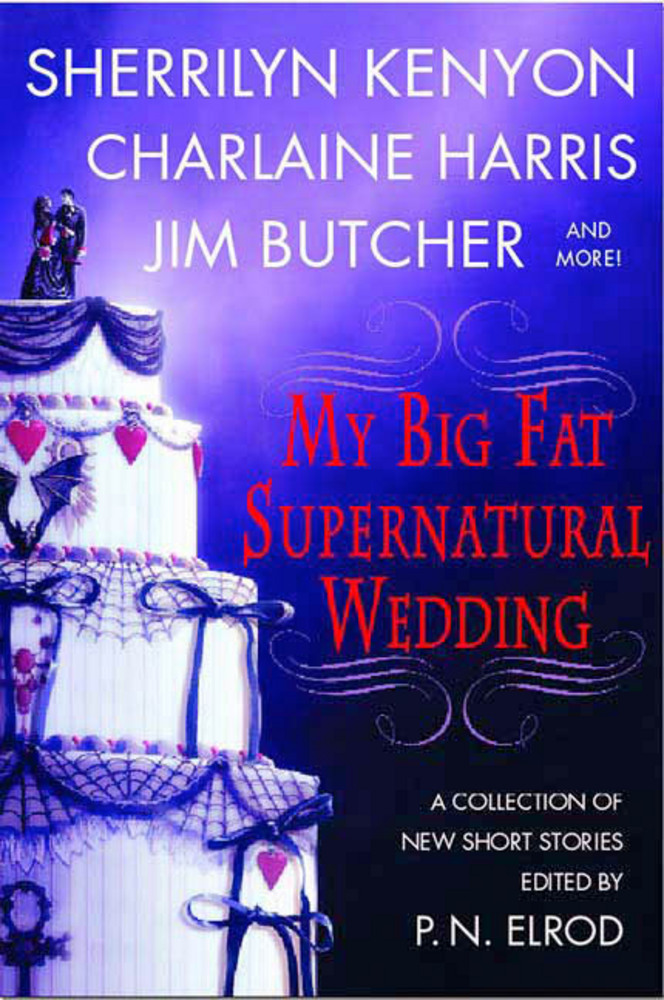 My Big Fat Supernatural Wedding is an anthology of short stories featuring supernatural creatures and weddings. All the stories are good, but some are better than others. In some of the stories the wedding is the main feature, while in other stories the wedding felt a bit tacked on to make the story fit into the anthology.
Spellbound - L.A. Banks
Something Borrowed - Jim Butcher
Dead Man's Chest - Rachel Caine
All Shook Up - P.N. Elrod
The Wedding of Wylda Serene - Esther M. Friesner
Charmed by the Moon - Lori Handeland
Tacky - Charlaine Harris
A Hard Day's Night-Searcher - Sherrilyn Kenyon
...Or Forever Hold Your Peace - Susan Krinard

...
All the stories have a romantic plot; some have boinking, but not all. (I, of course, prefer the stories without the boinking.) There were some stories that I preferred over others, but all the stories in the collection were strong and well worth reading, while several of the stories were well-written enough to make me glad I bought the collection.
Rating: 7/10
Under Cover of Darkness (2007) edited by Julie E. Czerneda and Jana Paniccia
"The Scoria" by Doranna Durgin
"The Gatherers' Guild" by Larry Niven
"Kyri's Gauntlet" by Darwin A. Garrison
"Falling Like the Gentle Rain" by Nick Pollotta
"The Things Everyone Knows" by Tanya Huff
"The Invisible Order" by Paul Crilley
"Borrowed Time" by Stephen Kotowych
"Shadow of the Scimitar" by Janet Deaver-Pack
"The Good Samaritan" by Amanda Bloss Maloney
"Seeking the Master" by Esther M. Friesner
"When I Look to the Sky" by Russell Davis
"The Sundering Star" by Janny Wurts
"The Exile's Path" by Jihane Noskateb
"The Dancer at the Red Door" by Douglas Smith
Published by Daw
Better Off Undead (2008) edited by Martin H. Greenberg & Daniel M. Hoyt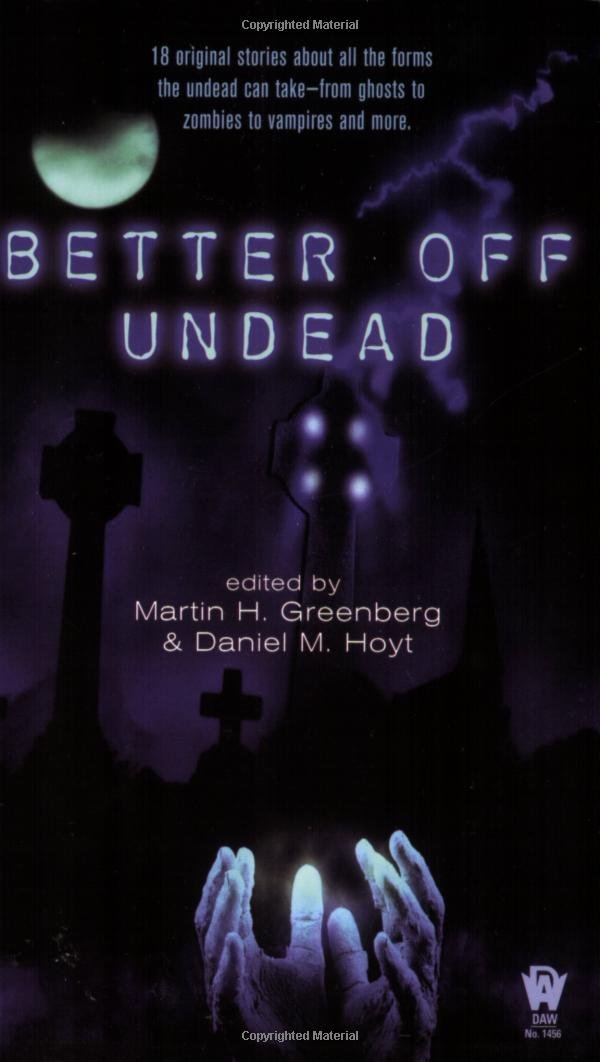 Anthologies edited by Martin H. Greenberg are usually ones I can pick up knowing that I'll like the majority of stories within.
This volume? Not so much. There were a handful of stories I thought were good, but for the most part? Meh.
A Grain of Salt - Sarah A. Hoyt
The Poet Gnawreate and the Taxman - Dave Freer
The Infernal Revenus Service - Laura Resnick
Mummy Knows Best - Esther M. Friesner
Genius Loci - Chelsea Quinn Yarbro
Ah, Yehz - Alan Dean Foster
Gamma Ray versus Death - Carrie Vaughn
Museum Hauntings - Irene Radford
My Teras Have Been My Meat - Nina Kiriki Hoffman
The Perfect Man - Fran LaPlaca
Two All Beef Patties - Jay Lake
That Saturday - Devon Monk
Walking Fossil - Robert A. Hoyt
Night Shifted - Kate Paulk
Twelve Stepping in the Dark - Rebecca Lickiss
Gobble, Gobble, One of Us - Charles Edgar Quinn
Bump in the Night - Amanda S. Green
Separation Anxiety - S.M. Stirling
...
And… that was about it. Like I said, most of the stories were meh, and some I actually disliked, but if you come across any of the above in another anthology, I highly recommend them.
Rating: 5/10
Published by DAW
Full Moon City (2010) edited by Martin H. Greenberg & Darrell Schweitzer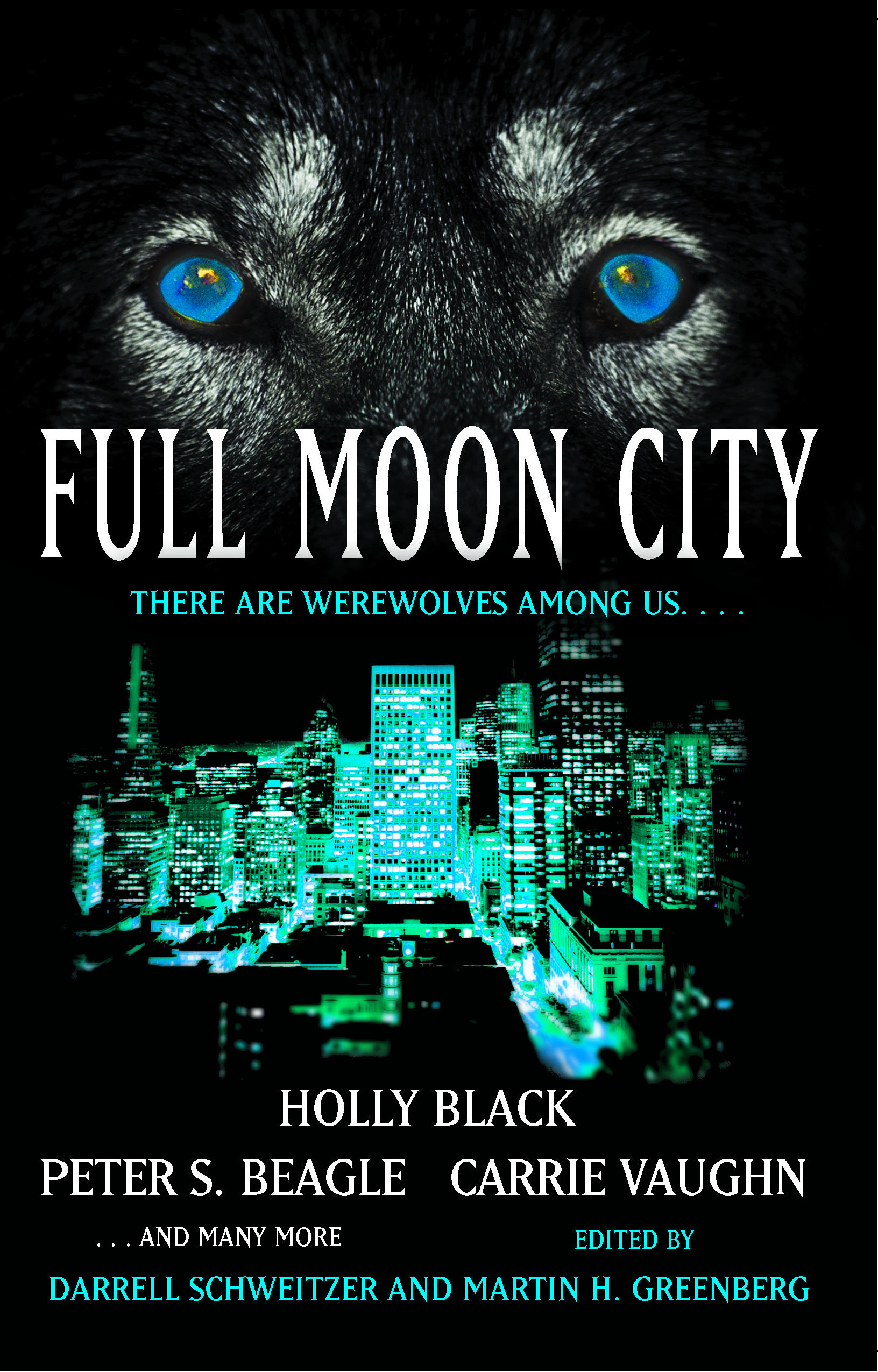 I love anthologies. Though I have to admit that with the way paranormal romance has taken off, the ratio of wheat to chaff has been unfavorable for me. However, Carrie Vaughn and Peter S. Beagle were pretty compelling reasons to get this anthology.
The Truth about Werewolves - Lisa Tuttle
Innocent - Gene Wolfe
Kitty Learns the Ropes - Carrie Vaughn
No Children, No Pets - Esther M. Friesner
Sea Warg - Tanith Lee
Country Mothers' Sons - Holly Phillips
A Most Unusual Greyhound - Mike Resnick
The Bitch - P.D. Cacek
The Aarne-Thompson Classification Revue - Holly Black
Weredog of Bucharest - Ian Watson
I Was a Middle-Age Werewolf - Ron Goulart
Kvetchula's Daughter - Darrell Schweitzer
And Bob's Your Uncle - Chelsa Quinn Yarbro
The Bank Job - Gregory Frost
La Lune T'Attend - Peter S. Beagle
...
Esther M. Friesner's story, "No Children, No Pets" was strange and odd, but I still enjoyed it. After all, there aren't that many werewolf stories with six year old narrators.
...
Although there were several stories I didn't particularly like, but all in all, the stories that were good were very good, and well worth the price of the anthology.
Rating: 8/10
Happily Ever After (2011) edited by John Klima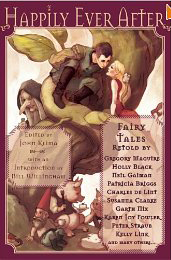 Not sure how I missed this when I first came out, but this anthology is full of things I love: authors whose books I love, stories based on folk and fairy tales–lovely!
The only thing I didn't like, is I wish the anthology hadn't ended on such a dark and depressing story.
Mind you, the dark and depressing stories were good–very good–but these tales ran very true to the original stories, with a not insignificant amount of rape and incest and general horribleness. Just like the original tales.
But there's also a good amount of humor as well, and I just wished the collection had ended with one of the funnier stories.
The Seven Stage a Comeback – Gregory Maguire
And In Their Glad Rags – Genevieve Valentine
The Sawing Boys – Howard Waldrop
Bear It Away – Michael Cadnum
Mr. Simonelli or the Fairy Widower – Susanna Clarke
The Black Fairy's Curse – Karen Joy Fowler
My Life As A Bird – Charles de Lint
The Night Market – Holly Black
The Rose in Twelve Petals – Theodora Goss
The Red Path – Jim C. Hines
Blood and Water – Alethea Kontis
Hansel's Eyes – Garth Nix
He Died That Day, In Thirty Years – Wil McCarthy
Snow In Summer – Jane Yolen
The Rose Garden – Michelle West
The Little Magic Shop – Bruce Sterling
Black Feather – K. Tempest Bradford
Fifi's Tail – Alan Rodgers
The Faery Handbag – Kelly Link
Ashputtle – Peter Straub
The Emperor's New (And Improved) Clothes – Leslie What
Pinocchio's Diary – Robert J. Howe
Little Red – Wendy Wheeler
The Troll Bridge – Neil Gaiman
The Price – Patricia Briggs
Ailoura – Paul Di Filippo
The Farmer's Cat – Jeff VanderMeer
The Root of The Matter – Gregory Frost
Like a Red, Red Rose – Susan Wade
Chasing America – Josh Rountree
Stalking Beans – Nancy Kress
Big Hair – Esther Friesner
The Return of the Dark Children – Robert Coover
The introduction was written by Bill Willingham, whose writing I adore, and whose introduction amused me. Here's the very start of it:
I have to confess I'm no good at writing a proper introduction, because, I'm in the storytelling business, which means I get to lie for a living, and I've become well practiced at it. But introductions are supposed to be true. After so many years, I despair if I have much unvarnished truth in me.
...
Please note, as previously mentioned, the stories have rape and incest and lots and lots of sex in addition to evil stepmothers and other such killers.
There were also a fair number of very dark and very depressing tales that were very good, but that I didn't enjoy at all.
Rating: 8/10
Published by Night Shade Books