Night Huntress: Halfway to the Grave (2007), One Foot in the Grave (2008), At Grave's End (2009), Destined for an Early Grave (2009), This Side of the Grave (2011), One Grave at a Time (2011)
Night Huntress World: First Drop of Crimson (2010), Eternal Kiss of Darkness (2010)
Night Prince: Once Burned (2012), Twice Tempted (2013), Bound by Flames (2015), Into the Fire (2017)
Anthologies: Under Her Skin (2009), Death's Excellent Vacation (2010)
Halfway to the Grave (2007)
Cat is half-vampire, and since her mother has told her of her history, has dedicated her life to killing every vampire she can find. Her heritage gives her heightened senses and strength beyond that of a normal human, but her hunt is surprised one night when she meets a vampire far stronger and more wily than she expects, and from there her changes dramatically as she learns what vampires are truly capable of.
Halfway to the Grave kept coming up as a recommendation, so I decided to try it out. When I started reading, there was something about the way Jeanine Frost wrote that rubbed me the wrong way, however, I was immediately drawn into the story, so whatever it was that bugged me quickly fell by the wayside as I read quickly to discover what would happen.
Before we go any further, there is a LOT of boinking and sexual talk in this book. Cat starts out as a prude, and Bones really enjoys embarrassing her. But what I like is that Bones has a very good reason to force her to get over being a prude: if she's going to serve as bait–as a young woman who wants to pick up men in bars–blushing is going to give her away almost immediately.
And that was a very fun part of the story. It's funny to see her learn to primp and learn how to troll for men, so she can effectively serve as bait. She hates it, but she sees the necessity, so she's going to do it well.
I think what made Bones so likable so quickly was his disgust at the way Cat had been treated throughout her life. Even if Cat sees nothing wrong in the way she was treated, the reader does, and Bones' indignation immediately put me on his side.
As with other supernatural books, I find it fascinating to see what vampire mythology is used and included as part of the way vampires work, and what is brushed off in the books as 'folklore'. Her vampires are quite different from many other I've read about, not just in their strengths and weaknesses, but also in their morality and ethics. (Also, ghouls? Ew. At least she wasn't calling them zombies.)
I also really liked the creation story for vampires. That was a very nice touch.
The other thing I liked was Cat's relationship with her mother. There is so much going on that remains unsaid, but that makes you really wonder about the woman and her sanity–as well as her relationship with Cat.
If you like supernatural fantasy, and you don't mind boinking (because there is a lot of sex in those book) then I recommend checking out Halfway to the Grave. I've already ordered the next two books in the series, in the hopes they're as good as the first.
Rating: 8/10
Halfway to the Grave Audible Version (2007/2010) narrated by Tavia Gilbert
I've enjoyed this series (although I am still sitting on the final book, waiting for the right time to read it) and I very much enjoyed the audible version. Tavia Gilbert is very good with the narration and giving different characters different voices (including Bones' accent)–it kept me walking a little longer on multiple times, just to finish listening to the chapter.
However.
I can't say that I'm not weirded out listening to a book with boinking in it, on my lunchtime walk. When I was able to go off campus, that wasn't too bad, but listening while walking the halls, I feel like my face is flaming red.
I also realize this is a personal issue that most people don't have.
I am definitely going to listen to the second book in the series, and that should eventually to get me to read the final book in the series. Whether I listen to this point, or start reading to reach that point faster has yet to be determined.
Rating: 8.5/10
One Foot in the Grave (2008)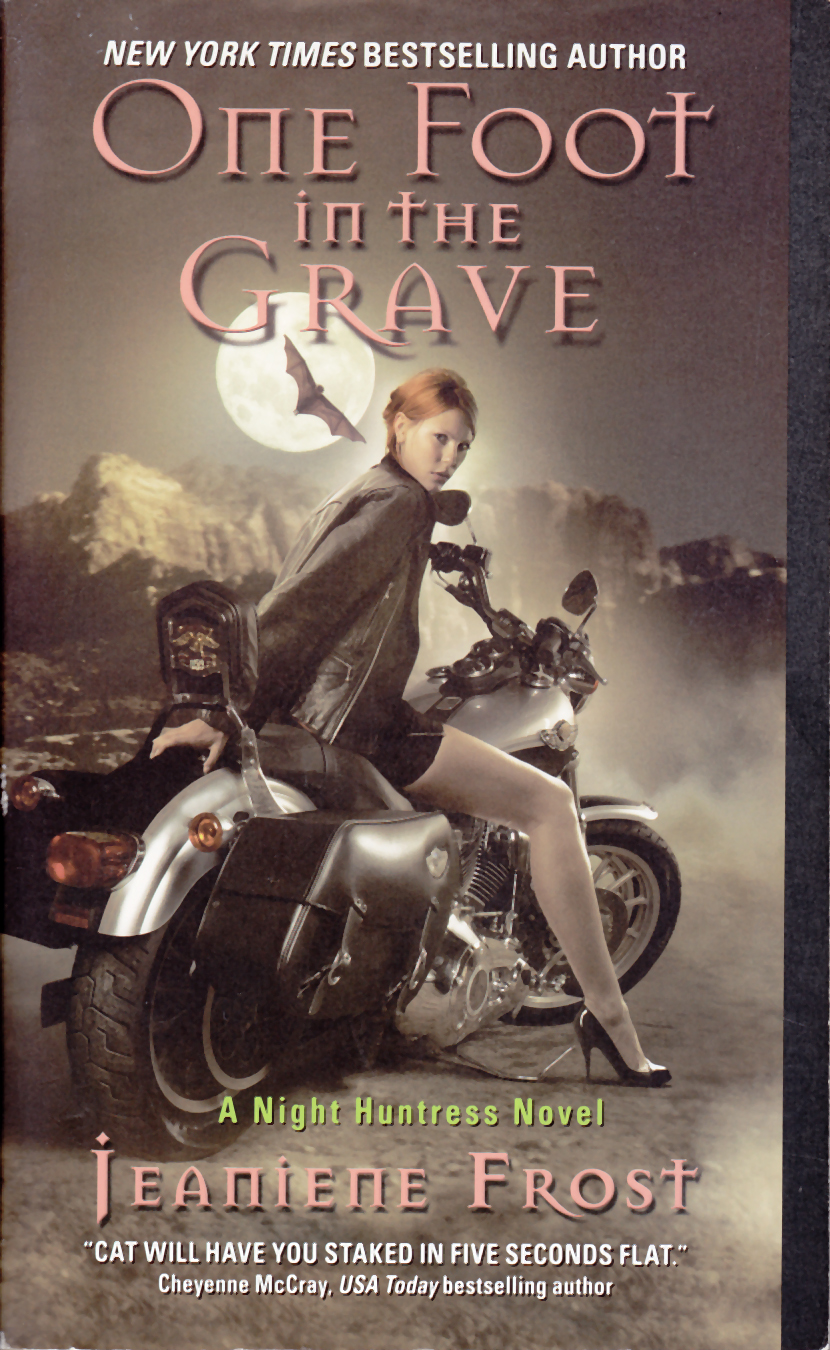 It's been four years since Cat walked away from Bones–four years that she's been working for a special group in the FBI to deal with the undead. But her past is now coming back to haunt her–not just the fact that she still loves Bones, but also the fact that she's been killing rogue vampires and ghouls for four years, and, and so has made members of the supernatural community unhappy with her.
First, I like the fact it's been four years that Cat has spent away from Bones. She's had a chance to grow up and mature, and she's also had a chance to know herself and what she truly wants.
I also liked the fact that everyone has secrets, and those secrets are both to her advantage and her disadvantage. Some secrets she can use, while other secrets come back to haunt her and cause her problems.
Just to get it out of the way, like the first book there is a lot of boinking in One Foot in the Grave. It's very well written, but it's also extremely explicit. So be aware of that if you think you're interested in this series.
One thing I noticed, is that the story is rather biblical in it's justice: if you cross Cat's line, vengeance is swift and deadly.
I'm also fascinated by Kat's morality. She's willing to take her boss's word that a vampire or ghoul is bad and thus metes out that swift justice, and she doesn't seem to have any qualms about keeping vampires prisoner in their center, yet at the same time she fights for herself and some other vampires to be seen as moral beings capable of making ethical and rational decisions.
That's quite a contradiction, but then she is an assassin (and a very good one) so I suppose those abilities come with the territory.
That isn't to say that these things distracted from the story–I really only thought about them after I finished–but it does make the story a little more shallow than it could be otherwise.
Despite that, Cat is still a fascinating character. She is fiercely loyal to her men, willing to break or bend the rules as she feels necessary, and loyal to her mother, despite everything (a mother who is perhaps even more complex by the end of the story that she was previously).
One other small negative–Cat and Bones are both starting to become extremely powerful, and both have a sense of invincibility about them in this story. Again, I didn't find it distracting while reading, but after finishing the story I do have to wonder if the following book keeps this invincibility–that could get frustrating after awhile.
However, I keep pointing out the negatives when actually thoroughly enjoyed the story. I particularly liked the complications arising with Don. Those were unexpected by a nice twist.
All in all, it was a quick romp and sucked me in quickly: a fun break.
Rating: 7/10
At Grave's End (2009)
Cat and Bones are still working for Homeland Security, but Cat's been working long enough that her disguise has worn thin–especially since Bones has become quite recognizable in the vampire world. To make things worse, Cat's father is still looking for her, and doesn't want a happy family reunion.
I'm really enjoying the Night Huntress series. Although Cat occasionally does dumb things, she doesn't so stupid thing, if you know what I mean. Yes, she makes mistakes, but not the mistakes that have the reader yelling (perhaps mentally, perhaps not) DON'T BE SO STUPID! (Unfortunately, I've come across more than one supernatural fantasy series where the heroine was really too stupid to live.)
One of the things I particularly like is that Cat and Bones fight and argue–and they have good reason to fight and argue–but they don't hold grudges and they get past their problems. Sure Cat sometimes has doubts and worries, but she knows how Bones feels about her, and how she feels about him. It's a very nice change from most books where there is constant upheaval between the heroine and her love.
One of the things I particularly enjoyed in At Grave's End were the vampires that came in with Menchares. Yes, Vlad was good, but I just loved the idea of Doc. It almost makes me wish that part was true, because it'd be awesome if he was still around.
Although you could probably read At Grave's End without having read the previous two books, I don't think I'd recommend it. Each book contains a complete story arc, but the stories build upon each other, and events in later books have greater meaning if you've read the earlier books. So if you like supernatural fantasy, I strongly recommend the Night Huntress series–as long as you don't mind some serious boinking.
Rating: 8/10
Destined for an Early Grave (2009)
Cat is no longer working for the government slaying rogue vampires. She and Bones are off to Paris for a well-deserved vacation. Unfortunately, Cat remains the only living half-vampire, and her unique position remains a threat to the undead.
Although the initial story seems to have come from out of left field, the book is actually a culmination of the story arc of the first three books. The series probably won't end here, there are still unanswered questions, but it was a nice conclusion to the arc that started in the first book.
Did I enjoy the book? Yes. I have to admit that initially I was annoyed at the turn the story was taking, especially the powers of the Dreamhunter. But as I said, the story broadened to include the questions that have remained unasked since the first book. I won't actually tell you what those questions are, since they hadn't really occurred to me, but they may well have occurred to other readers. And they were important questions.
If you have not read a previous Night Huntress novel, this is not the place to start. You'll want to go back to the first book and follow the story forward. But if you like supernatural stories, and don't mind boinking, it will be worth your time to go back and start at the beginning.
Rating: 8/10
This Side of the Grave (2011)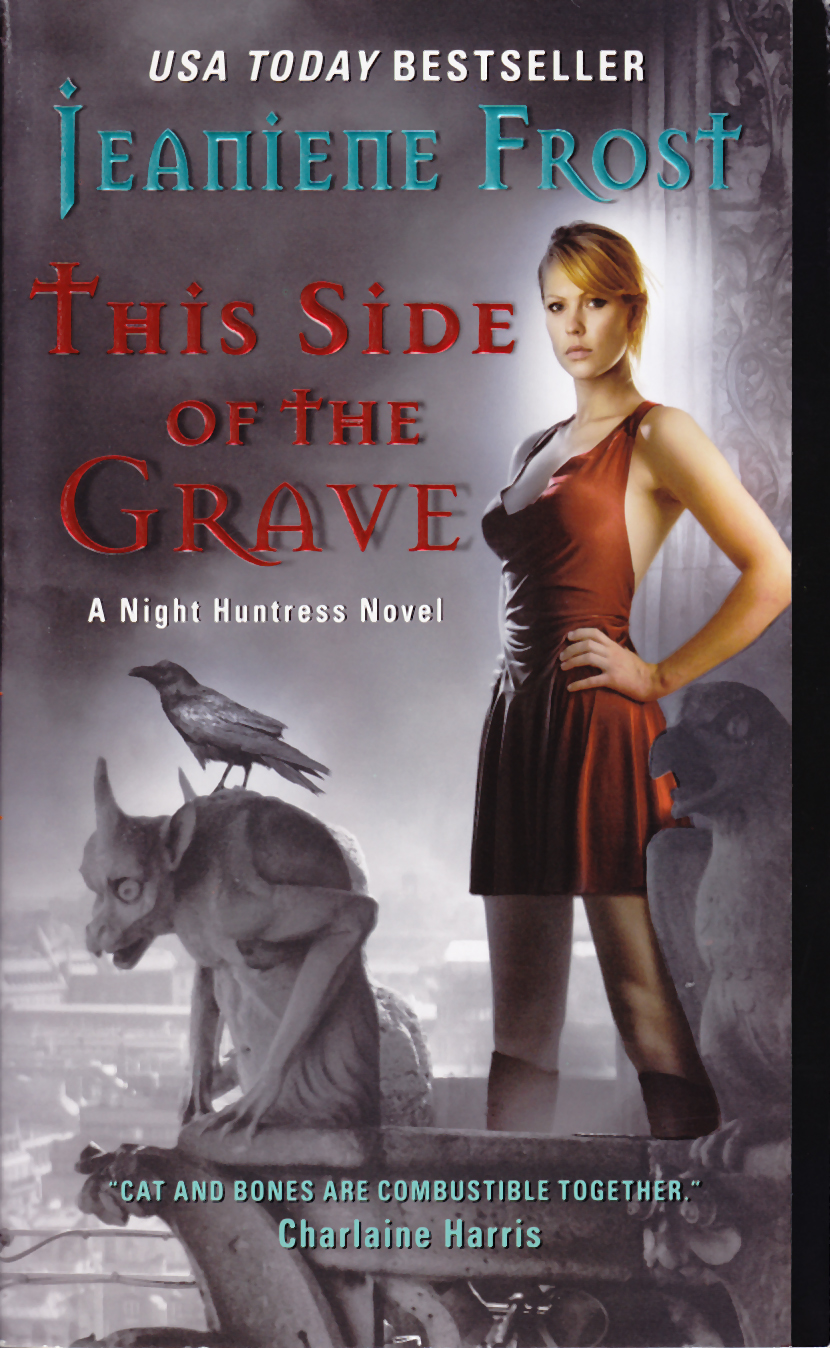 The head of the ghouls is fomenting trouble, claiming that Cat is involved in an attempt to subjugate the entire supernatural world, and if they don't take care of her now, they'll end up her (and the vampire's) slaves. Unfortunately, some of Cat's unique abilities and needs now that she has been turned aren't helping.
Then Cat turns to Marie–head of the ghouls in New Orleans–for help, and things get even more difficult.
Regardless of what else happens in these books, Cat and Bones remain happily married and dedicated to each other. And that is, to be honest, one of the things I think I love best about this story. It doesn't matter what happens, you know they are going to be together and to stay together. There are problems, but they face them together.
Which is as it should be. I think there is little that is more annoying than a series where the the couple has "issues" with their relationship throughout the book, resolves it at the end, but yet a the start of the next book, more problems. (Why yes, Kathy Reichs, I do in FACT mean your books!) I love the idea of a strong and happily married couple! So thank you Jeaniene Frost for that.
But don't relax, there are bad things aplenty in this book–unexpected bad things that Cat has to deal with despite everything else going on in her life (like the ghouls attempting to hunt her and Bones down).
I do want to make note that kudos are deserved for a problem that did NOT come up in this story, that I was afraid would when I saw the turns the plot was taking. Things with Denise could have taken an ugly turn once they decided how they were going to use her, and I was half expecting something horrible along those lines, but no, it was played straight and I was very glad not to have to deal with where things could have gone.
If you have not been reading the Night Huntress series, this may not be the best place to start. Additionally, if you have not read First Drop of Crimson (which has, IMO, an absolutely AWFUL cover), you may have a good degree of confusion regarding Denise, so you may want to check that out as well (only in ebook form, or perhaps under a brown paper wrapper, because that cover is awful).
But if you have been reading along, this is another good entry into the series, and well worth reading.
Rating: 7/10
One Grave at a Time (2011)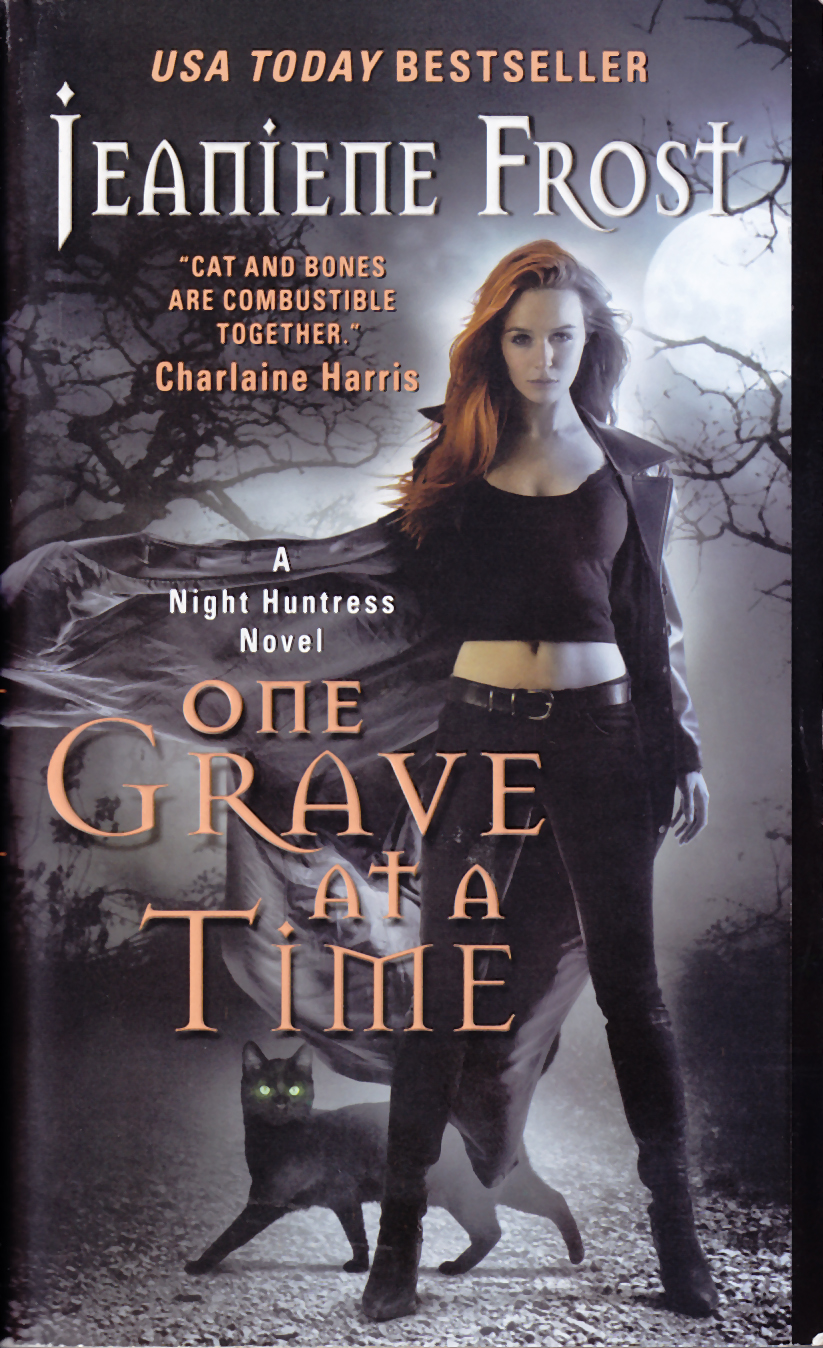 Here's what I don't get. That horrific cover? Same author. Same publisher, but the covers for this series are pretty damned awesome. And this doesn't even merit something Jim Hines could mock for unrealistic/uncomfortable body poses!
Plus, it's a great book!
I love how there's still story even though Cat and Bones are all married and well-settled into their HEA. And how by at this point, they work out the problems like grown-ups. Sure, they overreact sometimes, and they get frustrated with each other, but that's normal relationships.
I think, in a way, it might be harder to write them settled down as a happy married couple than when they were still working towards their HEA, but then again, this series has never focused just upon their relationship, but instead upon Cat and her being a total kick-ass heroine.
Which of course she does here.
There are two story arcs here, only one of which is resolved.
Cat's uncle Done has died of cancer, but despite his refusal to be brought back as a vampire or ghoul, he's a ghost. And not happy about being one.
The second story involves a ghost that Fabian brings to Cat and Bones, asking for their help in hunting down a centuries old witch-hunter whose ghost is still tormenting women.
Only one of these story arcs is resolved, but I'm not especially upset about it, since it was obvious there wasn't going to be a quick resolution to this problem.
If you haven't been reading the Night Huntress series, this isn't the place to start. But it'll be worth your times to start at the beginning and work your way here.
Oh, as usual with a Jeaniene Frost, there is lots and lots of boinking.
Published by Avon
Rating: 8/10
First Drop of Crimson (2010)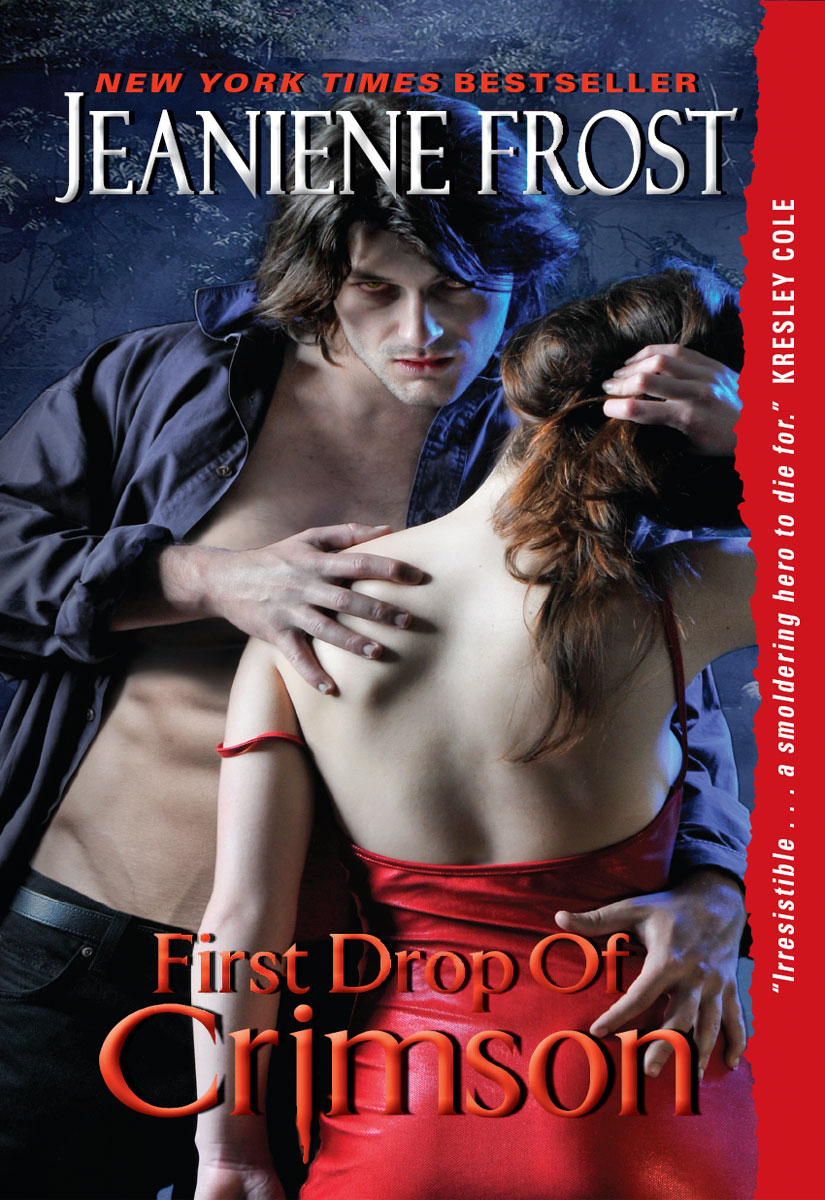 I actually really like Jeaniene Frost's writing, and loved all of the Night Huntress books I've read so far, even the ones I picked up in trepidation, thinking, "this can't possibly be anywhere nears as good as I'm remembering the earlier books in the series to be." However, the cover on this book is SO gawdawful I just couldn't bring myself to buy the book. But with a gift card, I figured, well, maybe it's worth the price of an ebook, so I decided to go for it.
First things first, DAMN can Jeaniene Frost write smokin' hot books. Yes, there is boinking. Lots of over the top boinking. But she also writes excellent characters who I immediately want to be happy, and a nice fun romp with lots of danger and butt kicking. OK, Denise isn't so much with the butt-kicking, but that's perfectly OK.
Denise had her life shattered on New Years Eve a year before, when her husband was brutally killed in an attack on Cat and Bones, and she soon after miscarried their baby, wrenching her even further into guilt and despair. Now, she's lost an aunt and a cousin and the last member of that family is convinced his mother and sister were murdered, and someone is after him as well.
Surprise! Someone is after him. And it turns out he isn't going to want good things for Denise either. She tries to call Cat and Bones, but their numbers are disconnected (this must have been before the portability of cell phone numbers) and the only person she can contact is their friend Spade, who she calls to ask for contact information for Cat or Bones. Since neither of the two is available, and Spade is in the states, he says he'll come himself to check on Denise and see if he can help her resolve her problem.
And then things really take off.
As I said, DAMN Jeaniene Frost is good at writing characters with awesome chemistry. But more than that, she's good at writing characters in general. Cat and Bones make an appearance, as does Ian, and although one enjoys spending time with them, it never becomes their story, yet they also aren't thrown in simply to draw fans of the Night Huntress series. In fact, for awhile, I didn't think they'd make an appearance at all. But they did, and she did a good job of working them into the story without allowing them to take over.
If you have not read the Night Huntress series, you should be able to read this story without an prior knowledge. If you have, then you'll certainly enjoy this addition to the world. In either case, don't be put off by the horrific cover.
Published by Harper Collins
Rating: 8/10
Eternal Kiss of Darkness (2010)
I really liked this book. However.
HOLY TOMATOES! THAT IS A HORRIBLE COVER!
Seriously, her Cat and Bones series has decent covers–good covers even. But this? This makes me want to cringe. Perhaps even rip the cover off and burn it so I don't ever have to see it again. I mean, SERIOUSLY. That is the FAKEST LOOKING BLOOD EVER. It looks like someone drew it on with nail polish. What on earth did she do to deserve such horrific, vile covers?!
She writes strong female characters with great plots and HOLY CARP knock your socks of boinking scenes, and this? THIS is the cover they give her? No one deserves this cover. But this book ESPECIALLY does not deserve this cover.
Why not a picture of Kira kicking ass? Or even Mencherches kicking ass? Or giving each other smouldering looks? Or something, ANYTHING other than this horrific nail polish fake blood crap.
I have got to stop looking at this cover or my head is going to explode.
So. This cover is a perfect argument for eBooks. Because you should read this book. But you totally shouldn't be caught in public with that cover.
Published by Avon
Rating: 8/10
ADDENDUM the First:
OK, none of the covers I see online look quite as horrific as the cover I have. I am obviously going to have to scan it, so you can see the full horror.
ADDENDUM the Second:
EVIDENCE!
Once Burned (2012)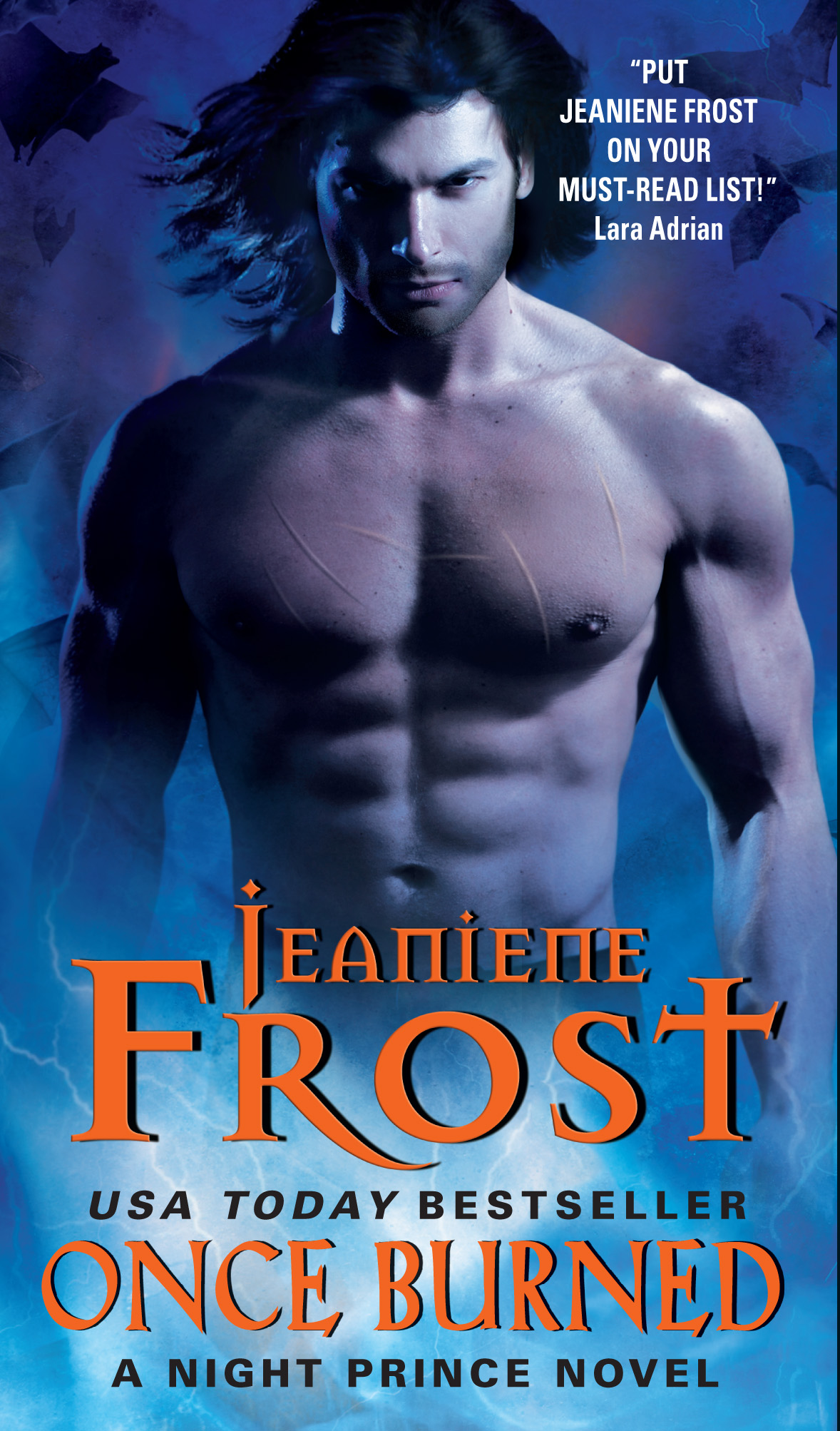 I seem to be on a roll. This is the second book in a WEEK I've read that doesn't end cleanly.
Leila was electrocuted as a teen.
"So let me get this straight," Auburn Hair said, drawing the words out. "You touched a downed power line when you were thirteen, nearly died, and then later, your body began giving off electric voltage and your right hand divined psychic impressions from whatever you touched?"
When rumors of her powers leak out, she is kidnapped by a group of vampires who want to see if they can use her powers to find their enemy: Vlad.
One of my favorite characters in this books is Marty, Leila's circus partner and the man who has been her surrogate father for years. He's also a midget and a vampire.
"And the crowd goes wild," he said smugly.

"Could you just let me handle it next time?" I hissed to cover how worried I'd been.

Marty rolled his eyes. "Please. I was fighting to the death before your grandparents were born.
Of course, Marty isn't particularly snarky in this book–most of this book finds him worried for Leila and doing what he can to try and help or save her.
"Don't hurt her, she didn't mean anything by it," Marty said at once, moving to stand between me and Vlad. I wasn't about to let him take more abuse, especially on my behalf, so I tried to angle myself in front of Marty. He kept sidestepping me with that damn vampiric speed until it looked like we were engaged in some sort of strange dance.
Let me be clear: this is a boinking book. LOTS of boinking here. LOTS AND LOTS. But it's also a fascinating story, as the author had to find a partner for Vlad who not only would put up with his crap, but be able to match his darkness.
Part of me wondered what the hell I'd gotten myself into while the rest didn't care. I'd relived enough terrible events happening to cautious people to know that prudence wasn't a guarantee for happiness.
It didn't bother me that I'd killed (character) and the other guards. Given the right circumstances, most people were capable of taking a life, and this had been a kill-or-be-killed situation. But what I hadn't anticipated was how I'd enjoyed it.

Surviving against deadly foes accounted for some of the exhilaration I'd felt, but not all of it. I could use the excuse that Vlad's ruthlessness was rubbing off, but deep down, I knew this cold-bloodedness was all mine.
I like that she has her own darkness, to match Vlad's.
And once again: why I hate this cover.
(A)s usual, only his face, neck, and hands were bare. The rest of him was covered, the elegant cut of his clothes simultaneously flaunting and concealing that lean, muscled body.
I really REALLY hate most Avon paranormal covers. (Two links there. The first is especially worth viewing.)
This is only the start of their story, which is where I took issue with it. I suppose that the subtitle, "Night Prince, Book One" should have been a give-away. But her Night Huntress books have all been complete story arcs.
That said, I see why this story is going to take more than one book. Vlad is an extremely complex character with a LOT of history. If he is going to be changed by Leila (that is an IF) then having him do so over the span of a single book would be completely unrealistic. So I can understand it. But I don't have to like it.
Published by Avon
Rating: 8/10
Re-Read: November 2017
Rating: 8/10
Twice Tempted (2013)
NOTICE: If you had not read Jeaniene Frost before, SHE WRITES BOINKING BOOKS.
Okay, that's out of the way…
The sequel to Once Burned is also not the final book in this series (I'm guessing the middle book of a trilogy, but I don't know that for certain) but I went into this knowing that was probable. It ended more cleanly than the first book, but still left a lot unresolved. It did not, however, end in a cliff hanger, so I'm not overly irritated.
Leila is watching her relationship with Vlad (yes, that Vlad) fall apart and is debating leaving him to return to the circus. (No! Really! She was an acrobat in the circus before becoming entangled with Vlad.) And with good reason, because Vlad is an obstreperous, vicious, bastard.
But why I loved these books (and Jeaniene Frost's books in general) is I love her world building, and the bits and pieces she strews throughout them. The Knights Templar? Were fed vampire blood. Moving right along…
And this little tidbit:
My hated inner voice had never steered me right before. I'd be damned if I started listening to it now.
I HAVE THAT SAME VOICE IN MY HEAD. I HATE IT.
One of the things I particularly like is the history that the various vampires have seen.
(T)he Knighthood of the Temple of Solomon had secret rituals. One of them involved drinking blood instead of wine in a mimicry of the Last Supper. For members of the original eight Templars, as I was, the blood wasn't human, though we didn't know it. We thought our increased strength and accelerated healing came from God."

"You were tricked into drinking vampire blood?" Wry snort. "I've been there. When did you find out what it was?"

"Centuries later when I met Vlad. In truth, it was a relief. I thought I couldn't age because God wanted to keep punishing me for spilling innocent blood in His name."
However, a quick note about the cover. This is FAR FAR BETTER than other covers she's been saddled with. But still. Here is Leila's description of Vlad at a point early in the book:
Unlike most well-built men, Vlad didn't flash a lot of skin, but those custom tailored clothes flaunted his taut body as effectively as running shorts and a sleeveless muscle shirt.
So, why is the dude on the cover all shirtless? Don't get me wrong, this is MUCH MUCH better than the cover for Eternal Kiss of Darkness (shudder) but still, I think the story within the cover deserves a more faithful representation.
Just saying.
Otherwise, this is another fabulous book. Plenty of boinking, of course, but the story and the characters and the storytelling are amazing.
Published by Avon
Rating: 8/10
Re-Read: November 2017
Rating: 8/10
Bound by Flames (2015)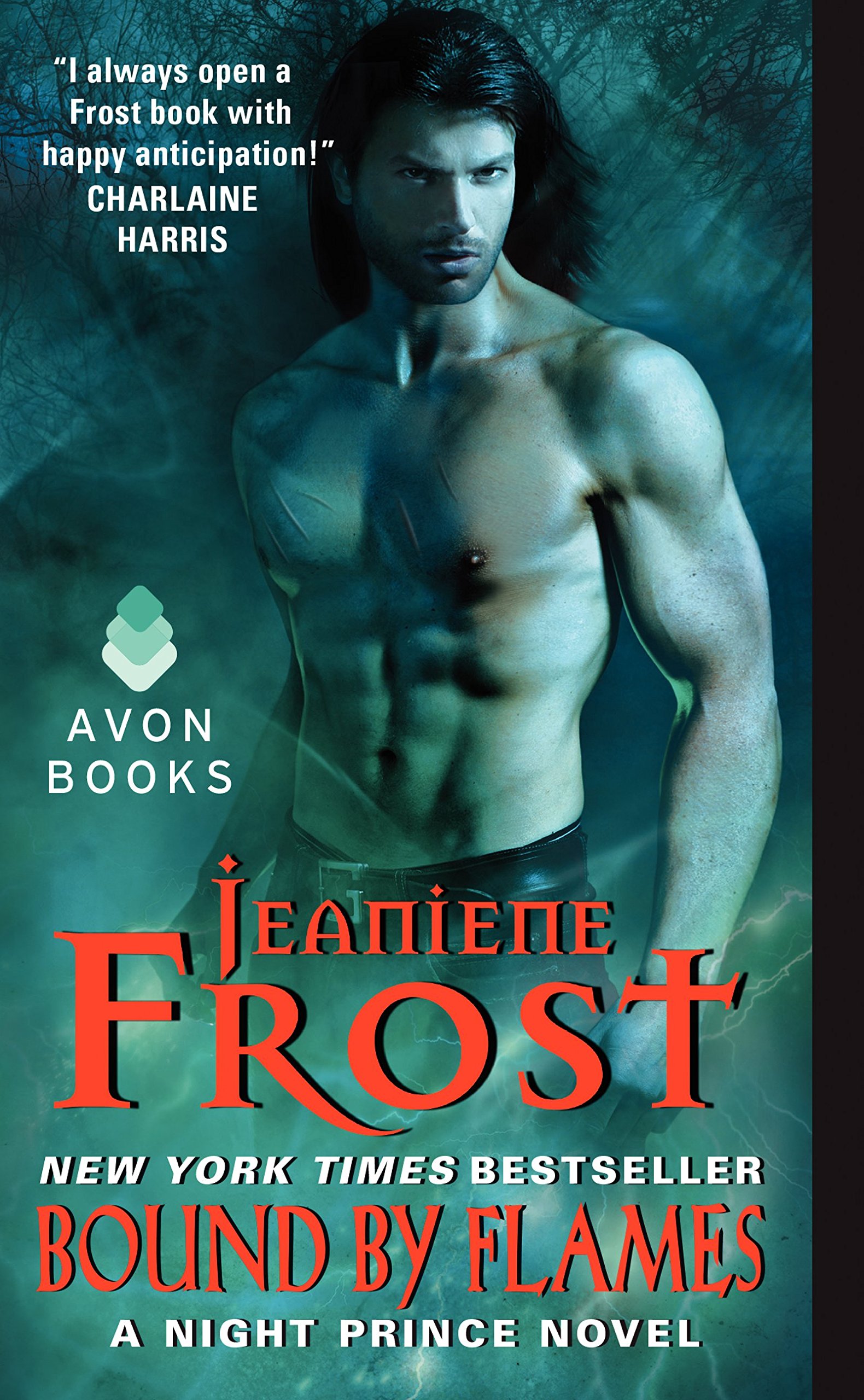 This is the third book in the Night Prince series, Jeaniene Frost's take on Vlad Dracul and Leila, the woman he came to love–against his better judgment and almost against his will.
First, let's make this clear–this book is NOT for the faint of heart. Truly, this series isn't, but in this book a LOT of bad things happen including torture and rape. Those mostly occur off the page, but they are still acknowledged repeatedly. So consider that before delving into this series.
We do get a brief visit with Cat ("save the crushing of your enemies to hear the lamentations of their women for later.") But most of the action centers on Lelia.
The second thing to get clear is that Vlad is still a product of his times and upbringing. In many ways he is still a sexist pig and a monster (though he is getting better).
"Why do you want to know who he'd like to kill?" I asked.

"I want a hardened man, not a mass-murdering , pathologically vengeful one," Vlad said. "There's only room for one of those in my line right now, and that's me."
And of course there is boinking.
On the other hand, we seem to have gotten past the stupid misunderstandings, and Lelia and Vlad actually talk to each other about the things that are upsetting them. There is a brief period of misunderstanding, but considering that it comes after torture, it's an understandable misunderstanding. (Actually, I almost thing the torture and horribleness are gotten past a little too quickly. I'm not saying I want an entire book of PTSD, just that it felt very unrealistic.)
On the plus side, however, I did like the dealing with the PTSD she suffered.
"She doesn't need an avenging warrior right now," Cat was saying. "She needs her husband, so save the crushing of your enemies to hear the lamentations of their women for later."
And admitting that Vlad has been broken by this as well.
"At first, I believed you couldn't stand for anyone to do so, which I understood," he went on. "For years after my boyhood captivity, I couldn't tolerate another person's hands on me. In truth, it's why I'm so particular about that to this day, although now I'm only angered instead of disgusted when people touch me without my leave.
One of bits I was fascinated by was how Vlad recruited new staff and vampires: from the dying, the homeless, and the unjustly incarcerated.
"Why do you want to know who he'd like to kill?" I asked.

"I want a hardened man, not a mass-murdering, pathologically vengeful one," Vlad said. "There's only room for one of those in my line right now, and that's me."
This book does not conclude the series, but it also doesn't end on a cliffhanger, which is good. The things that aren't completely resolved are things that wouldn't be fixed overnight (such as Leila's relationship with her father) and I appreciate that. I just wish that Leila's recovery from the pretty awful things that happen to her in this series wasn't glossed over as quickly as it was.
So, Vlad is an ass, but he loves Leila, and is finally learning not to smother her, so he's not irredeemable.
And once again, let me mention how much I HATE the covers for this series.
As usual, we get a description of Vlad that mentions his conservatism and dress.
Vlad didn't show off his seething masculinity by wearing fewer clothes. Instead, he wore more to taunt people with what he didn't allow them to feast their eyes on.
Which must be why we keep getting shirtless hunk in leather pants covers.
So, it's a nice solid entry into the series, and I'm enjoying the slow growth each is making.
Published by Avon
Rating: 7/10
Re-Read: November 2017
Into the Fire (2017)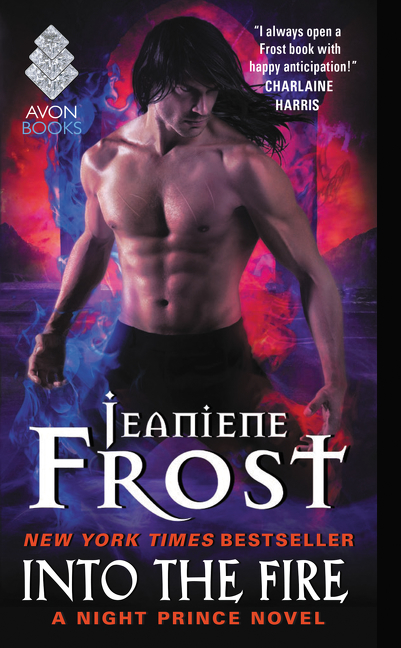 The fourth and final book in the Vlad and Leila series finds them trying to undo the links that Leila has to Mircea the necromancer–links that look as if they can only be undone by death.
This becomes an even bigger problem when the necromancers discover they can use this tie to control Vlad. So Mencheres brings in someone he believes can help them: Ian.
"There are some things I can't help," Ian finally said. "They're as much a part of me as your fire is to you, Tepesh."

Vlad gave an oblique shrug. "I can understand that. But swear to change what you do have control over, and swear it on your love for Mencheres."

Ian made a wistful noise. "I was so hoping you'd tell me to swear it on my honor."

Vlad let out a bark of laughter. "Not in this lifetime."
I wasn't surprised when Ian appeared in our suite moments later. "Hallo," he said in a purr, looking Gretchen up and down in a way that raised my hackles. "What's your name, sweeting?"

"Her name is No," I said at once.
I was initially annoyed by Ian, but he did develop past his single note into someone more complex, and on top of that, he proved utterly loyal to Mencheres (which was also the opening for the next series, but I digress).
I was oddly pleased with the resolution of this book. Vlad had a lot of maturation to do (in that he had to grow beyond being a cold, murdering, maniac) and not only did he have to work for it, but it was made clear this was an ongoing work (which, of course, it would be).
I don't think I'm in the mood for any more Jeaniene Frost any time soon, because I am just not in the mood for all the boinking, but I think I'll eventually read the Ian series. Mostly because Ian is pretty fascinating.
Publisher: Avon
Rating: 7.5/10
Anthologies
Under Her Skin (2009) with Ilona Andrews and Meljean Brook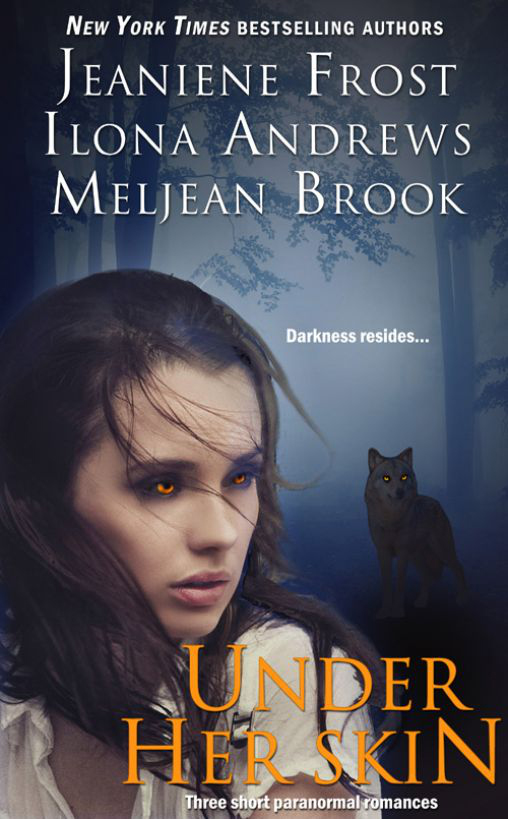 So, this was the first full book I read on the Nook. I love Ilona Andrews and also really like Jeaniene Frost, so I figured I couldn't go too wrong for three bucks. These are three short paranormal romances, focusing on shape shifters, but also with strong female leads.
The first story is "Pack" by Jeaniene Frost. Marlee is hiking in Yellowstone when she is attacked by a pack of wolves–werewolves of course, as these are paranormal stories. She is rescued and given medical treatment, but they pack refuses to let her go, aware that she may have become infected during the attack. She also finds herself falling for the man she sees as one of her captors–the pack enforcer named Daniel who claims she would be a threat to her friends and family if she returned home infected and undiagnosed, but also a threat to the pack if she returned and told people there was a pack of werewolves hiding in all but plain sight.
I like Jeaniene Frost's writing, and so thoroughly enjoyed the story.
The second story is "In Sheep's Clothing" by Meljean Brook. Emma is attacked driving through a storm on the way to her aunt's house. When her friend and rescuer–the local sheriff arrives–she seems unharmed but understandably shaken up by the attack. This story and the first focus on the time right after a mere mortal is bitten by a were and the changes that manifest almost immediately. What I particularly liked was that Emma was NOT too stupid to live, but instead did everything she could to save herself. I like heroines like that. There were other things like liked about the story (hard to talk too much about a short story without giving everything away) but over all, it was for me the weakest story in the collection. This was also the only story that had boinking. Are those two facts related? Probably.
The final story–and the reason I bought the collection–was Ilona Andrews' story "Grace of Small Magics." None of the characters are were-wolves, so this story has quite a different feel from the previous too, as there are no familiar elements upon which to hang these characters and this world.
Grace discovers her family is indebted to another family, and that she is required to help this family perform a magical service of some sort, though she knows nothing about the family or what service she could possible provide. This story was the action/adventure/quest tale, and once I realized there wasn't going to be a werewolf and once I paid more attention to the world building, I very much enjoyed the story. Again, strong female lead who does her part in rescuing herself. Always a favorite.
Yes, these are three relatively short stories, but the stories by Jeaniene Frost and Ilona Andrews were definitely worth the price of admission.
Only drawback about these stories is you can only get them in ebook format.
Rating: 8/10
Death's Excellent Vacation (2010) edited by Charlaine Harris and Toni L. P. Kelner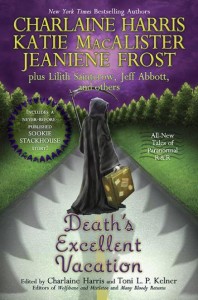 Yeah, I'm a sucker for anthologies. Especially ones where I know the majority of the stories will be good.
Mind you, I wasn't impressed enough with the list of authors to pay full price (this still isn't out in paperback yet?!) but there were plenty of used copies floating around, which is how I got my fix.
One for the Money by Jeaniene Frost is a Kat and Bones story. This actually fills in a couple blanks I'd missed (nothing major). Kat and Bones were on vacation until her Uncle Don calls in a favor–go protect the young college aged (orphaned) daughter of a man he'd worked with before. Sadly, nothing is easy. I quite liked this little peek into their lives, and a tiny bit of resolution between Bones and Justine. I'm not sure if this story would work as well if you weren't already familiar with the characters and story-line though.
So, a pretty good collection. As always there were stories I didn't like, but most of them were simple a conflict of taste rather than bad stories. But really, it's been two and a half years. How is this not out in paperback already?
Published by Ace
Rating: 7/10