Books
Anthologies: Masked (2010)
Masked (2010) edited by Lou Anders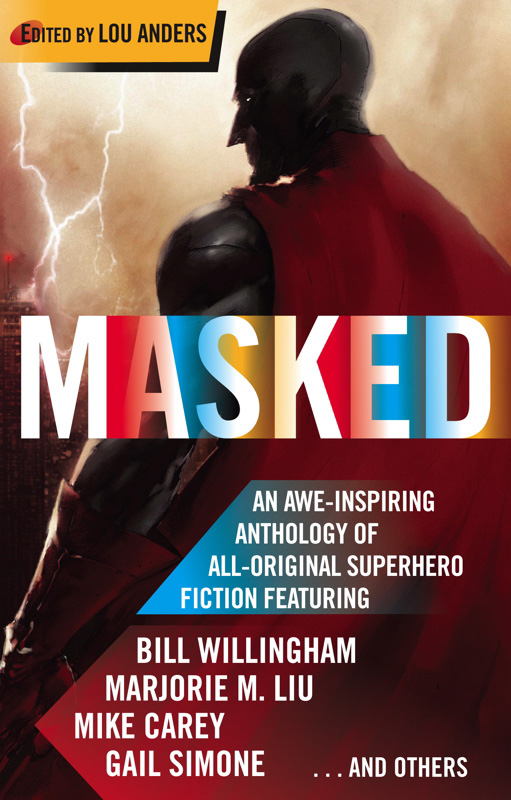 Masked is a collection of superhero stories by a variety of writers, many of whom are well known comic writers.
Cleansed and Set in Gold - Matthew Sturges
Where their Worm Dieth Not - James Maxey
Secret Identity - Paul Cornell
The Non-Event - Mike Carey
Avatar - Mike Baron
Message from the Bubblegum Factory - Daryl Gregory
Thug - Gail Simone
Vacuum Lad - Stephen Baxter
A Knight of Ghosts and Shadows - Chris Roberson
Head Cases - Peter David & Kathleen David
Downfall - Joseph Mallozzi
By My Works You Shall Know Me - Mark Chadburn
Call Her Savage - Marjorie M. Liu
Tonight We Fly - Ian McDonald
A to Z in the Ultimate Big Company Superhero Universe (Villains Too) - Bill Willingham

Matthew Sturges, who writes House of Mystery, wrote the opening story, "Cleansed and Set in Gold." …and I just ended up rereading the story when I flipped through to remind myself of whether I liked it. So yeah, I liked it. David Caulfield has "variable" powers, and those powers are the crux of the story. Fabulous.
"Secret Identity" by Paul Cornell was another story I especially liked. What does the hero identity do to the man who carries the hero around?
Mike Carey is another favorite author, especially his Felix Castor series. "Non-Event" begins at the end, with the supervillain being interrogated after the plan goes all wrong.
Gail Simone's story "Thug" was both amazing and horrible.
"Head Cases" by Peter David and Kathleen David was an odd story. Interesting, and there were a few bits that were hilarious, but I did spend much of the story going, "huh?"
Joseph Mallozzi's story "Downfall" was one of the longer stories, but I loved the twists and turns of a reformed villain being pulled out of retirement by his government minders.
"Tonight We Fly" by Ian McDonald was another story I particularly enjoyed–what's it like for a superhero as he gets older–apparently he becomes crotchety and yells at the damned kids to get off his lawn.
The final story in the series was Bill Willingham's "A to Z in the Ultimate Big Company Superhero Universe (Villains Too)." I love Bill Willingham's Fables so I was looking forward to this story. It was another odd one, and it took me a bit to figure out what was going on.
All in all, it was a fun collection, and well worth checking out.
Rating: 8/10