Books
The Strangely Beautiful Tale of Miss Percy Parker (2009)
Darker Still: A Novel of Magic Most Foul (2011)
Anthologies: Queen Victoria's Book of Spells: An Anthology of Gaslamp Fantasy (2013)
The Strangely Beautiful Tale of Miss Percy Parker (2009)
Picked this up a few weeks ago after breaking my leg, but as I was on pain killers, I couldn't focus and put it back down. Now that I'm still laid up but no longer spaced out, I'm tearing through books and came back to The Strangely Beautiful Tale of Miss Percy Parker.
Six children are pulled from the city one night and give the ability to see and control ghosts. Twenty years later they are still looking for their seventh, the one who will help them in their fight against malevolent ghosts and powers. Unfortunately, they have been warned that evil will try to influence their choice and hide the true seventh from them.
Also at this time, the strange orphan Percy Parker is sent to London to finish her education. Hidden away in a convent where her pale skin and lack of coloring did not attract much notice, Percy must now face strangers who she fears will recoil at her presence.
This was quite an interesting book. It's both romance and fantasy with a large dollop of alternative history thrown in. The romance and the alternative history are a bit over the top, but in a fun and entertaining way. And although you know that the moment from meeting her that Percy is the seventh, and you know that true love will win in the end, that didn't stop this from being a page turner once events came to a head.
This was a fun, quick read, and I quite enjoyed it.
Rating: 7/10
Darker Still: A Novel of Magic Most Foul (2011)
This is a YA/Historical/Fantasy/Romance (got all that?).
We are reading the journal of Miss Natalie Stewart, who recently left the Connecticut Asylum, where she spent several years, not because she is a lunatic, but because she has been mute since the age of four when her mother died.
When she returns home to her father, who works a the Metropolitan Museum of Art, she immediately becomes fascinated by the uproar over a painting of Lord Denbury–a striking young man who disappeared and is presumed dead. The uproar over the painting leads her to meet Mrs. Northe, a spiritualist, who believes there is something untoward–perhaps even evil–with the painting.
There was much to like about this story: the plucky (MUTE!) heroine, the mysterious, missing English Lord, the eccentric spiritualist, yet something felt lacking in the execution. I wanted to care about the characters, but instead I read solely to find out what happened. I just couldn't bring myself to care about the characters.
I was curious to see what happened, but instead of being sucked into the story, my mind kept creating possibilities that (this being a romance) I knew wouldn't happen.
On the other hand, I only paid $1.99 for this story, so it wasn't a horrible escape for that price.
Published by Sourcebooks Fire
Rating: 6/10

Anthologies
Queen Victoria's Book of Spells: An Anthology of Gaslamp Fantasy (2013) edited by Ellen Datlow and Terri Windling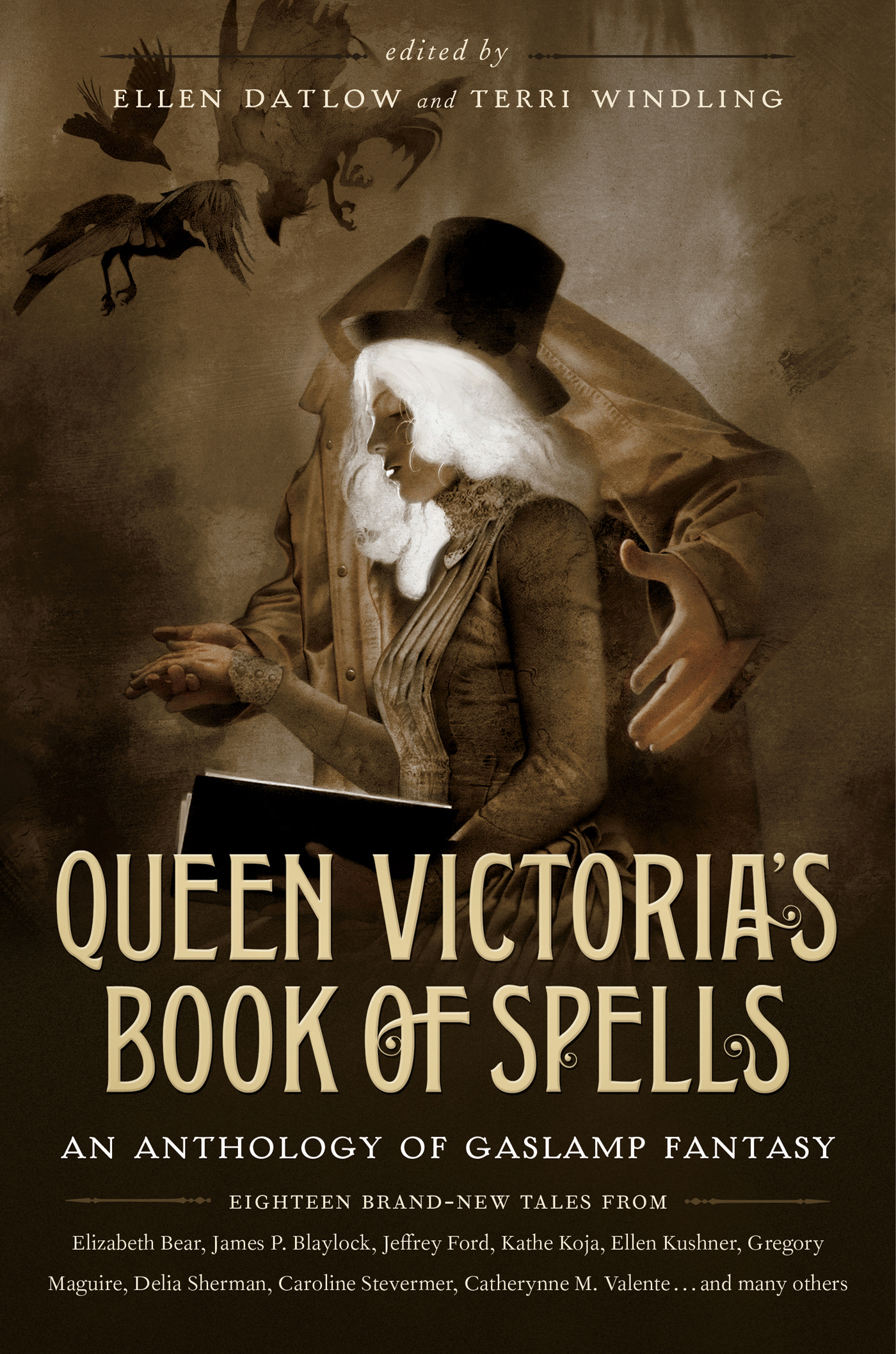 Charged by Leanna Renee Hieber
I love anthologies and I love historical fiction. So this should have been an automatic win for me.
Instead it was a two-plus year slog that I finally forced myself to finish.
Charged by Leanna Renee Hieber.

Of all my saints, Edison, in particular, engaged me. As if I were a fisherman, he called me to abandon my nets and come follow him.… I've read every word my prophet has written, followed his every move, patent, and innovation. I studied his contemporaries. I puzzled over Tesla's alternating current versus Edison's direct. The former individual is a madman. But my prophet is a cool and capable businessman. I'm a man of particular taste, and I like the word direct. It feels right. When one is talking about a conduit of energy, the matter should flow directly from source to target. To alternate is to be inconstant. I am a director.
Published by Tor