Books
Tripping to Somewhere (2006)
Tripping to Somewhere (2006)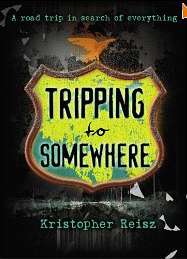 Gilly and Sam are looking to escape their lives, and opportunity knocks when one of the city's better known street people tells them that the Witches Carnival is in town, and if they move fast they can catch it. As Gilly and Sam run after the Witches Carnival, we learn what they're running from, as well as what they mean to each other.
Of the two characters, I felt more sympathy for Gilly, although Sam seemed to have the greater problems. Gilly seems to cause some of her own problems, while in most cases Sam is very much a victim of circumstance, yet Gilly seemed more sympathetic. (And by causing her own problems I don't refer to the fact that Gilly is harassed because she is a lesbian, but that she falls in love with girls that don't and can't love her back.)
The story managed to grab me from the start, and I read it in two sittings (the fact that those sittings were several weeks apart was due solely to how busy I have been recently rather than the book itself.) In fact, I had difficulty putting the story down, as I wanted to find out just what was going to happen to Gilly. In fact, my break point in reading the book was a major break point in the story, where we briefly shift from Gilly and Sam to another character who has met up with the Witches Carnival.
What I particularly liked about the book was that there were consequences--serious consequences--to the actions taken by Gilly and Sam.
A major caveat I had about this book is that the sex was explicit. I don't think there is anything wrong with explicit sex scenes in books, they just aren't something I enjoy. There is also a good deal of drug use, which may also make some readers uncomfortable, although I thought that the experiences and consequences were well done, and I appreciated that the story looked not only at illegal drug use, but at Sam's abuse of her prescription medicine.
This is a young adult book--the characters are teens, and the target audience is young adults--but the characters are dealing with the fact that if they take the liberties of adults, they must also suffer the consequences of those actions in the same manner adults would. Additionally, although the characters make mistakes because they are young and being stupid, for me they were mistakes that one could see an impulsive teen making--rather than the mistakes that make you want to slap a character or throw the book across the room.
Although I would have preferred much less sex--and much less explicit sex--the story did a good job of drawing me in from page one, and holding on enough to make it difficult for me to put the book down when what I really needed was to go to bed.
Rating: 7/10