Books: Mystery
Anthologies
Crime Through Time (1997), Down These Strange Streets (2011), The Mammoth Book of Historical Crime Fiction (2011)
Crime Through Time (1997) edited by Miriam Grace Monfredo and Sharan Newman
"Death of a Place-Seeker" by Lynda S. Robinson
"Archimedes' Tomb" by Steven Saylor
"Solomon's Decision" by Sharan Newman
"Murder at the Anchor" by Edward Marson
"The Hangman's Apprentice" by Leonard Tourney
"Suffer a Witch" by Miriam Grace Monfredo
"The Lullaby Cheat" by Kate Ross
"Anything in the Dark" by Edward D. Hoch
"Bertie and the Boat Race" by Peter Lovesey
"The High Constable and the Visiting Author" by Maan Meyers
"Look to the Lady" by Alanna Knight
"Mrs Hudson's Case" by Laurie King
"Exit Centre Stage" by M.J. Trow
"Decision of the Umpire" by Tony Soos
"Uncle Charlie's Letters" by Anne Perry
"Killing the Critic" by Gilliam Linscott
"Portrait of an Artist as a Young Corpse" by Barbara Paul
"The Mamur Zapt and the Kodaker's Eye" by Michael Pearce
"Storm in a Tea Shoppe" by Carola Dunn
"The Enemy" by Ken Kuhlken
"The Soldier and His Dead Companion" by Nicolas A. DiCharico
Published by Berkley Prime Crime
Down These Strange Streets (2011) edited by Gardner Dozois and George R. R. Martin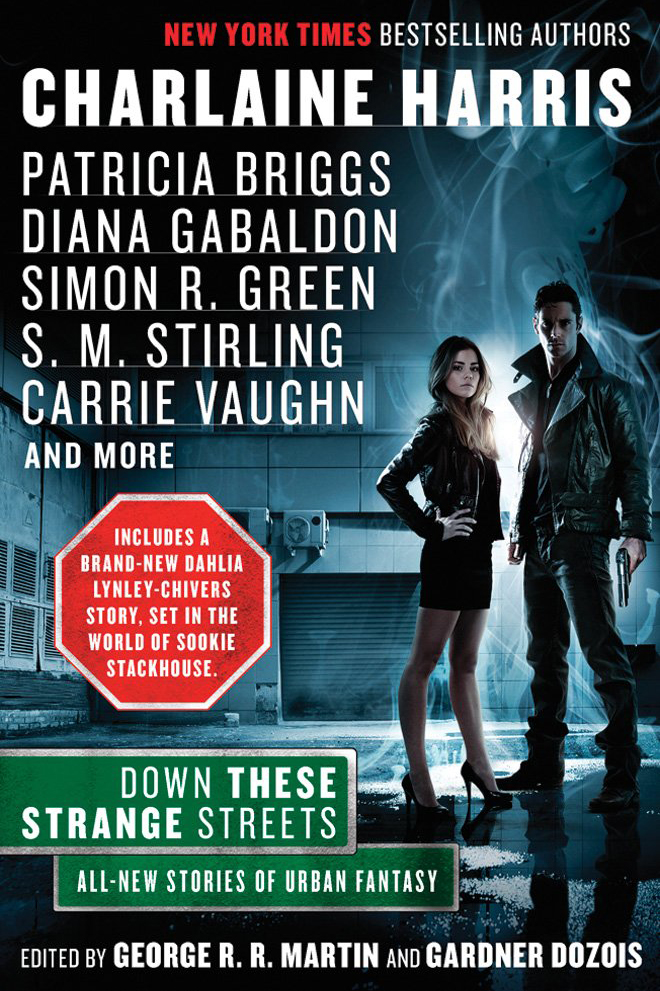 If you look at the list of authors above, you'll immediately see why I read this series. There are some of my favorite authors here–many of whom write short stories I tend to love. And surprisingly, I loved most of these stories, especially a few by authors I haven't particularly read before.
I actually have several of Steven Saylor's books on my shelves, but I haven't gotten around to reading a one of them. After reading "Styx and Stones" I'll try and move one of those books up on my list. Gordianus is traveling to Babylon with the poet Antipater of Sidon to see the wonders of that ancient land. But the hotel where the end up is next to a haunted–something that Gordianus simply doesn't believe.
All in all, I found this to be a fabulous anthology, and I highly recommend almost all the stories I read–even the ones I didn't love were, for the most part, interesting.
Published by Penguin
Rating: 9/10
The Mammoth Book of Historical Crime Fiction (2011) edited by Mike Ashley
Introduction: Return to the Crime Scene by Mike Ashley 
Archimedes and the Scientific Method by Tom Holt 
Something to do with Diana by Steven Saylor  
Eyes of the Icon by Mary Reed and Eric Mayer 
Night of the Snow Wolf by Peter Tremayne  
Jettisoned by Deirdre Counihan 
A Fiery Death by Ian Morson 
Hide and Seek by Tony Pollard 
The Fourth Quadrant by Dorothy Lumley 
Brodie and the Regrettable Incident by Anne Perry  
Forty Morgan Silver Dollars by Maan Meyers 
Trafalgar by Charles Todd  
Dead of Winter by Richard A. Lupoff
Something to do with Diana is a Steven Saylor story featuring Gordianus and his mentor Zoticus. This time we hand out with some Romans, and they seem to have a better opinion of Greeks than the Greeks have f them. (See previous story.) I read and enjoyed another story about them, so I have no idea why I haven't read one of his books before. It takes a bit before we get to the murder and the mystery, but I rather enjoy the tour, so I didn't mind.
The Temple of Artemis is one of the world's great storehouses of wealth–and every Roman governor spends his tenure trying to figure out some way to get his hands on it.
It was an enjoyable anthology, reminding me of several authors I need to read, as well as re-read.
Published by Robinson
Rating: 8/10