Books
Bullets and Fire (2009), Bubba Ho-Tep (2012)
Anthologies: Outsiders: 22 All-New Stories From the Edge (2005), Blood Lite (2008), Down These Strange Streets (2011), Weird Detectives: Recent Investigations (2013), Dangerous Women (2013)
Bullets and Fire (2009)
I swear I've read a story almost exactly like this before. Details I didn't know, but I knew precisely where it was going.
But part of the following quote was familiar:
Dad told me once, that if people don't care about where they live, the way they act, people they associate with, they get lost in the dark, can't find their way back cause there's no light left.
Not as if I'd read it in context, but as if I'd read it quoted somewhere.
Rather strange, all together.
Rating: 6/10
Published by Gere Donovan Press
Bubba Ho-Tep (2012)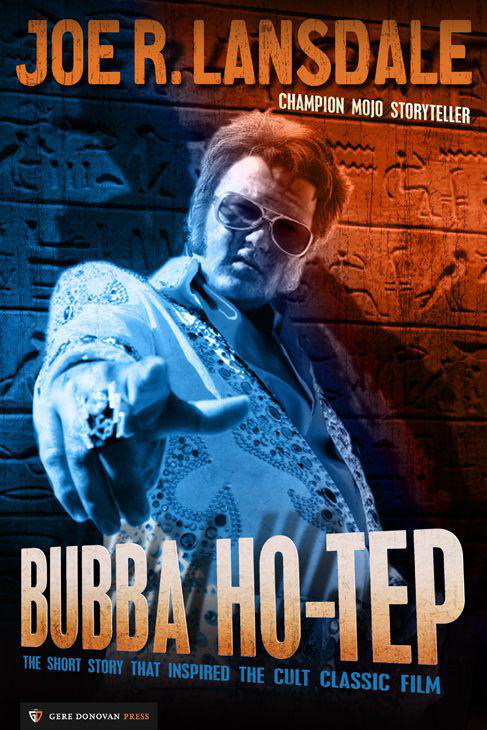 Amusing, and well done, but not particularly my cup of tea.
Published by Gere Donovan Press
Anthologies
Blood Lite (2008) edited by Kevin J. Anderson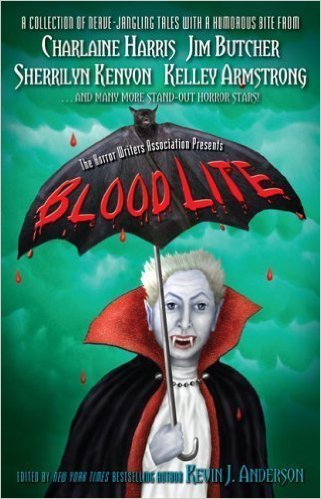 This anthology came out in hardback last year, but considering the theme, I was more than content to wait until it came out in paperback. Which it recently did.
As with most anthologies, there are good stories and bad stories, but there weren't too many stories that I hated, though there also weren't too many stories that I adored. So I'd say it all came out in the wash.
The Ungrateful Dead - Kelley Armstrong
Mr. Bear - Joe R. Lansdale
Hell in a Handbasket - Lucien Soulban
The Eldritch Pastiche from Beyond the Shadow of Horror - Christopher Welch
Elvis Presley and the Bloodsucker Blues - Matt Venne
No Problem - Don D'Ammassa
Old School - Mark Onspaugh
The Sound of Blunder - J.A. Konrath and F. Paul Wilson
An Evening with Al Gore - Charlaine Harris
Dear Prudence - Steven Savile
A GOod Psycho Is Hard to Find - Will Ludwigsen
High Kicks and Misdemeanors - Janet Berliner
PR Problems - Eric James Stone
Where Angels Fear to Tread - Sherrilyn Kenyon
A Very Special Girl - Mike Resnick
Love Seat Solitare - D.L. Snell
I Know Who You Ate Last Summer - Nancy Holder
Bitches of the Night - Nancy Kilpatrick
The Bell...FROM HELL - Jeff Strand
Dead Hand - Sharyn McCrumb
Day Off - Jim Butcher

There were some stories that I didn't like at all, I thought "Mr. Bear" was particularly awful, and I didn't like "A Good Psycho Is Hard to Find" either. But over all, the stories were pretty good, and the series was worth reading. I would have been annoyed if I'd bought this in hardback, but it's not a bad buy as a paperback.
Rating: 6/10
Outsiders: 22 All-New Stories From the Edge (2005) edited by Nancy Holder & Nancy Kilpatrick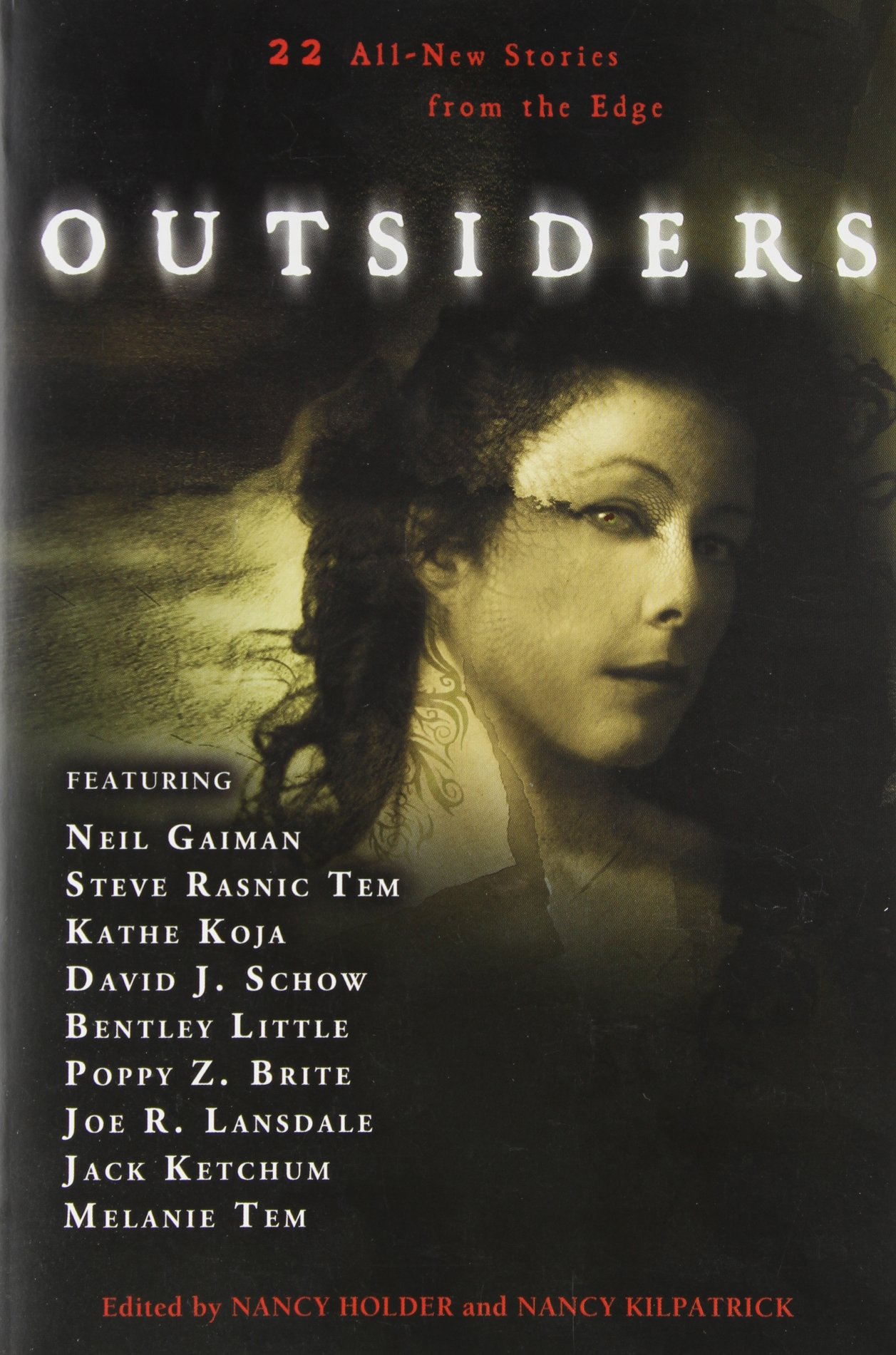 The Empty Chambers - Neil Gaiman
The Company You Keep - Steve Rasnic Tem Under the Needle - Léa Silhol Scarabesque: The Girl Who Broke Dracula - Tanith Lee Expanding Your Capabilities Using Frame/Shift(tm) Mode - David J. Schow Cat and the Cold Prince - Freda Warrington Faces in Revolving Souls - Caitlín R. Kiernan Lighten Up - Jack Ketchum Pit Boy - Elizabeth Massie The Country of the Blind - Melanie Tem Ruby Tuesday - Kathe Koja
Running Beneath the Skin - Brett Alexander Savory Grim Peeper - Katherine Ramsland Craving - Yvonne Navarro Violent Angel - Thomas S. Roche ...And the Damage Done - Michael Marano
Pop Star in the Ugly Bar - Bentley Little Miss Singularity - John Shirley
The Working Slob's Prayer - Poppy Z. Brite If I Should Wake Before I Die - Brian Hodge Honing Sebastian - Elizabeth Engstrom The Shadows, Kith and Kin - Joe R. Lansdale
Down These Strange Streets (2011) edited by Gardner Dozois and George R. R. Martin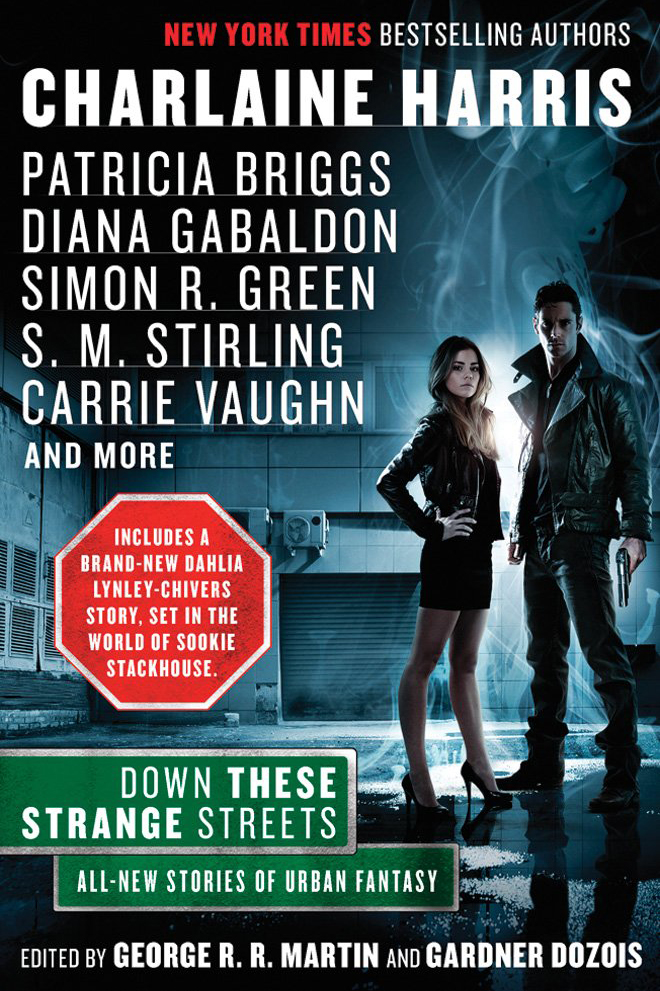 If you look at the list of authors above, you'll immediately see why I read this series. There are some of my favorite authors here–many of whom write short stories I tend to love. And surprisingly, I loved most of these stories, especially a few by authors I haven't particularly read before.
Death by Dahlia - Charlaine Harris
The Bleeding Shadow - Joe R. Lansdale
Hungry Heart - Simon R. Green
Styx and Stones - Steven Saylor
Pain and Suffering - S.M. Stirling
It's Still the Same Old Story - Carrie Vaughn
The Lady Is a Screamer - Conn Iggulden
Hellbender- Laurie R. King
Shadow Thieves - Glen Cook
No Mystery, No Miracle - Melinda Snodgrass
The Difference Between a Puzzle and a Mystery - M.L.N. Hanover
The Curious Affair of the Deodand - Lisa Tuttle
Lord John and the Plague of Zombies - Diana Gabaldon
Beware the Snake - John Maddox Roberts
In Red, With Pearls - Patricia Briggs
The Adakian Eagle - Bradley Denton
...
"The Bleeding Shadow" by Joe R. Lansdale is the second story in the collection. I recently red a straight up Joe R. Lansdale mystery, and although this story was set in the same time period, the mystery definitely has a supernatural element. The private detective is asked by an old flame to find her ne'er do well brother. It even references Robert Johnson in this take of a musician's deal with the devil. I quite liked it.
...
All in all, I found this to be a fabulous anthology, and I highly recommend almost all the stories I read–even the ones I didn't love were, for the most part, interesting.
Rating: 9/10
Published by Penguin
Weird Detectives: Recent Investigations (2013) edited by Paula Guran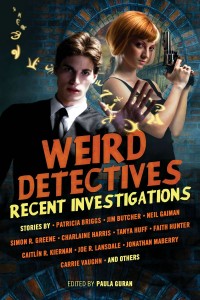 This is a collection of short stories previously published elsewhere, so I'd already read several of these stories. But there were several I had not, and several of the ones I'd read before were well worth reading again.
This book has been sitting around for awhile, waiting to be read, primarily because I got it in trade paperback, and it's huge and heavy–just the kind of book I hate reading. Too heavy and too bulky for comfortable reading. But the stories drew me in and didn't let me go. (Though the book itself was why I lacked patience for stories I'd recently read or didn't catch my interest immediately.)
"The Key" by Ilsa J. Blick
"The Nightside, Needless to Say" by Simon R. Green
"The Adakian Eagle" by Bradley Denton
"Love Hurts" by Jim Butcher
"The Case of Death and Honey" by Neil Gaiman
"Cryptic Coloration" by Elizabeth Bear
"The Necromancer's Apprentice" by Lillian Stewart Carl
"The Case of the Stalking Shadow" by Joe R. Lansdale
"Hecate's Golden Eye" by P.N. Elrod
"Defining Shadows" by Carrie Vaughn
"Mortal Bait" by Richard Bowes
"Star of David" by Patricia Briggs
"Imposters" by Sarah Monette
"Deal Breaker" by Justin Gustainis
"Swing Shift" by Dana Cameron
"The Beast of Glamis" by William Meikle
"Signatures of the Dead" by Faith Hunter
"Like a Part of the Family" by Jonathan Maberry
"Fox Tails" by Richard Parks
"Death by Dahlia" by Charlaine Harris
"Sherlock Holmes and the Diving Bell" by Simon Clark
"See Me" by Tanya Huff
"The Maltese Unicorn" by Caitlín R. Kiernan
Initially, I was just going to flip through and read stories by authors I love, but then I ended up just reading straight through. Having no patience, if I story didn't immediately grab hold, I didn't finish it, and if I hadn't thoroughly enjoyed it the first time (or had read the story very recently), I didn't give it a second read.
...
"The Case of the Stalking Shadow" by Joe R. Lansdale was a somewhat odd story. It's a tale of how a young girl found herself on the path to becoming a woman who investigated the supernatural. I quite liked the idea of the laser pointer.
...
As I said, this contained a lot of stories I'd read previously, but they are for the most part good stories, so if you don't have the original anthologies, this would be well worth getting.
Rating: 8/10
Dangerous Women (2013) edited by George R.R. Martin and Gardner Dozois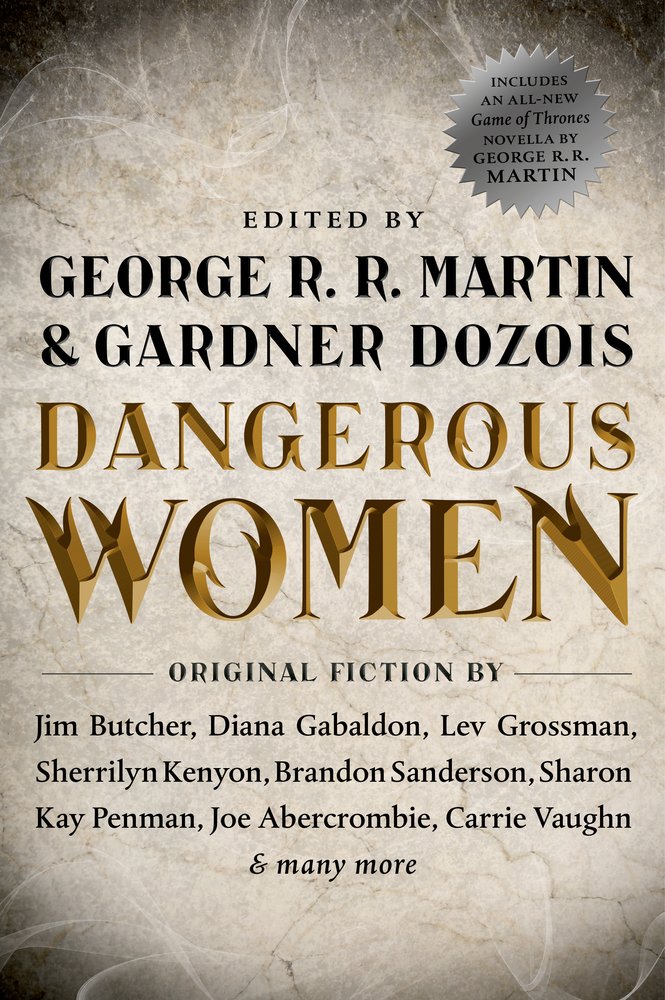 "Some Desperado" (Red Country story) by Joe Abercrombie
"My Heart is Either Broken" by Megan Abbott
"Nora's Song" by Cecelia Holland
"The Hands That Are Not There" by Melinda Snodgrass
"Bombshells" (Harry Dresden story) by Jim Butcher
"Raisa Stepanova" by Carrie Vaughn
"Wrestling Jesus" by Joe R. Lansdale
"Neighbors" by Megan Lindholm
"I Know How to Pick 'Em" by Lawrence Block
"Shadows For Silence in the Forests of Hell" by Brandon Sanderson
"A Queen in Exile" by Sharon Kay Penman
"The Girl in the Mirror" (Magicians story) by Lev Grossman
"Second Arabesque, Very Slowly" by Nancy Kress
"City Lazarus" by Diana Rowland
"Virgins" (Outlander story) by Diana Gabaldon
"Hell Hath No Fury" by Sherilynn Kenyon
"Pronouncing Doom" (Emberverse story) by S.M. Stirling
"Name the Beast" by Sam Sykes
"Caretakers" by Pat Cadigan
"Lies My Mother Told Me" (Wild Cards story) by Caroline Spector
"The Princess and the Queen" (A Song of Ice and Fire story) by George R.R. Martin
There are a lot of different stories here–on purpose.
Dangerous Women was conceived of as a cross-genre anthology, one that would mingle every kind of fiction, so we asked writers from every genre— science fiction, fantasy, mystery, historical, horror, paranormal romance, men and women alike— to tackle the theme of "dangerous women,"
Thus I was fully expecting there to be a number of stories I wouldn't particularly like, or would even skip. And there were. Unfortunately for me, the dislikes were higher in number than the likes, and there were several dystopias, which I really dislike. And a lot of the women were in the neutral to evil category of dangerous. Which is fine, but all that dark got a bit overwhelming, which is why I took several months for me to finish this anthology.
...
"Wrestling Jesus" by Joe R. Lansdale starts as a story of a young boy wanted to keep himself from getting beat up, and turns into a story of an old man and the woman he spent his life loving. It was an interesting story.
...
All in all, there were more stories I disliked than liked, which sometimes happens. As this covers all diffeerent genres, you're likely to find at least one story you like, you'll just have to decide if it's worth the price.
Rating: 5.5/10
Published by Tor Books