Books
Garrett, P.I.: Sweet Silver Blues (1987), Cold Copper Tears (1988), Bitter Gold Hearts (1988)
Anthologies: Down These Strange Streets (2011) 
Garrett, P.I.
Sweet Silver Blues (1987)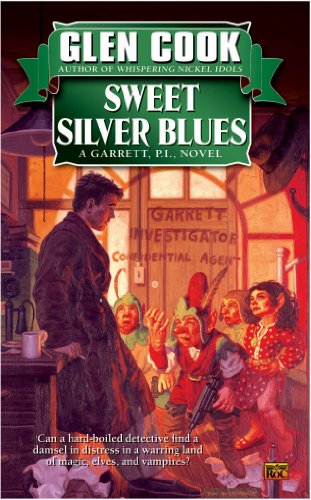 This was the second book I read on the Nook, but unlike the first, this is available in paper format, so if you don't have an e-reader, you aren't out of luck.
Garrett is a private investigator and hero (read: survivor) of the Cantard wars. When a friend and fellow veteran turns up dead, Garrett is asked to investigate the primary recipient of his friends fortunes–a woman who may well be in the Cantard war zone, a place where no one–human, elf, or gnome–wants to go.
It was a fun read, but then I'm particularly fond of hard boiled mysteries, and fantasy pastiches of hard boiled mysteries are even better.
Rating: 7/10
Published by ROC
Cold Copper Tears (1988)
Garrett isn't looking to take any work. Unfortunately, a beautiful woman charms her way through Dean and asks Garrett to take her case. He doesn't want the work, so passes it along to someone else, but soon someone else–a high church official is asking Garrett to take on a different case. He turns this one down as well, but someone–somewhere–doesn't want him to get involved and so tries to put Garrett out of their misery.
A fun romp that mixes fantasy with hard boiled mystery, the Garrett P.I. series is fun–nothing amazing or earth shattering, but a nice change of pace.
I read this as an eBook.
Rating: 7/10
Bitter Gold Hearts (1988)
The second book in the Garrett PI series finds Garrett at loose ends–and not particularly wanting to take another job, however, a beautiful fairy makes him an offer he really should–but won't–refuse. To look into the kidnapping of the son of the local Stormwarden–and hopefully get things resolved before the Stormwarden returns to town.
As usual for Garrett, nothing is as it seems, and things only get more convoluted as the case continues.
As with the other two Garrett books I've read, a fun romp. Nothing out of the ordinary, but a very nice distraction.
Rating: 7/10
Published by ROC
Reread: December 2021

I obviously read this before, because there were passages underlined and I have a review for it.
I didn't remember anything about it though, except that it was a fantasy take on a noir PI, which I generally adore. (See Simon Green's Nightside)
Garrett is asked to consult on a case where an heir of the Stormwarden has been kidnapped. But they don't want Garrett to mediate between the family and the kidnappers, they just want to talk to him and make sure they are doing everything correctly.
"He has a good question, Domina." I'd been working up to it when he burst in. "Why bring me in when the kidnappers said don't tell anybody? A man with my reputation, and you sent out what amounted to a platoon of clowns, with the girl dressed flashy enough to catch a blind man's eye. It's not likely the kidnappers won't hear about it."
Nothing goes as planned.
The mystery was fine. The world building was interesting.
But.
This was written in 1988, which is obvious from the cover. (ie, HER HAIR. Obviously this fantasy world has Aquanet.) It's also obvious to some degree in the writing. That is the casual misogyny and sexism.
To be far, a lot of that is expected when you're writing a 1950s style noir detective: the hard drinking and the womanizing especially. But there was one bit that I don't remember from the first time I read it (natch) but was somewhat disturbing this time around.
"You guys got any reason to hang around?"

Crask was leaning against a wall, watching the witch. He said, "Yeah." He pointed. "Her." He meant [female bad character]. "Chodo wants her. When you're done with her. If she's still breathing."

"What for?"

"An ornament. Like the broads that hang around the pool. He thinks she'd be interesting, all he's heard."

"I see." I liked an aspect of the idea. I examined my conscience. Better than killing her. Maybe. "It's all right with me. Take her now."
then
I didn't recognize her at first. When I did, I was startled.

This wasn't the [female character] I'd known so briefly. Not the [female character]who had been so tough on that farm. This [female character]had been broken down and rebuilt. She looked as eager to please as a puppy.

Chodo noticed my surprise. He looked me in the eye and smiled. His smile was like Crask's. That was like looking Death in the face and having him grin. "A gift, Mr. Garrett. Not to be considered for the favor I owe. Just a token of my esteem. She's quite tame now. Quite pliable. I have no more use for her. I thought you might. Take her."
That is really fucking disturbing.
Publisher: Ace
Rating: 6/10
Anthologies
Down These Strange Streets (2011) edited by Gardner Dozois and George R. R. Martin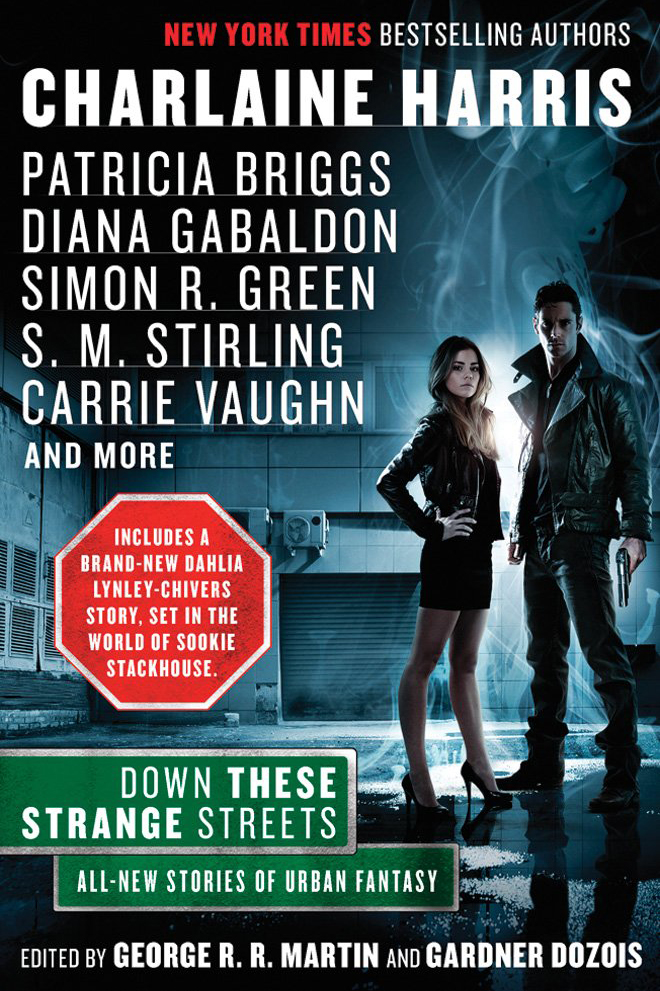 If you look at the list of authors above, you'll immediately see why I read this series. There are some of my favorite authors here–many of whom write short stories I tend to love. And surprisingly, I loved most of these stories, especially a few by authors I haven't particularly read before.
Shadow Thieves - Glen Cook
All in all, I found this to be a fabulous anthology, and I highly recommend almost all the stories I read–even the ones I didn't love were, for the most part, interesting.
Rating: 9/10
Published by Penguin