Books
Anthologies: Better Off Undead (2008), Down These Strange Streets (2011), Dangerous Women (2013)
Anthologies
Better Off Undead (2008) edited by Martin H. Greenberg & Daniel M. Hoyt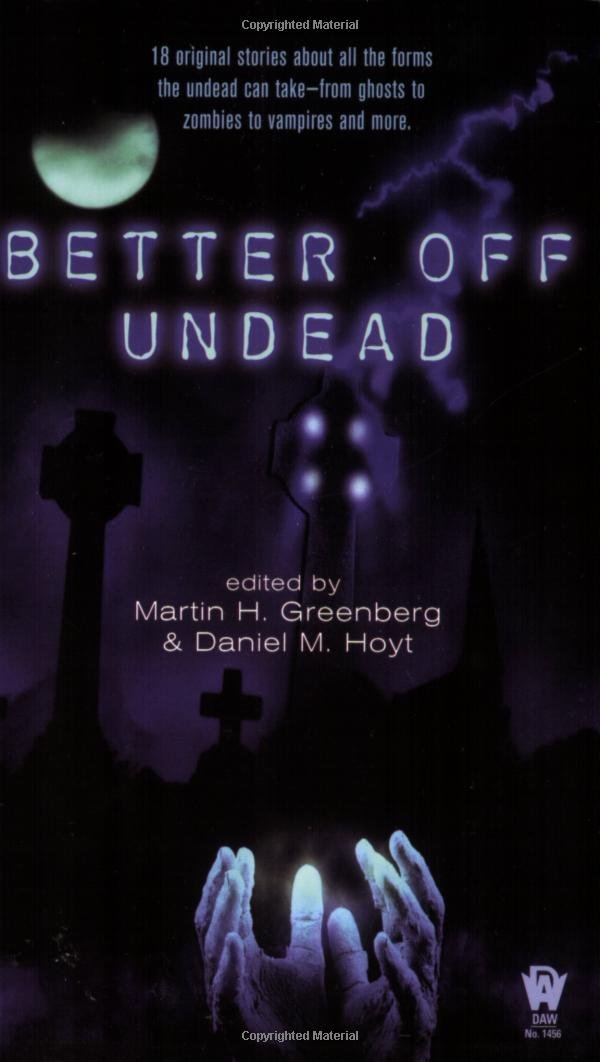 Anthologies edited by Martin H. Greenberg are usually ones I can pick up knowing that I'll like the majority of stories within.
This volume? Not so much. There were a handful of stories I thought were good, but for the most part? Meh.
A Grain of Salt - Sarah A. Hoyt
The Poet Gnawreate and the Taxman - Dave Freer
The Infernal Revenus Service - Laura Resnick
Mummy Knows Best - Esther M. Friesner
Genius Loci - Chelsea Quinn Yarbro
Ah, Yehz - Alan Dean Foster
Gamma Ray versus Death - Carrie Vaughn
Museum Hauntings - Irene Radford
My Teras Have Been My Meat - Nina Kiriki Hoffman
The Perfect Man - Fran LaPlaca
Two All Beef Patties - Jay Lake
That Saturday - Devon Monk
Walking Fossil - Robert A. Hoyt
Night Shifted - Kate Paulk
Twelve Stepping in the Dark - Rebecca Lickiss
Gobble, Gobble, One of Us - Charles Edgar Quinn
Bump in the Night - Amanda S. Green
Separation Anxiety - S.M. Stirling
And… that was about it. Like I said, most of the stories were meh, and some I actually disliked, but if you come across any of the above in another anthology, I highly recommend them.
Published by DAW
Rating: 5/10
Down These Strange Streets (2011) edited by Gardner Dozois and George R. R. Martin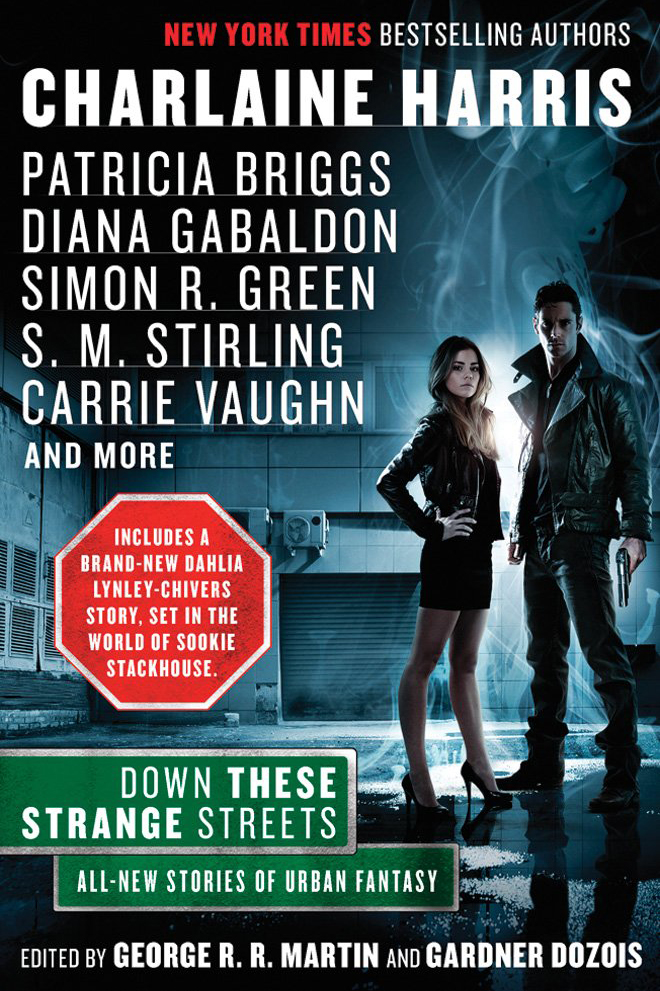 If you look at the list of authors above, you'll immediately see why I read this series. There are some of my favorite authors here–many of whom write short stories I tend to love. And surprisingly, I loved most of these stories, especially a few by authors I haven't particularly read before.
Death by Dahlia - Charlaine Harris
The Bleeding Shadow - Joe R. Lansdale
Hungry Heart - Simon R. Green
Styx and Stones - Steven Saylor
Pain and Suffering - S.M. Stirling
It's Still the Same Old Story - Carrie Vaughn
The Lady Is a Screamer - Conn Iggulden
Hellbender- Laurie R. King
Shadow Thieves - Glen Cook
No Mystery, No Miracle - Melinda Snodgrass
The Difference Between a Puzzle and a Mystery - M.L.N. Hanover
The Curious Affair of the Deodand - Lisa Tuttle
Lord John and the Plague of Zombies - Diana Gabaldon
Beware the Snake - John Maddox Roberts
In Red, With Pearls - Patricia Briggs
The Adakian Eagle - Bradley Denton
...
S.M. Stirling's story "Pain and Suffering" is a police procedural that felt (to me) very different from the usual supernatural story. The protagonist is working against something he doesn't understand–that doesn't make sense. He doesn't like unexplained things, so he continues when he really shouldn't have. I really enjoyed this story.
...
All in all, I found this to be a fabulous anthology, and I highly recommend almost all the stories I read–even the ones I didn't love were, for the most part, interesting.
Published by Penguin
Rating: 9/10
Dangerous Women (2013) edited by George R.R. Martin and Gardner Dozois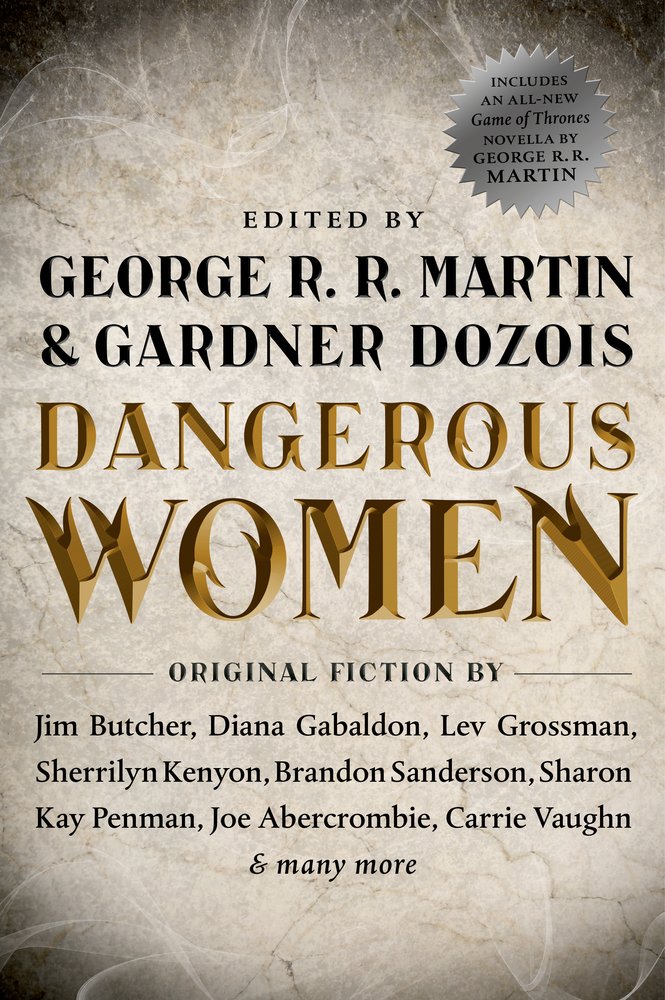 "Some Desperado" (Red Country story) by Joe Abercrombie
"My Heart is Either Broken" by Megan Abbott
"Nora's Song" by Cecelia Holland
"The Hands That Are Not There" by Melinda Snodgrass
"Bombshells" (Harry Dresden story) by Jim Butcher
"Raisa Stepanova" by Carrie Vaughn
"Wrestling Jesus" by Joe R. Lansdale
"Neighbors" by Megan Lindholm
"I Know How to Pick 'Em" by Lawrence Block
"Shadows For Silence in the Forests of Hell" by Brandon Sanderson
"A Queen in Exile" by Sharon Kay Penman
"The Girl in the Mirror" (Magicians story) by Lev Grossman
"Second Arabesque, Very Slowly" by Nancy Kress
"City Lazarus" by Diana Rowland
"Virgins" (Outlander story) by Diana Gabaldon
"Hell Hath No Fury" by Sherilynn Kenyon
"Pronouncing Doom" (Emberverse story) by S.M. Stirling
"Name the Beast" by Sam Sykes
"Caretakers" by Pat Cadigan
"Lies My Mother Told Me" (Wild Cards story) by Caroline Spector
"The Princess and the Queen" (A Song of Ice and Fire story) by George R.R. Martin
There are a lot of different stories here–on purpose.
Dangerous Women was conceived of as a cross-genre anthology, one that would mingle every kind of fiction, so we asked writers from every genre— science fiction, fantasy, mystery, historical, horror, paranormal romance, men and women alike— to tackle the theme of "dangerous women,"
Thus I was fully expecting there to be a number of stories I wouldn't particularly like, or would even skip. And there were. Unfortunately for me, the dislikes were higher in number than the likes, and there were several dystopias, which I really dislike. And a lot of the women were in the neutral to evil category of dangerous. Which is fine, but all that dark got a bit overwhelming, which is why I took several months for me to finish this anthology.
...
"Pronouncing Doom" (Emberverse story) by S.M. Stirling is another dystopia, but oddly I found I liked it, mostly because the dystopia was simply the background setting, rather than the looming misery it often is in dystopias, touching every part of the story in doom.
...
All in all, there were more stories I disliked than liked, which sometimes happens. As this covers all diffeerent genres, you're likely to find at least one story you like, you'll just have to decide if it's worth the price.
Published by Tor Books
Rating: 5.5/10