Strange Days in Old Yandrissa (2012)
Anthologies: The Way of the Wizard (2010)
Strange Days in Old Yandrissa (2012)
This initially had the feel of a folktale, but then it swerved, went back to the folktale lane and then went all apocalyptic.
I enjoyed the bits with the folktale feel, but the wanton destruction–just not my thing.
Published by Orbit
Rating: 5/10
Anthologies
The Way of the Wizard (2010) edited by John Joseph Adams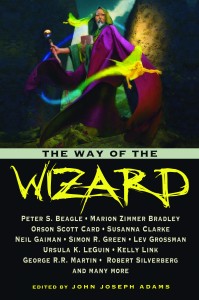 I love anthologies. They give me an escape in bite size pieces that won't keep me up past my bed time on a work night, and they also often a wonderful introduction to authors I have not read previously.
This anthology focuses upon wizards of all sorts, doing wizardly things, though not very many evil wizards.
"The Thirteen Texts of Arthyria" by John R. Fultz was also not for me. It felt far more like a schizophrenic break than a fantasy story, which felt–not fun.
There were multiple stories I didn't care for, but on the whole, I found it a good and enjoyable collection. After all, I don't have to read the stories I don't like.
Rating: 7/10
Published by Prime Books