Books: Fantasy
Legends II (2004), The Way of the Wizard (2010)
Legends II (2004) edited by Robert Silverberg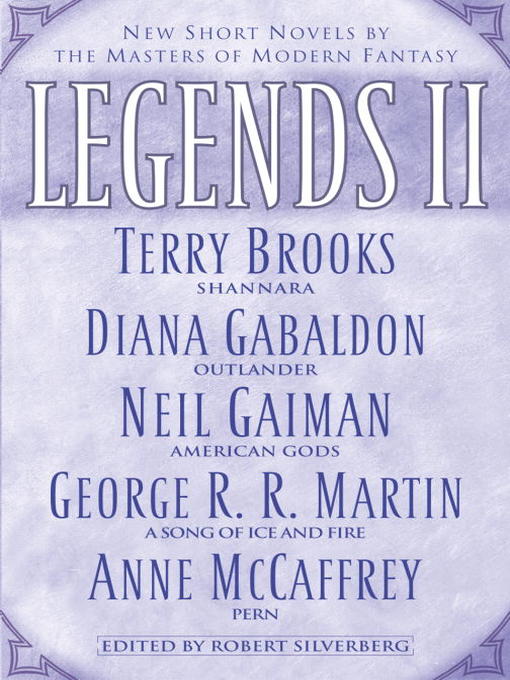 I picked up this book just for the Neil Gaiman Shadow story, so the fact that I found it in the bargain bin means that any stories beyond 'The Monarch of the Glen' were an added bonus.
And 'Monarch of the Glen' was good. Very good. It made me want to go back and reread 'American Gods' Right Now. Which I have not done, but may very well do. Because I really like Shadow, and I liked reading more about him, as well as learning more about his past. I'm not sure what it is about Neil Gaiman's writing that I love so much, but it's there, and I read his on-line journal for the moments when his day to day bits turn into one of his small tales that draw me in.
Besides 'Monarch of the Glen' there were three other stories I read: 'Homecoming' by Robin Hobb, 'The Messenger' by Raymond E. Feist, and 'Threshold' by Elizabeth Haydon. All three stories had the same effect on the that 'Monarch of the Glen' did. I wanted to go back and reread that authors' other books. The Riftwar Saga, the Farseer Trilogy, and the Rhapsody Trilogy.
Robin Hobb's 'Homecoming' was especially good--the main character started out particularly unlikable, yet she managed to keep me reading despite that. It also gave backstory for an area of her world I knew little about.
Of the other stories in the book, there were three stories that I have no interest in reading (the stories by Card, McCaffrey, and Brooks) and stories that are from books that we have, but I have not yet read: George RR Martin, Tad Williams, and Robert Silverberg. Michael has read two of the three series, and loved them, so I should read them, but just haven't gotten around to them yet.
I'll let you know when I do.
The Way of the Wizard (2010) edited by John Joseph Adams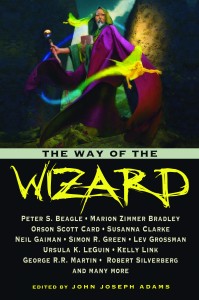 I love anthologies. They give me an escape in bite size pieces that won't keep me up past my bed time on a work night, and they also often a wonderful introduction to authors I have not read previously.
This anthology focuses upon wizards of all sorts, doing wizardly things, though not very many evil wizards.
In the Lost Lands by George R.R. Martin
Family Tree by David Barr Kirtley
John Uskglass and the Cumbrian Charcoal Burner by Susanna Clarke
Wizard's Apprentice by Delia Sherman
The Sorcerer Minus by Jeffrey Ford
Life So Dear or Peace So Sweet by C.C. Finlay
Card Sharp by Rajan Khanna
So Deep That the Bottom Could Not Be Seen by Genevieve Valentine
The Go-Slow by Nnedi Okorafor
Too Fatal a Poison by Krista Hoeppner Leahy
Jamaica by Orson Scott Card
The Sorcerer's Apprentice by Robert Silverberg
The Secret of Calling Rabbits by Wendy N. Wagner
The Wizards of Perfil by Kelly Link
How to Sell the Ponti Bridge by Neil Gaiman
The Magician and the Maid and Other Stories by Christie Yant
Winter Solstice by Mike Resnick
The Trader and the Slave by Cinda Williams Chima
Cerile and the Journeyer by Adam-Troy Castro
Counting the Shapes by Yoon Ha Lee
Endgame by Lev Grossman
Street Wizard by Simon R. Green
Mommy Issues of the Dead by T.A. Pratt
One-Click Banishment by Jeremiah Tolbert
The Ereshkigal Working by Jonathan L. Howard
Feeding the Feral Chidren by David Farland
The Orange-Tree Sacrifice by Vylar Kaftan
Love Is the Spell That Casts Out Fear by Desirina Boskovich
El Regalo by Peter S. Beagle
The Word of Unbinding by Ursula K. Le Guin
The Thirteen Texts of Arthyria by John R. Fultz 
The Secret of the Blue Star by Marion Zimmer Bradley
"The Sorcerer's Apprentice" by Robert Silverberg had another magician–or in this case apprentice sorcerer that I really didn't like. Gannin Thidrich has become an apprentice to V. Halabant, and falls in love (so he says) with her.
What a jerk.
There were multiple stories I didn't care for, but on the whole, I found it a good and enjoyable collection. After all, I don't have to read the stories I don't like.
Published by Prime Books
Rating: 7/10