Books: Fantasy | Dystopia
Perdido Street Station (2000)
Anthologies
Year's Best Fantasy 3 (2003), Year's Best Fantasy and Horror: Sixteenth Edition (2003), Hellboy: Oddest Jobs (2008)
Perdido Street Station (2000)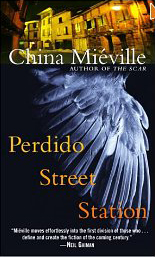 I've been reading this book since March, a page or two at a time and for awhile, I was beginning to think it was never going to end. It's not that this book isn't good--it is good--I just didn't care for it.
Isaac is a scientist--an eccentric scientist who is attached rather dubiously to New Crobuzon University, and who is one of the few humans who is willing to date a Khepri--one of the insect headed humanoids--even if it is secretly. Lin--the Khepri Isaac is dating--is an artist, who has decided to live outside the Kehpri district and integrate with larger society. Isaac receives a request from a Garuda--one of the bird people--to rebuild his wings. In Isaac's search for flight, he becomes involved with unexpected--and dangerous--matter.
The problem I had with Perdido Street Station is that it's a bunch of bad things happening, one after the other, and it got terrifically depressing.
The story is good, but it just didn't hold me. I could read a page or two, and then put the book down without any difficulty, even if really bad things were happening. I just figured I could put the book down, and when I picked it back up, the same bad things would be happening, and then some other bad things would happen.
The characters were good, but I just didn't like any of them. I found them interesting, and they acted realistically, but I didn't like them. Which made reading about them less appealing.
Additionally, there was a strong science fiction feel to the book--or at least it felt science fiction-y to me. That also dampened my enthusiasm for the book.
It's a good book, but it's not a book that I particularly liked. It's dark, but not the kind of dark that I particularly like. If you like science fiction, then this book may be more to your liking than it was mine.
Rating: 5/10
Anthologies
Year's Best Fantasy 3 (2003) David G. Hartwell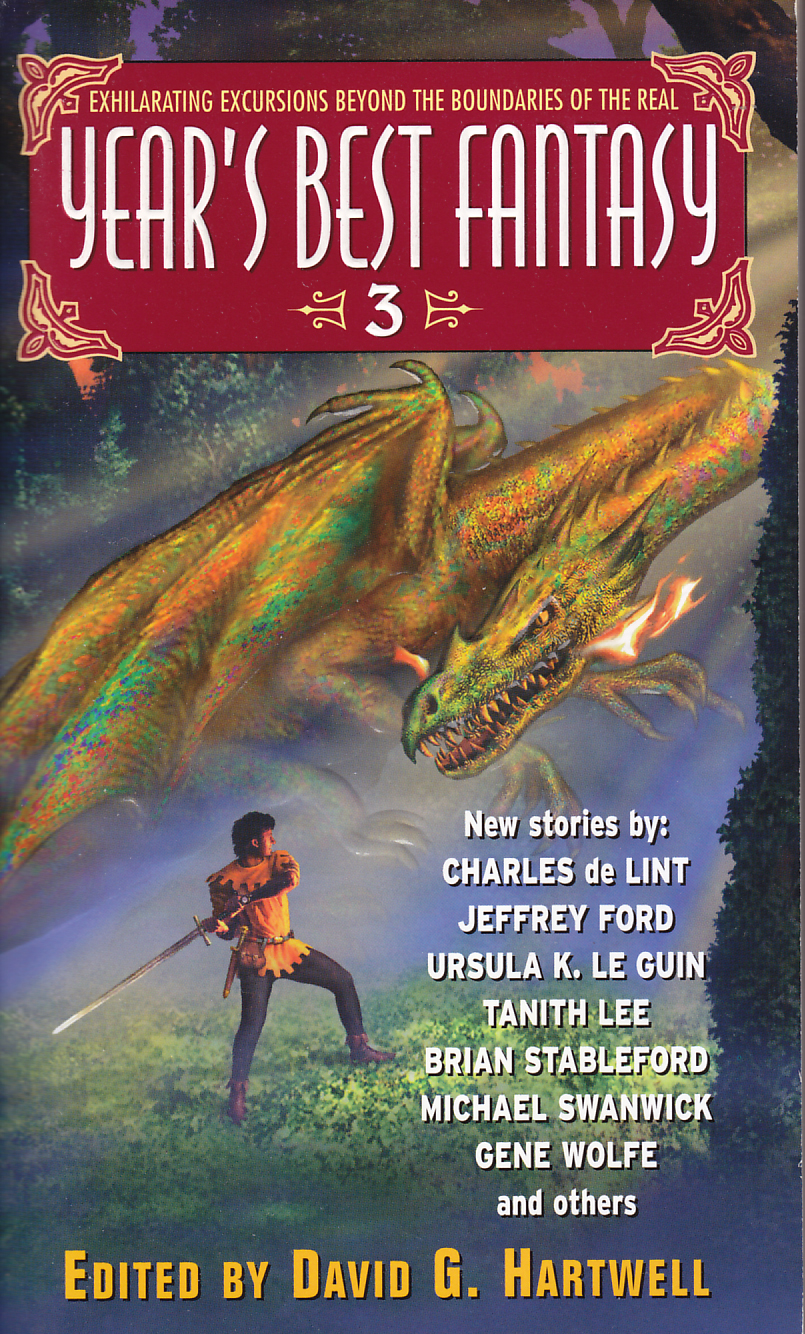 "Her Father's Eyes" by Kage Baker
"Want's Master" by Patricia Bowne
"October in the Chair" by Neil Gaiman
"Greaves, This Is Serious" by William Mingin
"Shift" by Nolo Hopkinson
"A Book, by Its Cover" by P.D. Cacek
"Somewhere in My Mind There Is a Painting Box" by Charles de Lint
"The Pyramid of Amirah" by James Patrick Kelly
"Our Friend Electricity" by Ron Wolfe
"Social Dreaming of the Frin" by Ursula K. LeGuin
"Five British Dinosaurs" by Michael Swanwick
"The Green Word" by Jeffery Ford
"The Comedian" by Stephan Chapman
"The Pagodas of Ciboure" by M. Shayne Bell
"From the Cradle" by Gene Wolfe
"Sam" by Donald Barr
"Persian Eyes" by Tanith Lee
"Travel Agency" by Ellen Klages
"A Fable of Savior and Reptile" by Steven Popkes
"Comrade Grandmother" by Naomi Kritzer
"Familiar" by China Mieville
"Honeydark" by Liz Williams "A Prayer for Captain La Hire" by Patrice E. Sarath
"Origin of the Species" by James Van Pelt
"Tread Softly" by Brian Stableford
"How It Ended" by Darrell Schweitzer
"Cecil Rhodes in Hell" by Michael Swanwick
"Hide and Seek" by Nicholas Royle
"Death in Love" by R. Garcia y Robertson
Published by Harper Voyager
Year's Best Fantasy and Horror: Sixteenth Edition (2003) edited by Ellen Datlow & Terri Windling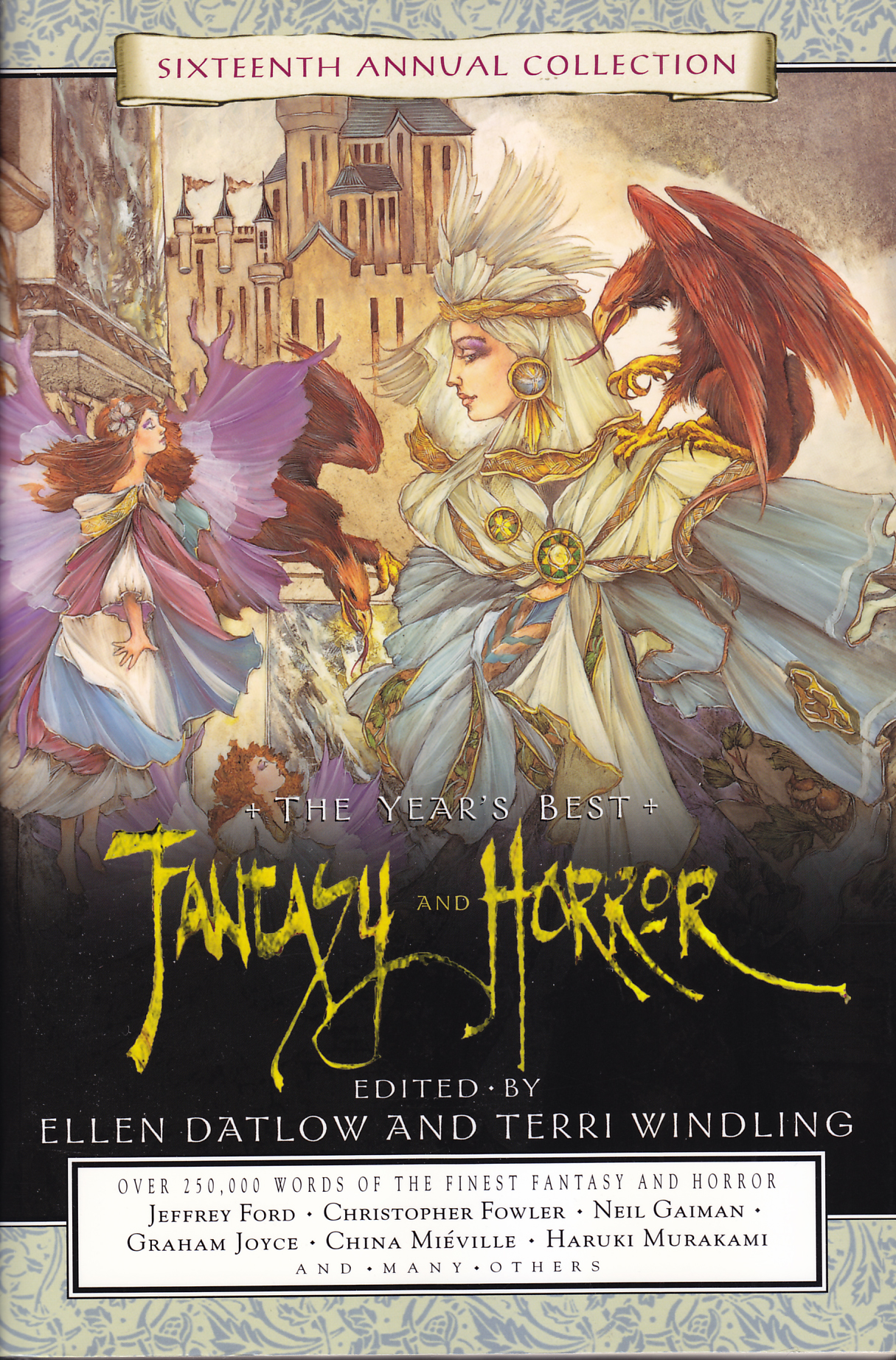 Published by St. Martin's Griffin
Hellboy: Oddest Jobs (2008) edited by Christopher Golden & Mike Mignola
Jiving With Shadows And Dragons And Long, Black Trains by Joe R. Lansdale
Straight, No Chaser by Mark Chadbourn
Second Honeymoon by John Skipp & Cody Goodfellow
Danny Boy by Ken Bruen
Strange Fishing In The Western Highlands by Garth Nix
Salamander Blues by Brian Keene
The Thursday Men by Tad Williams
Produce by Amber Benson
Repossession by Barbara Hambly
In Cupboards And Bookshelves by Gary A. Braunbeck
Feet Of Sciron by Rhys Hughes
Monster Boy by Stephen Volk
Evolution And Hellhole Canyon by Don Winslow
A Room Of One's Own by China Miéville
Publisher: Dark Horse Books