Books: Fantasy | Short Story
Anthologies
The Green Man : Tales from the Mythic Forest (2002), Year's Best Fantasy 3 (2003), Year's Best Fantasy and Horror: Sixteenth Edition (2003) The Faery Reel: Tales from the Twilight Realm (2004), The Coyote Road: Trickster Tales (2007), The Secret History of Fantasy (2010), The Way of the Wizard (2010), Running with the Pack (2010), The Beastly Bride: Tales of the Animal People (2010), Naked City (2011), Teeth: Vampire Tales (2011), The Mad Scientist's Guide to World Domination: Original Short Fiction for the Modern Evil Genius (2013), Street Magicks (2016)
The Green Man : Tales from the Mythic Forest (2002) edited by Ellen Datlow & Terri Windling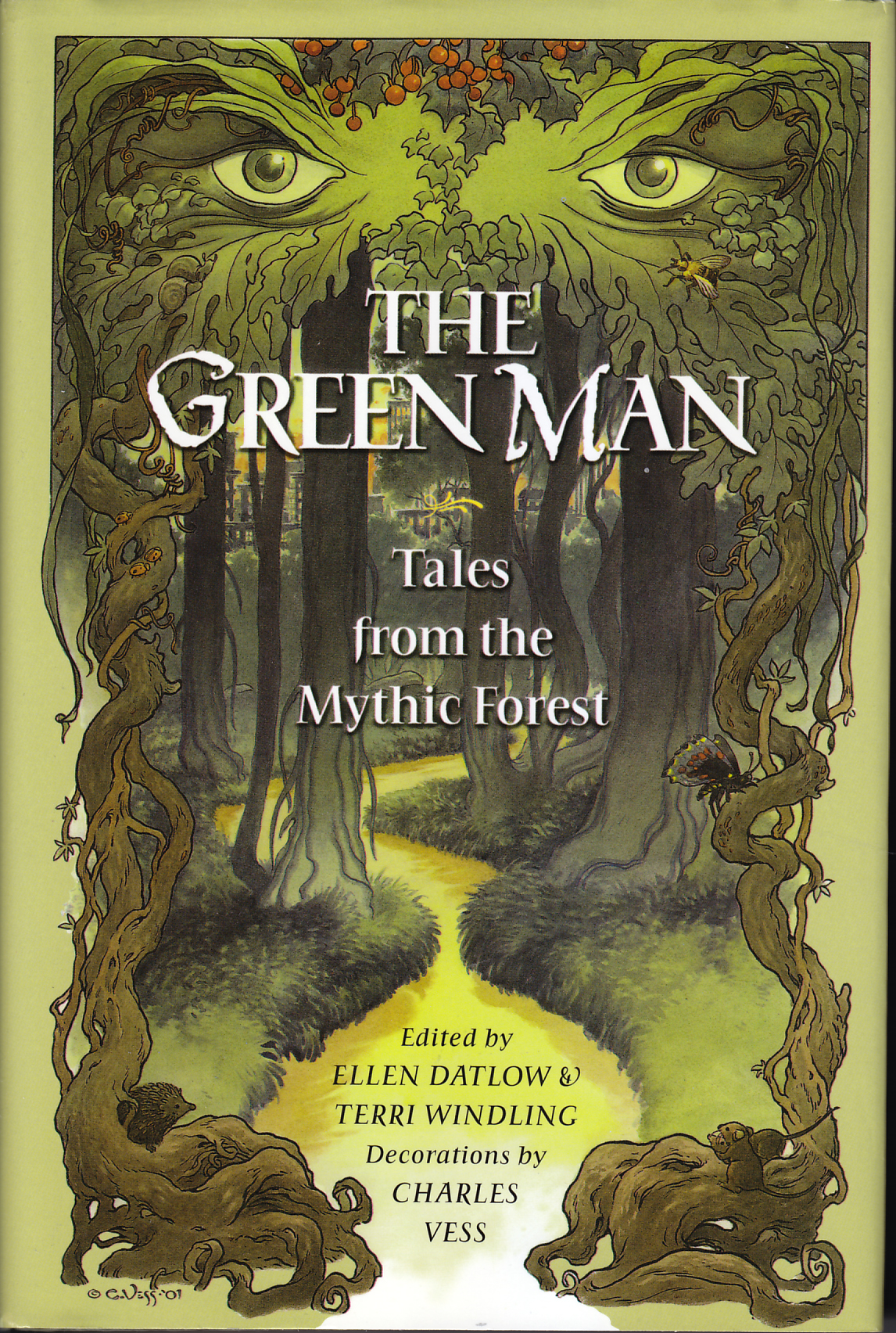 Published by Viking
Year's Best Fantasy 3 (2003) edited by David G. Hartwell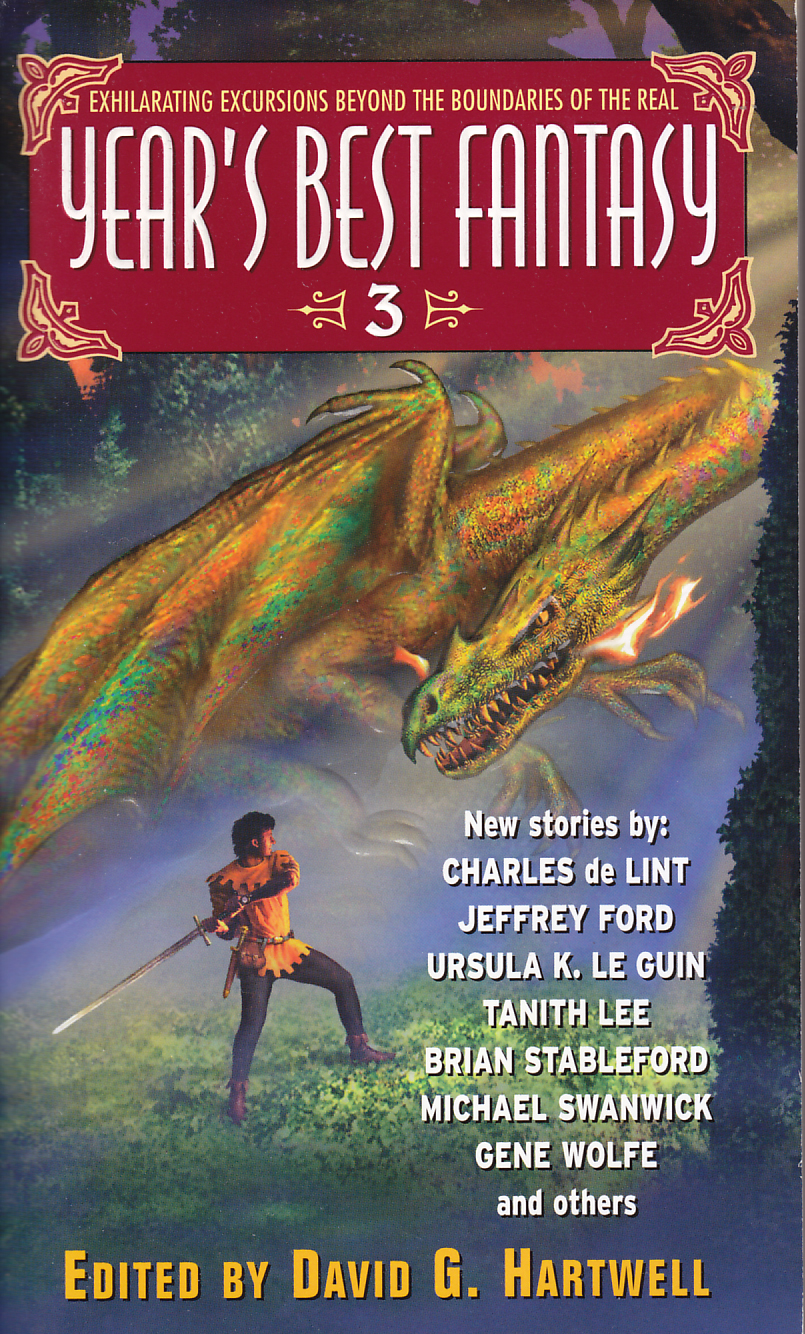 "Her Father's Eyes" by Kage Baker
"Want's Master" by Patricia Bowne
"October in the Chair" by Neil Gaiman
"Greaves, This Is Serious" by William Mingin
"Shift" by Nolo Hopkinson
"A Book, by Its Cover" by P.D. Cacek
"Somewhere in My Mind There Is a Painting Box" by Charles de Lint
"The Pyramid of Amirah" by James Patrick Kelly
"Our Friend Electricity" by Ron Wolfe
"Social Dreaming of the Frin" by Ursula K. LeGuin
"Five British Dinosaurs" by Michael Swanwick
"The Green Word" by Jeffery Ford
"The Comedian" by Stephan Chapman
"The Pagodas of Ciboure" by M. Shayne Bell
"From the Cradle" by Gene Wolfe
"Sam" by Donald Barr
"Persian Eyes" by Tanith Lee
"Travel Agency" by Ellen Klages
"Comrade Grandmother" by Naomi Kritzer
"Familiar" by China Mieville
"Honeydark" by Liz Williams "A Prayer for Captain La Hire" by Patrice E. Sarath
"Origin of the Species" by James Van Pelt
"Tread Softly" by Brian Stableford
"How It Ended" by Darrell Schweitzer
"Cecil Rhodes in Hell" by Michael Swanwick
"Hide and Seek" by Nicholas Royle
"Death in Love" by R. Garcia y Robertson
Published by Harper Voyager
Year's Best Fantasy and Horror: Sixteenth Edition (2003) edited by Ellen Datlow & Terri Windling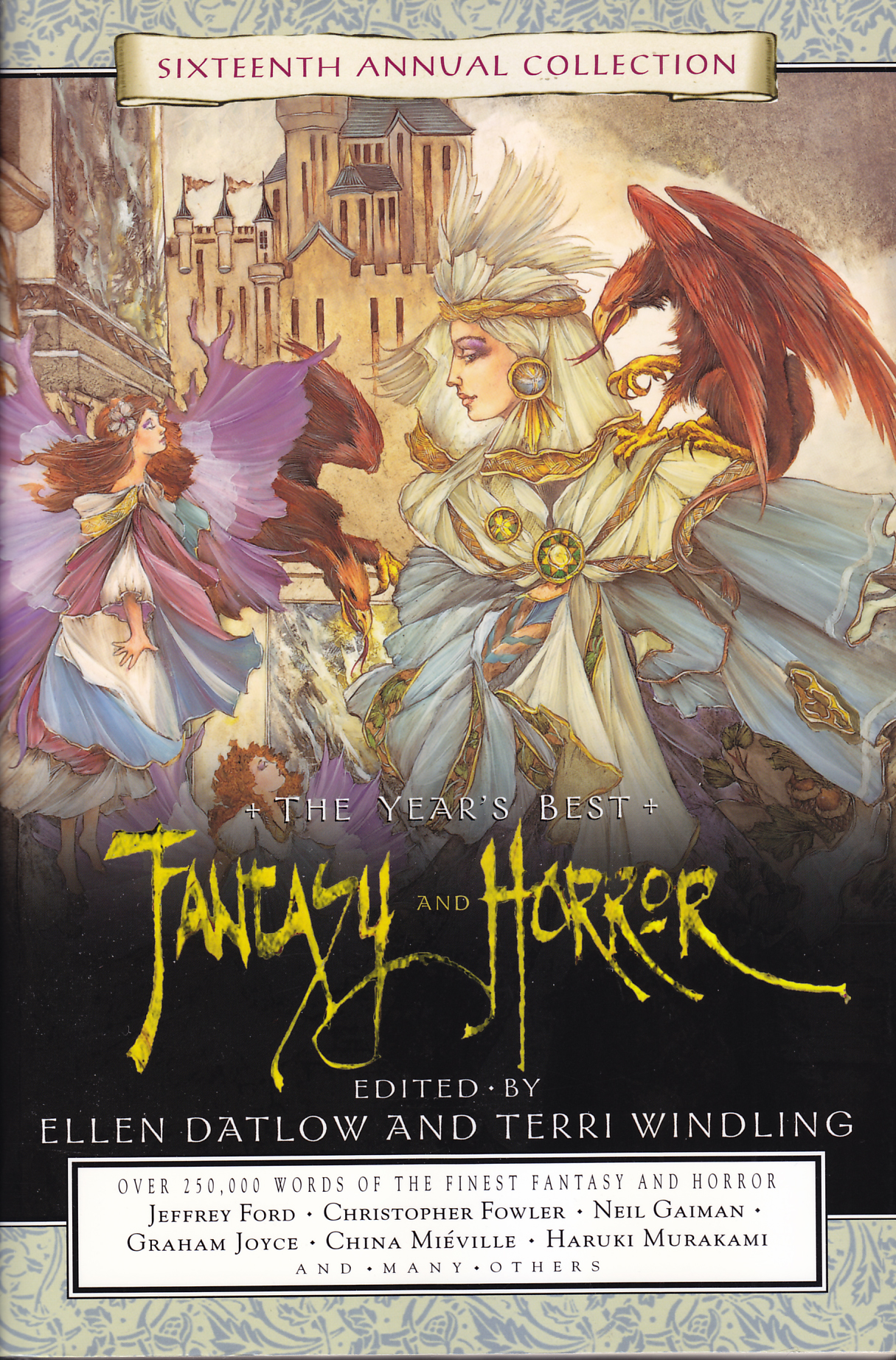 Jeffrey Ford - Creation
Published by St. Martin's Griffin
The Faery Reel: Tales from the Twilight Realm (2004) edited by Ellen Datlow & Terri Windling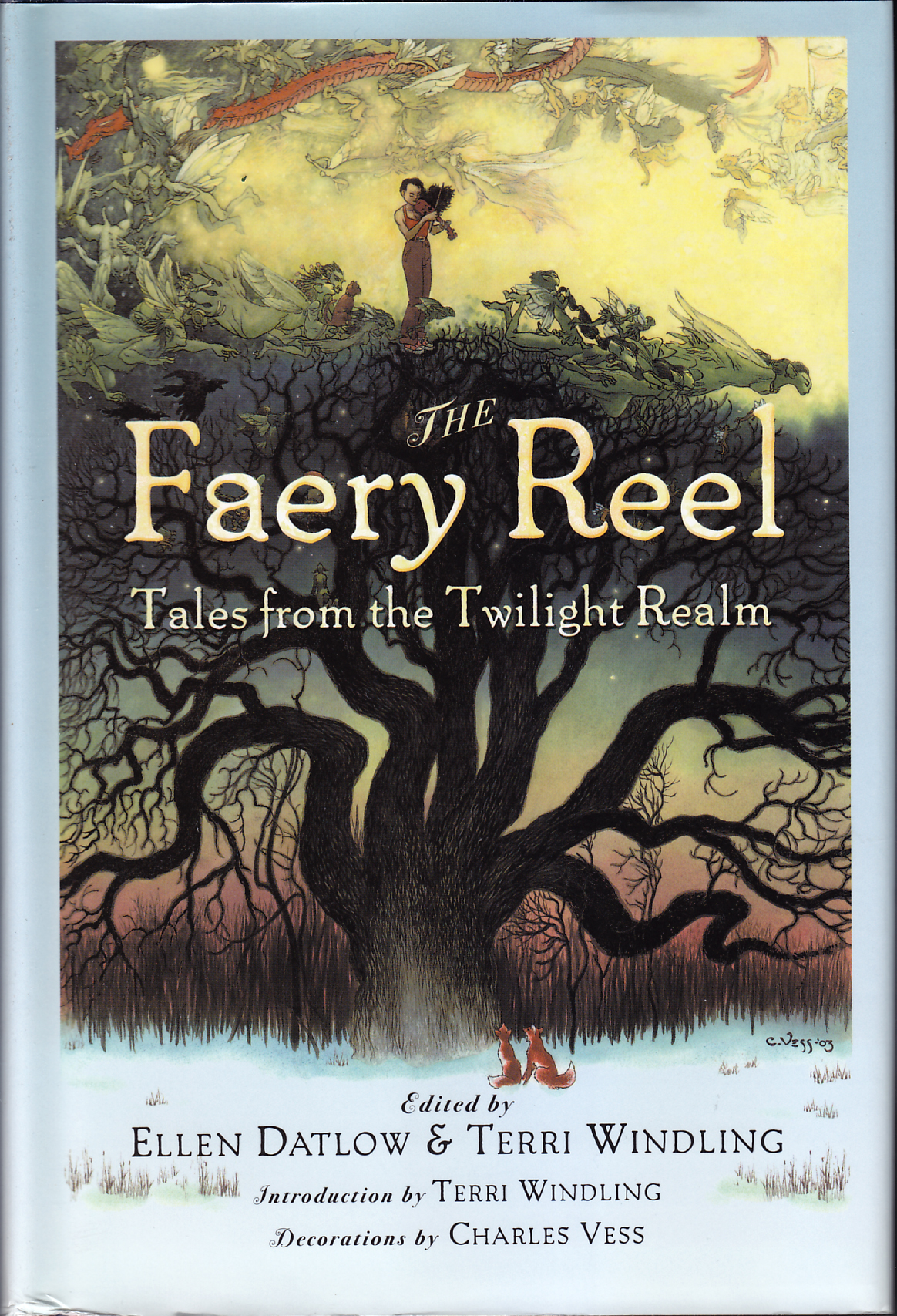 Any time I see a fantasy anthology edited by Ellen Datlow and Terri Windling, I'll often as not pick it up, because I know that it's going to be good. Usually very good. This volume however, has the added bonus of poems by both Charles de Lint and Neil Gaiman.
Needless to say I snatched it up--even thought it was in hardback--when I came across it.
These faery tales are based not upon the fairies of Disney but upon the faery of folktales. As they say in the introduction:
In this book about our good neighbors, we've asked a number of our favorite writers to travel into the Twilight Realm (an ancient name for the land of Faerie) and to bring back stories of faeries and the hapless mortals who cross their path. "No butterfly-winged sprites," we pleaded. "Read the old folktales, journey farther afield, find some of the less explored paths through the Realm.
It would be hard for me not to love this book.
All in all an excellent anthology. But I hardly expected anything less.
Published by Viking
Rating: 8/10
The Coyote Road: Trickster Tales (2007) edited by Ellen Datlow & Terri Windling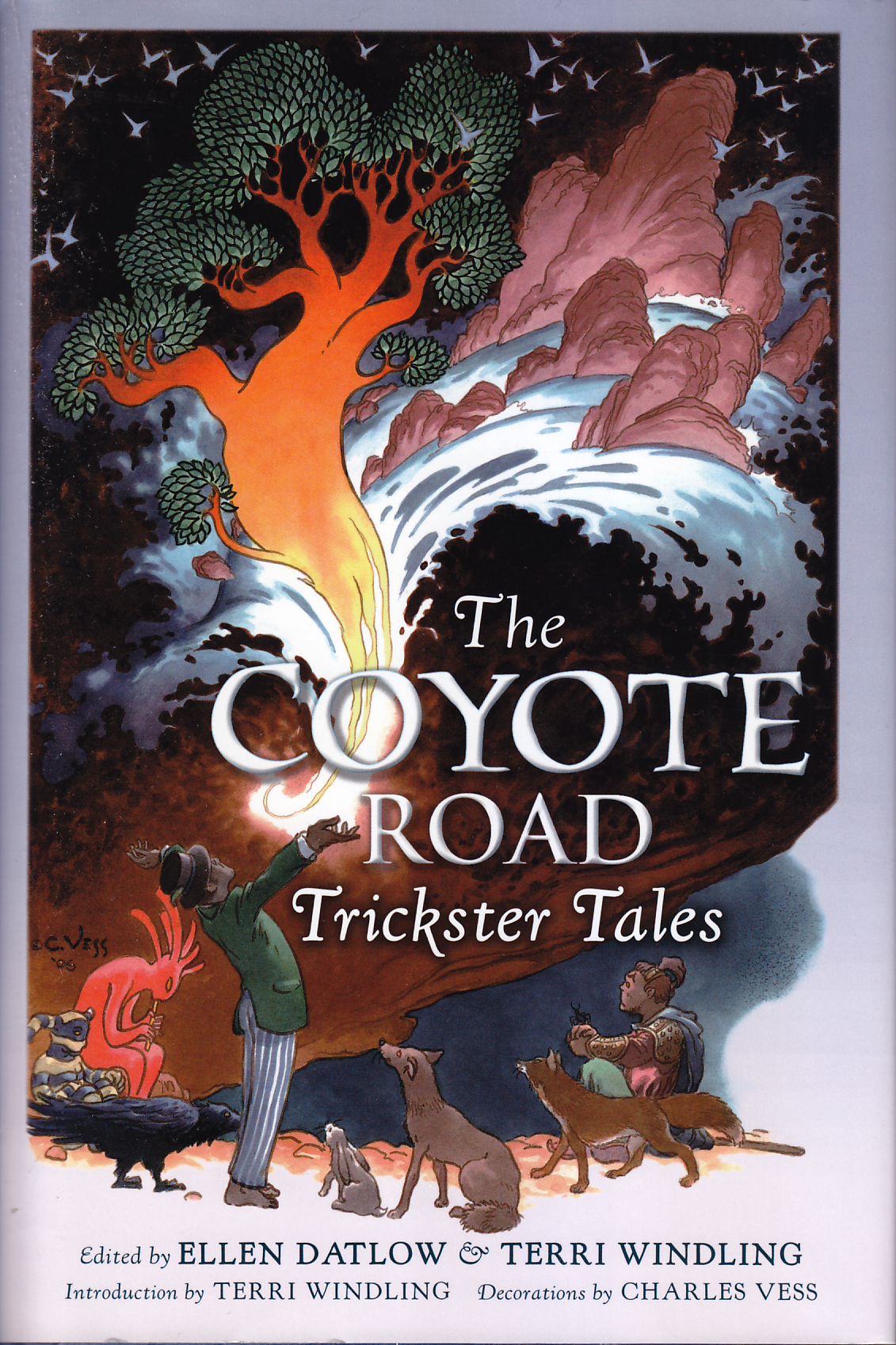 I love short stories. Aside from collections by Charles de Lint, I best love anthologies by Ellen Datlow & Terri Windling best. Their books are like comfort food, and I save them up for when I'm sick or feeling low.
In the same vein as The Green Man and The Faerie Reel, Datlow and Windling have this time collected stories about tricksters, and they've got some of my favorite authors in this collection: Charles de Lint, Nina Kiriki Hoffman, Ellen Kushner. As usual, they manage to collect stories by some of my favorite story tellers.
If like short story collections, or trickster tales, then you will want to read The Coyote Road. It has stories from many of my favorite writers, and as with all their collections, I was delighted to discover new authors for whom I'll be on the lookout.
Published by Viking
Rating: 9/10
The Secret History of Fantasy (2010) edited by Peter S. Beagle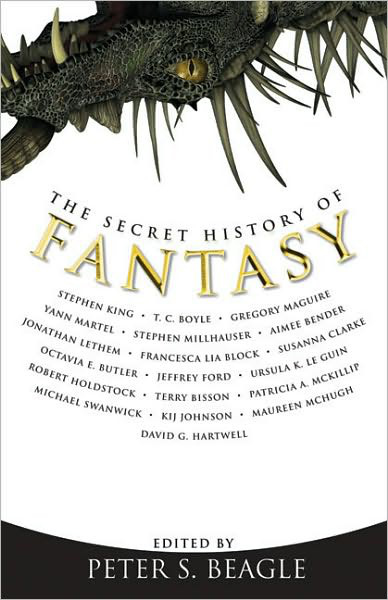 This is an interesting collection of short stories, by some very good authors. I can't say all the stories were to my taste, but they were all very good.
"Ancestor Money" by Maureen F. McHugh
"Scarecrow" by Gregory Maguire
"Lady of the Skulls" by Patricia A. McKillip
"We Are Norsemen" by T.C. Boyle
"The Barnum Museum" by Steven Millhauser
"Mrs. Todd's Shortcut" by Stephen King
"Bears Discover Fire" by Terry Bison
"Bones" by Francesca Lia Block
"Snow, Glass, Apples" by Neil Gaiman
"Fruit and Words" by Aimee Bender
"The Empire of Ice Cream" by Jeffery Ford
"The Edge of the World" by Michael Swanwick
"Super Goat Man" by Jonathan Lethem
"John Uskglass and the Cumbrian Charcoal Burner" by Susanna Clarke
"The Book of Martha" by Octavia E. Butler
"The Vita Aeterna Mirror Company" by Yann Martel
"Sleight of Hand" by Peter S. Beagle
"Mythago Wood" by Robert Holdstock
"26 Monkeys, Also the Abyss" by Kij Johnson
"The Empire of Ice Cream" by Jeffery Ford is an unbearably sad story about synesthesia. Really, that's the best way to describe it. It's even sadder than "The Edge of the World" by Michael Swanwick. The world is mostly as we know it, except that it's flat–you can fall right off the edge and down into nothingness forever. And that edge is what Donna and Piggy and Russ decide to explore one hot summer day.
All in all, an excellent collection of stories, albeit one I don't recommend reading when you're depressed.
Rating: 8/10
The Beastly Bride: Tales of the Animal People (2010) edited by Ellen Datlow & Terri Windling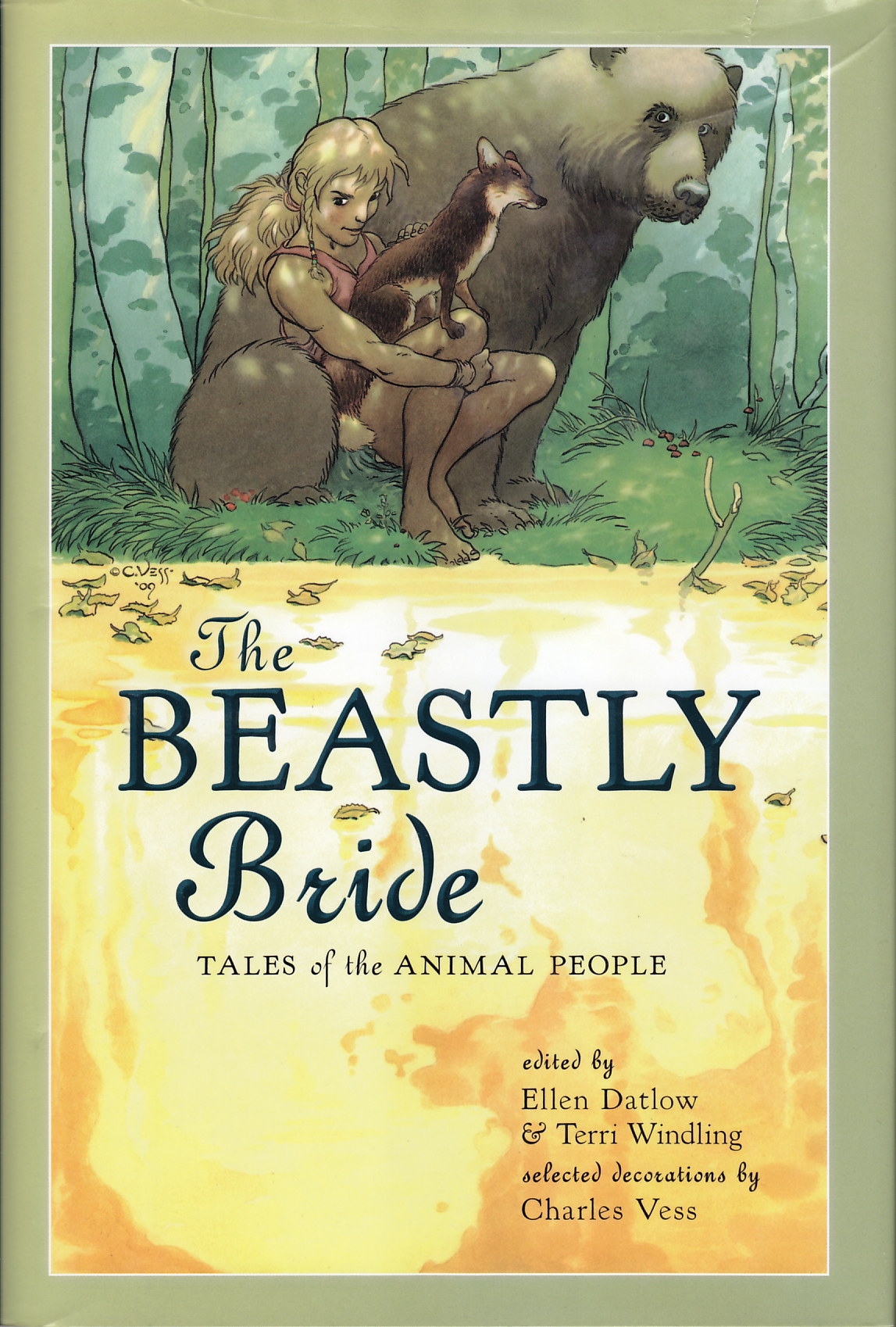 "Island Lake" by E. Catherine Tobler
"The Puma's Daughter" by Tanith Lee
"Map of Seventeen" by Christopher Barzak
"The Selkie Speaks" by Delia Sherman
"Bear's Bride" by Johanna Sinisalo
"The Abominable Child's Tale" by Carol Emshwiller
"The Hikikomori" by Hiromi Goto
"The Comeuppance of Creegus Maxin" by Gregory Frost
"Ganesha" by Jeffrey Ford
"The Elephant's Bride" by Jane Yolen
"The Children of Cadmus" by Ellen Kushner
"The White Doe Mourns Her Childhood" by Jeanine Hall Gailey
"The White Doe's Love Song" by Jeanine Hall Gailey
"The White Doe Decides" by Jeanine Hall Gailey
"Coyote and Valorosa" by Terra L. Gearheart
"One Thin Dime" by Stewart Moore
"The Monkey Bride" by Midori Snyder
"Pishaach" by Shweta Narayan
"The Salamander Fire" by Marly Youmans
"The Margay's Children" by Richard Bowes
"Thumbleriggery and Fledglings" by Steve Berman
"The Flock" by Lucius Shepard
"The Children of the Shark God" by Peter Beagle
"Rosina" by Nan Fry
Viking Books for Young Readers
Running with the Pack (2010) edited by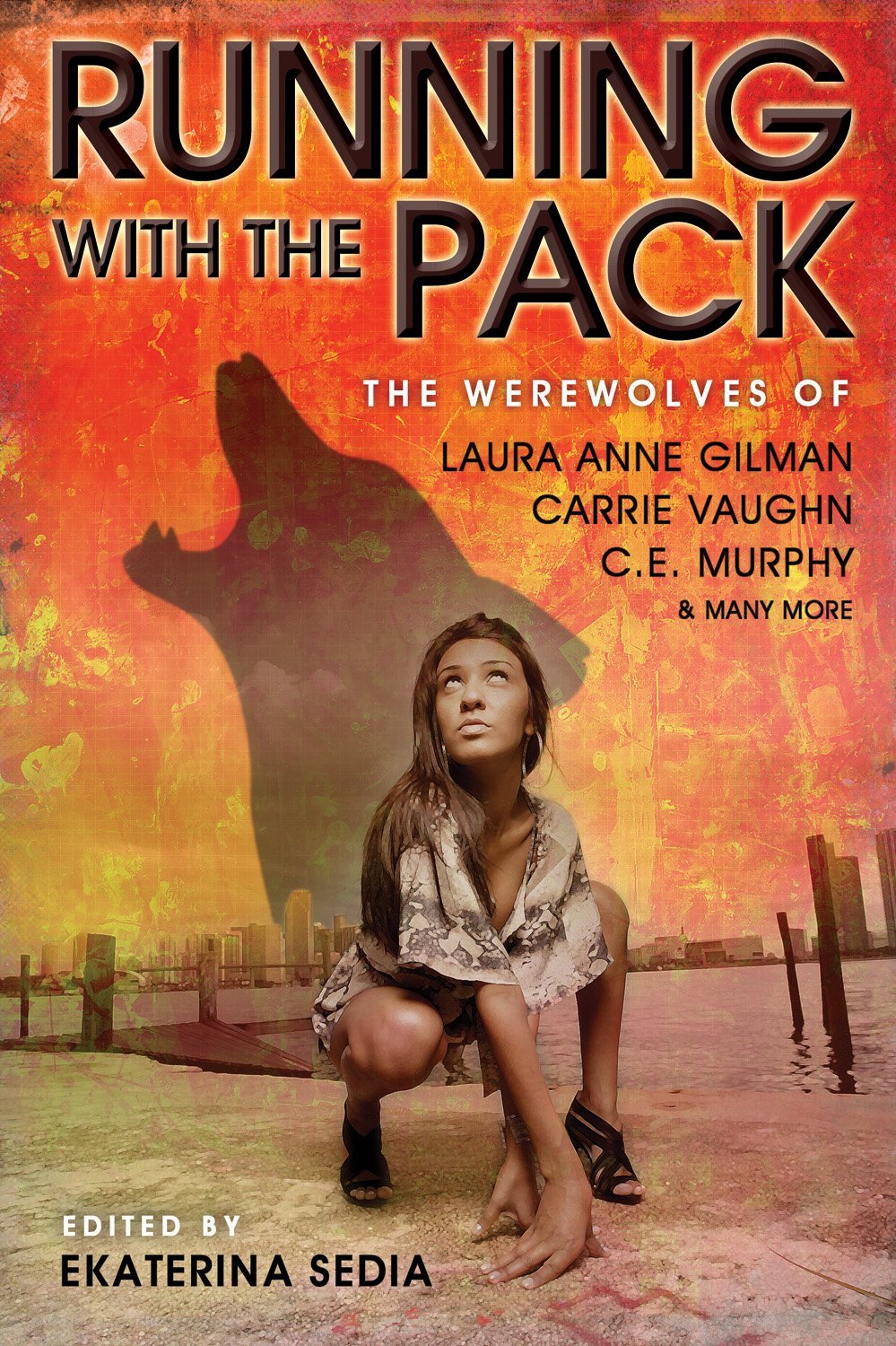 When I saw there was a new werewolf anthology edited by Ekatrerina Sedia with a story by Carrie Vaughn I automatically ordered it. Then of course, once it arrived, it sat around like anthologies tend to do, waiting for the "right" time to read it. But eventually read it I did, and it was excellent, with a few caveats, the biggest being, the anthology should not have ended on the story it did. On the plus side (and this is huge plus in my opinion) these are stories that deal with werewolves without all the hawt supernatural sex. A couple stories acknowledge sex, but the focus of these stories is upon the other aspects of being a werewolf, which I very much enjoyed, because there is a lot to explore in this mythos and this anthology does a very good job of moving beyond the paranormal romance aspect of werewolves.
Wild Ride by Carrie Vaughn
Side-Effects May Include by Steve Duffy
Comparison Of Efficacy Rates For Seven Antipathetics As Employed Against Lycanthropes by Marie Brennan
The Beautiful Gelreesh by Jeffrey Ford
Skin In The Game by Samantha Henderson
Blended by C.E. Murphy
Locked Doors by Stephanie Burgis
Werelove by Laura Anne Gilman
In Sheep's Clothing by Molly Tanzer
Royal Bloodlines by Mike Resnick
The Dire Wolf by Genevieve Valentine
Take Back The Night by Lawrence Schimel
Mongrel by Maria Snyder
Deadfall by Karen Everson
Red Riding Hood's Child by N.K. Jemisin
Are You A Vampire Or A Goblin? by Geoffrey Goodwin
The Pack And The Pickup Artist by Mike Brotherton
The Garden, The Moon, The Wall by Amanda Downum
Blamed For Trying To Live by Jesse Bullington
The Barony At Rodal by Peter Bell
Inside Out by Erzbet Yellowboy
Gestella by Susan Palwick
Jeffrey Ford's story, The Beautiful Gelreesh and Samantha Henderson's Skin in the Game also looked at werewolf stories in a different way, though each took the werewolf mythos in a different direction. Of the two, I like Skin in the Game a tad better, though I really liked the direction The Beautiful Gelreeshwent.
All in all, this is an excellent anthology, and one I can highly recommend.
Published by Prime
Rating: 8/10
The Way of the Wizard (2010) edited by John Joseph Adams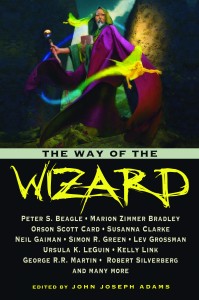 I love anthologies. They give me an escape in bite size pieces that won't keep me up past my bed time on a work night, and they also often a wonderful introduction to authors I have not read previously.
This anthology focuses upon wizards of all sorts, doing wizardly things, though not very many evil wizards.
In the Lost Lands by George R.R. Martin
Family Tree by David Barr Kirtley
John Uskglass and the Cumbrian Charcoal Burner by Susanna Clarke
Wizard's Apprentice by Delia Sherman
The Sorcerer Minus by Jeffrey Ford
Life So Dear or Peace So Sweet by C.C. Finlay
Card Sharp by Rajan Khanna
So Deep That the Bottom Could Not Be Seen by Genevieve Valentine
The Go-Slow by Nnedi Okorafor
Too Fatal a Poison by Krista Hoeppner Leahy
Jamaica by Orson Scott Card
The Sorcerer's Apprentice by Robert Silverberg
The Secret of Calling Rabbits by Wendy N. Wagner
The Wizards of Perfil by Kelly Link
How to Sell the Ponti Bridge by Neil Gaiman
The Magician and the Maid and Other Stories by Christie Yant
Winter Solstice by Mike Resnick
The Trader and the Slave by Cinda Williams Chima
Cerile and the Journeyer by Adam-Troy Castro
Counting the Shapes by Yoon Ha Lee
Endgame by Lev Grossman
Street Wizard by Simon R. Green
Mommy Issues of the Dead by T.A. Pratt
One-Click Banishment by Jeremiah Tolbert
The Ereshkigal Working by Jonathan L. Howard
Feeding the Feral Chidren by David Farland
The Orange-Tree Sacrifice by Vylar Kaftan
Love Is the Spell That Casts Out Fear by Desirina Boskovich
El Regalo by Peter S. Beagle
The Word of Unbinding by Ursula K. Le Guin
The Thirteen Texts of Arthyria by John R. Fultz 
The Secret of the Blue Star by Marion Zimmer Bradley
Jeffrey Ford's story, "The Sorcerer Minus" was one I didn't care for. The Sorcerer minus is a jerk. I didn't really like spending time reading about him.
There were multiple stories I didn't care for, but on the whole, I found it a good and enjoyable collection. After all, I don't have to read the stories I don't like.
Published by Prime Books
Rating: 7/10
Naked City (2011) edited by Ellen Datlow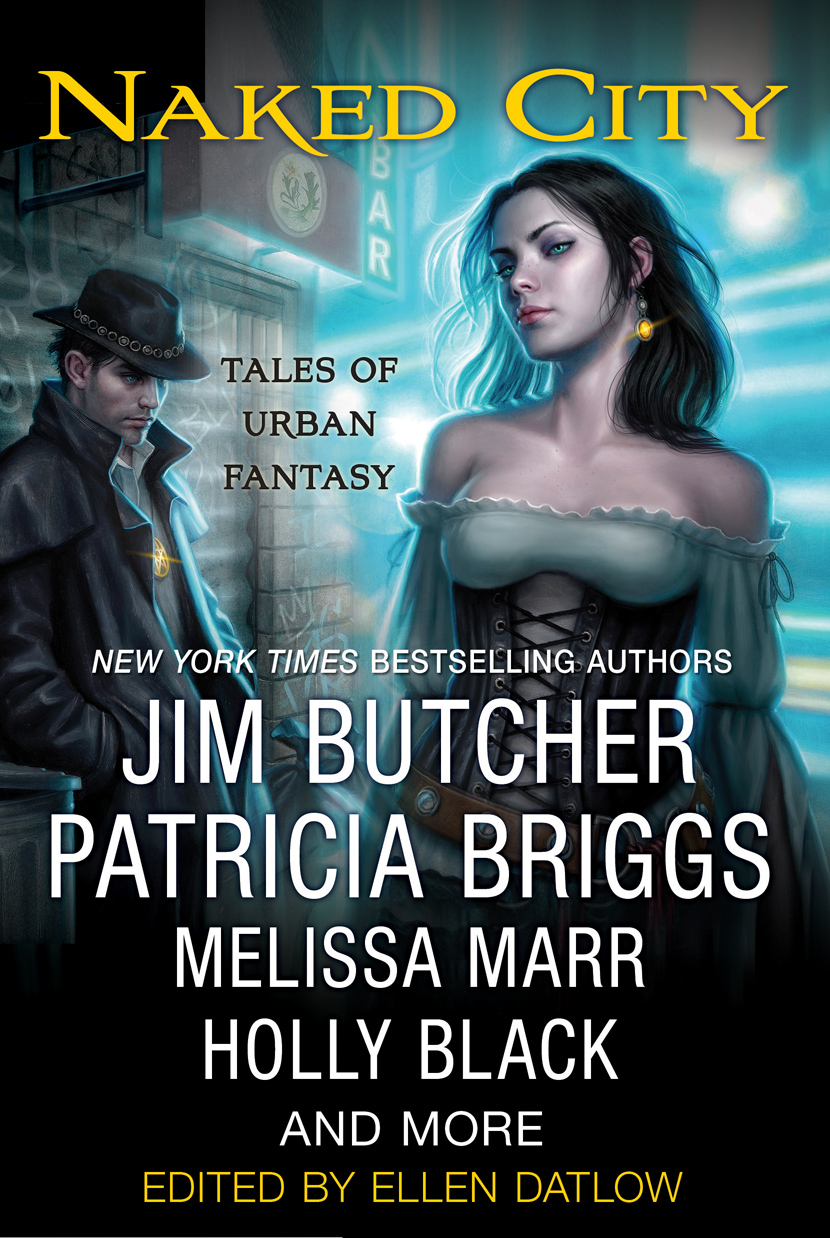 This collection of urban fantasy stories has several of my favorite authors, so it was a no-brainer to get. The bad thing is that I've been reading this collection for several months, so I now have no idea what the stories at the start of the anthology were about, which is dangerous, because it means I may end up accidentally rereading several of them.
Although there were several stories I didn't care for, I believe that was more a matter of personal taste than quality. And the stories I did like, I liked very much.
Published by St. Martin's Griffin
Rating: 8/10
Teeth: Vampire Tales (2011) edited by Ellen Datlow & Terri Windling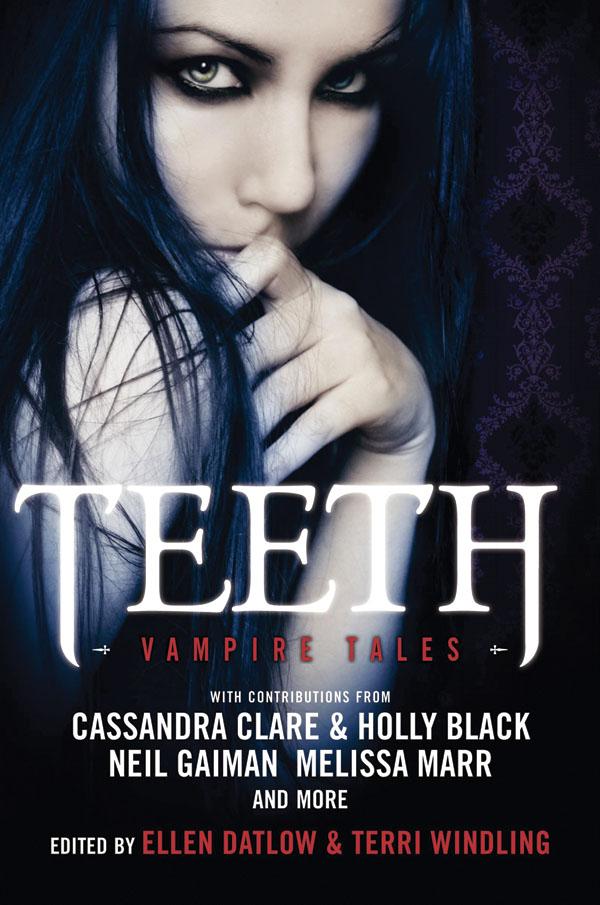 This is an Ellen Datlow and Terri Windling anthology, so as always, there are fascinating bits of folklore.
Rice, not garlic, was the most effective means of keeping Chinese vampires at bay, for they had a strange compulsion to count. Throwing rice at the ghost compelled it to stop; it would not move again until each grain was counted.
"Sit the Dead" by Jeffrey Ford was an… odd story. Luke wants to be with Darlene, but there are certain things her family does that he has to do when someone dies, and Darlene asks Luke to sit with the dead with her Uncle Sfortunado.
As expected, this was a very good anthology, and although I didn't like the horror or the poetry, that's a failing of mine, not the anthology.
Published by Harper Collins
Rating: 8/10
The Mad Scientist's Guide to World Domination: Original Short Fiction for the Modern Evil Genius (2013) edited by John Joseph Adams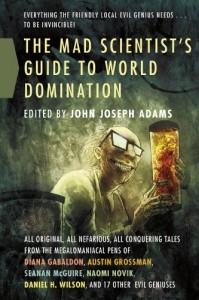 This is the third anthology I've read by John Joseph Adams, and I must say that he has a good rack record for creating anthologies with stories I really like. He also has a good mix of stories, some of which I am guaranteed not to like, but that's okay, because it's good to read stuff I don't normally read, and if I really don't like a story, I can always skip on to the next (even though I rarely do that).
The stories I liked best in this anthology were the straight-up cackling Evil Overlord sort (you know that list, right?), because they were funny. The ones I liked least tended to be the more serious ones, because, well, evil in its true form exists in the world, and it's generally funny at all.
"Professor Incognito Apologizes: an Itemized List" by Austin Grossman
"Father of the Groom" by Harry Turtledove
"Laughter at the Academy: by Seanan McGuire
"Letter to the Editor" by David D. Levine
"Instead of a Loving Heart" by Jeremiah Tolbert
"The Executor" by Daniel H. Wilson
"The Angel of Death Has a Business Plan" by Heather Lindsley
"Homo Perfectus" by David Farland
"Ancient Equations" by L. A. Banks
"Rural Singularity" by Alan Dean Foster
"Captain Justice Saves the Day" by Genevieve Valentine
"The Mad Scientist's Daughter" by Theodora Goss
"The Space Between" by Diana Gabaldon
"Harry and Marlowe Meet the Founder of the Aetherian Revolution" by Carrie Vaughn
"Blood and Stardust" by Laird Barron
"A More Perfect Union" by L. E. Modesitt, Jr.
"Rocks Fall" by Naomi Novik
"We Interrupt This Broadcast" by Mary Robinette Kowal
"The Last Dignity of Man" by Marjorie M. Liu
"The Pittsburgh Technology" by Jeffrey Ford
"Mofongo Knows" by Grady Hendrix
"The Food Taster's Boy" by Ben Winters
"The Pittsburgh Technology" by Jeffrey Ford is a sad sort of story.
"Why is it The Pittsburgh Technology?"

"Have you ever been to Pittsburgh?"
I think that sums of the story pretty well.
Aside from the anthology ending on several depressing notes, this was all-in-all a varied and very good collection of stories, with something for everyone. After all, the stories I disliked were not bad, they were just not my type of story.
Published by Tor Books
Rating: 8/10
Queen Victoria's Book of Spells: An Anthology of Gaslamp Fantasy (2013) edited by Ellen Datlow and Terri Windling
"Queen Victoria's Book of Spells" by Delia Sherman
"The Fairy Enterprise" by Jeffrey Ford
"From the Catalogue of the Pavilion of the Uncanny and Marvellous, Scheduled for Premiere at the Great Exhibition (Before the Fire)" by Genevieve Valentine
"The Memory Book by Maureen McHugh
"La Reine d'Enfer by Kathe Koja
"For the Briar Rose" by Elizabeth Wein
"The Governess" by Elizabeth Bear
"Smithfield" by James P. Blaylock
"The Unwanted Women of Surrey" by Kaaron Warren
"Charged" by Leanna Renee Hieber
"Mr. Splitfoot" by Dale Bailey
"Phosphorus" by Veronica Schanoes
"We Without Us Were Shadows" by Catherynne M. Valente
"The Vital Importance of the Superficial" by Ellen Kushner and Caroline Stevermer
"The Jewel in the Toad Queen's Crown" by Jane Yolen
"A Few Twigs He Left Behind" by Gregory Maguire
"Their Monstrous Minds" by Tanith Lee
"Estella Saves the Village" by Theodora Goss
The Fairy Enterprise by Jeffrey Ford
I love anthologies and I love historical fiction. So this should have been an automatic win for me.
Instead it was a two-plus year slog that I finally forced myself to finish.
The Fairy Enterprise by Jeffrey Ford. A man wants to make fairies. From corpses.
Published by Tor
Street Magicks (2016) edited by Paula Guran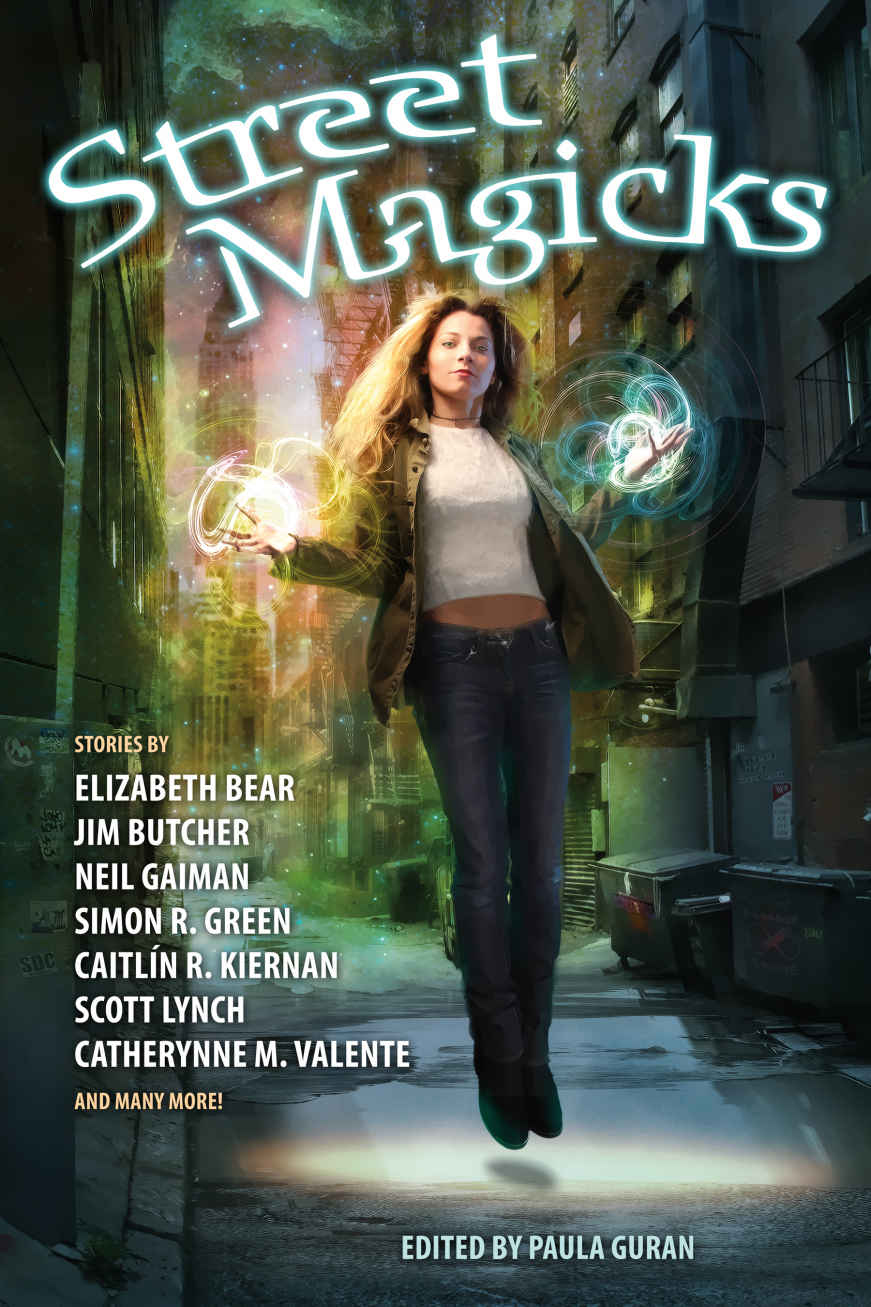 I believe it took me less than a year to finish this anthology. Hopefully this is a new trend for me.
"The Last Triangle" by Jeffrey Ford is a story I started and then got distracted. It's actually an interesting story about magic and science–or rather geometry.
"The Last Triangle is an equilateral triangle; all the sides are equal," she said.

I failed math every year in high school, so I just nodded.
An interesting collection, although there were a lot of stories that were not for me.
Published by Prime Books
Rating: 7/10