Books: Fantasy
Anthologies
A Wolf at the Door (2000), Year's Best Fantasy and Horror: Sixteenth Edition (2003), The Faery Reel: Tales from the Twilight Realm (2004), The Year's Best Fantasy and Horror: Seventeenth Annual Collection (2004), Year's Best Fantasy 4 (2004), Firebirds Rising (2006), The Coyote Road: Trickster Tales (2007), Troll's Eye View: A Book of Villainous Tales (2009), The Way of the Wizard (2010), Happily Ever After (2011)
A Wolf at the Door (2000) edited by Ellen Datlow & Terri Windling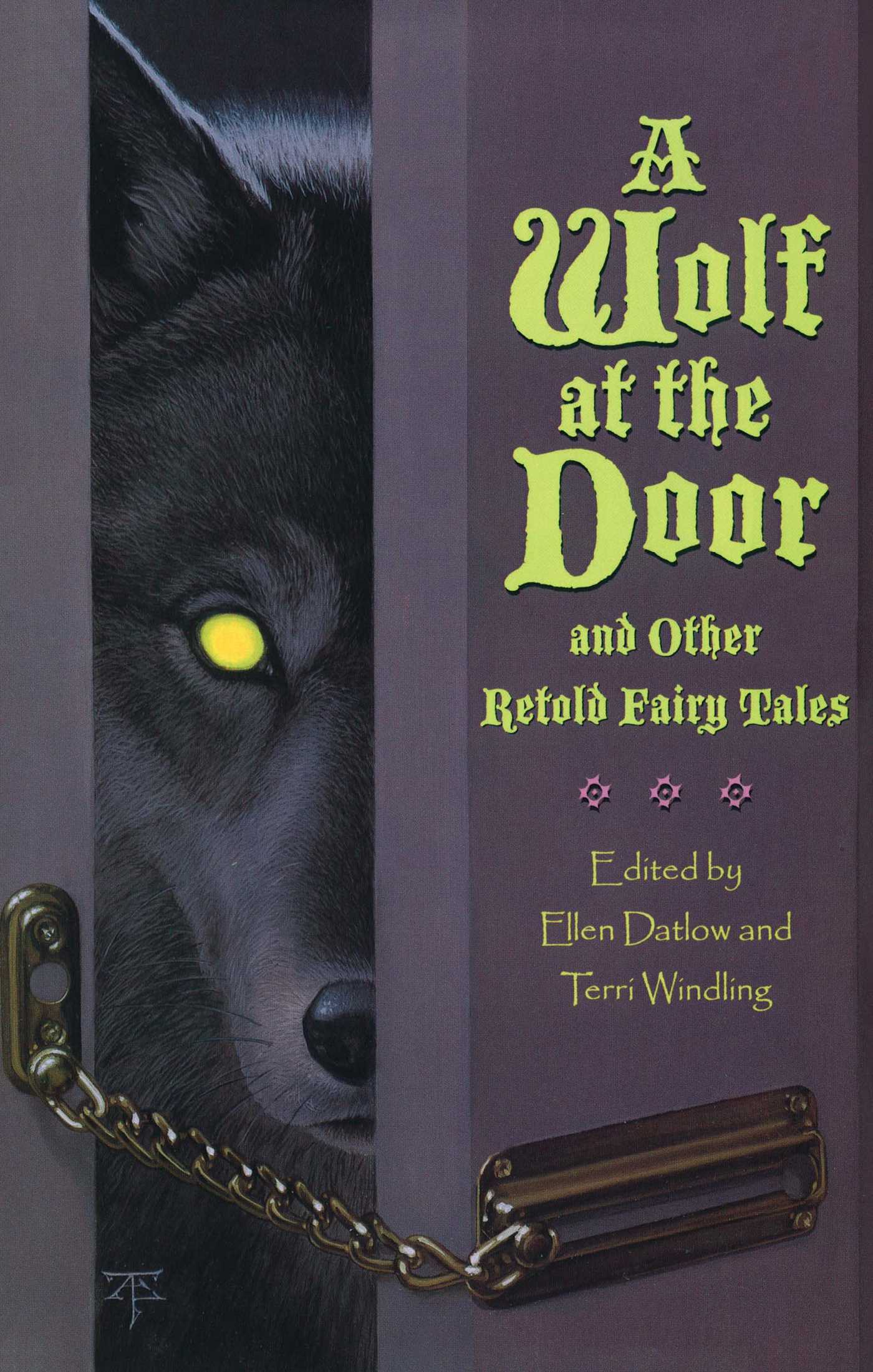 I love folk tales and fairy tales, and I love the idea of stories that have been told and retold, and then finally captured on paper. The problem of course, is finding an author who is good at translating stories from an oral tradition into something that works well written.
There's something wonderful about a well-told short story, and I think that the best short stories in the world are folk and fairy tales.
Ellen Datlow and Terri Windling are very good at finding authors who can take these stories and retell them, and they always put together wonderful anthologies. They brought together thirteen writers for this collection of retold fairy tales.
Although one or two of the stories I found to be just okay, others were nothing short of excellent. It also seems as if the stories were I liked the best were towards the end of the book. For me the collection started out okay, and then got better and better the more I read.
Not that I think the purpose of these stories is necessarily to scare us, as much as it is to make us pay attention to what is happening around us.
Rating: 7/10
Year's Best Fantasy and Horror: Sixteenth Edition (2003) edited by Ellen Datlow & Terri Windling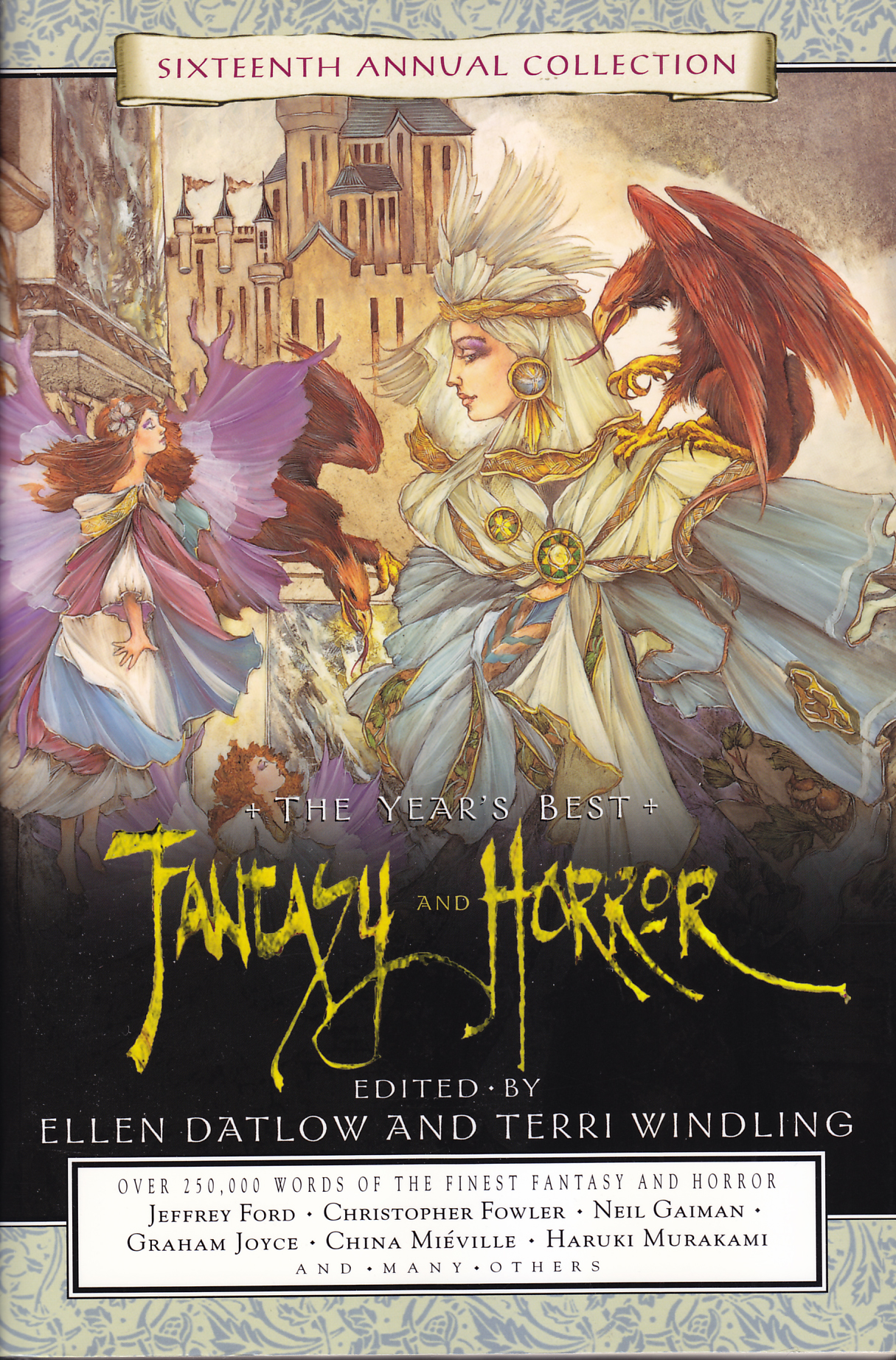 Published by St. Martin's Griffin
The Faery Reel: Tales from the Twilight Realm (2004) edited by Ellen Datlow & Terri Windling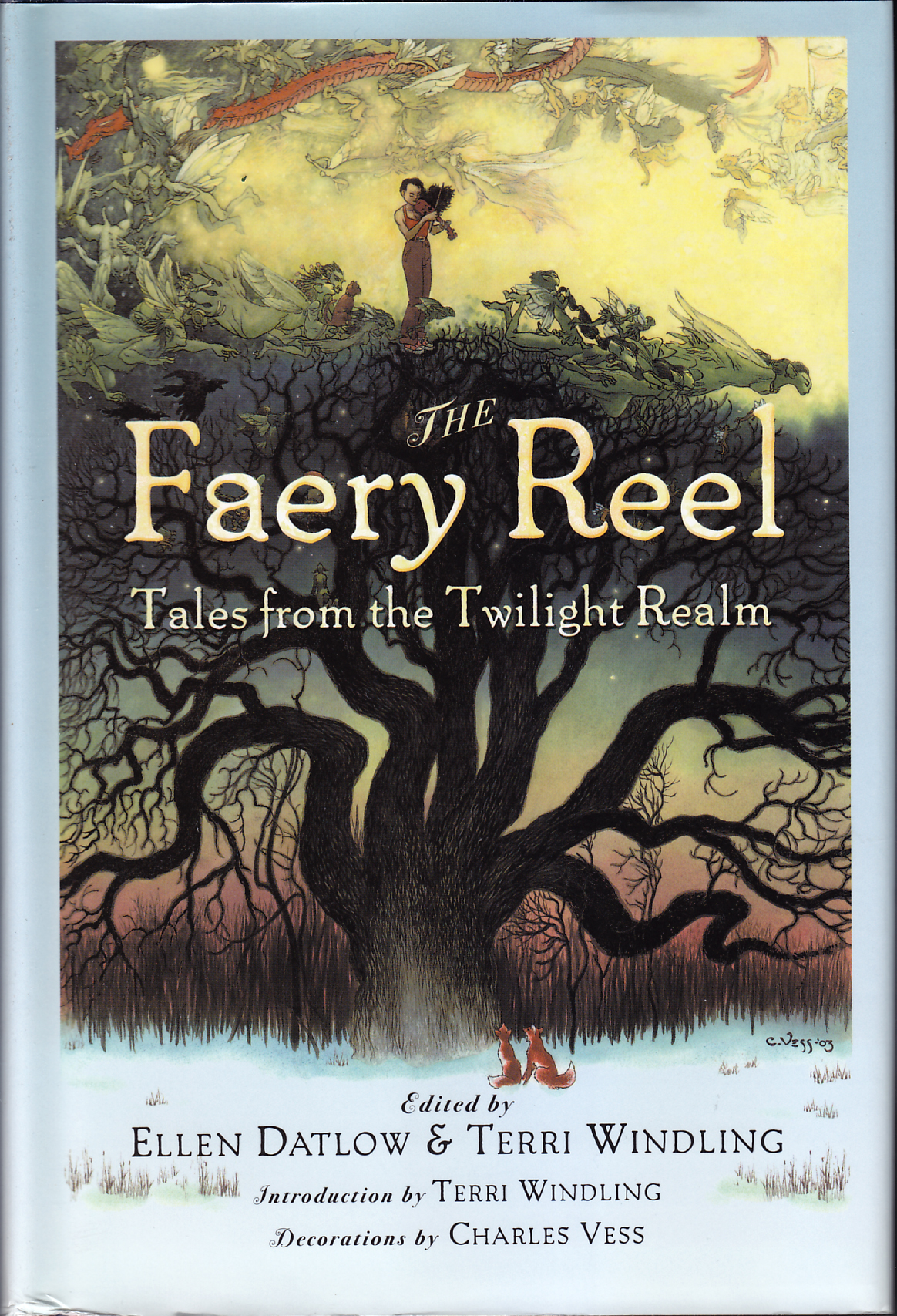 Any time I see a fantasy anthology edited by Ellen Datlow and Terri Windling, I'll often as not pick it up, because I know that it's going to be good. Usually very good. This volume however, has the added bonus of poems by both Charles de Lint and Neil Gaiman.
Needless to say I snatched it up--even thought it was in hardback--when I came across it.
These faery tales are based not upon the fairies of Disney but upon the faery of folktales. As they say in the introduction:
In this book about our good neighbors, we've asked a number of our favorite writers to travel into the Twilight Realm (an ancient name for the land of Faerie) and to bring back stories of faeries and the hapless mortals who cross their path. "No butterfly-winged sprites," we pleaded. "Read the old folktales, journey farther afield, find some of the less explored paths through the Realm.
It would be hard for me not to love this book.
All in all an excellent anthology. But I hardly expected anything less.
Published by Viking
Rating: 8/10
The Year's Best Fantasy and Horror: Seventeenth Annual Collection (2004) edited by Ellen Datlow & Terri Windling
Published by St. Martin's Griffin
Year's Best Fantasy 4 (2004) edited by David G. Hartwell and Kathryn Cramer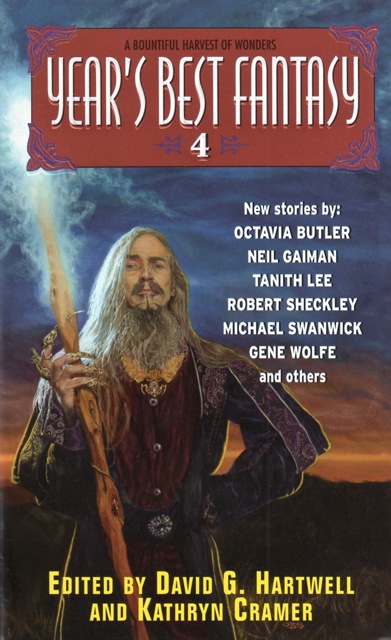 Publisher: Harper Voyager
Firebirds Rising (2006) edited by Sharyn November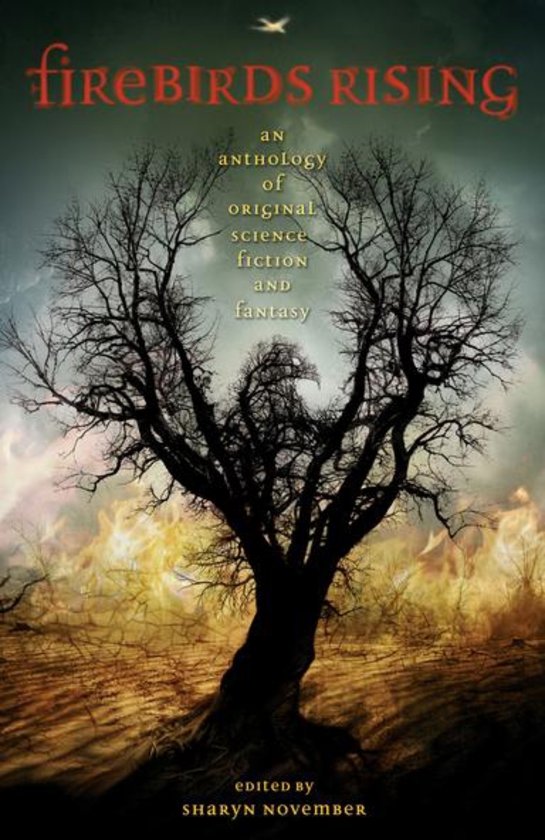 This is a collection of fantasy, urban fantasy (minus the boinking) and science fiction. Interestingly, I didn't mind most of the science fiction too much, though they weren't my favorite stories in the collection.
Published by Firebird
Rating: 7/10
The Coyote Road: Trickster Tales (2007) edited by Ellen Datlow & Terri Windling
I love short stories. Aside from collections by Charles de Lint, I best love anthologies by Ellen Datlow & Terri Windling best. Their books are like comfort food, and I save them up for when I'm sick or feeling low.
In the same vein as The Green Man and The Faerie Reel, Datlow and Windling have this time collected stories about tricksters, and they've got some of my favorite authors in this collection: Charles de Lint, Nina Kiriki Hoffman, Ellen Kushner. As usual, they manage to collect stories by some of my favorite story tellers.
Another favorite was "The Constable of Abal" by Kelly Link. The story ranged near and far and I was never quite sure where it was going, but that was ok because I was glad to be along for the ride.
If like short story collections, or trickster tales, then you will want to read The Coyote Road. It has stories from many of my favorite writers, and as with all their collections, I was delighted to discover new authors for whom I'll be on the lookout.
Rating: 9/10
Troll's Eye View: A Book of Villainous Tales (2009) edited by Ellen Datlow & Terri Windling
Published by Viking Books for Young Readers
The Way of the Wizard (2010) edited by John Joseph Adams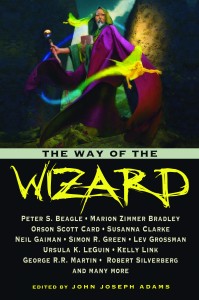 I love anthologies. They give me an escape in bite size pieces that won't keep me up past my bed time on a work night, and they also often a wonderful introduction to authors I have not read previously.
This anthology focuses upon wizards of all sorts, doing wizardly things, though not very many evil wizards.
"The Wizards of Perfil" by Kelly Link is another story I'd read previously, in another anthology. Onion and Halsa are chosen (or not) to become apprentices to the wizards of Perfil. This story made more sense to me the second time through, but it's still rather depressing.
There were multiple stories I didn't care for, but on the whole, I found it a good and enjoyable collection. After all, I don't have to read the stories I don't like.
Published by Prime Books
Rating: 7/10
Happily Ever After (2011) edited by John Klima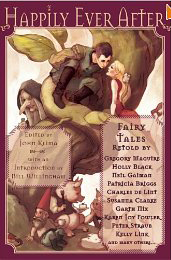 Not sure how I missed this when I first came out, but this anthology is full of things I love: authors whose books I love, stories based on folk and fairy tales–lovely!
The only thing I didn't like, is I wish the anthology hadn't ended on such a dark and depressing story.
Mind you, the dark and depressing stories were good–very good–but these tales ran very true to the original stories, with a not insignificant amount of rape and incest and general horribleness. Just like the original tales.
But there's also a good amount of humor as well, and I just wished the collection had ended with one of the funnier stories.
"The Faery Handbag" by Kelly Link didn't particularly follow any existing fairy tale, but instead had bits and pieces of tales built into something that was still a fairy tale while still being modern.
The funeral parlor had made her up with blue eyeshadow, and blue eyeliner. She looked like she was going to be a news anchor on Fox television, instead of dead.
Please note, as previously mentioned, the stories have rape and incest and lots and lots of sex in addition to evil stepmothers and other such killers.
There were also a fair number of very dark and very depressing tales that were very good, but that I didn't enjoy at all.
Published by Night Shade Books
Rating: 8/10