Books
Anthologies: A Wolf at the Door (2000), Year's Best Fantasy and Horror: Sixteenth Edition (2003), The Faery Reel: Tales from the Twilight Realm (2004), The Year's Best Fantasy and Horror: Seventeenth Annual Collection (2004), Firebirds Rising (2006), The Coyote Road: Trickster Tales (2007), Troll's Eye View: A Book of Villainous Tales (2009), The Way of the Wizard (2010), Happily Ever After (2011)
Anthologies
A Wolf at the Door (2000) edited by Ellen Datlow & Terri Windling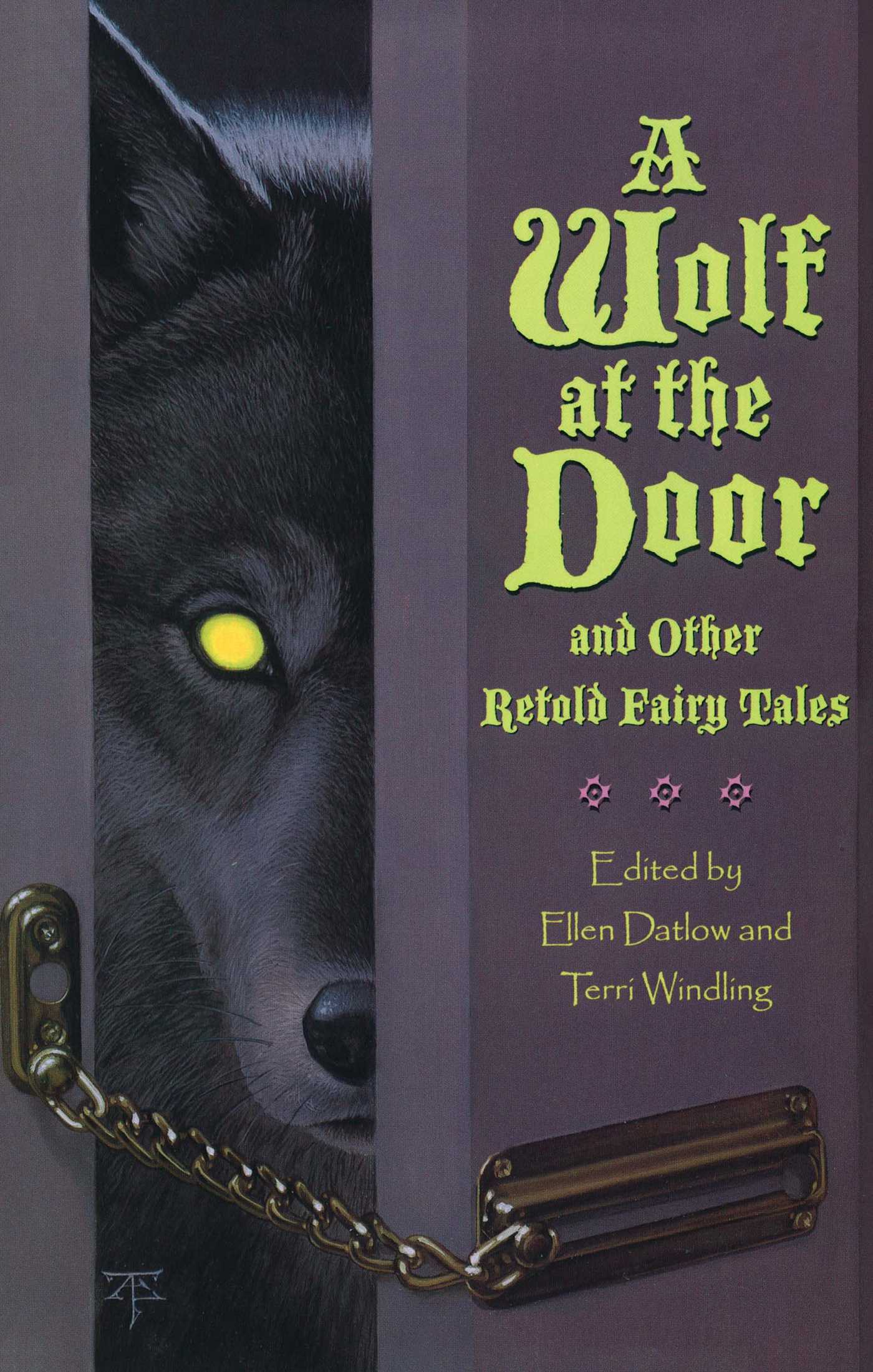 I love folk tales and fairy tales, and I love the idea of stories that have been told and retold, and then finally captured on paper. The problem of course, is finding an author who is good at translating stories from an oral tradition into something that works well written.
There's something wonderful about a well-told short story, and I think that the best short stories in the world are folk and fairy tales.
Ellen Datlow and Terri Windling are very good at finding authors who can take these stories and retell them, and they always put together wonderful anthologies. They brought together thirteen writers for this collection of retold fairy tales.
Conder Elephant - Jane Yolen
The Months of Manhattan - Delia Sherman
Instructions - Neil Gaiman
Mrs Big: "Jack and the Beanstalk" Retold - Michael Cadnum
Falada: The Goose Girls Horse - Nancy Farmer
A Wolf at the Door - Tanith Lee
Ali Baba and the Forty Aliens - Janeen Webb
Swans - Kelly Link
The Kingdom of the Melting Glances - Katherine Vaz
Hansel's Eyes - Garth Nix
Becoming Charise - Kathe Koja
The Seven Stage and Comeback - Gergory Maguire
The Twelve Dancing Princesses - Patricia A. McKillip

Although one or two of the stories I found to be just okay, others were nothing short of excellent. It also seems as if the stories were I liked the best were towards the end of the book. For me the collection started out okay, and then got better and better the more I read.
Not that I think the purpose of these stories is necessarily to scare us, as much as it is to make us pay attention to what is happening around us.
Rating: 7/10
Year's Best Fantasy and Horror: Sixteenth Edition (2003) edited by Ellen Datlow & Terri Windling
Kelly Link - Lull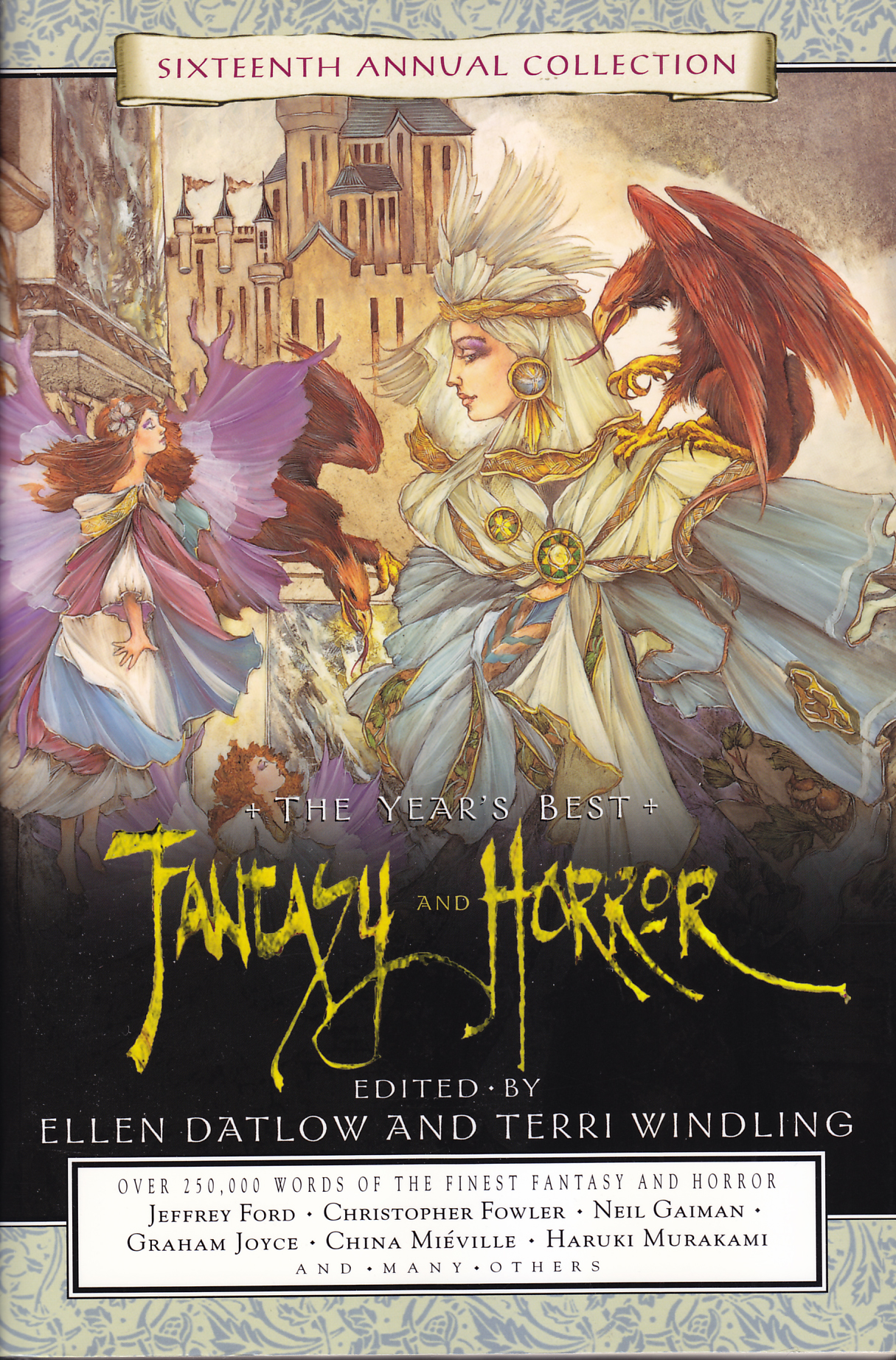 Kim Newman - Egyptian Avenue
Corey Marks - A Letter of Explanation
China Miéville - Details
Eric Schaller - The Assistant to Dr. Jacob
M. Shayne Bell - The Pagodas of Ciboure
Graham Joyce - The Coventry Boy
Helga M. Novak - The Wild Hunt
Jeffrey Ford - The Green Word
Terry Dowling - Stitch
Michael Libling - Puce Boy
Zoran Zivkovic - The Violin-Maker
Bentley Little - Maya's Mother
Carlton Mellick, III - Porno in August
Brian Hodge - Nesting Instincts
Conrad Williams - The Machine
Thomas M. Disch - Hansel, A Retrospective, or, The Danger of Childhood Obesity
Melissa Hardy - Aquerò
Joel Lane - The Receivers
Nicholas Royle - Standard Gauge
Jeffrey Ford - Creation
Tracina Jackson-Adams - Seven Pairs of Iron Shoes
Karen Joy Fowler - What I Didn't See
Jackie Bartley - Reading Myth to Kindergartners
Peter Dickinson - Mermaid Song
Neil Gaiman - Pages from a Journal Found in a Shoebox Left in a Greyhound Bus Somewhere Between Tulsa, Oklahoma, and Louisville, Kentucky
Ramsey Campbell - No End of Fun
Adam Roberts - Swiftly
Christopher Fowler - The Green Man
Brian Hodge - Some Other Me
Robert Phillips - The Snow Queen
Jay Russell - Hides
Luis Alberto Urrea - Mr. Mendoza's Paintbrush
Margaret Lloyd - Five Poems
Stephen Gallagher - Little Dead Girl Singing
Robin McKinley - The Pool in the Desert
Haruki Murakami - Thailand
Theodora Goss - The Rose in Twelve Petals
Kathe Koja - Road Trip
Lucy Taylor - Unspeakable
Elizabeth Hand - Inside Out: On Henry Darger
Kevin Brockmeier - The Green Children
Sharon McCartney - After the Chuck Jones Tribute on Teletoon
Neil Gaiman - Feeders and Eaters
Susan Power - Roofwalker
Don Tumasonis - The Prospect Cards
Nicholas Royle - Hide and Seek
Nan Fry - The Wolf's Story
Elizabeth Hand - The Least Trumps
Published by St. Martin's Griffin
The Faery Reel: Tales from the Twilight Realm (2004) edited by Ellen Datlow & Terri Windling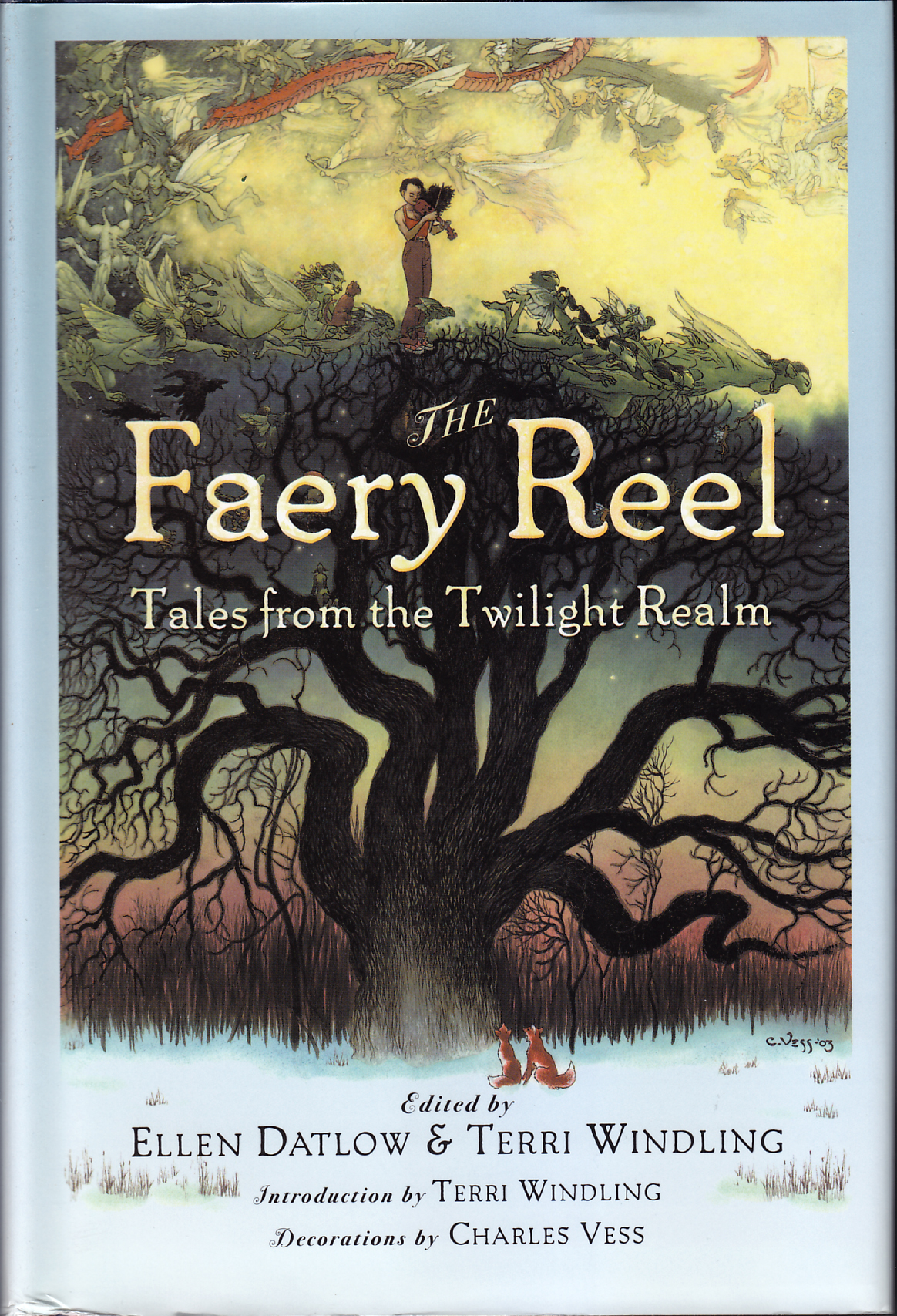 Any time I see a fantasy anthology edited by Ellen Datlow and Terri Windling, I'll often as not pick it up, because I know that it's going to be good. Usually very good. This volume however, has the added bonus of poems by both Charles de Lint and Neil Gaiman.
Needless to say I snatched it up--even thought it was in hardback--when I came across it.
These faery tales are based not upon the fairies of Disney but upon the faery of folktales. As they say in the introduction:
In this book about our good neighbors, we've asked a number of our favorite writers to travel into the Twilight Realm (an ancient name for the land of Faerie) and to bring back stories of faeries and the hapless mortals who cross their path. "No butterfly-winged sprites," we pleaded. "Read the old folktales, journey farther afield, find some of the less explored paths through the Realm.
It would be hard for me not to love this book.
The Boys of Goose Hill - Charles de Lint
Catnyp - Delia Sherman
Elvenbrood - Tanith Lee
Your Garnet Eyes - Katherine Vaz
Tengu Mountain - Gregory Frost
THe Faery Handbag - Kelly Link
The Price of Glamour - Steve Berman
The Night Market - Holly Black
Never Never - Bruce Glassco
SCreaming for Aferies - Ellen Steiber
Immersed in Matter - Nina Kiriki Hoffman
Undine - Patricia A. McKillip
The Oakthing - Gregory Maguire
Foxwife - Hiromi Goto
The Dream Eaters - A. W. Dellamonico
The Faery Reel - Neil Gaiman
The Shooter at the Heartrock Waterhole - Bill Congreve
The Annals of Eelin-OK - Jeffrey Ford
De La Tierra - Emma Bull
How to Find Faery - Nan Fry
...
All in all an excellent anthology. But I hardly expected anything less.
Rating: 8/10
Published by Viking
The Year's Best Fantasy and Horror: Seventeenth Annual Collection (2004) edited by Ellen Datlow & Terri Windling
Kij Johnson - At the Mouth of the River of Bees
Sara Maitland - Why I Became a Plumber
M. Rickert - Bread and Bombs
George Saunders - The Red Bow
Vandana Singh - The Wife
Lucius Shepard - Only Partly Here
Steve Rasnic Tem - Bone
Laird Barron - Old Virginia
Neil Gaiman - A Study in Emerald
Nathan Ballingrud - You Go Where It Takes You
Dean Francis Alfar - L'Aquilone du Estrellas (The Kite of Stars)
Stephen King - Harvey's Dream
Ursula K. Le Guin - Woeful Tales from Mahigul
Karen Joy Fowler - King Rat
Kelly Link - The Hortlak
Brian Hodge - With Acknowledgments to Sun Tzu
Richard Butner - Ash City Stomp
Michael Swanwick - King Dragon
Patrick O'Leary - Invisible Geese: A Theory
Patrick O'Leary - The Perfect City
Peter Crowther - Bedfordshire
Adam Corbin Fusco - N007-JK1
Marc Laidlaw - Cell Call
Philip Raines and Harvey Wells - The Fishie
Dale Bailey - Hunger: A Confession
Scott Emerson Bull - Mr. Sly Stops for a Cup of Joe
Megan Whalen Turner - The Baby in the Night Deposit Box
Paul LaFarge - Lamentation over the Destruction of Ur
Mike O'Driscoll - The Silence of the Falling Stars
Jon Woodward - At the Mythical Beast
Paolo Bacigalupi - The Fluted Girl
Kevin Brockmeier - The Brief History of the Dead
Nina Kiriki Hoffman - Flotsam
Dan Chaon - The Bees
Glen Hirshberg - Dancing Men
Theodora Goss - Lily, with Clouds
Karen Traviss - The Man Who Did Nothing
Shelley Jackson - Husband
Michael Marshall Smith - Open Doors
Benjamin Rosenbaum - The Valley of the Giants
Thomas Ligotti - Purity
Maureen F. McHugh - Ancestor Money
Terry Bisson - Almost Home
Daphne Gottlieb - Final Girl II: The Frame
Published by St. Martin's Griffin
Firebirds Rising (2006) edited by Sharyn November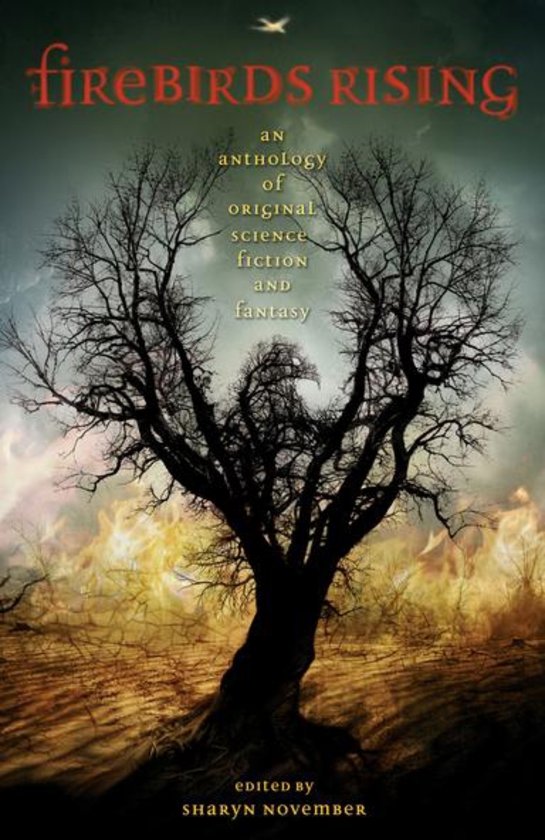 Huntress - Tamora Pierce
Unwrapping - Nina Kiriki Hoffman
The Real Thing - Alison Goodman
Little (Grrl) Lost - Charles de Lint
I'll Give you My Word - Diana Wynn Jones
In the House of the Seven Librarians - Ellen Klages
Wintermoon Wish - Sharon Shinn
The Wizards of Perfil - Kelly Link
Jack O'Lantern - Patricia A. McKillip
Quill - Carol Emshwiller
Blood Roses - Francesca Lia Block
Hives - Kara Dalkey
Perception - Alan Dean Foster
The House on the Planet - Tanith Lee
Cousins - Pamela Dean
What Used to be Good Still Is - Emma Bull
This is a collection of fantasy, urban fantasy (minus the boinking) and science fiction. Interestingly, I didn't mind most of the science fiction too much, though they weren't my favorite stories in the collection.
Rating: 7/10
Published by Firebird
The Coyote Road: Trickster Tales (2007) edited by Ellen Datlow and Terri Windling
I love short stories. Aside from collections by Charles de Lint, I best love anthologies by Ellen Datlow & Terri Windling best. Their books are like comfort food, and I save them up for when I'm sick or feeling low.
In the same vein as The Green Man and The Faerie Reel, Datlow and Windling have this time collected stories about tricksters, and they've got some of my favorite authors in this collection: Charles de Lint, Nina Kiriki Hoffman, Ellen Kushner. As usual, they manage to collect stories by some of my favorite story tellers.
...
Another favorite was "The Constable of Abal" by Kelly Link. The story ranged near and far and I was never quite sure where it was going, but that was ok because I was glad to be along for the ride.
If like short story collections, or trickster tales, then you will want to read The Coyote Road. It has stories from many of my favorite writers, and as with all their collections, I was delighted to discover new authors for whom I'll be on the lookout.
Rating: 9/10
Troll's Eye View: A Book of Villainous Tales (2009) edited by Ellen Datlow & Terri Windling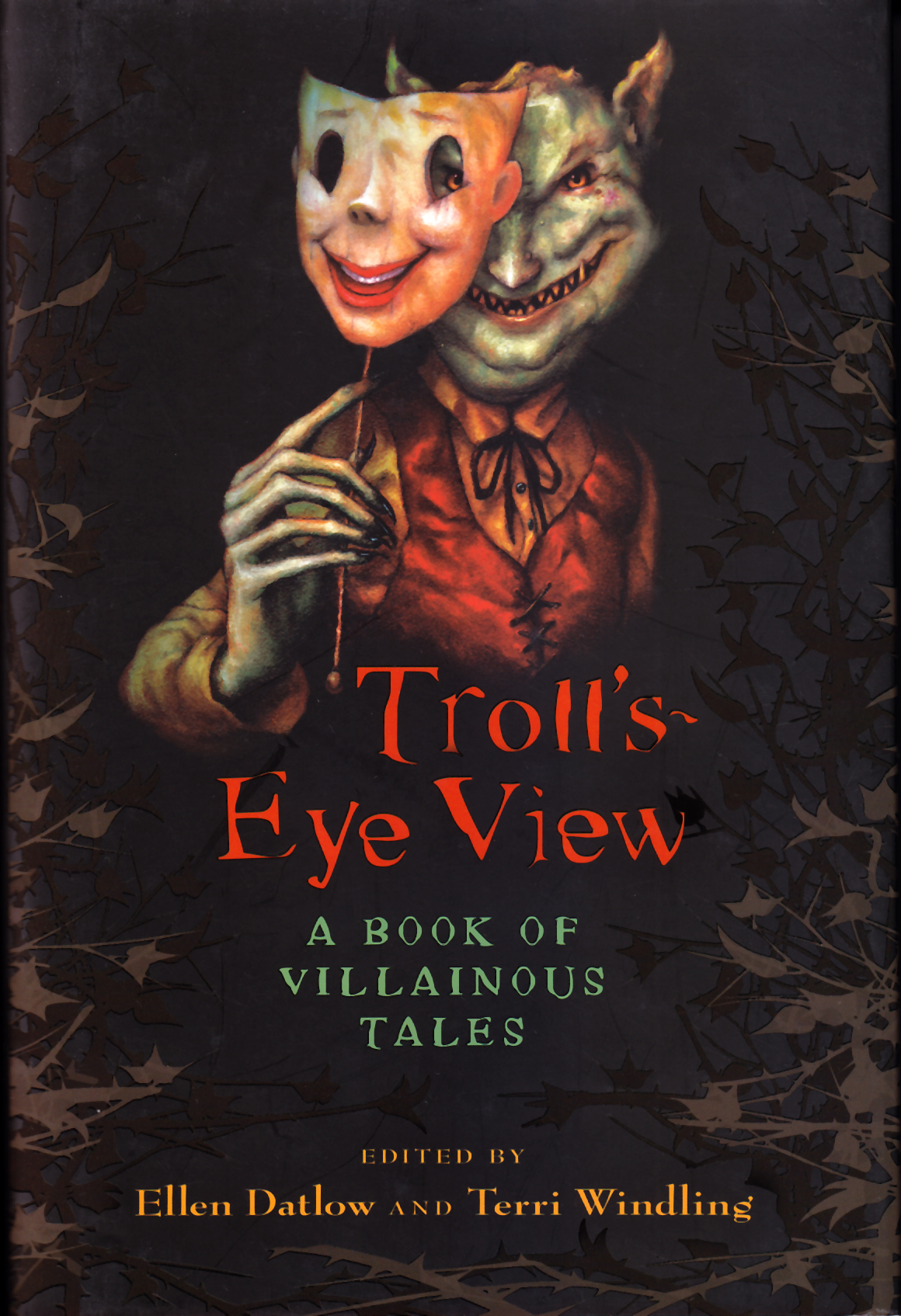 "Wizard's Apprentice" by Delia Sherman
"An Unwelcome Guest" by Garth Nix
"Faery Tales" by Wendy Froud
"Rags and Riches" by Nina Kiriki Hoffman
"Up the Down Beanstalk: A Wife Remembers" by Peter S. Beagle
"The Shoes That Were Danced to Pieces" by Ellen Kushner
"Puss in Boots, the Sequel" by Joseph Stanton
"The Boy Who Cried Wolf" by Holly Black
"Troll" by Jane Yolen
"Castle Othello" by Nancy Farmer
"'Skin" by Michael Cadnum
"A Delicate Architecture" by Catherynne M. Valente
"Molly" by Midori Snyder
"Observing the Formalities" by Neil Gaiman
"The Cinderella Game" by Kelly Link
Published by Viking Books for Young Readers
The Way of the Wizard (2010) edited by John Joseph Adams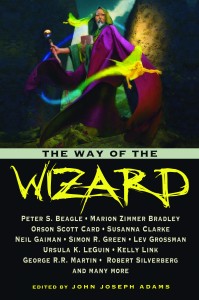 I love anthologies. They give me an escape in bite size pieces that won't keep me up past my bed time on a work night, and they also often a wonderful introduction to authors I have not read previously.
This anthology focuses upon wizards of all sorts, doing wizardly things, though not very many evil wizards.
...
"The Wizards of Perfil" by Kelly Link is another story I'd read previously, in another anthology. Onion and Halsa are chosen (or not) to become apprentices to the wizards of Perfil. This story made more sense to me the second time through, but it's still rather depressing.
...
There were multiple stories I didn't care for, but on the whole, I found it a good and enjoyable collection. After all, I don't have to read the stories I don't like.
Rating: 7/10
Published by Prime Books
Happily Ever After (2011) edited by John Klima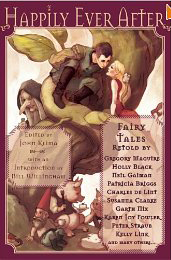 Not sure how I missed this when I first came out, but this anthology is full of things I love: authors whose books I love, stories based on folk and fairy tales–lovely!
The only thing I didn't like, is I wish the anthology hadn't ended on such a dark and depressing story.
Mind you, the dark and depressing stories were good–very good–but these tales ran very true to the original stories, with a not insignificant amount of rape and incest and general horribleness. Just like the original tales.
But there's also a good amount of humor as well, and I just wished the collection had ended with one of the funnier stories.
...
"The Faery Handbag" by Kelly Link didn't particularly follow any existing fairy tale, but instead had bits and pieces of tales built into something that was still a fairy tale while still being modern.
The funeral parlor had made her up with blue eyeshadow, and blue eyeliner. She looked like she was going to be a news anchor on Fox television, instead of dead.
...
Please note, as previously mentioned, the stories have rape and incest and lots and lots of sex in addition to evil stepmothers and other such killers.
There were also a fair number of very dark and very depressing tales that were very good, but that I didn't enjoy at all.
Rating:8/10
Published by Night Shade Books