Michael Cadnum
Books
Anthologies: Black Thorn, White Rose (1994), Ruby Slippers, Golden Tears (1995), A Wolf at the Door (2000), The Green Man : Tales from the Mythic Forest (2002), Firebirds (2003), The Coyote Road: Trickster Tales (2007), Happily Ever After (2011)
Anthologies
Black Thorn, White Rose: A Modern Book of Adult Fairytales (1994) edited by Ellen Datlow & Terri Windling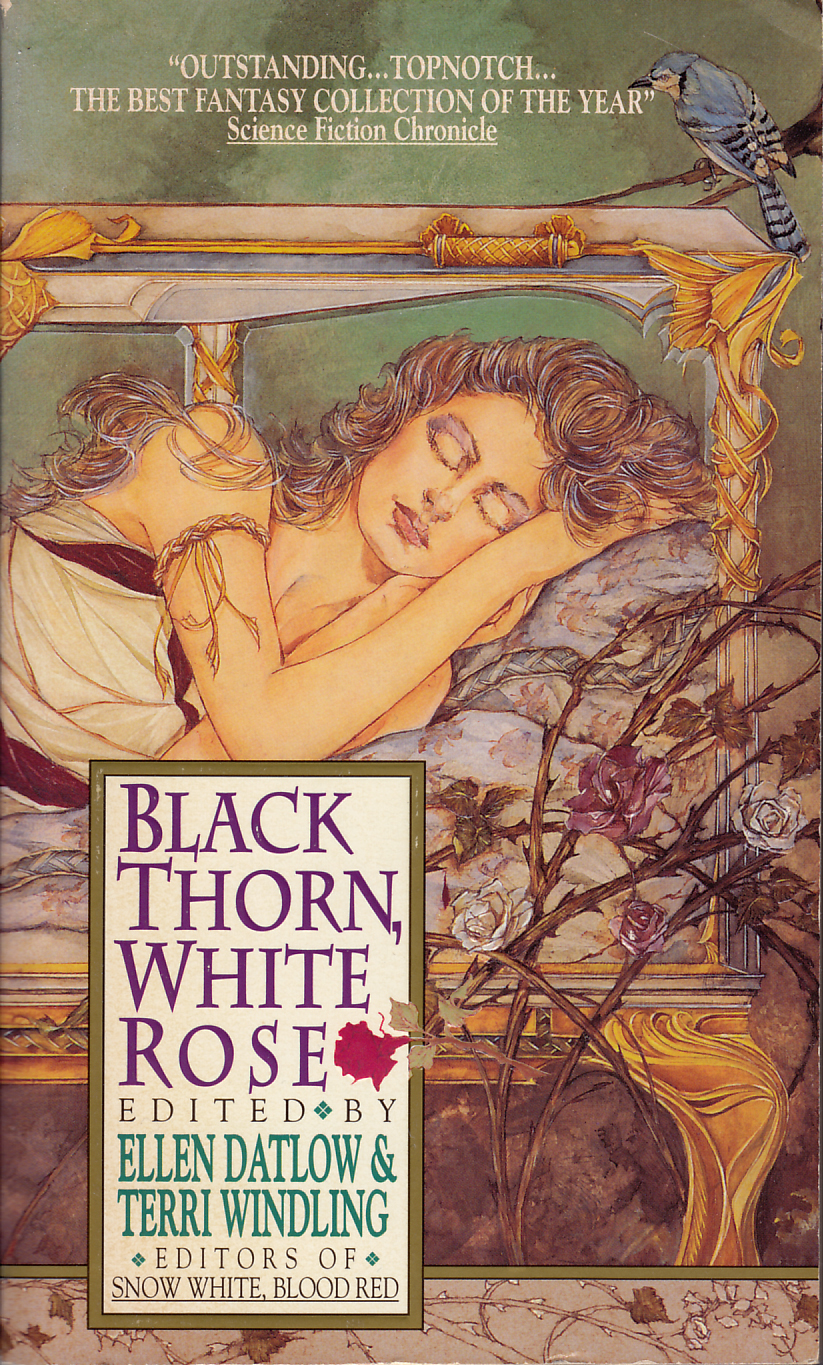 There were several of these collections in the 90s–and I had the first two if I remember correctly.
These are fairy tales retold–some with a change in the point of view, some retold in a modern setting, and some hewing only rather loosely the tales upon which they were based.
...
Please note that these are adult fairy tales. They are in the most part true to the original tales, but most adults would find those inappropriate for children.
Rating: 7/10
Published by Wildside Press
Ruby Slippers, Golden Tears (1995) edited by Ellen Datlow & Terri Windling
Ruby Slippers - Susan Wade
The Beast - Tanith Lee
Masterpiece - Garry Kilworth
Summer Wind - Nancy Kress
This Century of Sleep, or Briar Rose Beneath the Sea - Farida S. T. Shapiro
The Crossing - Joyce Carol Oates
Roach in Loafers - Roberta Lannes
Naked Little Men - Michael Cadnum
Brother Bear - Lisa Goldstein
The Emperor Who had Never Seen a Dragon - John Brunner
Billy Fearless - Nancy A Collins
The Death of Koshchei the Deathless - Gene Wolfe
The Real Princess - Susan Palwick
The Huntsman's Story - Milbre Burch
After Push Comes to Shove - Milbre Burch
Hansel and Grettel - Gahan Wilson
Match Girl - Anne Bishop
Waking the Prince - Kathe Koja
The Fox Wife - Ellen Steiber
The White Road - Neil Gaiman
The Traveler and the Tale - Jane Yolen
The Printer's Daughter - Delia Sherman
Published by Harper Collins
A Wolf at the Door (2000) edited by Ellen Datlow & Terri Windling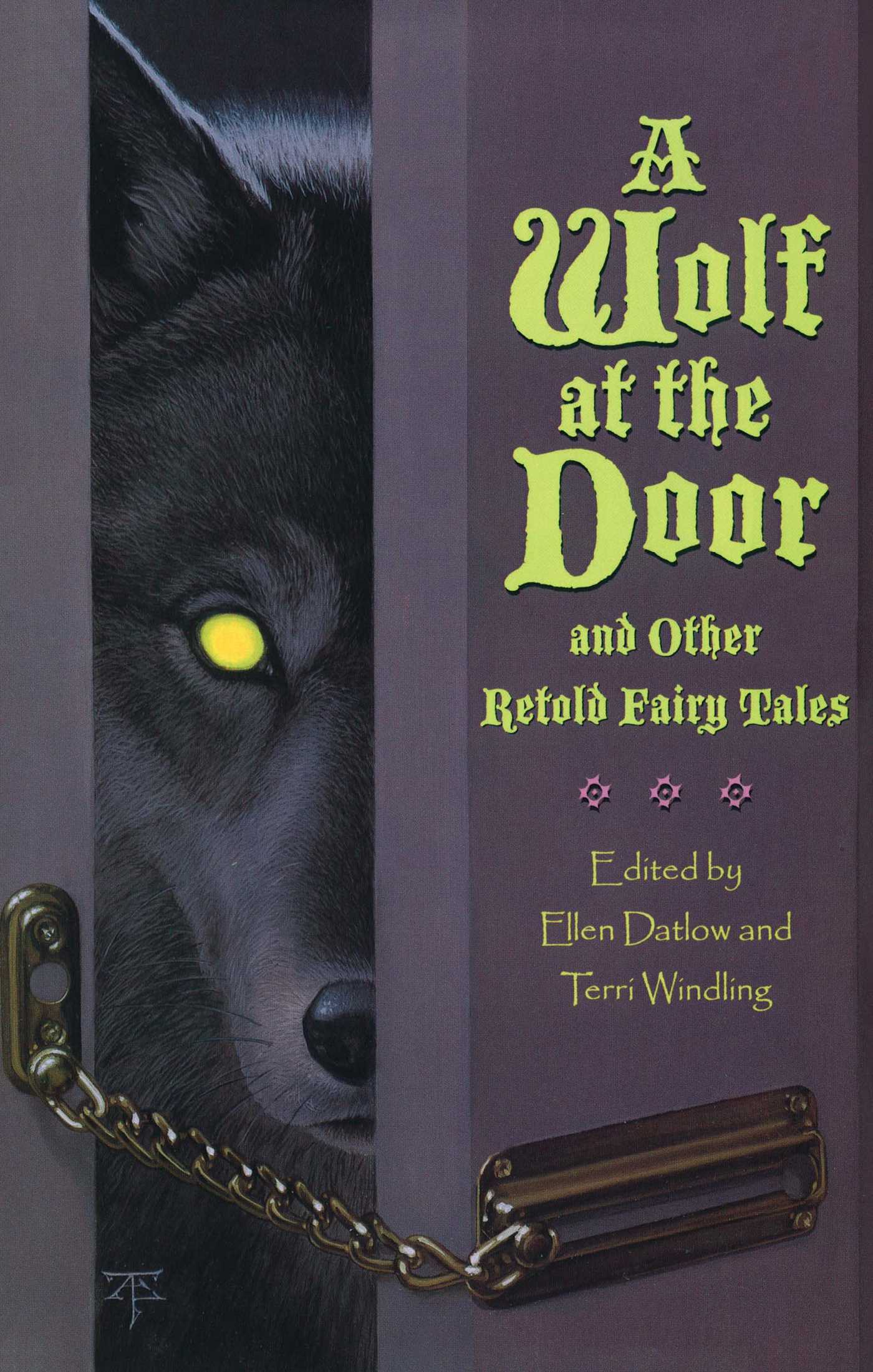 I love folk tales and fairy tales, and I love the idea of stories that have been told and retold, and then finally captured on paper. The problem of course, is finding an author who is good at translating stories from an oral tradition into something that works well written.
There's something wonderful about a well-told short story, and I think that the best short stories in the world are folk and fairy tales.
Ellen Datlow and Terri Windling are very good at finding authors who can take these stories and retell them, and they always put together wonderful anthologies. They brought together thirteen writers for this collection of retold fairy tales.
Not that I think the purpose of these stories is necessarily to scare us, as much as it is to make us pay attention to what is happening around us.
Rating: 7/10
The Green Man : Tales from the Mythic Forest (2002) edited by Ellen Datlow & Terri Windling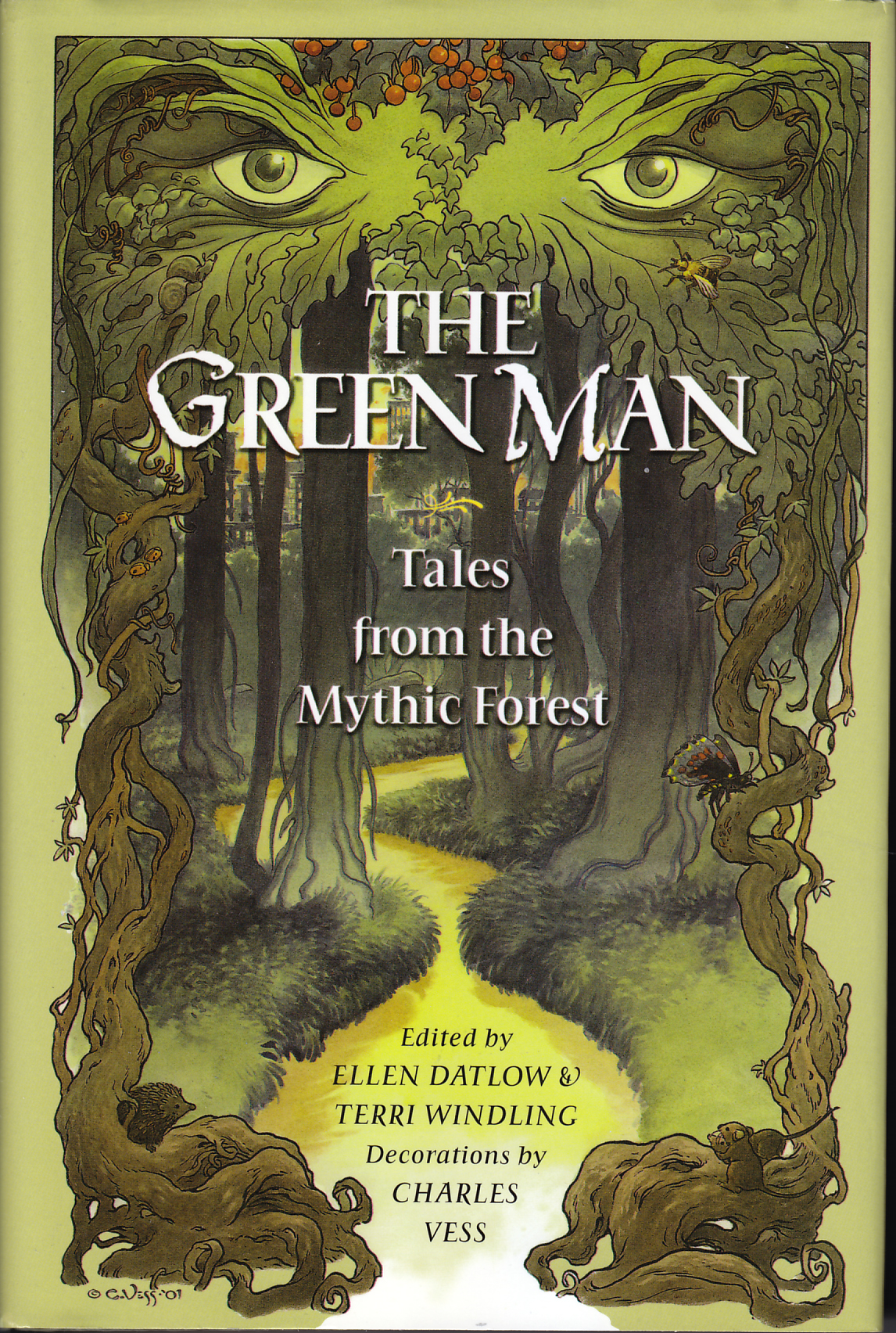 Going Wodwo (poem) - Neil Gaiman
Grand Central Park - Delia Sherman
Daphne - Michael Cadnum
Somewhere in My Mind There is a Painting Box - Charles de Lint
Among the Leaves So Green - Tanith Lee
Song of the Cailleach Bheur (poem) - Jane Yolen
Hunter's Moon - Patricia A. McKillip
Charlie's Away - Midori Snyder
A World Painted by Birds - Katherine Vaz
Grounded - Nina Kiriki Hoffman
Overlooking - Carol Emshwiller
Fie, Fi, Fo, Fum - Gregory Maguire
Joshua Tree - Emma Bull
Ali anugne o chash (the boy who was) - Carolyn Dunn
Remnants - Kathe Koja
The Pagodas of Ciboure - M. Shayne Bell
The Green Man (poem) - Bill Lewis
The Green Word - Jeffrey Ford
Published by Viking
Firebirds (2003) edited by Sharyn November
Cotillion - Delia Sherman The Baby In The Night Deposit Box - Megan Whalen Turner Beauty - Sherwood Smith
Mariposa - Nancy Springer Max Mondrosch - Lloyd Alexander The Fall Of Ys - Meredith Ann Pierce Medusa - Michael Cadnum
The Black Fox - Emma Bull ; Illustrations By Charles Vess Byndley - Patricia A. Mckillip The Lady Of The Ice Garden - Kara Dalkey Hope Chest - Garth Nix Chasing The Wind - Elizabeth E. Wein Little Dot - Diana Wynne Jones Remember Me - Nancy Farmer Flotsam - Nina Kiriki Hoffman The Flying Woman - Laurel Winter
Published by Firebird
The Coyote Road: Trickster Tales (2007) edited by Ellen Datlow & Terri Windling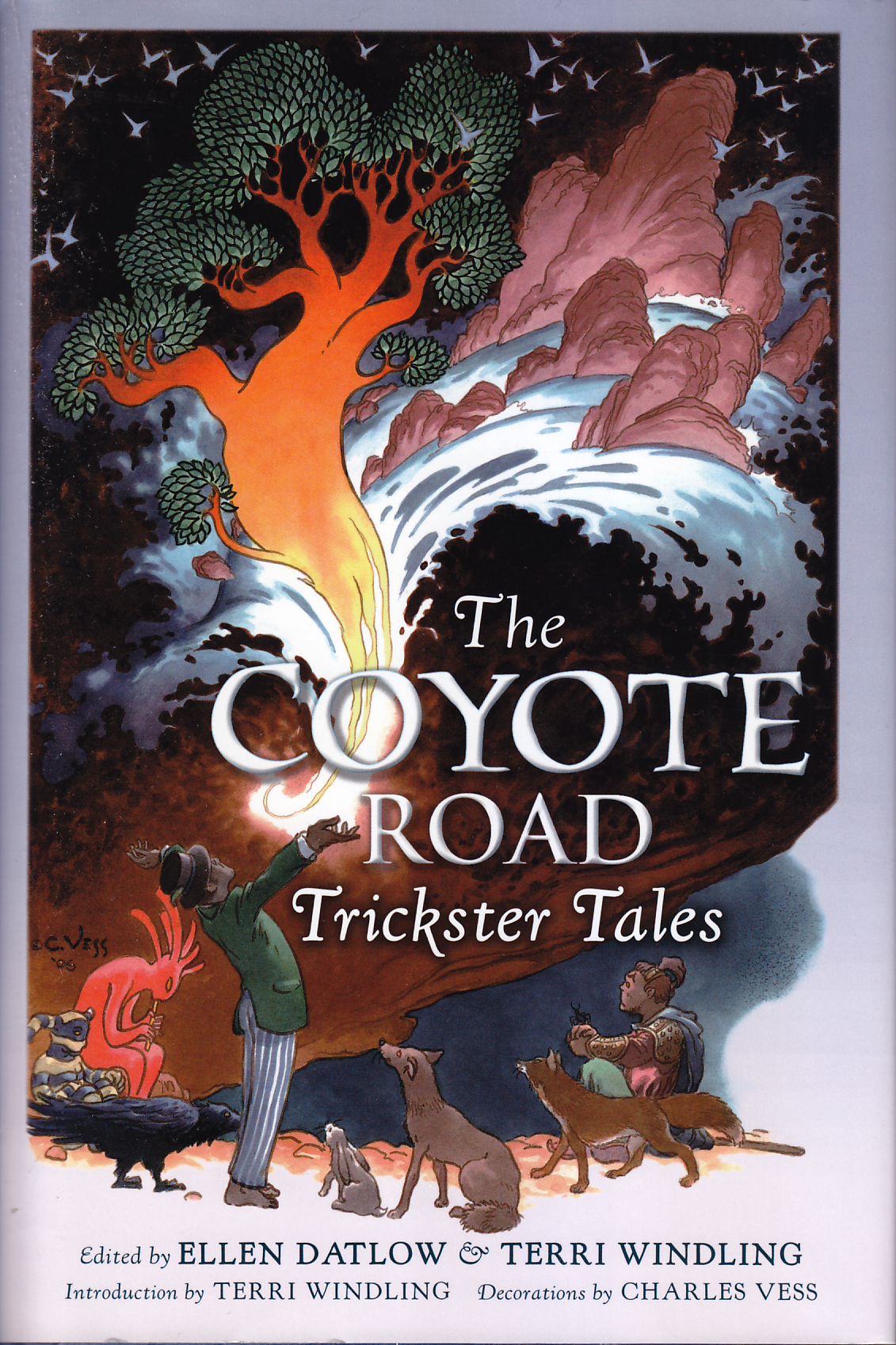 I love short stories. Aside from collections by Charles de Lint, I best love anthologies by Ellen Datlow & Terri Windling best. Their books are like comfort food, and I save them up for when I'm sick or feeling low.
In the same vein as The Green Man and The Faerie Reel, Datlow and Windling have this time collected stories about tricksters, and they've got some of my favorite authors in this collection: Charles de Lint, Nina Kiriki Hoffman, Ellen Kushner. As usual, they manage to collect stories by some of my favorite story tellers.
If like short story collections, or trickster tales, then you will want to read The Coyote Road. It has stories from many of my favorite writers, and as with all their collections, I was delighted to discover new authors for whom I'll be on the lookout.
Rating: 9/10
Published by Viking
Happily Ever After (2011) edited by John Klima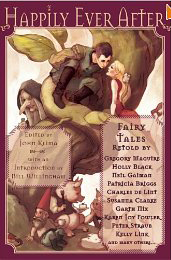 Not sure how I missed this when I first came out, but this anthology is full of things I love: authors whose books I love, stories based on folk and fairy tales–lovely!
The only thing I didn't like, is I wish the anthology hadn't ended on such a dark and depressing story.
Mind you, the dark and depressing stories were good–very good–but these tales ran very true to the original stories, with a not insignificant amount of rape and incest and general horribleness. Just like the original tales.
But there's also a good amount of humor as well, and I just wished the collection had ended with one of the funnier stories.
...
Please note, as previously mentioned, the stories have rape and incest and lots and lots of sex in addition to evil stepmothers and other such killers.
There were also a fair number of very dark and very depressing tales that were very good, but that I didn't enjoy at all.
Rating:8/10
Published by Night Shade Books