Books: Fantasy
The Last Unicorn (1968) The Innkeeper's Song (1993), Giant Bones (1997), The Line Between (2006), Return (2010)
Year's Best Fantasy 5 (2005), Troll's Eye View: A Book of Villainous Tales (2009), The Secret History of Fantasy (2010), Full Moon City (2010), The Way of the Wizard (2010), The Beastly Bride: Tales of the Animal People (2010), People of the Book: A Decade of Jewish Science Fiction & Fantasy (2010), Naked City (2011), Under My Hat: Tales from the Cauldron (2012), Beyond the Pale: A Fantasy Anthology (2014), The New Voices of Fantasy (2017)
The Last Unicorn (1968)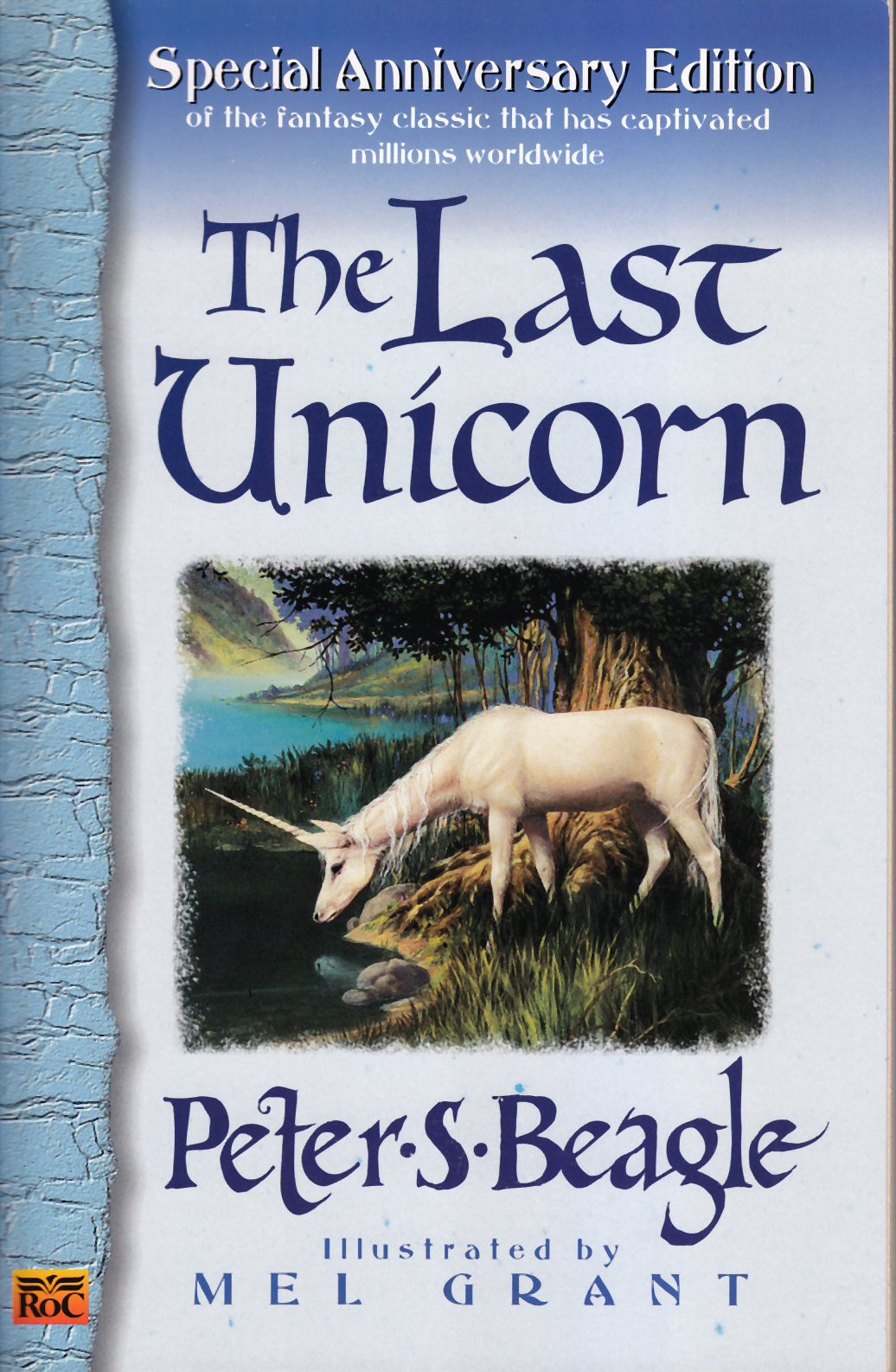 Although I've read other books by Peter S. Beagle, I had not yet read The Last Unicorn. It's mentioned as a classic, and I kept getting stunned disbelief that I had never read it, so I finally picked up a copy.
Perhaps it was a case over a book being over-hyped, and of raising my expectations too high to be met.
Because although the book was good, I didn't think it was great, and I don't think I would qualify it as a classic.
In fact, I prefer The Innkeeper's Song (1993) and Giant Bones (1997) to The Last Unicorn. Part of it was the writing: I could see the writing style that I liked in the later books, but for me, it wasn't quite there yet.
The story was very good--the last unicorn's search for her lost kindred, as she's joined by some of the few others who can see her for what she truly is. And I really liked the Magician Schmendrick. But then I love charlatans and scoundrels. (Which is amusing because I'm quite sure that I wouldn't like them at all in real life.)
This doesn't make this a bad book by any stretch--because it isn't a bad book. I just wouldn't personally qualify it as a classic, and given my druthers, I'd rather read Giant Bones.
Rating: 6/10
The Innkeeper's Song (1993)
I read The Innkeeper's Song several years ago--probably soon after it was published, and I picked it up solely on the strength of it's cover. I'm a sucker for fantasy books with strong female, and the three women on the cover--especially Lal on the left--look strong. Well, I wasn't sure about the woman in the middle, but she turned out okay.
The Innkeeper's Song is written from the point of view of multiple characters--each chapter is written from the point of view of a different character.
The story centers on a song ostensibly written by the innkeeper of the inn in which the events took place, although in his first chapter the innkeeper denies having written the song--or any song, saying:
And if I could write even such a song as that nonsense about those three women which someone has put my name to, why then I would be a songwriter, a bard, since I would certainly be fit for nothing else
I like Lal and Rosseth best, of all the characters in the story, and there are quite a few, despite the relatively short length. Lal, because I the fact that she is a middle aged heroine (although on the cover she looks as if she couldn't be much past being a teenager), and Rosseth because he's a genuinely nice guy--especially for a teenager.
I also like the fox, although the chapters written in his point of view I find particularly hard to read. I suppose that if the entire book were written in that manner, or if there were more dialogue involving the fox, it would be easier to read, but there are only a couple of chapters from the point of view of the fox, and by the time I've gotten used to the writing, the chapter is over and we've moved onto another character.
But aside from that I like the Fox, despite the fact that he ate the Innkeeper's pigeons. And I wanted to know more about the character of the fox, and why he was the way he was.
It's an unusual and interesting story, and one that I enjoyed rereading.
Rating: 8/10
Giant Bones (1997)
If for no other reason, you should read Giant Bones for the story The Last Song of Sirit Bayr. A woman dictates her story to a scribe, just so that there will be a record. She describes her history with the famous traveling musician and kiit player Sirit Bayr.
Most of these stories are written in a similar mien--one character relating their tale to another character offstage, so to speak, whose only participation in the book is as a listener.
The Magician of Karakosk vaguely reminded me of many different folktales, where the country peasant gets the better of the evil power. And folktales are really the spirit of this book--you feel as if you are being told the tale, not reading a polished story. I am not certain that I liked this method for all stories. I found it a bit distracting in Giant Bones, as the father keeps threatening to leave, or making other comments. But for the most part it works quite well, reminding me a small bit of the interruptions of The Princess Bride (the book or the movies). As I said, I think that The Last Song of Sirit Bayr is by far the best story in the book, but the others are also quite good, and unusual as well, in that you are not ever certain what will happen.
The Line Between (2006)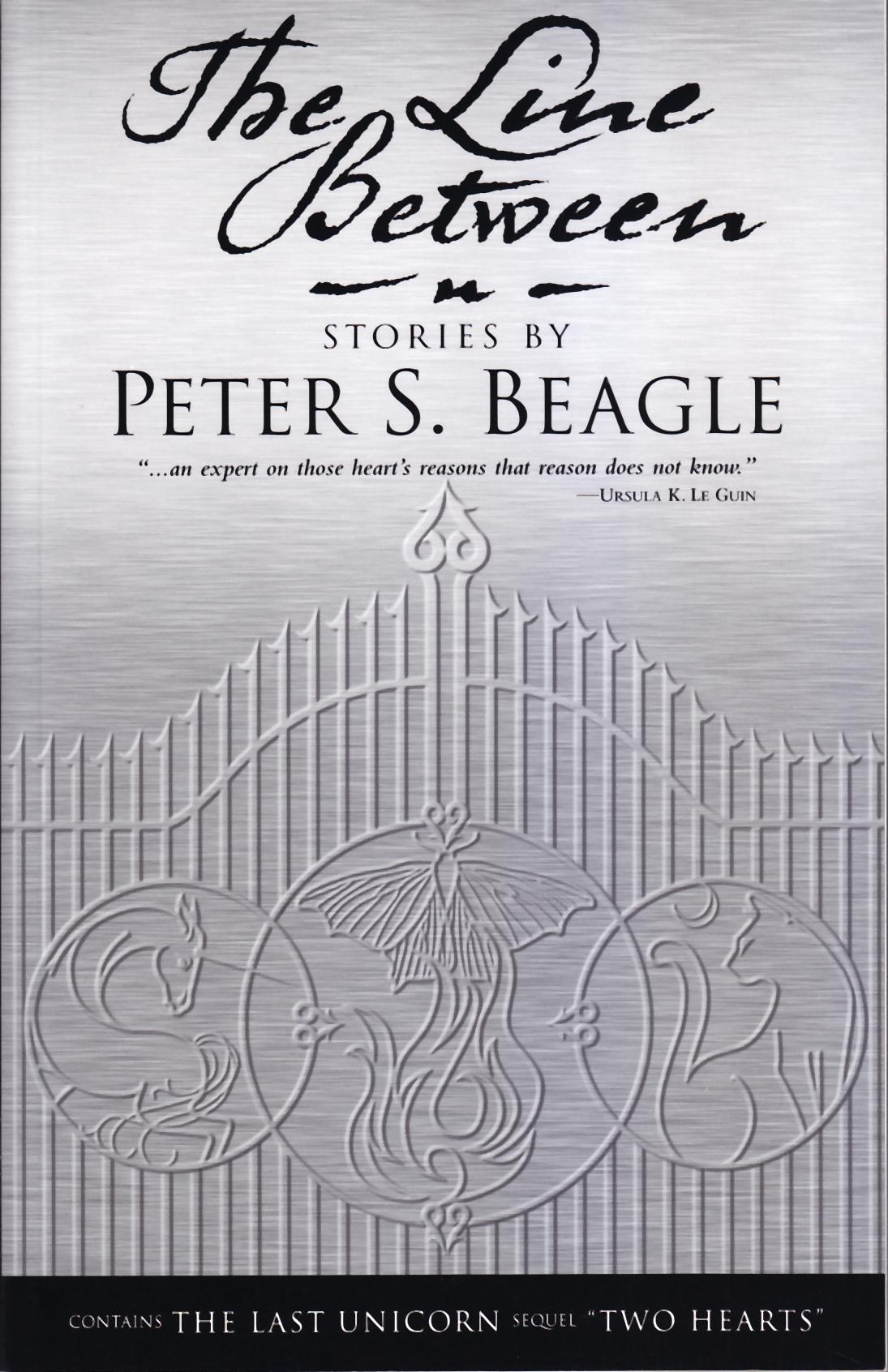 The Line Between is a collection of short (and some not so short) stories by Peter S. Beagle. It contains two short stories that are related to two of his books. Two Hearts is a sequel to The Last Unicorn and looks at some of the characters from that book, years after the event. As The Last Unicorn was not my favorite Peter S. Beagle story, this was not my favorite short story from this collection, although I have to admit that I quite liked the main character of the story, Sooz.
The story that I had most wanted to read when I picked up the collection was Quarry which is a prequel to The Innkeepers Song, which is my favorite Peter S Beagle story. Quarry tells how the fox and Soukyan met, because that was a question I had since reading The Innkeepers Song.
However, I'm not positive how strongly those stories will resonate with those who are not familar with the source material. I have forgotten much of The Last Unicorn and at times felt like I was missing part of the story, since I couldn't remember much about the book. But the strength of the collection comes from all the stories, and their variety. I particularly liked Gordon, the Self-Made Cat, which tells of a mouse who decides to become a cat. I also very much liked Salt Wine. It's set when tall ships sailed the seas carrying commerce between the new world and the old, and tells of what happens when one of the characters saves a merrow, or merman. I was never quite sure where the story was leading, and always surprised at the twists and turns it took. In my opinion that is one of the strongest stories in the collection.
Another favorite was Four Fables, which is exactly as it sounds, four fables. "The Fable of the Moth", "The Fable of the Tyrannosaurus Rex", "The Fable of the Ostrich", and "The Fable of the Octopus". They're exactly as advertised–short stories about whatever the topic creature is. They're amusing, which is always a hit with me.
Once upon a very long time ago, in a hot and steamy jungle, on an earth that was mostly hot and steamy jungle, there lived a youngish Tyrannosaurus Rex. (Actually, we should probably refer to her as a Tyrannosaurus Regina since she was female, but never mind.)
About the only two stories that I didn't love were Mr. Sigerson and A Dance for Emilia. Mr. Sigerson is a Sherlock Holmes story, which is why it wasn't my favorite, because I've never been a fan of Sherlock Holmes stories written by anyone other than Sir Arthur Conan Doyle.
A Dance for Emilia was a good story–very well done, but it just wasn't the type of story that I particularly enjoy. Don't ask me to tell you precisely what that is, but there was something about the tone that made me uncomfortable the same way Science Fiction makes me uncomfortable.
But all in all this was an excellent collection, and one I can highly recommend for those who enjoy Peter S. Beagle's stories, or those who enjoy short stories in general.
Rating: 8/10
Return (2010)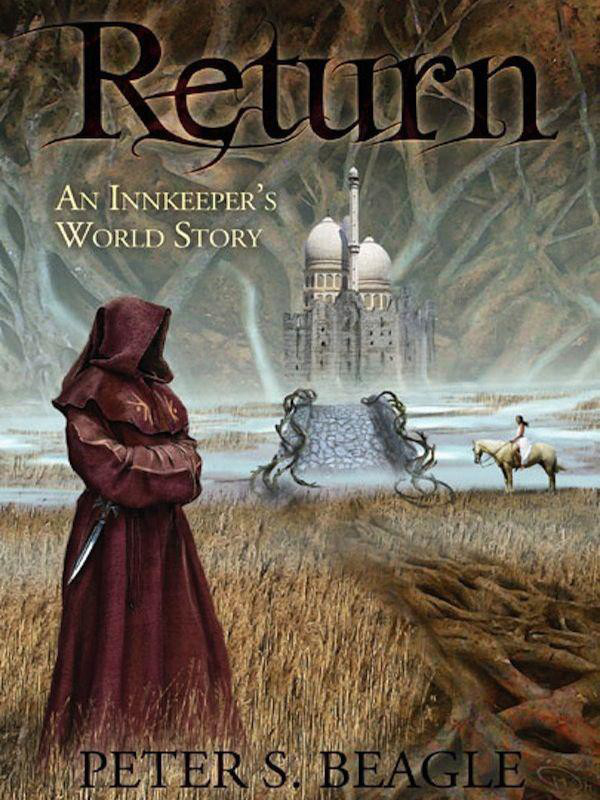 Return takes us back to the world of The Innkeeper's Song.
Soukyan is still being chased by Hunters–trained assassins who have been after him since he escaped from that place–a place that seems to be a monastary, and where Soukyan had fled to as a child.
Finally, Soukyan is tired of fleeing the Hunters, and so decides to return to that place.
I quite liked The Innkeeper's Song, and so was glad to return to that world. (I've read another story recently, about Lal, in an anthology.) I've also all but completely forgotten The Innkeeper's Song but that didn't seem to be too much of a problem in reading this story.
I think I've noted before that I'm delighted to find all these short stories available in eBook format. I love short stories and novellas, so the fact I can spend a couple bucks and get a short story seems like a win to me.
Published by Subterranean Press
Rating: 7/10
Year's Best Fantasy 5 (2005) edited by David G. Hartwell and Kathryn Cramer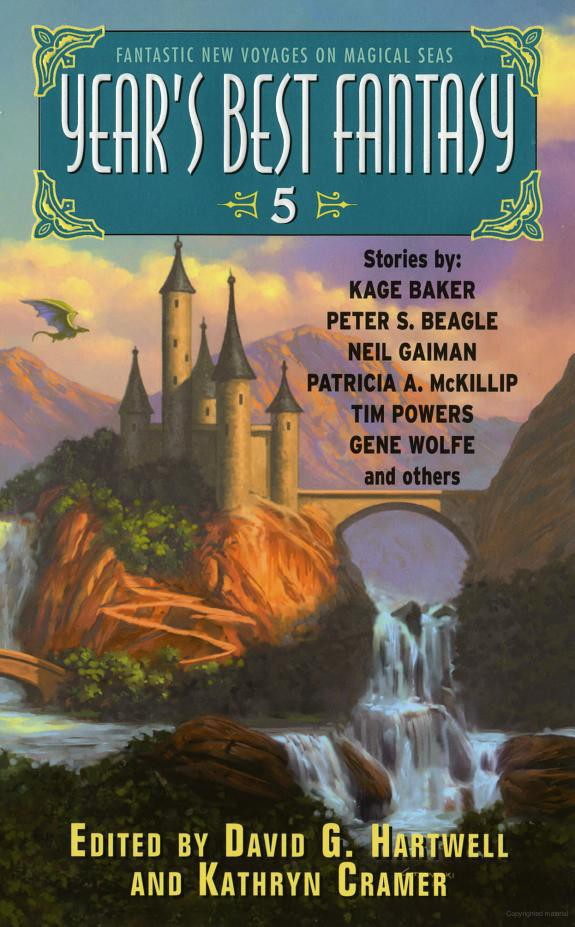 The Dragons of Summer Gulch by Robert Reed
Miss Emily Gray by Theodora Goss
The Baum Plan for Financial Independence by John Kessel
Lizzy Lou by Barbara Robson
The End of the World as We Know It by Dale Bailey
Leaving His Cares Behind Him by Kage Baker
The Problem of Susan by Neil Gaiman
Stella's Transformation by Kim Westwood
Charlie the Purple Giraffe Was Acting Strangely by David D. Levine
Pat Moore by Tim Powers
Perpetua by Kit Reed
Quarry by Peter S. Beagle
Diva's Bones by John Meaney
The Seventh Daughter by Bruce McAllister
Life in Stone by Tim Pratt
Many Voices by M. Rickert
A Hint of Jasmine by Richard Parks
Elvenbrood by Tanith Lee
Beyond the River by Joel Lane
Out of the Woods by Patricia A. McKillip
The Man from Shemhaza by Steven Brust
The Smile on the Face by Nalo Hopkinson
Death's Door by Terry Bisson
Golden City Far by Gene Wolfe
Publisher: Harper Voyager
Troll's Eye View: A Book of Villainous Tales (2009) edited by Ellen Datlow & Terri Windling
Published by Viking Books for Young Readers
The Secret History of Fantasy (2010) edited by Peter S. Beagle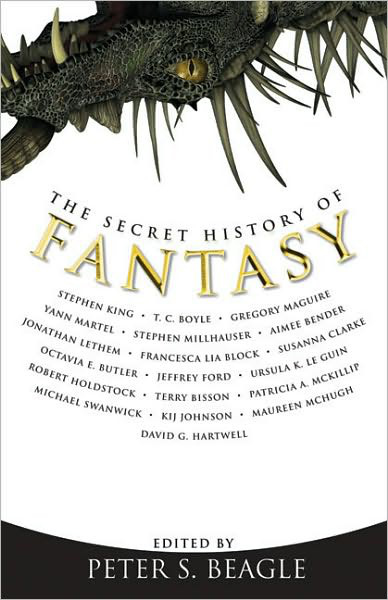 This is an interesting collection of short stories, by some very good authors. I can't say all the stories were to my taste, but they were all very good.
"Ancestor Money" by Maureen F. McHugh
"Scarecrow" by Gregory Maguire
"Lady of the Skulls" by Patricia A. McKillip
"We Are Norsemen" by T.C. Boyle
"The Barnum Museum" by Steven Millhauser
"Mrs. Todd's Shortcut" by Stephen King
"Bears Discover Fire" by Terry Bison
"Bones" by Francesca Lia Block
"Snow, Glass, Apples" by Neil Gaiman
"Fruit and Words" by Aimee Bender
"The Empire of Ice Cream" by Jeffery Ford
"The Edge of the World" by Michael Swanwick
"Super Goat Man" by Jonathan Lethem
"John Uskglass and the Cumbrian Charcoal Burner" by Susanna Clarke
"The Book of Martha" by Octavia E. Butler
"The Vita Aeterna Mirror Company" by Yann Martel
"Sleight of Hand" by Peter S. Beagle
"Mythago Wood" by Robert Holdstock
"26 Monkeys, Also the Abyss" by Kij Johnson
The anthology opens with "Ancestor Money" by Maureen F. McHugh which is a story of the afterlife, where the afterlife of a simple country woman meets the Chinese afterlife. It was an odd yet compelling story, and one that–assuming the afterlife was as presented–makes a certain kind of sense. We are becoming a global world, so traditions and idea meld and it's certainly possible that the surviving kin of a country woman might well burn money in China.
Gregory Maguire's story "Scarecrow" was good, but not particularly to my taste, which perhaps explains why I've never been able to get into "Wicked." This continues the Oz theme, from the point of view of the Scarecrow as he develops awareness and eventually meets Dorothy. Not quite sure what it is I didn't like, because the story that was happening behind the Scarecrow meeting Dorothy was very interesting. Perhaps his writing style simply isn't my thing.
Patricia A. McKillip's story "Lady of the Skulls" was another interesting one. It unfolds slowly, as we learn what the Lady of the Skulls is doing there, how she got there, and possibly how the men who throw themselves at her tower might survive.
T.C. Boyle's "We Are Norsemen" was another somewhat strange story. Well, I take that back, they were all very strange stories, they were all just strange in different ways. This one reads more like an excerpt from a Norse saga, with all the murder and mayhem and destruction that entails. I suppose it's a supposition on what might have been.
"The Barnum Museum" by Steve Millhauser was another unsettling story, not that it was scary or frightening, but because it was, in a way, a discourse on life. I can't really think of a better way to put it. The Barnum Museum is an amazing place, because of–or perhaps despite–it's amazing qualities. From what I know of PT Barnum, it sounds like just the kind of place he'd have liked to have created.
Steven King's "Mrs. Todd's Shortcut" is not a scary story. A bit unsettling perhaps, and quite surreal in places, but not scary. And I liked the very idea of it.
Francesca Lia Block's story "Bones" was yet another unsettling story. Bluebeard and something else entirely. And it was followed by the even more unsettling "Snow, Glass, Apples" which is one Neil Gaiman story I have never liked–it freaks me out too much.
"The Empire of Ice Cream" by Jeffery Ford is an unbearably sad story about synesthesia. Really, that's the best way to describe it. It's even sadder than "The Edge of the World" by Michael Swanwick. The world is mostly as we know it, except that it's flat–you can fall right off the edge and down into nothingness forever. And that edge is what Donna and Piggy and Russ decide to explore one hot summer day.
Susanna Clarke's "John Uskglass and the Cumbrian Charcoal Burner" I found very amusing, which was a nice change of pace from all the sad stories that came before it. And that is followed by "The Book of Martha" by Octavia E. Butler which isn't sad and isn't scary but is about God.
Robert Holdstock's "Mythago Woods" was another very good, yet disturbing story. I'm not sure what it is about this collection that made my so uneasy, but this story is another prime example of it.
The final story was Kij Johnson's "26 Monkeys, Also the Abyss" which I very much liked. Slightly sad, and yet I found its ending lovely.
All in all, an excellent collection of stories, albeit one I don't recommend reading when you're depressed.
Publisher: Tachyon
Rating: 8/10
People of the Book: A Decade of Jewish Science Fiction & Fantasy (2010) edited by Peter S. Beagle and Shawn Wallace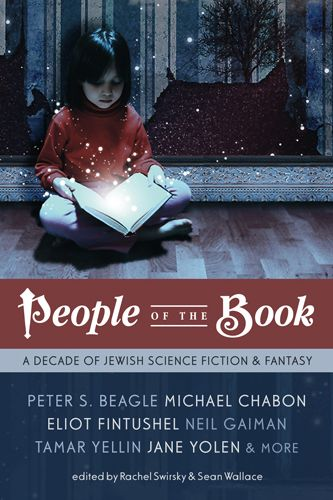 Burning Beard: The Dreams and Visions of Joseph ben Jacob, Lord Viceroy of Egypt by Rachel Pollack
How the Little Rabbi Grew by Eliot Fintushel
Geddarien by Rose Lemberg
The Wings of Meister Wilhelm by Theodora Goss
The Dybbuk in Love by Sonya Taaffe
Fidelity: A Primer by Michael Blumlein
Niels Bohr and the Sleeping Dane by Jonathon Sullivan
The Tsar's Dragon by Jane Yolen & Adam Stemple
Going East by Elana Gomel
Dark Coffee, Bright Light and the Paradoxes of Omnipotence by Ben Burgis
Biographical Notes to "A Discourse on the Nature of Causality, with Air-planes" by Ben Rosenbaum
Alienation and Love in the Hebrew Alphabet by Lavie Tidhar
The Problem of Susan by Neil Gaiman
Uncle Chaim and Aunt Rifke and the Angel by Peter S. Beagle
Eliyahu ha-Navi by Max Sparber
Reuben by Tamar Yellin
The Muldoon by Glen Hirshberg
Semaphore by Alex Irvine
Golems I Have Known, or, Why My Elder Son's Middle Name Is Napoleon: A Trickster's Memoir by Michael Chabon
The History Within Us by Matthew Kressel
Publisher: Prime Books
Full Moon City (2010) edited by Martin H. Greenberg & Darrell Schweitzer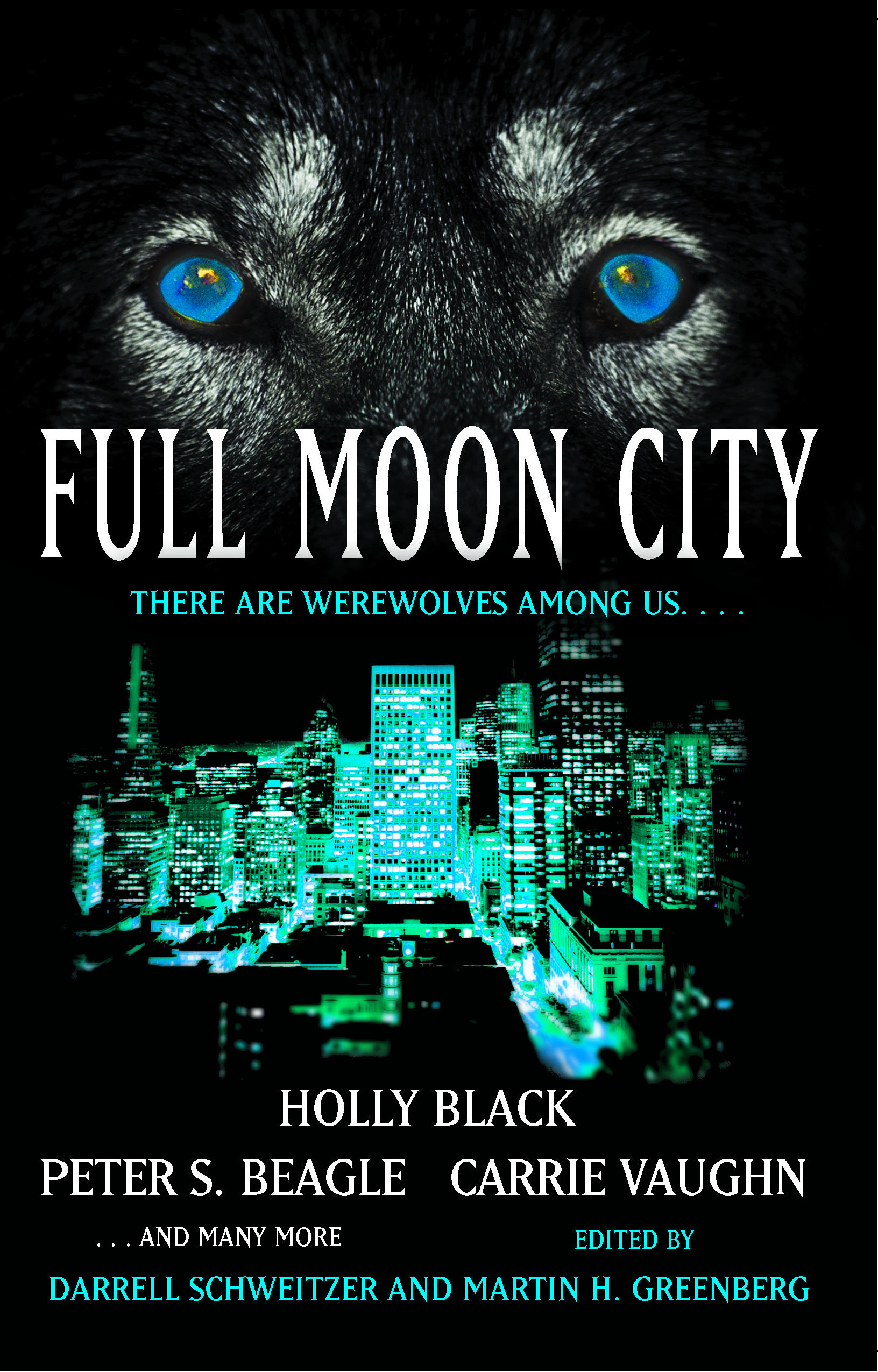 I love anthologies. Though I have to admit that with the way paranormal romance has taken off, the ratio of wheat to chaff has been unfavorable for me. However, Carrie Vaughn and Peter S. Beagle were pretty compelling reasons to get this anthology.
The Truth about Werewolves by Lisa Tuttle 
Innocent by Gene Wolfe 
Kitty Learns the Ropes by Carrie Vaughn 
No Children, No Pets by Esther M. Friesner 
Sea Warg by Tanith Lee 
Country Mothers' Sons by Holly Phillips 
A Most Unusual Greyhound by Mike Resnick 
The Bitch by P.D. Cacek 
The Aarne-Thompson Classification Revue by Holly Black 
Weredog of Bucharest by Ian Watson 
I Was a Middle-Age Werewolf by Ron Goulart 
Kvetchula's Daughter by Darrell Schweitzer 
And Bob's Your Uncle by Chelsea Quinn Yarbro 
The Bank Job by Gregory Frost 
La Lune T'Attend by Peter S. Beagle
And the anthology ended on a very strong note, with Peter S. Beagle's story "La Lune T'Attend." It took a bit to fall into the speech patterns of the main characters, but in just a few pages, I fell in love with Arceneaux, the grandfather who also happened to be a loup-garou. Seriously. The story is about two grandfathers who have been best friends all the lives, and who also happen to be werewolves. It was the perfect ending to the anthology.
Although there were several stories I didn't particularly like, but all in all, the stories that were good were very good, and well worth the price of the anthology.
Rating: 8/10
The Way of the Wizard (2010) edited by John Joseph Adams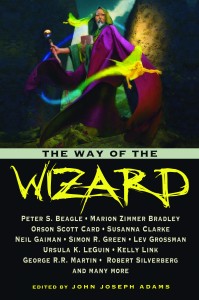 I love anthologies. They give me an escape in bite size pieces that won't keep me up past my bed time on a work night, and they also often a wonderful introduction to authors I have not read previously.
This anthology focuses upon wizards of all sorts, doing wizardly things, though not very many evil wizards.
In the Lost Lands by George R.R. Martin
Family Tree by David Barr Kirtley
John Uskglass and the Cumbrian Charcoal Burner by Susanna Clarke
Wizard's Apprentice by Delia Sherman
The Sorcerer Minus by Jeffrey Ford
Life So Dear or Peace So Sweet by C.C. Finlay
Card Sharp by Rajan Khanna
So Deep That the Bottom Could Not Be Seen by Genevieve Valentine
The Go-Slow by Nnedi Okorafor
Too Fatal a Poison by Krista Hoeppner Leahy
Jamaica by Orson Scott Card
The Sorcerer's Apprentice by Robert Silverberg
The Secret of Calling Rabbits by Wendy N. Wagner
The Wizards of Perfil by Kelly Link
How to Sell the Ponti Bridge by Neil Gaiman
The Magician and the Maid and Other Stories by Christie Yant
Winter Solstice by Mike Resnick
The Trader and the Slave by Cinda Williams Chima
Cerile and the Journeyer by Adam-Troy Castro
Counting the Shapes by Yoon Ha Lee
Endgame by Lev Grossman
Street Wizard by Simon R. Green
Mommy Issues of the Dead by T.A. Pratt
One-Click Banishment by Jeremiah Tolbert
The Ereshkigal Working by Jonathan L. Howard
Feeding the Feral Chidren by David Farland
The Orange-Tree Sacrifice by Vylar Kaftan
Love Is the Spell That Casts Out Fear by Desirina Boskovich
El Regalo by Peter S. Beagle
The Word of Unbinding by Ursula K. Le Guin
The Thirteen Texts of Arthyria by John R. Fultz 
The Secret of the Blue Star by Marion Zimmer Bradley
"El Regalo" by Peter S. Beagle was a nice relief after the darker stories. Angie is terribly annoyed by her younger brother Marvyn, age 8. When Marvyn becomes a witch, he gets even more annoying, but sometimes useful.
There were multiple stories I didn't care for, but on the whole, I found it a good and enjoyable collection. After all, I don't have to read the stories I don't like.
Published by Prime Books
Rating: 7/10
The Beastly Bride: Tales of the Animal People (2010) edited by Ellen Datlow & Terri Windling
"Island Lake" by E. Catherine Tobler
"The Puma's Daughter" by Tanith Lee
"Map of Seventeen" by Christopher Barzak
"The Selkie Speaks" by Delia Sherman
"Bear's Bride" by Johanna Sinisalo
"The Abominable Child's Tale" by Carol Emshwiller
"The Hikikomori" by Hiromi Goto
"The Comeuppance of Creegus Maxin" by Gregory Frost
"Ganesha" by Jeffrey Ford
"The Elephant's Bride" by Jane Yolen
"The Children of Cadmus" by Ellen Kushner
"The White Doe Mourns Her Childhood" by Jeanine Hall Gailey
"The White Doe's Love Song" by Jeanine Hall Gailey
"The White Doe Decides" by Jeanine Hall Gailey
"Coyote and Valorosa" by Terra L. Gearheart
"One Thin Dime" by Stewart Moore
"The Monkey Bride" by Midori Snyder
"Pishaach" by Shweta Narayan
"The Salamander Fire" by Marly Youmans
"The Margay's Children" by Richard Bowes
"Thumbleriggery and Fledglings" by Steve Berman
"The Flock" by Lucius Shepard
"The Children of the Shark God" by Peter Beagle
"Rosina" by Nan Fry
Viking Books for Young Readers
Naked City (2011) edited by Ellen Datlow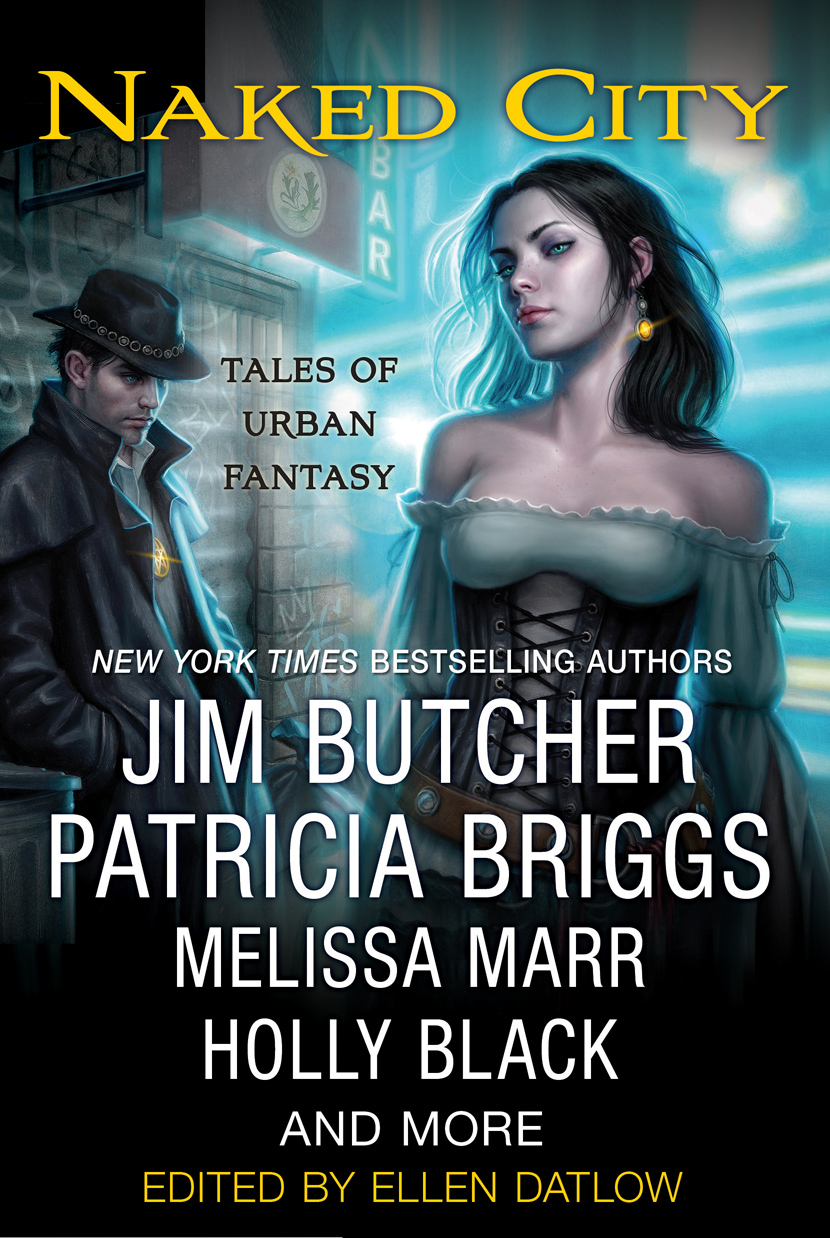 This collection of urban fantasy stories has several of my favorite authors, so it was a no-brainer to get. The bad thing is that I've been reading this collection for several months, so I now have no idea what the stories at the start of the anthology were about, which is dangerous, because it means I may end up accidentally rereading several of them.
Peter S. Beagle's story, "Underbridge" was unexpectedly dark, almost more horror than fantasy. It's about a troll. And it isn't a nice troll.
Although there were several stories I didn't care for, I believe that was more a matter of personal taste than quality. And the stories I did like, I liked very much.
Published by St. Martin's Griffin
Rating: 8/10
Under My Hat: Tales from the Cauldron (2012) edited by Jonathan Strahan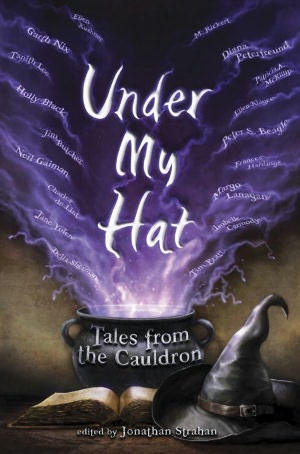 This is a lovely YA anthology, with some amazing stories by some of my favorite authors. I didn't love all the stories, but none of them were bad. The theme is young witches coming of age, but the stories are far greater than that.
I kinda wish the anthology had ended with Peter S. Beagle's story, "Great-Grandmother in the Cellar." It's a very strong story, that is a lovely twist on Sleeping Beauty.
Published by Random House
Rating: 9/10
Beyond the Pale: A Fantasy Anthology (2014) edited by Henry Herz
I probably started reading this right after it came out, and got hung up on a single story. Two years later I decided to skip through the stories that didn't interest me and finish the anthology.
"Hooves and the Hovel of Abdel Jameela" by Saladin Ahmed
"The Children of the Shark God" byPeter S. Beagle
"Misery" by Heather Brewer
"Shadow Children" by Heather Brewer
"Even Hand" byJim Butcher
"Red Run" by Kami Garcia
"Pale Rider" byNancy Holder
"Frost Child" by Gillian Philip
"South" by Gillian Philip
"A Knot of Toads" byJane Yolen
"The Adventures of Lightning Merriemouse-Jones" byNancy & Belle Holder
"The Children of the Shark God" by Peter S. Beagle
The noun "pale" refers to a stake (as in impaling vampires) or pointed piece of wood (as in a paling fence). "Pale" came to refer to an area enclosed by a paling fence. Later, it acquired the figurative meaning of an enclosed and therefore safe domain. Conversely, "beyond the pale" means foreign, strange, or threatening.
"The Children of the Shark God" by Peter S. Beagle is the tale a a young woman who weds the shark god, and the adventures of her children as they search out their father.
(C)ourage and attention are not the same thing. Listening is not the same as hearing.
Published by Birch Tree Publishing
Rating: 7/10
The New Voices of Fantasy (2017) edited by Peter S. Beagle & Jacob Weisman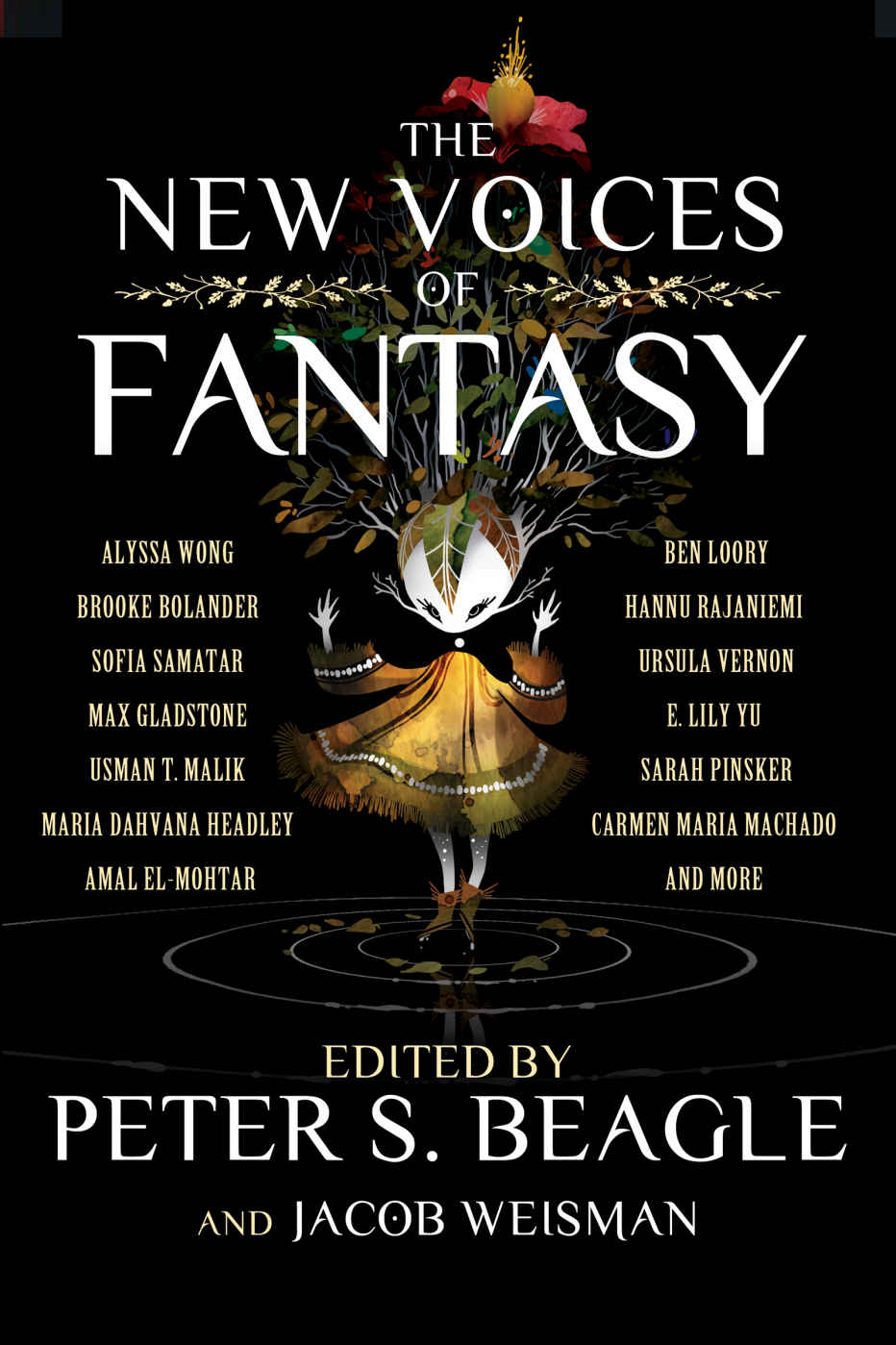 "Hungry Daughters of Starving Mothers" by Alyssa Wong
"Selkie Stories Are for Losers" by Sofia Samatar
"Tornado's Siren" by Brooke Bolander
"Left the Century to Sit Unmoved" by Sarah Pinsker
"A Kiss with Teeth" by Max Gladstone
"Jackalope Wives" by Ursula Vernon
"The Cartographer Wasps and the Anarchist Bees" by E. Lily Yu
"The Practical Witch's Guide to Acquiring Real Estate" by A.C. Wise
"The Tallest Doll in New York City" by Maria Dahvana Headley
"The Haunting of Apollo A7LB" by Hannu Rajaniemi
"Here Be Dragons" by Chris Tarry
"The One They Took Before" by Kelly Sandoval
"Tiger Baby" by JY Yang
"The Duck" by Ben Loory
"Wing" by Amal El-Mohtar
"The Philosophers" by Adam Ehrlich Sachs
"My Time Among the Bridge Blowers" by Eugene Fischer
"The Husband Stitch" by Carmen Maria Machado
"The Pauper Prince and the Eucalyptus Jinn" by Usman T. Malik
Publisher: Tachyon