Nancy Kress
Books
Anthologies: Snow White, Blood Red (1993), Black Thorn, White Rose (1994), Ruby Slippers, Golden Tears (1995), The Year's Best Fantasy & Horror: Eighth Annual Collection (1995), Happily Ever After (2011), Dangerous Women (2013), Magic City: Recent Spells (2014)
Anthologies
Snow White, Blood Red (1993) edited by Ellen Datlow & Terri Windling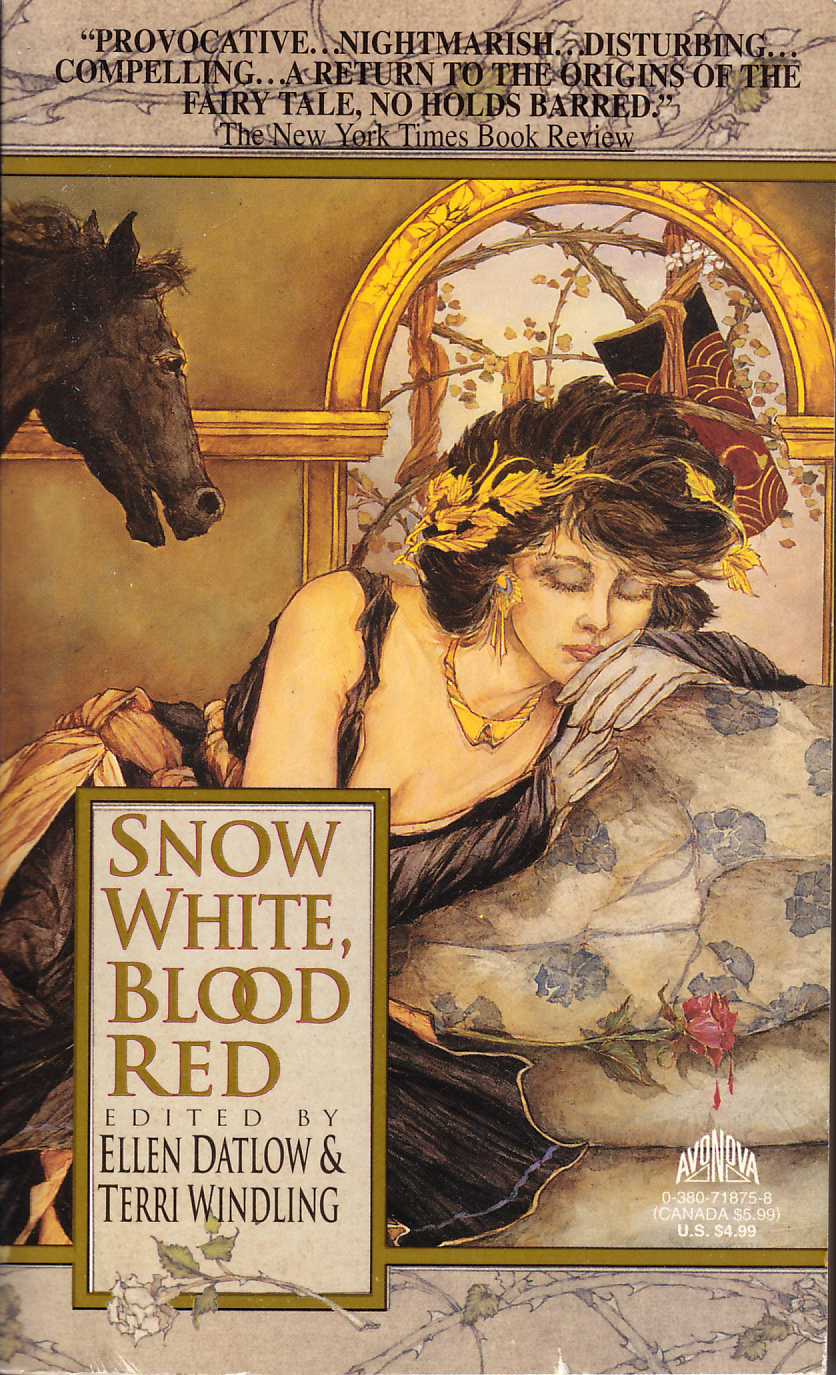 I often have a hard time putting down interesting books. Which means that if I'm reading a book I real like before bed, I end up staying up past my bed time instead of falling asleep. One solution is to read non-fiction before bed. The other solution is to read short story anthologies. Unfortunately, there are not a lot of high quality anthologies out there. At least, not enough to keep up with the rate at which I can read.
So I decided to go back and reread Ellen Datlow and Terri Windling's fantasy anthology Snow White, Blood Red. This book has a whole bunch of things going for it at once: it's edited by Ellen Datlow and Terri Windling; it's got stories by Neil Gaiman and Charles de Lint; and the stories are retellings or reinventions of folk and fairy tales. Mostly fairy tales in this book.
Plus, a gorgeous cover by Thomas Canty.
For those who are unfamiliar with folk tales and fairy tales, many of the original tales--before they got cleaned up and given to kids--were filled with sex, (in addition to the casual violence of people getting eyes poked out or chopping off bits of feet or being shoved into ovens.)
In other words, these are not stories for children.
...
As best I can tell, this anthology is still available, so if you like short stories, this is an anthology you won't want to miss. However, if you like anthologies, this is probably one you already have sitting on your shelves.
Rating: 7/10
Published by Harper Collins
Black Thorn, White Rose: A Modern Book of Adult Fairytales (1994) edited by Ellen Datlow & Terri Windling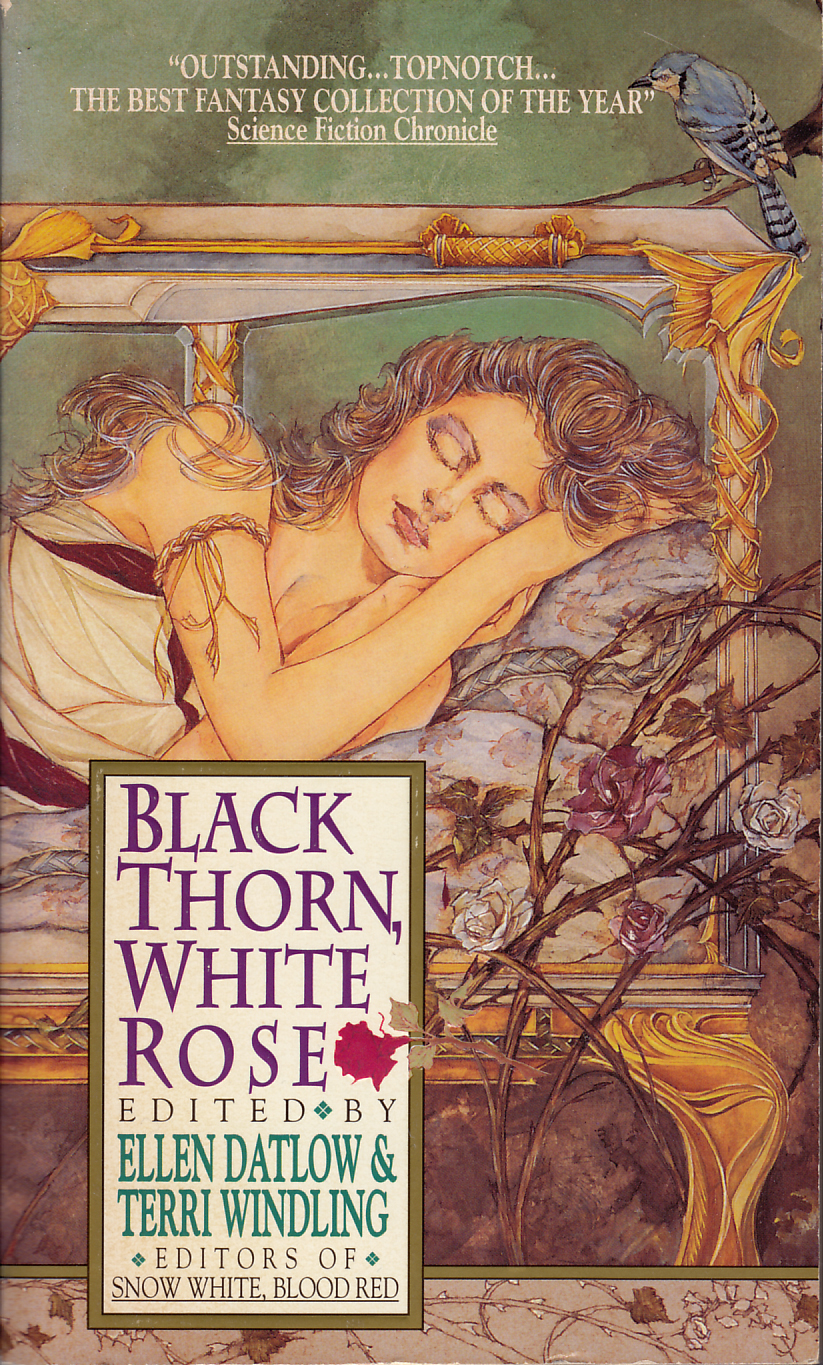 There were several of these collections in the 90s–and I had the first two if I remember correctly.
These are fairy tales retold–some with a change in the point of view, some retold in a modern setting, and some hewing only rather loosely the tales upon which they were based.
...
Please note that these are adult fairy tales. They are in the most part true to the original tales, but most adults would find those inappropriate for children.
Rating: 7/10
Published by Wildside Press
Ruby Slippers, Golden Tears (1995) edited by Ellen Datlow & Terri Windling
Ruby Slippers - Susan Wade
 The Beast - Tanith Lee
 Masterpiece - Garry Kilworth
 Summer Wind - Nancy Kress
 This Century of Sleep, or Briar Rose Beneath the Sea - Farida S. T. Shapiro
 The Crossing - Joyce Carol Oates
 Roach in Loafers - Roberta Lannes
 Naked Little Men - Michael Cadnum
 Brother Bear - Lisa Goldstein
 The Emperor Who had Never Seen a Dragon - John Brunner
 Billy Fearless - Nancy A Collins
 The Death of Koshchei the Deathless - Gene Wolfe
 The Real Princess - Susan Palwick
 The Huntsman's Story - Milbre Burch
 After Push Comes to Shove - Milbre Burch
 Hansel and Grettel - Gahan Wilson
 Match Girl - Anne Bishop
 Waking the Prince - Kathe Koja
 The Fox Wife - Ellen Steiber
 The White Road - Neil Gaiman
 The Traveler and the Tale - Jane Yolen
 The Printer's Daughter - Delia Sherman
Published by Harper Collins
The Year's Best Fantasy & Horror: Eighth Annual Collection (1995) edited by Ellen Datlow & Terri Windling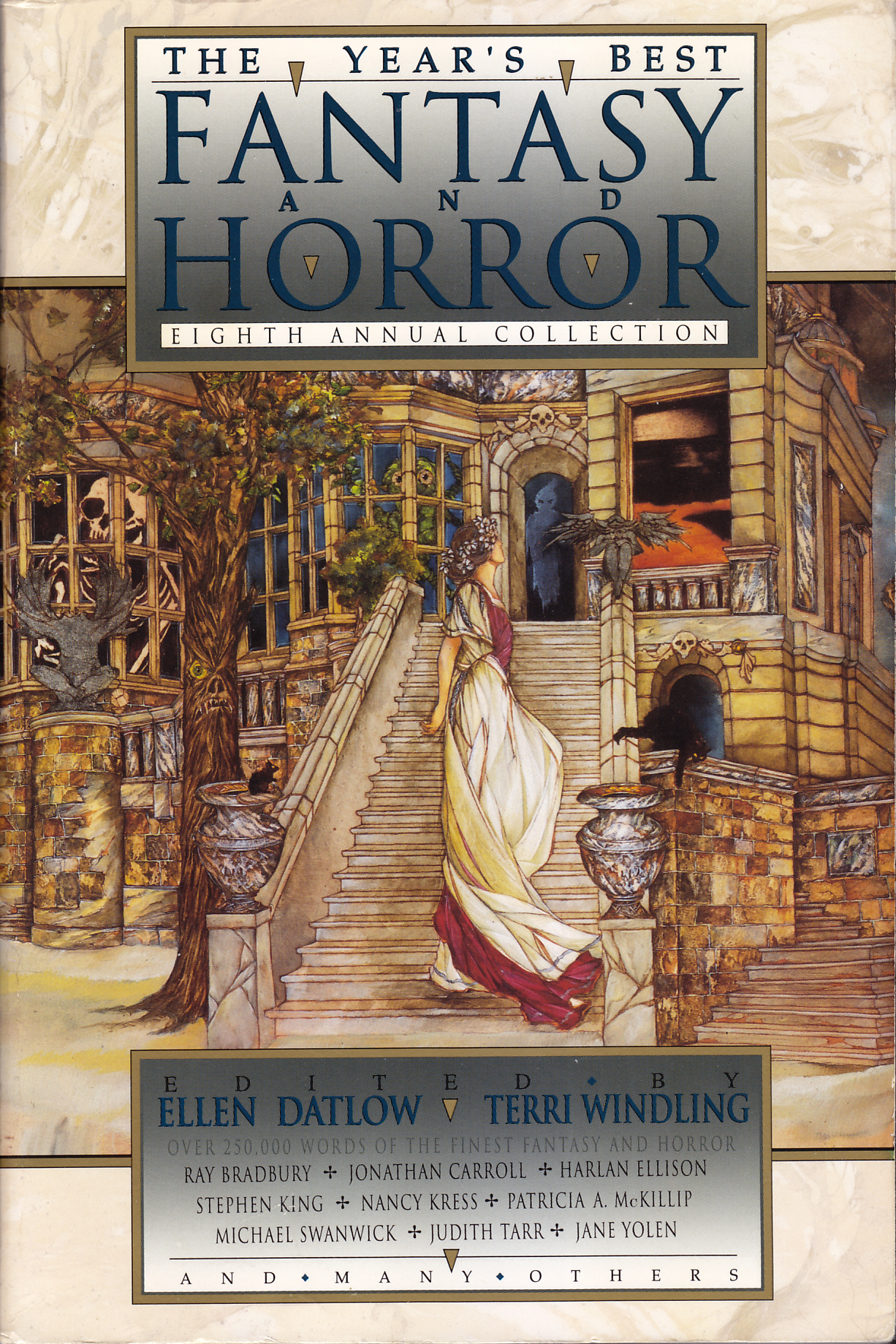 Transmutations by Patricia A. McKillip
 Bottom's Dream by Rachel Wetzsteon
 La Promesa by Leroy Quintana
 Aweary of the Sun by Gregory Feeley
 A Wheel in the Desert, the Moon on Some Swings by Jonathan Carroll
 Who Will Love the River God? by Emily Newland
 Brothers by Joyce Carol Oates
 Subsoil by Nicholson Baker
 Elvis's Bathroom by Pagan Kennedy
 Yet Another Poisoned Apple for the Fairy Princess by A. R. Morlan
 The Big Game by Nicholas Royle
 Buenaventura and the Fifteen Sisters by Margarita Engle
 De Natura Unicorni by Jane Yolen
 Blue Motel by Ian McDonald
 A Friend Indeed by David Garnett
 Sometimes, in the Rain by Charles L. Grant
 Rain Falls by Michael Marshall Smith
 That Old School Tie by Jack Womack
 Animals Behind Bars! by Scott Bradfield
 Monuments to the Dead by Kristine Kathryn Rusch
 Unterseeboot Doktor by Ray Bradbury
 Young Woman in a Garden by Delia Sherman
 The Man in the Black Suit by Stephen King
 'In the Tradition...' by Michael Swanwick
 Words Like Pale Stones by Nancy Kress
 Märchen by Jane Yolen
 Giants in the Earth by Dale Bailey
 A Conflagration Artist by Bradley Denton
 Report by Carme Riera
 The Village of the Mermaids by John Bradley
 —And the Horses Hiss at Midnight by A. R. Morlan
 The Entreaty of the Wiideema by Barry Lopez
 White Chapel by Douglas Clegg
 The Stone Woman by Linda Weasel Head
 Coyote Stories by Charles de Lint
 The Box by Jack Ketchum
 A Fear of Dead Things by Andrew Klavan
 He Unwraps Himself by Darrell Schweitzer
 Chandira by Brian Mooney
 Fever by Harlan Ellison
 The Best Things in Life by Lenora Champagne
 Mending Souls by Judith Tarr
 The Ocean and All Its Devices by William Browning Spencer
 Strings by Kelley Eskridge
 Superman's Diary by B. Brandon Barker
 Isobel Avens Returns to Stepney in the Spring by M. John Harrison
 The Sisterhood of Night by Steven Millhauser
 Winter Bodies by Noy Holland
 The Sloan Men by David Nickle
 Is That Them? by Kevin Roice
 The Kingdom of Cats and Birds by Geoffrey A. Landis
 Angel Combs by Steve Rasnic Tem
 Snow, Glass, Apples. by Neil Gaiman
Published by St Martins Press
Naked City (2011) edited by Ellen Datlow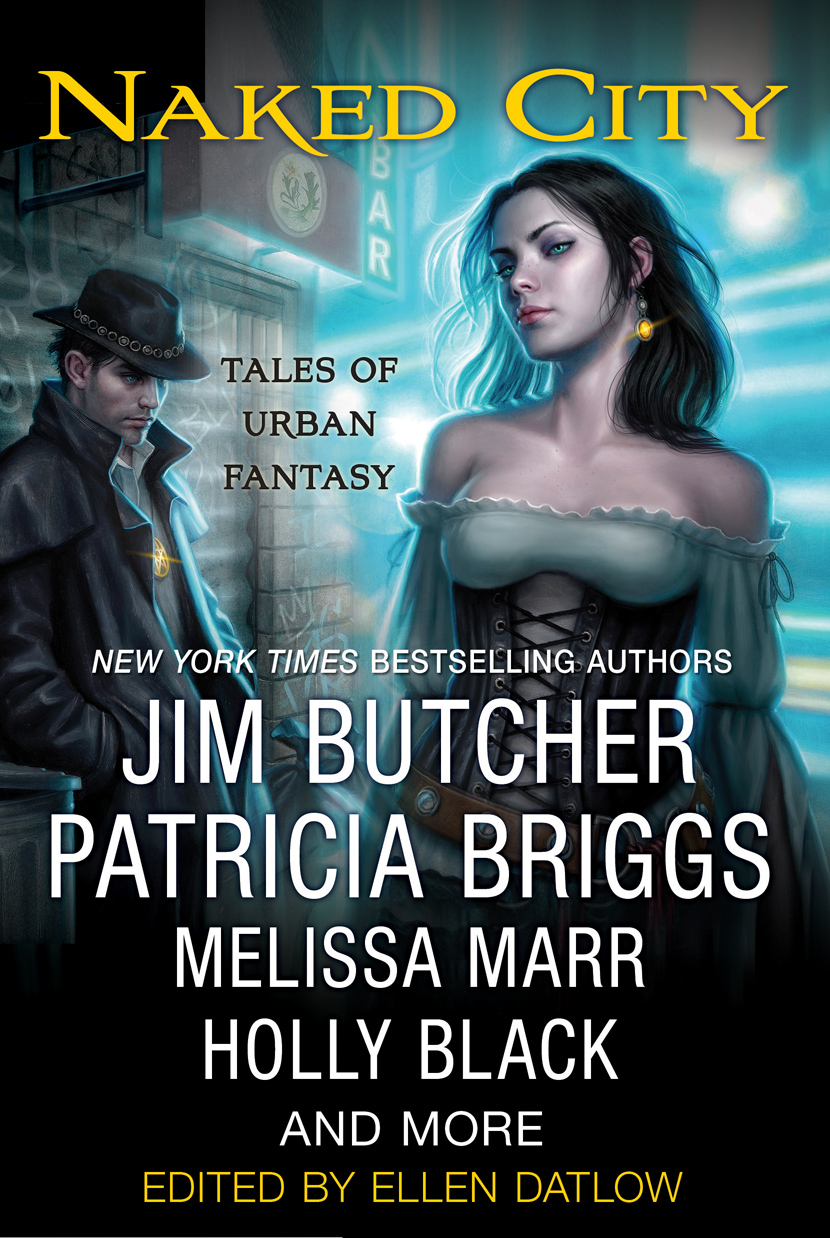 This collection of urban fantasy stories has several of my favorite authors, so it was a no-brainer to get. The bad thing is that I've been reading this collection for several months, so I now have no idea what the stories at the start of the anthology were about, which is dangerous, because it means I may end up accidentally rereading several of them.
Curses - Jim Butcher
 How the Pooka Came to New York City - Delia Sherman
 On the Slide - Richard Bowes
 The Duke of Riverside - Ellen Kushner
 Oblivious by Calvin Klein - Christopher Fowler
 Fairy Gifts - Patricia Briggs
 Picking up the Pieces - Pat Cadigan
 Underbridge - Peter S. Beagle
 Priced to Sell - Naomi Novik
 The Bricks of Gelecek - Matthew Kressel
 Weston Walks - Kit Reed
 The Projected Girl - Lavie Tidhar
 The Way Station - Nathan Ballingrud
 Guns for the Dead - Melissa Marr
 And Go Like This - John Crowley
 Noble Rot - Holly Black
 Dady Longlegs of the Evening - Jeffrey Ford
 The Skinny Girl - Lucis Shepard
 The Colliers' Venus - Caitlan R Kiernan
 King Pole, Gallows Pole, Bottle Tree - Elizabeth Bear

...
Although there were several stories I didn't care for, I believe that was more a matter of personal taste than quality. And the stories I did like, I liked very much.
Rating: 8/10
Published by St. Martin's Griffin
Happily Ever After (2011) edited by John Klima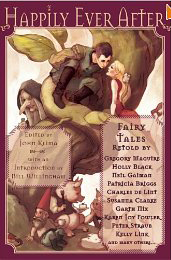 Not sure how I missed this when I first came out, but this anthology is full of things I love: authors whose books I love, stories based on folk and fairy tales–lovely!
The only thing I didn't like, is I wish the anthology hadn't ended on such a dark and depressing story.
Mind you, the dark and depressing stories were good–very good–but these tales ran very true to the original stories, with a not insignificant amount of rape and incest and general horribleness. Just like the original tales.
But there's also a good amount of humor as well, and I just wished the collection had ended with one of the funnier stories.
...
Please note, as previously mentioned, the stories have rape and incest and lots and lots of sex in addition to evil stepmothers and other such killers.
There were also a fair number of very dark and very depressing tales that were very good, but that I didn't enjoy at all.
Rating:8/10
Published by Night Shade Books
Dangerous Women (2013) edited by George R.R. Martin and Gardner Dozois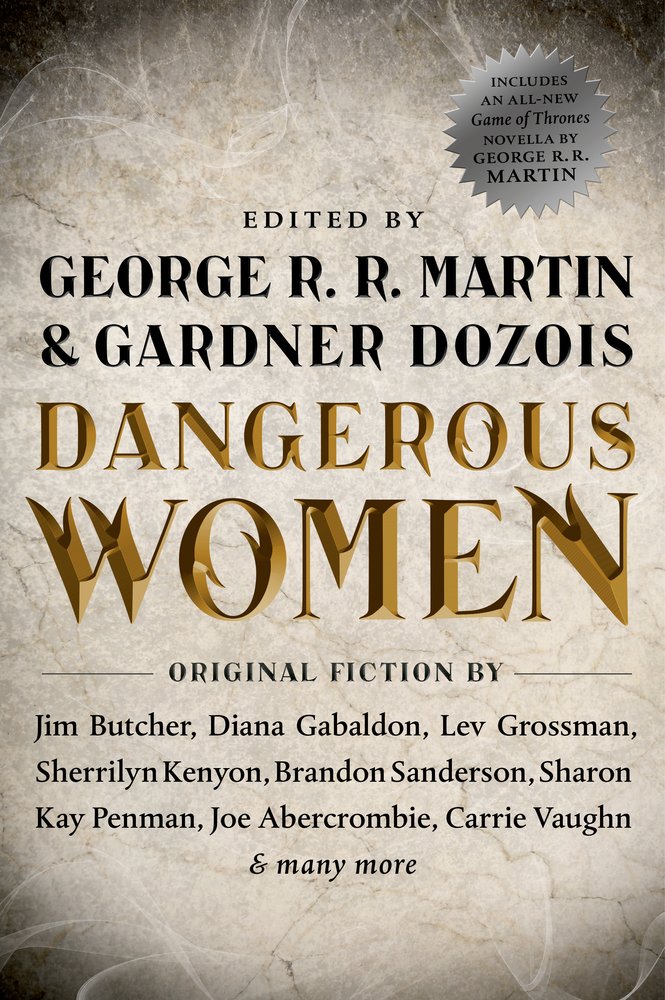 "Some Desperado" (Red Country story) by Joe Abercrombie
 "My Heart is Either Broken" by Megan Abbott
 "Nora's Song" by Cecelia Holland
 "The Hands That Are Not There" by Melinda Snodgrass
 "Bombshells" (Harry Dresden story) by Jim Butcher
 "Raisa Stepanova" by Carrie Vaughn
 "Wrestling Jesus" by Joe R. Lansdale
 "Neighbors" by Megan Lindholm
 "I Know How to Pick 'Em" by Lawrence Block
 "Shadows For Silence in the Forests of Hell" by Brandon Sanderson
 "A Queen in Exile" by Sharon Kay Penman
 "The Girl in the Mirror" (Magicians story) by Lev Grossman
 "Second Arabesque, Very Slowly" by Nancy Kress
 "City Lazarus" by Diana Rowland
 "Virgins" (Outlander story) by Diana Gabaldon
 "Hell Hath No Fury" by Sherilynn Kenyon
 "Pronouncing Doom" (Emberverse story) by S.M. Stirling
 "Name the Beast" by Sam Sykes
 "Caretakers" by Pat Cadigan
 "Lies My Mother Told Me" (Wild Cards story) by Caroline Spector
 "The Princess and the Queen" (A Song of Ice and Fire story) by George R.R. Martin
There are a lot of different stories here–on purpose.
Dangerous Women was conceived of as a cross-genre anthology, one that would mingle every kind of fiction, so we asked writers from every genre— science fiction, fantasy, mystery, historical, horror, paranormal romance, men and women alike— to tackle the theme of "dangerous women,"
Thus I was fully expecting there to be a number of stories I wouldn't particularly like, or would even skip. And there were. Unfortunately for me, the dislikes were higher in number than the likes, and there were several dystopias, which I really dislike. And a lot of the women were in the neutral to evil category of dangerous. Which is fine, but all that dark got a bit overwhelming, which is why I took several months for me to finish this anthology.
...
"Second Arabesque, Very Slowly" by Nancy Kress is a dystopia, and I read it but really didn't like it.
...
All in all, there were more stories I disliked than liked, which sometimes happens. As this covers all diffeerent genres, you're likely to find at least one story you like, you'll just have to decide if it's worth the price.
Rating: 5.5/10
Published by Tor Books
Magic City: Recent Spells (2014) edited by Paula Guran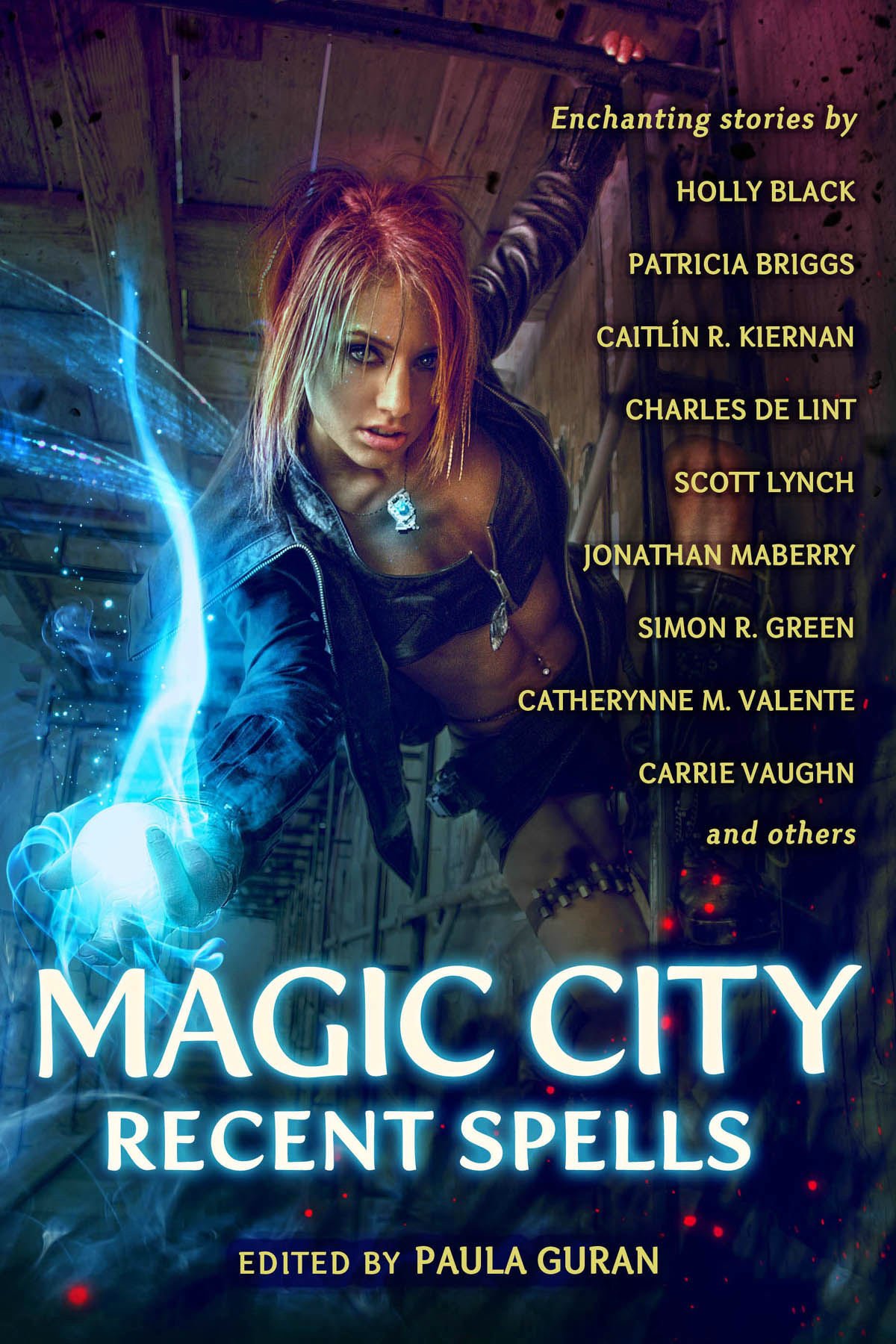 Table of Contents
 "Street Wizard" by Simon R. Green
 "Paranormal Romance" by Christopher Barzak
 "Grand Central Park" by Delia Sherman
 "Spellcaster 2.0" by Jonathan Maberry
 "Wallamelon" by Nisi Shawl
 "-30-" by Caitlín R. Kiernan
 "Seeing Eye" by Patricia Briggs
 "Stone Man" by Nancy Kress
 "In the Stacks" by Scott Lynch
 "A Voice Like a Hole" by Catherynne M. Valente
 "The Arcane Art of Misdirection" by Carrie Vaughn
 "Thief of Precious Things" by A.C. Wise
 "The Land of Heart's Desire" by Holly Black
 "Snake Charmer" by Amanda Downum
 "The Slaughtered Lamb" by Elizabeth Bear
 "The Woman Who Walked with Dogs" by Mary Rosenblum
 "Words" by Angela Slatter
 "Dog Boys" by Charles de Lint
 "Alchemy" by Lucy Sussex
 "Curses" by Jim Butcher
 "De la Tierra" by Emma Bull
 "Stray Magic" by Diana Peterfreund
 "Kabu Kabu" by Nnedi Okorafor
 "Pearlywhite" by Mark Laidlaw & John Shirley
...
"Stone Man" by Nancy Kress is about an undiscovered magician, and the problems that come with his newly discovered skills. It's also a sad tale about kids who are abandoned and unloved, for any of many reasons.
...
All in all this is a marvelous collection, that I highly recommend.
Rating: 8.5/10
Published by Prime Books